Will turned 7 months old last week and while it's hard to believe the year is flying by so fast, I also realize we haven't done a very good job of giving you guys updates to our nursery as we've  settled in and really started using it. So, today, (after over a week of no blogging–the shame!), I'm finally sharing a little glimpse into our everyday nursery usage.
The biggest transition has been switching over to using our cloth diapers pretty much full time, which required a little reorganizing in how we use the changing table/dresser area. (For a recap on putting this area together–including links to the baskets we chose, click here.)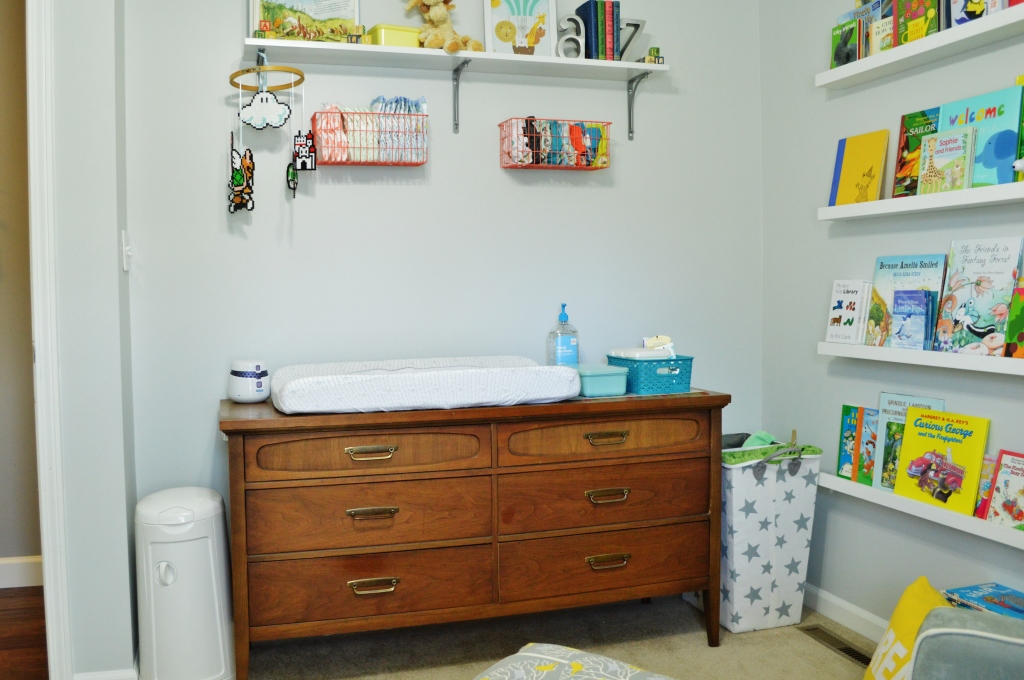 On the wall, we've switched out one of the little metal bins to hold cloth diaper covers. They are so bright and colorful and fun in there, so that was a welcome change, for sure.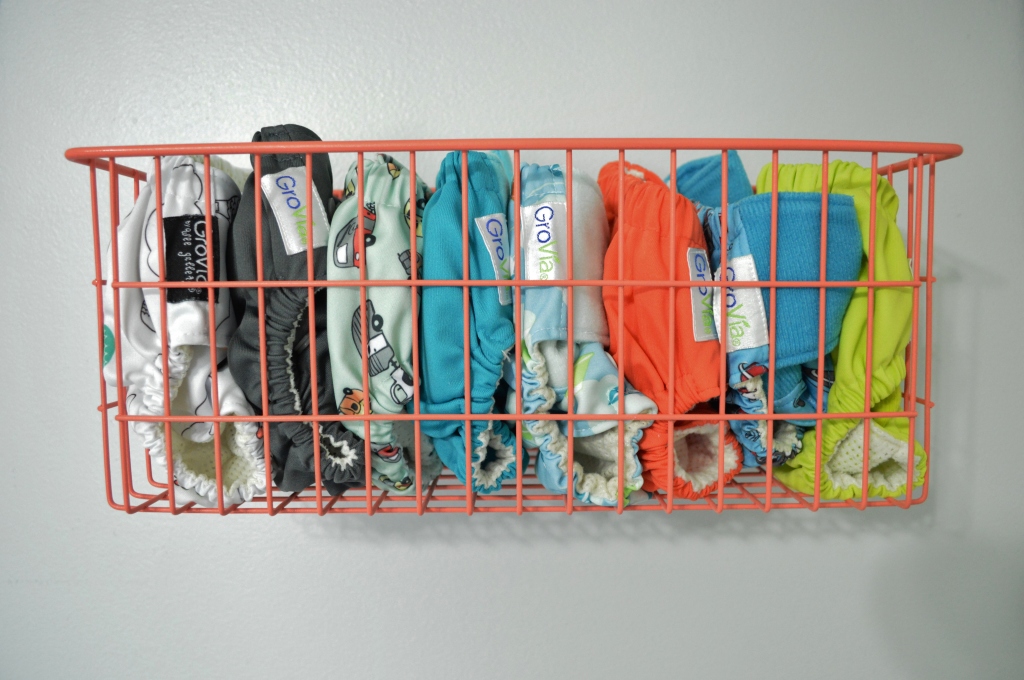 We do still use disposables occasionally, like when we have a sitter and don't want them to have to fool with it. And right now, we're still using a disposable for overnights because when Will wakes up to eat several times throughout the night, he always leaks out by the morning. So, one of the boxes still holds those "sposies" as they are called in the cloth community, I've recently learned.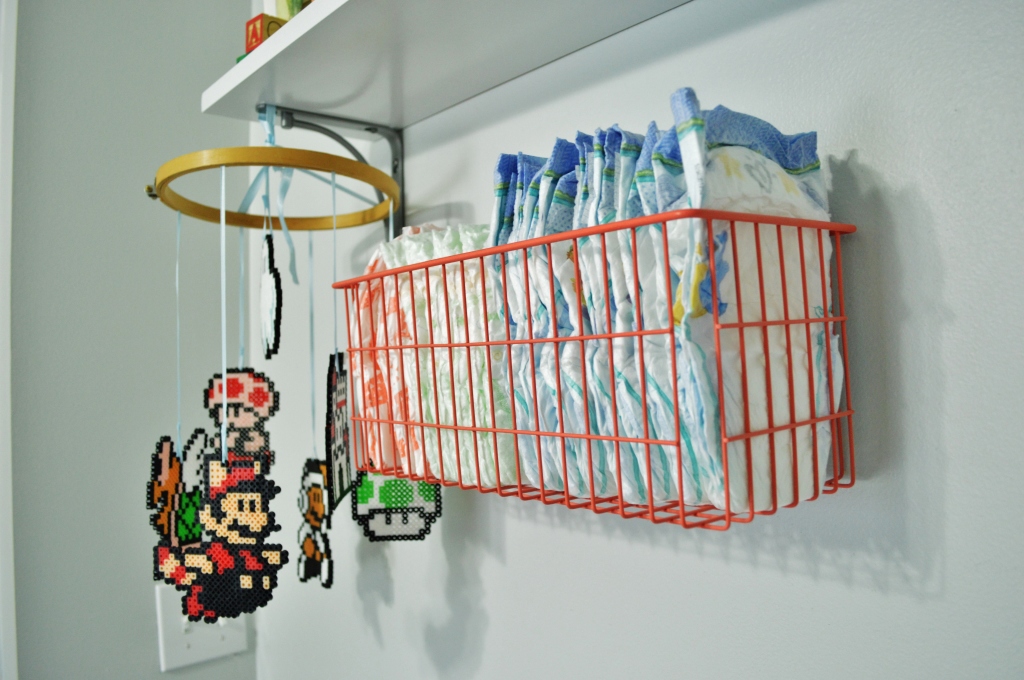 And Mario still hangs over the changing pad. He's a favorite, for sure, and we're very thankful for the friends who lovingly crafted this sweet mobile. It's one of Will's favorite things, ever.
For the dresser, before the switch, each drawer was filled with clothes, but we've since combined a few to give us two drawers devoted just to cloth diapers supplies. We had to downsize a bit and each drawer is now a little fuller, but this works well.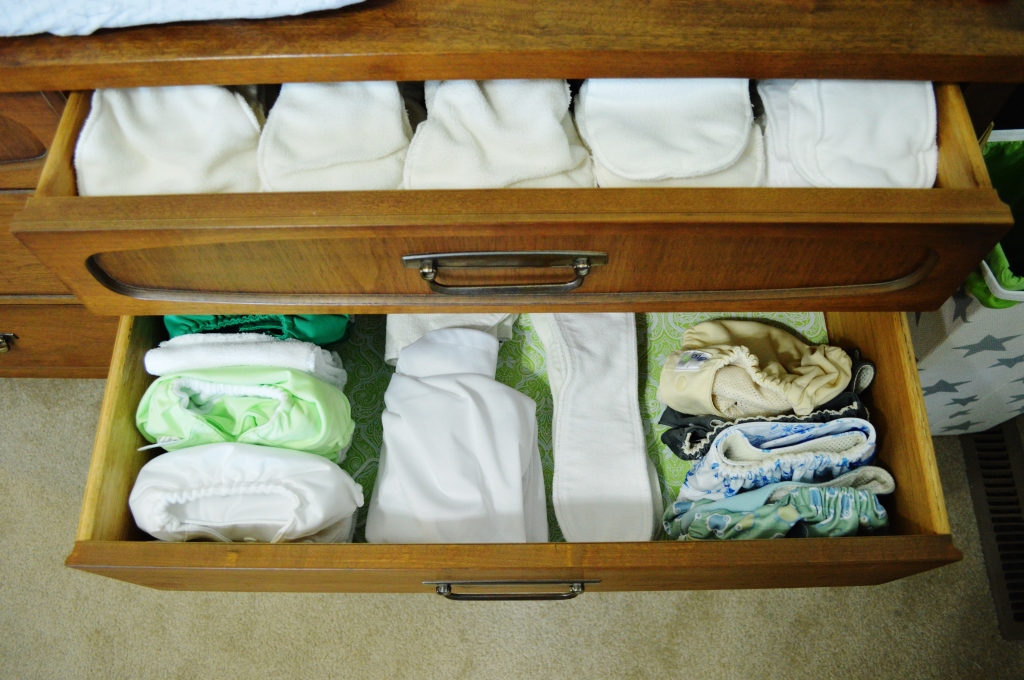 The bottom drawer has a few extra covers that won't fit in the metal bin on the wall, as well as a few extra inserts and boosters. And the few random diapers we have that don't match our usual "stash" of GroVia hybrids. I don't use those much, but occasionally reach for them for certain occasions, or on diaper laundry days. There's also a spare wetbag in there (the one we're using gets washed each time I wash diapers so we need a spare) and a few changing pad covers, too.
The top drawer holds all the inserts. For our preferred diaper brand, GroVia, the diapers come in two pieces, shells/covers, and inserts. The inserts snap in really quickly so I don't worry about getting them ready ahead of time, even though some people prefer to do that. It's really fast to grab a cover and then grab an insert during each diaper change.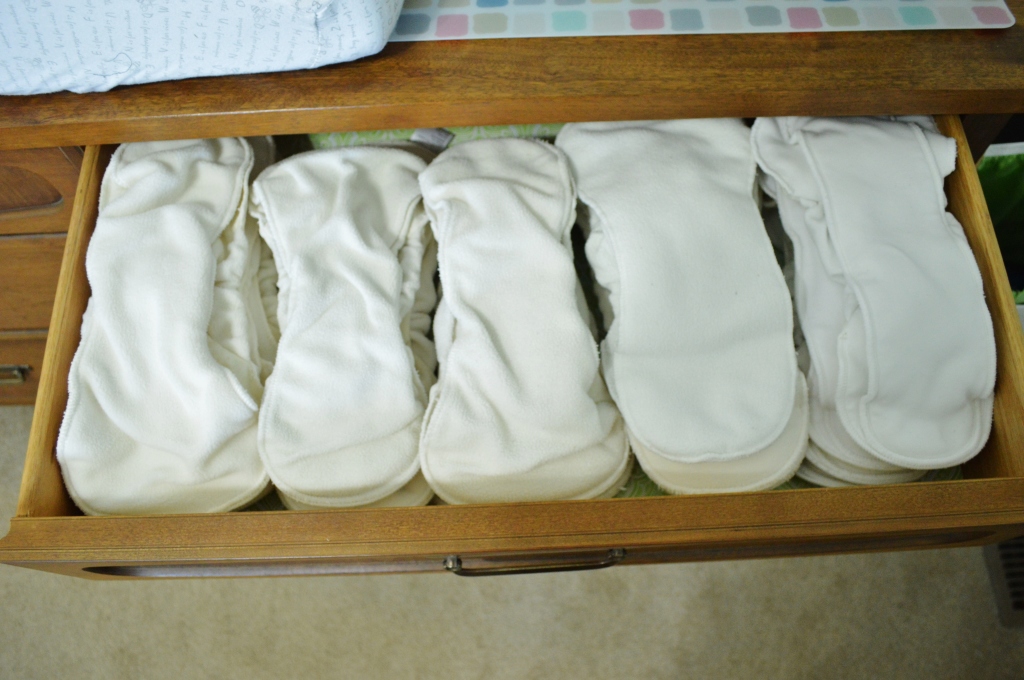 Plus, because these covers rarely get soiled (maybe just a tiny bit damp), they can be reused multiple times before you need to wash them. Most days, I rotate between two and three covers and just grab a new insert from the drawer. We keep the "in rotation" covers draped over the edge of the hamper to dry out/air out between uses.
Which reminds me that we ended up just using a wetbag inside the front half of our regular hamper to toss our used diapers into. It's clipped, very glamorously, with two clothes pins to keep it from slipping. It's not pretty, but it works. Maybe I'll look for a cuter clip. Or maybe I'll just ignore that this looks kinda janky.
.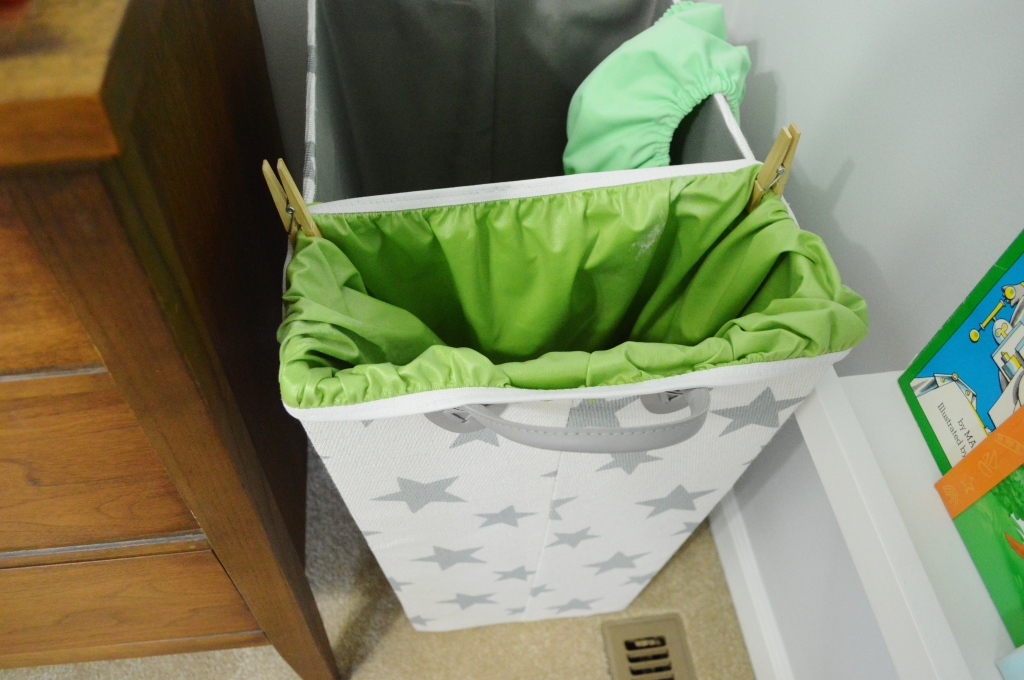 This setup is a bit unusual, we didn't have room for a separate bin with a lid, so we decided to try this on a temporary basis and it ended up working really well, even though we were a little worried about smell issues since it's just open to the room. But, right now, Will doesn't actually have "dirty" diapers very often–only a couple days a week, and the rest are just wet, so since I wash diapers a couple days a week, it's rare we smell anything at all.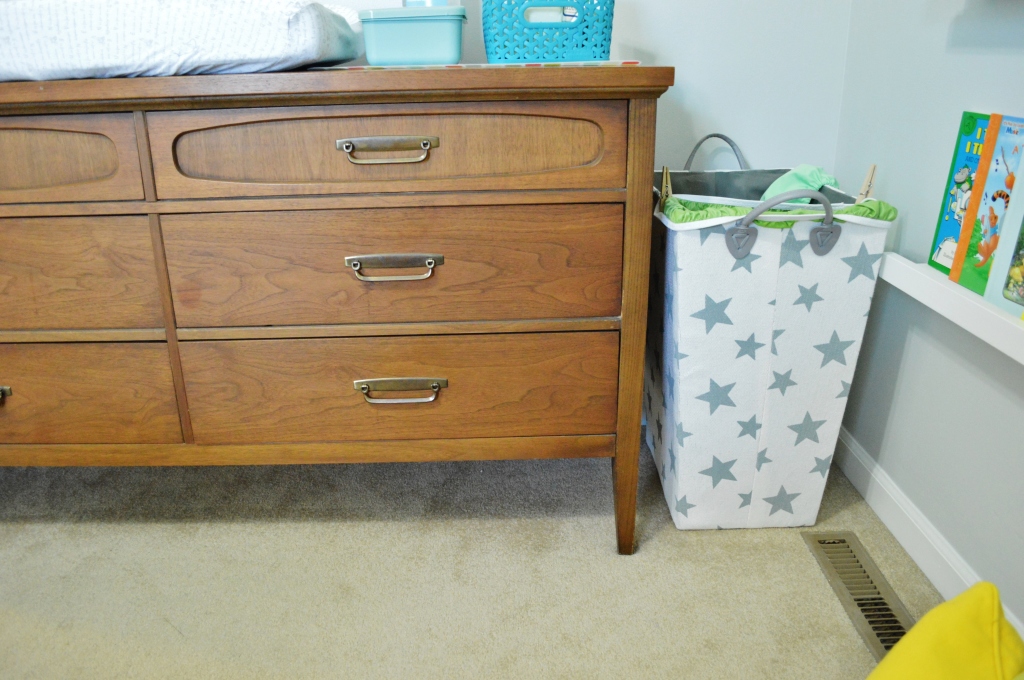 On top of the dresser is the sound machine, the changing pad, and then the rest of our every day supplies. I grabbed a cheap plastic placemat at Target to protect the wooden surface of the dresser from any water damage since our reusable wipes are kept in water.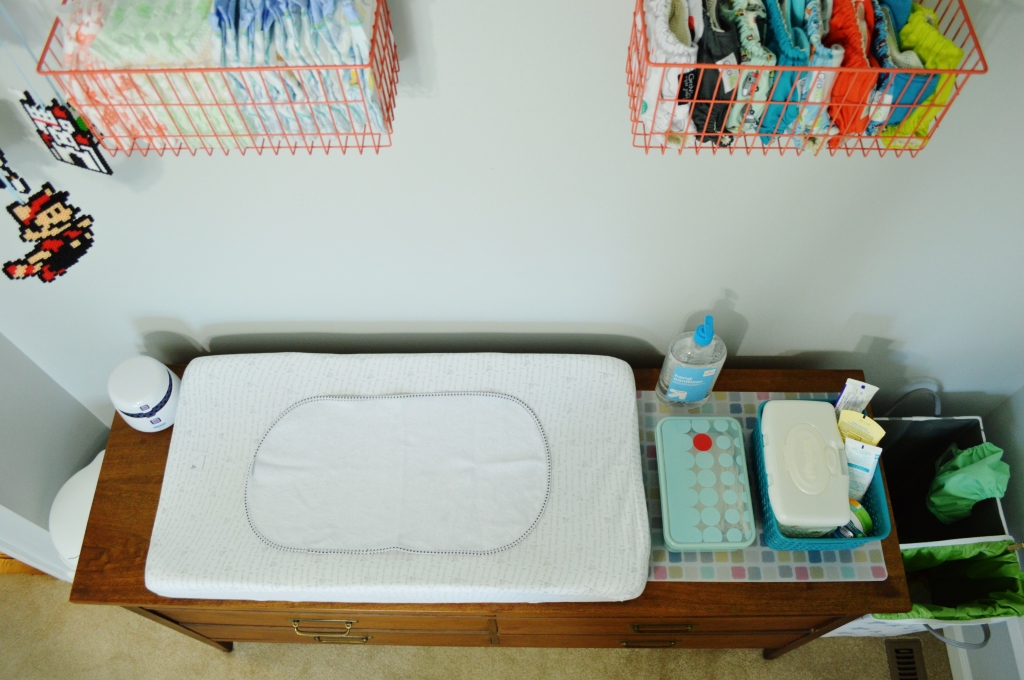 I set our container of cloth wipes on that surface so it's handy and the placemat catches any drips. They sell actual cloth wipes but we created ours using some old tshirts cut into rags and soaked in a baking soda and water solution. Of course, we also have some disposable wipes handy, in case of major messes. The bin that holds the disposable wipes container also holds our various creams and lotions for easy access. It isn't the prettiest, but it works.
You know what is the prettiest, though? Our diapers. Cloth diapering has been fun because they are so cute. Not to mention the environmental benefits (landfill waste reduction!) and the monetary savings.
Even though cloth diapers are expensive to switch to, our break even point, even including utilities and such, is around the 6 month mark. Since we started with Will at 5 months, that means if we use our cloth diapers until he's 11 months old, they will have paid for themselves in disposable diaper purchase savings. It's unlikely he'll be potty trained by that point–ha!–so I think these will prove to be a really cost-effective solution for us. (Not to mention using them for future kiddos–we hope!)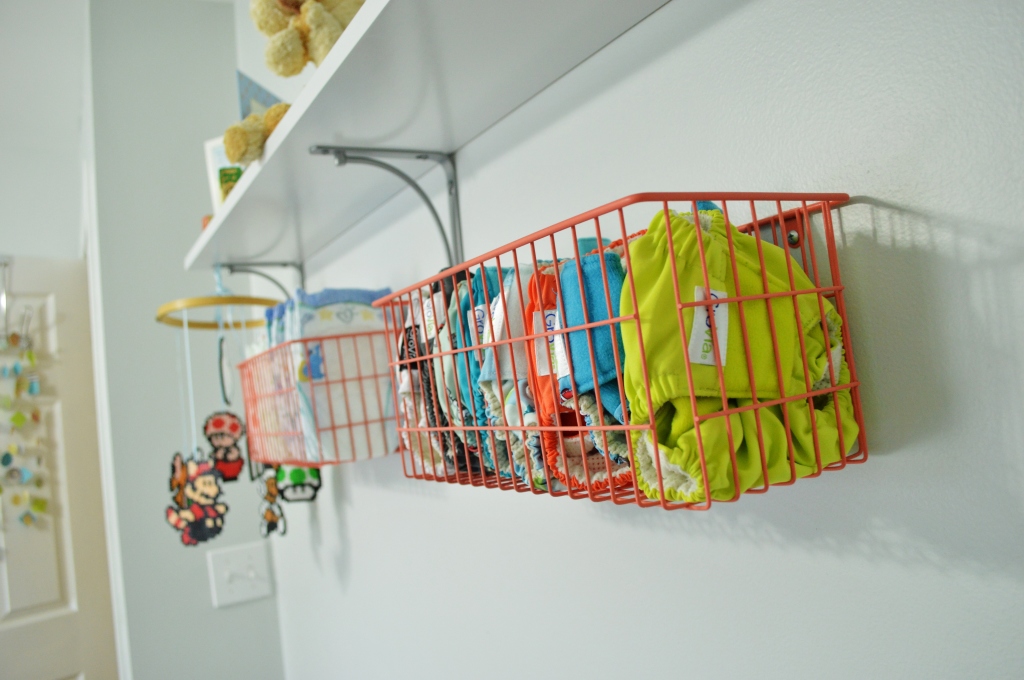 And just for fun, after talking about diapers for an entire post (boring??!!) I figure I better leave you with a photo of our little fluffy bum. Sometimes I call him Big Booty Judy, but don't worry, I say it with love. And he seems to appreciate the joke.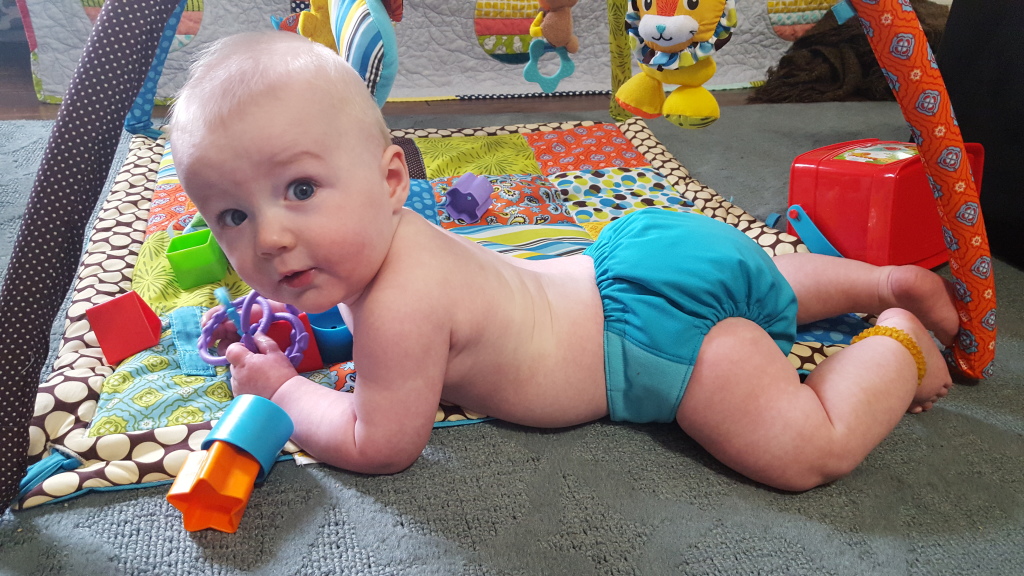 Any other questions about how we're liking the nursery since our reveal post 7+ months ago? I think it still looks just as good, although it's messier, of course. This is real life, after all!
Are you familiar with cloth diapers? Want to learn more? Want to share your own secrets? Please do!
(Also, don't forget to check out the full nursery reveal we did before Will was born, here.)