This is it, our home sweet home. It's still very much a work in progress, but we're certainly happy here.
Here are some before's and after's, for your reading, and er, remodeling pleasure. And for a list of all the projects we're working on or planning to take on in the future, check out our Master Plan.
(Keep in mind, these rooms are still needing lots of work. We're by no means done! And sorry if some of the photos are blurry or from the previous owners' house listing. We're busy bees, and not always caught up on taking and uploading good new photos! Forgive us?)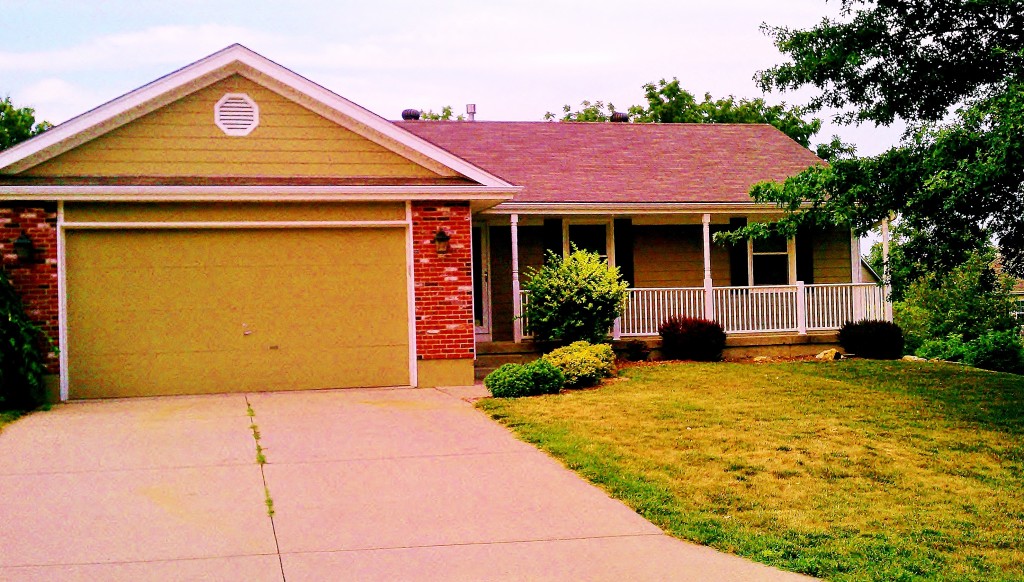 Last year we spent a lot of hours in the heat tearing out all the old landscaping and overgrown shrubs. The one next to the door really blocked the entryway. Plus there were barberries…ick ick ick.
Now it looks like this: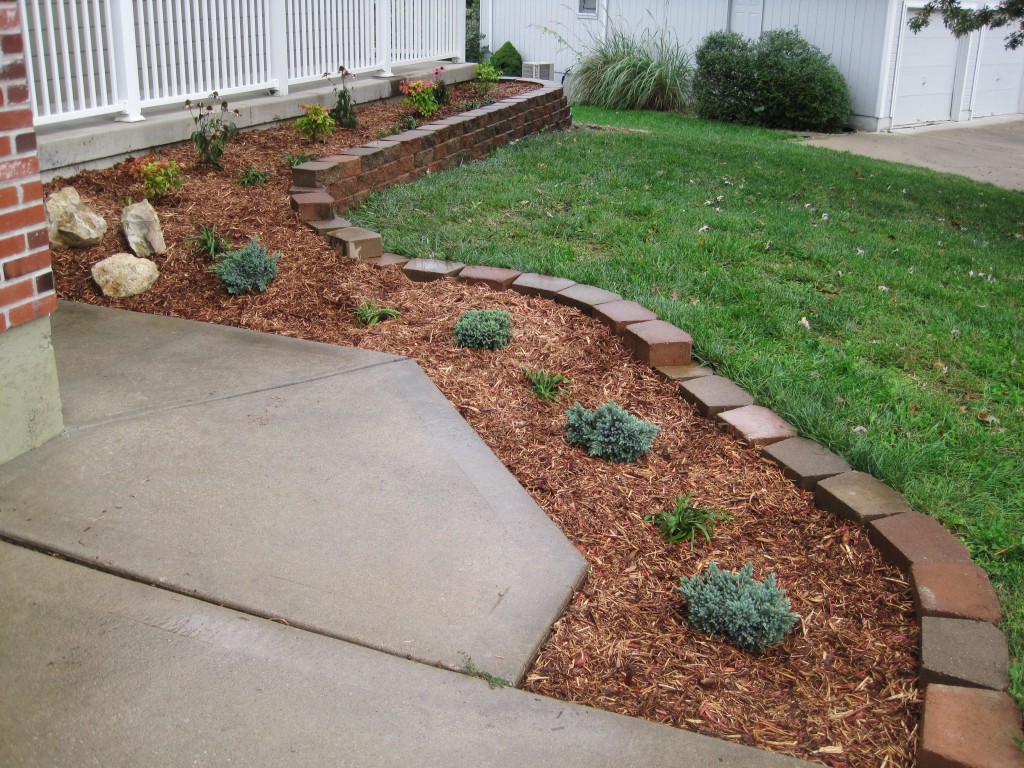 We also added the higher retaining wall because we had a problem with wildlife living under our porch. Not anymore! You can read about that project here.
Here's what the garage looked like when we bought the house…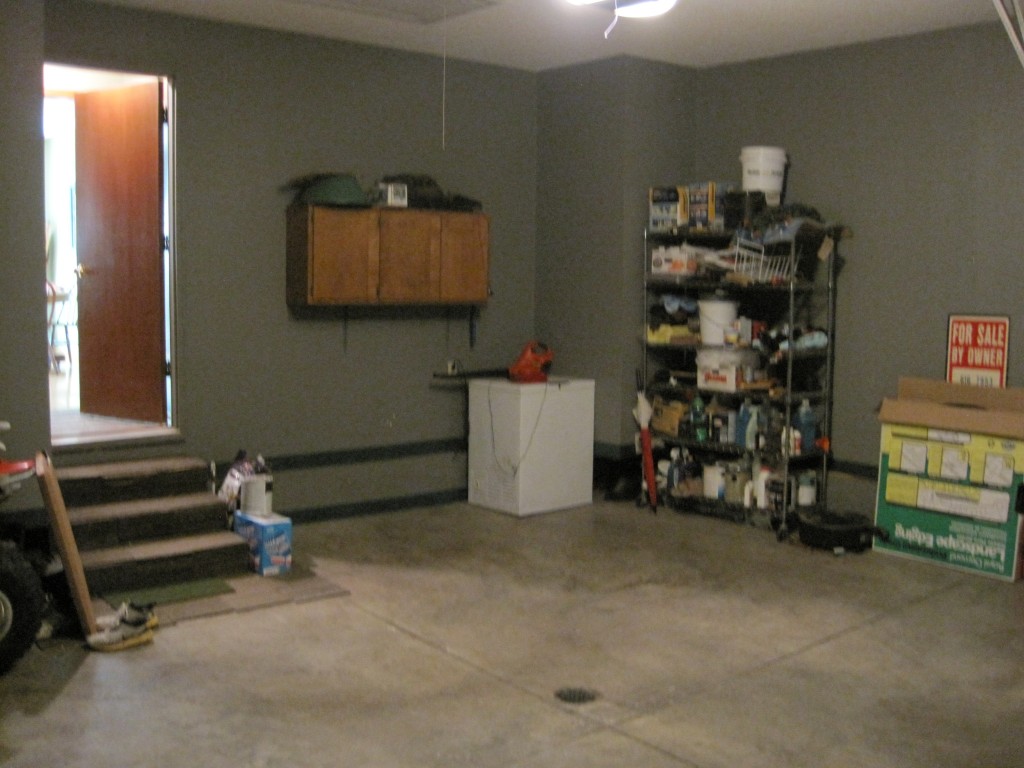 And then how it looked during major reno-mode…yikes. No room for cars in there. It actually got a lot worse than this at times. Scary.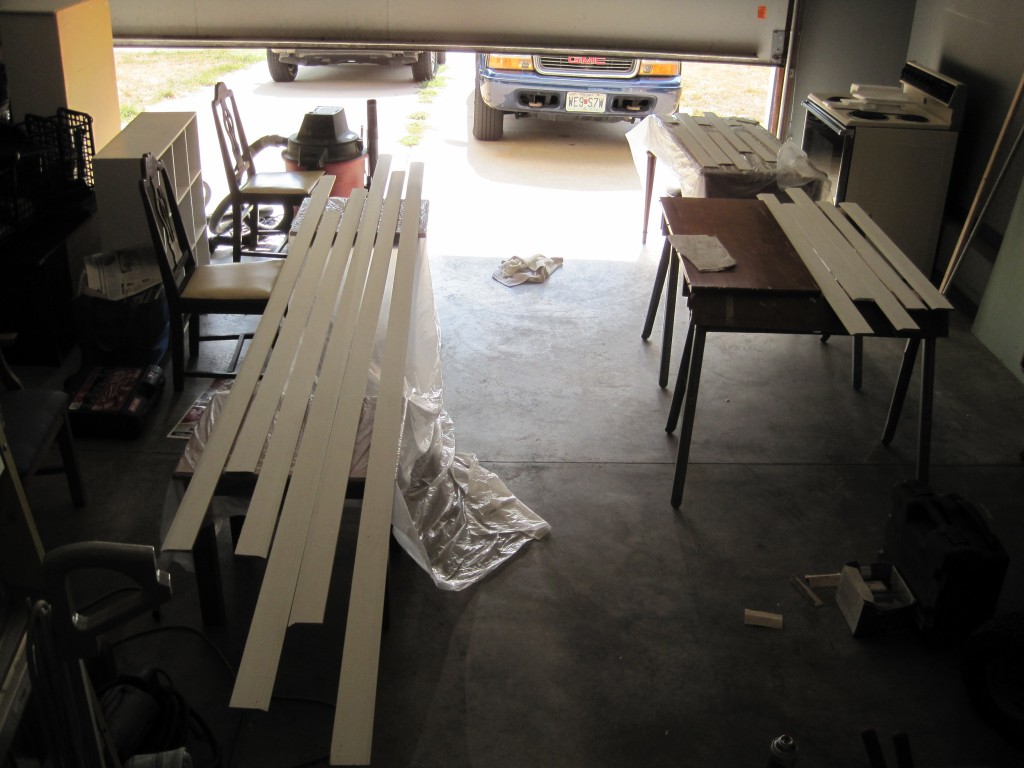 And how it looks now. At least both cars will fit in case of bad weather. It only took one afternoon of some serious reorganizing and sweeping (and encouraging Hubs to keep cleaning) to get it this way. Did you notice Wyatt's workbench? He loves it. There will be several other "garage work days" in our future, because we need to seriously tackled the lack of storage we have. Everything is just piled up out there.
But for now, it's organized, and that's enough for me. Except that yucky carpet on the stairs. That needs to go. Now.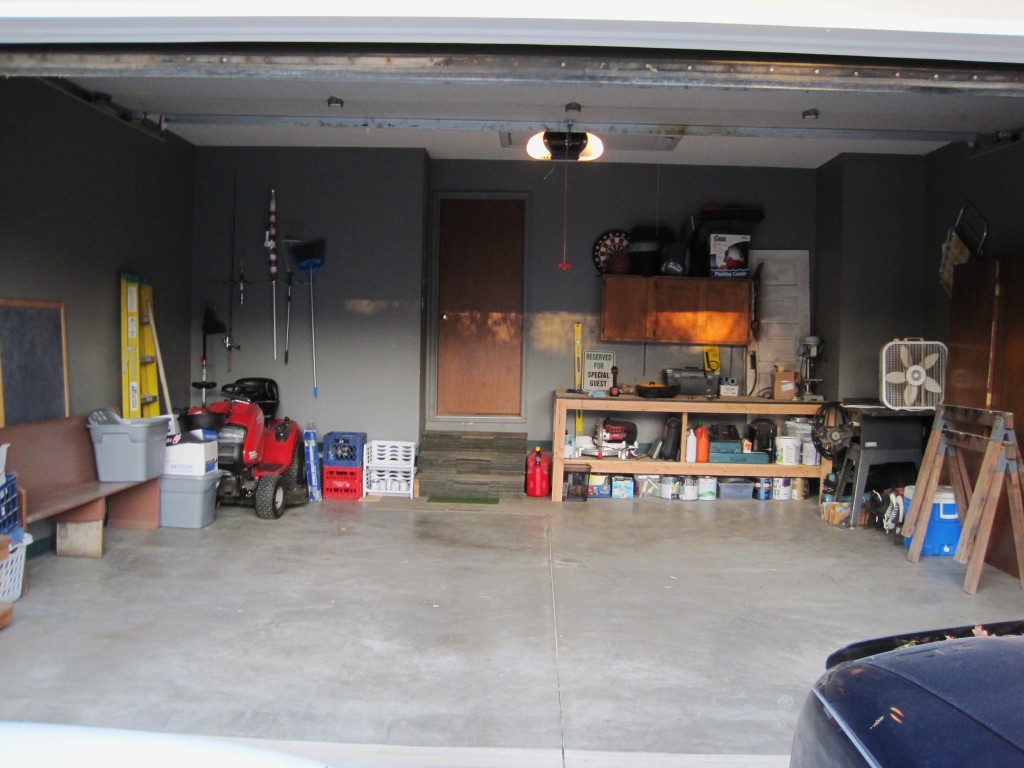 Here the entryway before, or rather during, when we were starting to paint the trim.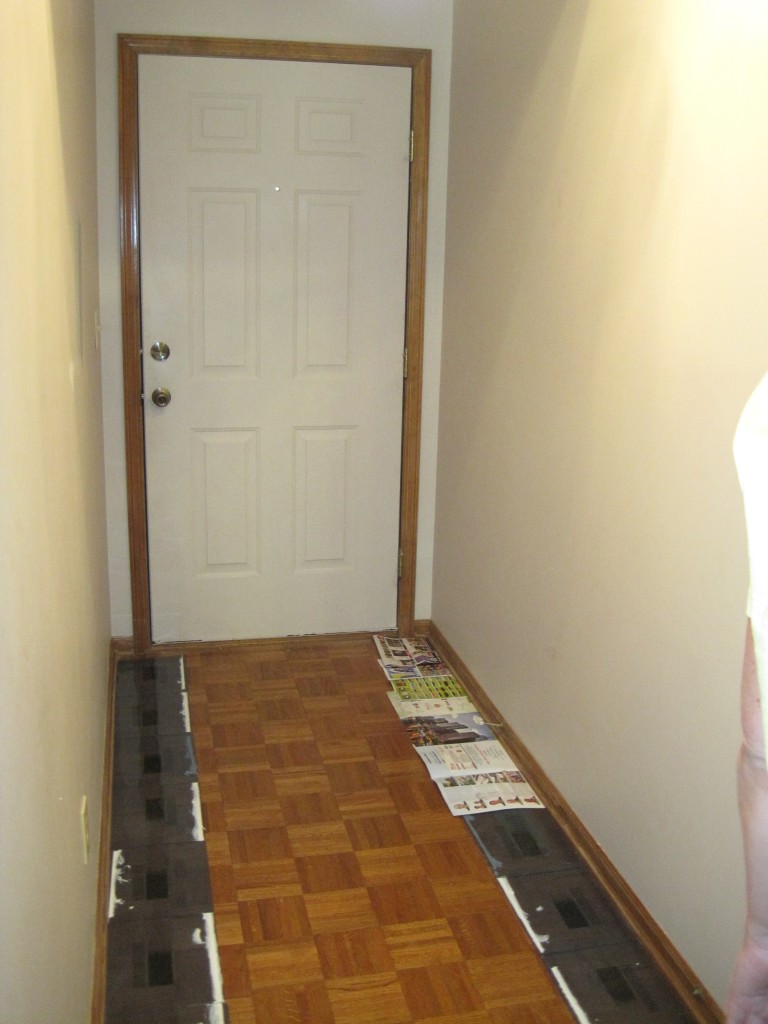 And after stage one.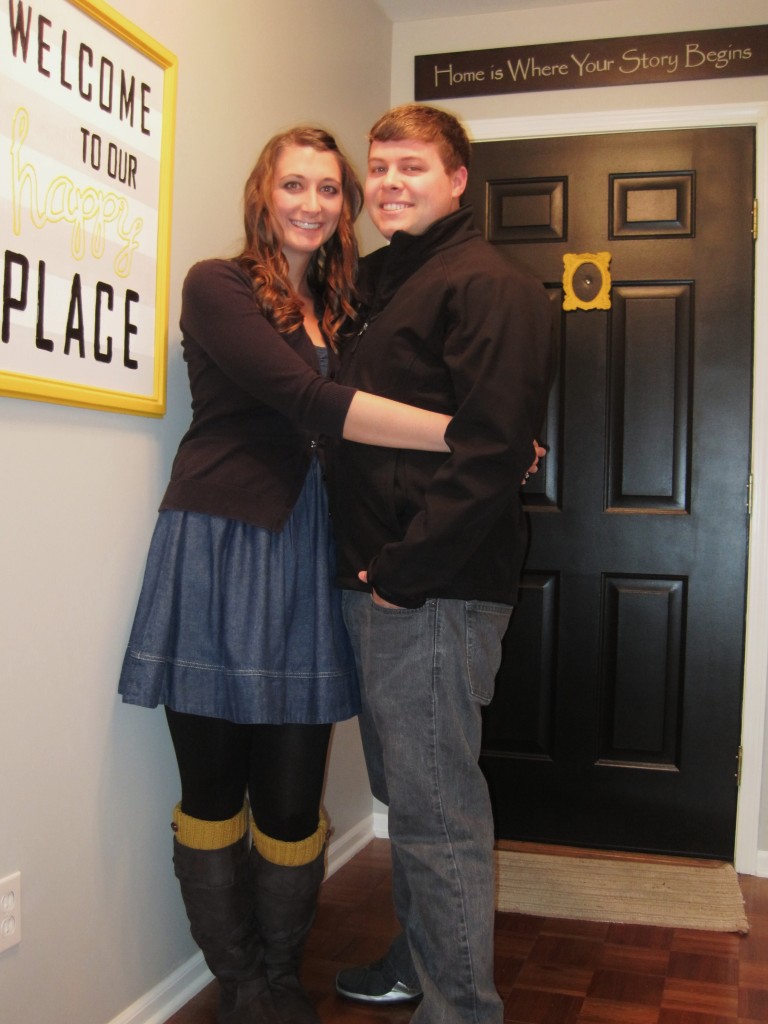 The black door is SO much better! Check out that project here. And I can't get over how much I love the white trim. I painted that sign on the left, but we eventually moved it to my office to make room for phase two. And 50 bonus points if anyone can guess my favorite thing in the room (besides Hubs, of course)!?
Now, the entryway looks like this with our map pinboard.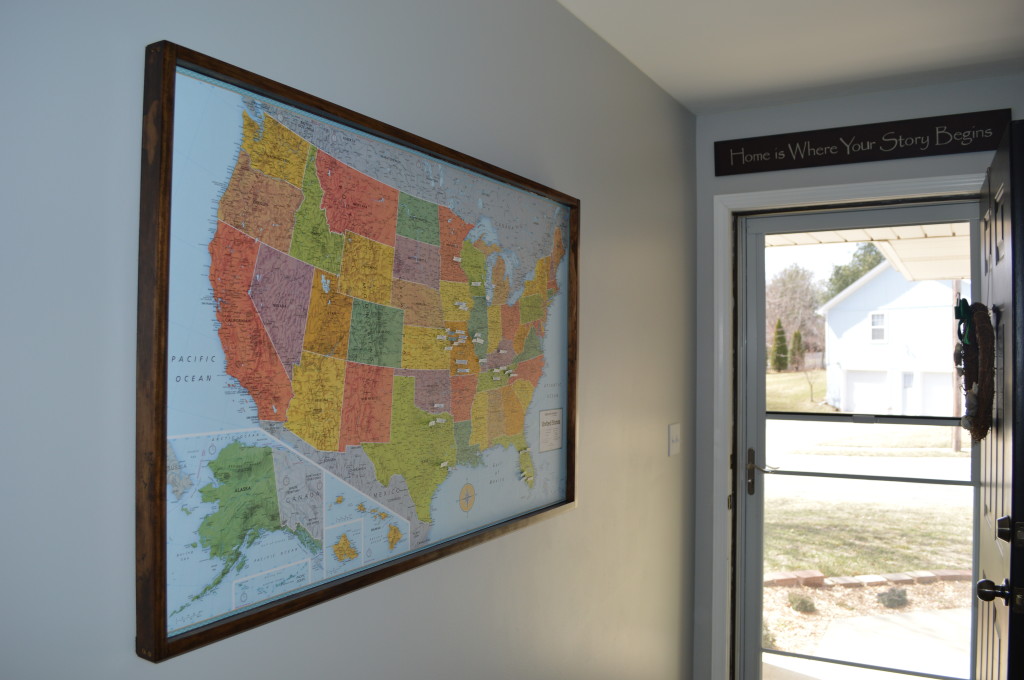 The living room looked like this the first time we saw the house. I hate TVs in the corner. And the beige wallpaper that might as well have been white…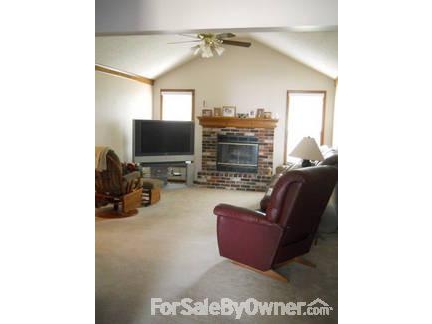 And this is how it looked our first night here before we officially moved.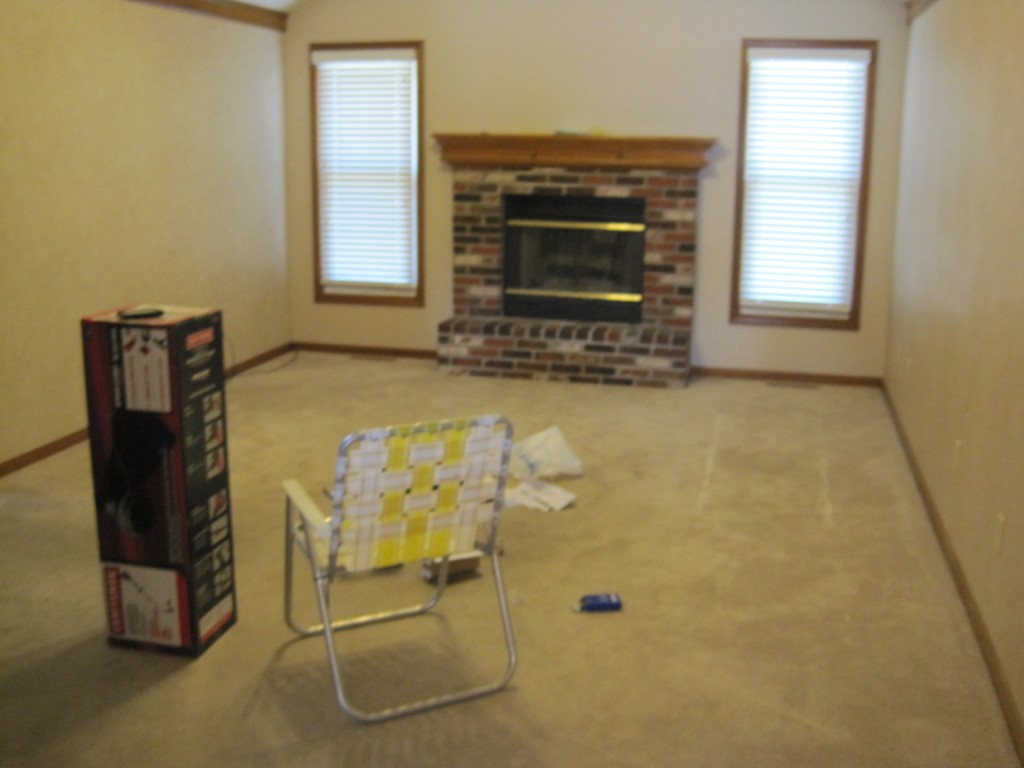 And now. We also ripped up the carpet and installed hardwood floors and added a rug. I really like how our DIYed curtains and the gallery wall turned out, too.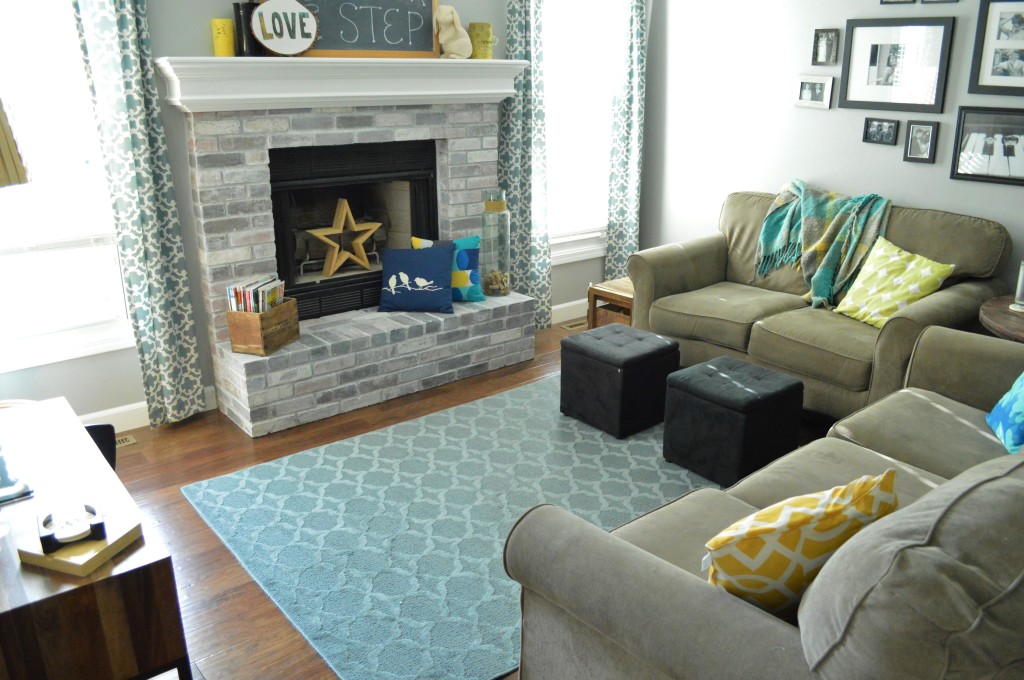 Whitewashing the fireplace made a HUGE difference! It's one of my very favorite upgrades because it was so fast and easy, free, and made a HUGE difference.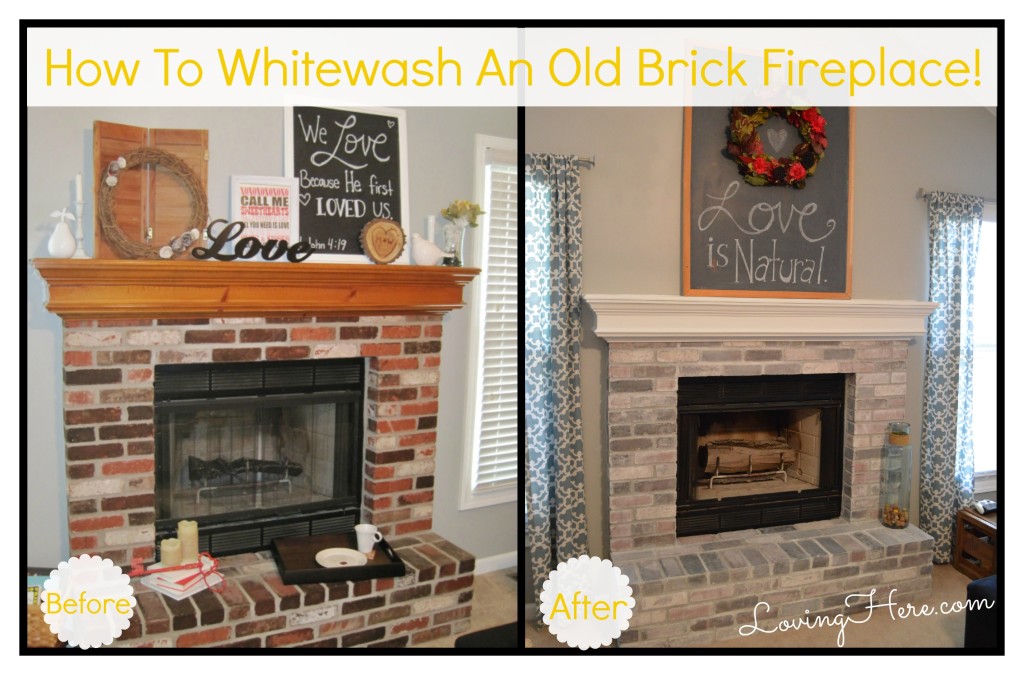 Down the hallway…this is how scary it looked during the whole popcorn ceiling adventure,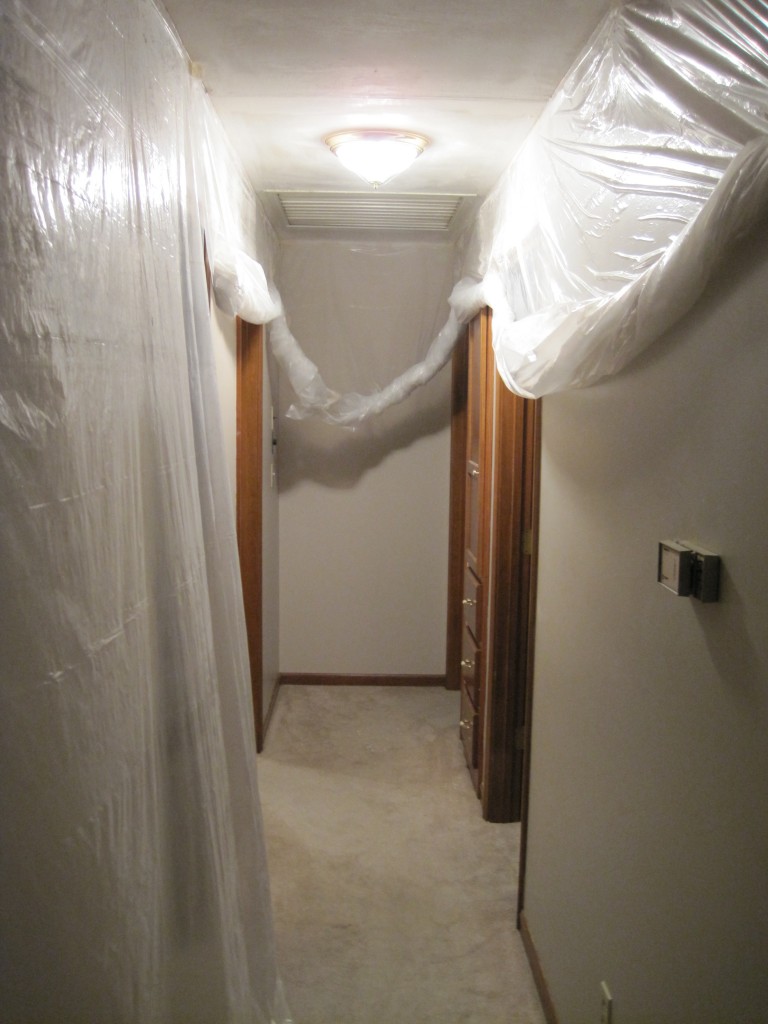 So much better now! I can't over how happy I am that we I painted slaved over painting all that trim. Thank goodness I had help from my mom and sister a couple days!
(But this photo reminds me I need to get a new photo with the hardwood floors. Oops!)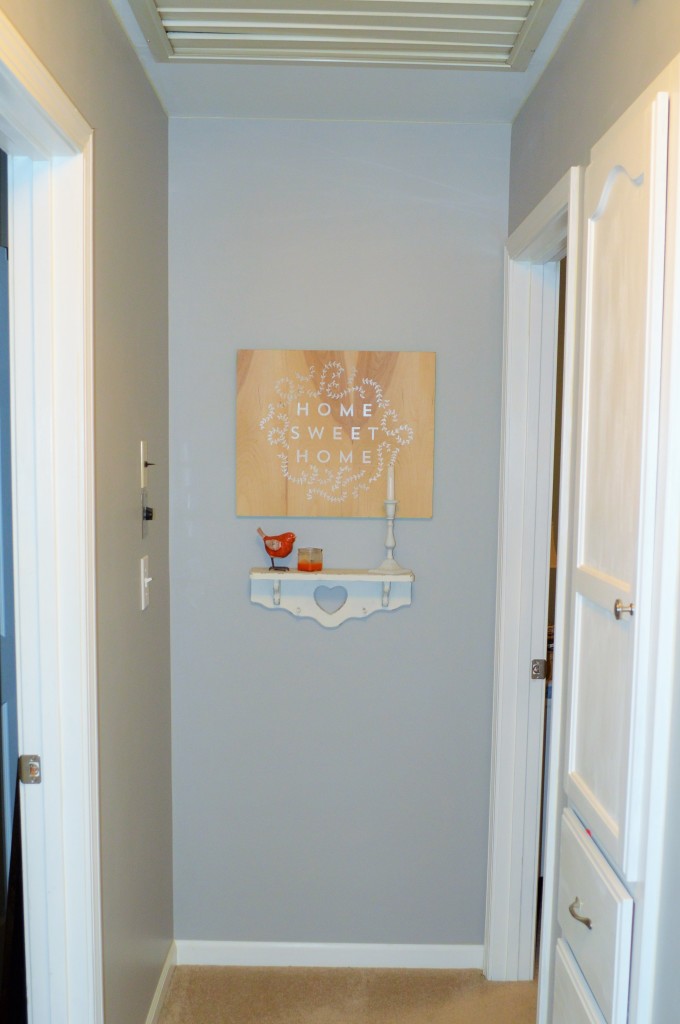 It's also better now that we replaced all the doors.
And my office used to be pretty dull.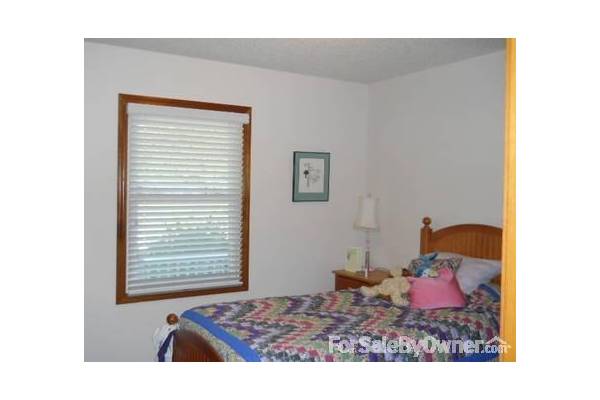 But now it's bright and fun.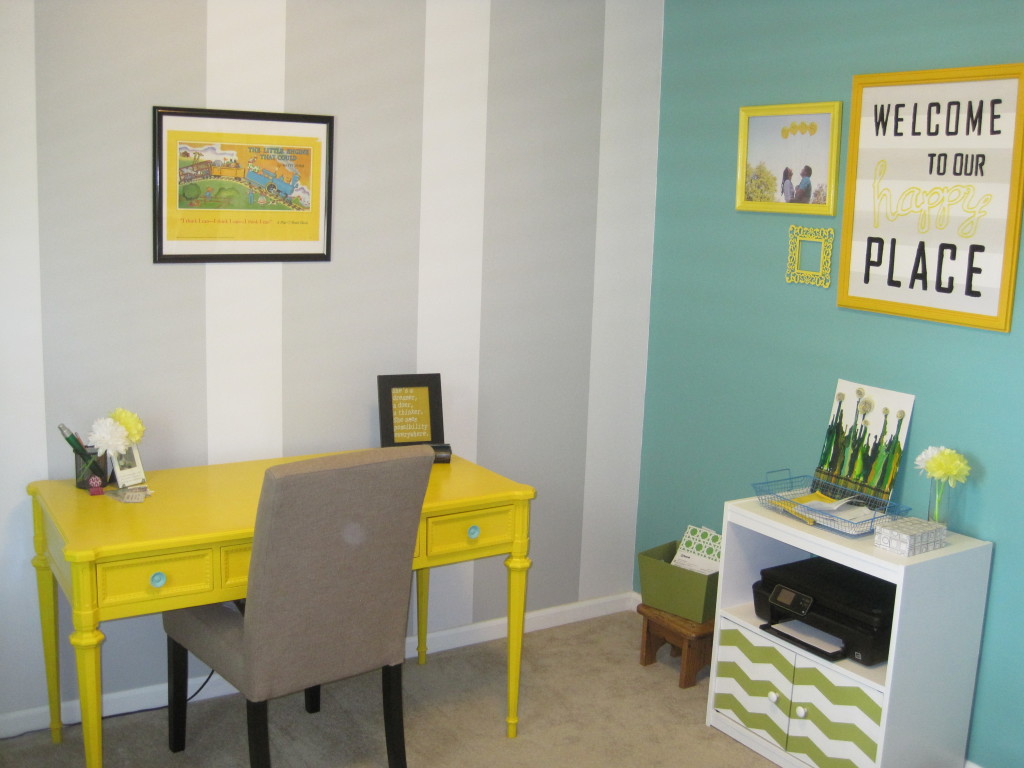 The yellow desk was a fun furniture project, of course. And it goes so well with my yellow lamp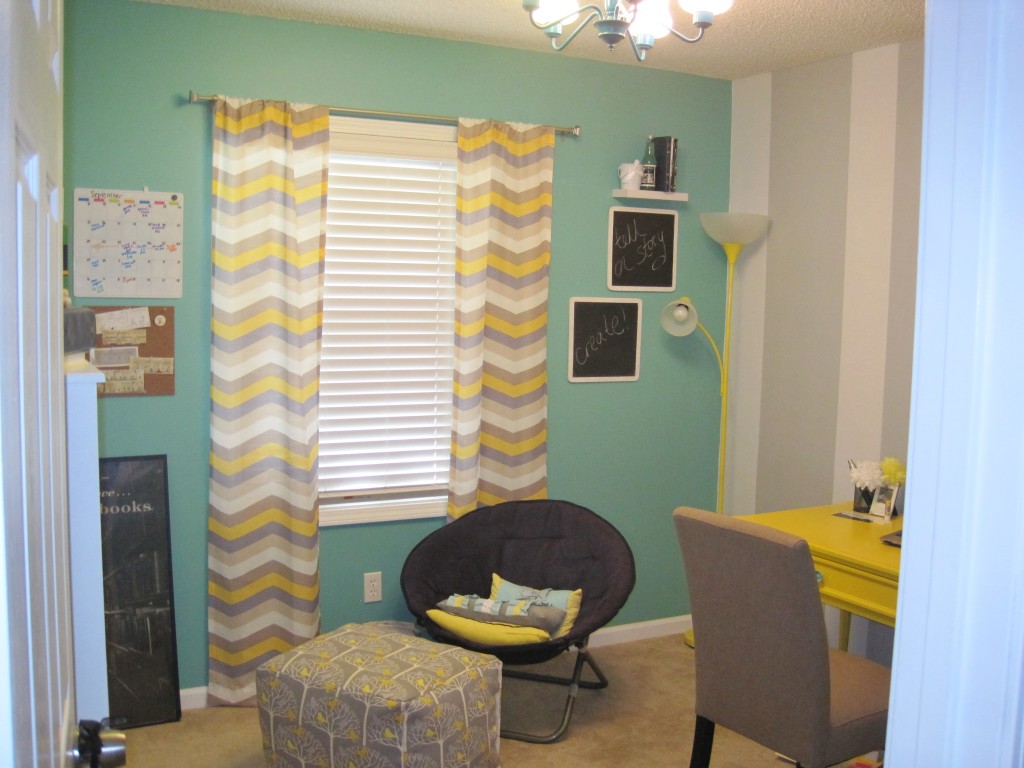 I also remade an old microwave cart into a printer stand, which you can read about here.
The hall bathroom was so, so awful. We don't have a full before picture to document the horrid burgundy and green floral wallpaper that was on the bottom half of the room, but here's the mint green paint that was in there before we painted.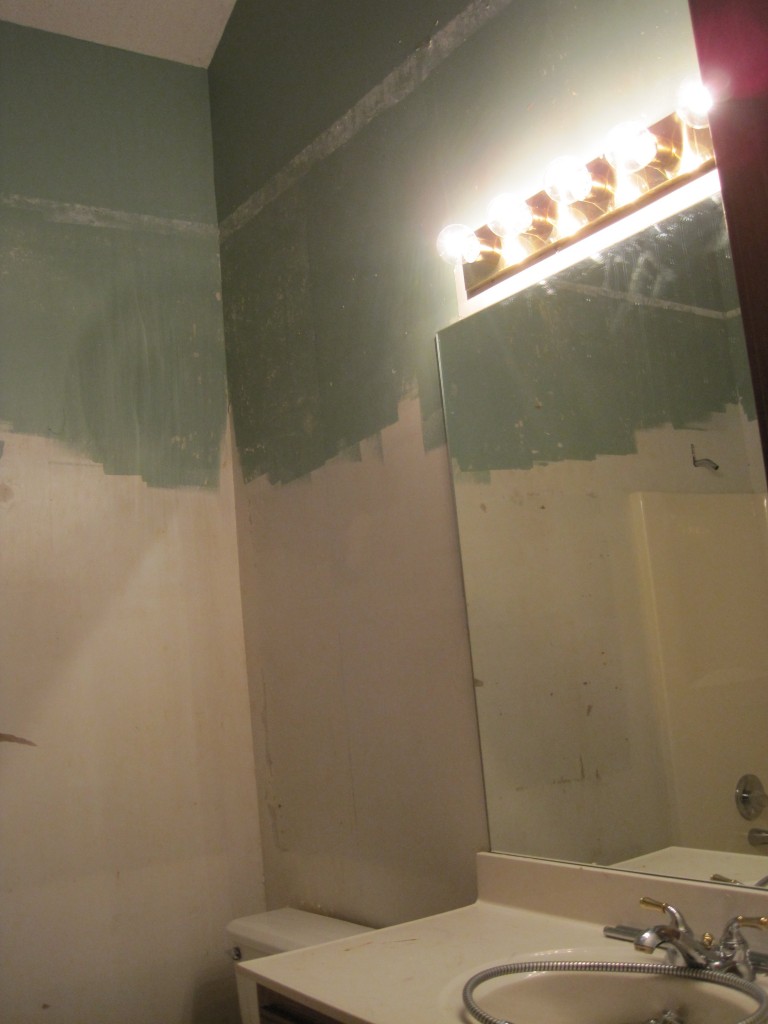 It actually turned out to be one of my favorite rooms so far, despite still needing some touch-ups. The bead board and the framed mirror made such a huge difference, plus the new light of course.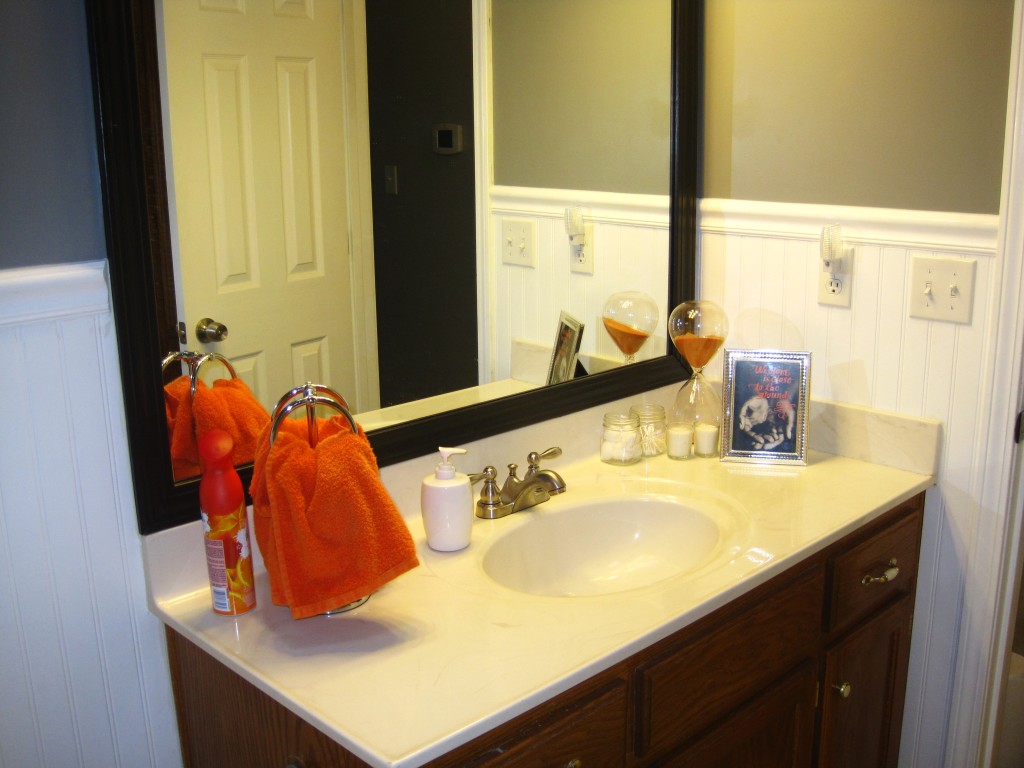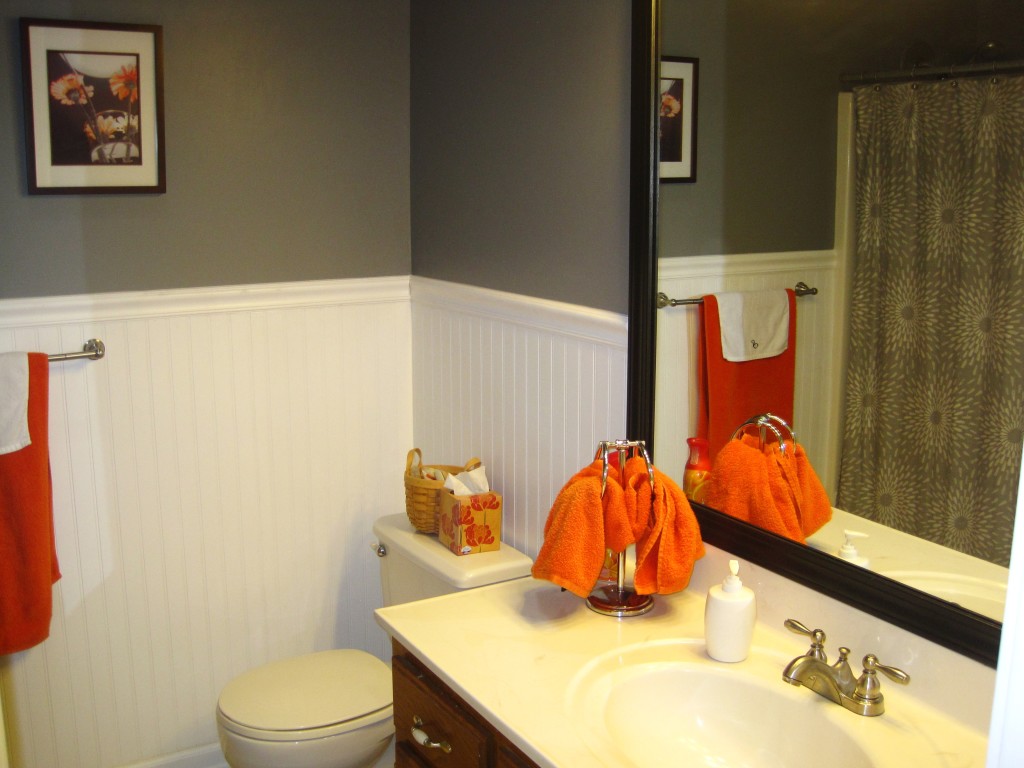 The nursery (old guest bedroom) used to be purple. The zebra print bedding and glittery peace sign really dressed it up, don't you think? Wyatt just loved this room. In fact, it was the selling point for him…ha! And don't forget the mirror that was GLUED TO THE MIDDLE OF THE WALL.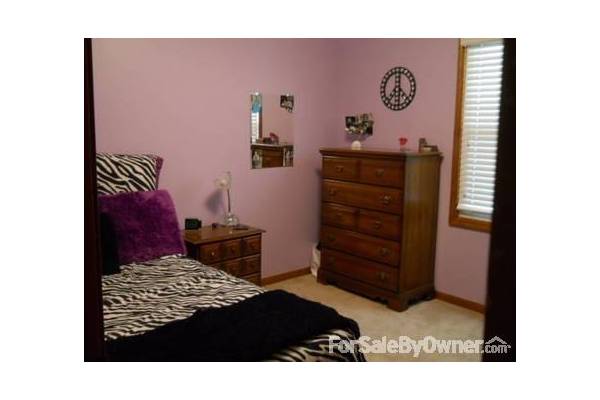 In it's temporary stint as our guest room, it was blue and brown. We remade a free headboard and used some "hand-me-down and college leftover" furniture for this room to save money.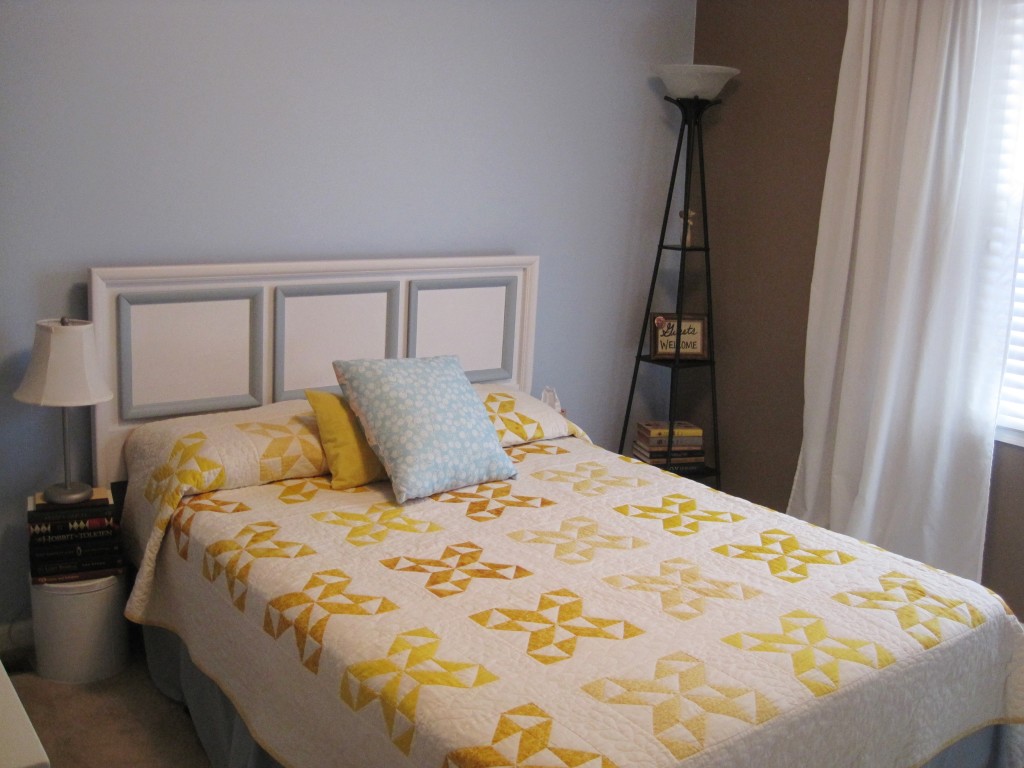 After we converted this room into a nursery, we moved the guest room downstairs, which involved painting, redoing the ceiling, adding furniture, a DIY tufted headboard, and some prints and other decor, like some more hacked curtains, using my favorite DIY trick.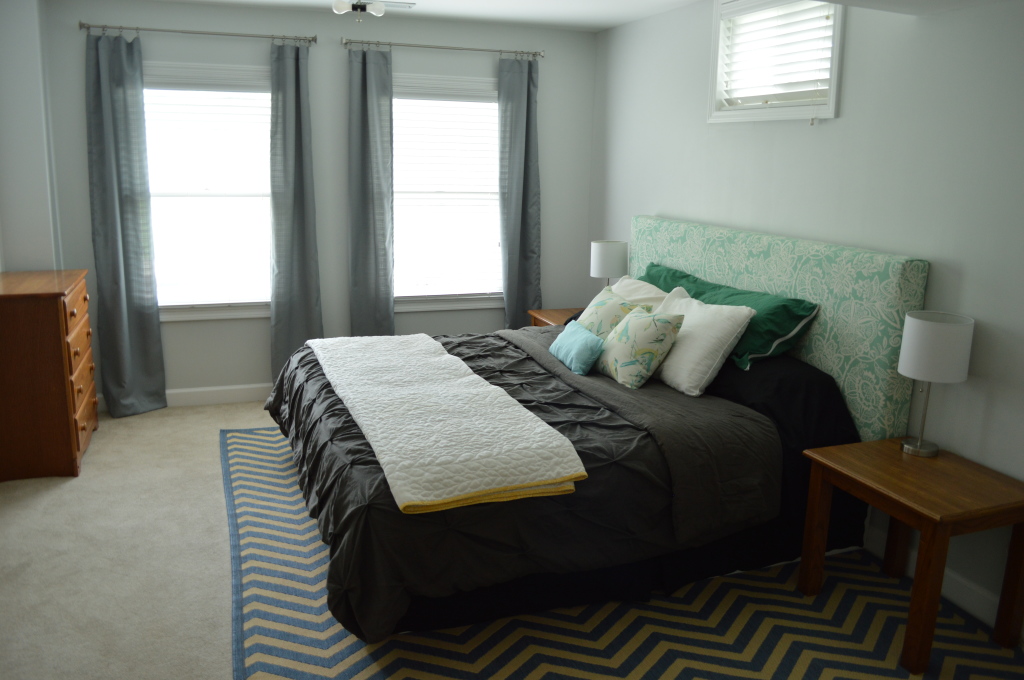 We also added a Craiglist dresser that we painted white for some storage, and painted the trim and switched out the doors.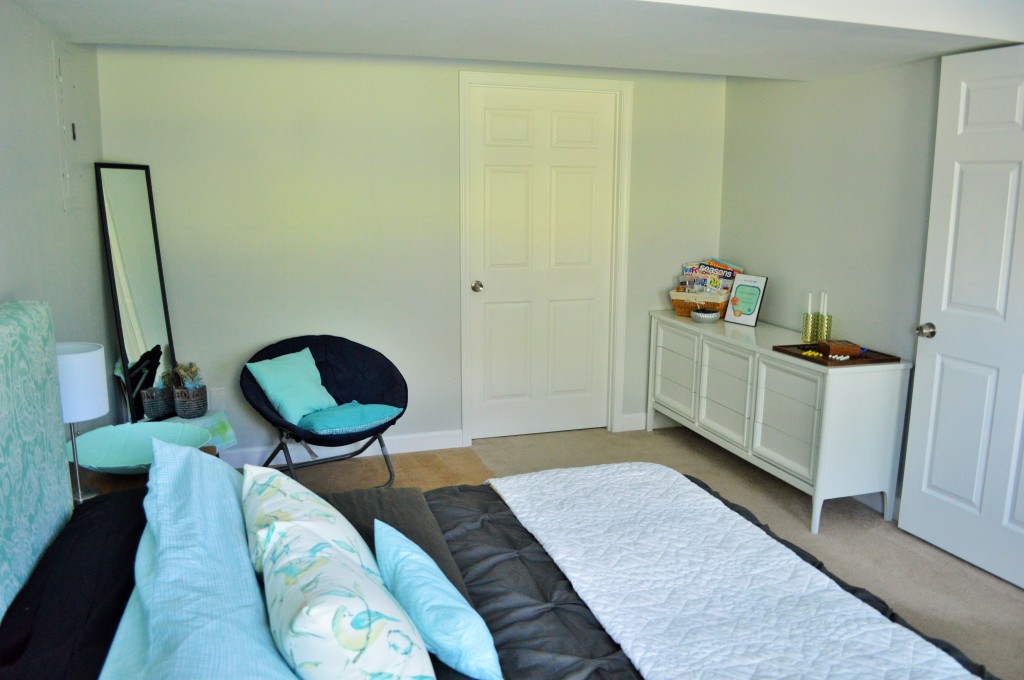 The old guest room is now our nursery, which you can read all about here. I think it's super sweet and perfect for our little guy. The book ledges are my favorite part, but I also really like the chair, the crib, and the ottoman.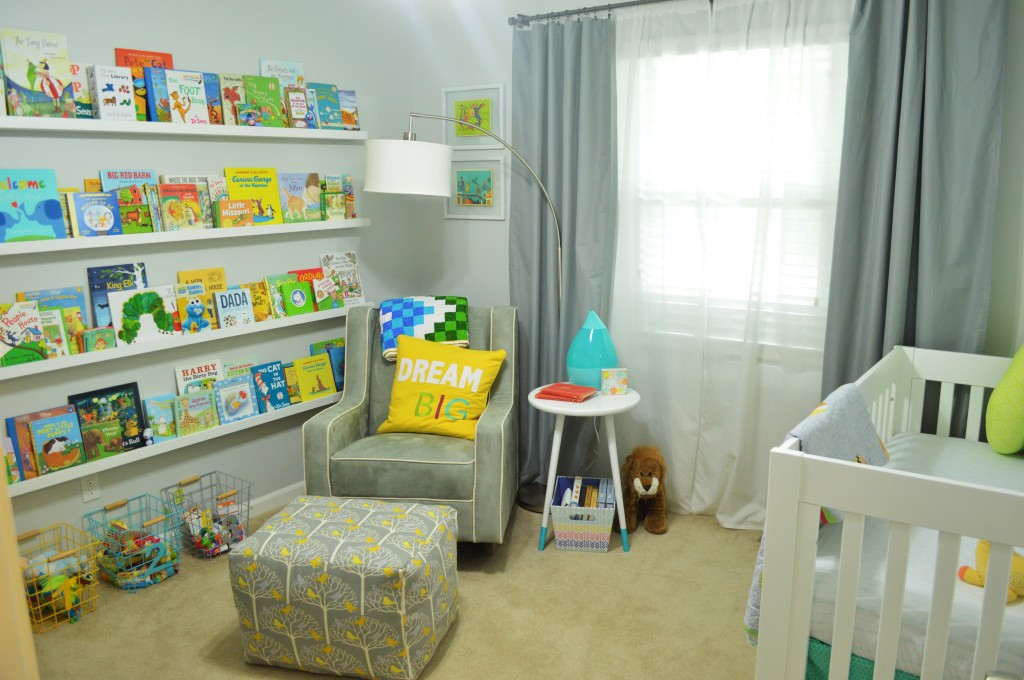 We scored a secondhand dresser and added some diaper storage on the wall with some spray-painted baskets.
As for the master bedroom,  this transformation isn't quote complete, but it's so much better in there. It was just "not us" before. Checkerboard wallpaper, in two places. Not to mention the super shiny fan, which Wyatt talks about replacing here.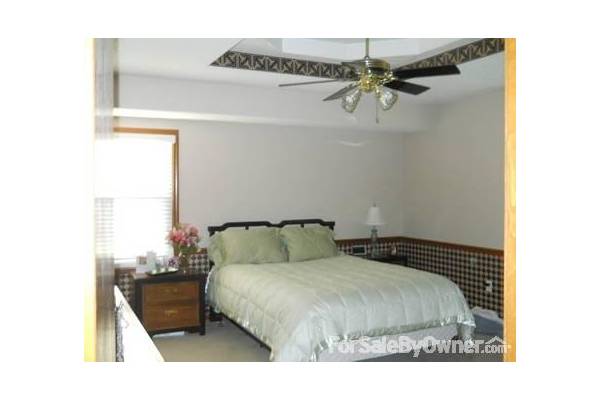 And now, despite needing a better bed frame (which Wyatt will be building some day), it's pretty nice, we think, for the first phase of improvements. I still have high hopes of making this space into a nicer, more luxurious retreat down the road.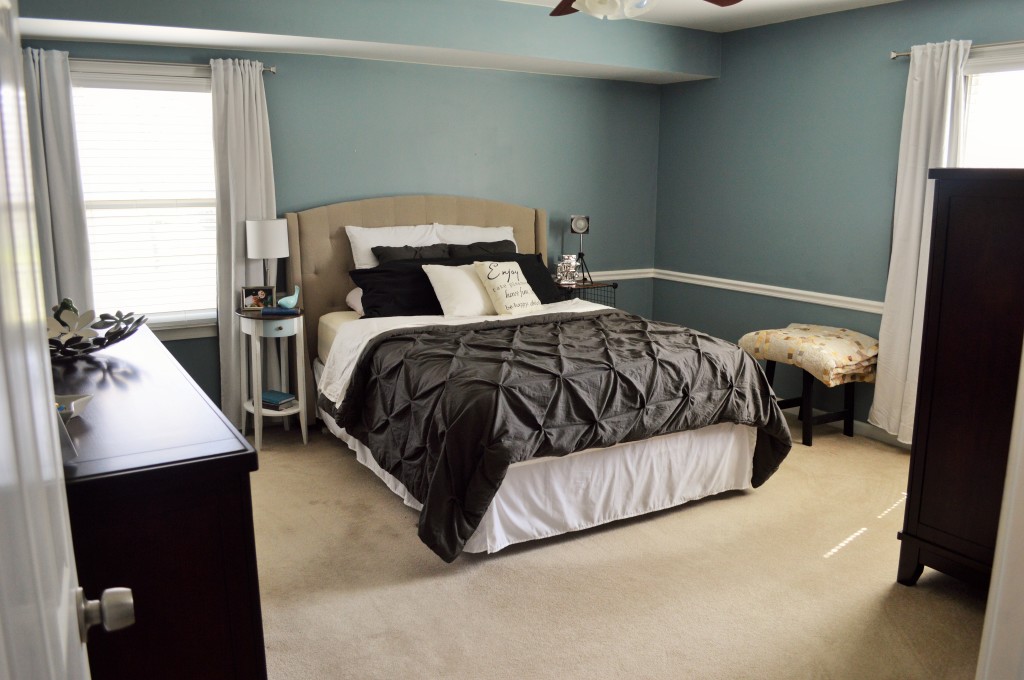 We are especially enjoying our new dressers, and the mirror Wyatt fixed up for me.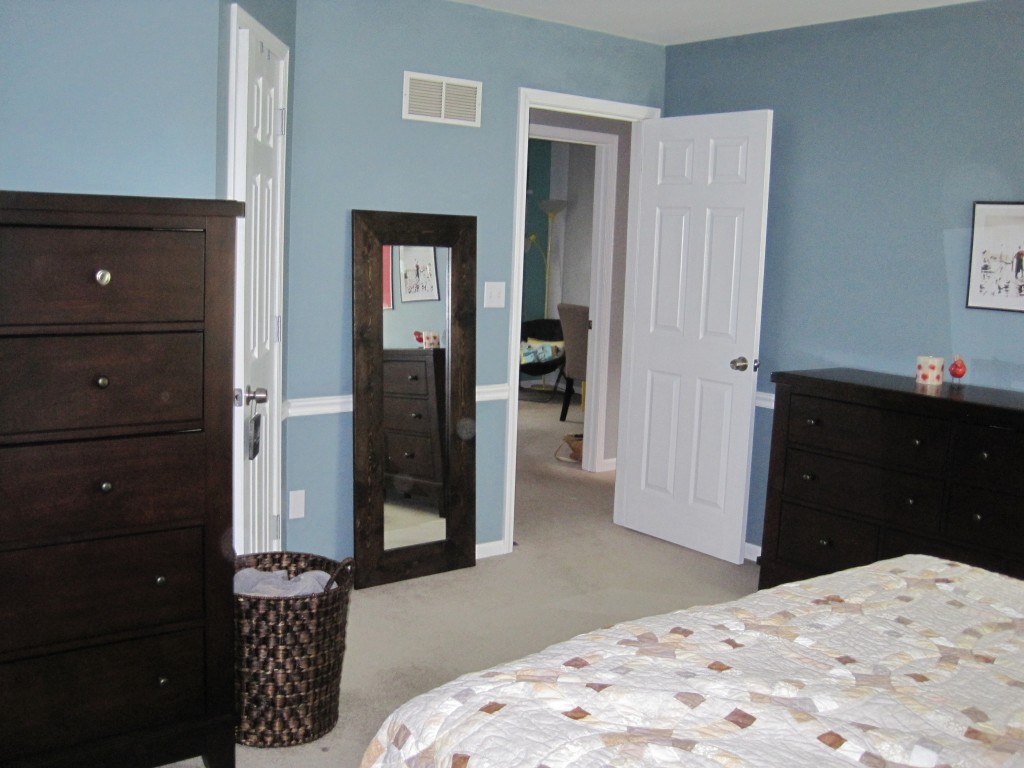 Oh, and did I forget the kitchen? Before, it looked like this. Green and…well, just old.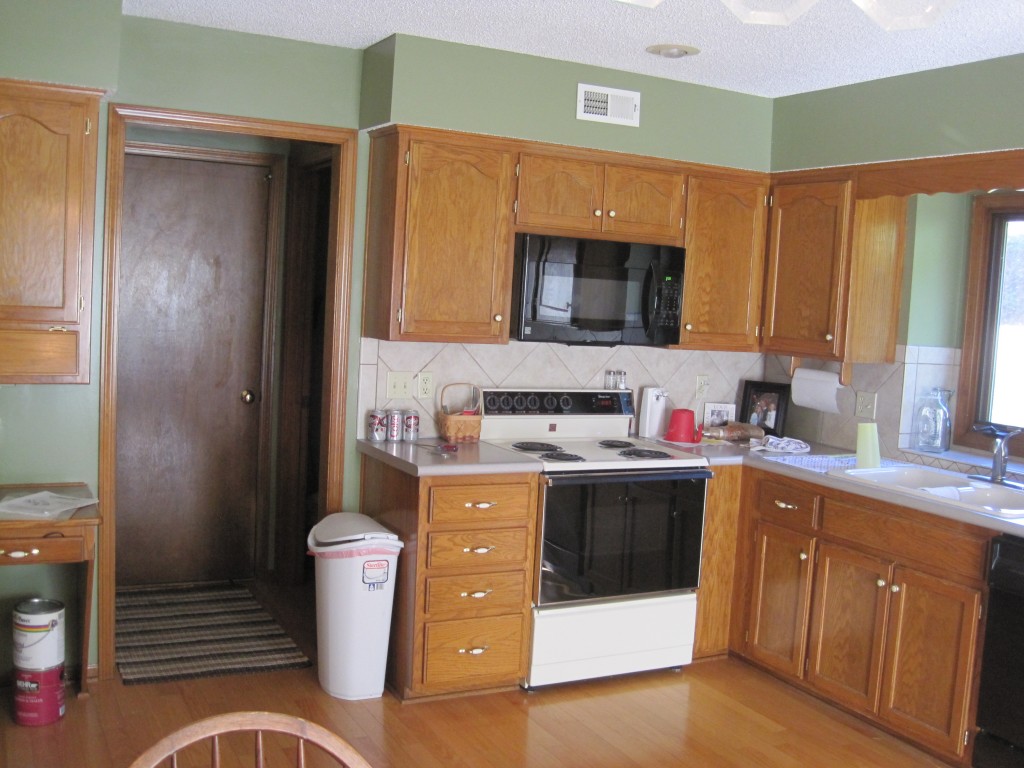 We started with a phase one update that included new hardware. Here's that project in progress. We also got a new range and painted the window trim white.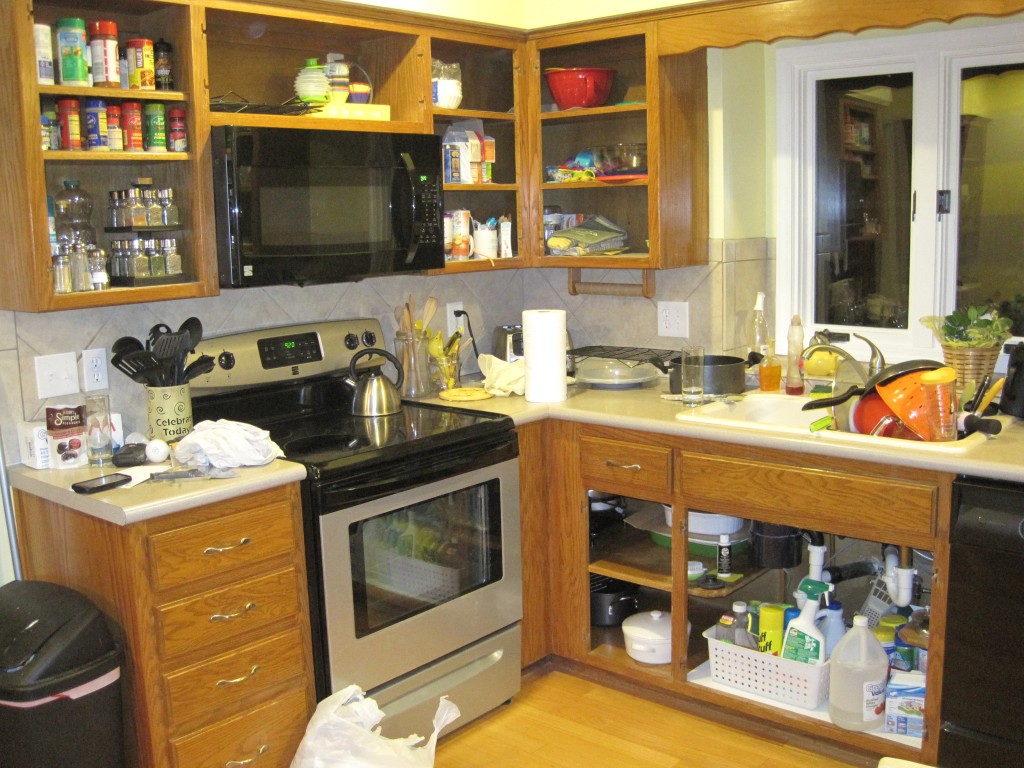 Also part of phase one, Wyatt fixed up the old lights, (in this post) made this rolling cabinet and took out the desk that was there.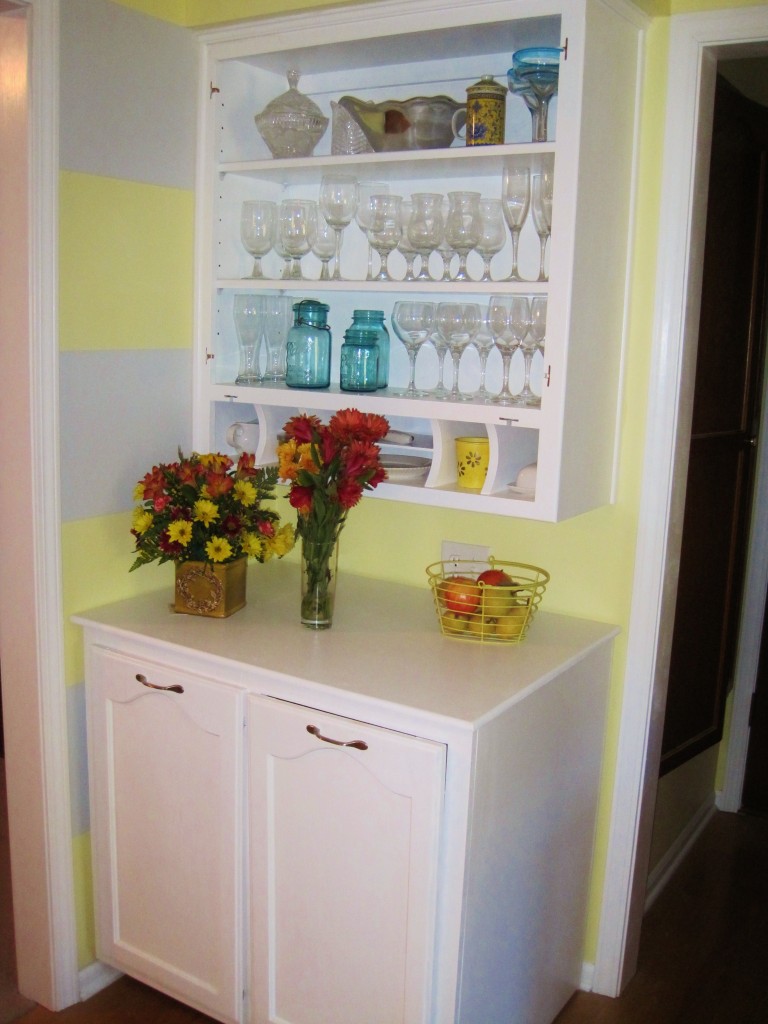 He also made this shelf over the door to display some fun items, like the sign from our wedding!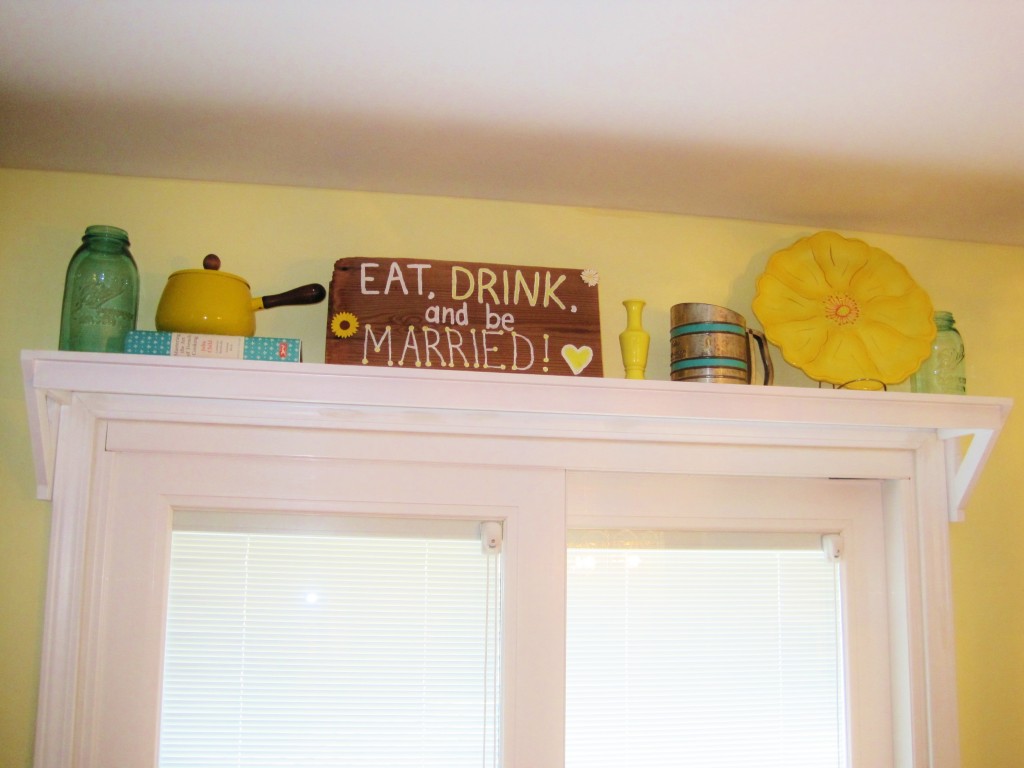 And the dining room area of the kitchen was green before, too.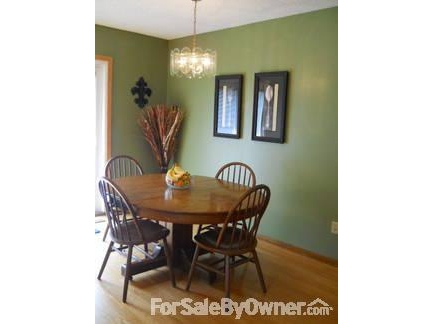 But, now the kitchen has been completely redone. We gutted it and removed a small wall over by the pantry.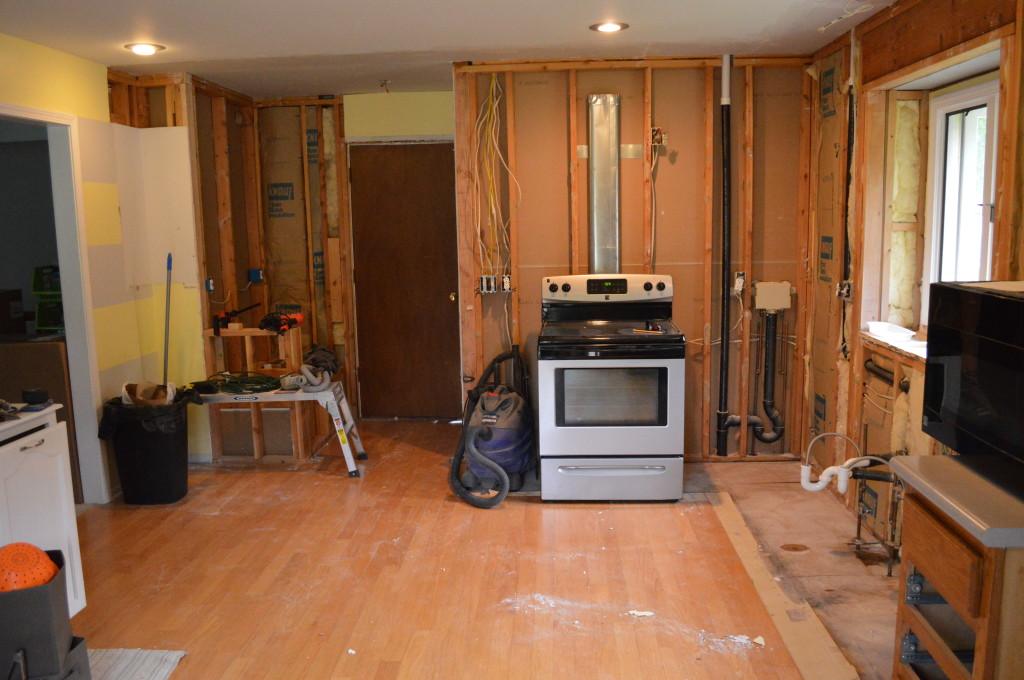 We're still working on a few finishing touches, but it looks like this now, and it's amazingly wonderful.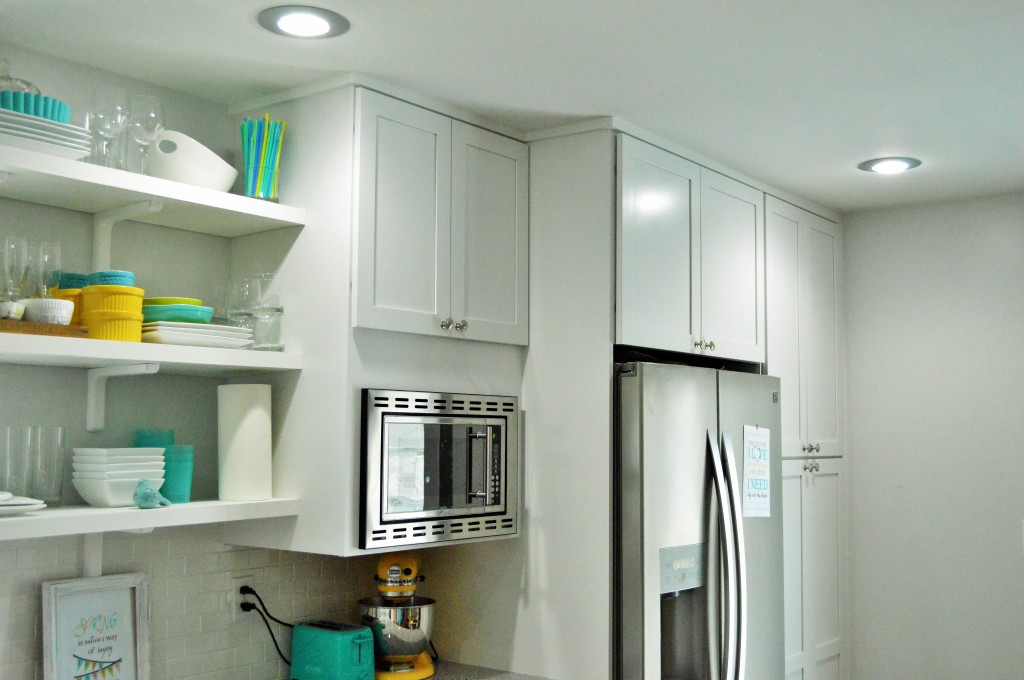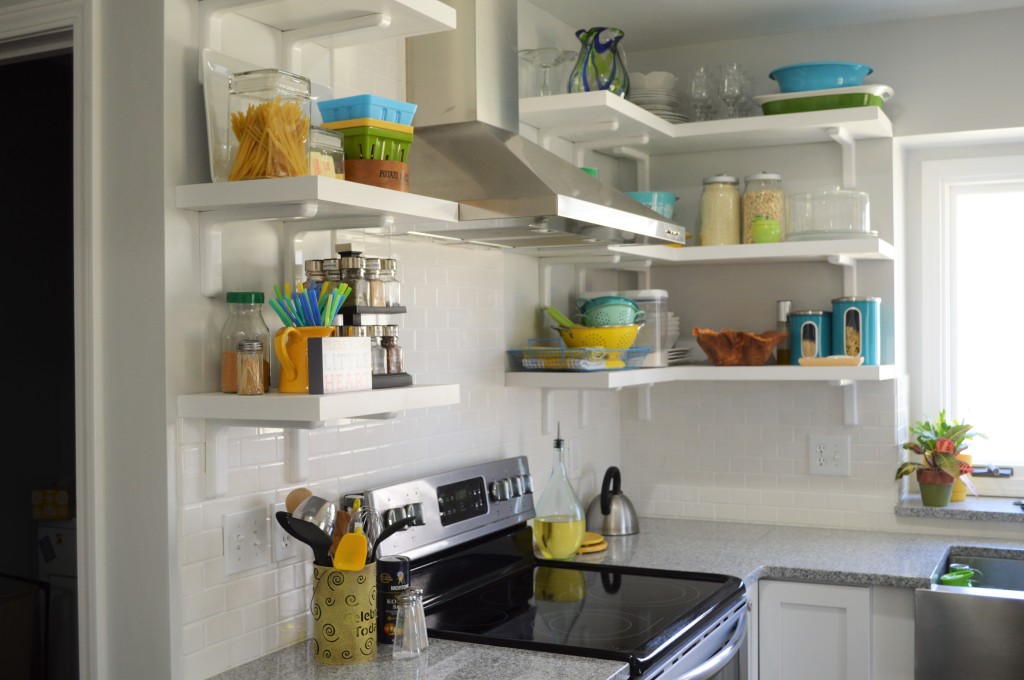 On the wall by the door, I DIYed a plate wall for some fun decor.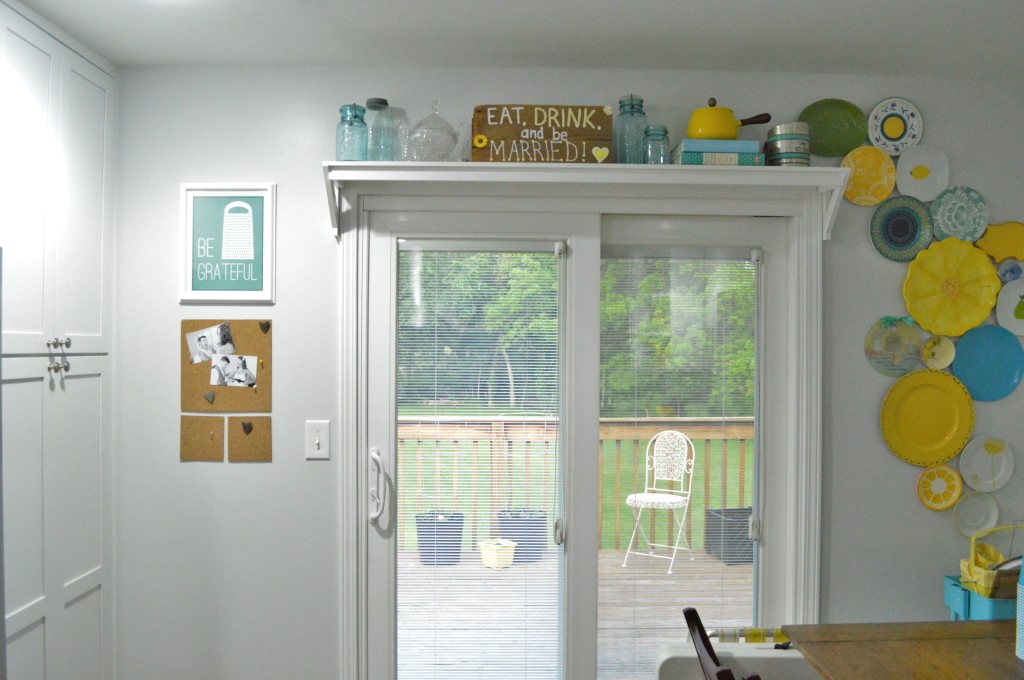 One more shot of the other side, for good measure. You can read all about our kitchen, here.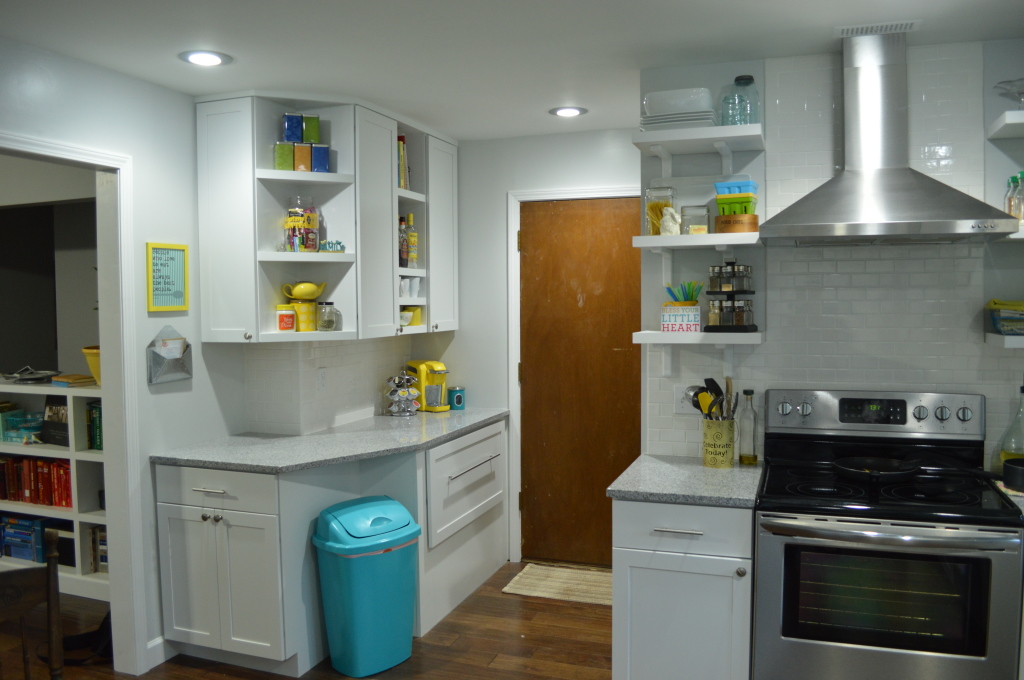 We also finally got around to finishing our table and our old church pew. It was the longest project ever to salvage that old wood and make it into something new, but I am so enamored with it now that I sometimes just go into the kitchen and stare at it.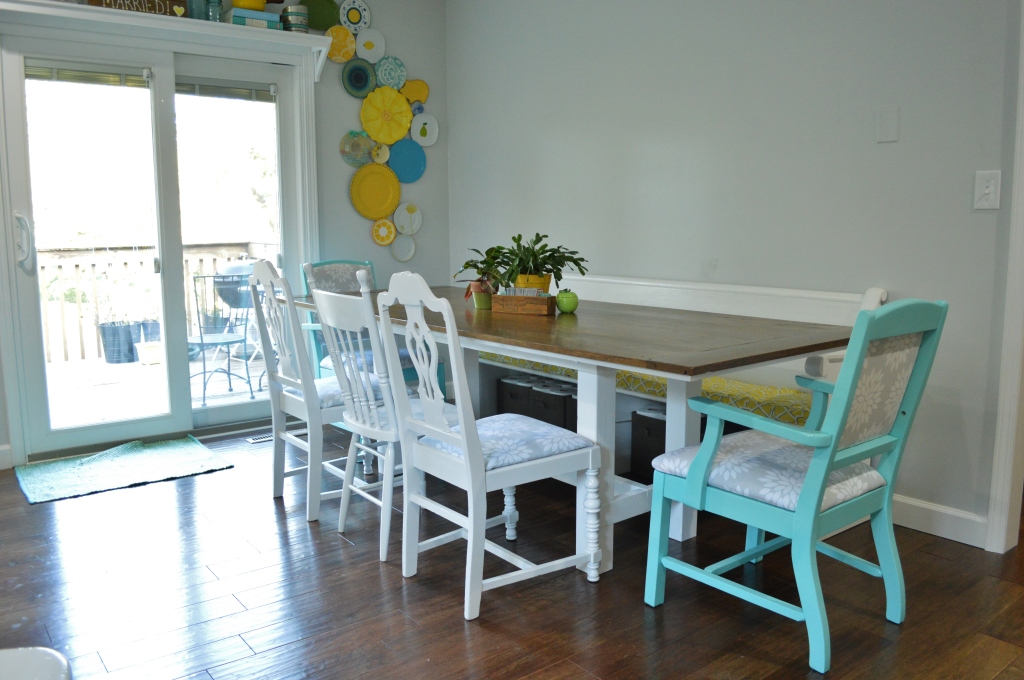 The laundry room was very blah before.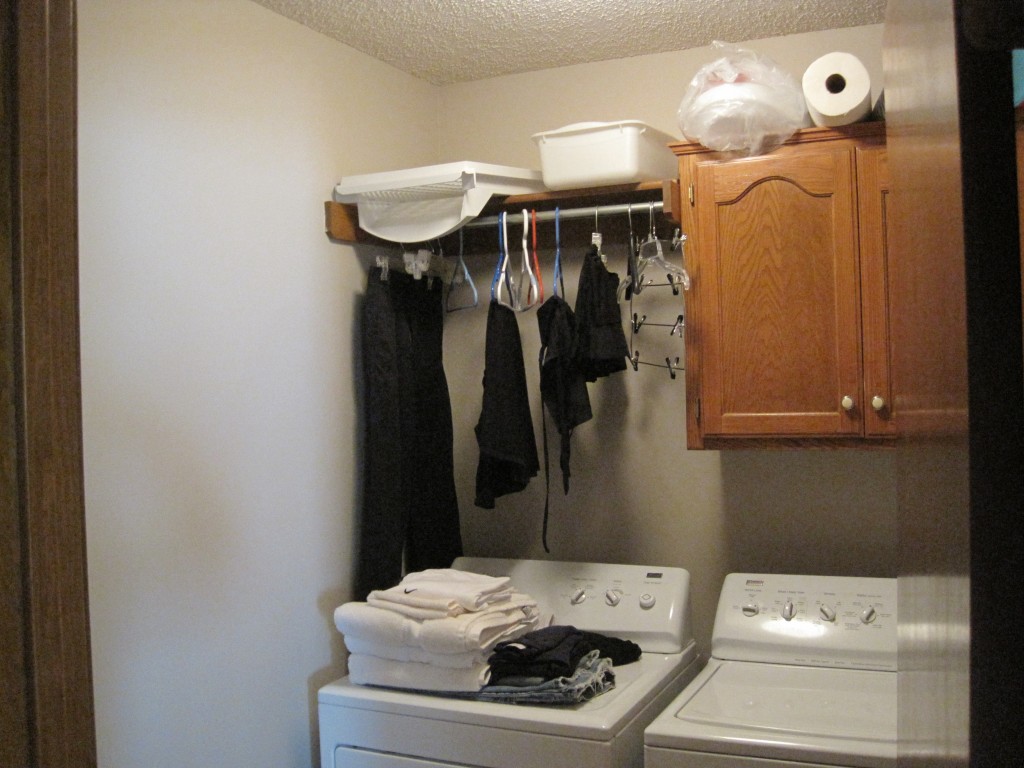 But it's so much cuter now! I want better shelving over the washer and dryer to block off that back wall and make the machines more "built in," but it's much nicer now, especially because of my awesome new machines that were a wedding gift (a year belated since we didn't need them at our apartment) from Wyatt's parents. Thank you!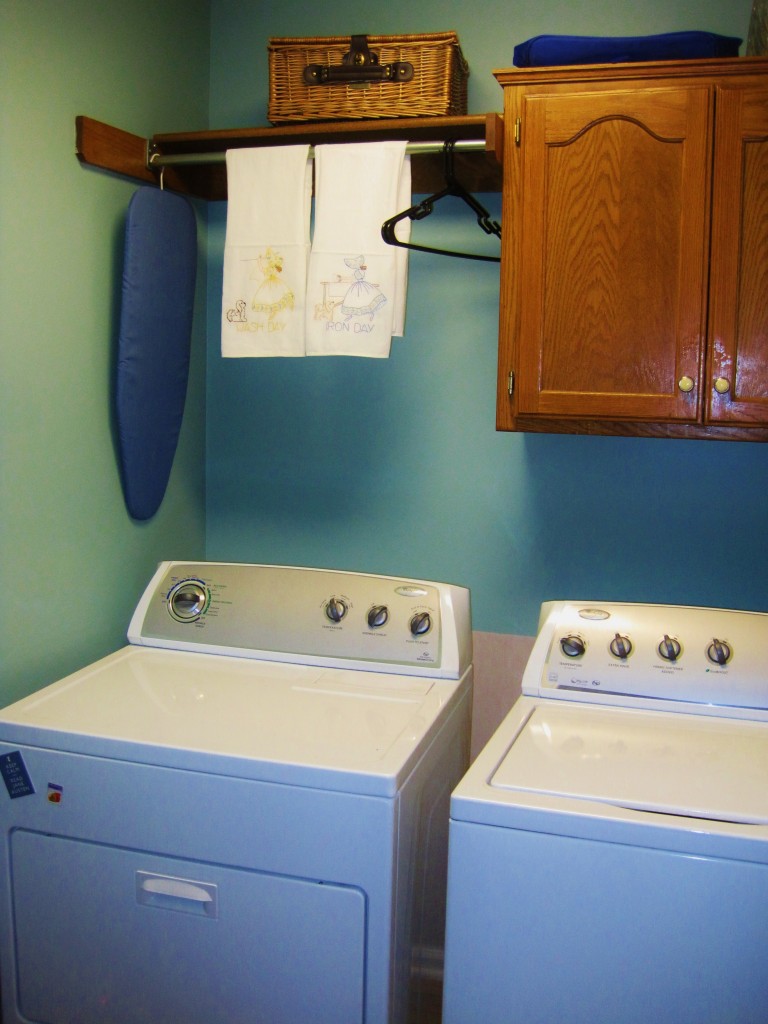 Well, guys, that's our home sweet home! Thanks for taking the tour with us! We'd love any feedback or suggestions, as all these rooms are still works in progress as we buy new furniture and add more and more special touches.
And oh wait, I almost forgot the best part! The one part of the house we loved from the moment we saw it…so much that we haven't changed a thing since we saw it that first day…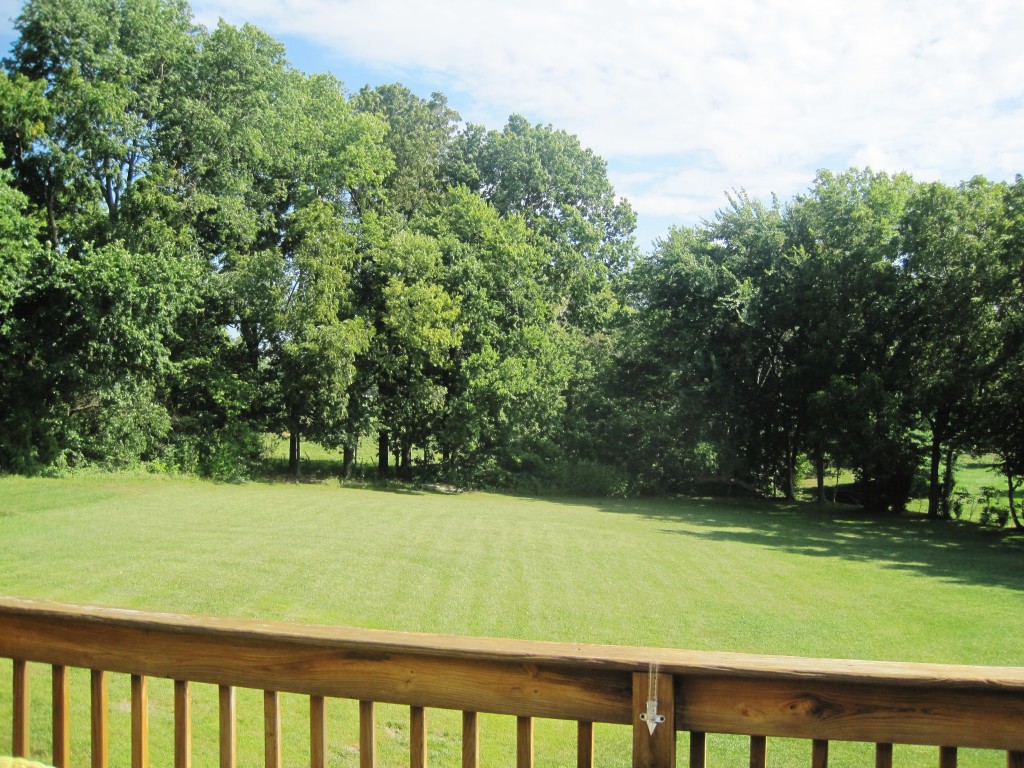 …although we did add a garden! It was a lot of work, but we were proud to use recycled material to make our raised beds, and recycled landscaping materials to frame in the space.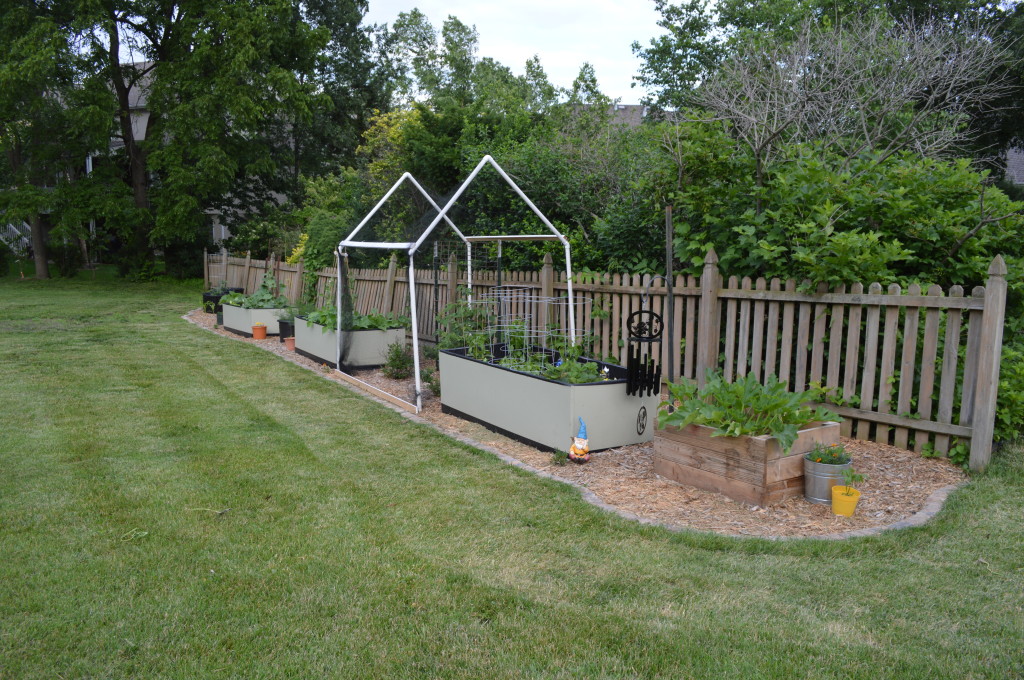 That project was so fun and so rewarding. I can't wait to expand it every year!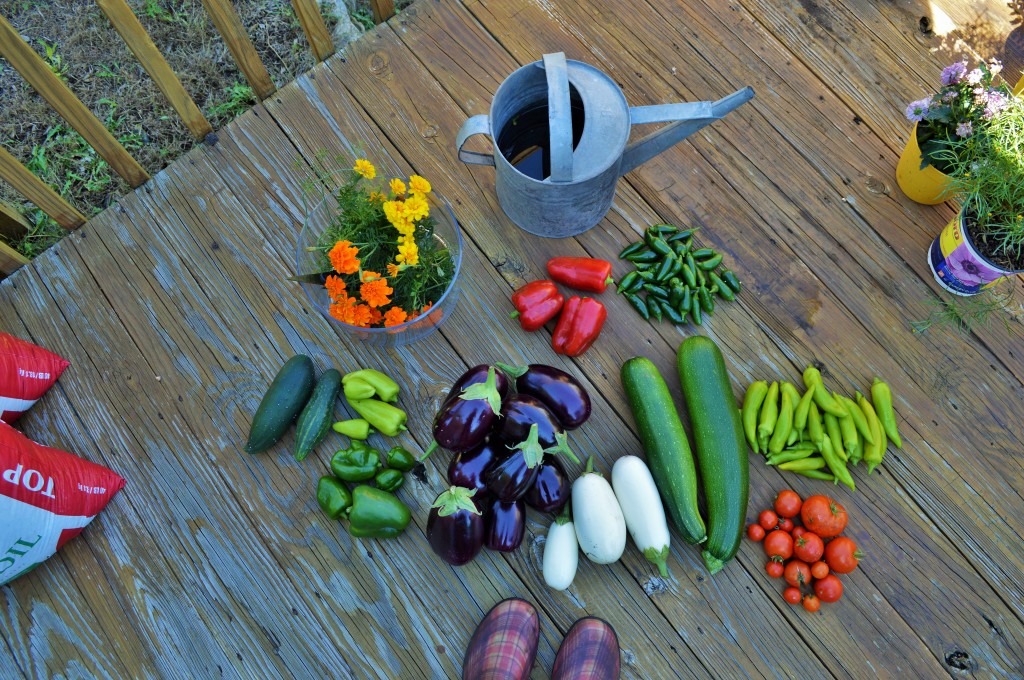 Can you see why we're Loving Here? We're loving it all–the good, the bad, and the ugly! Tell us what you love most about your home!