---
I can't believe I'm writing a recap post for our son's first birthday. If I'm being honest, I can't really believe we have a son, but since he's now a year old, I should probably stop admitting that. It's just that sometimes I look at him and think about how amazingly wonderful his story is and how crazy-blessed we are to be his parents. Anyway, enough sentimental sap for now…on to the details about his simple first birthday party!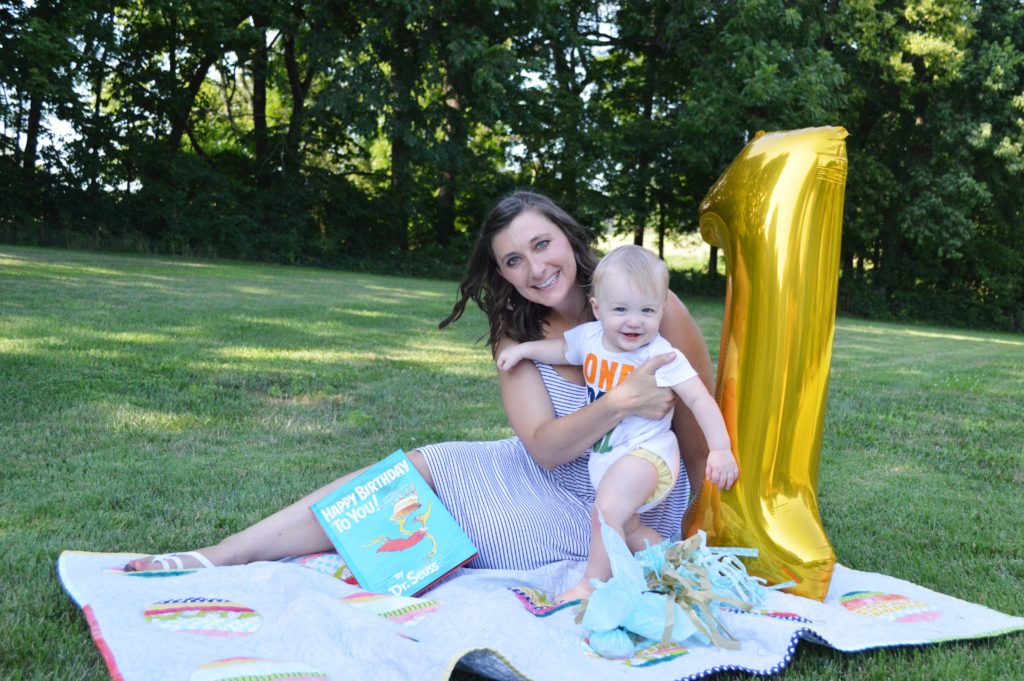 You guys know I love a good theme party. In high school, I was all about our Under the Sea prom, and I also planned a few themed fundraising banquets in my day. Hee Haw and Fairy Tales were some memorable ones, for sure. I go all out for Christmas decorating and have even been known to participate in some elaborate group Halloween costumes, but for Will's first birthday, I wanted to go simple.
So, that meant I narrowed down my list of party ideas to one basic thing–a giant "1" balloon.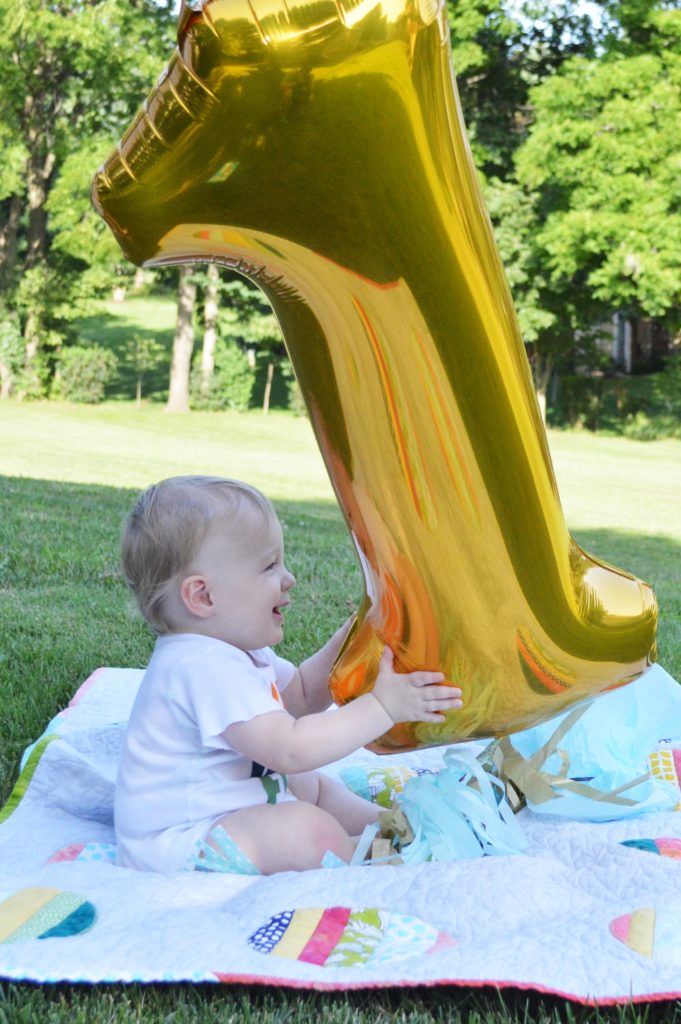 As silly as that sounds, it honestly was the starting point for the whole thing. I just thought it was so fun, and I knew Will would love playing with it. Plus, it was gold (although Party City also sells silver ones!) and you know how I feel about gold lately…
I also wanted to add some streamers to the balloon string, so I grabbed some turquoise and blue tissue paper and followed this pinterest tip for making some pom pom streamer things. I ended up with a bunch of extra ones since they were so easy to make, so I added a few to a garland for the kitchen door.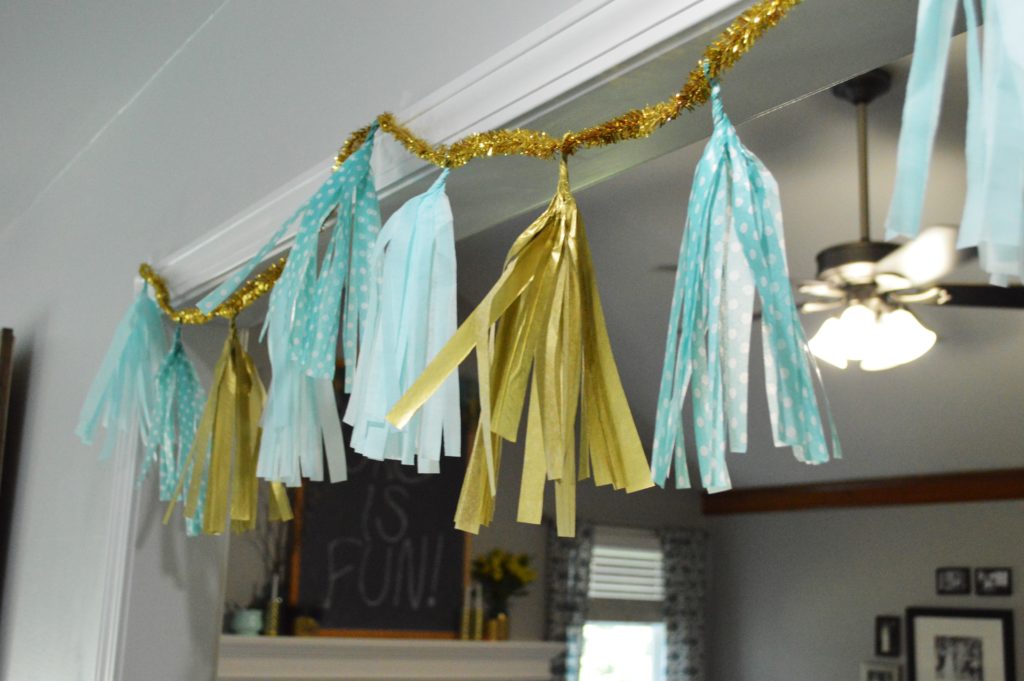 I also tucked a few onto the top of the chalkboard, which I updated with a simple ONE IS FUN message.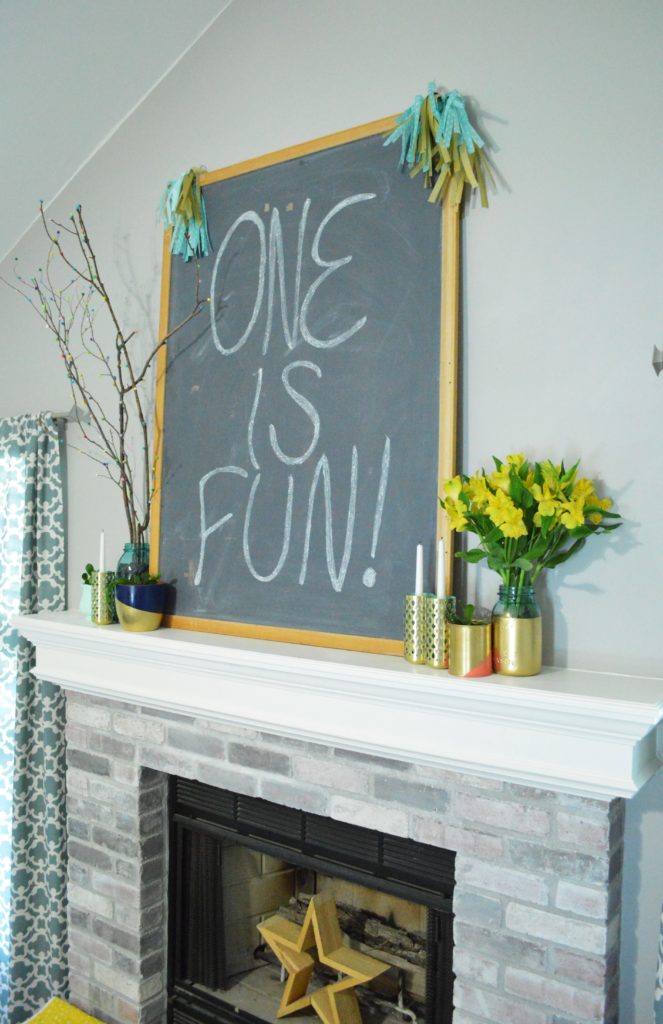 And, I tossed the remaining ones on the dessert table, because why not, right?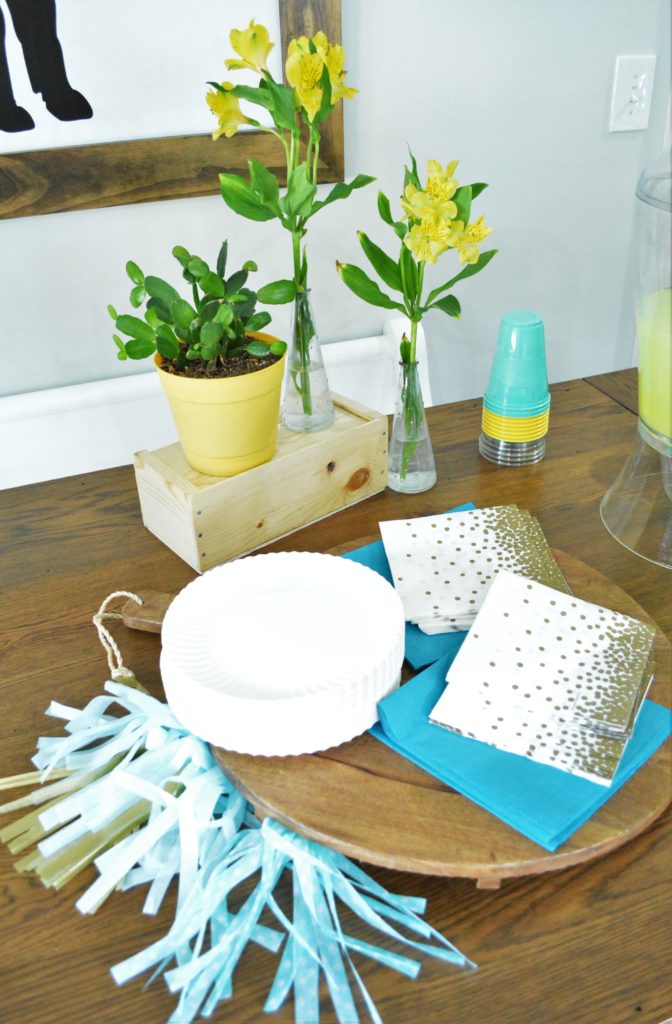 Speaking of the dessert table, we had some pretty yummy treats.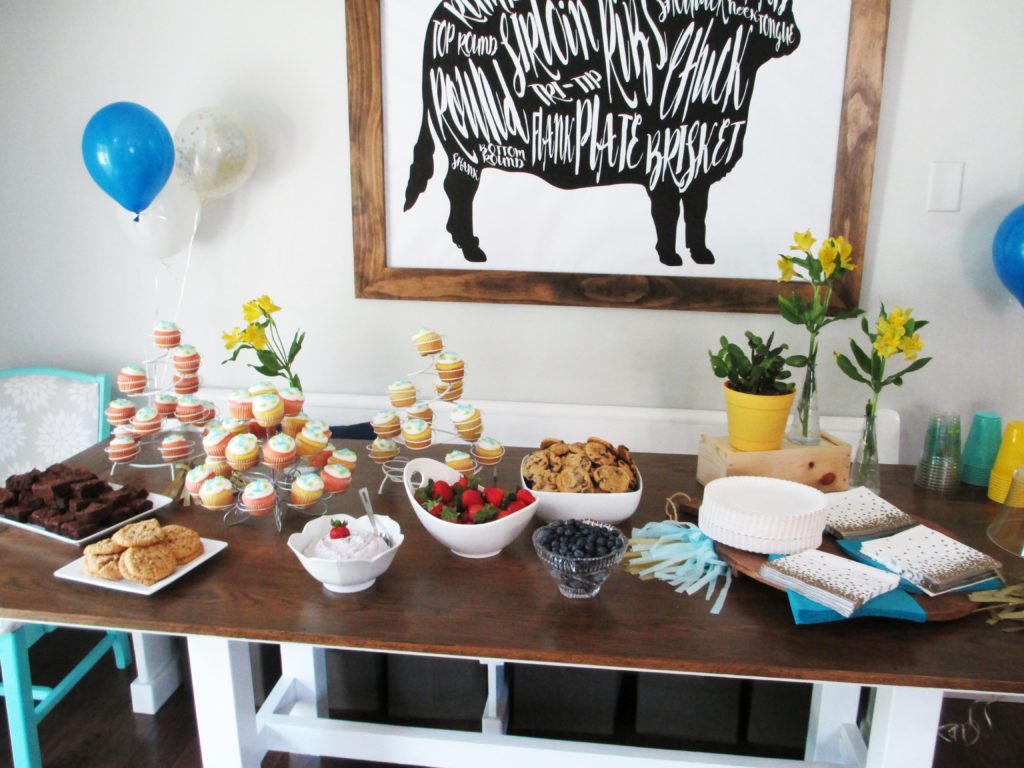 We also picked up a few confetti balloons from Wal-Mart and a helium tank. Other than that, the only other decorations were a few vases of fresh gold yellow flowers I grabbed from Sam's Club when we made a run to get cups and plates. Fresh flowers make everything more festive. And there's something classy about them that dresses up even the simplest of parties. Luckily, I already had a bunch of gold decorations out from our summer mantle, so I added a couple more gold accents around the house and called it good!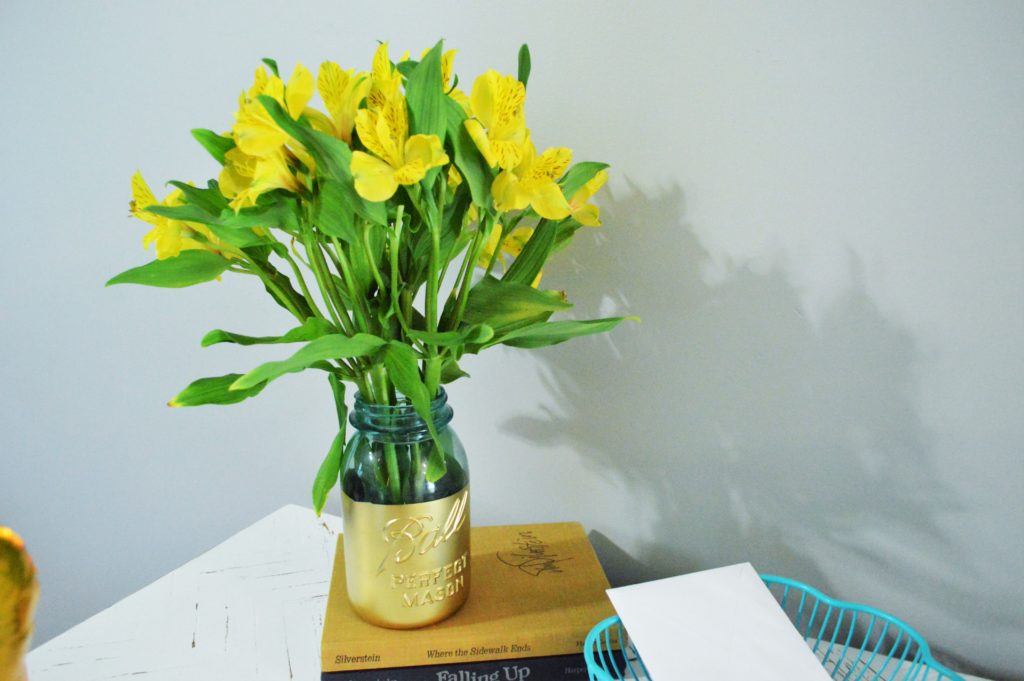 All in all, I think it was perfectly sweet and fun (because, gold!) and not too girly or fancy. Wyatt wasn't a fan of having a crazy party so this was a good compromise from his simplistic taste and my over-the-top tendencies.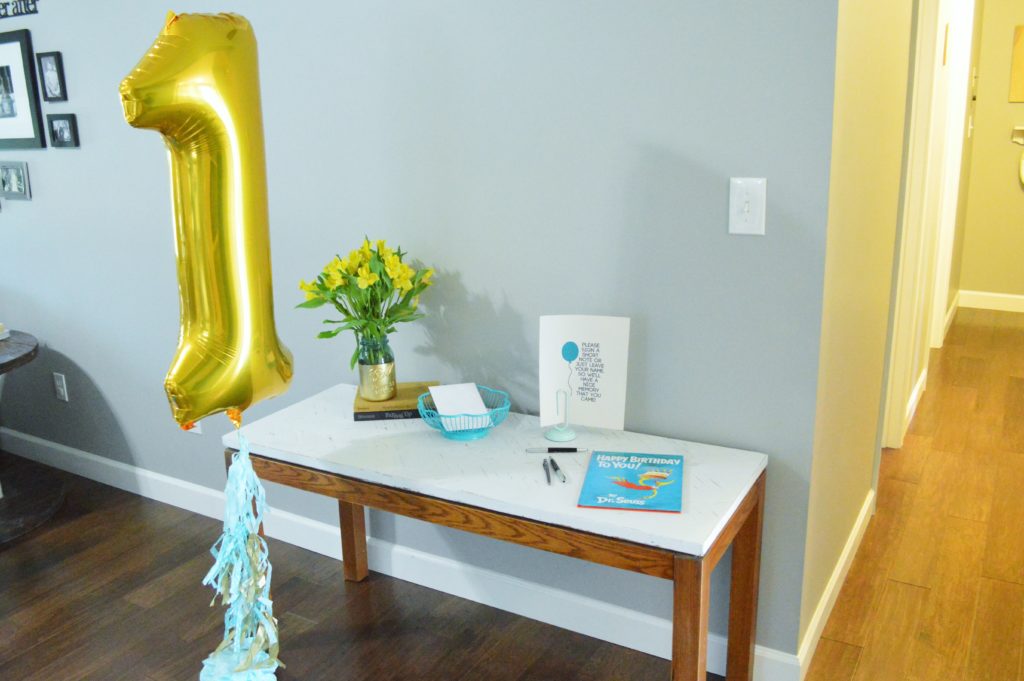 We also grabbed a fun birthday book for everyone to sign, which just happened to match our turquoise and yellow/gold theme pretty perfectly. It will be fun to look back and see these fun memories every year.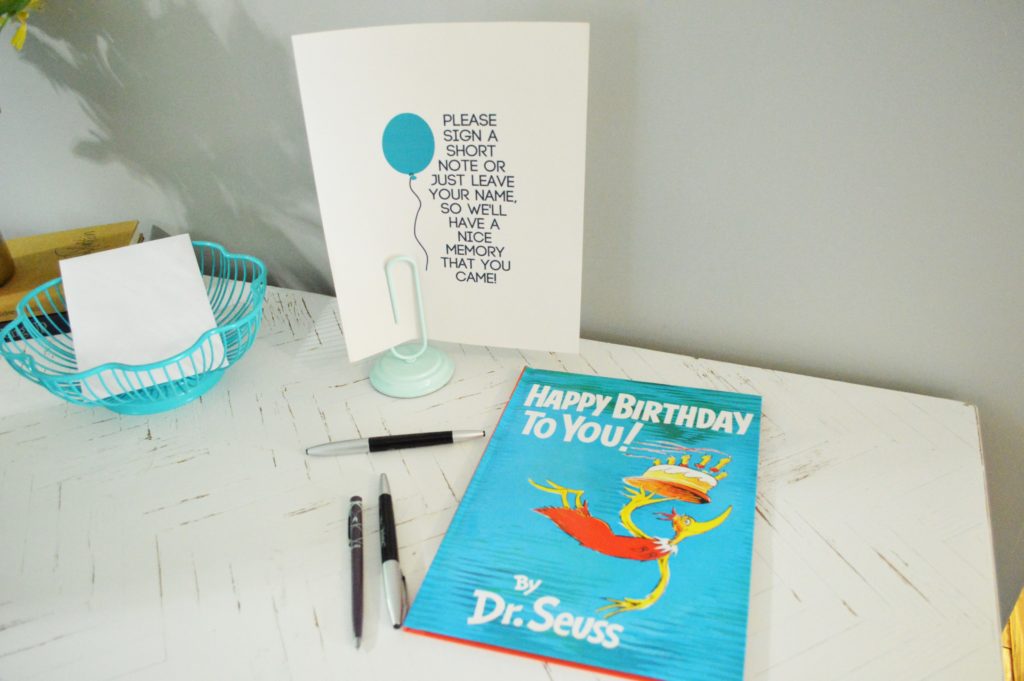 For the cake, I basically followed this recipe from Kristine's Kitchen exactly. I will say that we subbed regular flour (a heaping cup instead of a regular one) because we forgot to pick up whole grain flour.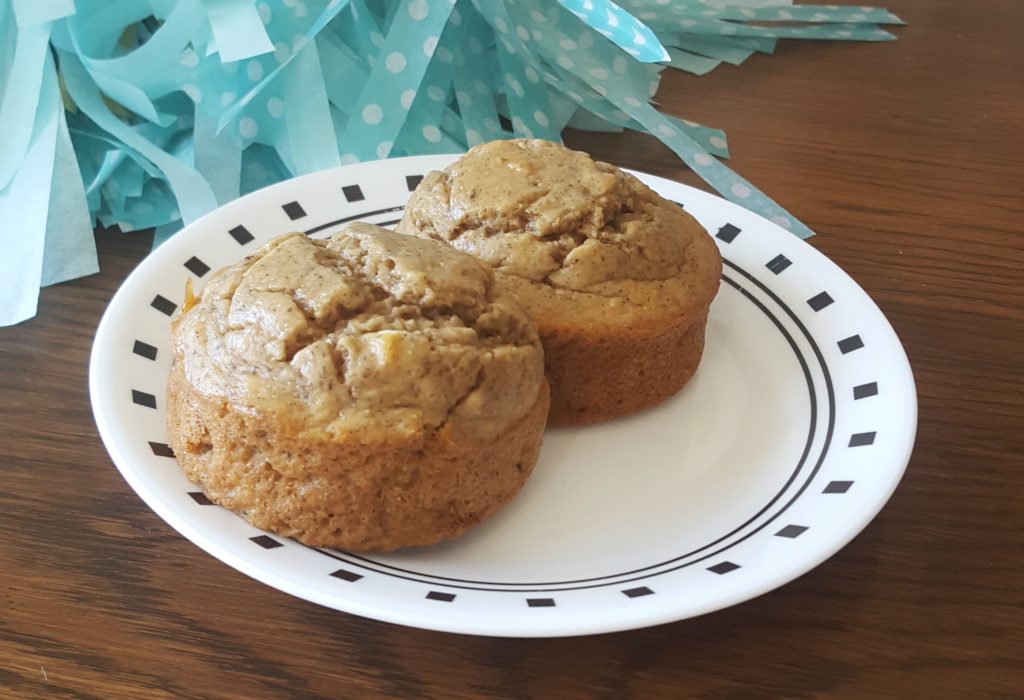 I topped it simply with the unsweetened blueberry whipped cream frosting she suggests in her post, made by mixing homemade whipping cream with a simple unsweetened blueberry sauce. It has applesauce and banana as the base so if you're looking for a good first birthday cake, I'd recommend it.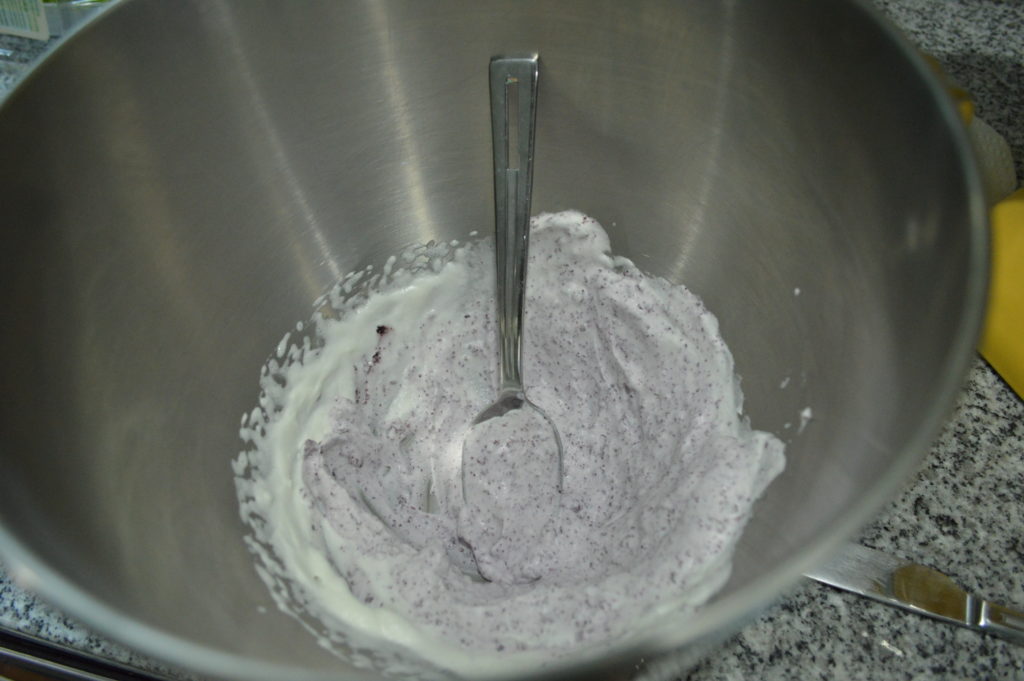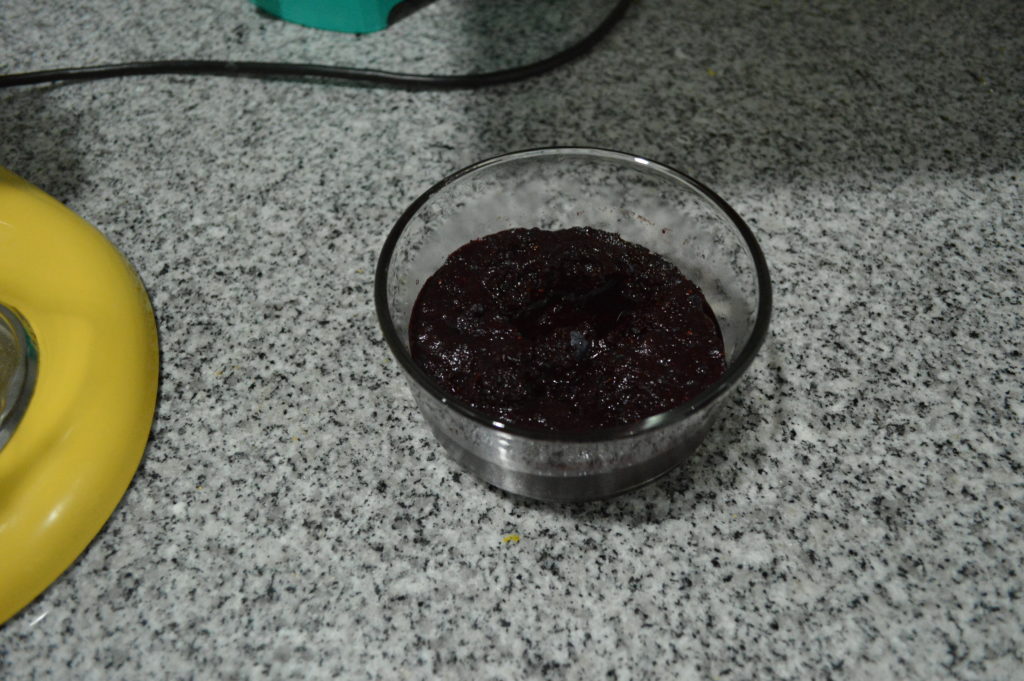 Then, I made a little "1" from sliced blueberries for the top. Blueberries are 100% Will's favorite food (except maybe for broccoli–crazy kid!) so I wanted to be sure his cake was perfect for him.
And even though Will seemed to really like it, Wyatt and I weren't huge fans. It is basically a bread…and I don't really like banana bread. He does, and thought it was fine, minus the frosting. I pretty much only liked the frosting.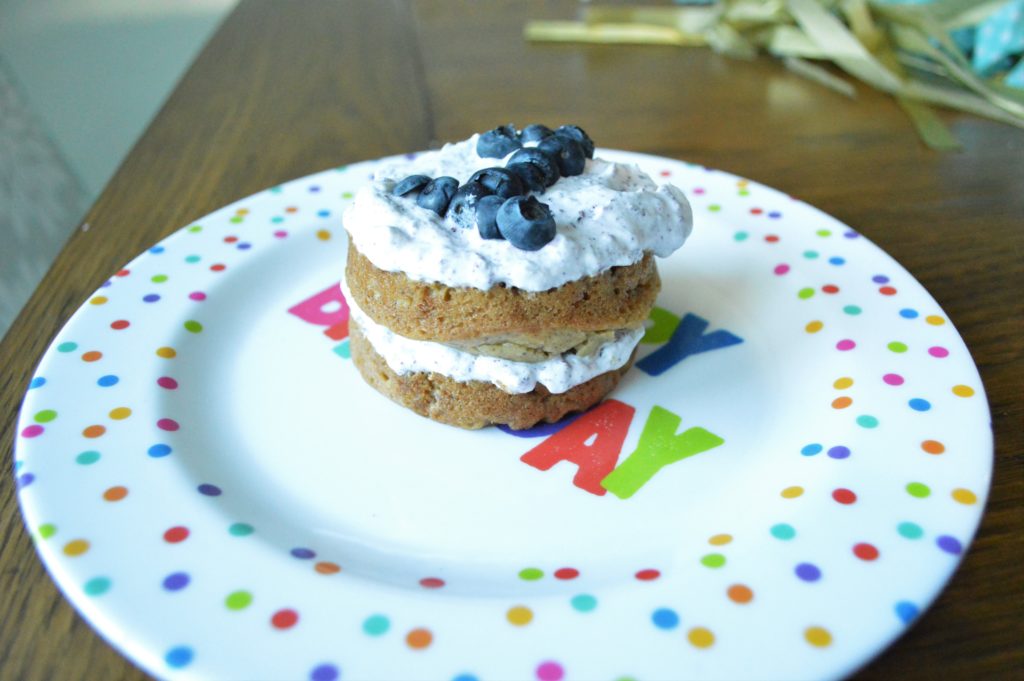 But again, this was Will's birthday cake, not ours, and he enjoyed it, so that's what matters.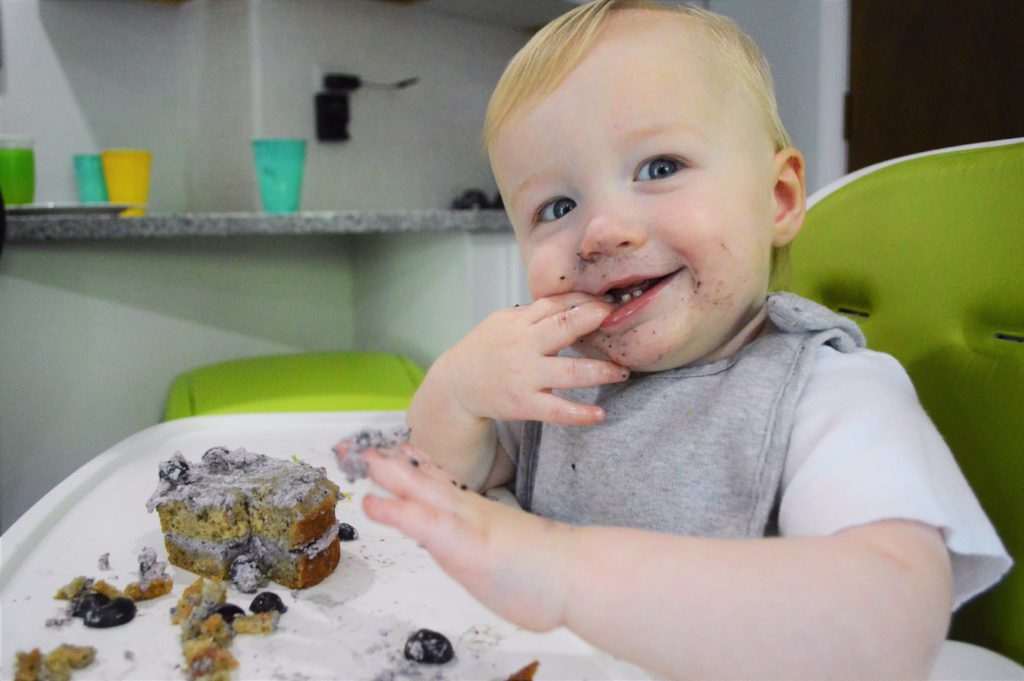 And since he rarely gets anything sweet to eat, I like to think he still thought it was a treat, without all the extra sugar his little body isn't used to. All that said, if you want to bake a delicious chocolate cake for your little one, go for it! This is just what worked best for us.
I think he also got a kick out of us singing for him.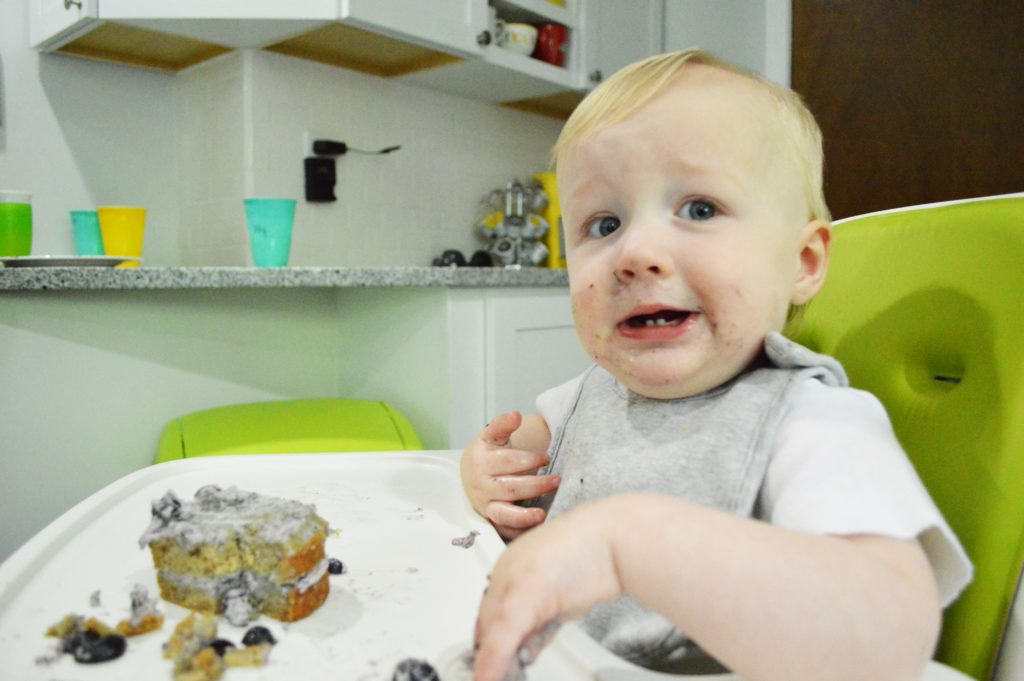 His little fingers sneaking a blueberry from the top of the cake in this photo make me smile.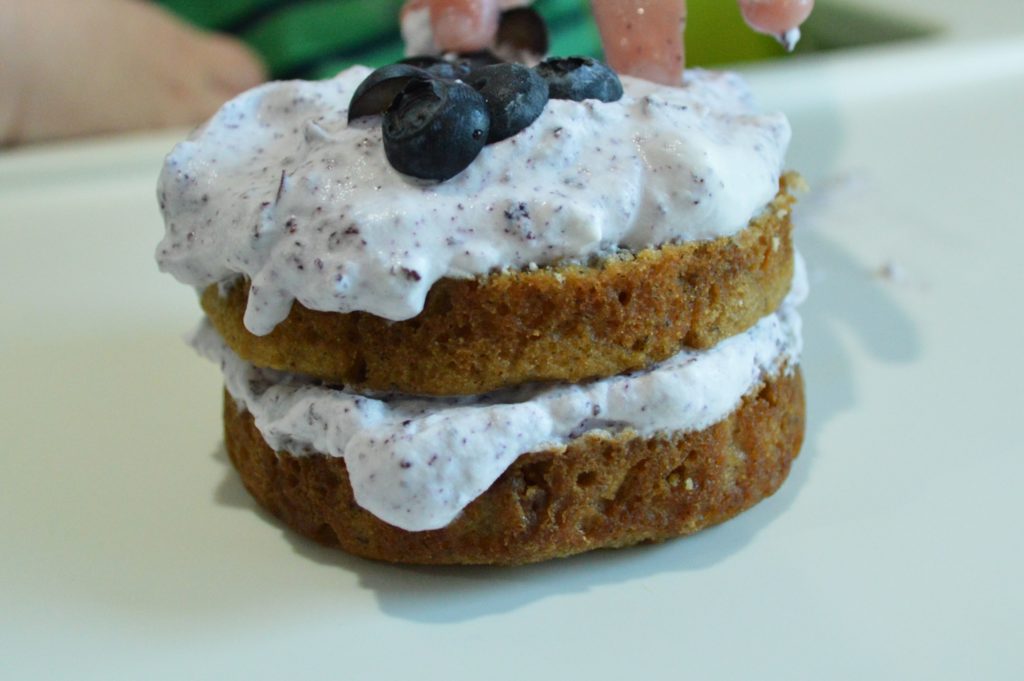 After the party was over and he had a chance to nap, we went outside to snap a few photos.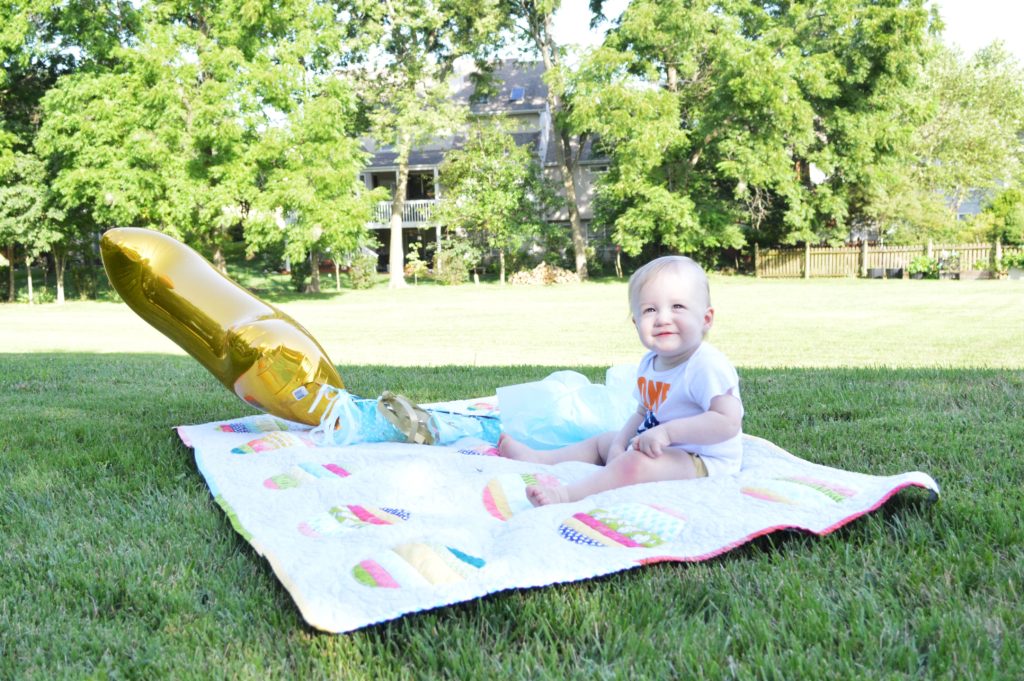 Because this sweet baby boy is getting so big and I want to remember this wonderful stage forever.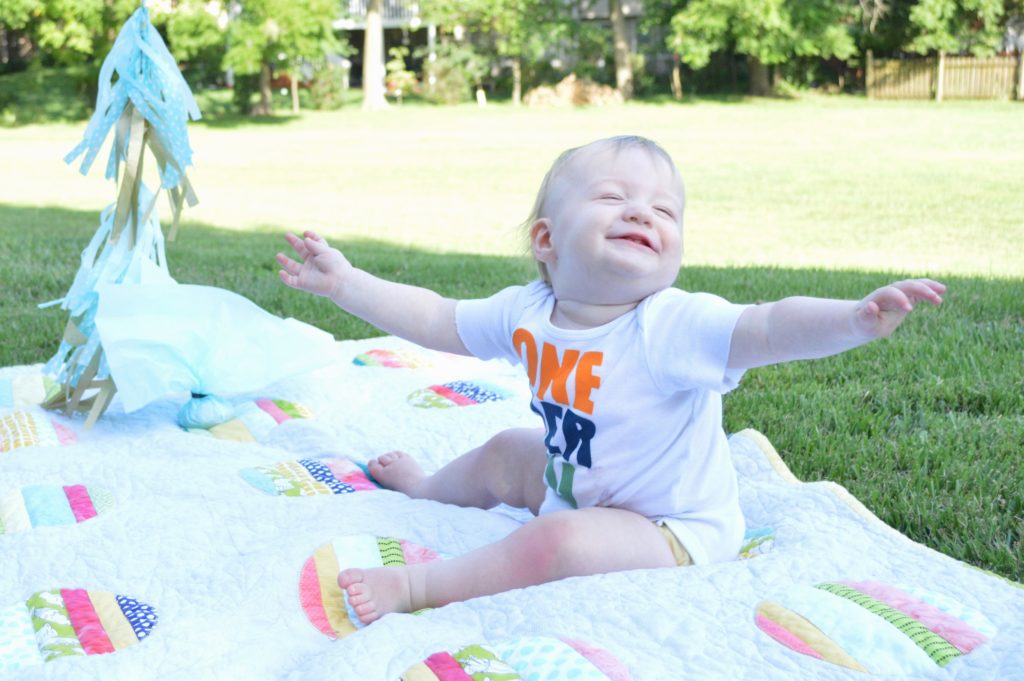 Can we all just share a word of appreciation for self timers?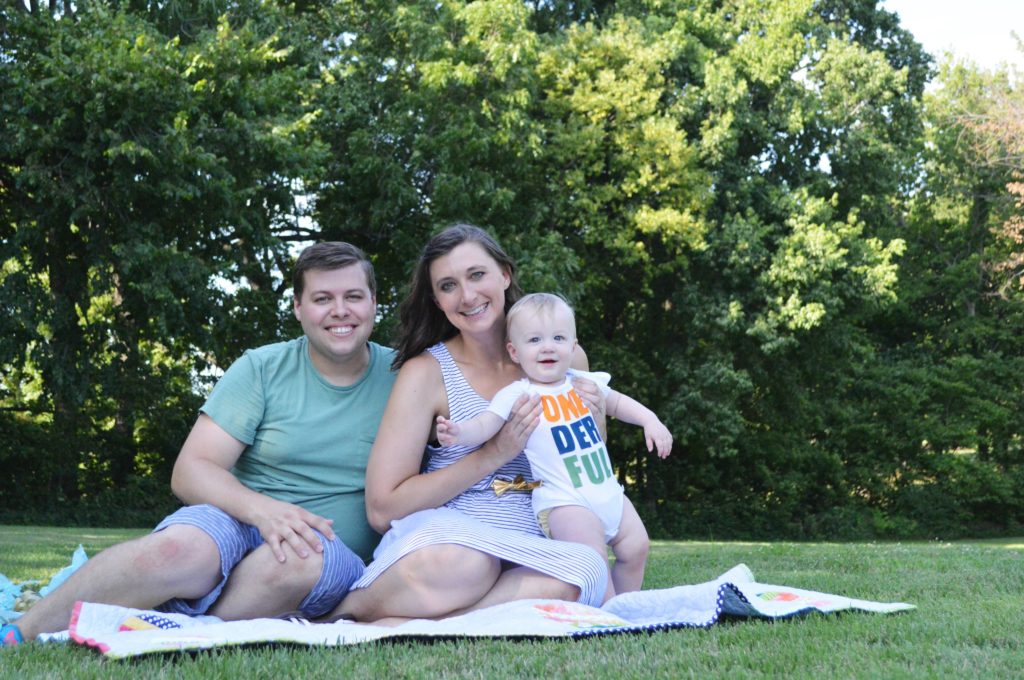 This kid is just too fun.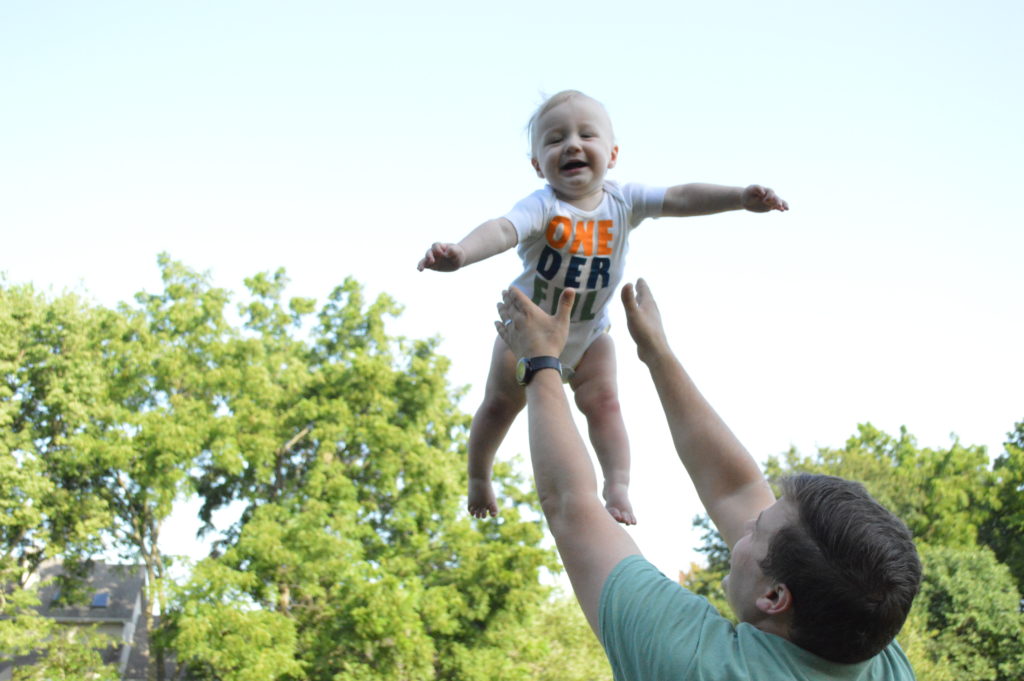 I'm aware that next year he'll be able to share an opinion on what he wants for his party, so this year, I did what I wanted. And celebrating his birthday with his simple blue and gold party was wonderful. We had so many friends and family stop in to wish him well and he was completely spoiled with some lovely gifts and fun toys. We're so thankful for him!