This weekend was a busy one, but since we weren't home for any of it, nothing got done around here.
Friday night, Hubs and I joined our friends Matt and Elizabeth for a Mark Twain performance. I'm a definite Twain fan, so it was really fun for me. Hubs went along in good spirits, but I know it wasn't really his thing. He's a good sport like that. We did get to eat some awesome burgers beforehand so that helped I think.
Then, Saturday he helped his dad haul a big load of wood in preparation for the upcoming winter. We went to my sister and her husband's bonfire on Saturday night, which was really fun, albeit a bit cold. And then Sunday, we helped my parents cover their pool for the winter.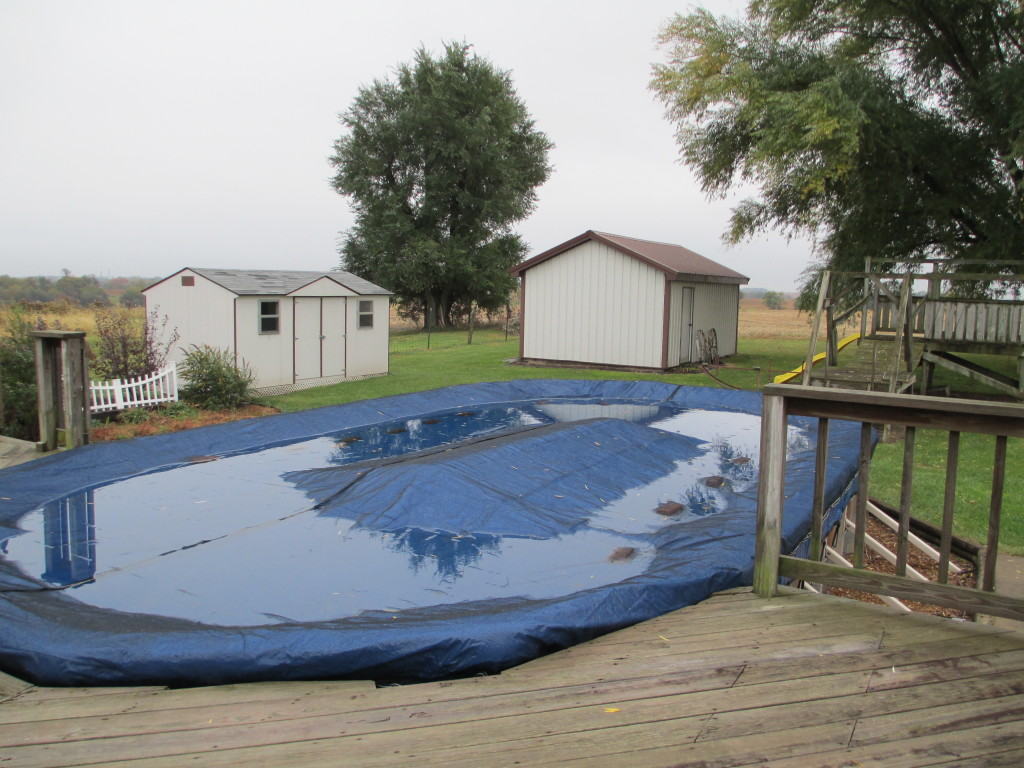 Then, Wyatt helped my dad take down a giant, non-functional antenna off the roof of their two-story farm house. I'll admit I spent a big part of that day nervously watching my dad and my husband crawling around on the roof, without harnesses, lifting a big, heavy, awkward metal contraption. Yikes. But, they made it back down safely, with only a few scrapes and smashes to show for it. And my mom is super excited to have the giant monstrosity gone. I should have snapped a pic, but my mom generously offered figured out her camera enough to send us this one.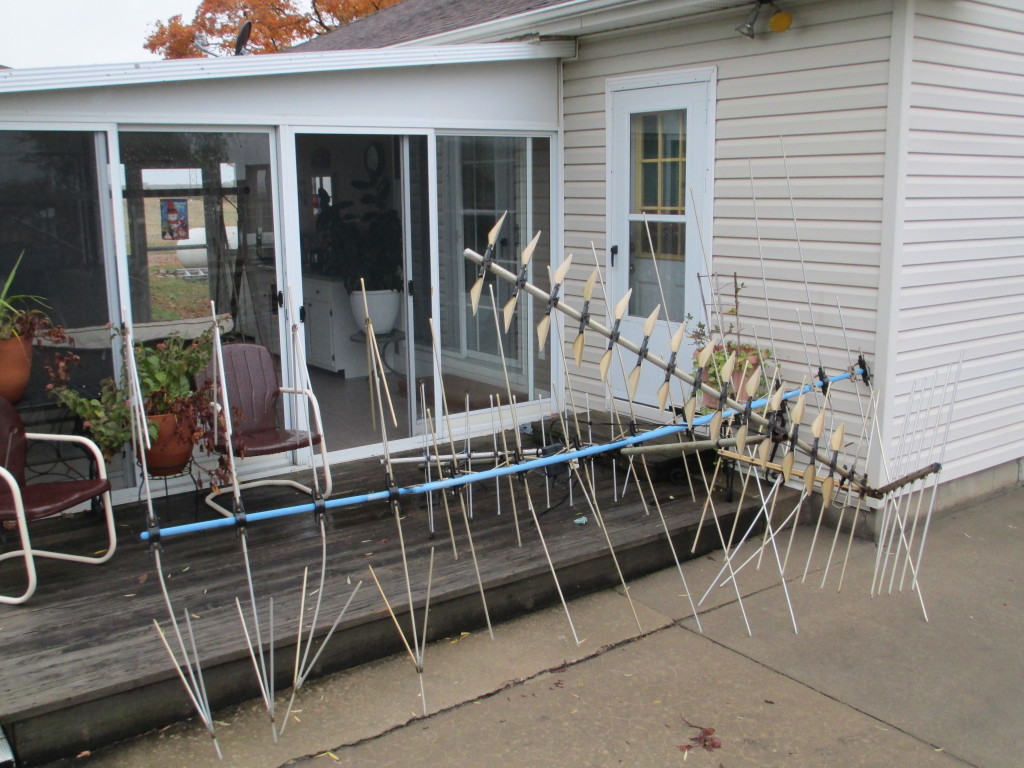 It's pretty huge, huh? It looks like a torture device…or just the way country folks used to get their television before satellite took over.
So, anyway, we didn't get much done on our own house this weekend, but that's okay. After all, we don't do this full time and sometimes, life takes over. Plus, it makes up a little bit for when our parents come here to help us with our projects, right?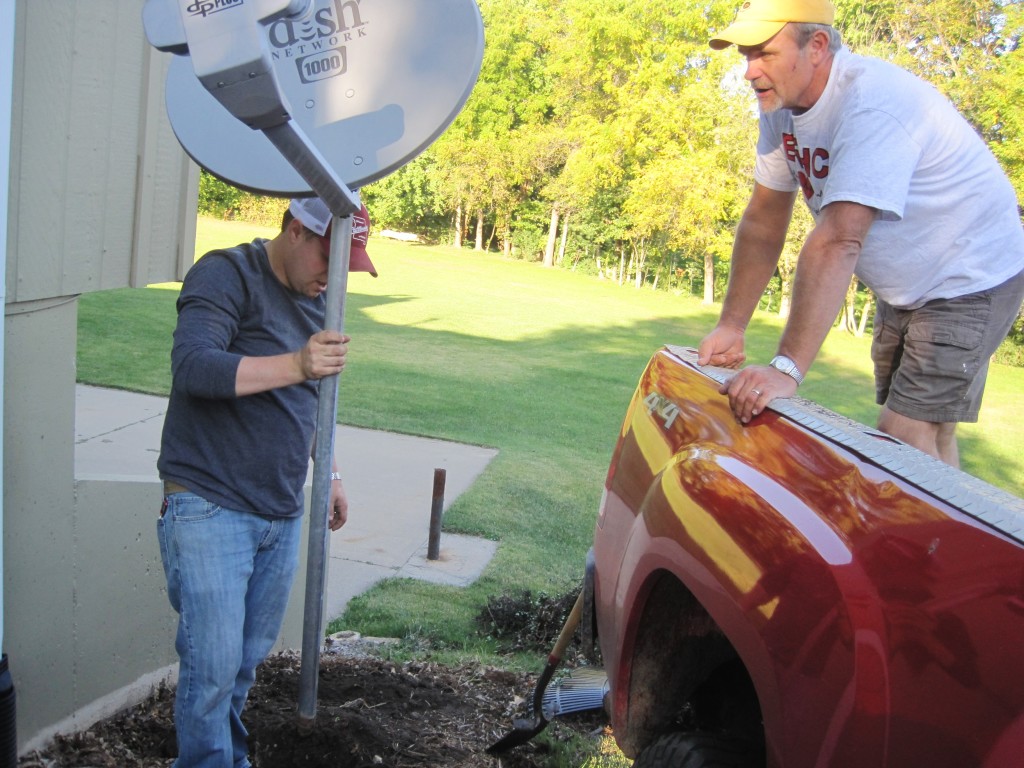 Now, you tell us what you did this weekend!
Also, as promised, a few more photos of our pumpkins this year!
For a reminder as to why carving pumpkins are such a big deal around here, check out our previous years' pumpkins here. And you can see more and read about our special pumpkin carving engagement story here.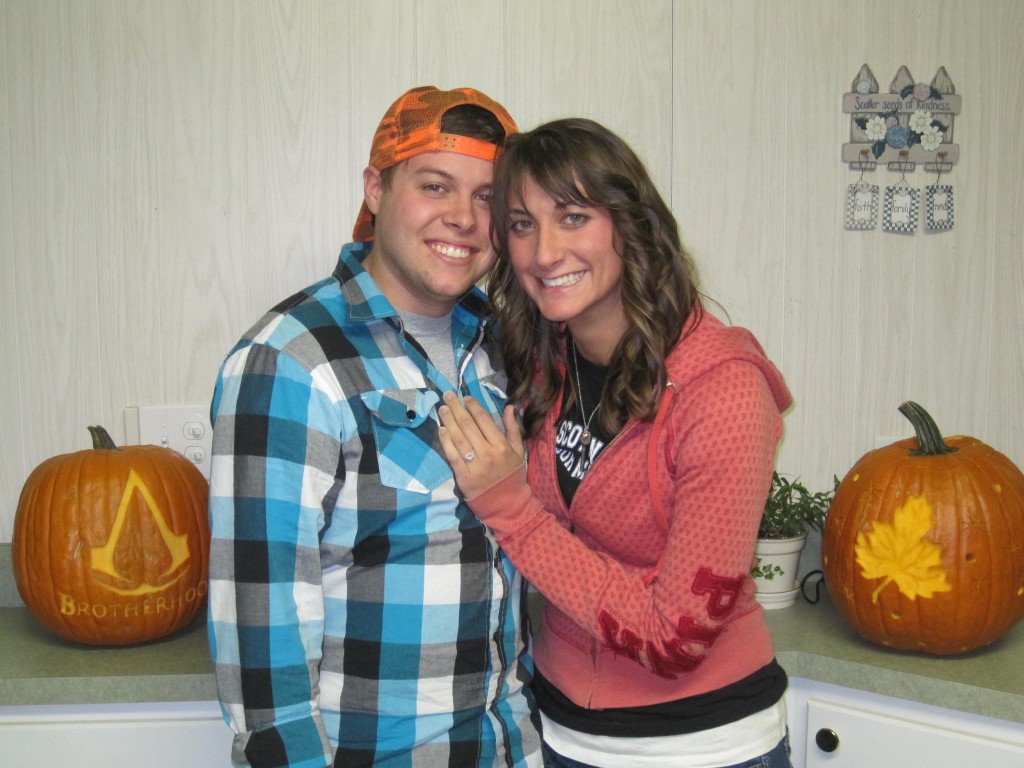 Also, I must have been slacking off last year because I don't think I posted our pumpkins, or at least I can't find the post, so here's the pic:
Of course I had to make a special "home" pumpkin since we had so recently moved in and had our housewarming party!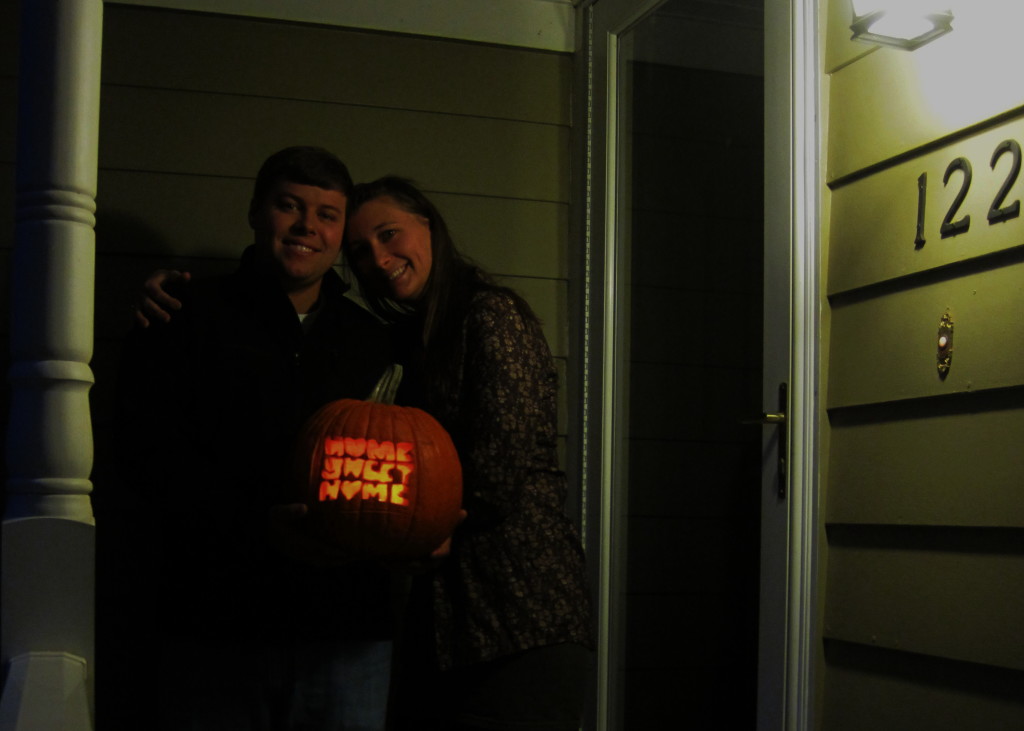 This year, I went traditional and sentimental again with a little monogram action. Hubs went with another of his personal preferences. (Last year was the goal keeper for SKC. This year was the Boulevard Brewing logo.)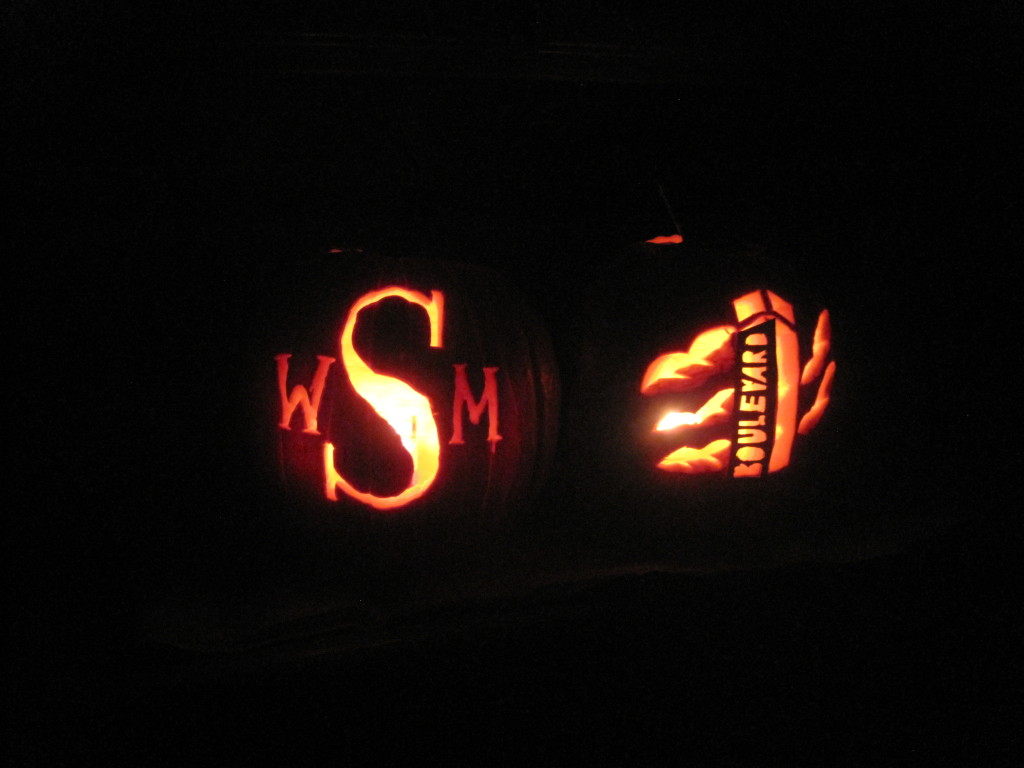 I think my pumpkin might be my favorite one yet…it's just so classy…and his is pretty darn cool, for sure!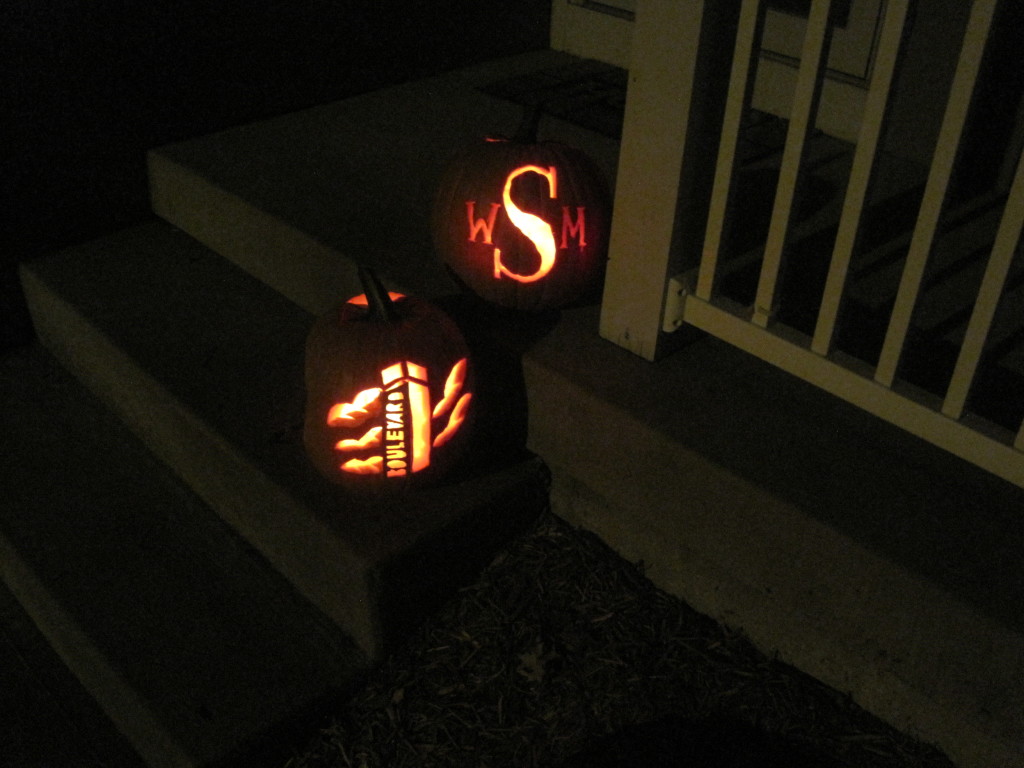 We set up shop in the living room again…my mom would probably disagree as to that being the best place, but I like having a comfortable warm room as opposed to a cold garage…and we got to watch the Cardinals game while we worked.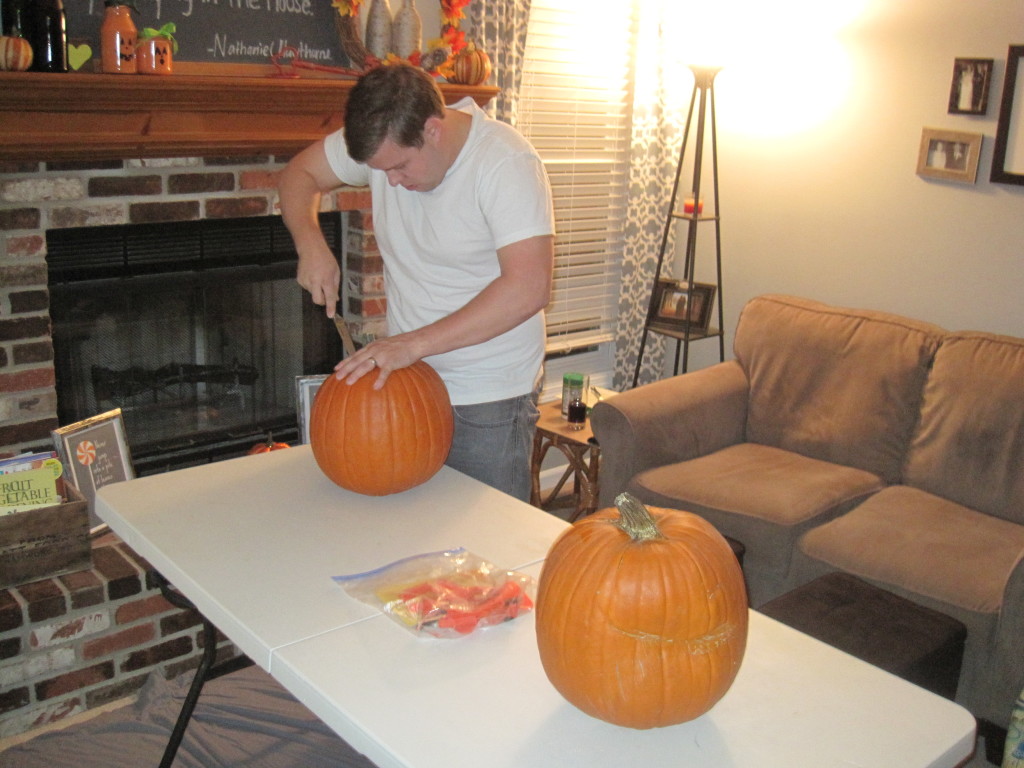 Also, this year I tried dipping them in several different recipes that are supposed to help preserve them…not sure it's really working…but we'll see more as time goes on I guess.  If it works, I'll share the winning recipe.
Last year our pumpkins molded within a few days, so it's at least doing better than that! Of course, we haven't left them outside for the squirrels to munch on, so that's also helping them have a longer life!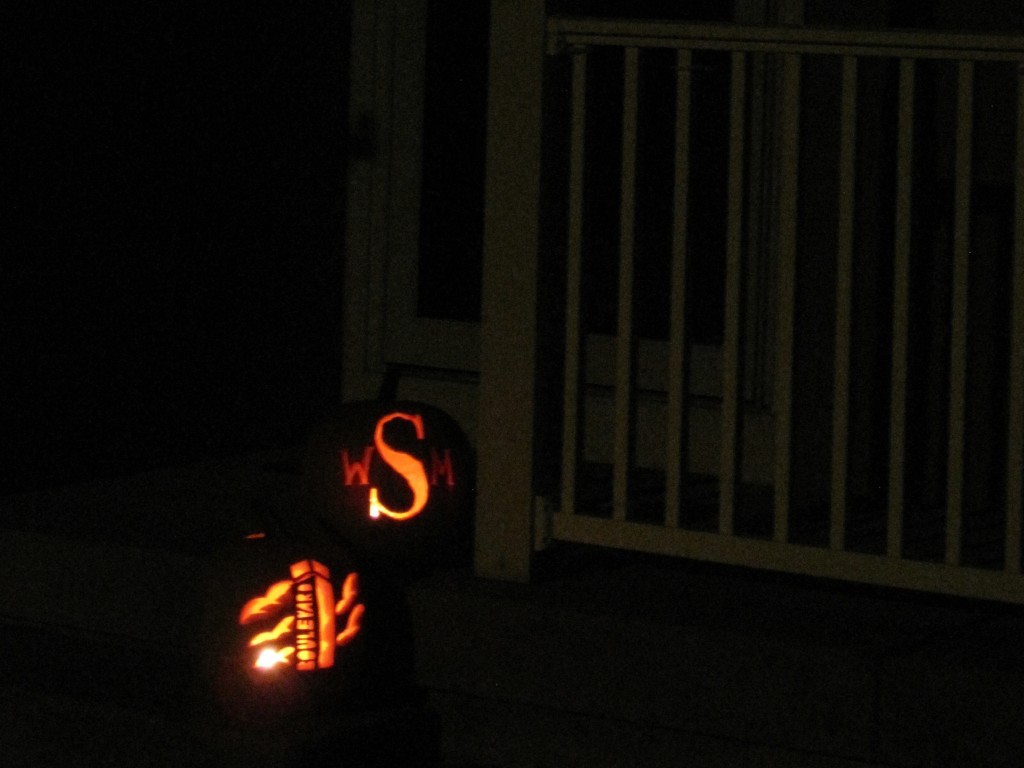 Have you carved pumpkins this year? Send us a pic or leave a link to your own photos!