If anyone is in need of some last minute Christmas ideas, or you just want to give a jump start to next year's decorations, I'm sharing the rest of our holiday crafts this week on the blog. Someone *cough* *me* *cough* has been too busy running around with other things than to get these all posted ahead of time. Oops!
For some reason this Christmas, I've been pretty focused on reusing things around our house as Christmas decorations. Not that I'm not always focused on reusing things whenever possible, I've just been especially inspired this year to use what we have without spending any more money.
(Maybe because we've saving up for some big items…like hardwood floors, which is going to take a big chunk of change out of our piggy banks. Ouch.)
But, even though I like saving my pennies for big stuff, I like to go all out when decorating for the holidays. One idea I had to bring a little extra Christmas bling to the house this year were these tomato cage trees!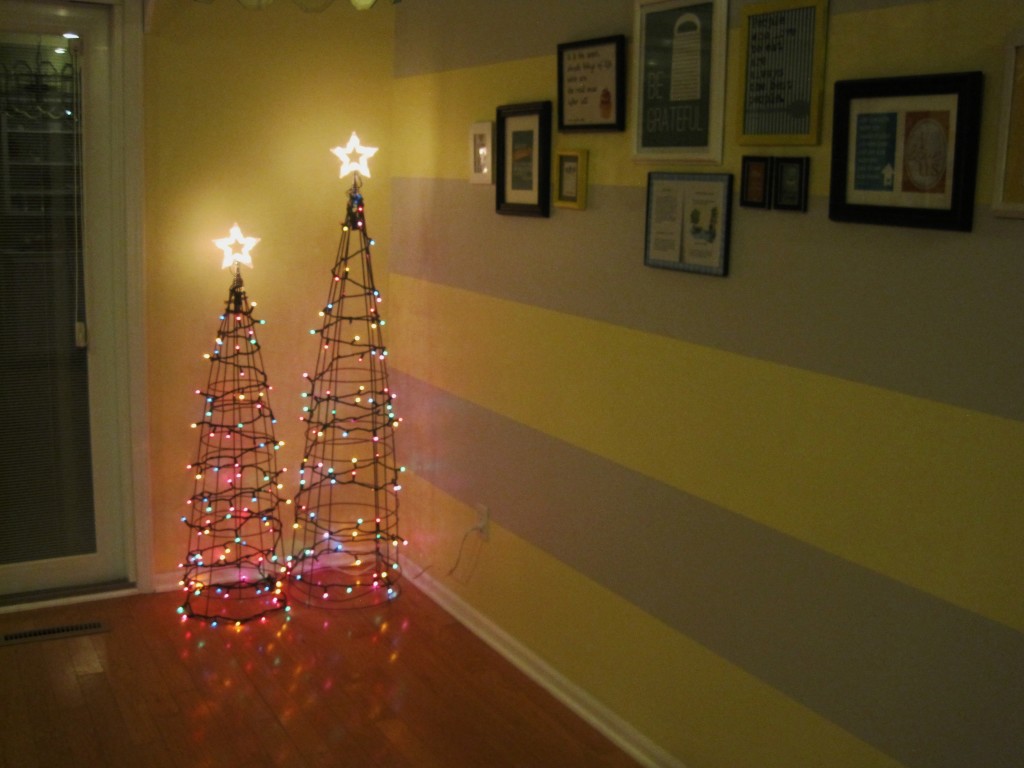 Super easy and basically free.
You already know all about our tomato cages if you followed along with our garden project this summer. Now, of course, those tomato cages aren't being used over the winter time and when I found myself inspired by some little pointy trees at Target last week, I knew I could replicate that shape with our wintering tomato cages!
(We pulled out everything from the garden a few months ago and stored it away for winter. You can see a hint of a tomato cage in the top right corner of this photo, but the stuff in the middle give you the idea of storing away garden stuff, right?)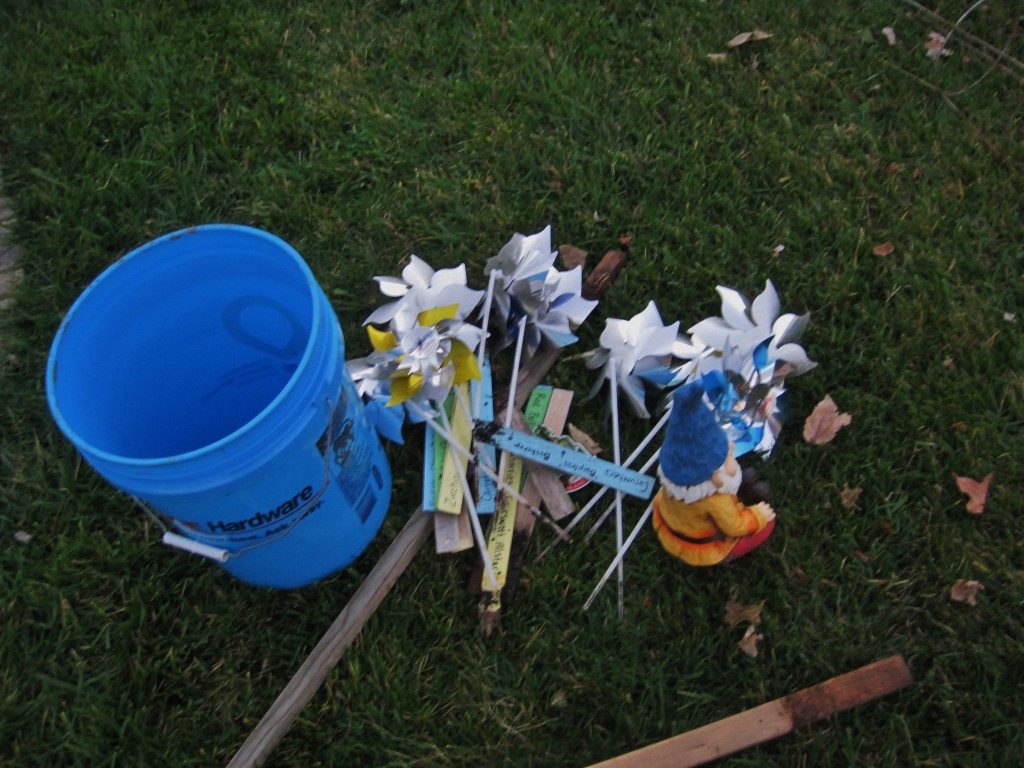 I did find it's important to use at least two cages for each tree if possible, rotating them so the vertical braces are alternated. This gives the tree more spines to hold the lights in a round shape. Otherwise, since there are only four support stakes on each cage, the lights can end up in a bit of a square shape, which isn't quite as good. (Sorry about the blurry pic…it was nighttime and our kitchen is super-duper dark for photos.)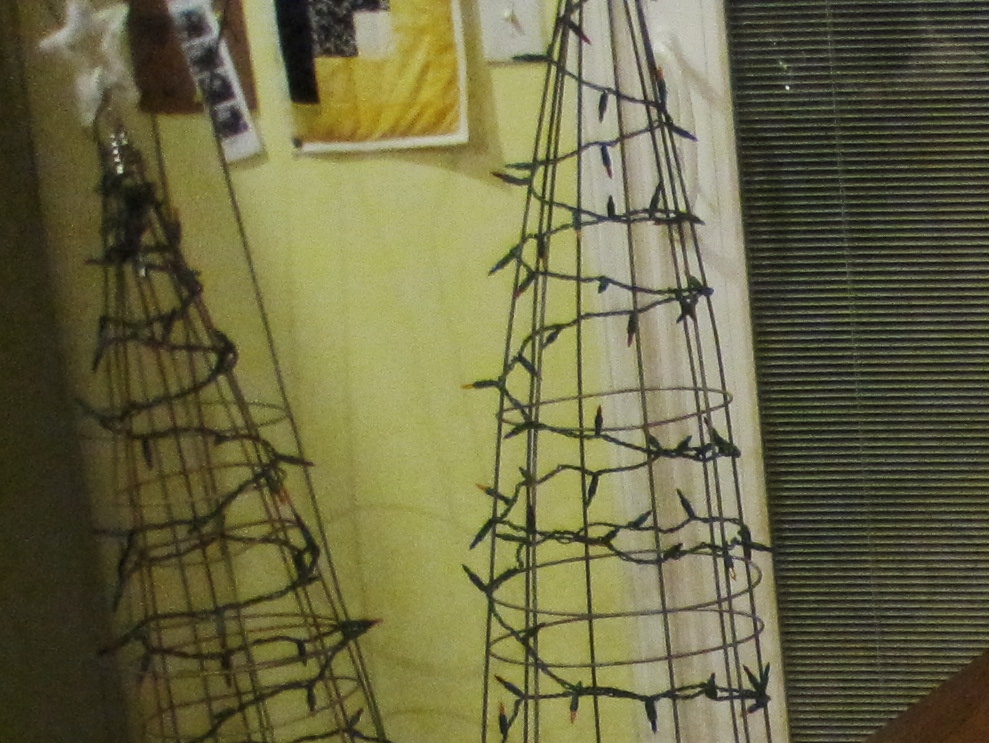 The hardest part is wrapping the trees evenly to make sure you don't run out of lights at the bottom before you run out of tree. I'll admit it took me a few tries to get these just right.
I realize I'm not the first person to think of this, so maybe I'm just slow to the party, but I thought of this as a little bit new and unique until I looked it up online, I guess there are lots of people already doing variations of this project! Here's a screenshot of all the ideas I found with a quick google image search. Sheesh!
For the tops, I found that just pulling the light cords pretty tight held the loose ends together in a nice point, but you have to wrap it several times to get it to hold. Also, since I was using long strings of lights (100 count) that can be plugged into more light strings, I had a nice outlet right at the top, which gave me room to add some tree topper stars I found for $5 each at Target.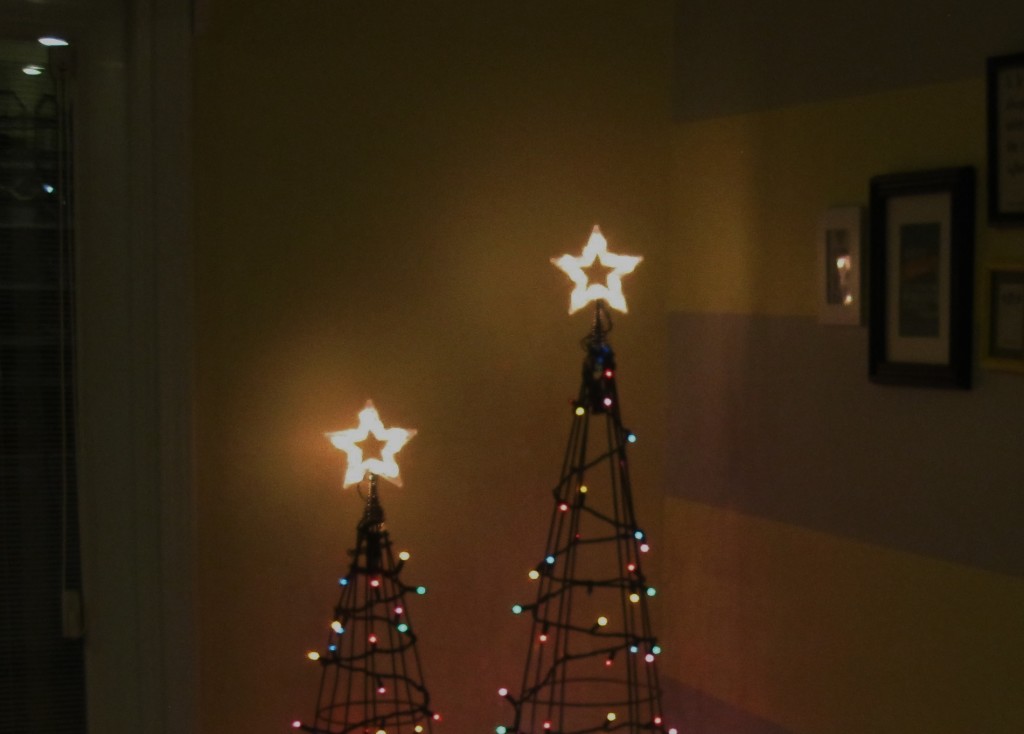 Now, this step isn't a necessity, but since they were cheap, I went for it, and I think it really added something nice. We used multi-colored outdoor lights (100 count strands) because that's what we had on hand (leftover from something or donated by my parents who use white lights) and Target only had one multi-colored star, so I went with the white ones, which I actually kind of like. So, even though the mis-matched look was an accident, I like it.
We ended up putting these in the kitchen because we had a dark little corner over there in need of some dressing up. They would also look great outside, though, especially if you live in a warm climate and have a garden year round! And if you look closely, you'll see a sneak peek of a pretty exciting project in the photo below…yup, the table is finished!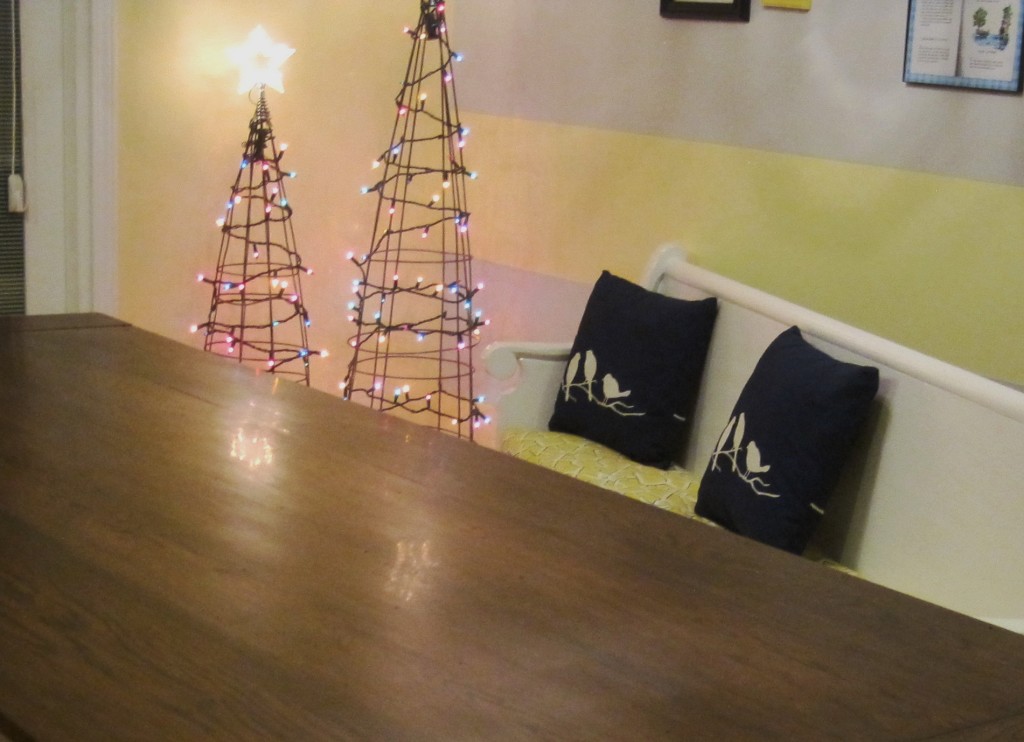 Tell me, have you ever heard of this idea? What unusual Christmas tree ideas have you seen or tried? Anyone else try to decorate for Christmas as cheaply but as brightly as possible? Let's hear your thoughts!