I already shared a little this week about our guest room when I talked about making that space welcoming for friends and family.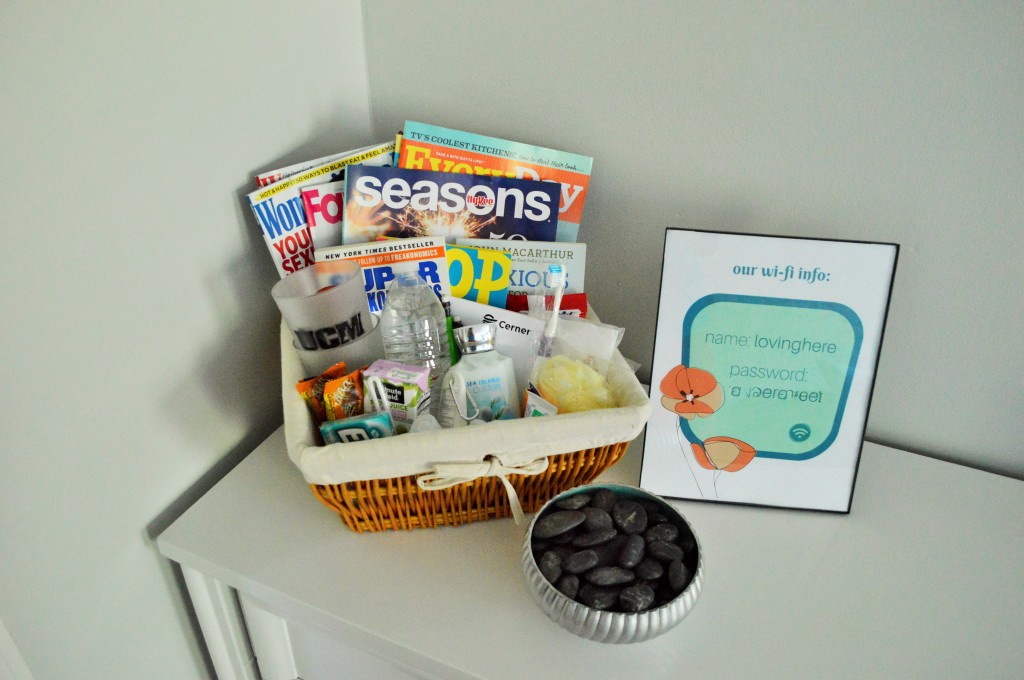 So, I figured I might as well go ahead and do a "reveal" post for that room. It's not really done since we still have some furniture tweaks we'd like to make and more art to get hung on the walls, but it's likely we're taking a break down there for awhile now that we're so close to Beanie's arrival.
I added a few other little touches, including this little print I think is adorable.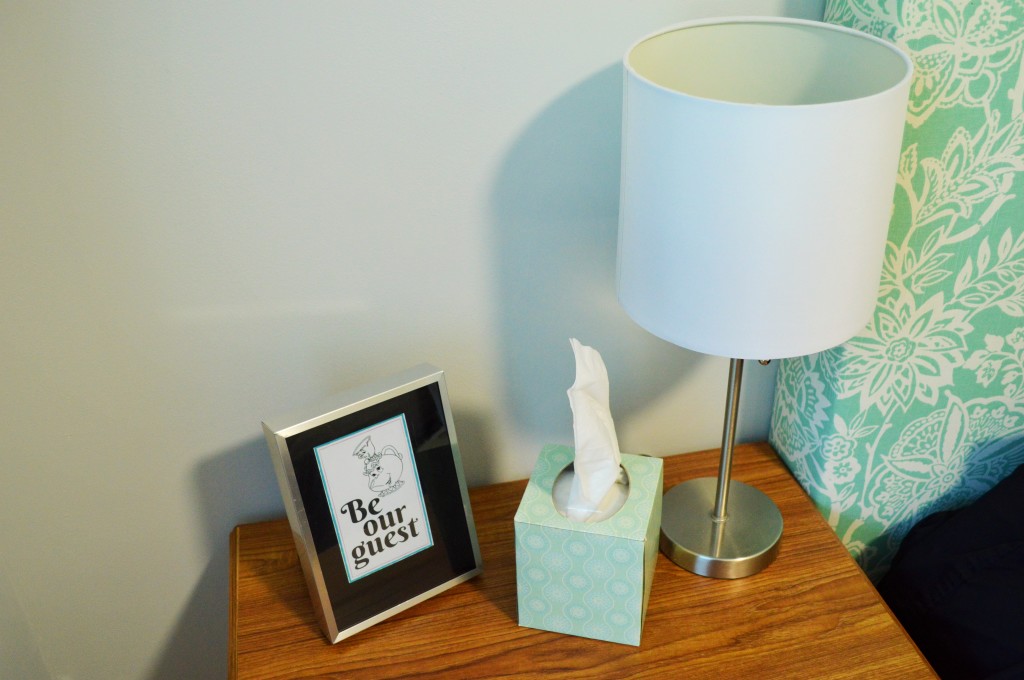 The nightstands aren't anything special, but they were a hand-me-down freebie so I'm thankful to have them. They work just fine in the space.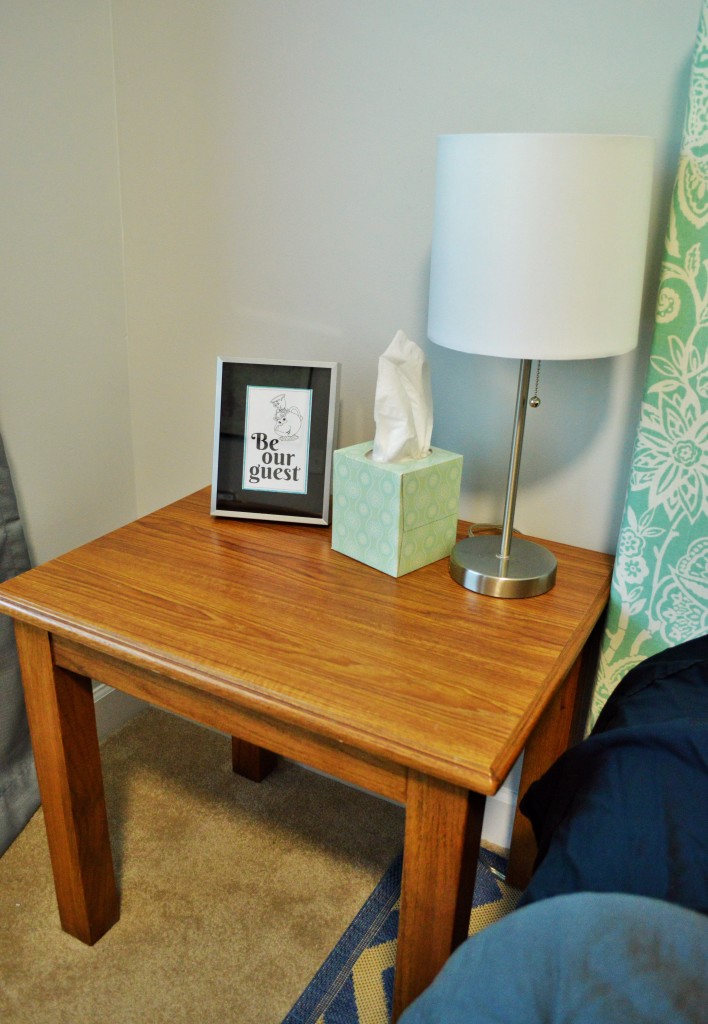 This little chest was also a hand-me-down, but at least it matches the nightstands! And, it's a great place to hang our vintage local map, over our new little local welcome kit.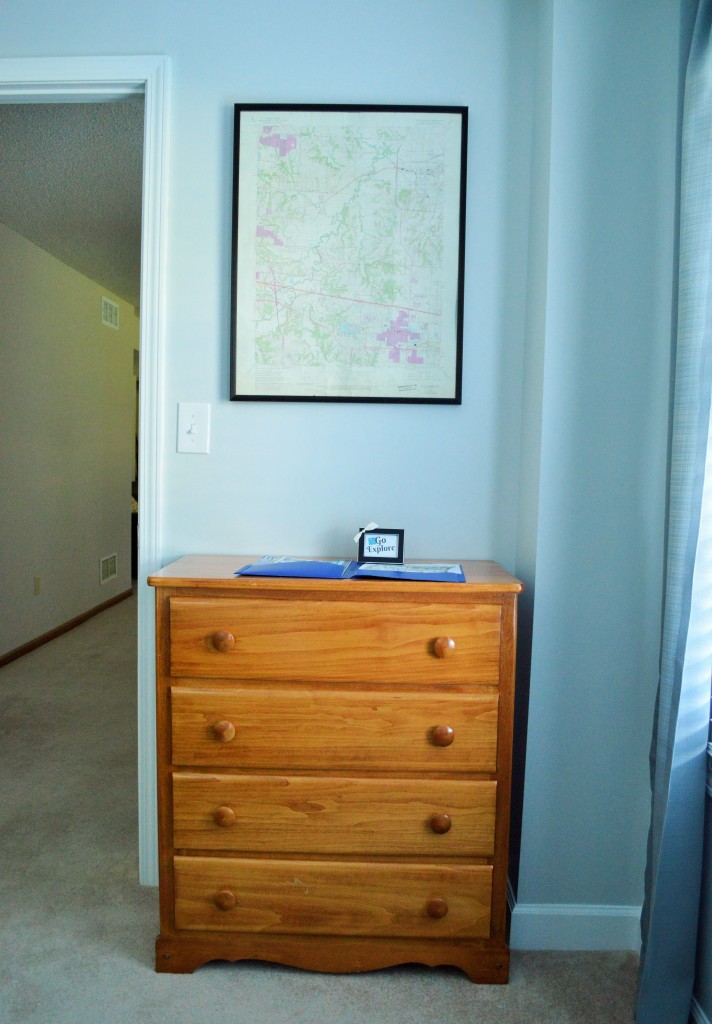 I don't like that little chest all that much, so if I get ambitious someday, it might get a makeover. For now, it fits perfectly in that little nook by the door into the room.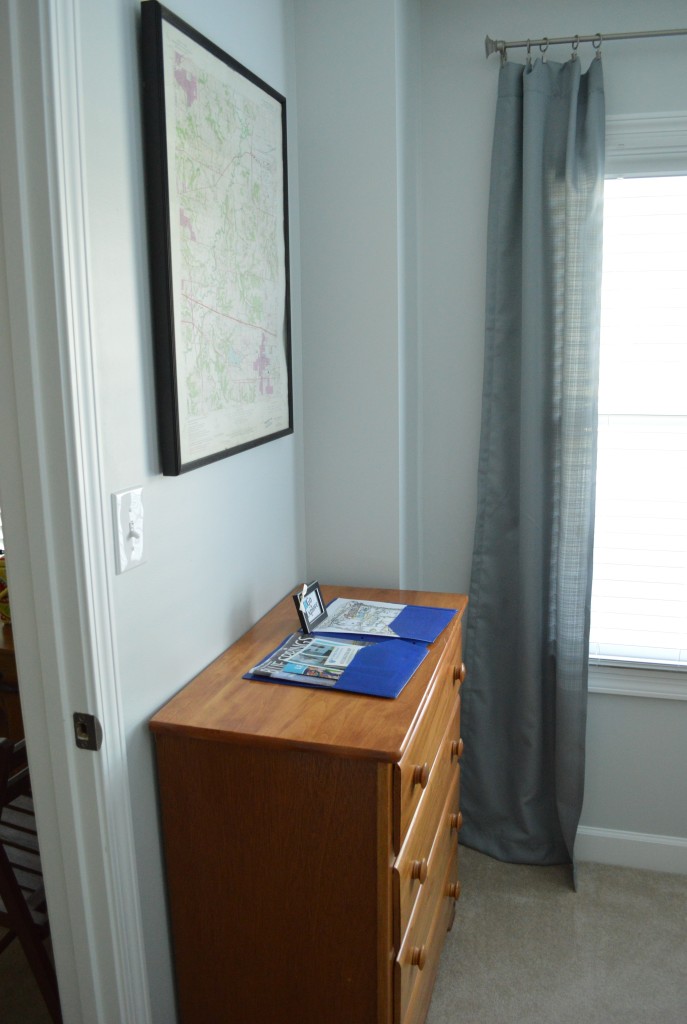 And even though we don't really need dressers in this room (guests don't stay long enough to "move in" their clothes), we had a long wall to fill and it provides good storage for spare linens so we moved our thrifted, white dresser on the other wall.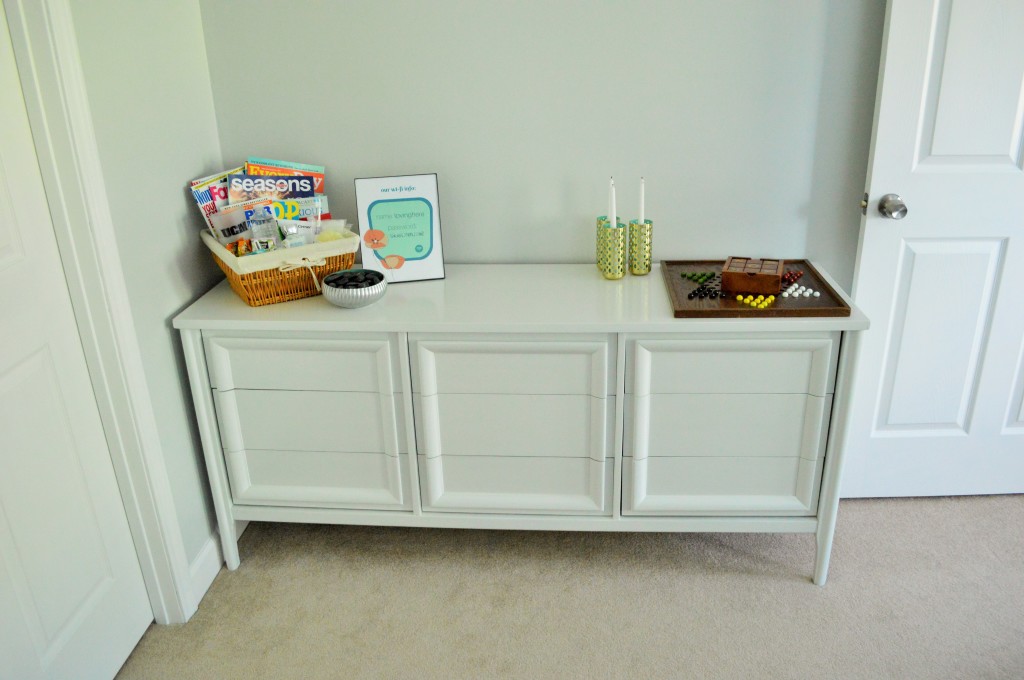 It's odd to me to have two dressers in those locations, but Wyatt said it made the most sense for the shape of the room. He's probably right, but I still don't love it. (The dresser can't go on the wall by the storage room door because of an air return vent…boo…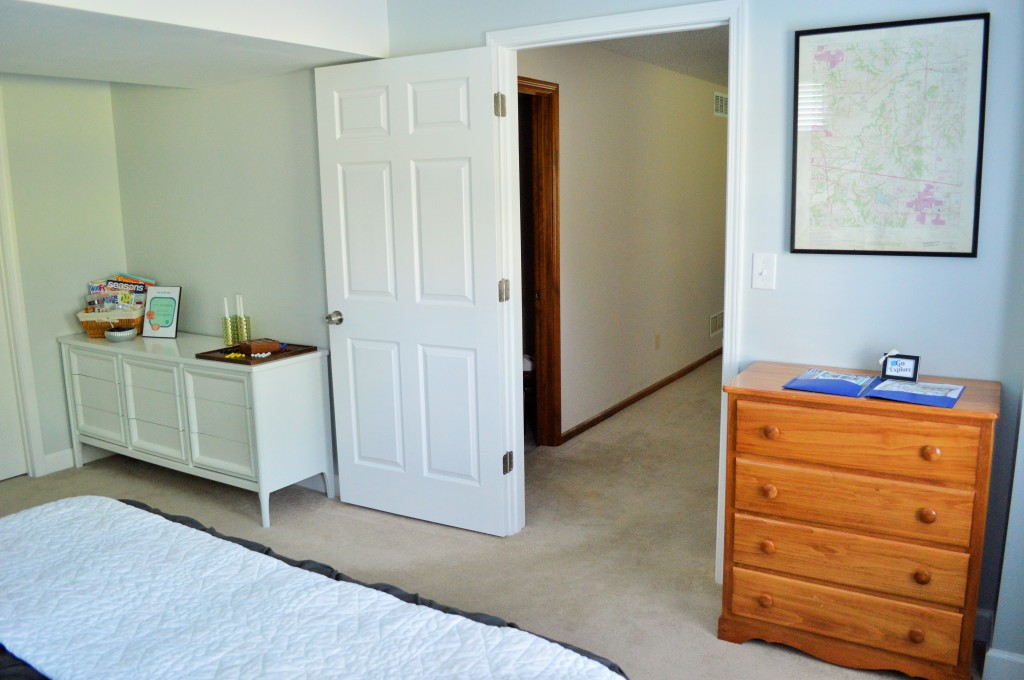 Plus, it gives us a good space for some fun little items like our vintage Chinese checkers game we snagged for just a quarter at a garage sale!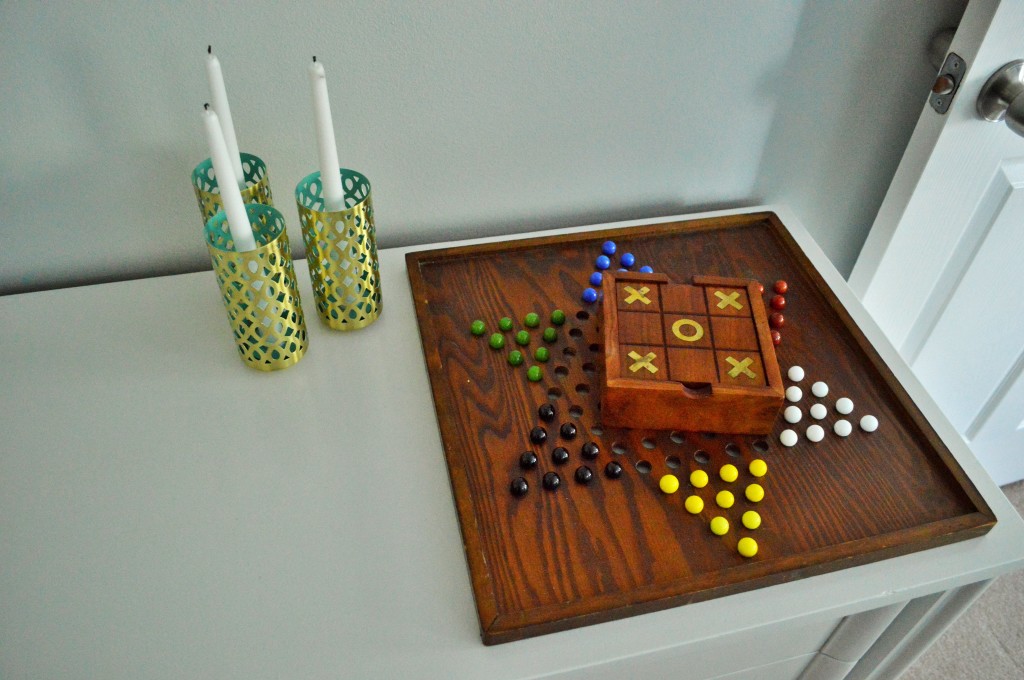 I also threw in an old chair from my office, as well as a tall mirror, propped up by a chair to be full height, and a few other little things to fill out the corner and provide a place to sit or get dressed.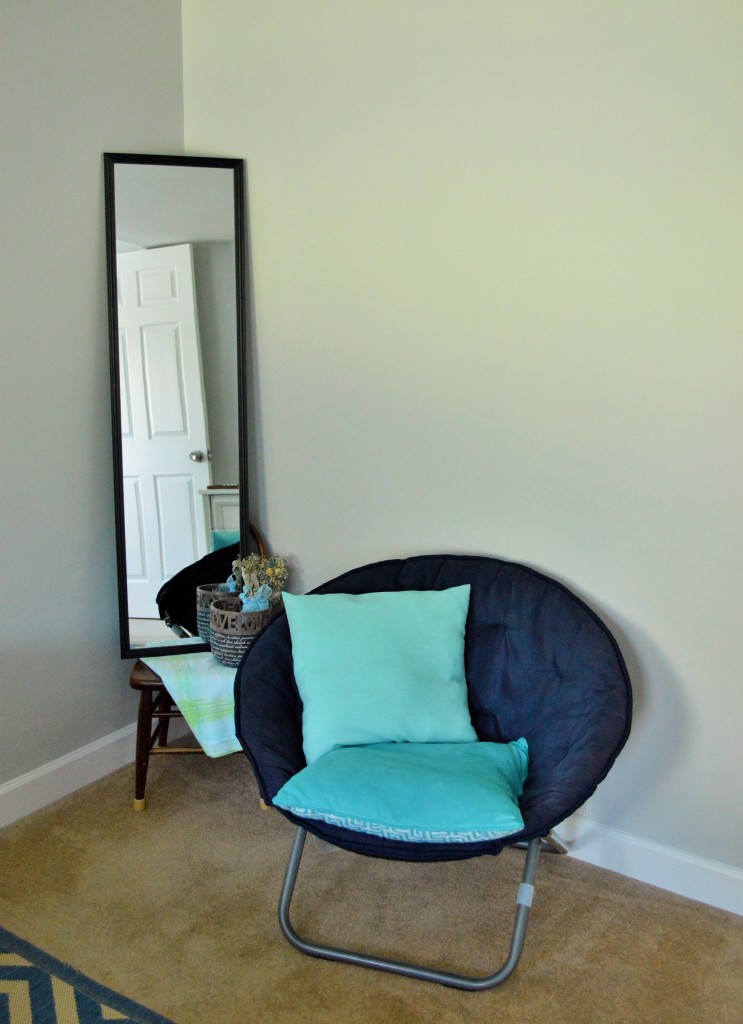 Not such a bad little area, I don't think. It's light, bright, clean, fresh, and overall, just better.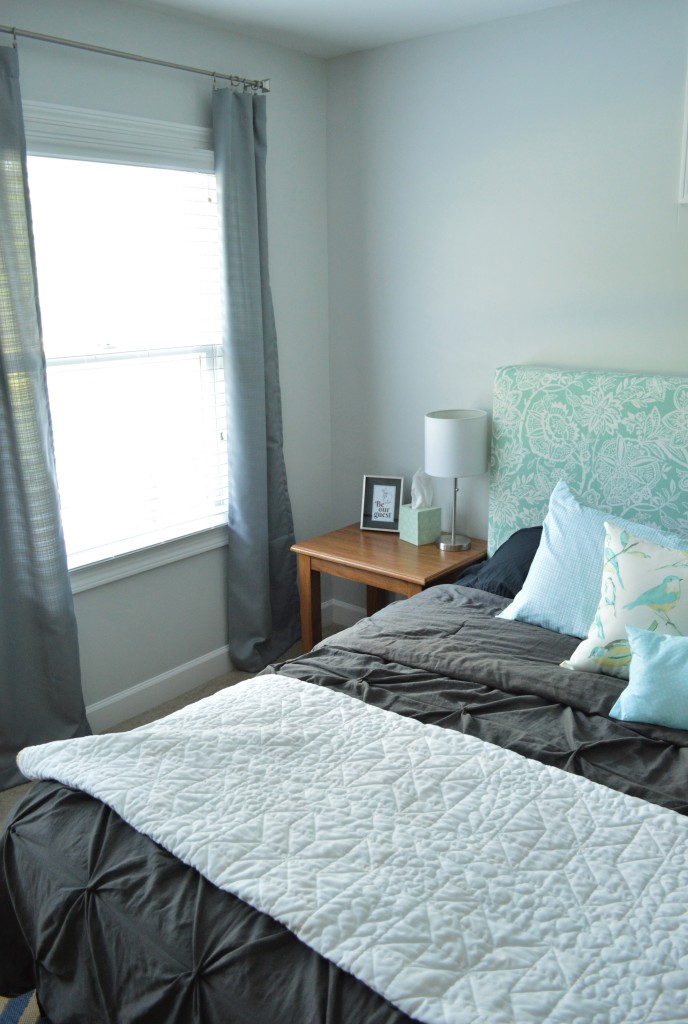 So, without further ado, our guest room makeover from beginning…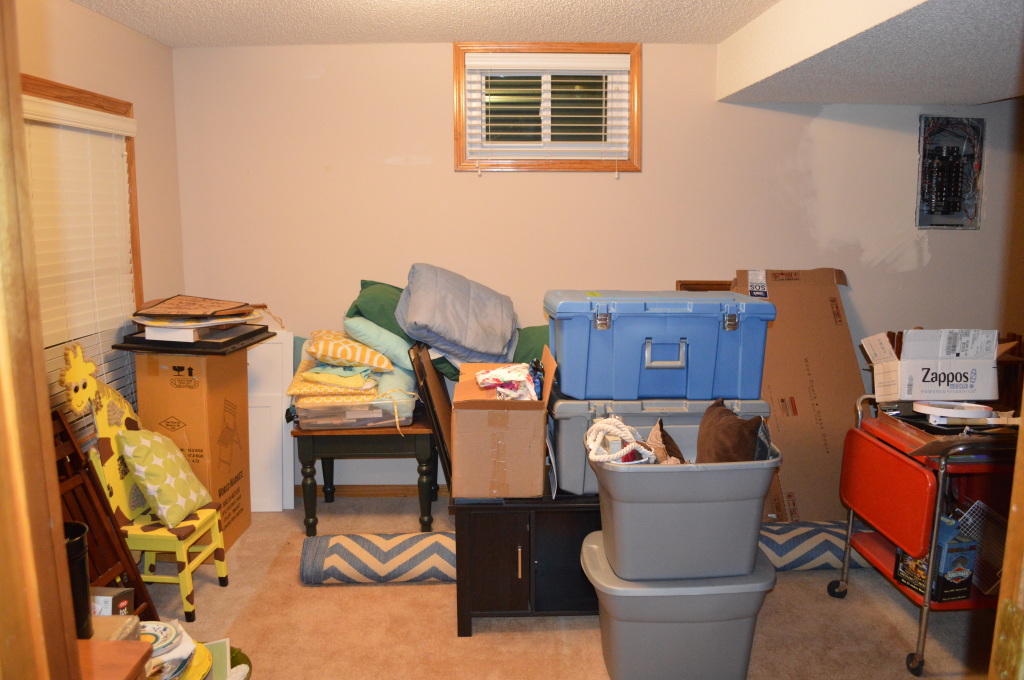 …to now: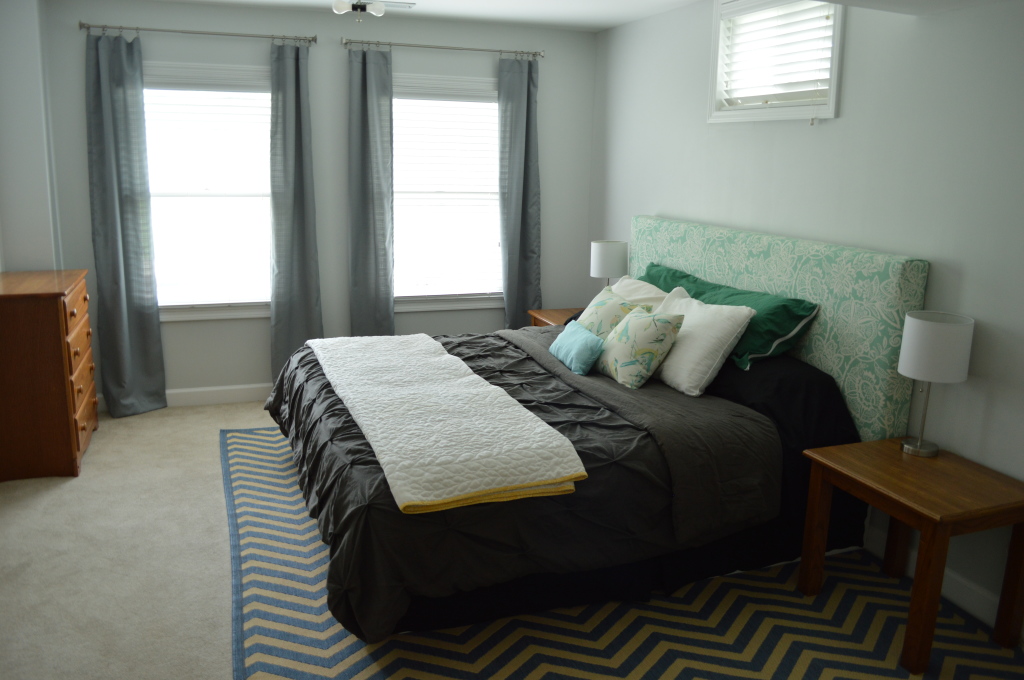 Crazy difference, I have to admit. Just as a recap, here's what we did to this room:
For starters, we managed to get the ceilings scraped and repainted. No more popcorn down there equals a happy momma.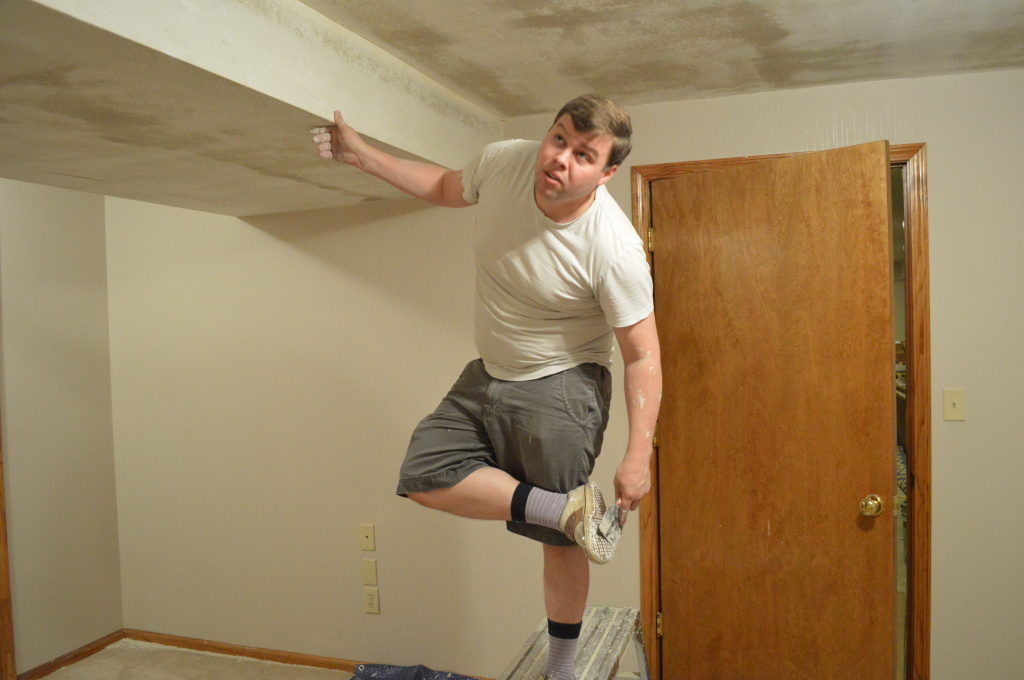 And switched out the old doors for new, paneled white doors.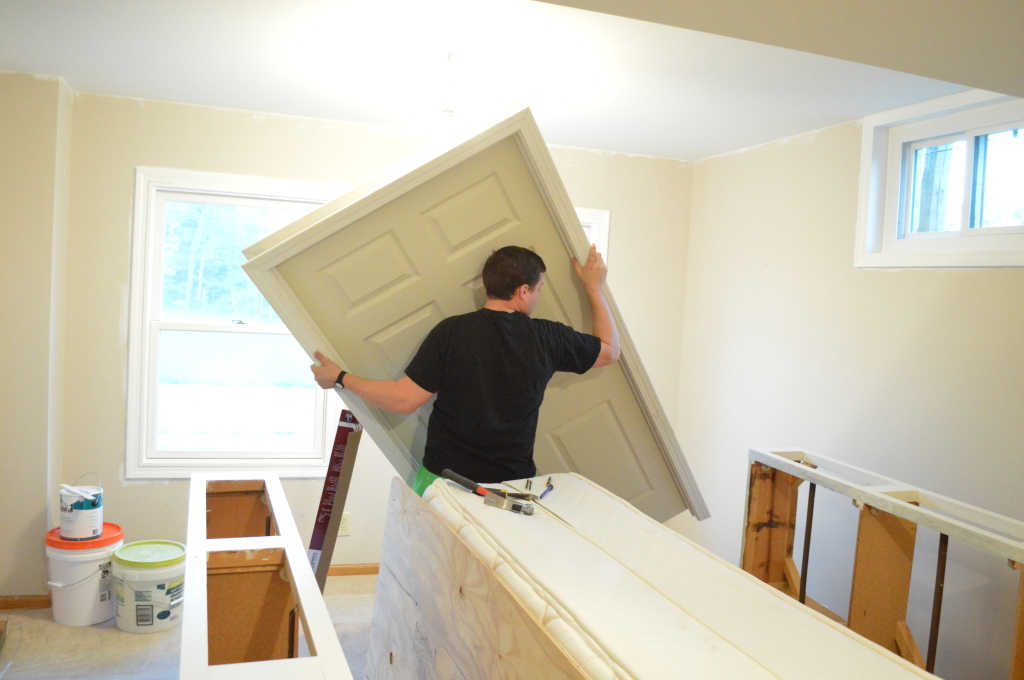 We also painted the walls.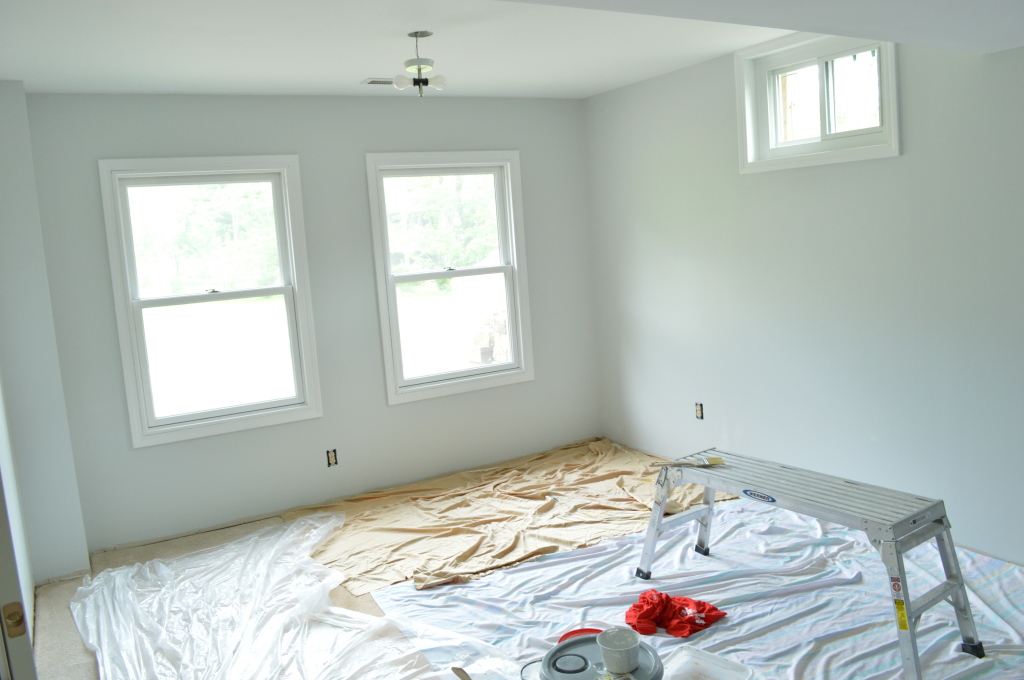 We also painted and replaced all the trim.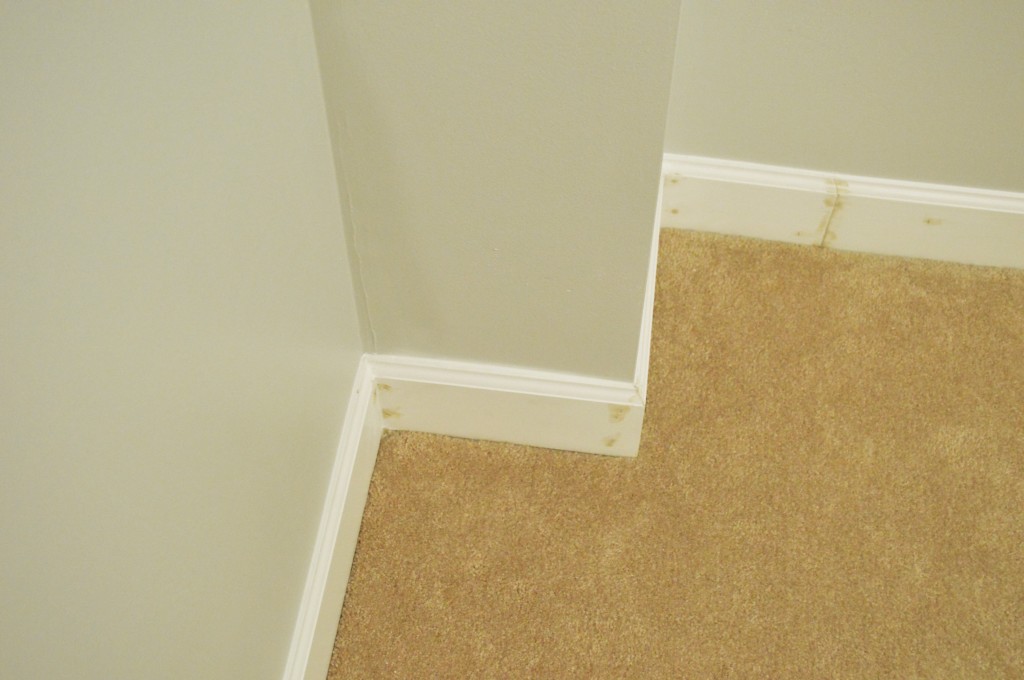 Added the bed, courtesy my parents.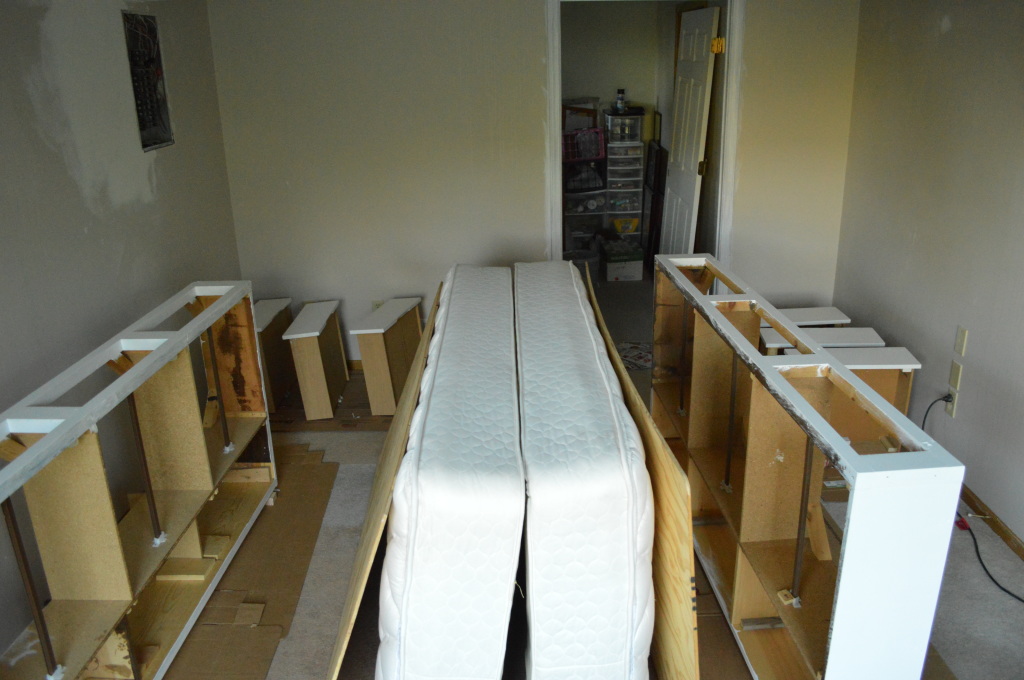 Made a DIY custom headboard.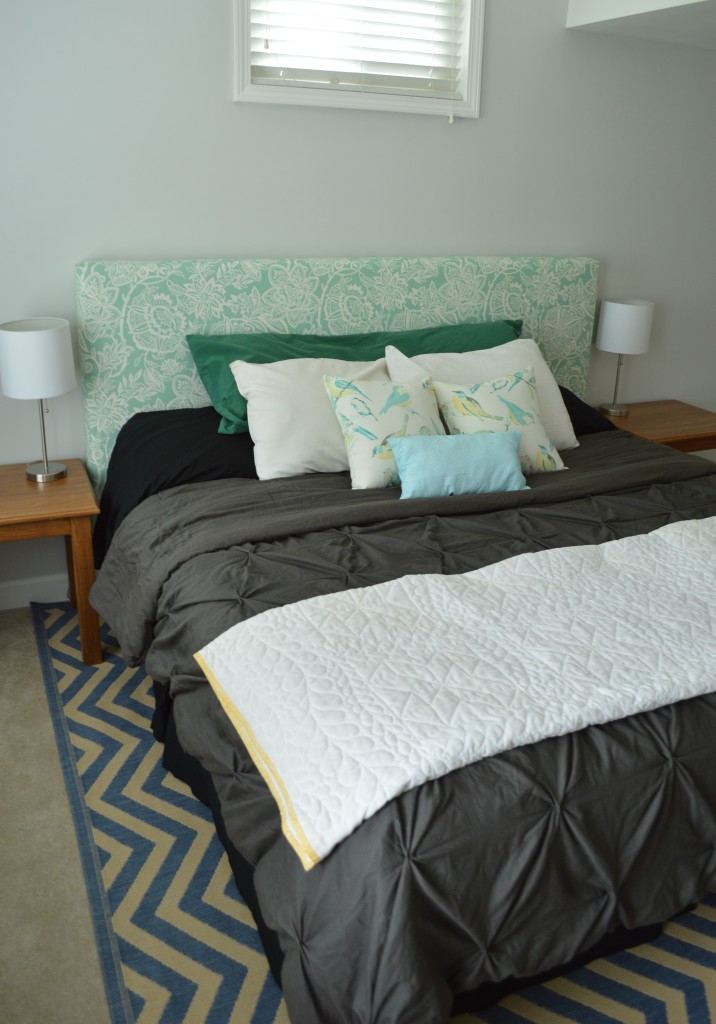 Added custom curtains.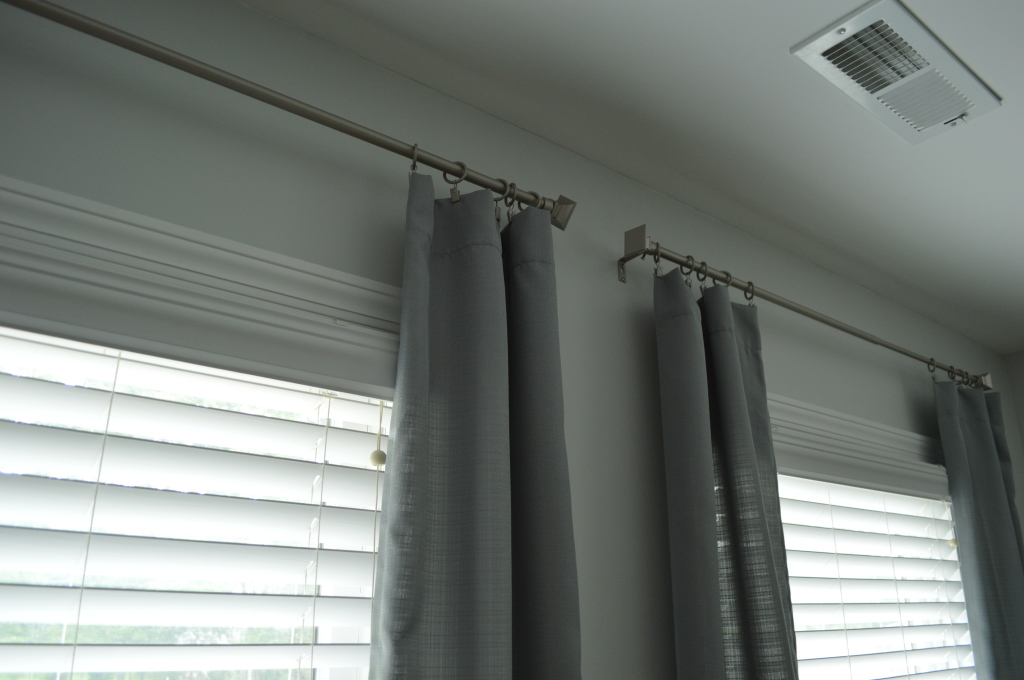 Switched out the lighting fixtures.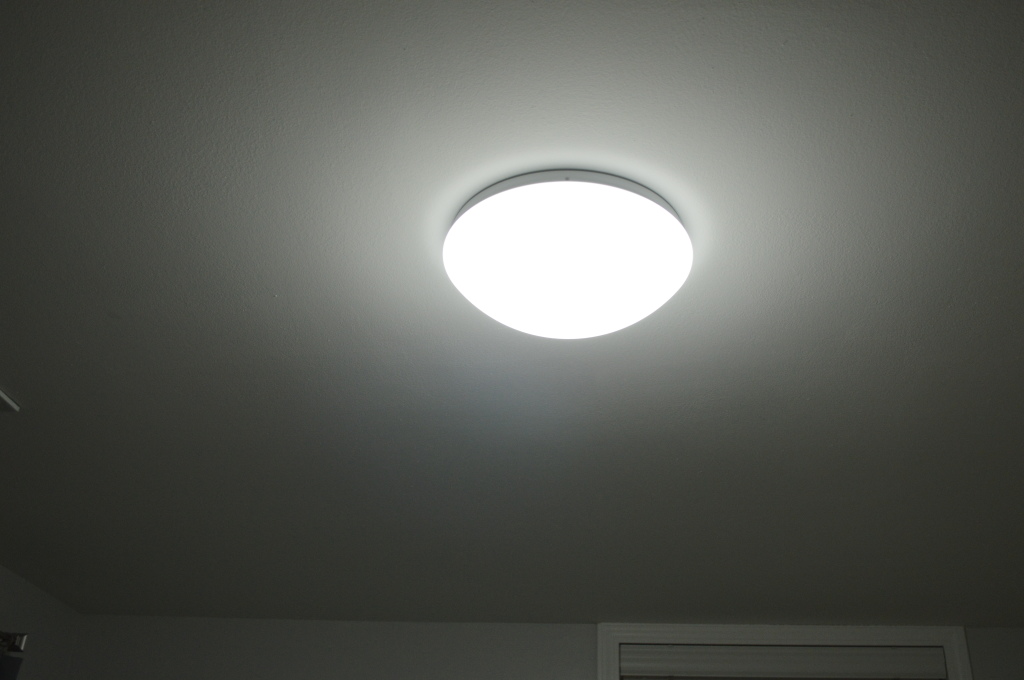 And finally added some other furniture and accessories to make it feel a little more friendly.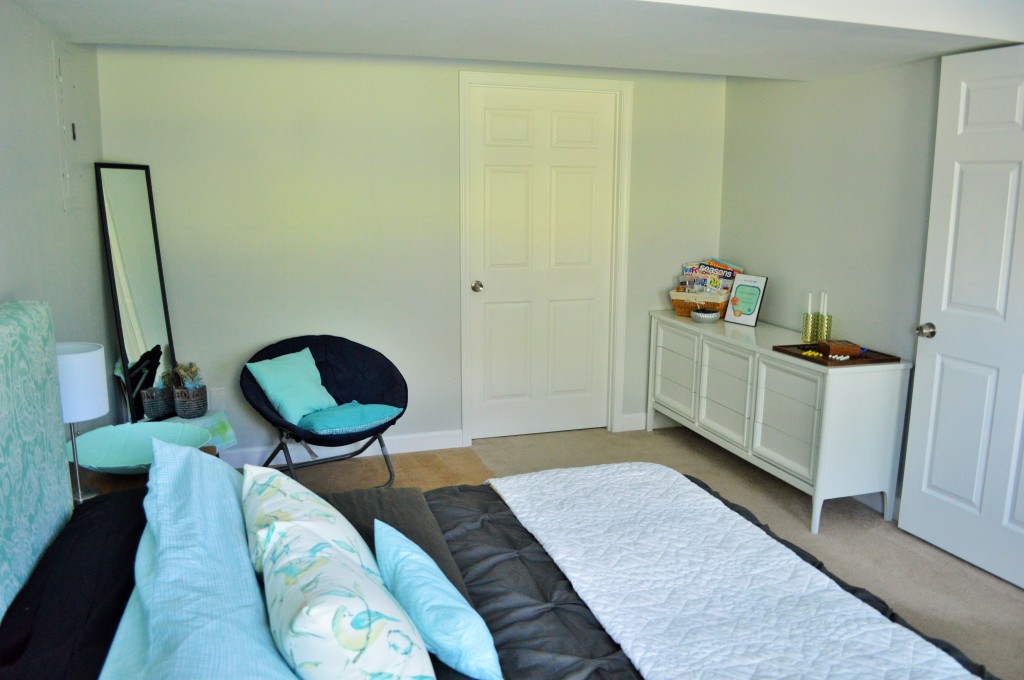 All in all, a decent little makeover. Of course, I'm not totally happy yet. The walls still need some work because they are looking really bare. And I'm wishing we had a never-ending budget that would allow me to go buy all new furniture and bedding so everything matched perfectly instead of feeling a little…hand-me-down-ish. But, I think we did a pretty good job using mostly things we already had from other rooms in our house or in storage, because we don't have a crazy budget, and never will probably.
I'll be sharing a cost breakdown in the future with the details of how we completed this makeover using as little money as possible. I have to admit that even I was a little impressed by the low budget for this big room considering we did s0 much in such a short time.
In the meantime, what are your thoughts on guest rooms? Wyatt doesn't think they are all that important to focus on because we don't use it a lot, but I find it a source of pride to have a nice place to let people come stay….thoughts?