Now that we have the room all painted, we're starting to move into the nursery, which is a pretty fun process. One of the first things we needed was a dresser. We're planning to use a dresser for storage (The closet is small.) and as a changing table. (The room is small, too.)
I actually found the dresser at a friend's garage sale. It was near the end of the day and they gave me a great deal. I assume because I'm such a shrewd negotiator, er, a lovable person, er… a friend willing to haul off a heavy dresser. I bought it last April, not this April, and it's been sitting in our house waiting for some love ever since then. I actually think it's nice to give the dresser, which was in my friend's grandmother's house, a new home.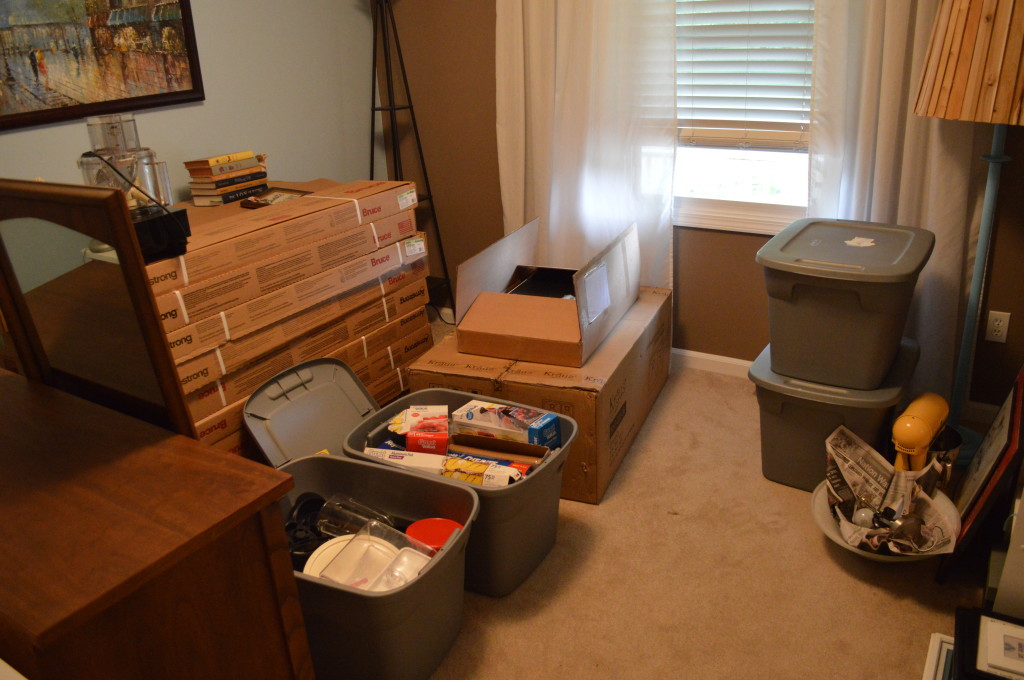 We paid $35 for it and it is awesome. It's got mid-century lines, which I find really classic, but also a little trendy, which is great. The wood was in great condition, too. (It looks a little orange in these photos, but that's because these photos were taken at night and I still don't have the hang of getting the light/white balance right for our DSLR–sorry.)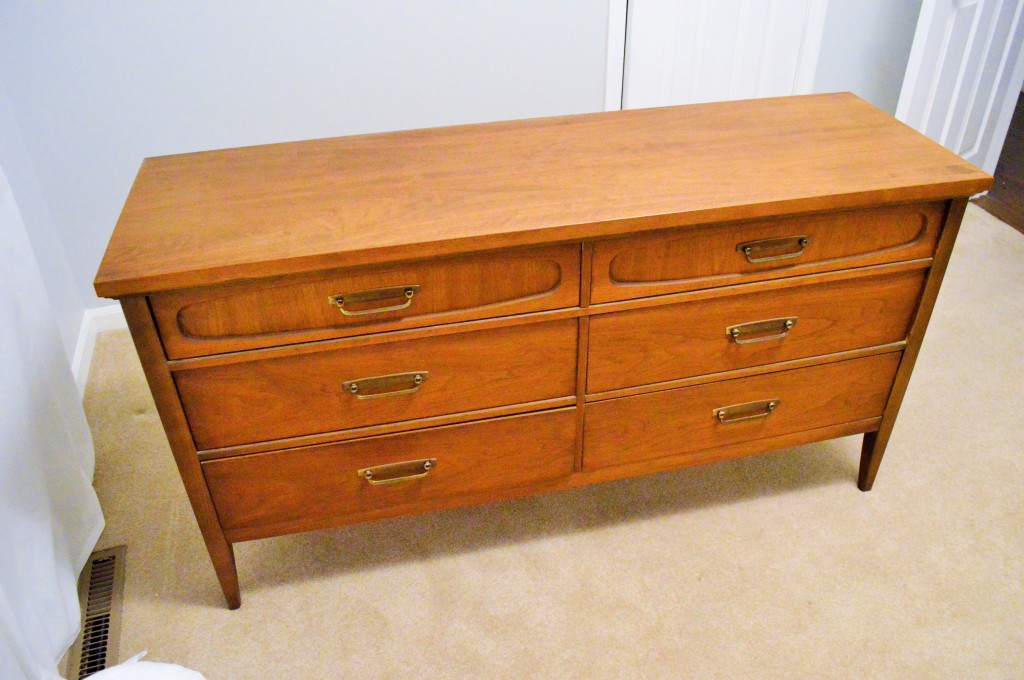 We really only needed to give it a good cleaning job at this point. We also may switch out the hardware…but we're undecided. I'd still like to give it a little bit of white paint in the future because I really liked the two-tone look of the dresser in our nursery mood board, but for now, we're fine with it as-is.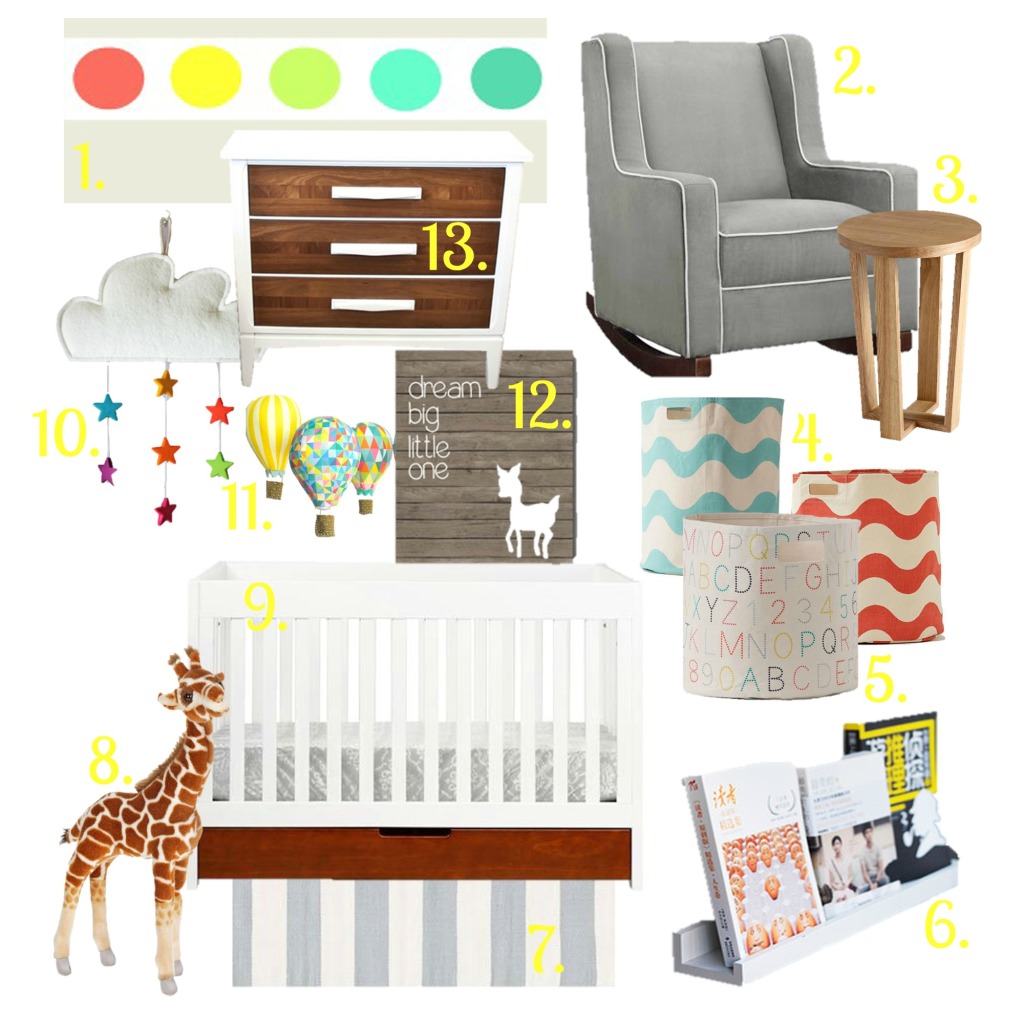 (For sources in the above board, see this post.)
I did a little research and ended up selecting Murphy's Oil Soap as my cleaning product of choice. It isn't full of a bunch of harsh chemicals and has a natural citrus scent.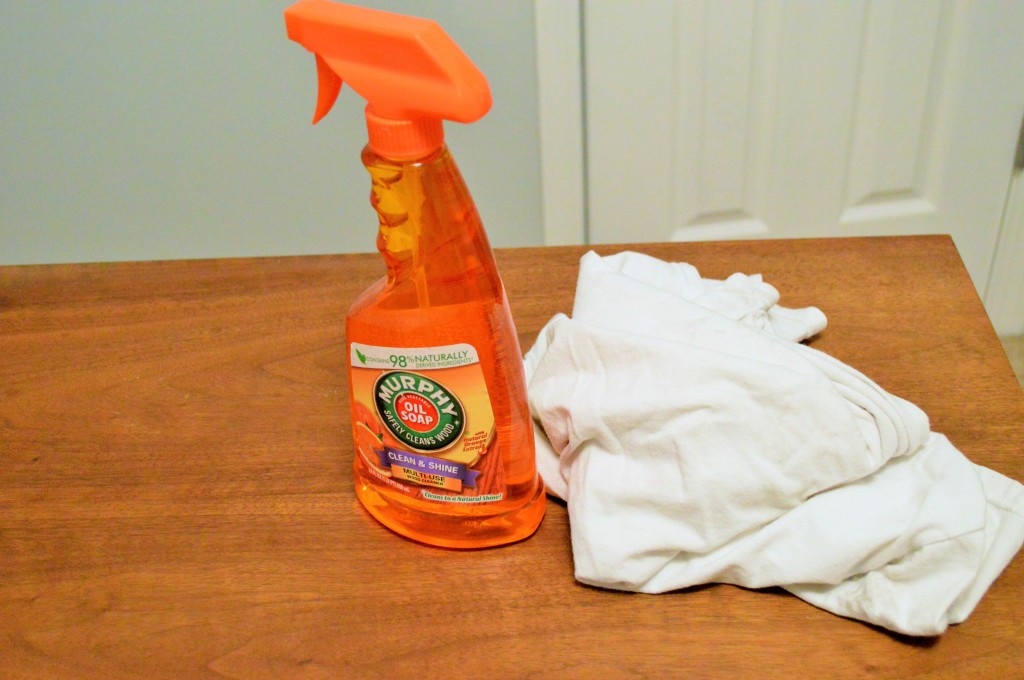 I originally wanted to use plain vinegar, but we used it on another piece of wood furniture recently and it took a little too much grime off (including some of the finish…since we aren't planning to refinish this dresser right now, or maybe ever, I decided I didn't want to risk it.
I used an old t-shirt as a rag and sprayed a generous amount on the rag before wiping down all surfaces of the dresser. (I tested the soap for any negative effects on the back first–a must do!)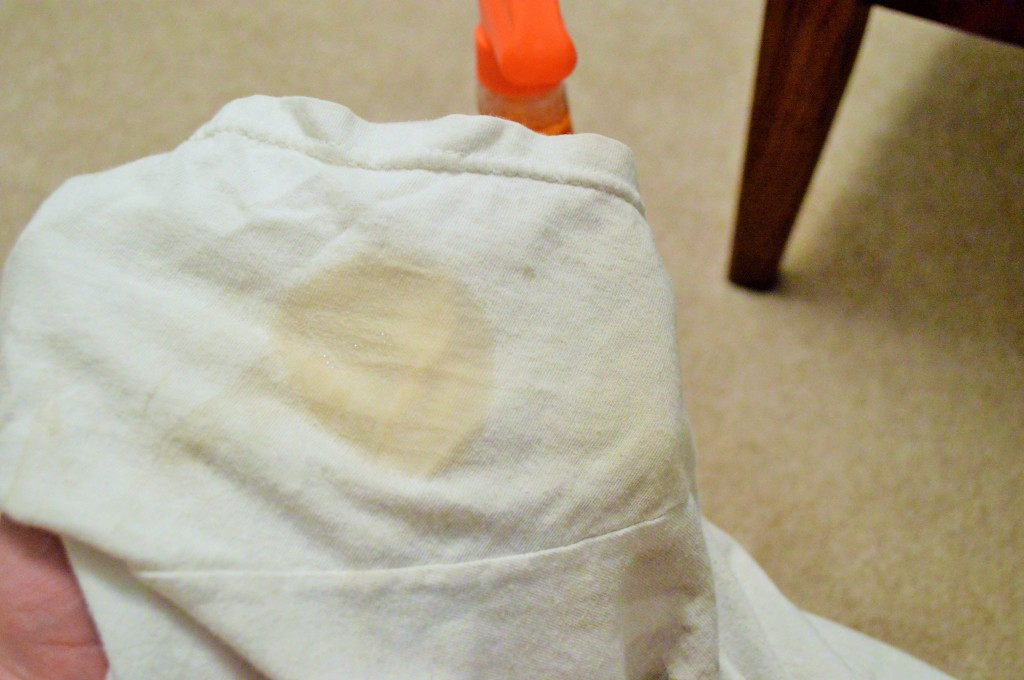 You can tell it really polished and cleaned the overall finish into a much richer tone. (The outside edges have been cleaned in the photo below. The middle hasn't been cleaned/oiled.)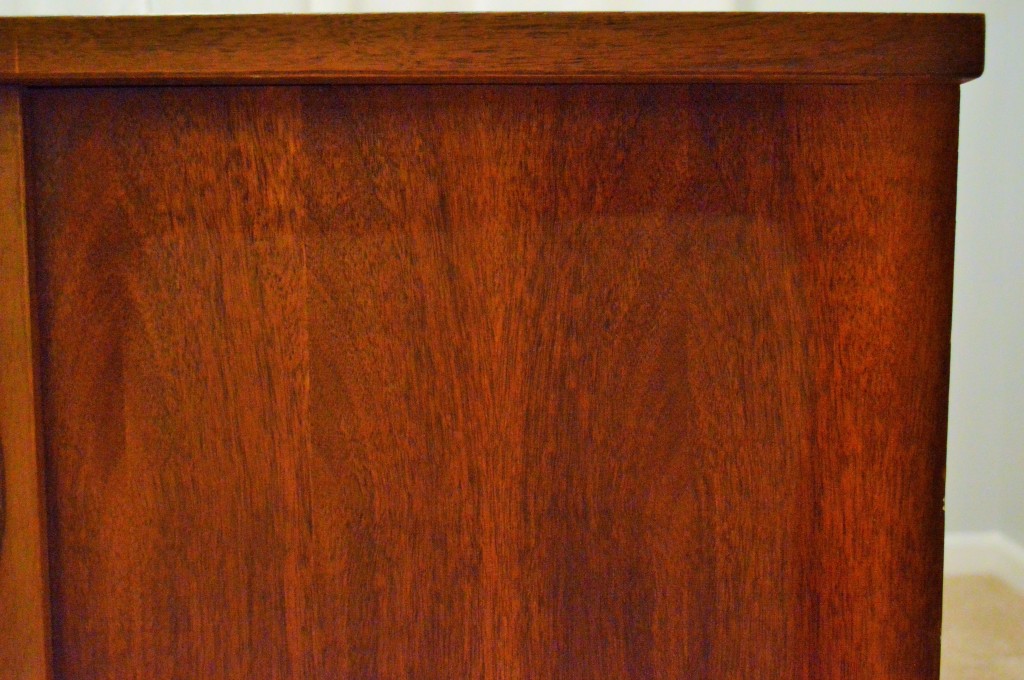 I made sure to remove all the drawers and clean every single wood surface, inside and out. (You can see a slightly more accurate wood tone, below, but for the full effect, you'll have to see it in person.)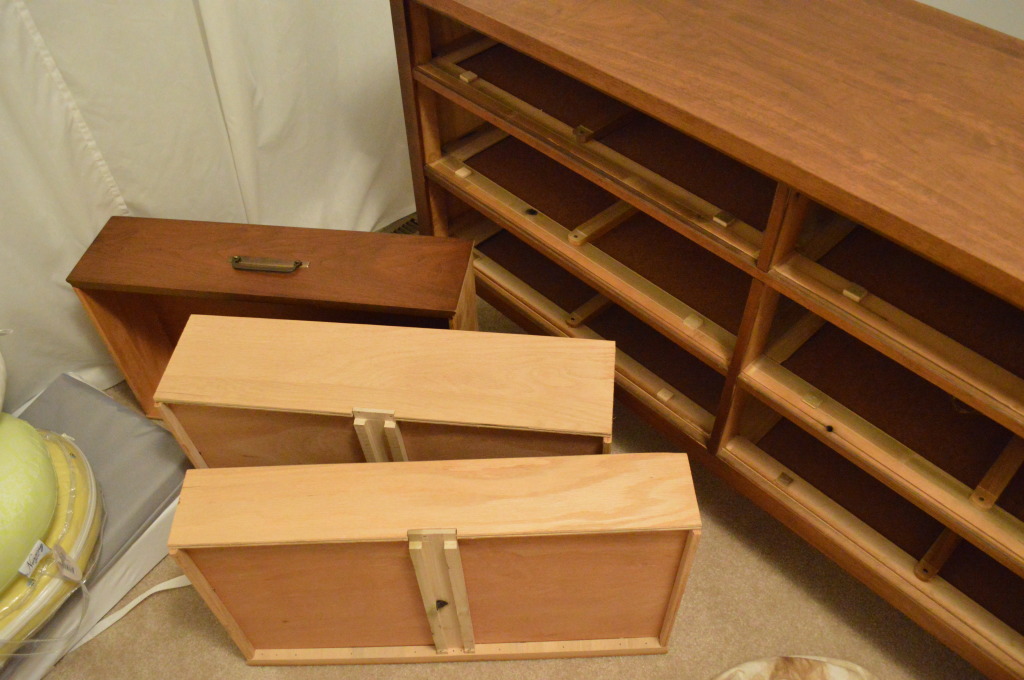 I also sucked out any dust, dead bugs, or debris I found with our trusty Shop-Vac.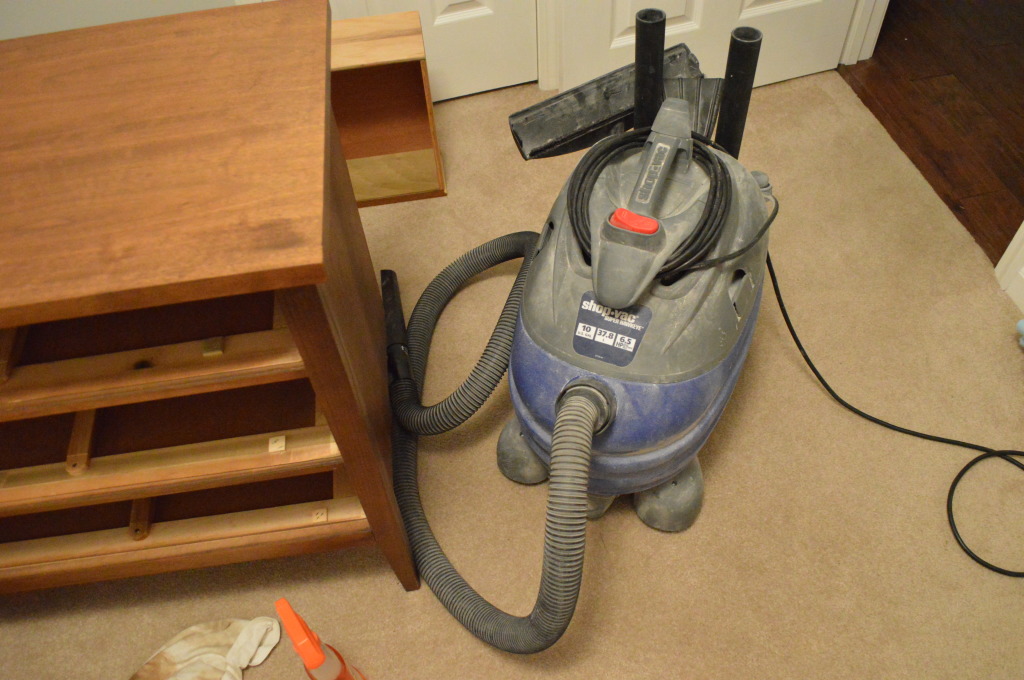 I got quite a bit of grime off by the time I was finished. (And yes, I wore a mask for this, too, even though it isn't supposed to be a toxic chemical…I figure better safe and uncomfortable, right?)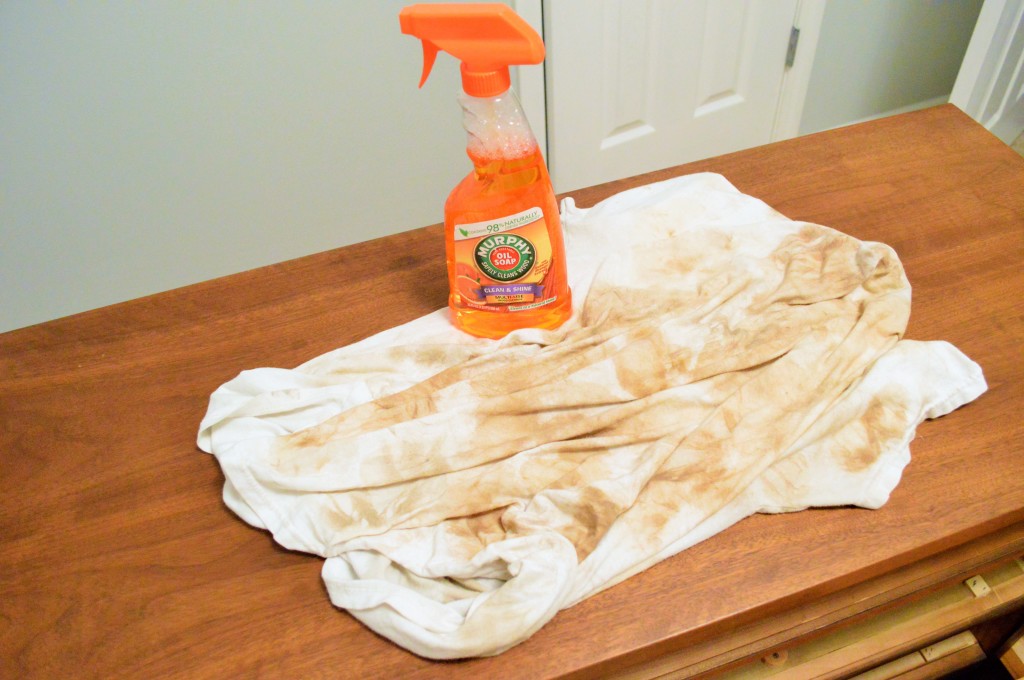 Then, for the fun part, the drawer liner. I knew I wanted something fun and bright to line the drawers after seeing the idea on Young House Love, but since we have to keep our room gender neutral, I couldn't go too crazy with flowers or anything.
Of course, I considered using craft paper and Modge Podge like John and Sherry did, but I had a lot of pre-sticky vinyl shelf liner left from lining our DIY custom pantry drawers, so I decided to go with that.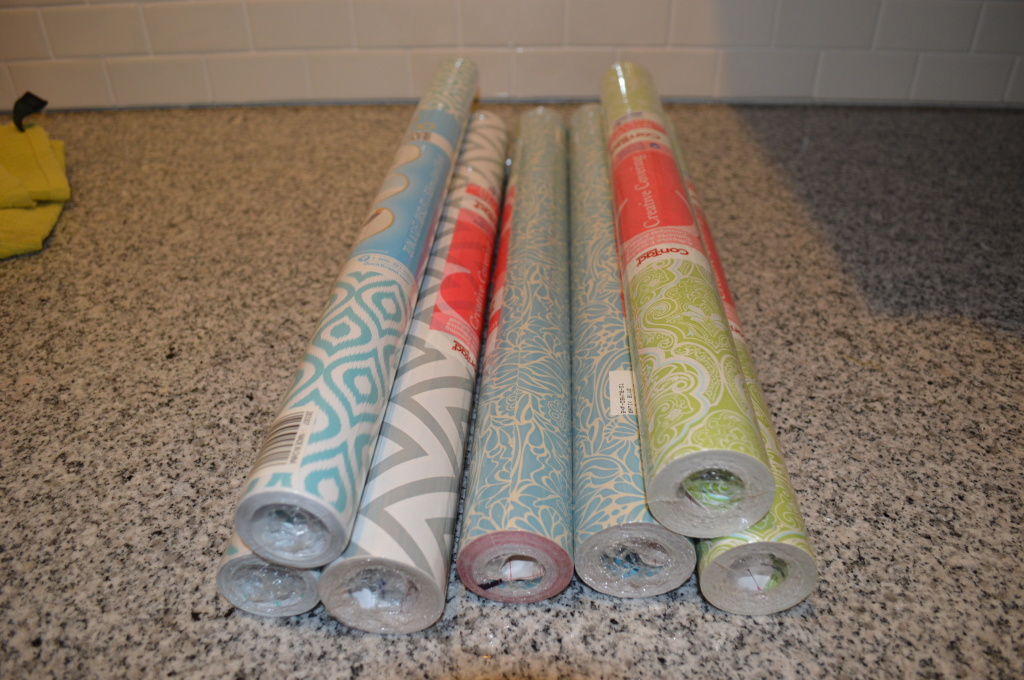 I settled on the couch with the drawers one evening this weekend and got to work. It was a pretty quick little update.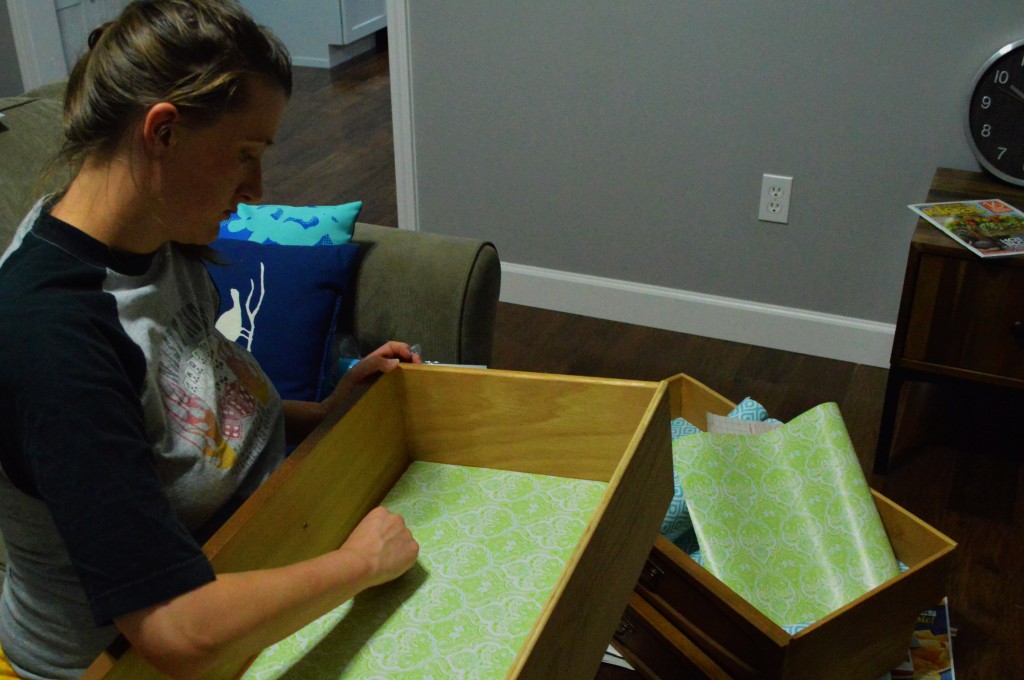 I choose three patterns, green, blue, and gray, which really added a fun pop of color.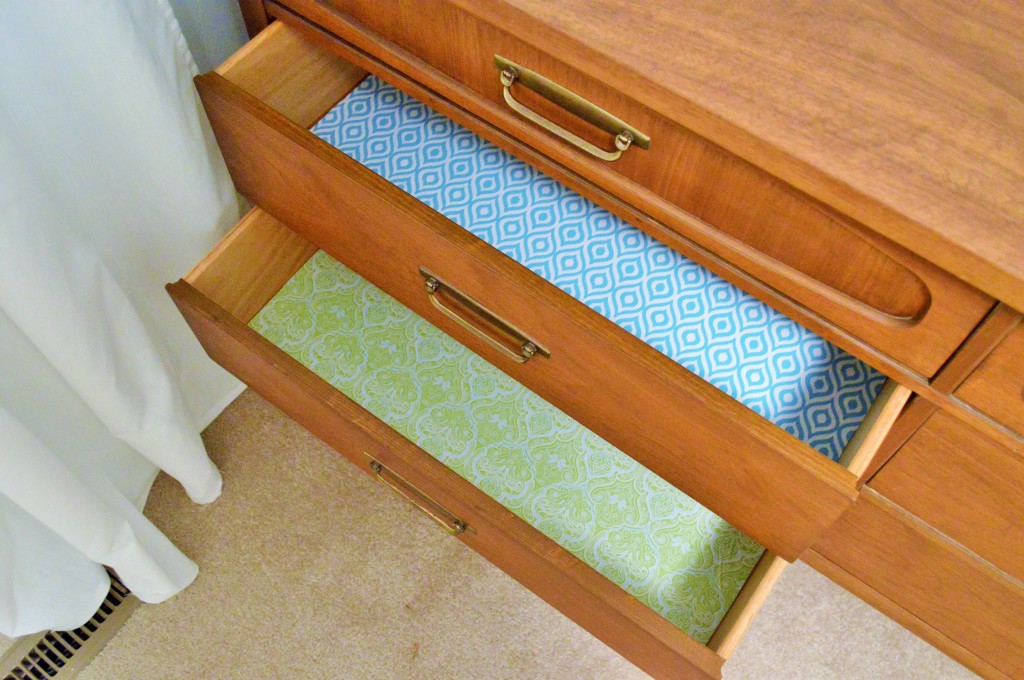 Then, I got to sorting all the clothes we have for Beanie so far…it's not much. Really, we haven't bought very much at all, but we did get some second hand items from a friend as well as some nice shower gifts and I've found a few things at thrift shops or on holiday clearance.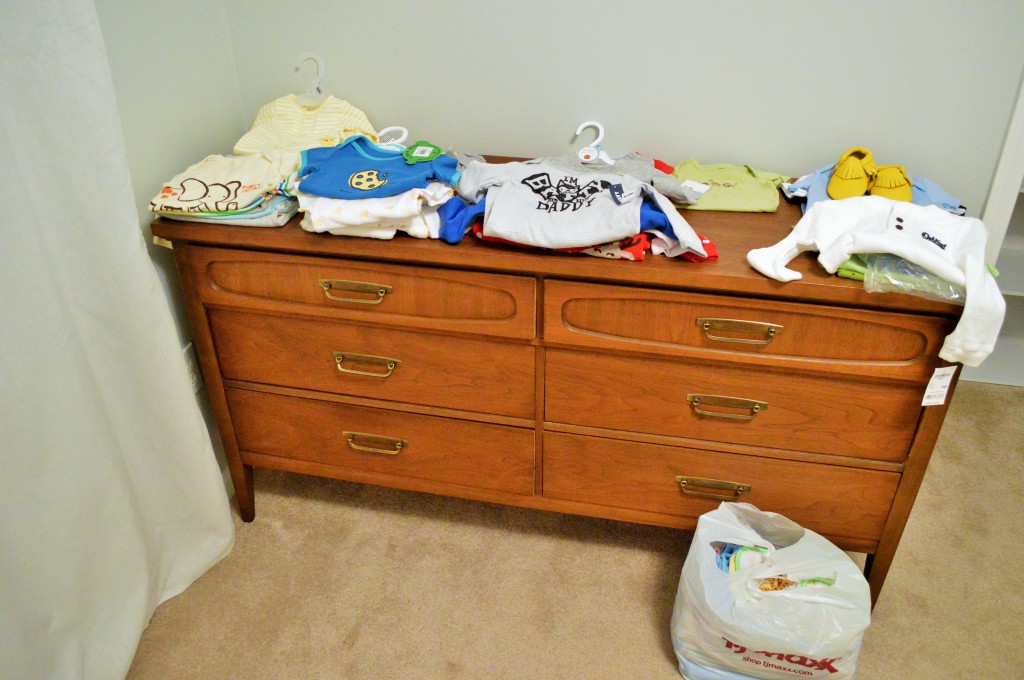 We did buy this little t-shirt on clearance last December. It was the first "baby thing" we bought for Beanie.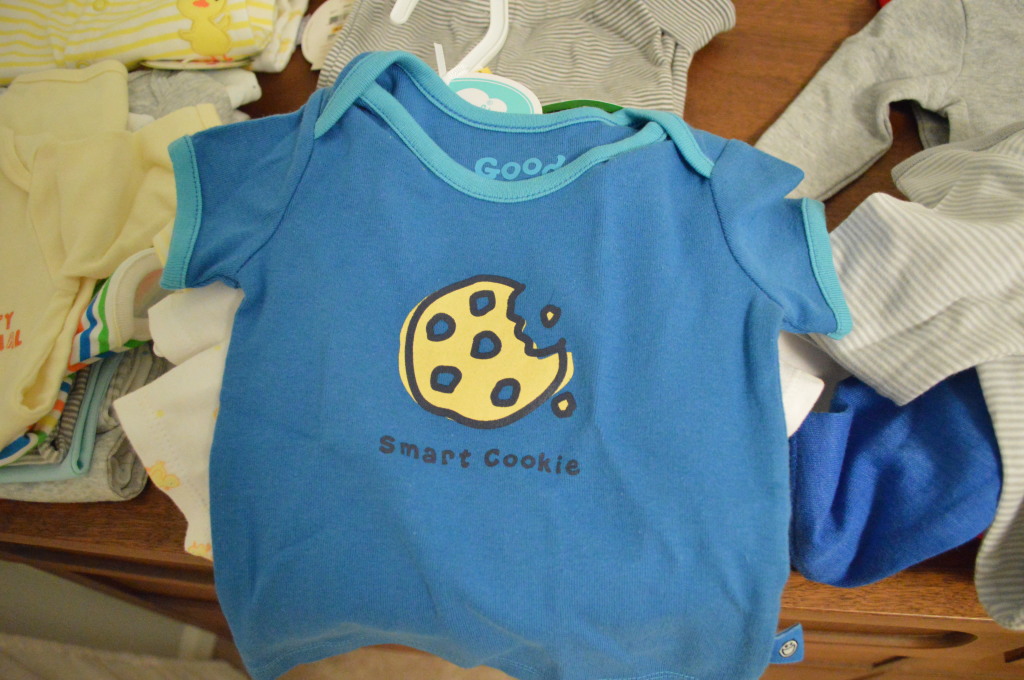 Then, I moved in everything based on the size/style it was. We still have lots of room to grow into this dresser, too.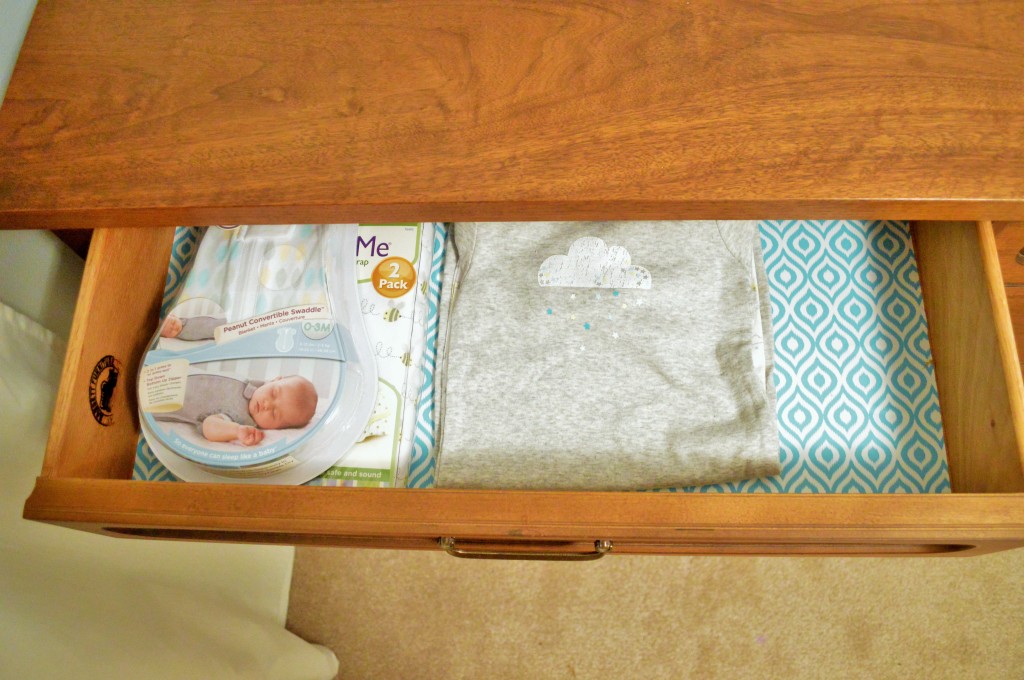 The closet was a little bit more of a project because we had to paint all the trim and such. Plus, the walls were really scuffed and dirty, so they needed a fresh coat of paint. It's hard to see, but trust me, it looked awful in there. Not to mention the trim.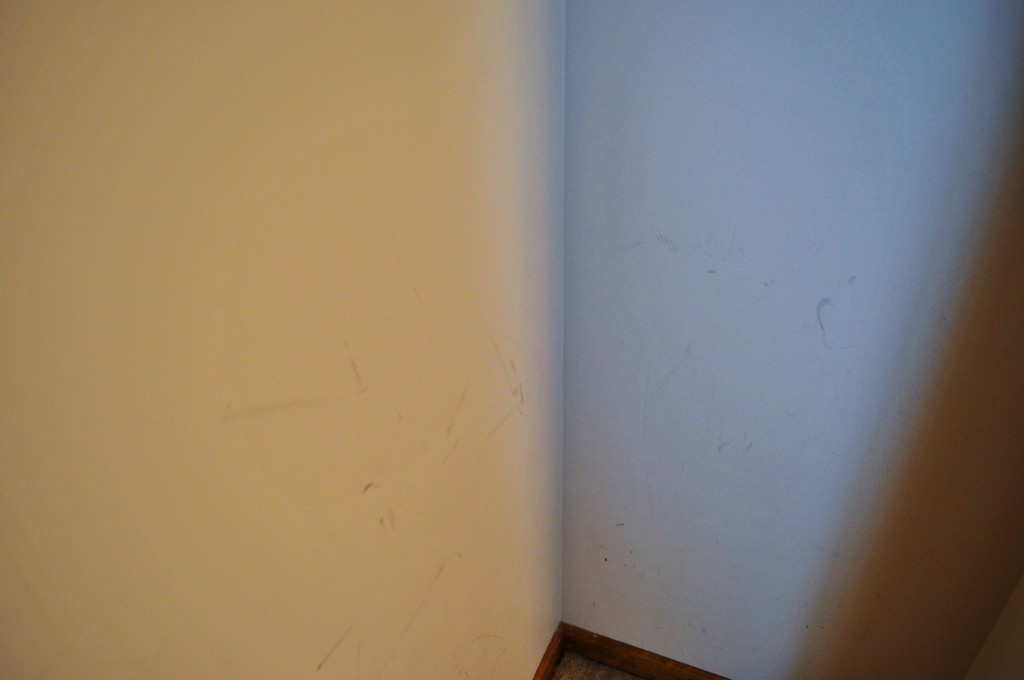 I decided to go with something fun and bright on the bottom, and bright white on the top to help lighted it up a little in there, just like our coat closet makeover.
I did most of that project by myself while Wyatt worked on something else in the garage but he helped at the end because I got hot and winded wearing the breathing mask.
There are no lights in the closet and it can be pretty dark when you're trying to see to paint. (Adding a light is on our list of future improvements to make…someday.)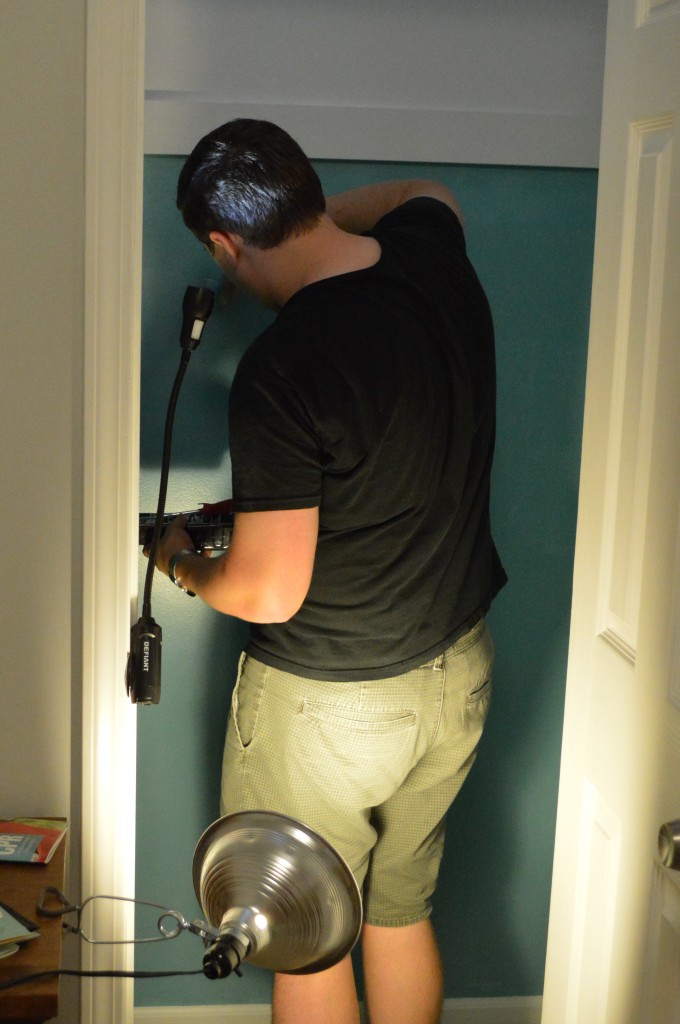 I painted the shelf white, too. And moved it back to give us more room up front since kid-sized hangars don't take up much room. Here's the before: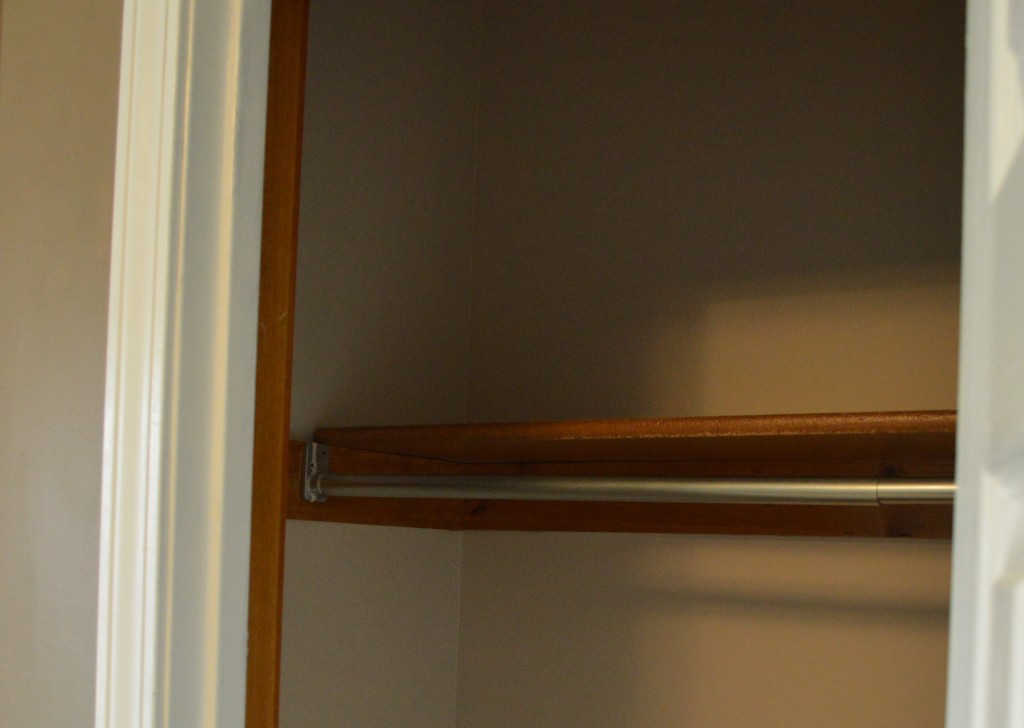 And the after: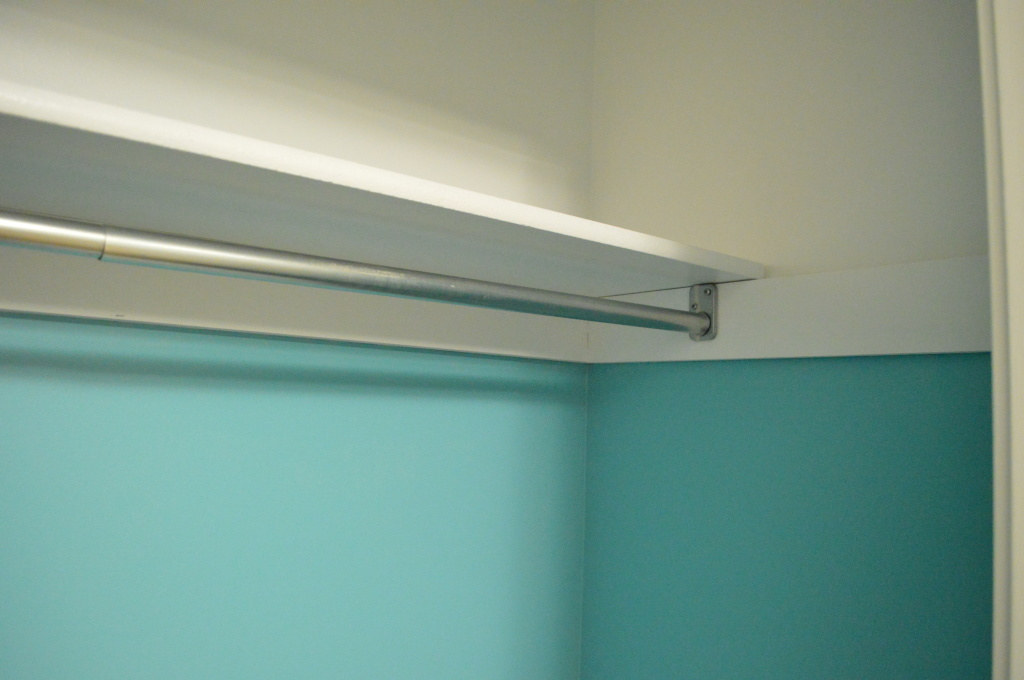 Can I just say how much I appreciate white woodwork? It's one of my love languages I think…
I moved in the bookshelves I had in my dorm room at college (these were in the old guest room, also) and a few baskets we've gotten so far as gifts. I have plans to add other colors, but it does look a little "blue and yellow" for now. What can I say? I like blue and yellow!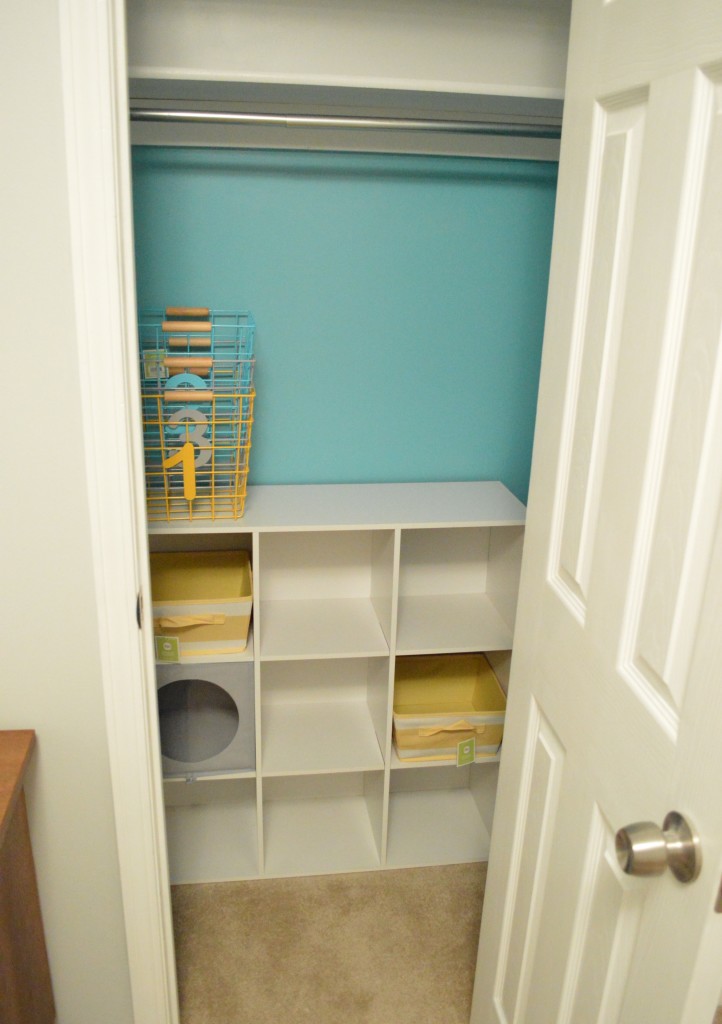 In the end, we took the closet from this: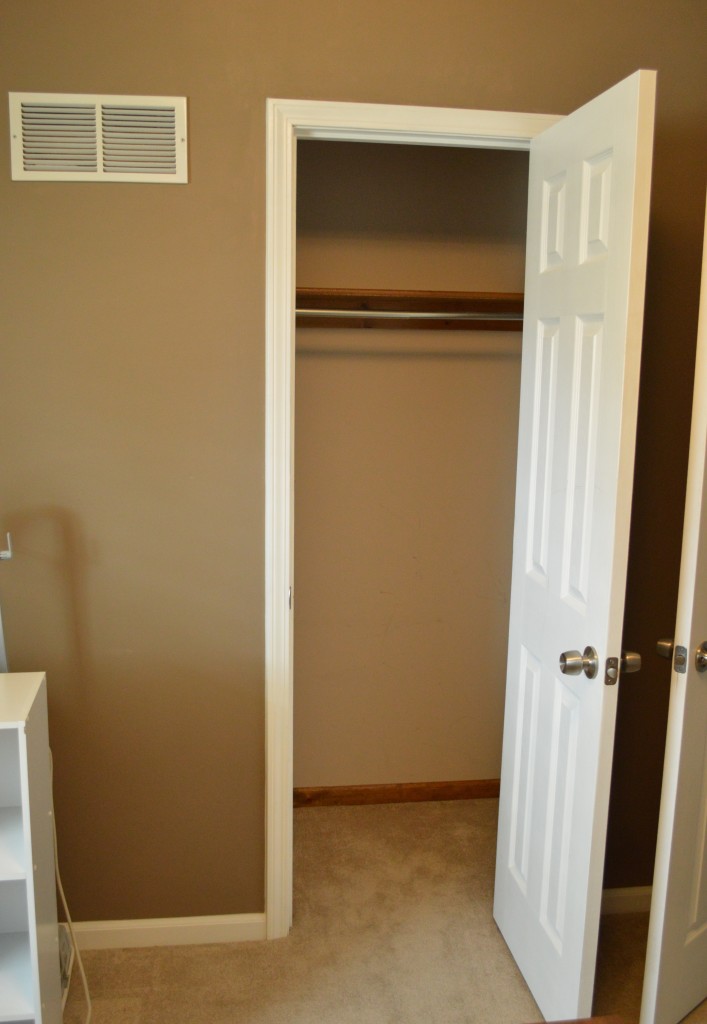 To this!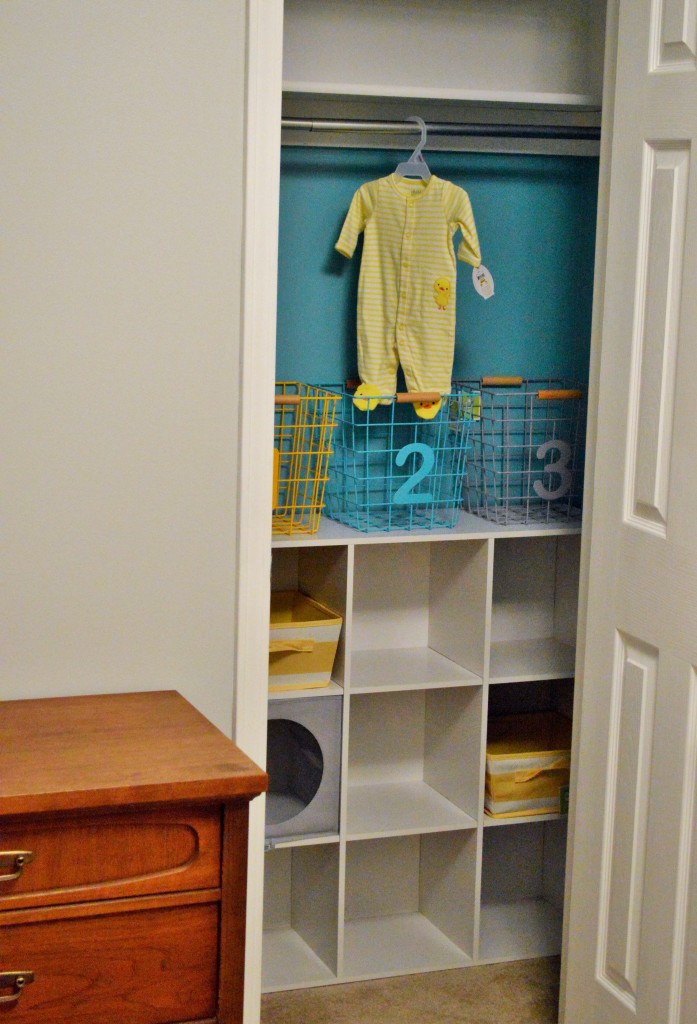 Add in the freshly cleaned dresser and we've got some sweet storage for Beanie now!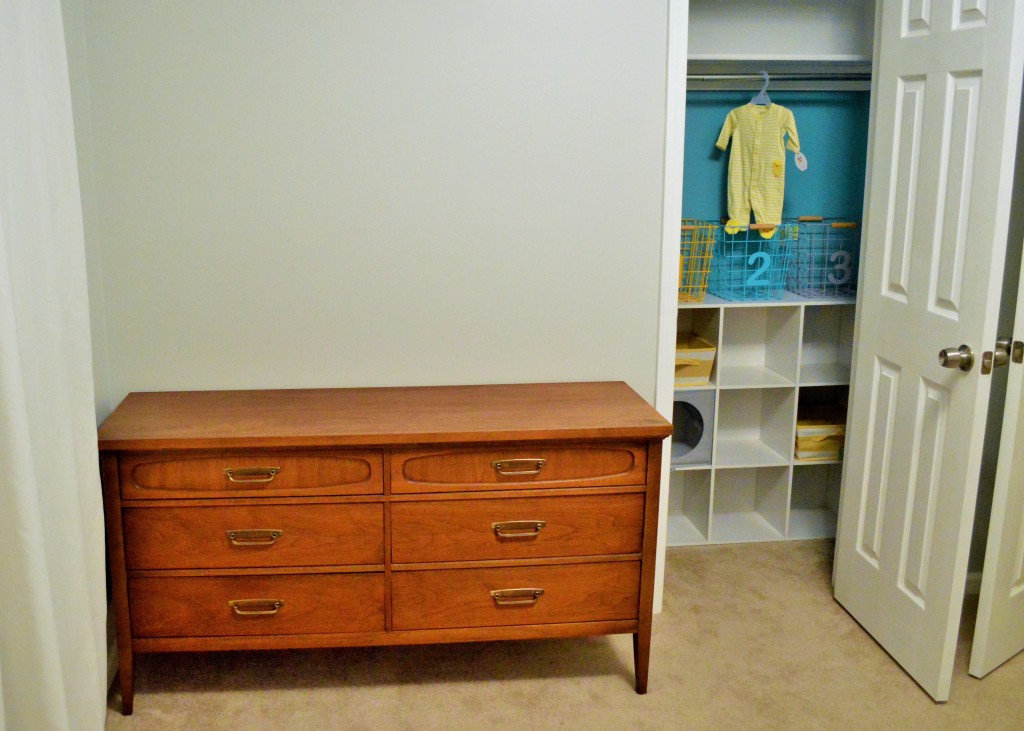 There's still LOTS to do on the nursery and we're nearing the 6-week mark until Beanie's due date. But I'm confident we'll have a nice place in time…even if Wyatt has to build the crib after Beanie is born. He assures me he'll be able to do it in a couple hour or less. I'm pretty certain he's serious considering he worked at a furniture store building furniture for about 5 years…he doesn't mess around with that stuff. He gets. it. done. 🙂
I'm excited to start buying some more sweet little clothes to fill up all this storage space, too.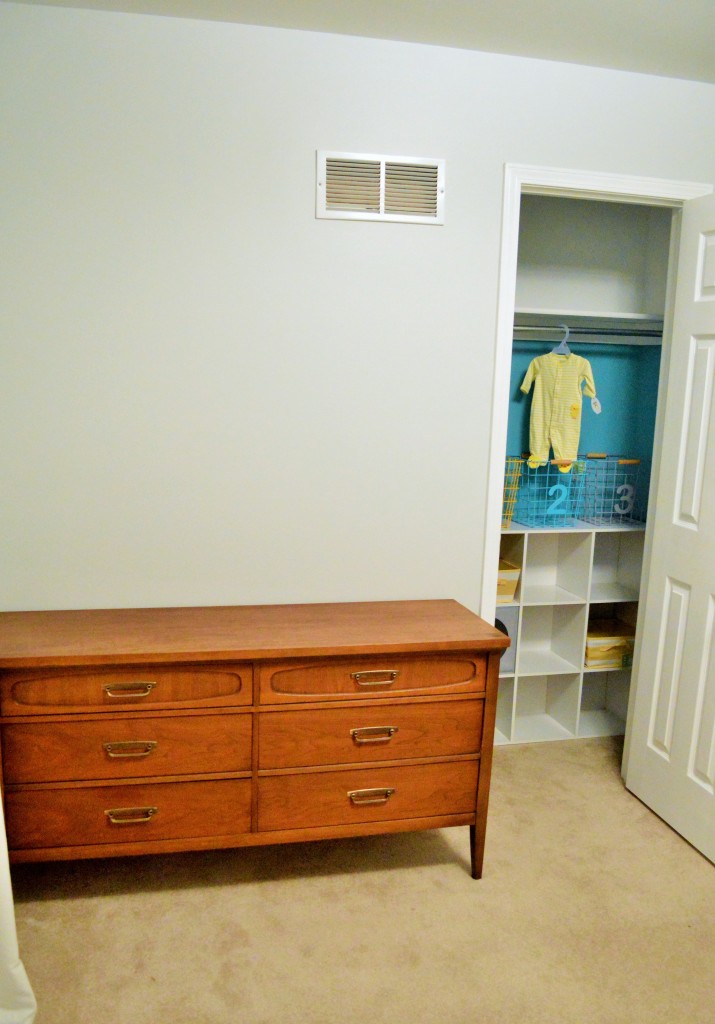 I think we still have a lot on our "need to have" list (we currently only have about 8 newborn to 3-month sleepers/onesies) so I may get to do some shopping, soon. Yay!
Just curious if anyone has been cleaning dressers or painting closets? Or shopping for newborn clothes? Tell us what you've been up to lately!