Stopping in late tonight to share a quick garden update for the month of August. First, remember how I thought our tomatoes had gotten out of control last month? (Check out our July update, HERE.)
Well, I was wrong. They were just unruly. Now, they are out of control.
Seriously, going in there to harvest the ripe ones feel a little like entering the wilderness for battle or something. It's frightening.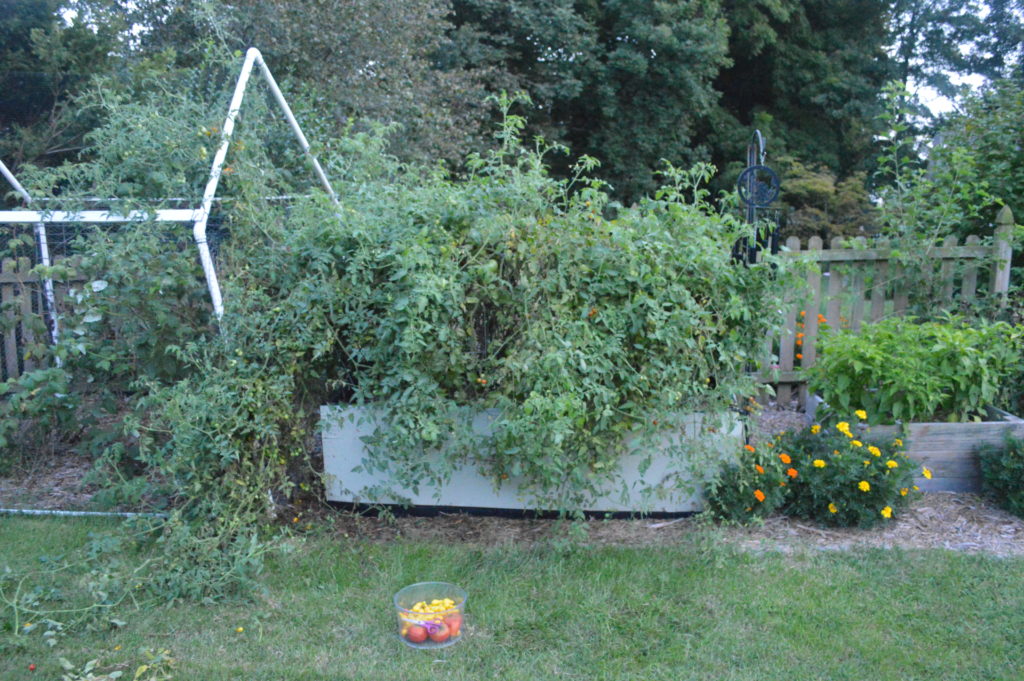 But, that being said, we have the most tomatoes we've ever had, and I've really enjoyed being able to use them in various dishes. I've made several batches of marinara sauce, salsa, and we even canned a batch of tomato juice with out own tomatoes! I've made juice before, but we had to get the tomatoes from someone else's larger garden. Three cheers for our little garden doing it's thing and producing enough for us to preserve.
I have enough tomatoes in the fridge now for another batch of marinara sauce, another batch of salsa, and probably something else…I need to decide what I'd prefer to make! Suggestions?
Anyway, back to the garden. The peppers are also doing well. We have lots of pepper jelly to make (maybe tomorrow night?) and plenty for our next batch of fresh salsa.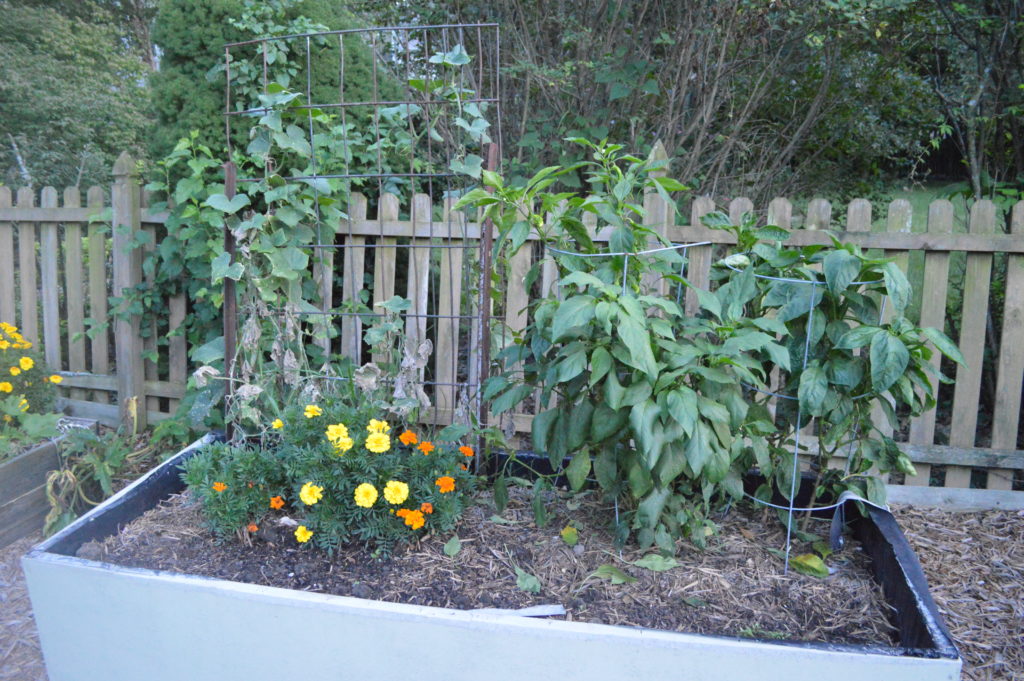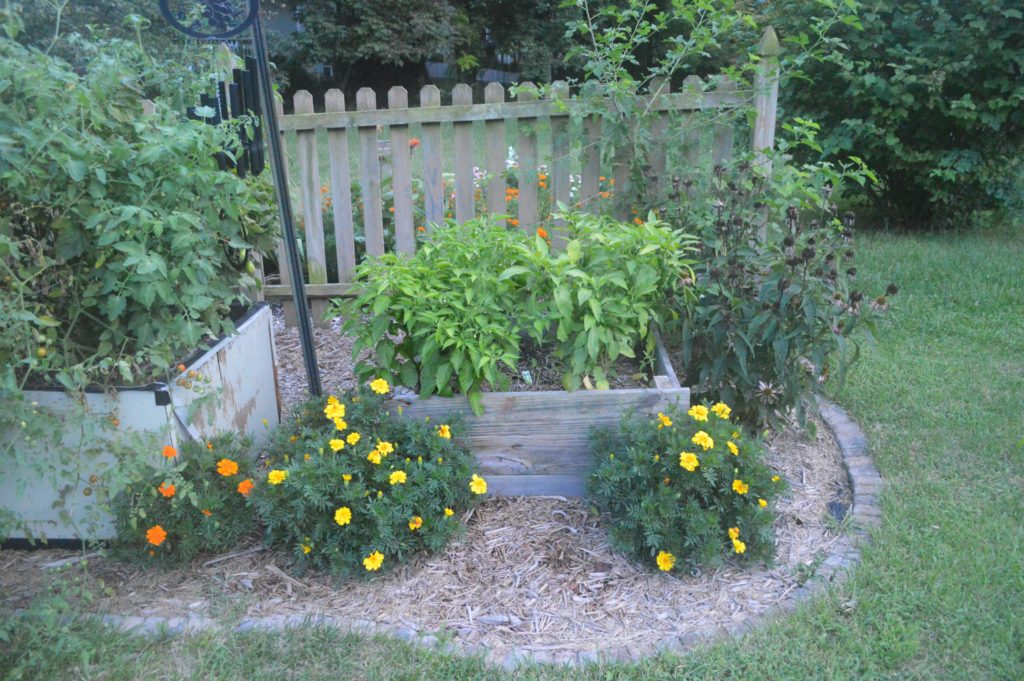 At least some of the beds look like we know what we're doing.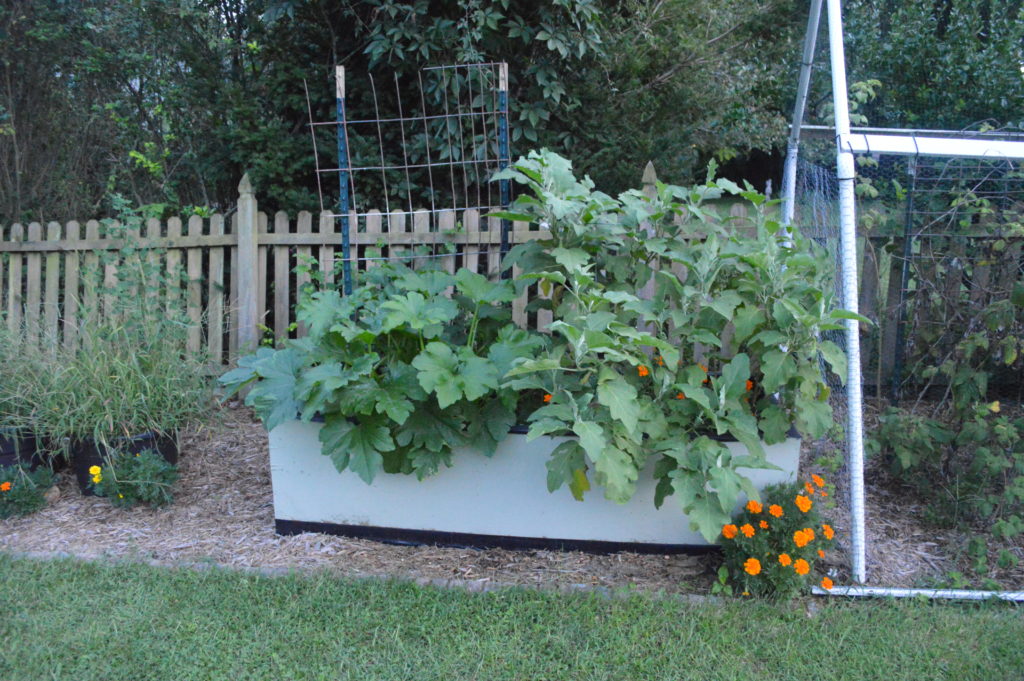 We have plenty of eggplant and I'm all ears if anyone has eggplant recipe ideas for me, too. I've made eggplant/veggie lasagna that was a household hit, and of course, it's yummy fried…but I'm short of suggestions for these, too.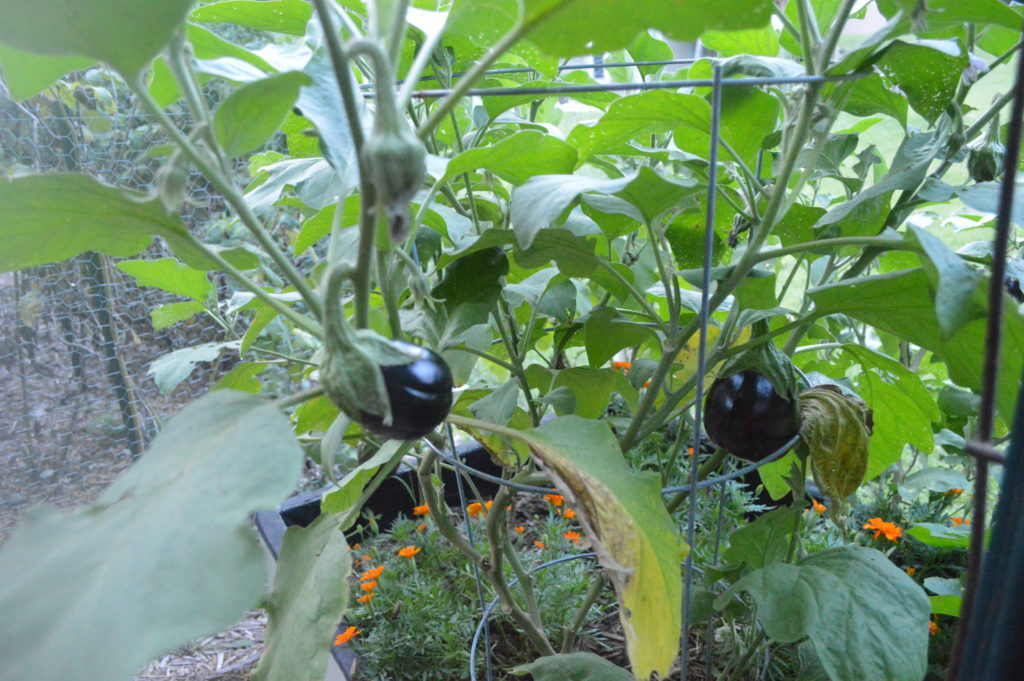 I replanted peas a few weeks ago and am hopeful that I'll get another batch of sugar snaps before fall.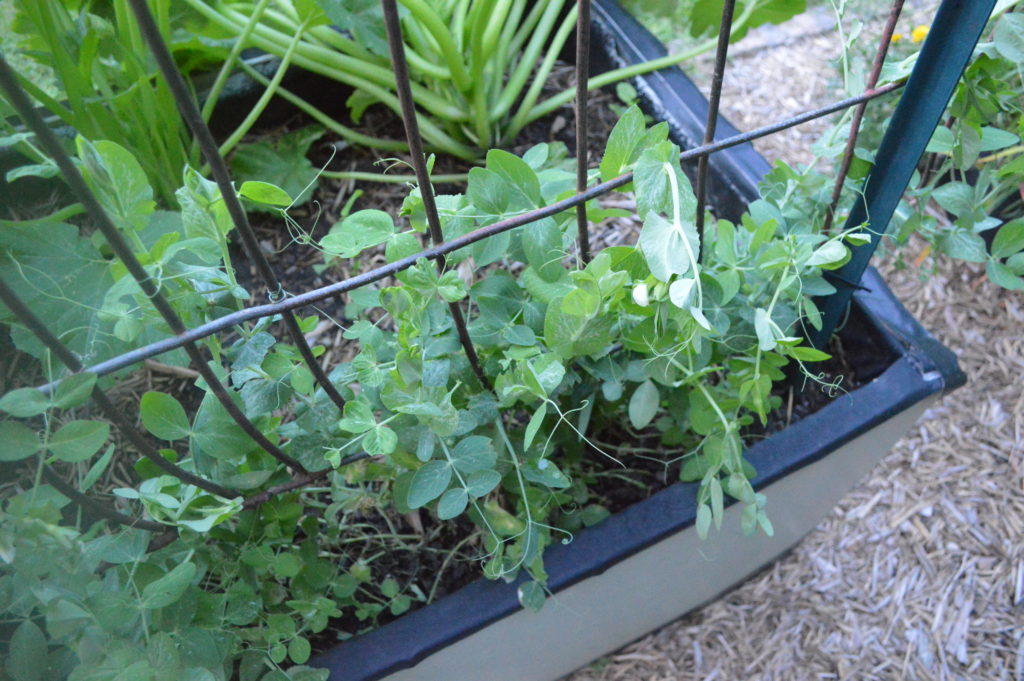 I also replanted zucchini and hopefully will miss the worst of the pests so I can get a few more of those, too. So far they look healthy and there are tiny zucchini out there…if they'll only grow!
I managed to save our original zucchini plants enough to get a few this year, but going out with a knife to manually search for and remove the squash borers is just too time consuming to keep up all summer and eventually, the stems get too damaged to survive anyway. One of them looks to be hanging on still, but mostly, I'm considering these done for the year. I should probably rip them out and plant lettuce in this bed or something.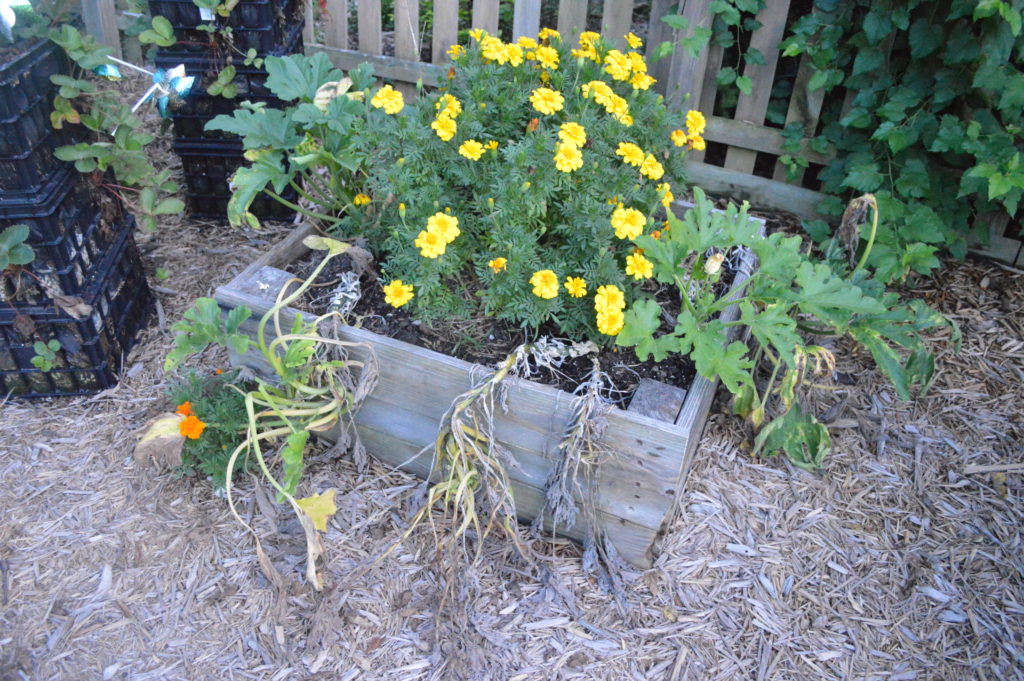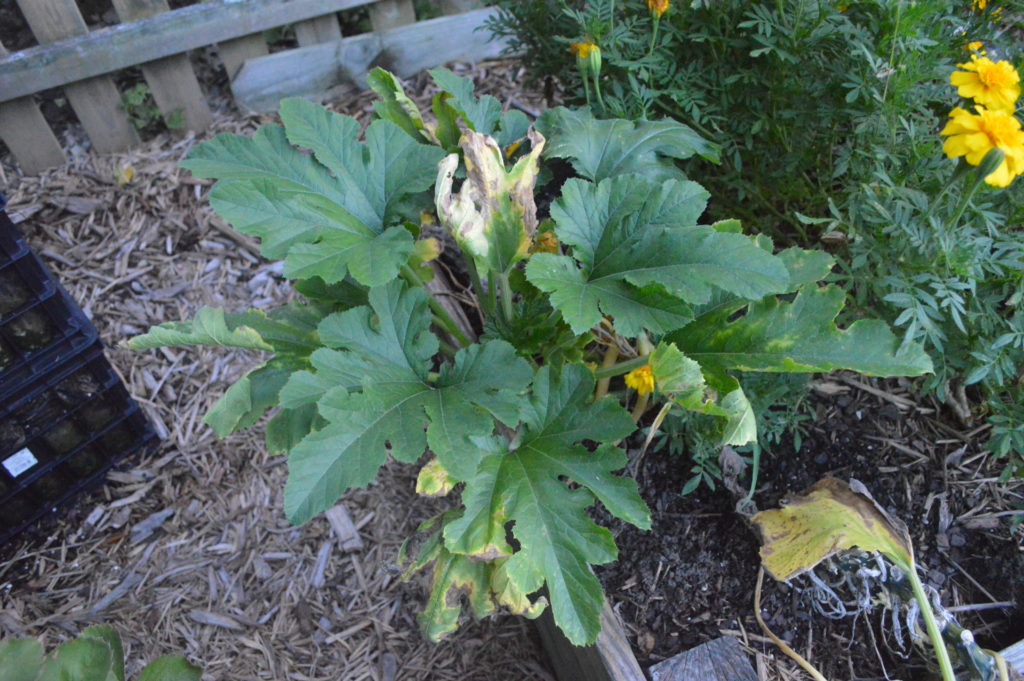 Speaking of lettuce, I've planted it twice so far for a fall harvest with no luck. I think it was too hot for the seeds to germinate since I kept neglecting to go out and water like I do in the spring. Oops. Maybe I'll try again. Maybe not.
We got a lot of lettuce in the early summer, though, which is good. So, maybe I'll get motivated.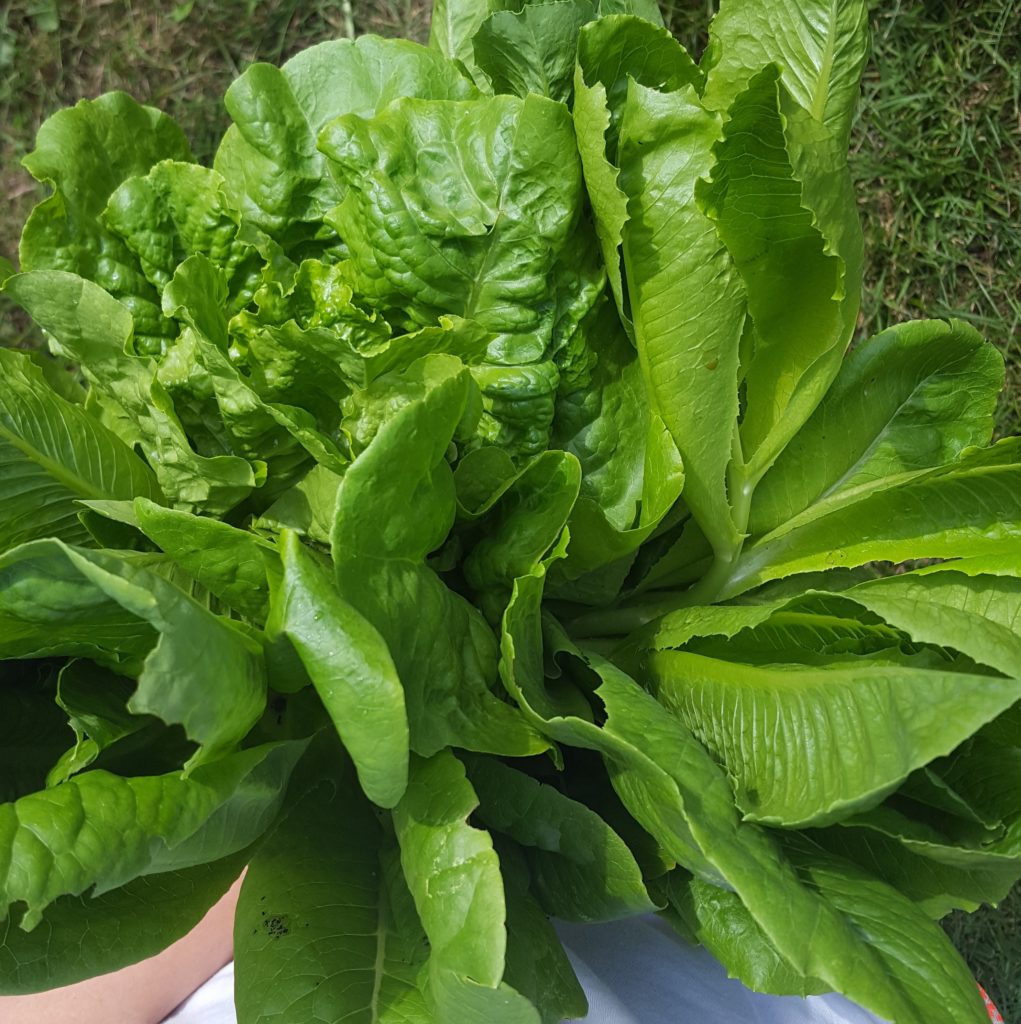 The cucumbers are looking pretty rough, but we still get a few nice ones each week. We've made a few batches of cucumber dip (a summer favorite here!) and need to at least make a few fridge pickles before the harvest is completely over.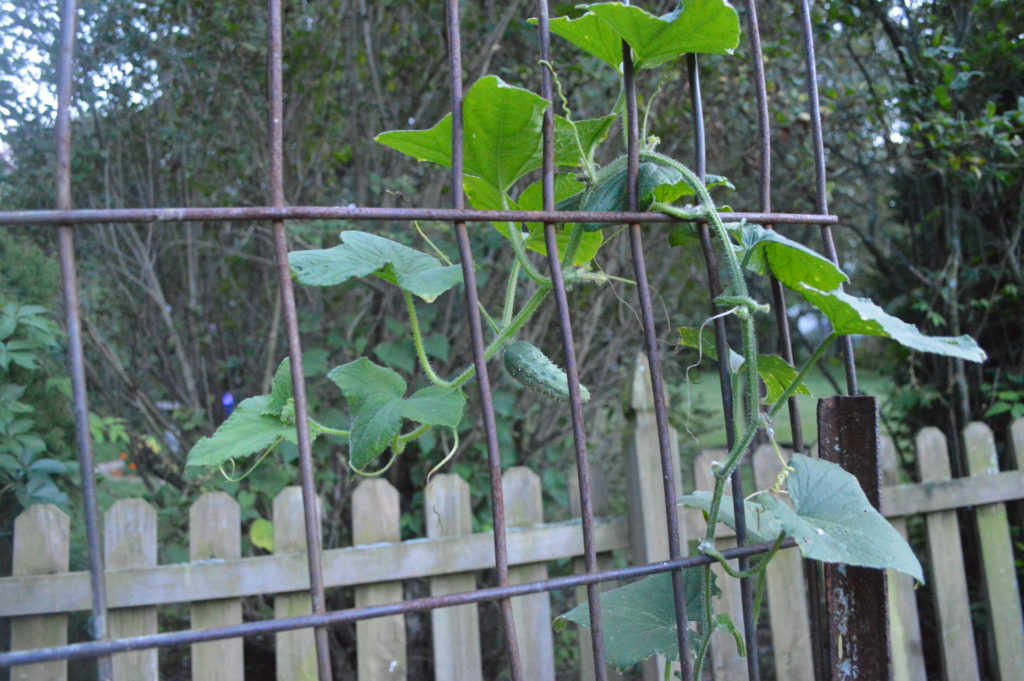 The acorn squash has been great. I'll plant it again for sure. Not only does Will really like it, but it has survived the squash borers much better than the zucchini. I did have to slice open the stem and remove a few borers, but it recovered well and though it's looking a little rough now, I'm pleased with this, for sure.
The okra also look good. Anyone know how to make them bloom, though? So far, nothing but leaves out there.
The strawberries are putting out shoots and I'm hopeful they will take root in some of the vacant holes we have in our towers. But again, I'm not watering like I should, so it's been a little rough. However, the 4+ inches of rain over the past week or so should help a bit at least.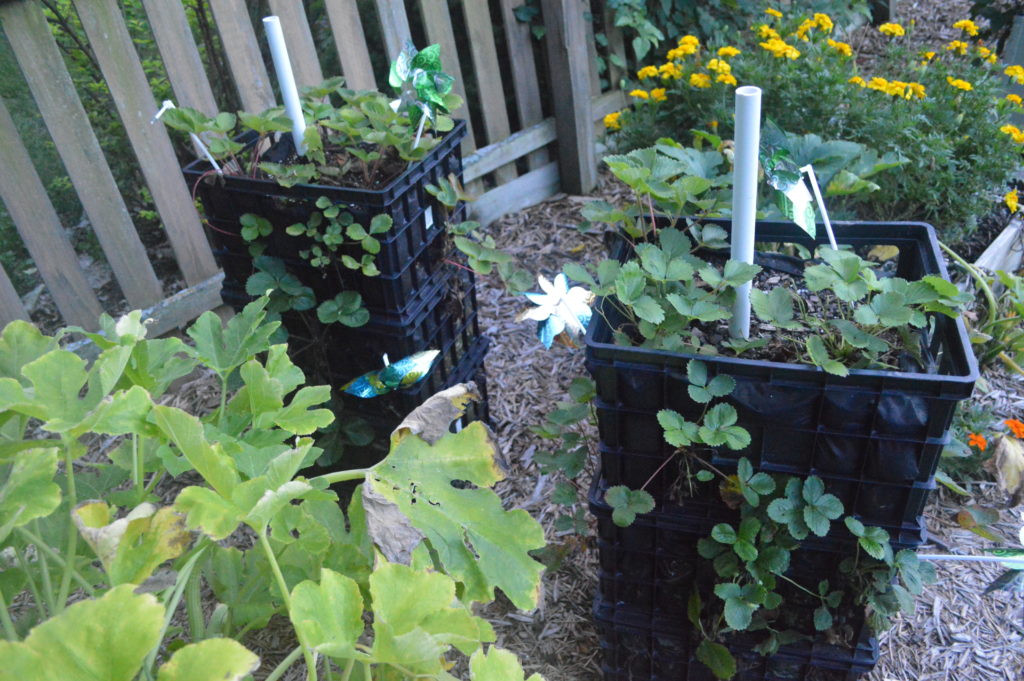 Overall, our garden is doing really well.
We really only tend it 1-2 times a week, so it's fairly self sufficient considering how much it's producing. I do wish we had a bit more time to devote to it, but between the busy schedules and the mosquitoes, I'm pleased with the time we are out there, even if our asparagus beds do look like this: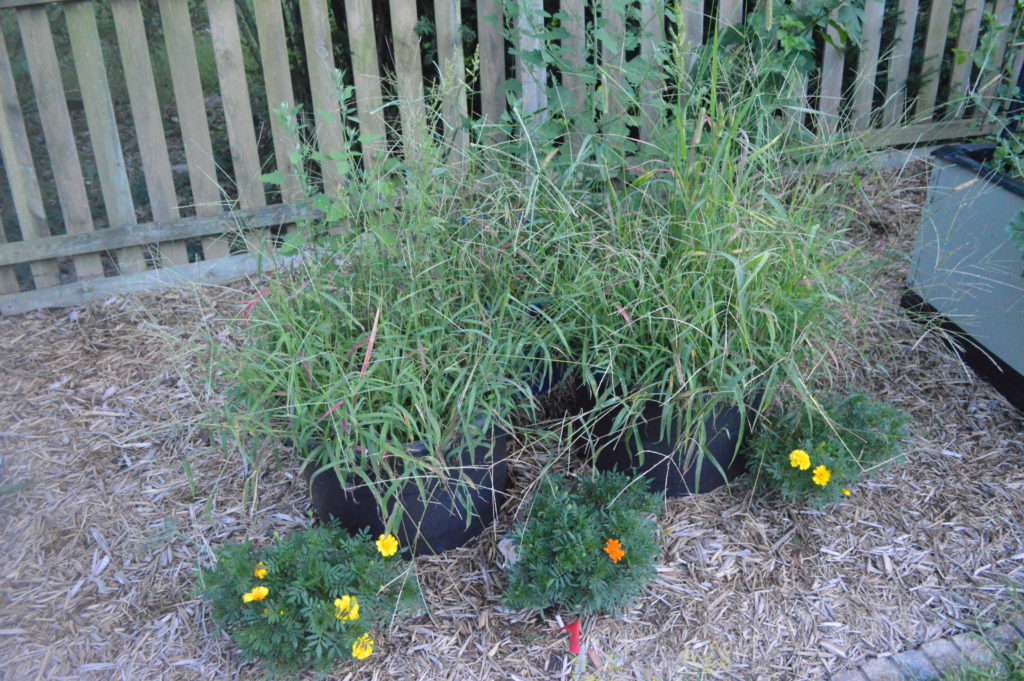 The other day, I was out there with pants, rubber boots, a long sleeve shirt, hat, and bug spray, and I still got six bites. Five that were THROUGH my pants—what are these super mosquitoes??, and one ON MY FACE.
I give up. I'm destined to be bug bait forever.
So, give me all your recipe/canning suggestions, and you best bug-battling tips for the end of the summer! Or share your garden progress. I know we have some gardeners, here!