This post contains affiliate links, which means we will receive a small commission if you make a purchase after clicking on our direct link. Don't worry, it doesn't cost you anything extra. 
---
While in the middle of this basement renovation, we actually ended up with a few other small projects also in progress. To be fair, both rooms (my office and the bedroom) were sort of in progress before the basement project began.
But, while shopping for basement furniture I happened upon a couple of other pieces of furniture that were too good of a deal to pass up. The Overstock President's Day sale proved to be a pretty good deal, I guess.
The first thing we picked up with a new bed. A fully upholstered bed, not just the headboard, like we had before. Now, I still like our headboard, and you can read all about finding it for a great deal, HERE. In that post, you'll also read about our grand plans to make a bed to match the headboard…but…it's been almost three years and we haven't even begun to think about making a bed. It's just not at the top of the list.
And we were both tired of the metal frame that we kept stubbing toes on. Plus, the cheap bed skirt we were using had a big rip in it. Not exactly classy.
So, when I saw this one on Overstock for just a little over $200 for the whole bed, I was impressed. Plus, it kind of matches our style a little better. It's actually gray instead of beige, and it looked so soft and plush to lean against. So, I bought it.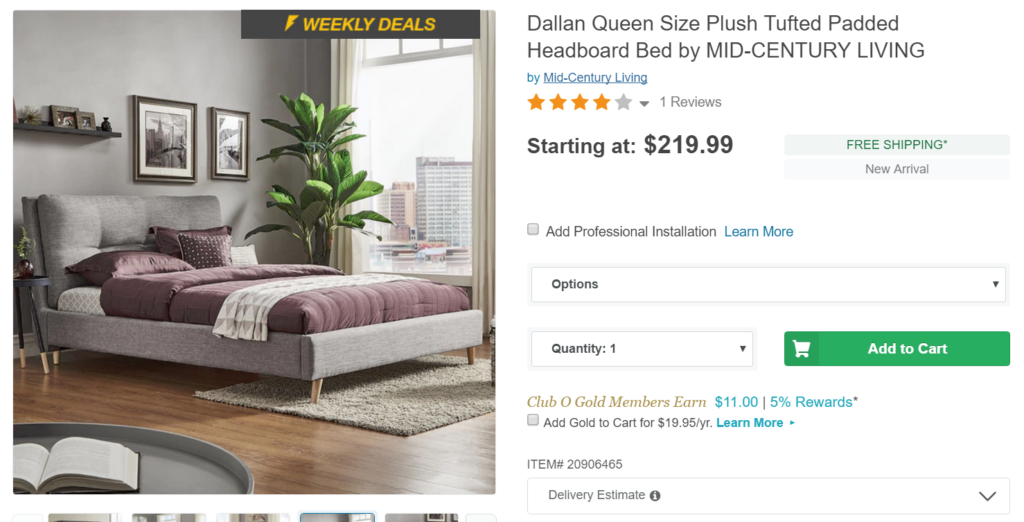 (If you're wanting a link, the queen was currently out of stock, but here's the king version.)
And we do really like it, but…three of the slats were missing, so we couldn't put it together all the way and the mattress and box springs are now just sitting on the floor inside the frame. Whomp Whomp.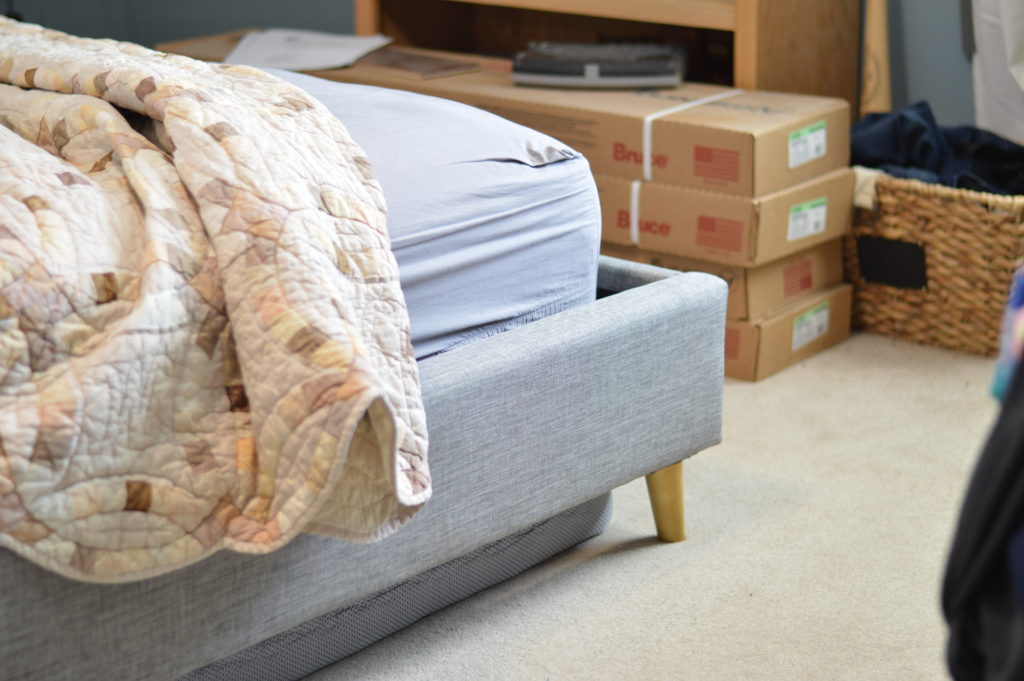 So, I'll have to share after photos of this change later. I've called Overstock and they're working on getting the missing parts. Who knows how long that will take. We also need to find a place for the leftover hardwood flooring we were storing under the bed. Any ideas for what to do with that? (We tried taking it back with no luck.)
I also happened upon a new office chair while browsing Overstock. Well, actually, I went looking for it. I wanted one that swiveled and I saw one in a HomeGood's instagram photo that I really liked…but our HomeGoods never has the items in the ads, so I went looking for a similar one.
The best one I found was from West Elm, for $500, and that was crazy…so I settled for this version and I do think it's very nice. I got the blue one, not the gray one. The gray one was more expensive…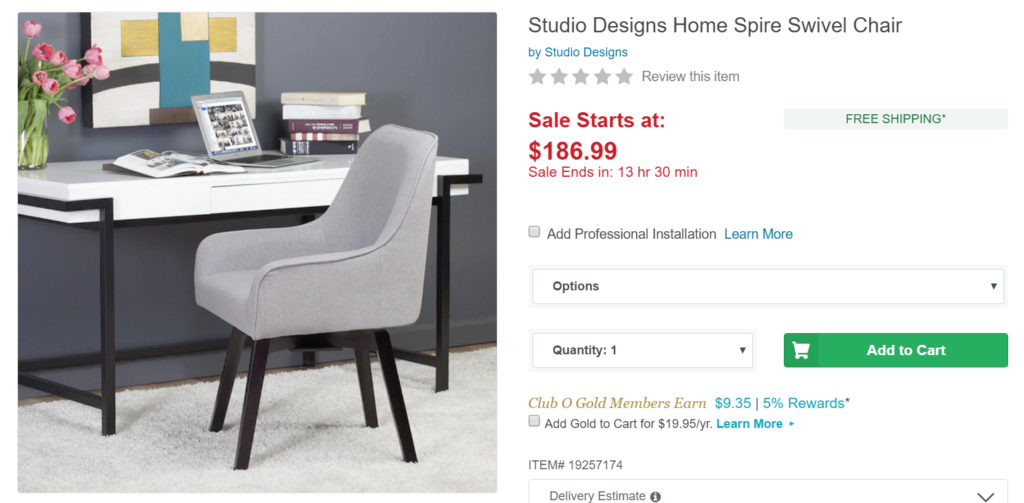 However, I SHOULD have waited because the chair is on Amazon (PRIME even!) now for even less! Here's the link
!
But, it was too tall to fit under my desk, so I had to improvise for now.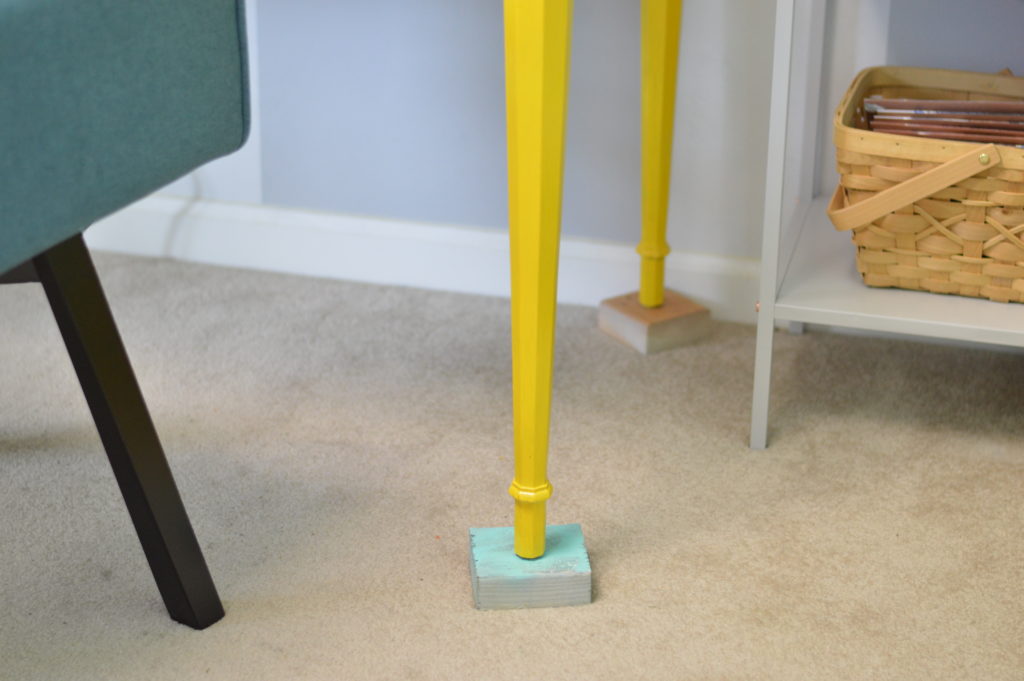 Again, no real after photos yet because this is not a great solution, obviously. We're brainstorming other ways to make it work. (Leg extensions are the front runner option right now. And it's working fine like this for now.
Well, actually, it's currently in the garage because the fabric had a strong factory smell so it's airing out.
The basement has slowed down a bit since we made all the progress last weekend. But I'm hopeful we'll hit it hard again soon because our counter tops were delivered and I'm so excited to get them installed!
So, there's our little update that isn't really much of an update. Tell me something you're working on that's taking forever or that is fighting back or that just isn't working at all…misery loves company, right? Not that I'm miserable…I'm just being dramatic. Being in the place to buy fun new furniture is never miserable, even when it doesn't magically work out like I dreamed!