---
Today, I'm sharing a fun project… turning an old foam cooler into an ottoman.
As you all likely know, our garage is full of to-be-completed projects. (Psst…so is our basement.)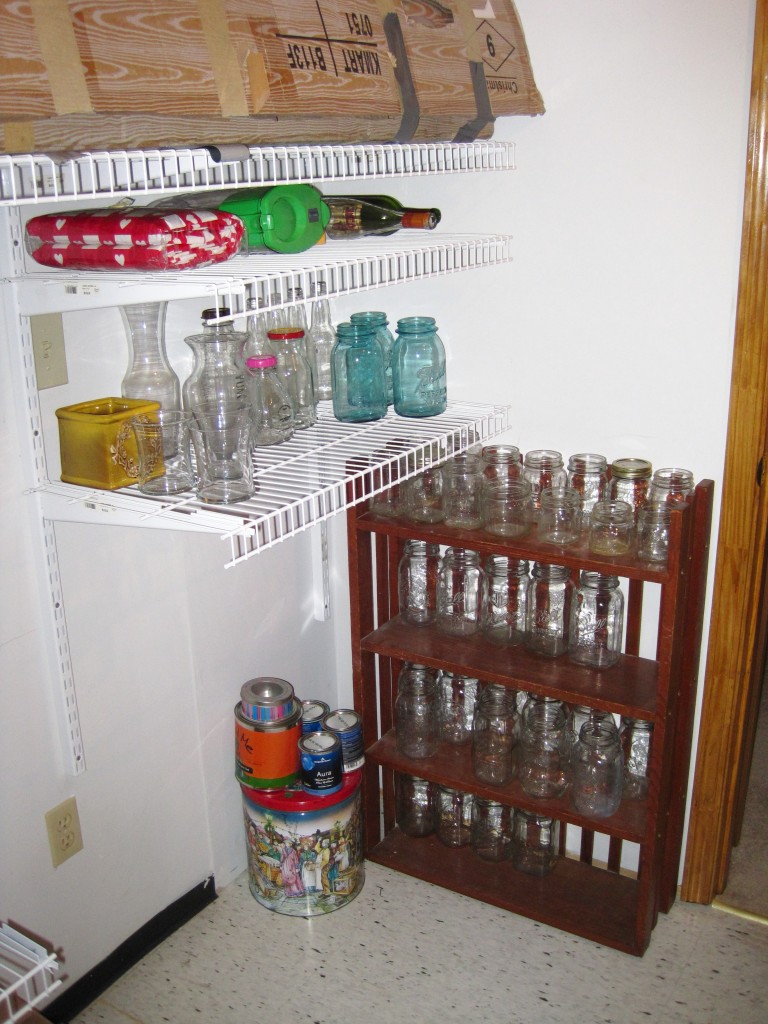 So, when I'm given the gift of a day with my crafty friend Elizabeth, I use it to get something out of the garage and into the house.
This time, we tackled the coolers.
>>>Long post ahead alert!!<<<
I had seen this pin on Pinterest, which gave me the idea to turn this piece of trash (from our in-laws garage) into a floor pouf.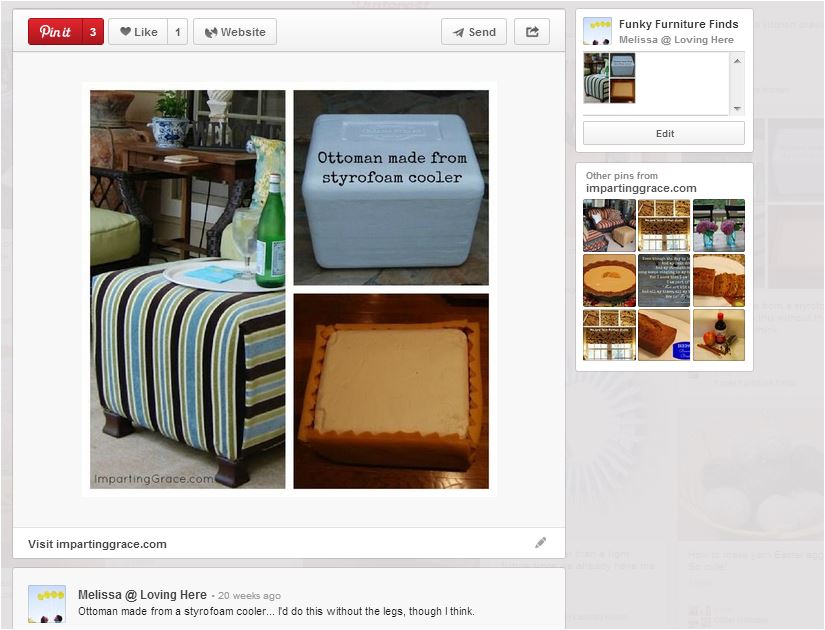 Thanks for the inspiration, Imparting Grace!)
As a little sneak peek, here's how mine turned out.
I adore it!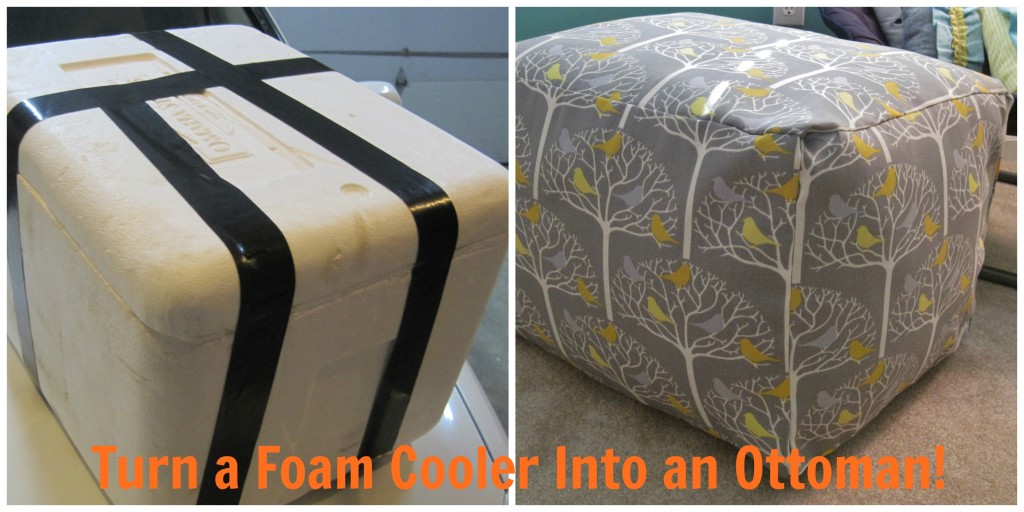 Right now, the idea is to keep it in my office, since I spend a lot of time in there during the day and it makes me happy. Plus, the colors work well in there.
Eventually, I'd love to use it as a soft, baby-friendly place to sit or prop up my feet in a future nursery. So with that in mind, I chose this fabric: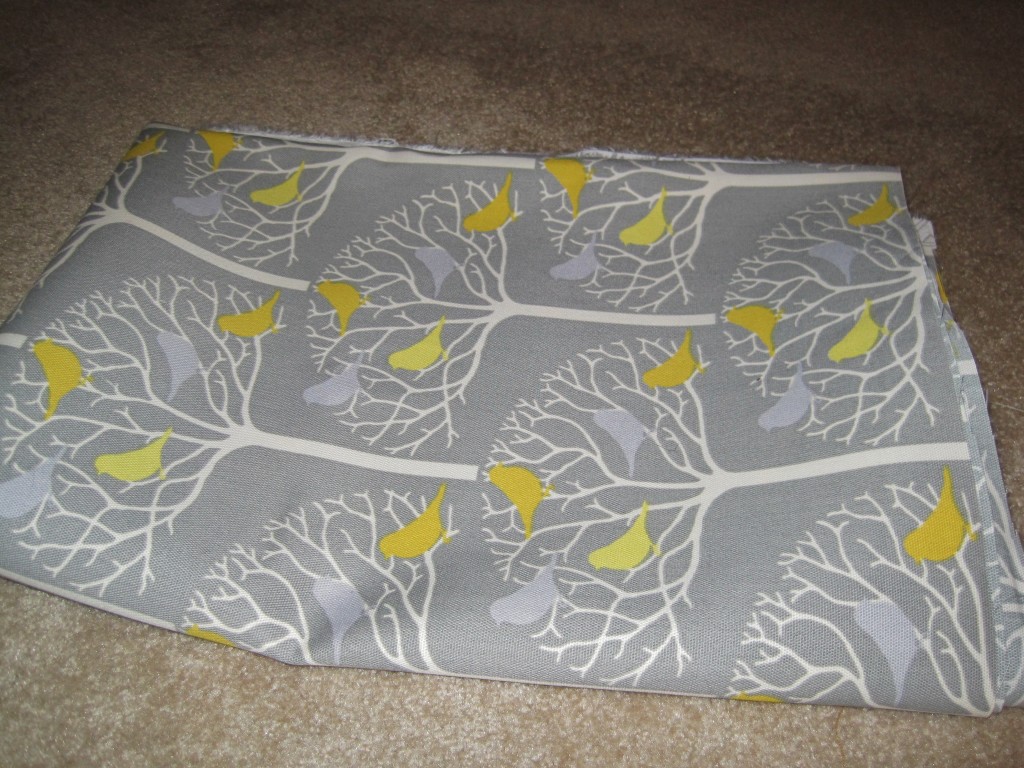 I'm head over heels for this pattern, guys. It's just so adorable. And gender-neutral in case Hubs doesn't prevail in his mission to have boys!
This project was a great way to take something old and icky…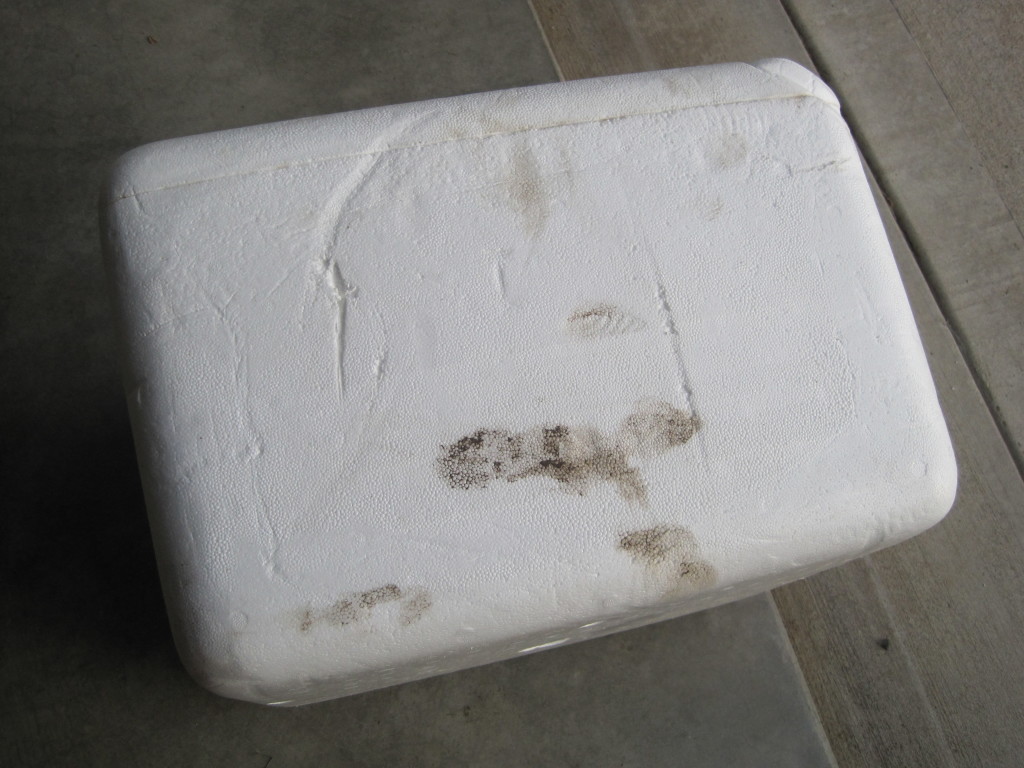 …and turn it into something awesome!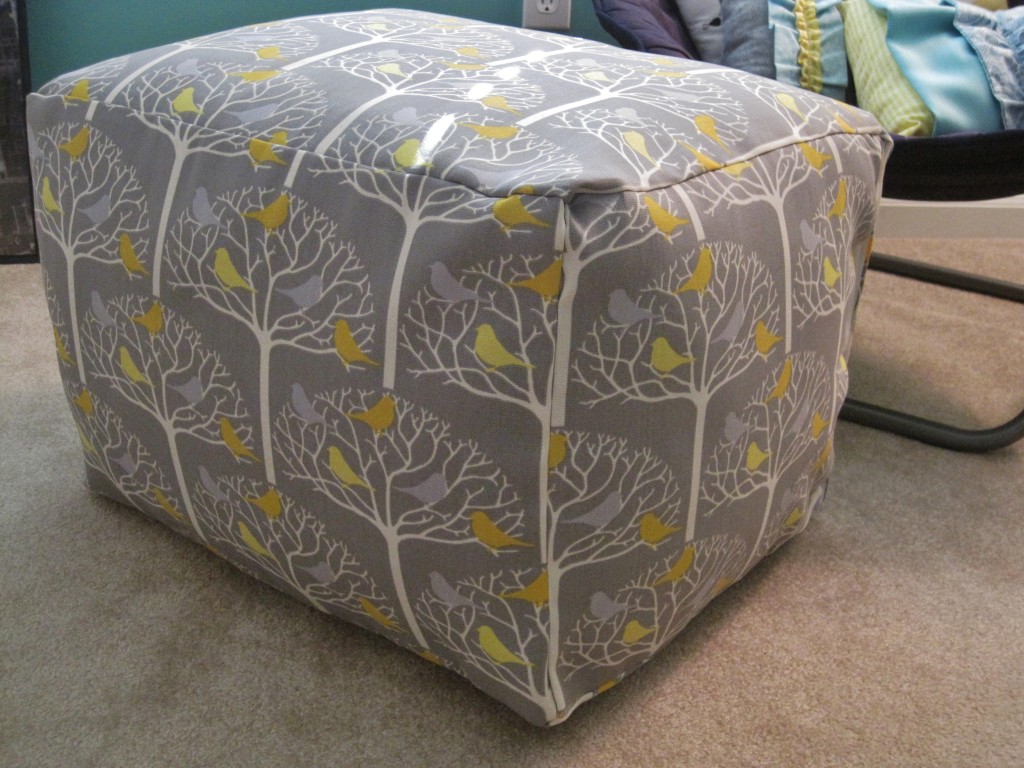 I started by filling the cooler with expandable foam…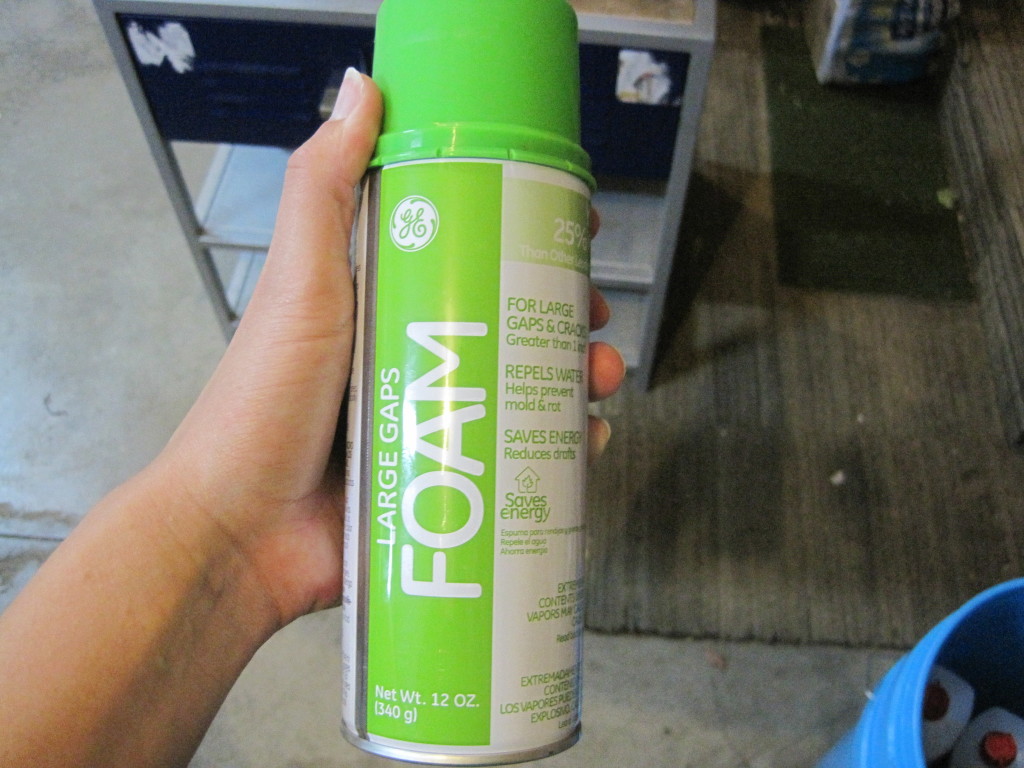 …in order to give it some more sturdiness (so it won't cave in when I sit on it with my future post-baby-body-ha!).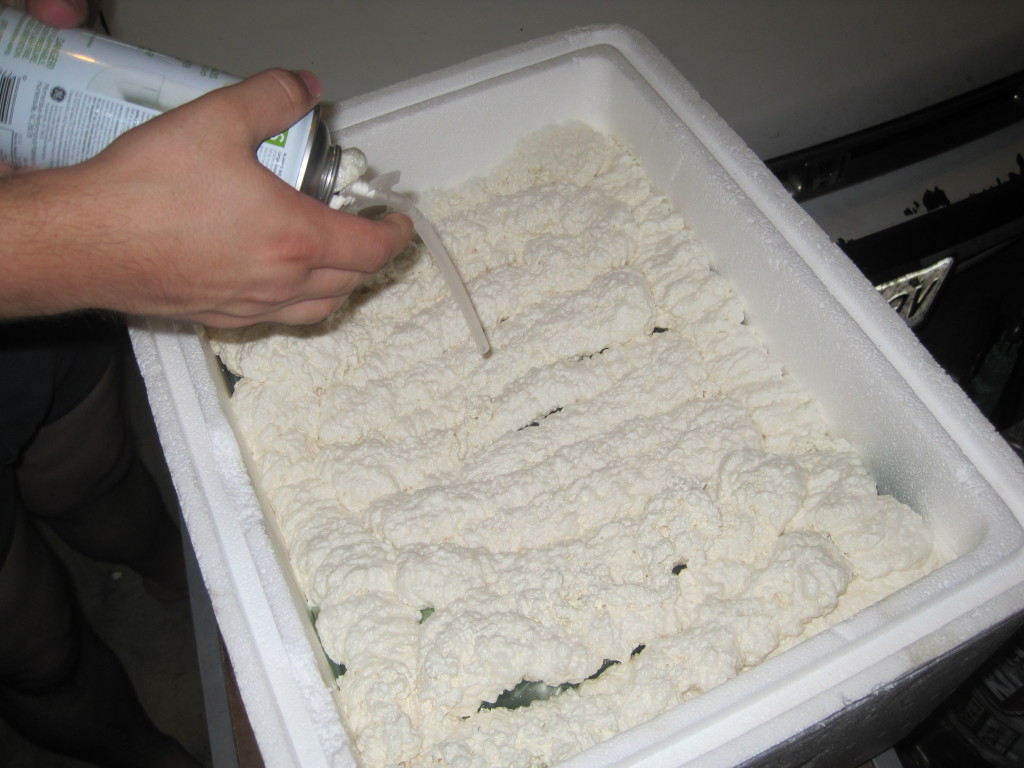 Keep in mind that this project won't work with your standard foam cooler from the gas station on the corner. Nope.
It has to be one of those extra sturdy ones, like the Omaha Steaks one we used. I picked up another one of these coolers at a garage sale for less than a buck, which gave Liz the chance to add a bonus project to her summer list.
I used one that had a bunged up inside, since I was sealing mine shut. She used a better one since she was going to allow her cooler to open for storage.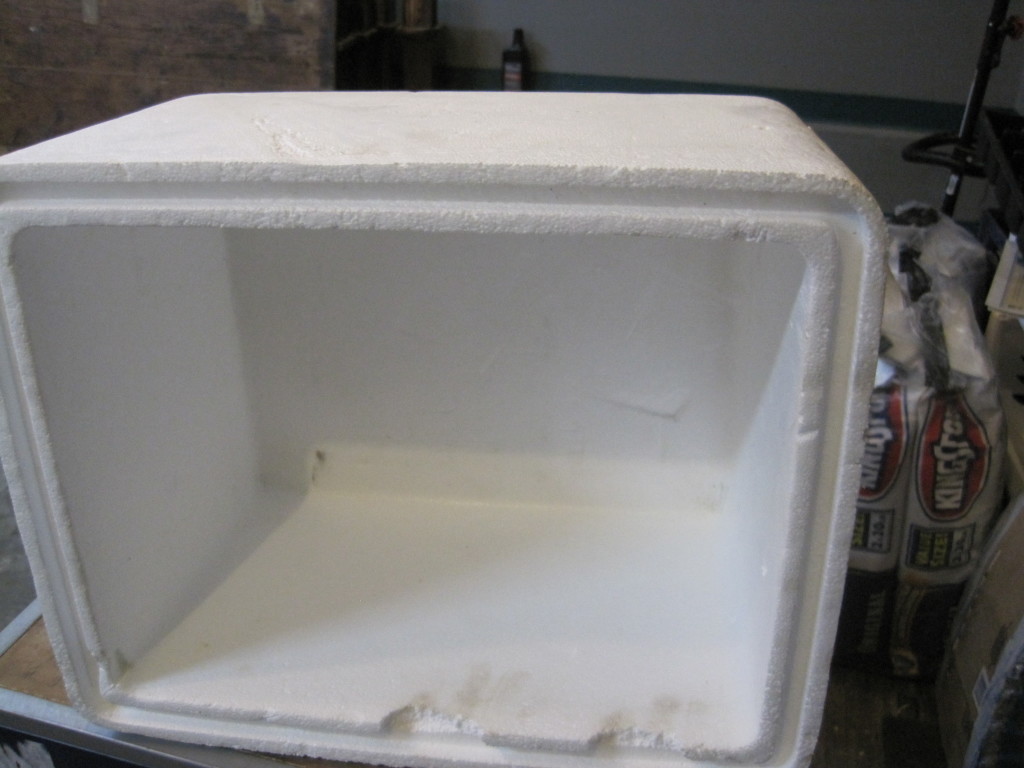 When she got here, she started by wiping it down, inside and out, and then spraying it with Lysol.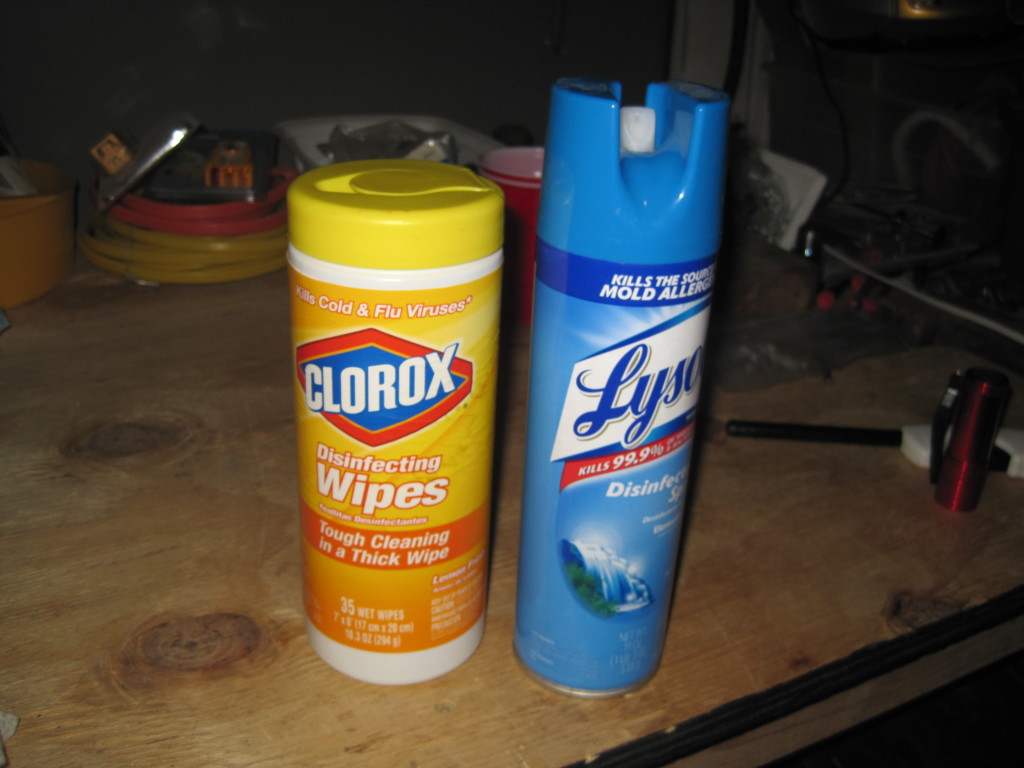 Then came the fun part. We spread out in the living room floor and got to work.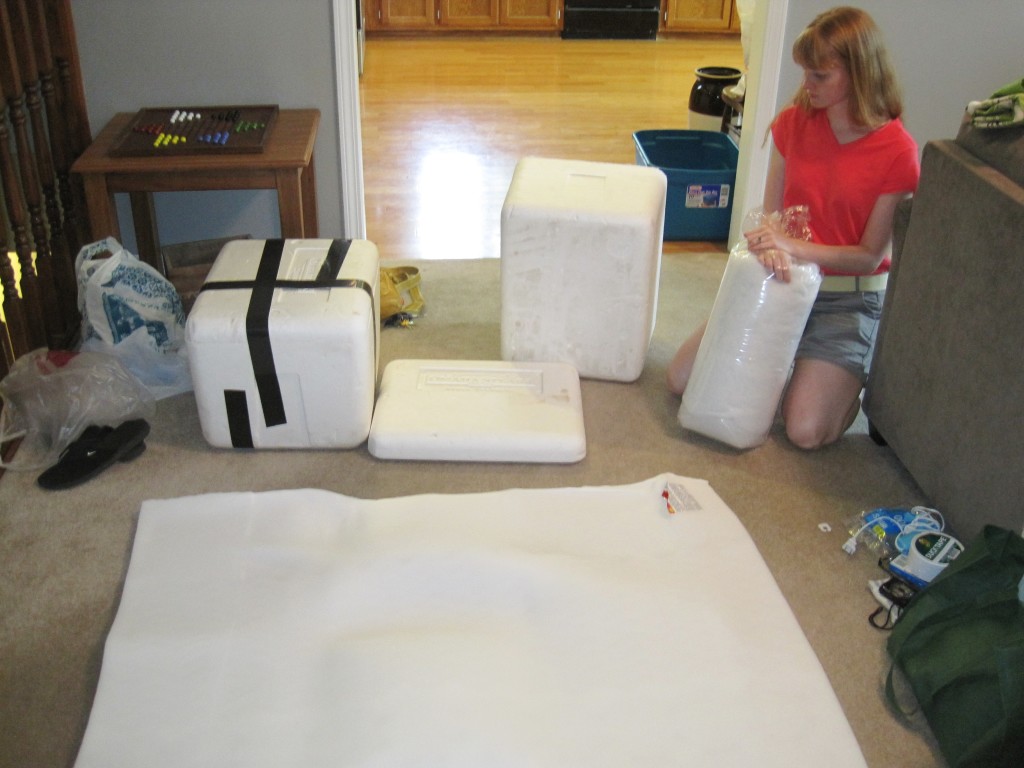 I used a full-sized foam mattress pad to add the cushion to the outside of the ottoman.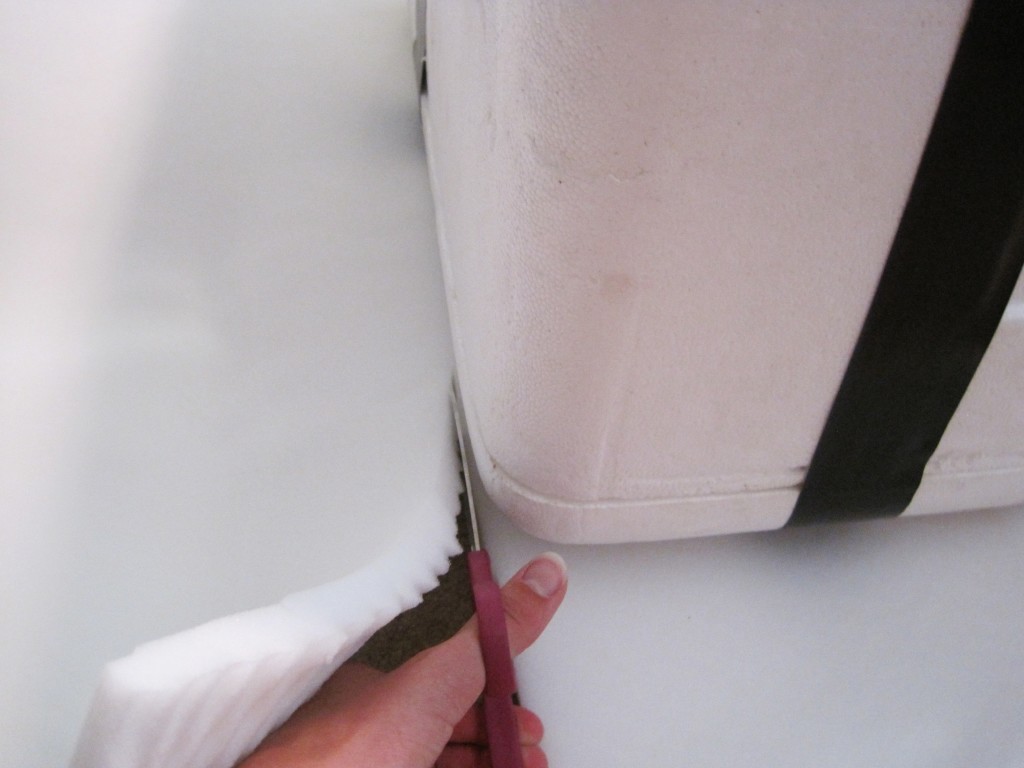 I'd wanted to hot glue it on there, tape ended up being my only option when the hot glue melted the foam.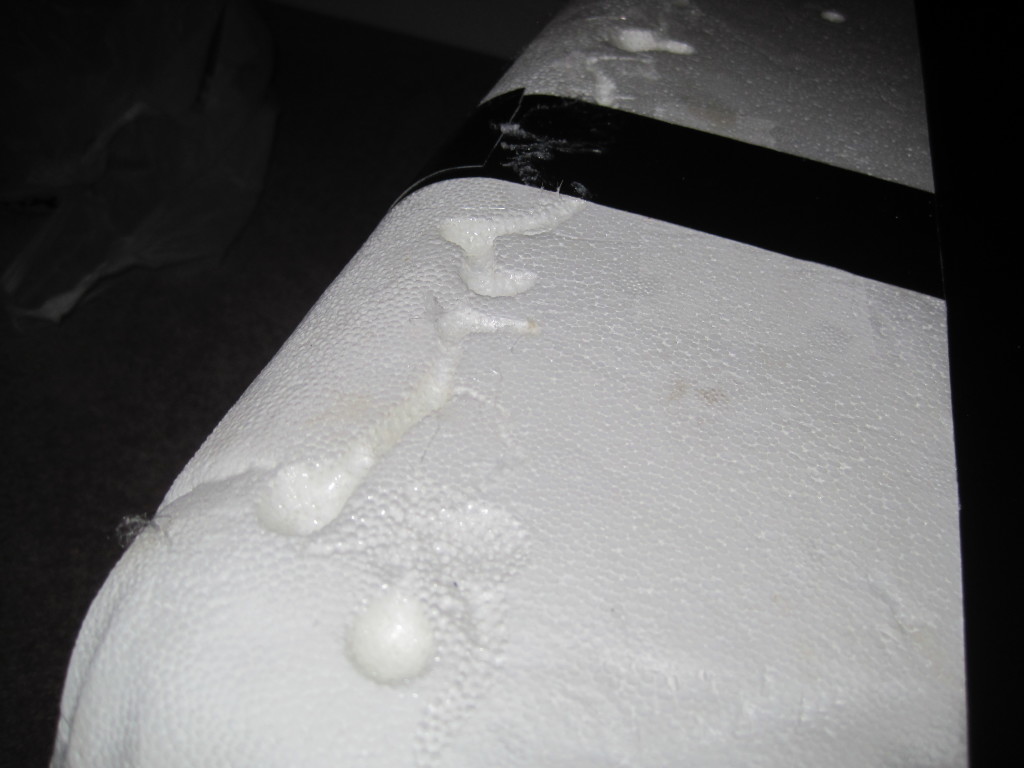 And the staple gun wouldn't reach all the way through the cushion. But, the tape worked pretty well.
I added foam to all the sides, including the bottom, because I wanted my floor pouf to be able to be used on all sides. So I used a lot of tape.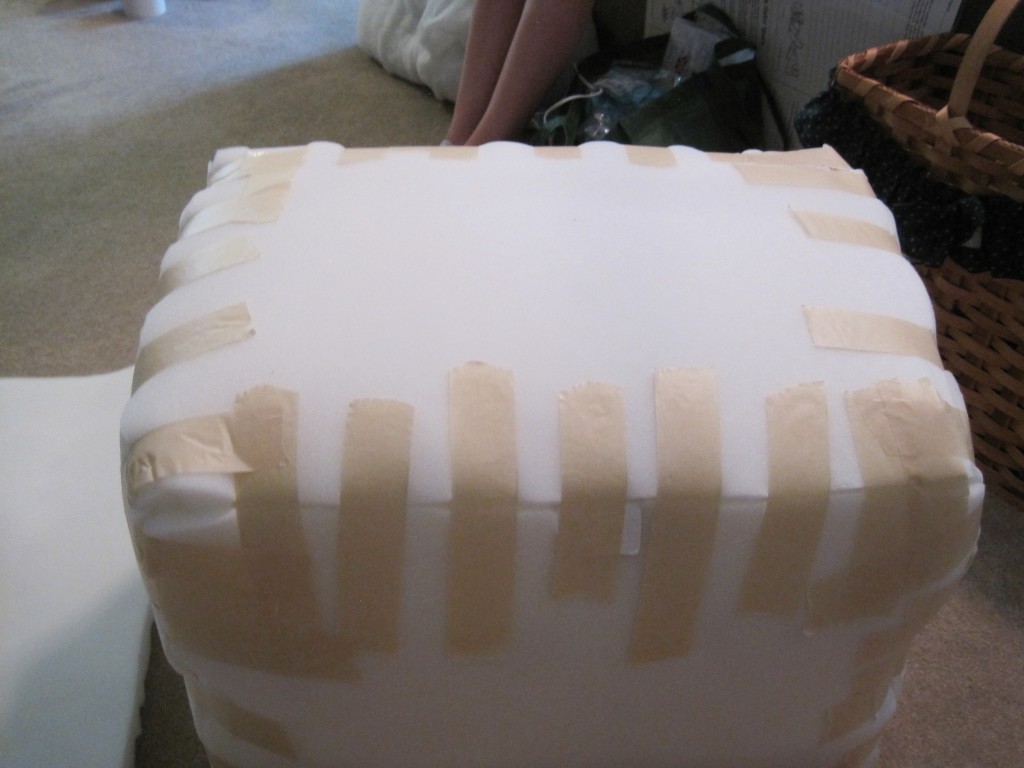 Make sure to line up the corners to make a smooth edge.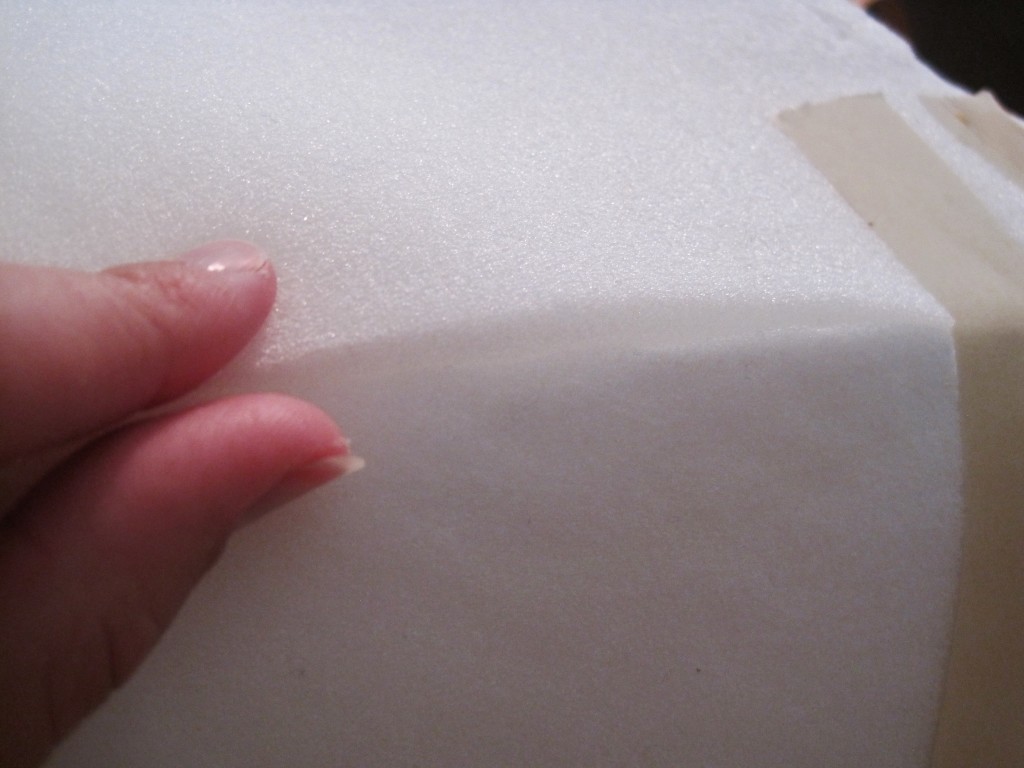 Then, since I wanted a bit more poofiness, I added a layer of polyester stuffing to the outside. I carefully pressed it on, scrunching up the edges to help it stick together.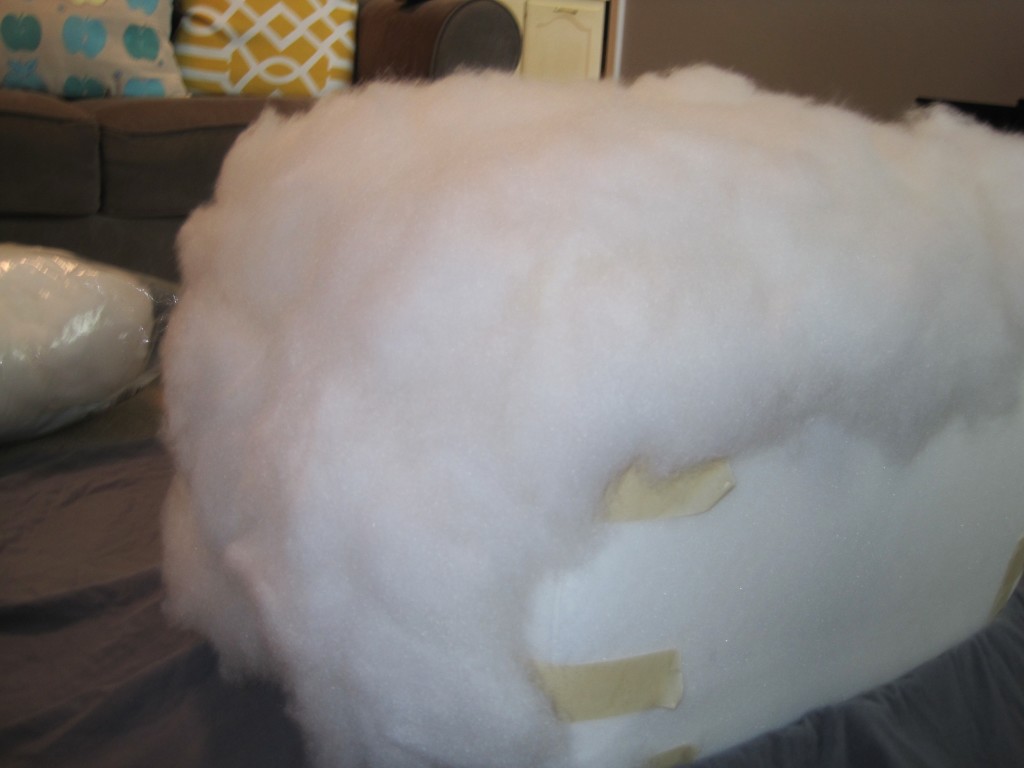 When I finished all the sides, it looked like a big cloud, which would have been awesome to keep it that way!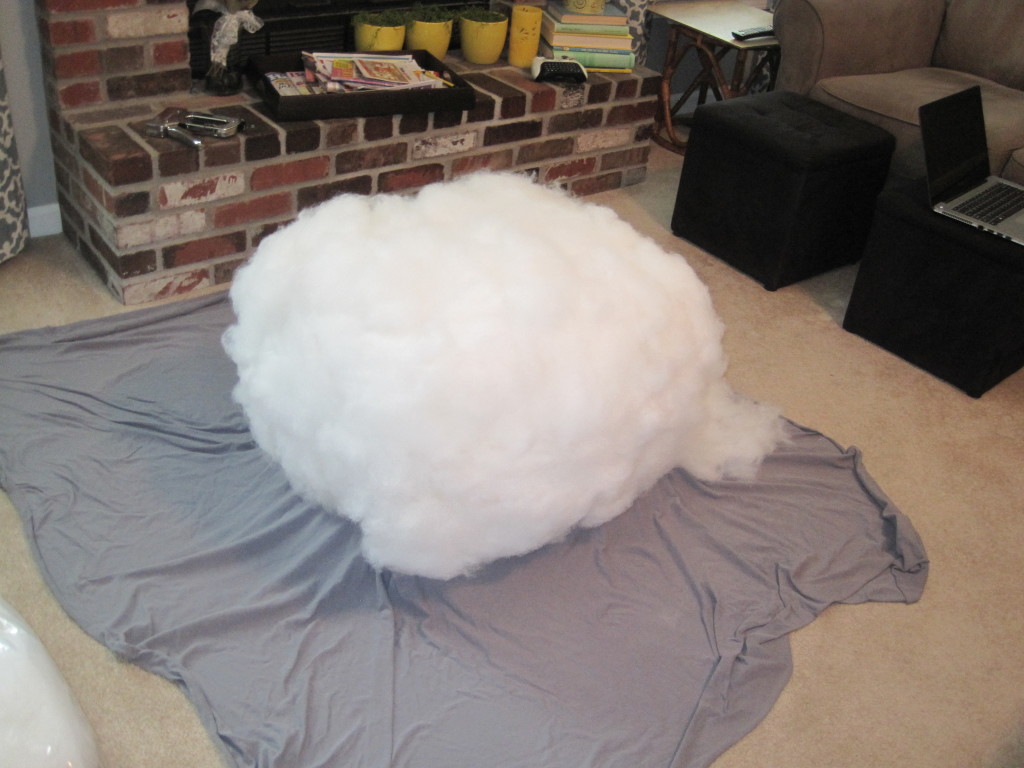 Elizabeth helped me wrap this layer with an old sheet, holding everything in place while we carefully folded the fabric around the foam-wrapped cooler, pinning it in place.
Then, I hand stitched the sheet onto the cooler, completing the inside layer of the pouf!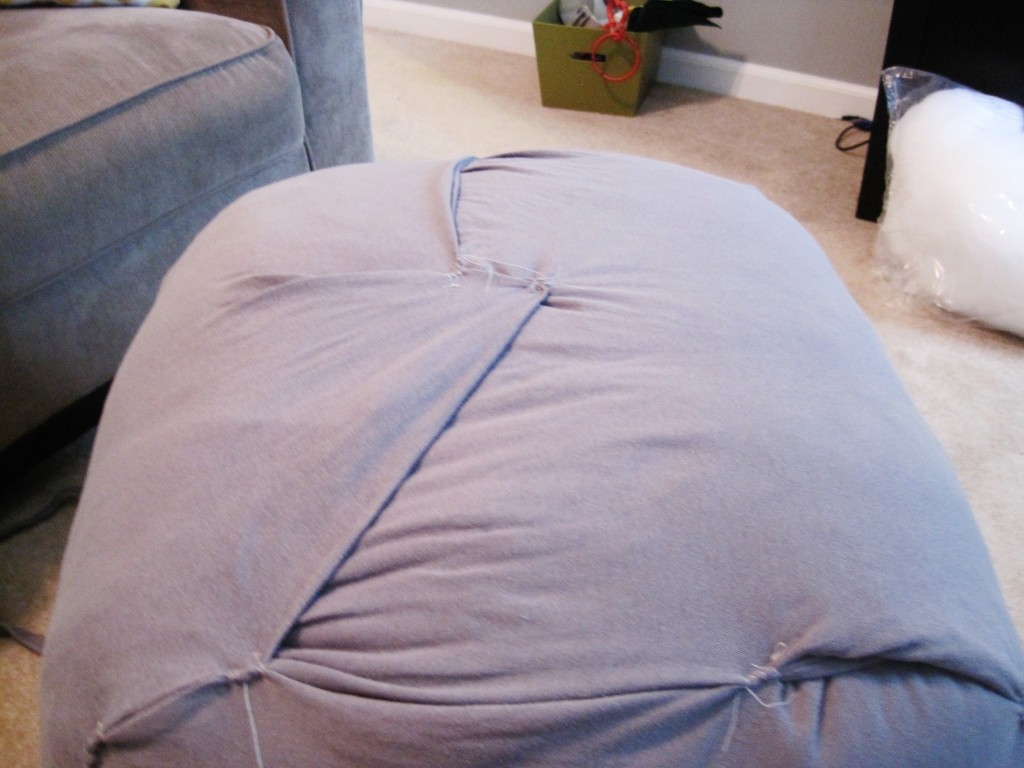 Now for the hard part, the case with my adorable fabric. Since I wanted to make my cover removable, I had to sew it as a slip cover.
That's a pretty hefty task for someone with little to no sewing experience, and who is admittedly afraid of her sewing machine.
Luckily, Liz is a better seamstress than I am, so she was there to guide me with encouraging words and support. All while working on her own ottoman.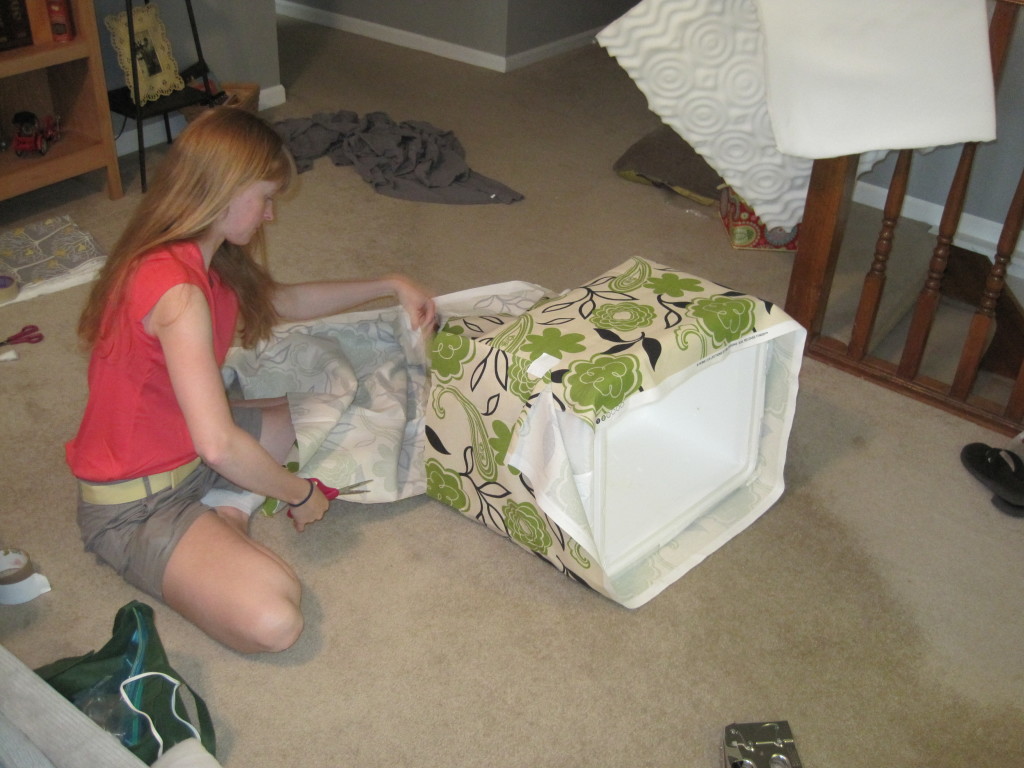 I started by measuring the completed pouf. (I'd measured the cooler when deciding how much fabric I'd need but the added cushioning would require a few adjustments.)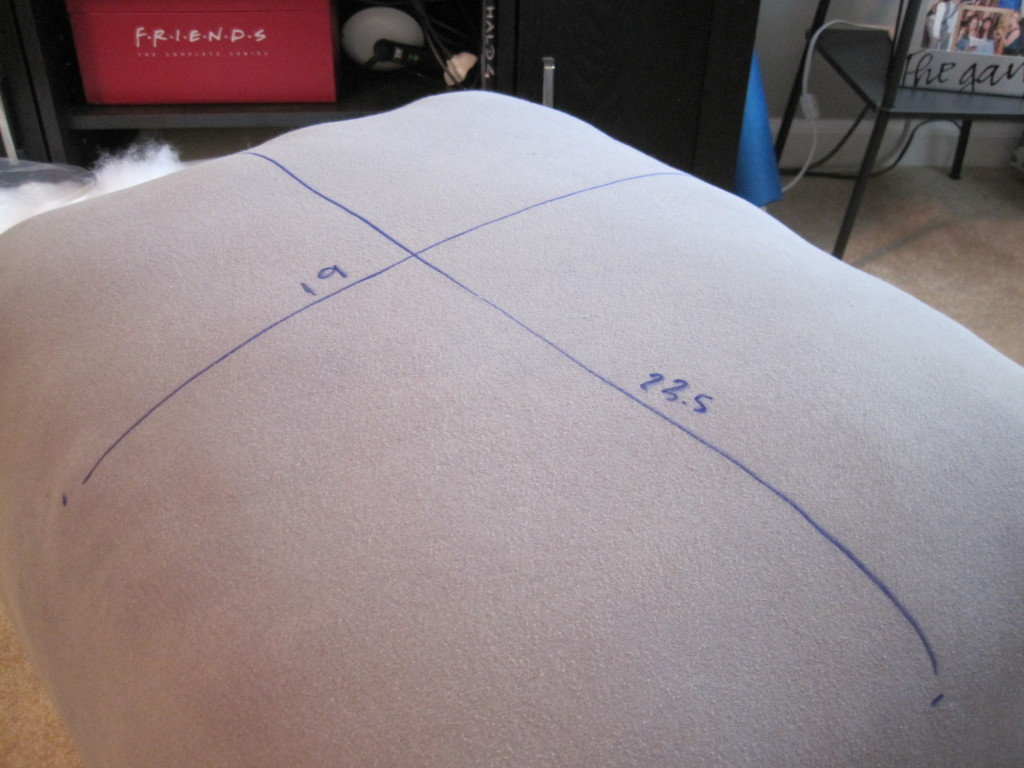 Since it wasn't totally even on all the sides (when is foam and pillow stuffing ever even, huh?), I had to average the sides that didn't line up and hope it turned out okay in the end. It was pretty difficult to wrap my head around. Calculators and scratch paper were involved.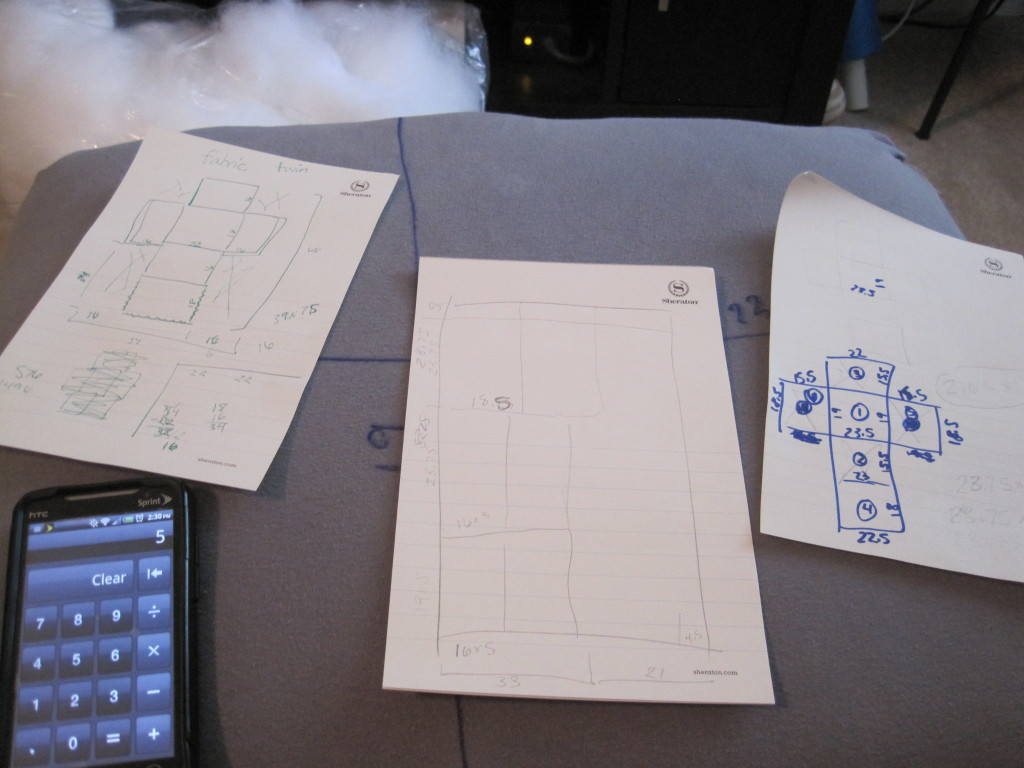 At this point, I was super, super nervous the thing would turn out. I'm not a confident sewer, and making a cushion for an uneven pouf seemed pretty daunting.
However, with Liz's encouragement, I pushed on.
I tried to line up the pattern on the fabric so the trees would all be facing upwards, which required some planning. (I cut the first two pieces wrong so I had to redo them. Luckily, we caught it early and had plenty of fabric, even though I only wasted a small scrap…and even that is probably usable for something else.)
Cutting the fabric was scary because I was terrified to ruin the fabric I was so enamored with.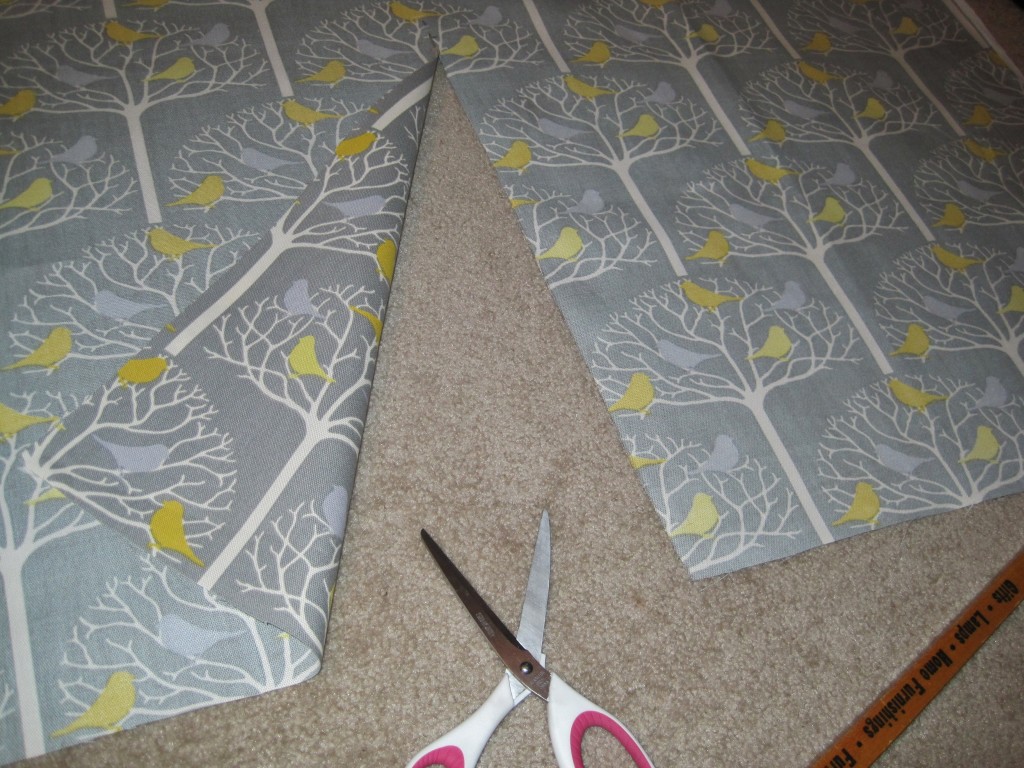 (It wasn't super expensive because it was on sale for 50% off at Hancock's, and we had an extra 10% offer on top of that, but we still ended up spending around $20 for our fabric. Other than the $13ish bucks for the foam mattress pad, which we have extra of, (WAY cheaper than buying foam from the fabric store!), that was our only cost, so it wasn't too bad!
An extra note on cutting the fabric: You want to make sure to allow for your seams! We used half-inch seams on this project, because it was nice and forgiving in case we had to make adjustments for uneven poofiness.
After cutting the fabric, we rough-fitted it to the pouf.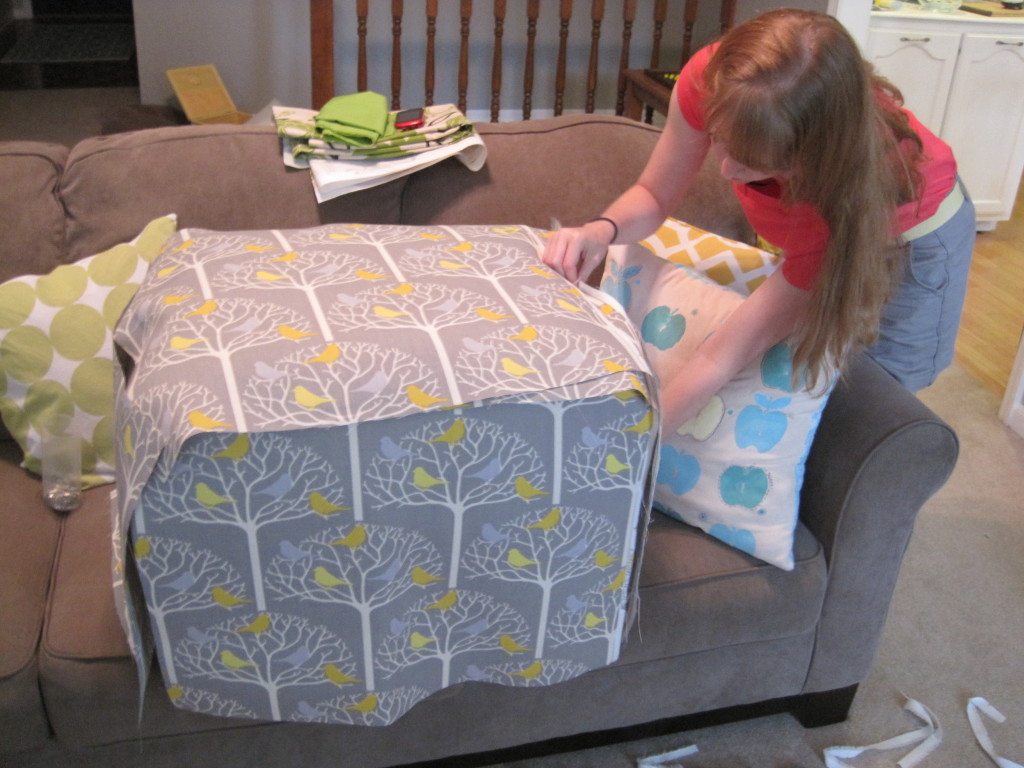 Then, we turned it wrong-side out, and pinned it in place. At this point, we had effectively made the case for our cushion!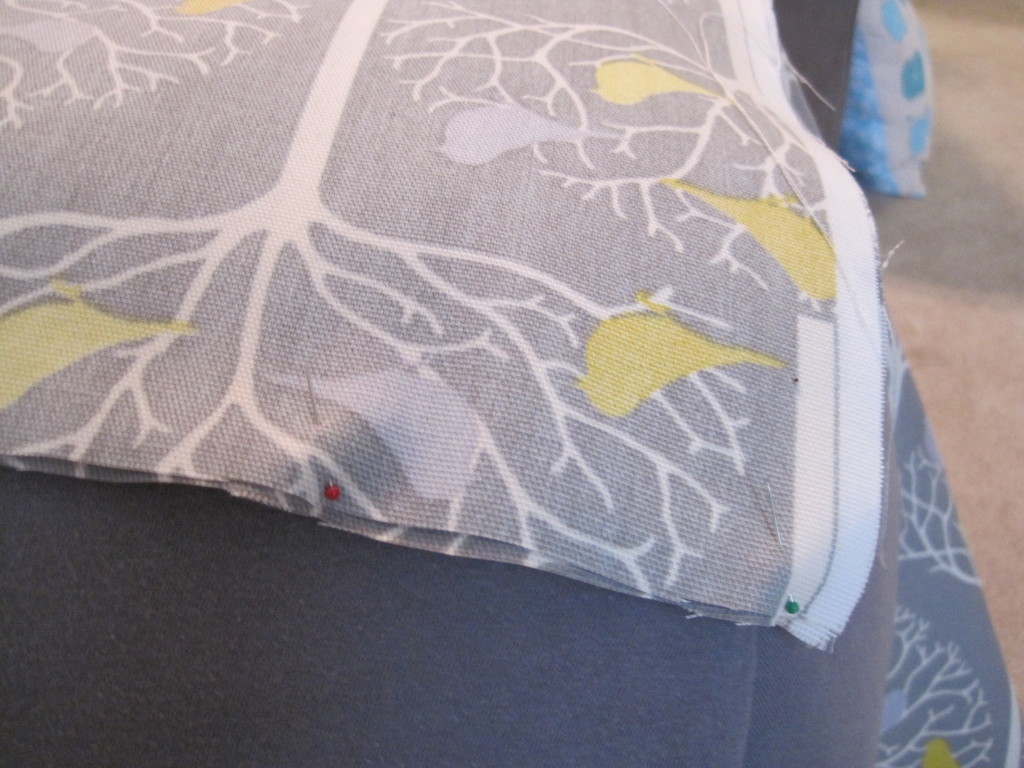 After taking it off the pouf, it looked like this on the floor, ready to be sewn.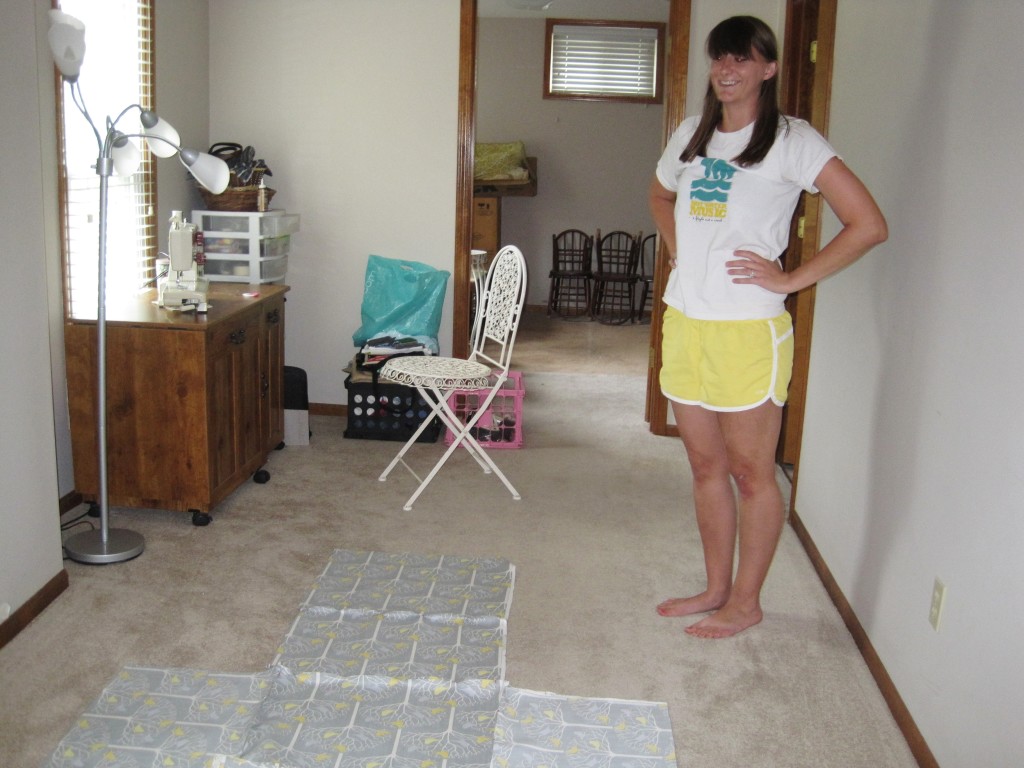 I was feeling a little better at this point, but the last step, sewing, involved me conquering the sewing machine once again. You can read about some of my first adventures with it here, here, and here.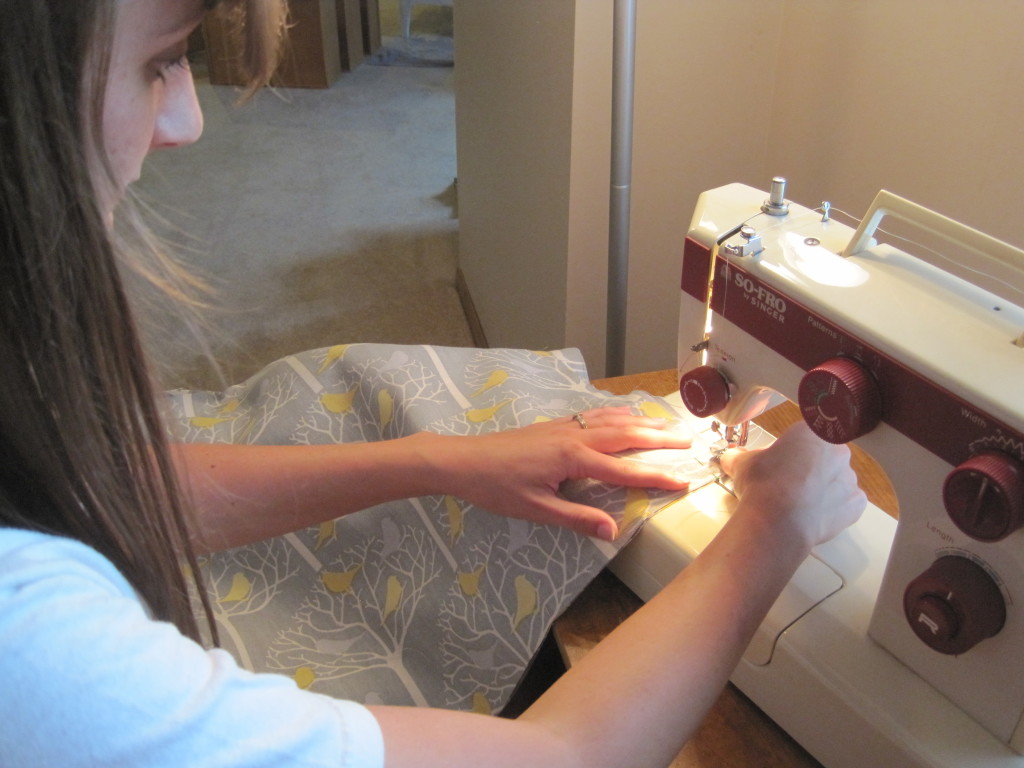 We pretty much just charged through, stopping to fill the bobbin once (she had to really help me with that part because I am awful at putting it into the little case thing it goes into. I've had bad luck with it every time I've tried!
We stopped a few times to do a test fit to make sure we were on the right track, and other than a few re-do's with the seam (where I'd gone crooked or the bobbin ran out), we had a great time and found some success!
After finishing all the seams we had to sew, it was time to test it out and pin on the velcro (so we could attach and reattach the cover when I want to wash it).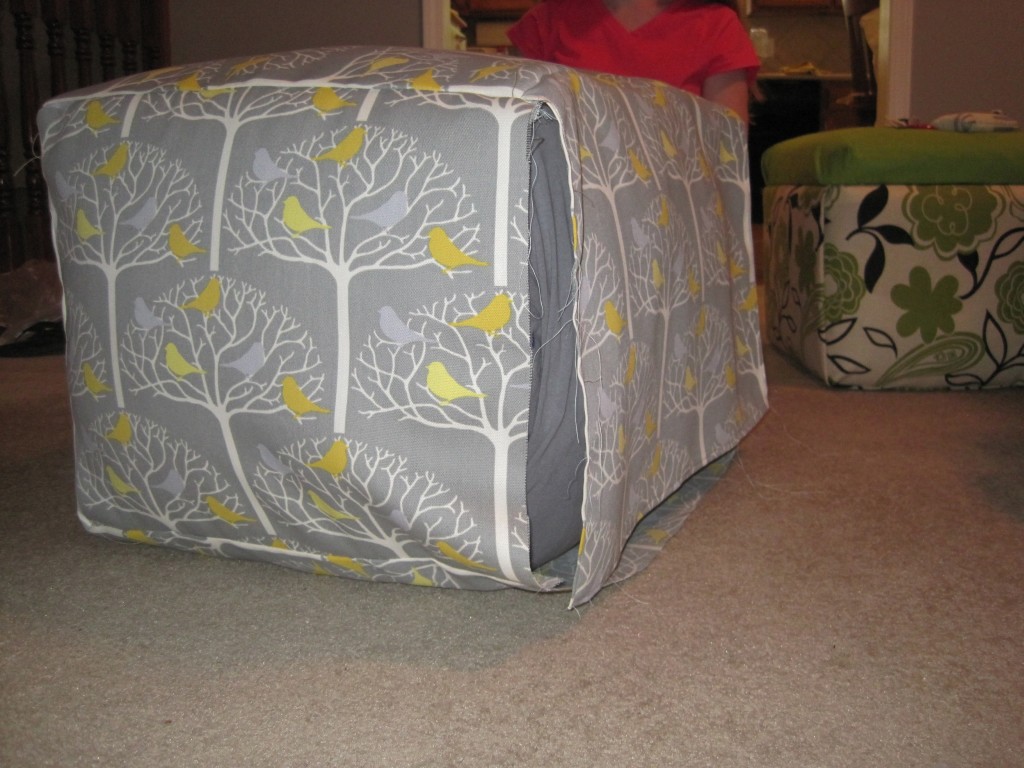 Then, it was back to the sewing machine to attach the velcro. I like the sew-on kind for stuff like this. It's more durable. You want to sew it on nice and tight, though.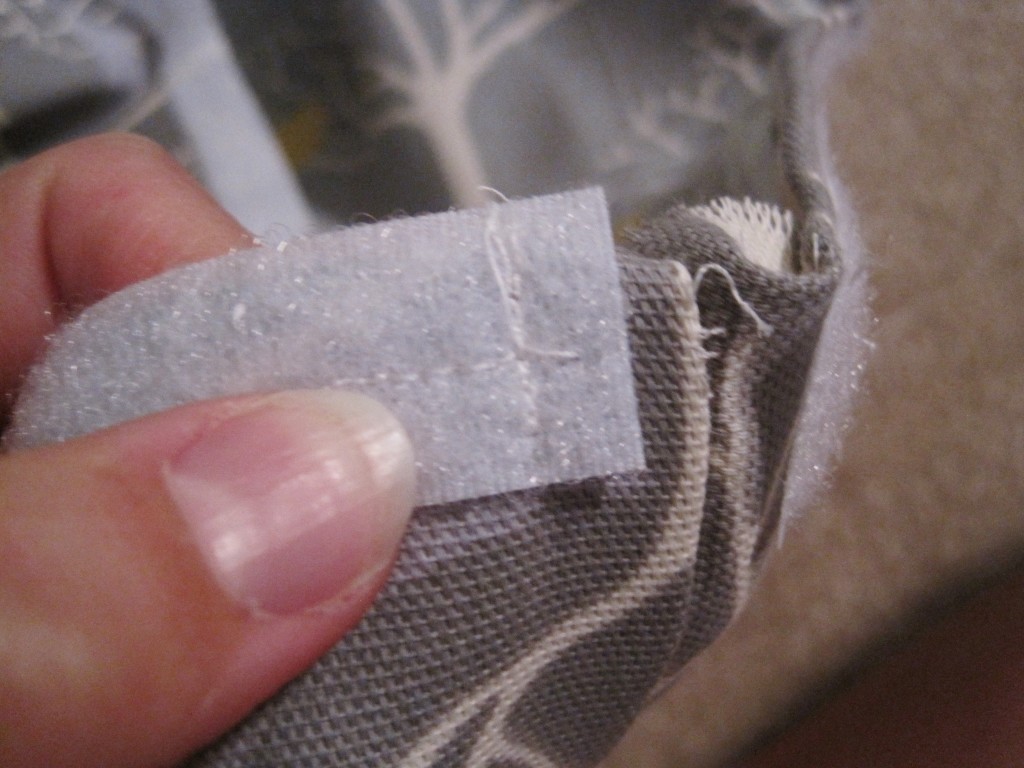 Then, we got to put it on! Other than a few little wrinkles, which is because the cushion underneath is uneven, it's perfect! And I actually like the imperfections, because it makes it look soft and squishy, like it is.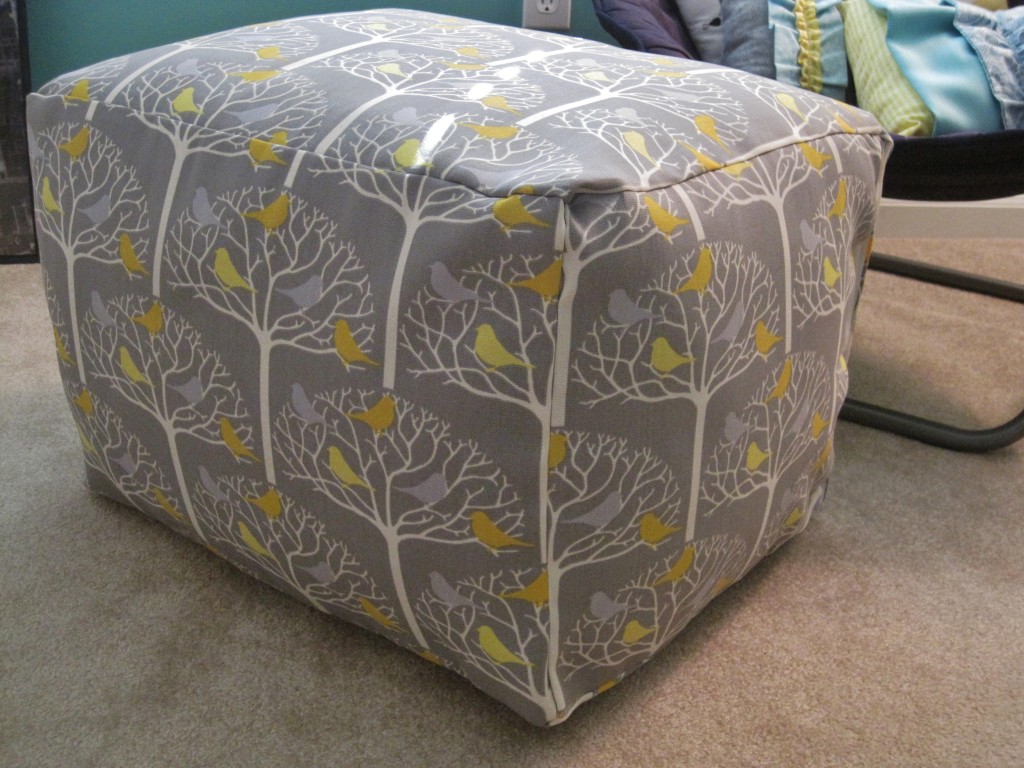 Ta-da!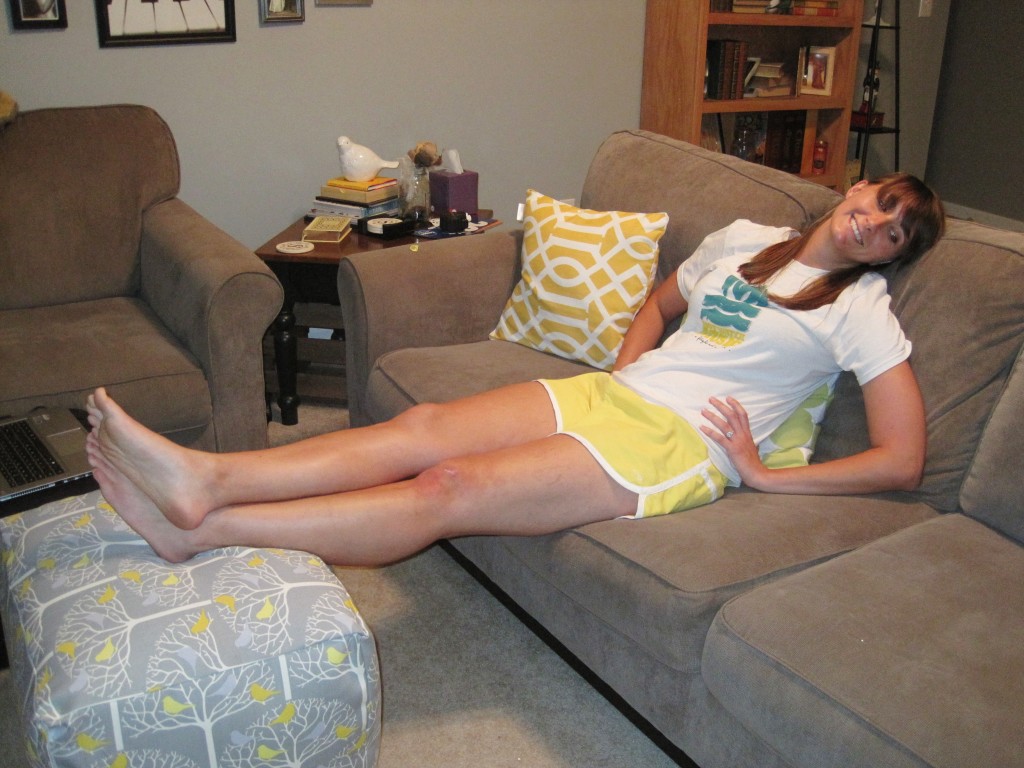 Isn't it cute? I can't believe it turned out as well as it did considering I had no idea what I'm doing when it comes to sewing or using the machine.
Even the corners look pretty good! Which just goes to show that you don't have to be a good seamstress to do DIY projects like this! Really, even if you can't sew, you can do this!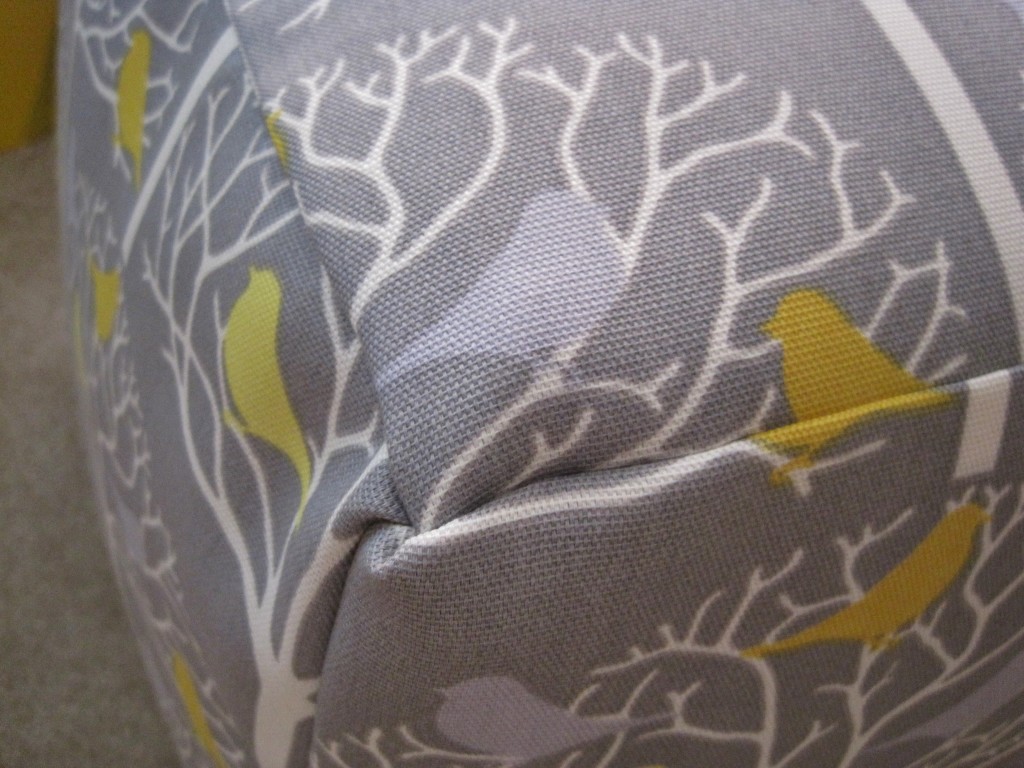 I love that the tree pattern nearly lines up in a few places…totally worth recutting the first two pieces to make them all face upwards.
Thank goodness Liz was there with me to guide me and tell me to not give up. She's a good friend like that. 🙂
Be sure to check out Liz's version of this project here, which is completely different because she went with a less poofy version, only using foam on the top, and left hers to be able to be opened for storage-very cool!
Here's how our two ottomans ended up looking together.
Fun, huh?
I think hers is awesome since it's more functional with the storage space, but mine is more durable, and of course, poofier, which is what I was originally going for. Still, I'm going to try one her way if I ever find another cooler!
This was one of my most successful sewing projects yet!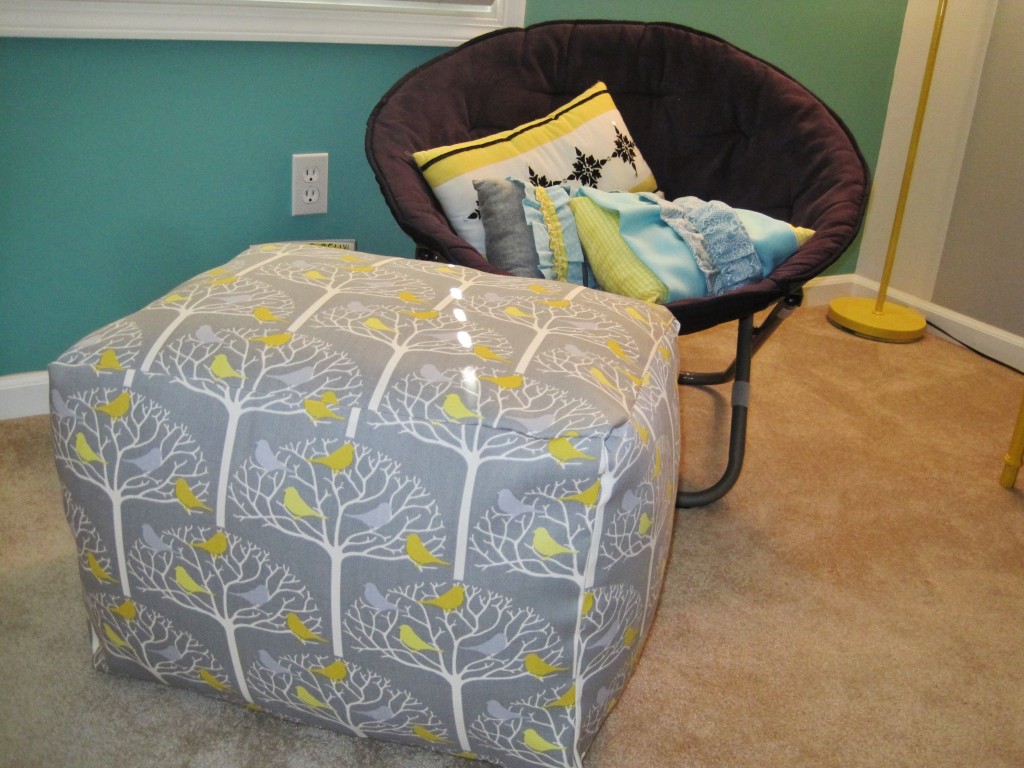 Let me know which project idea you like most–so be sure to check out her post, too! And tell me what sort of recycling projects you've done that combine creativity with functionality and thriftiness!