We finally had some time over the long weekend to tackle some projects! Of course, I'm so excited to share them with you, but this week is going to be crazy. So, I figured I'd at least get a small one up on the blog to share with you first. Today, I'm sharing a rare glimpse into what goes on in our bathroom. Scared? Well, you might be right to be worried, as this little fix was long overdue. But it's nothing too bad, just an Ikea spice rack hack to solve the problem of not having enough storage for everyday toiletries.
See, I needed a shelf or cabinet of some kind to stash all the bottles and jars that were cluttering up the counter. Actually, cluttered is a pretty tame word for how things were looking. It was actually pretty darn awful. I'm embarrassed to show this, but we need some sort of before picture and this one does a good job of showing the bathroom on one of its worst days.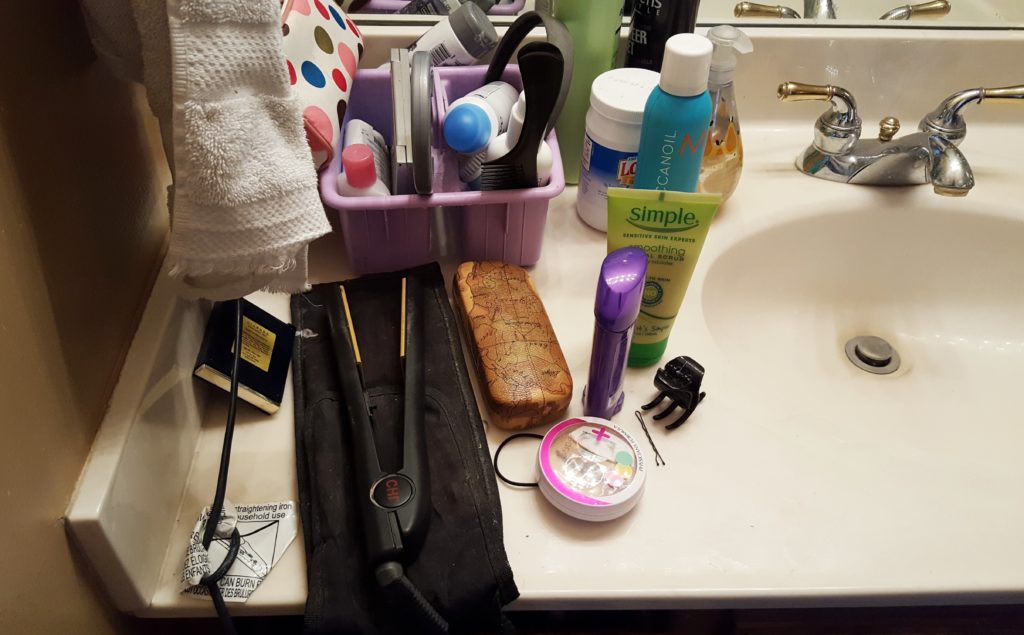 Yikes.
You can see why we needed to do something. Hair, makeup, deodorant, soaps, lotions—it all multiplies on the counters.. Plus, with all that stuff sitting out, it was harder to keep the counters clean. And icky bathroom sink counter tops are one of my least favorite things ever.
So, I grabbed an Ikea spice rack when we were there on Monday. (More on that later!) It's called BECVAM if you want to grab one for yourself. It's made from unfinished pine and cost me a whopping $3.99. It only took me a few minutes to put together. Then, Wyatt put a couple anchors in the wall so it wouldn't rip out when I loaded it up with a bunch of products.
(Sorry about the photos. It's a dark room at night, with a giant mirror, and I only had my phone–I did the best I could!)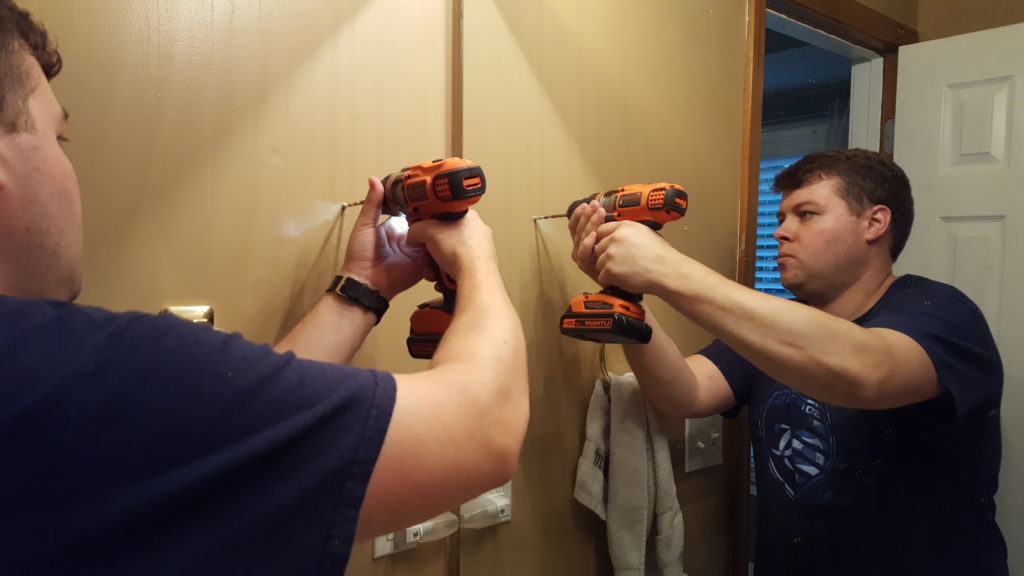 Then, we added screws (which don't come with it, I might add, so you'll need to be prepared).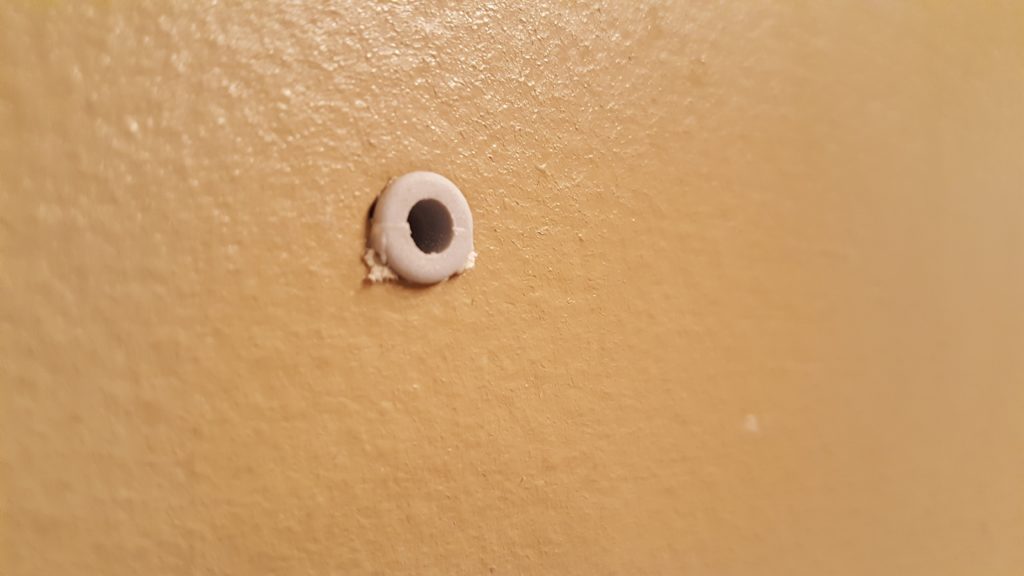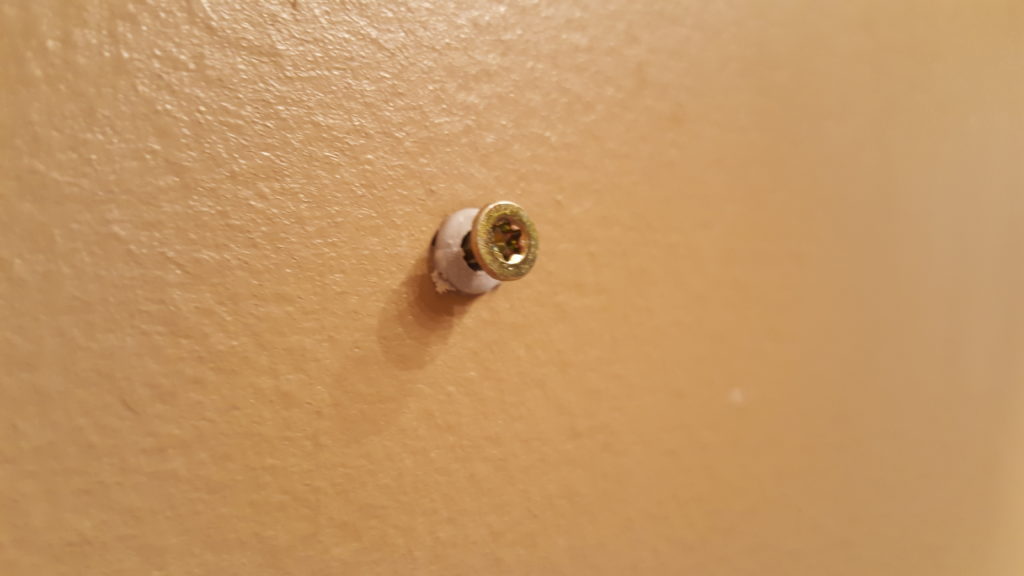 I also added a strip of peel and stick vinyl shelf liner to protect the surface from getting gross with oil from the coconut oil bottle or other product residue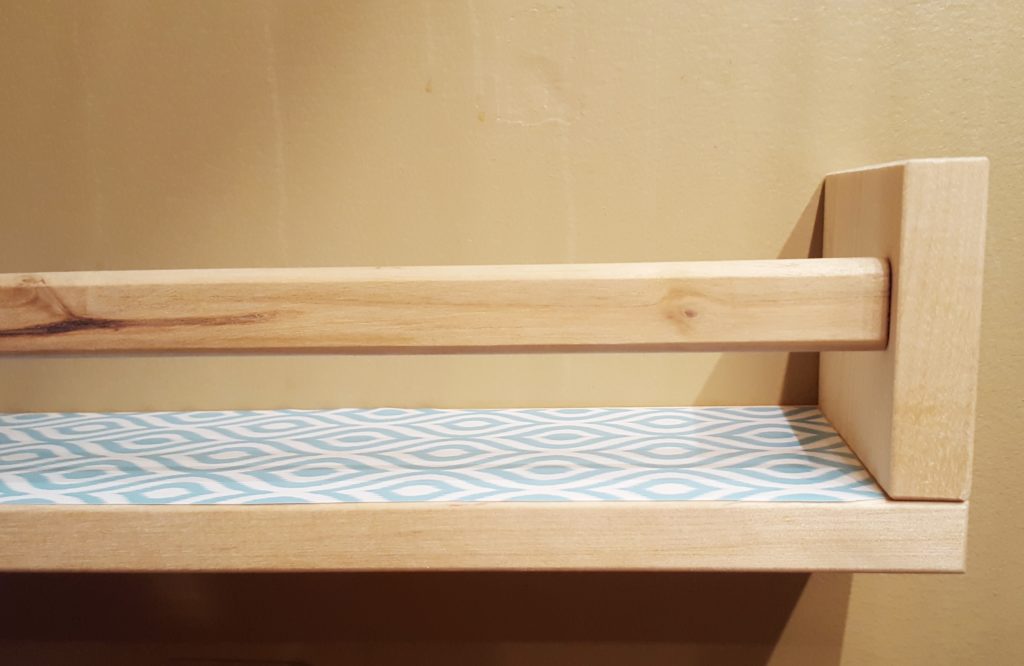 The counters look a lot better.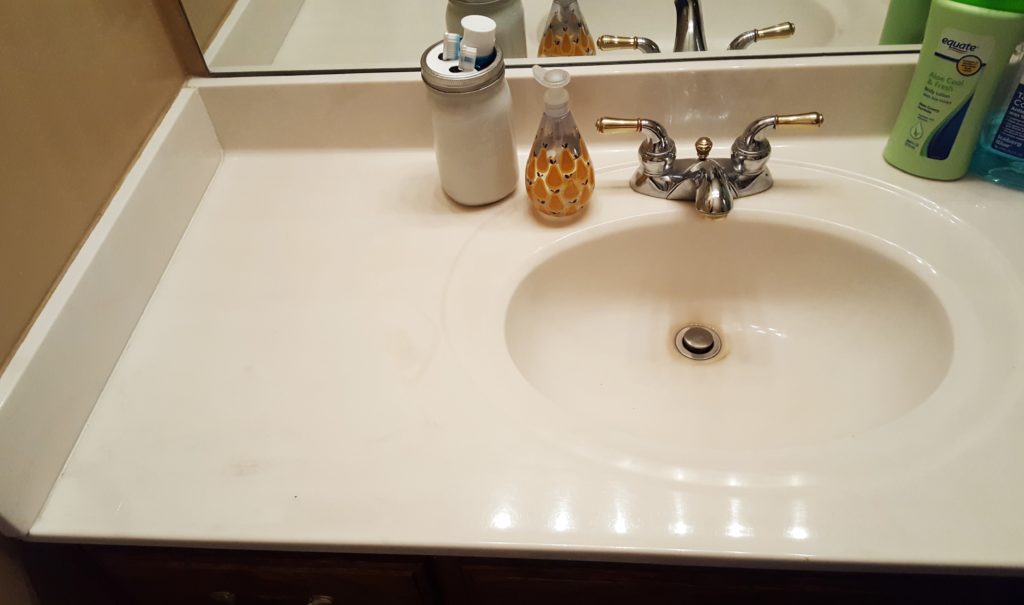 There are still things on the counters, of course, like the hair straightener and my makeup bag. And everything on Wyatt's side. He is already brainstorming ways to add a second one for the rest of all my stuff, though, so stay tuned. Ha!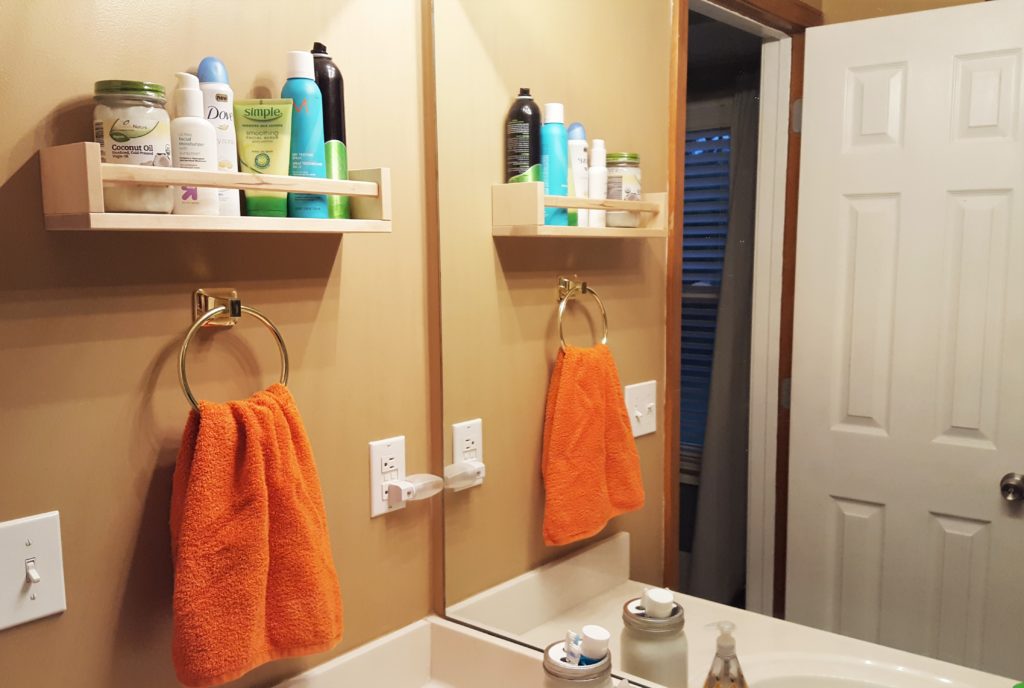 And to be honest, these photos were pretty strategically taken so as not to show too much else in the bathroom. It's the one room we haven't done anything to. Not even paint the trim or replace the light fixture. We haven't added storage or updated it at all. Needless to say, it's one of my least favorite rooms in the house. But, it's also a room we use multiple times everyday. So, this little fix to solve the cluttered, messy, icky counter problem, was well worth the time and (small) investment in the little shelf/Ikea spice rack hack.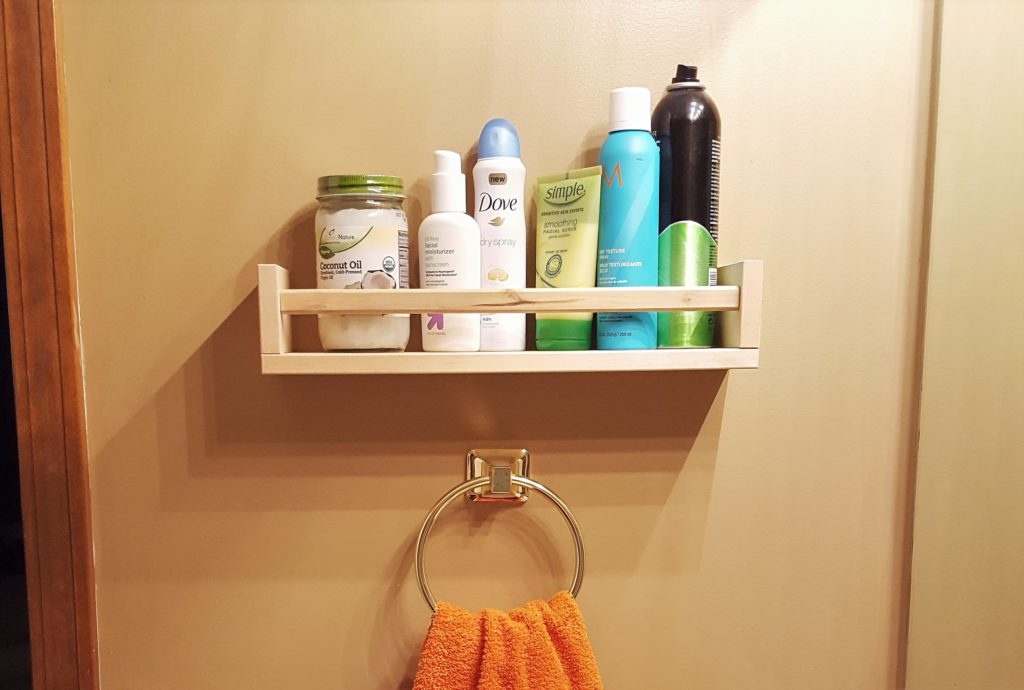 And even though this bathroom isn't my favorite, it's not a bad little bathroom and we're thankful to have it. And now, I'm thankful for my new little shelf and the added storage and organization it offers.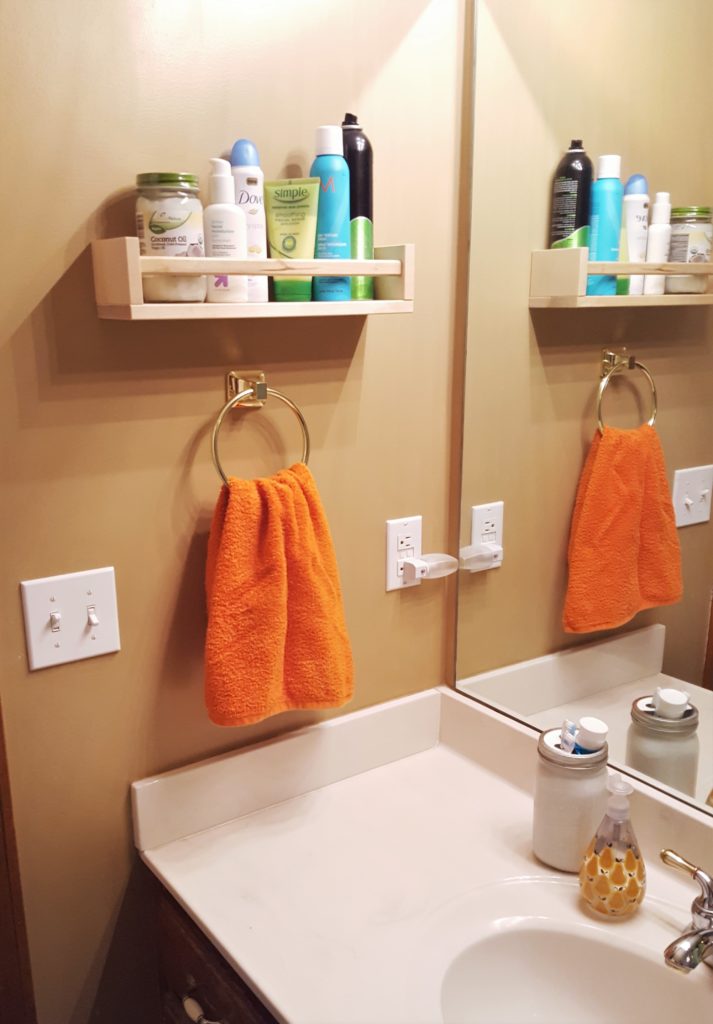 Anyway, here's to finally getting a project done that's been on my list forever. And for finally getting a blog post up after I've been slacking way too much lately. If anyone wants to come volunteer to clean my house and cook my meals, I bet I could get a couple more posts up. Any takers?
No? Well, at least cleaning the bathroom will be faster and easier now.
What have you been up? Anyone tackle any home repairs or projects over Labor Day weekend?