One of the little DIY projects I've been wanting to tackle is the crib skirt, or rather a version of a crib skit. Because our crib has a drawer underneath, we couldn't use a standard crib skirt with the draped fabric that just tucks under the crib as you lower the mattress. We needed something adjustable to just hide the space between the mattress and the drawer. Any excess fabric would interfere with the function of the drawer, and that would defeat the purpose of having it. Still, we needed something to hide the drawer or you would be able to see right into it.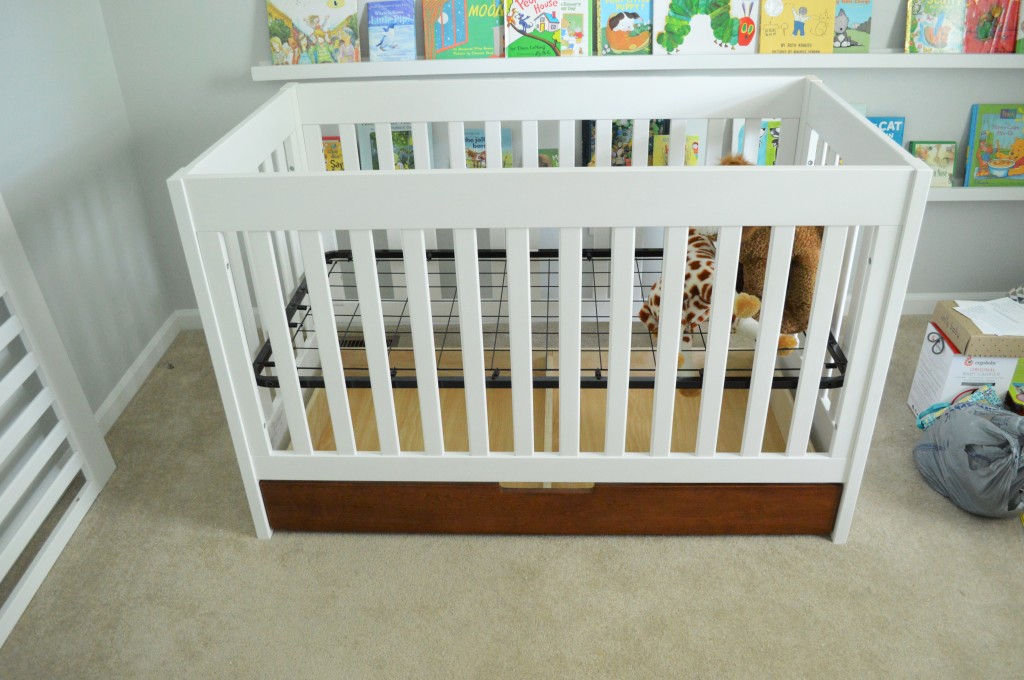 To back up, you can read about how we choose our crib, here.
When it came time to make the skirt, I knew I wanted it to be simple, basically, just a flat piece of fabric to hide the empty space. I ended up finding some fabric I liked at Wal-Mart for only $2.97 a yard. This project ended up using about two yards, so this was a very cheap little project.
Wyatt's mom helped me get the fabric cut into panels and hemmed. I did the ironing and she did the sewing, as I'm challenged when it comes to sewing long straight lines. I didn't want to end up with crazy, crooked hems, so I'm thankful for her help.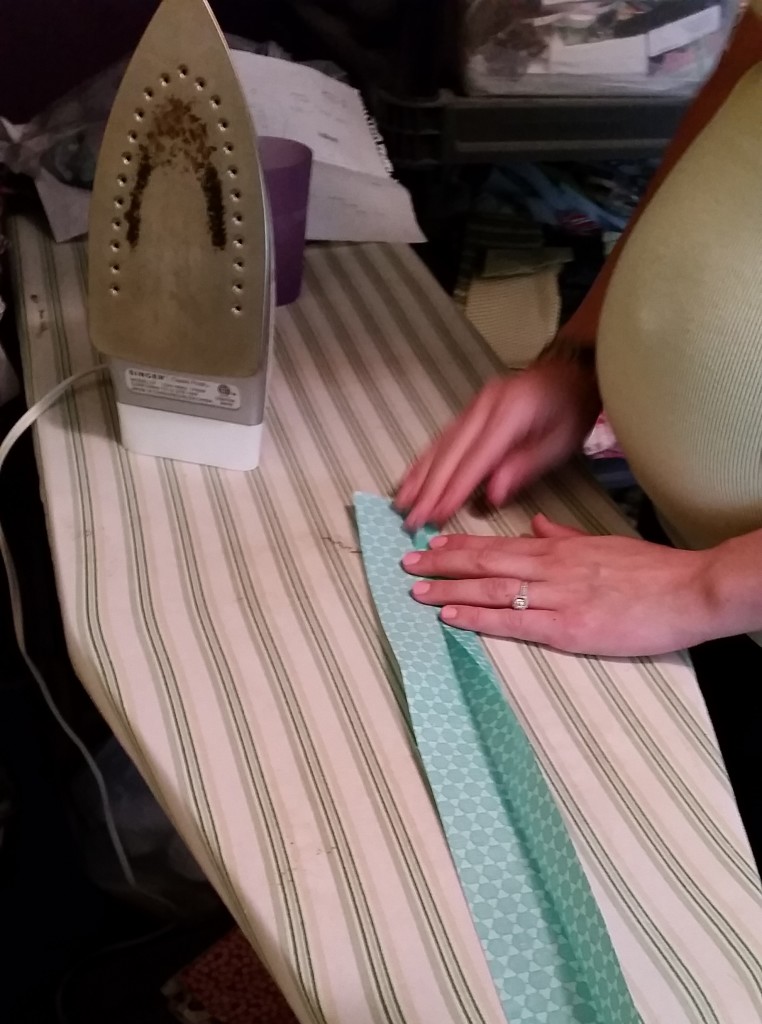 Then, it was time to make these "flaps" adjustable since our crib will lower for 4 different heights and we'll need the skirt to be shorter each time. I'll admit we had a few hiccups in this process.
We first tried it with straps and D-rings, thinking it would make the skirt "flaps" adjustable by just tightening the straps.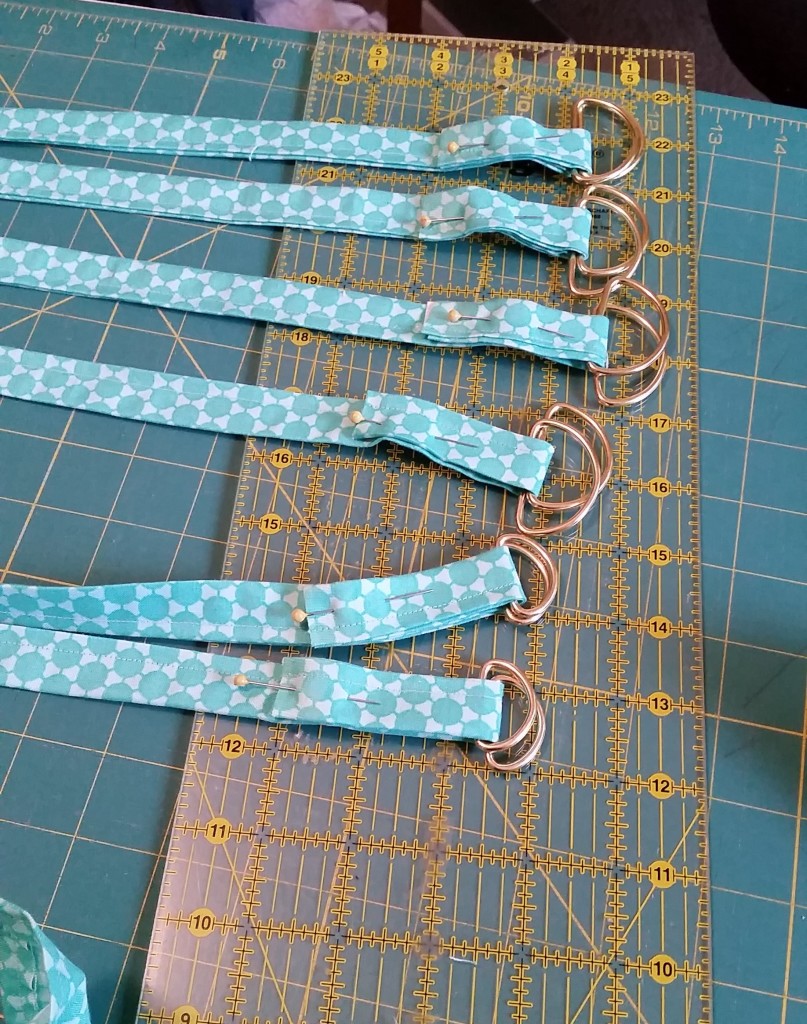 Unfortunately, they wouldn't really stay tight on the crib rails and everything just sort of sagged down. Not really the look I was going for.
In the end, we went with the trusty Velcro option, adding four tabs on each side of the panels to be able to adjust the height that hangs down as we lower the crib mattress. We measured the crib settings to know where to put each tab. We also attached one to the middle at the top to help secure that one. The mattress will be able to hold it fine on its own once we move down the next lowest setting of Velcro tabs because it will be folded over the crib frame and supported between the metal and the under side of the mattress.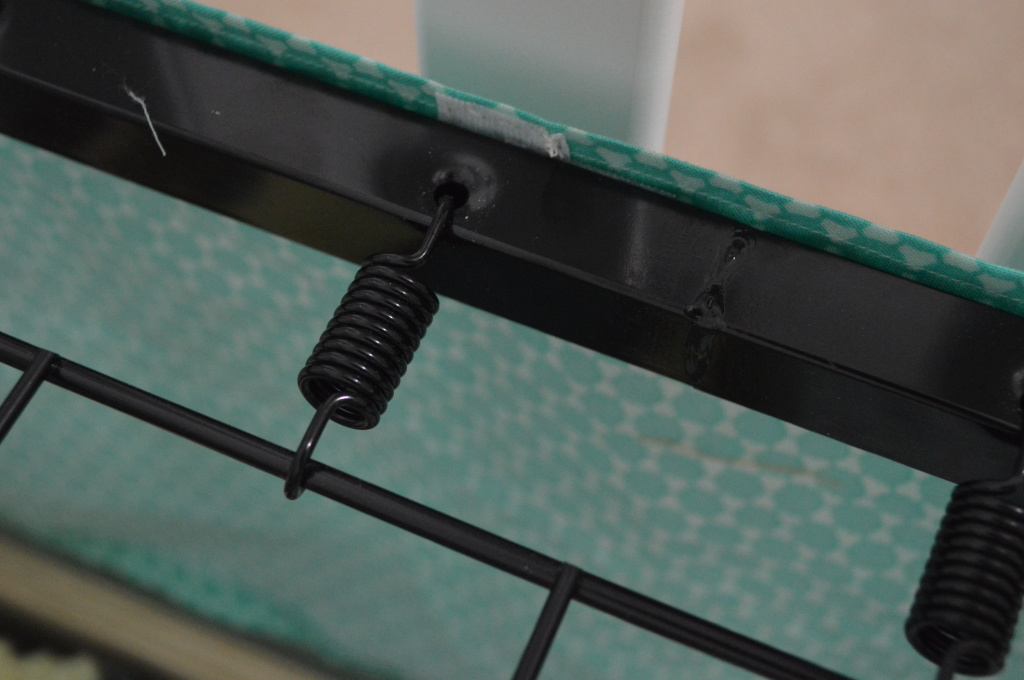 I used the sticky kind and then stitched it down to hold it in place so it will be washable. Let me just say how not fun it is to sew sticky Velcro. The needle and thread gets super gunky and sticky. See that booger-looking glob in the top left corner of the Velcro? That's glue residue. Ew.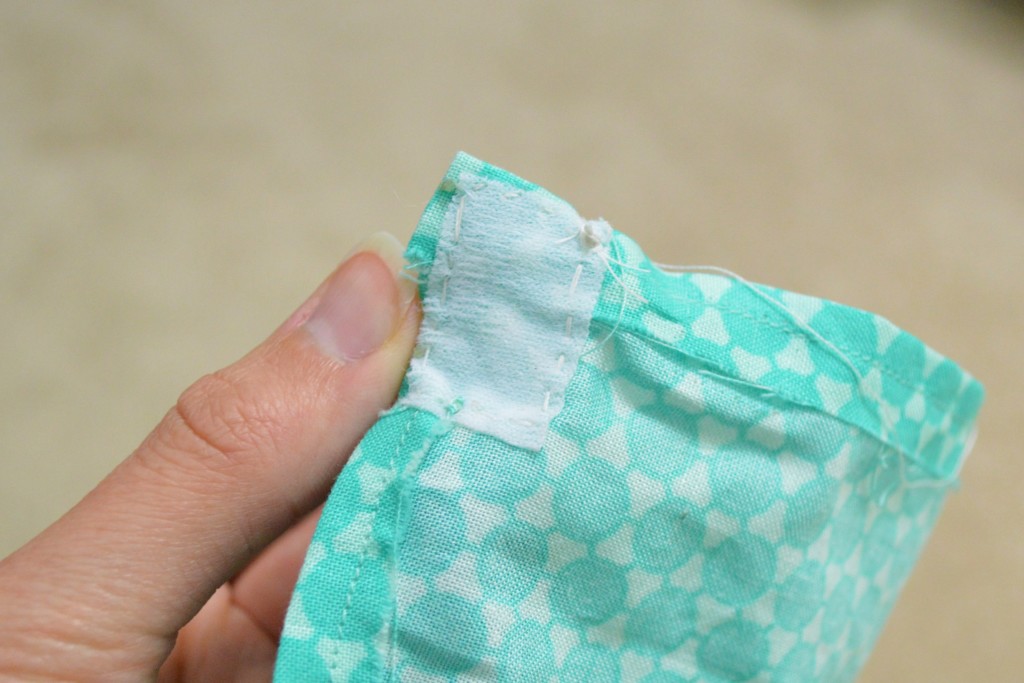 But, after working on it for a little bit for three nights in a row (while watching TV), we got it all finished. Wyatt even helped me near the end because he could tell I was getting super frustrating. His first attempt wasn't super pretty, but after a really big laugh, he tightened up the stitches and was very helpful.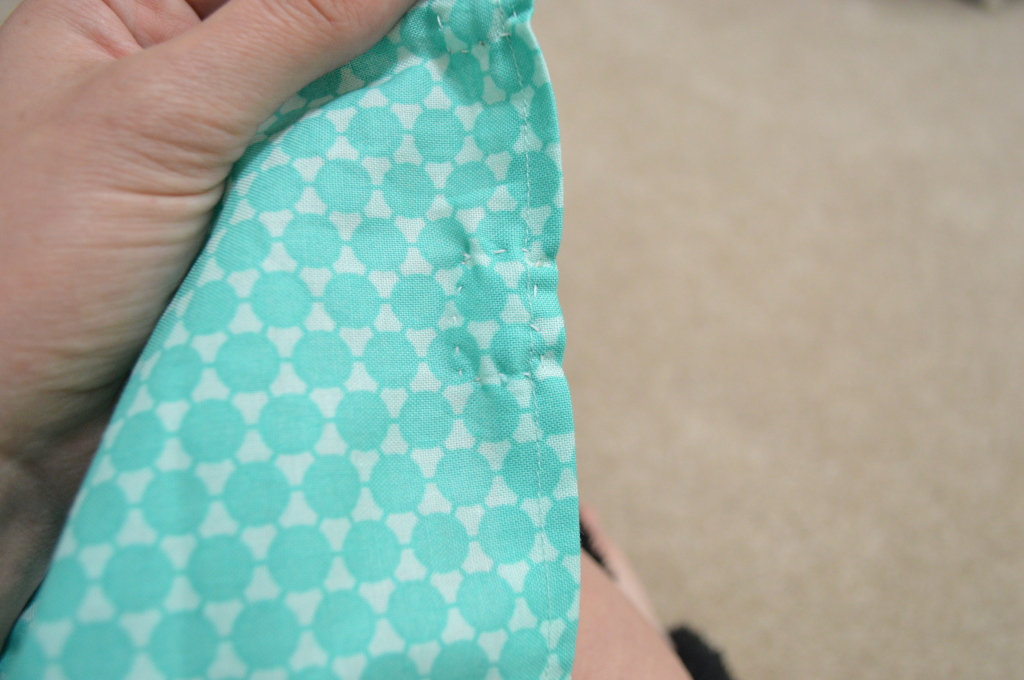 Finally, we were ready to attach them to the crib, using the other side of the sticky Velcro. We used trial and error to find the best placements for each piece, just making sure we could use our already-sewn on Velcro tabs.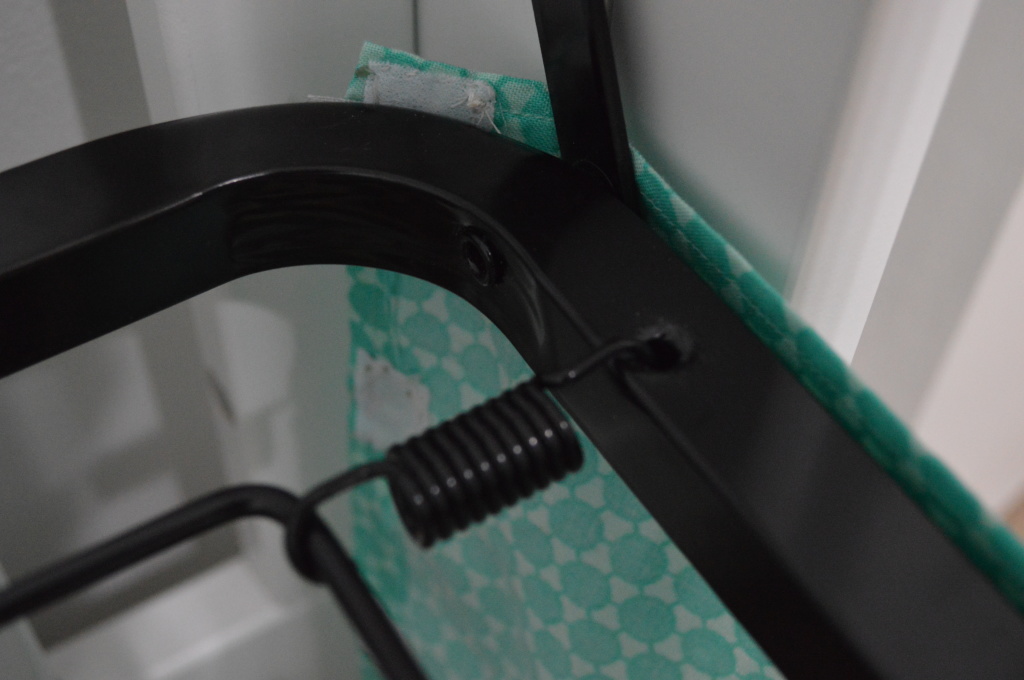 It took a little adjusting, but we finally figured out a way to make it work.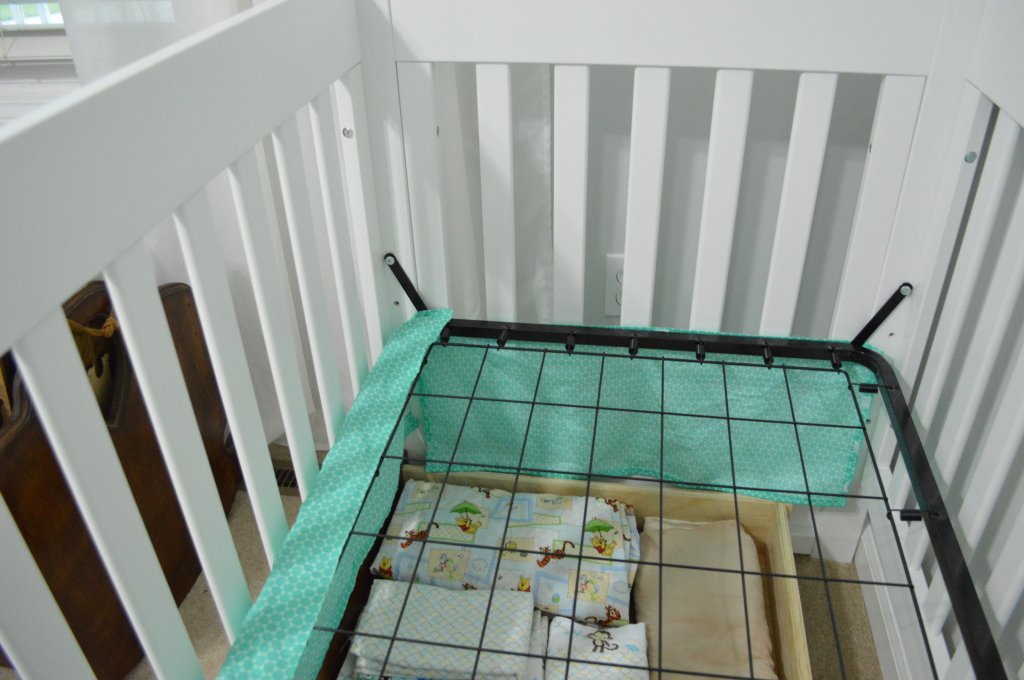 And now, no more little window into the bottom of the crib. I'm excited that you won't be able to see the soon-to-be-messy blanket drawer under there.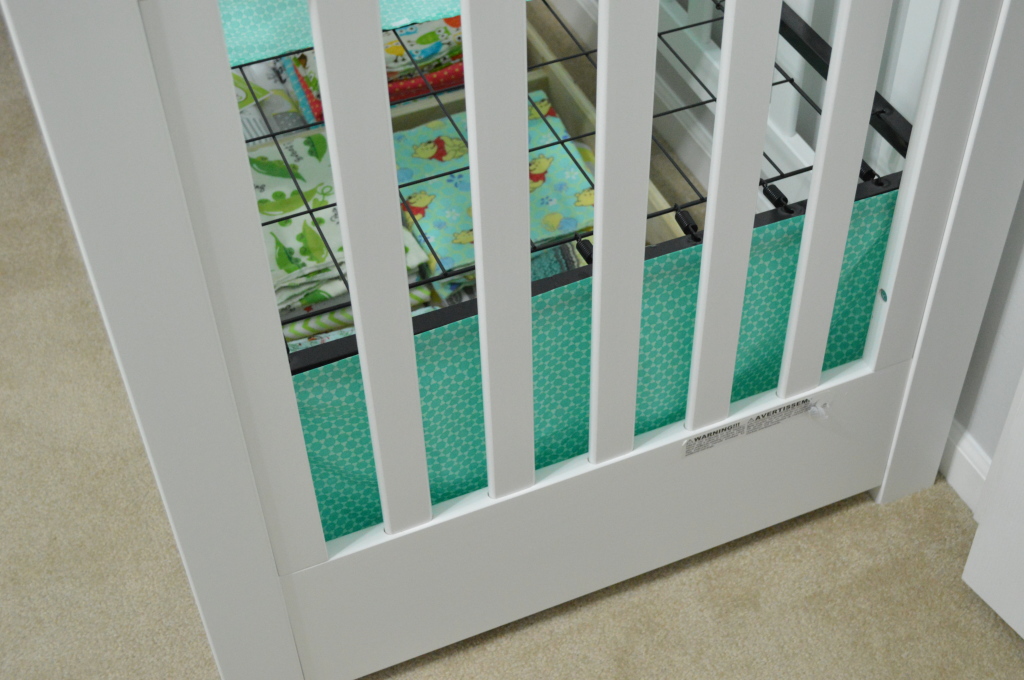 It looks organized for now, but I'm sure it won't stay that way for long.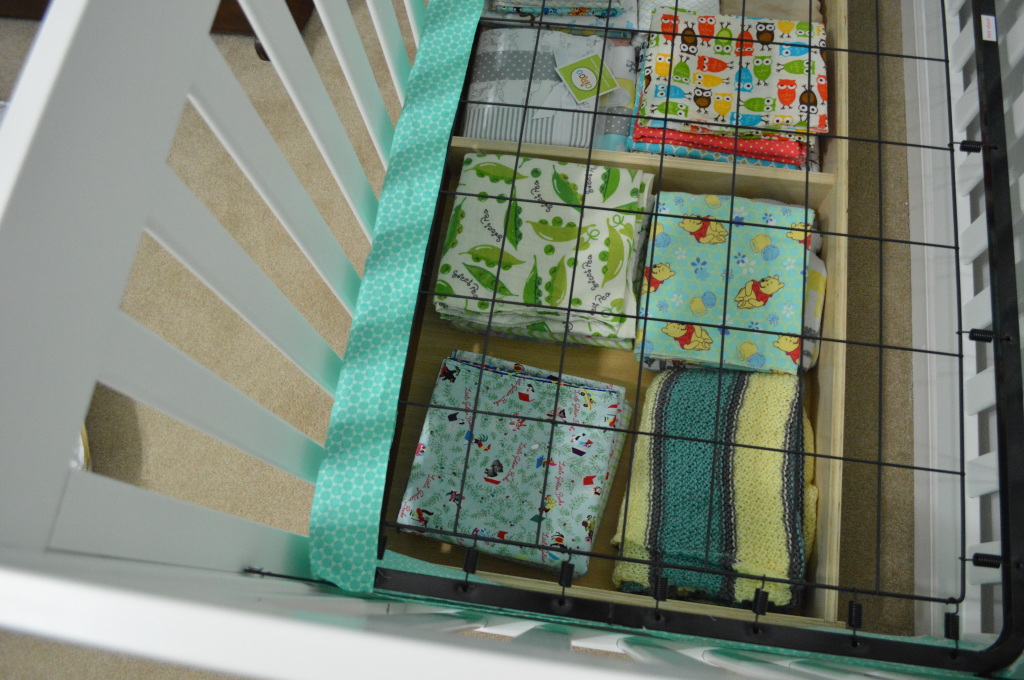 We also got the mattress, mattress pad, and sheets all ready to go. The skirt is a little wrinkled in these photos, but it's already looking better. And I can always iron it again if needed.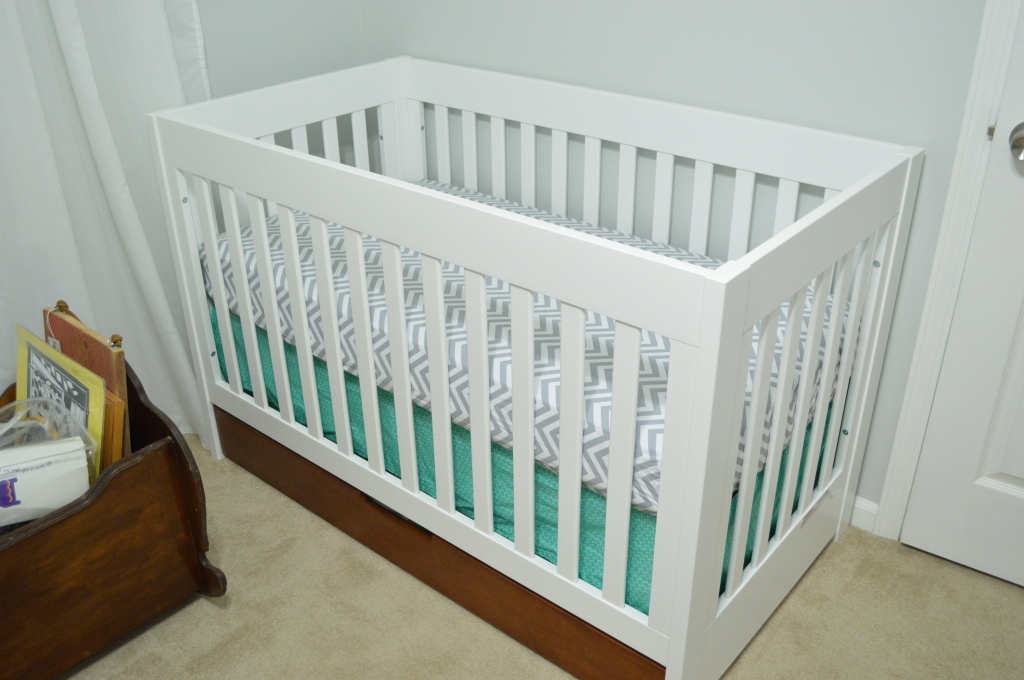 One step closer to having a finished nursery! It feels good that at least our little one has a nice place to sleep now, even if the rest of the room isn't quite done.
Ever made an adjustable crib sheet? Ever sewn with sticky Velcro? I'd be open to any suggestions on both!