Time for a little mid-week quiz…who here knows what I majored in in college?
Did you say Communications? That would be correct! But if you said English, that would also be correct! It's no secret I'm a reader, and when it comes to the classics, I'm a fangirl for Twain, Jane Austen, and Shakespeare for sure. And, of course, I'm excited to share those literary giants with Will.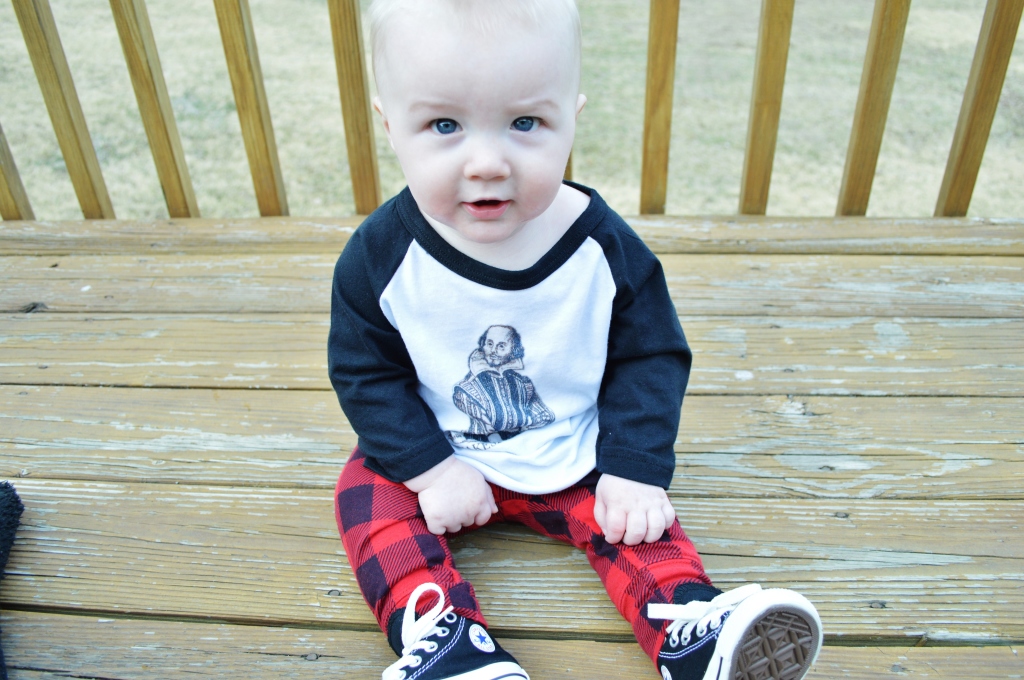 It doesn't get much cooler than a baby in a Shakespeare tee, right?
WEE Rascals clothing line features real people who helped shape the world we live in today for kids to look up to. How awesome is it to teach our kids about the awesomeness of real, historical heroes? So, when I had to the opportunity to partner with this cool company, I jumped at the chance!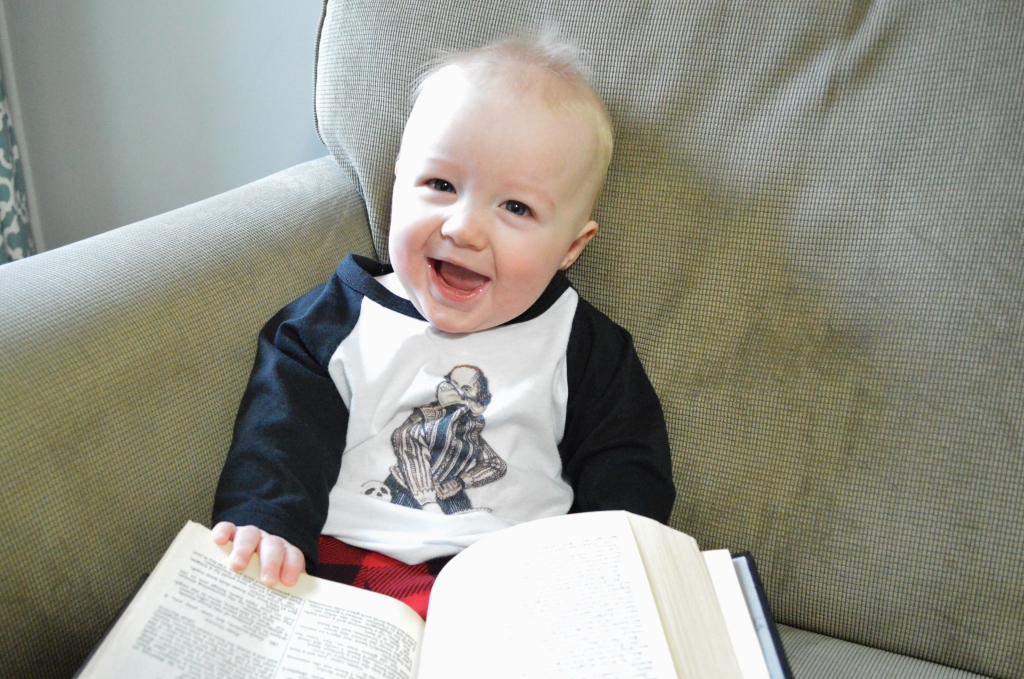 WEE Rascals was founded by two moms, Kylie & Liz, and it's so cool to see gender-neutral, comfortable, and inspirational shirts for little ones. I mean, how cool that a t-shirt can start a conversations with a little one about what it means to be honest, or brave, or fierce, and just what scientists and thinkers and writers and dreamers do for the world.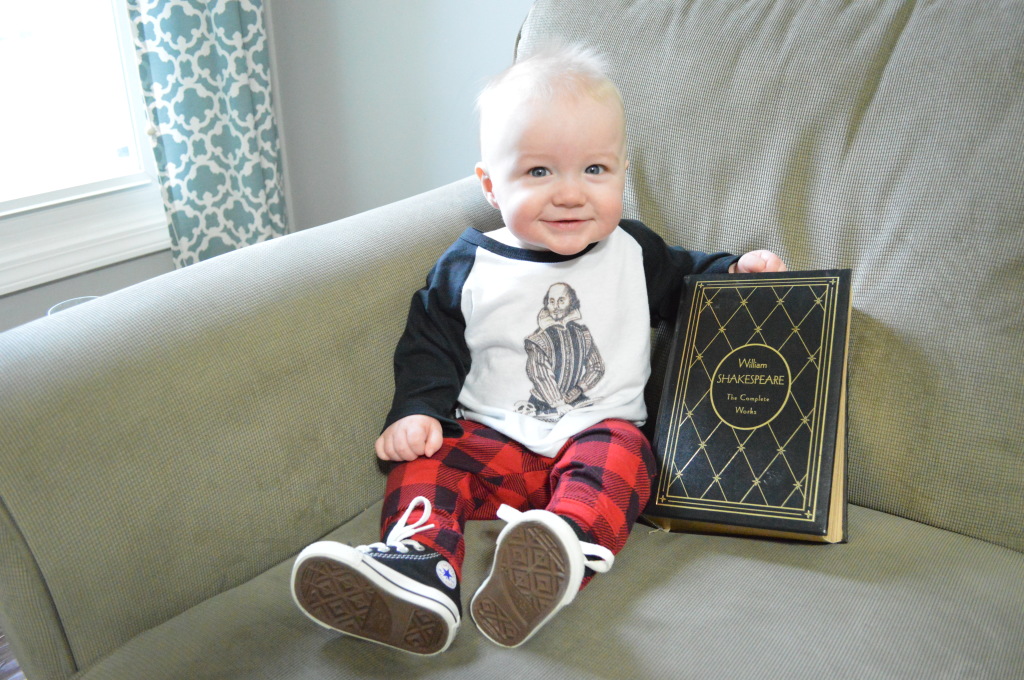 Plus, they're cute.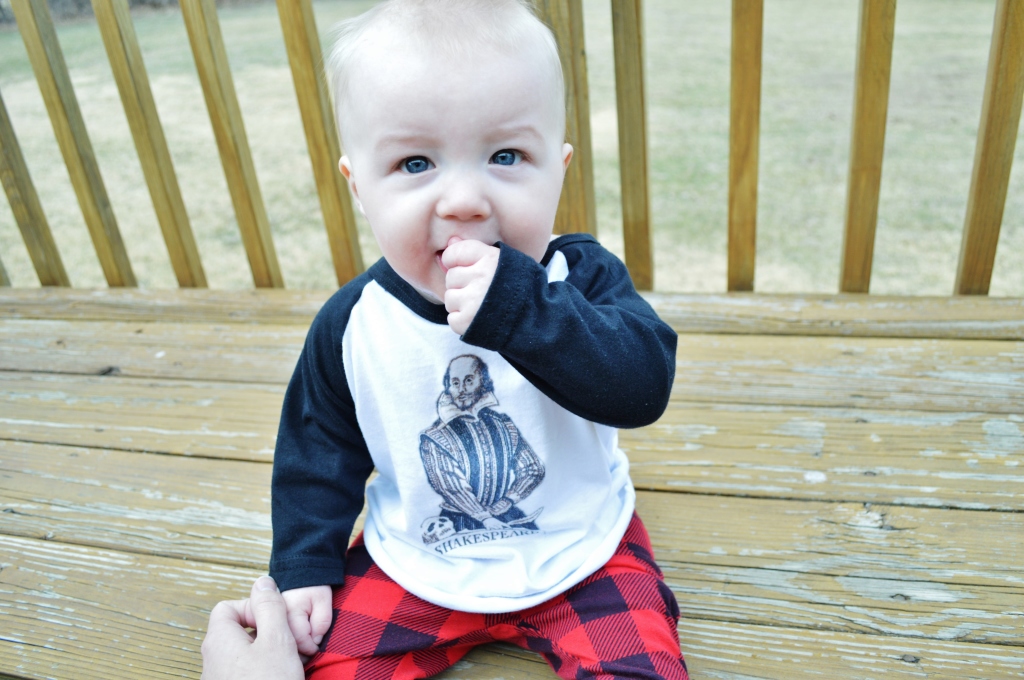 Not all their tees come in baby sizes, but some do, so look around if you have really little ones like Will! And yes, they have some adult sizes, too, if you don't have little ones to shop for. Or you can shop for a friend's little one. Speaking as a momma who doesn't have a lot of time to go shopping, gifts of cool clothes for my baby boy are always appreciated. I'll bet you know a momma who could also use a little rascal love in her life.
You can find the Shakespeare tee Will is wearing, here.
But they have so many awesome ones I am already planning our next order. Johnny Appleseed, Einstein, Teddy Roosevelt, Abe Lincoln…all great! Check out their entire line here. (But, be aware some styles are going away soon to make room for new ones, so get your orders in soon!)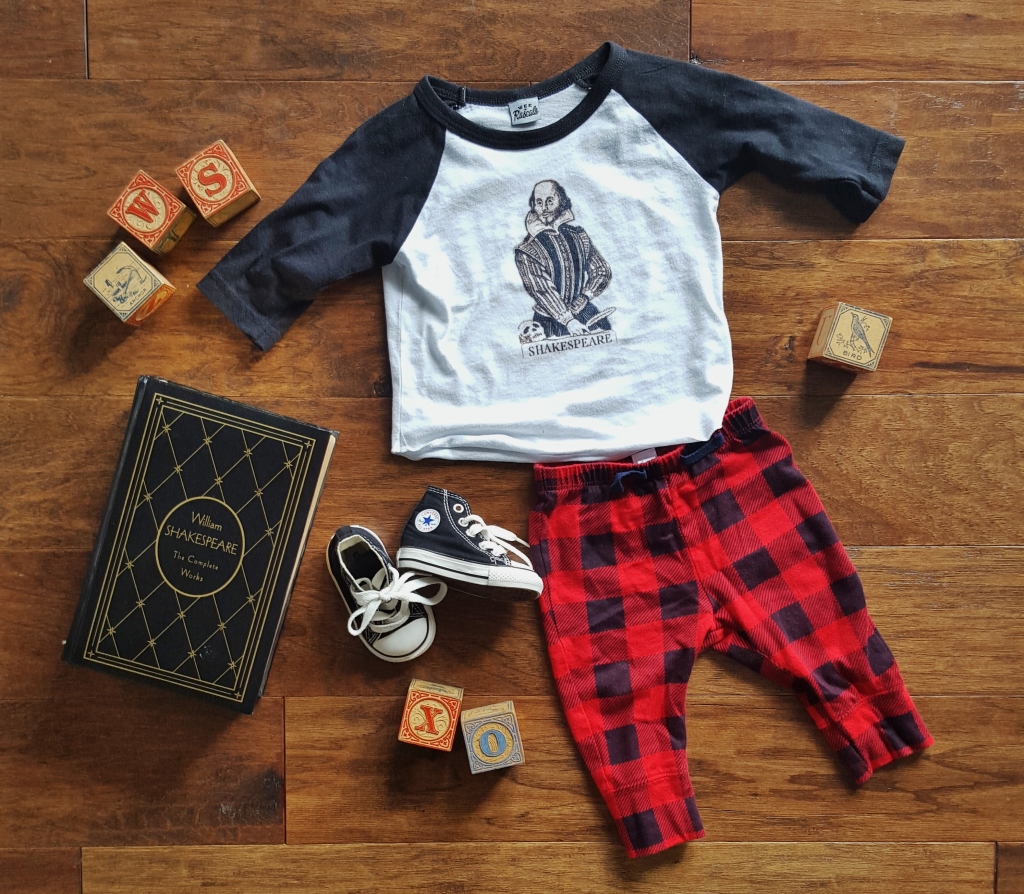 Also, these shirts are SO SOFT. I think it's the softest item of clothing he owns right now. Not to mention the most trendy.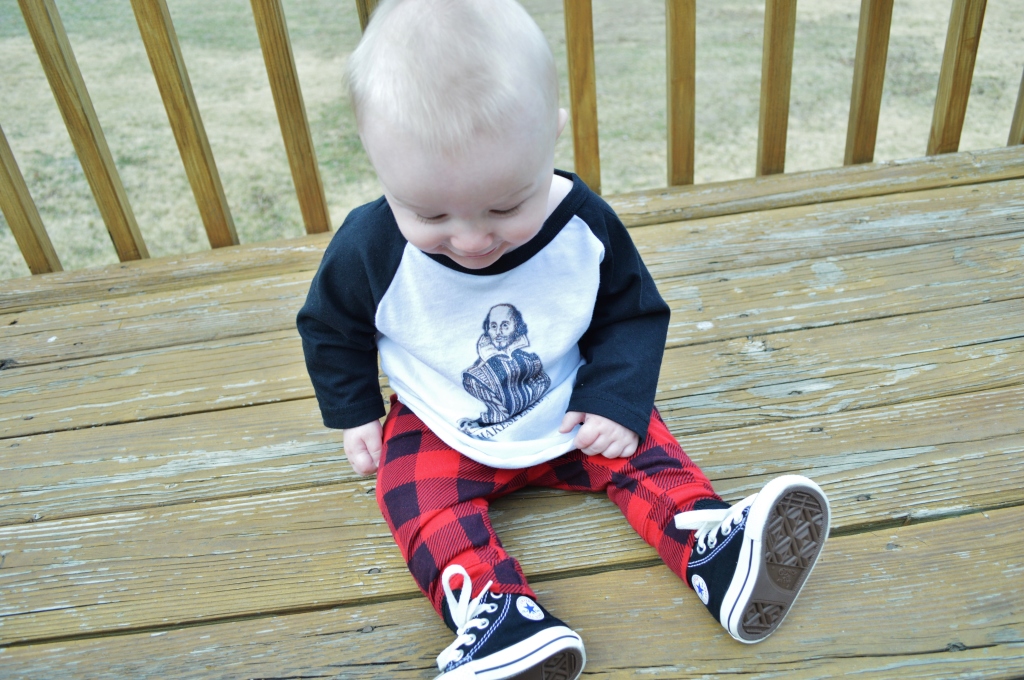 And Will might be a little young to fully appreciate Shakespeare, but he does love to read.
(And chew)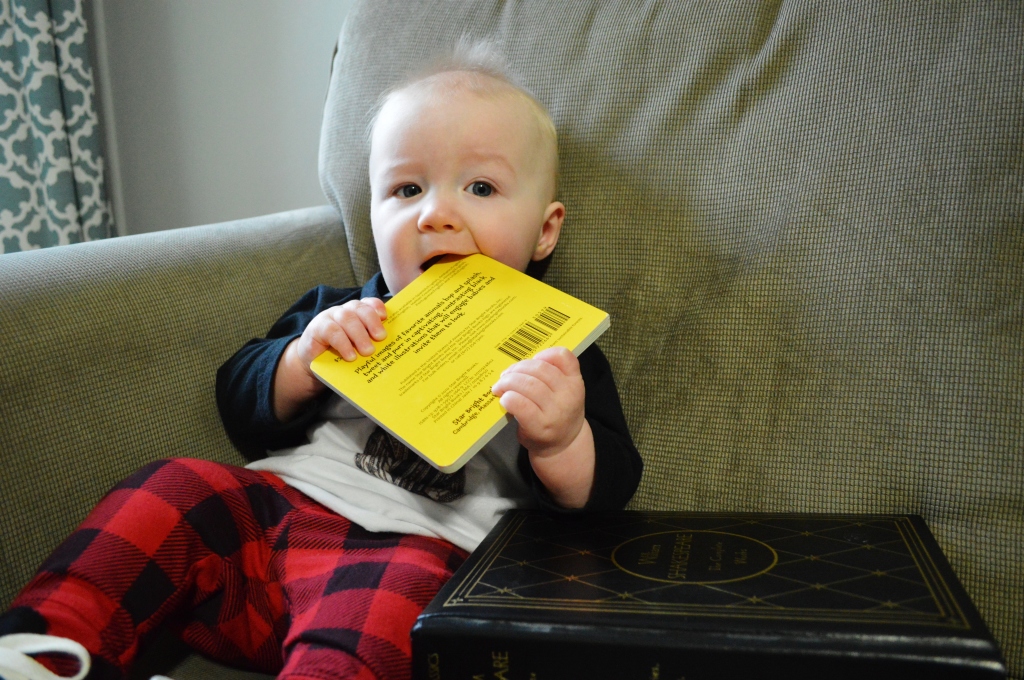 And, because they are so awesome, our friends at Wee Rascals have agreed to give a $25 shop credit to one of our readers!
Also, if you want to keep up to date with Wee-Rascals, sign up for their newsletter—I just got an email about a SALE and their NEW SPRING LINE launching soon— here! Rumor has it that they have some exciting stuff to come for spring!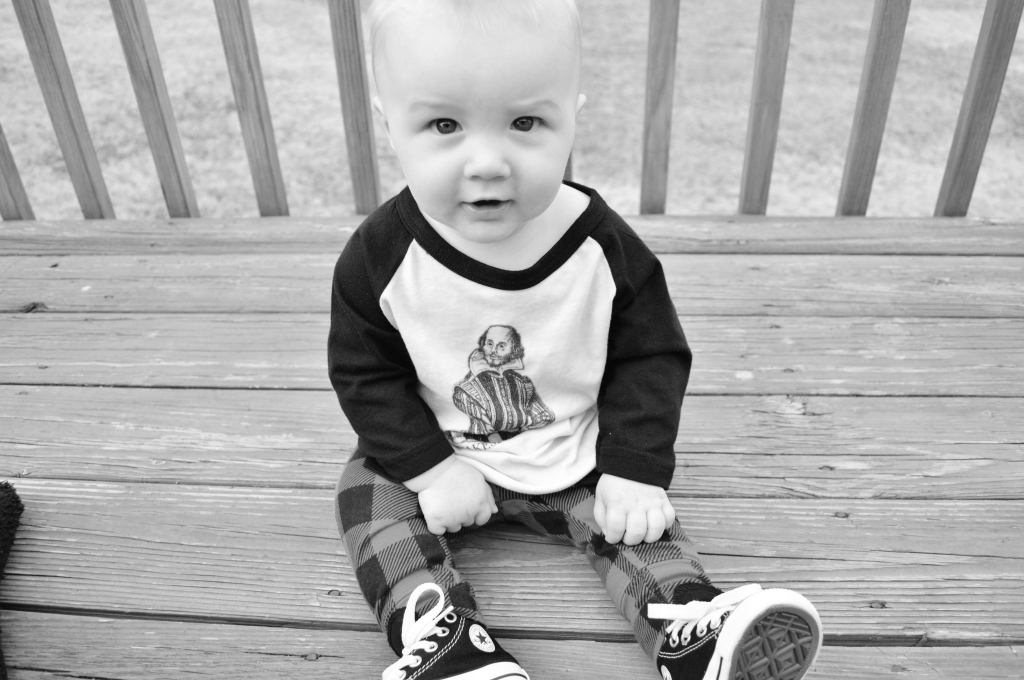 What real life heroes would you like to see your kids wearing?
**We were provided a shirt in exchange for this featured post. As always, all opinions are my own, and we don't feature products we don't honestly like and really use. Thanks!**