Let me be the first to say that I'm not the most girly-girly a girl could be, but that I'm also definitely not all that tom-boyish in my design taste. I generally like classic looks, with eclectic, fun, funky, and sometimes feminine touches. We both like antiques and pieces with a lot of character.
That being said, Wyatt's tastes and tendencies are more modern and masculine…as well as a bit…just boyish. To try and describe it more, I'd say he has a bit of a vintage juvenile flair to him, in a very charming, boyish way of course.
So, when we saw this bank at Target back when we were finding our "his and hers" pieces for the bedroom, I knew it was something he would like.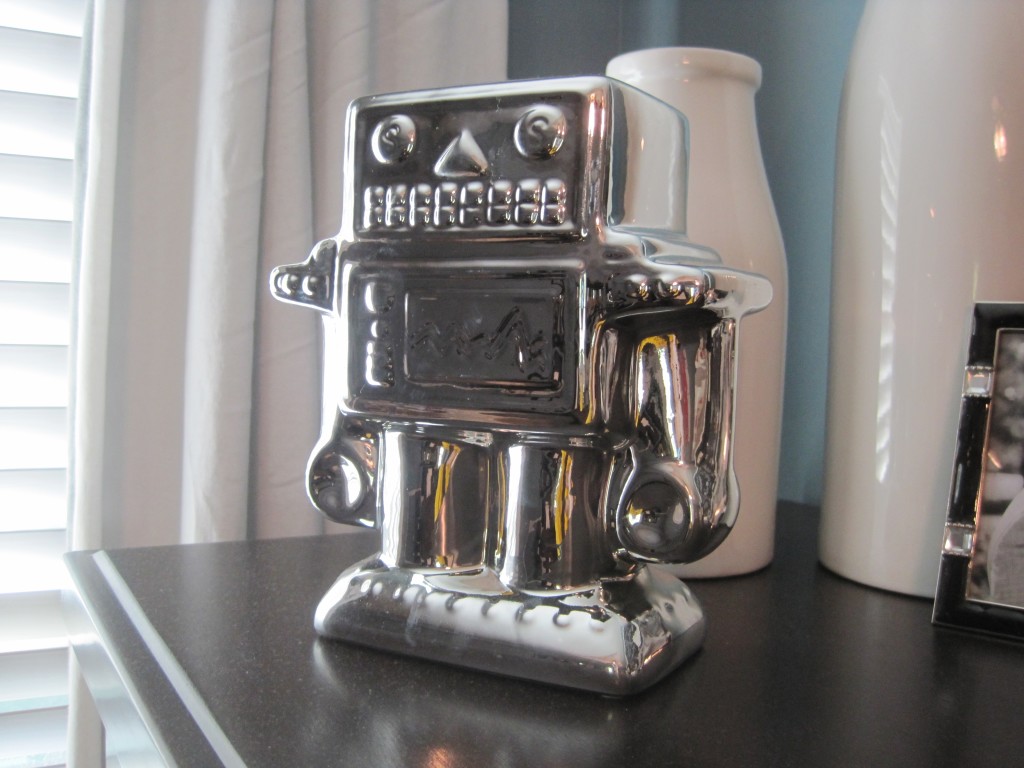 Of course, he'd prefer it to be a bit more realistic (painted blue and red like this), but I think the silver color gives it a little bit more modern of a look. More funky, less "toy-like," if that makes senses, so it's a fun compromise we both like.
Still, even though we both thought it was cool, we couldn't pull the trigger for an almost $15 bank we didn't really need. After all, we already have our Giraffe Pig that holds our loose change.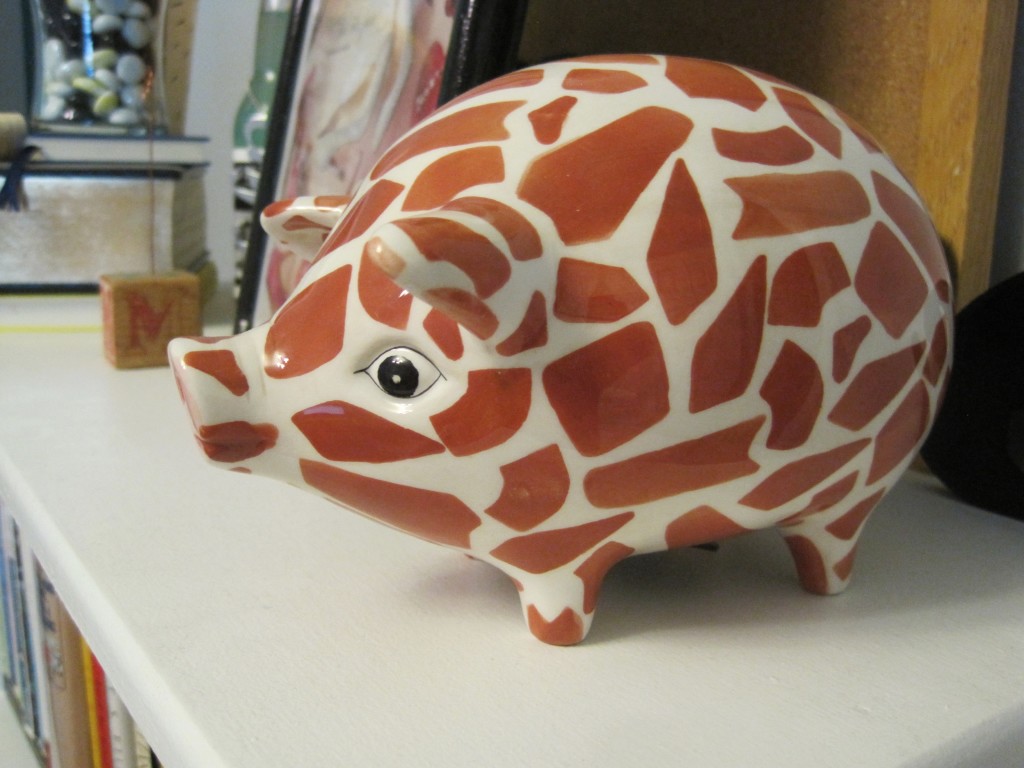 So, when we saw him later, still the last one there, marked at less than $12, it was tempting, but we still refrained. Every time we left the store, I felt a little pang of regret at leaving Mr. Robot there, but still, we resisted.
And then, when he was marked down to $2.98, we couldn't say no any longer. Clearly, he was meant to come live at our house. So now, he guards Hubs' pocket change at the end of the day.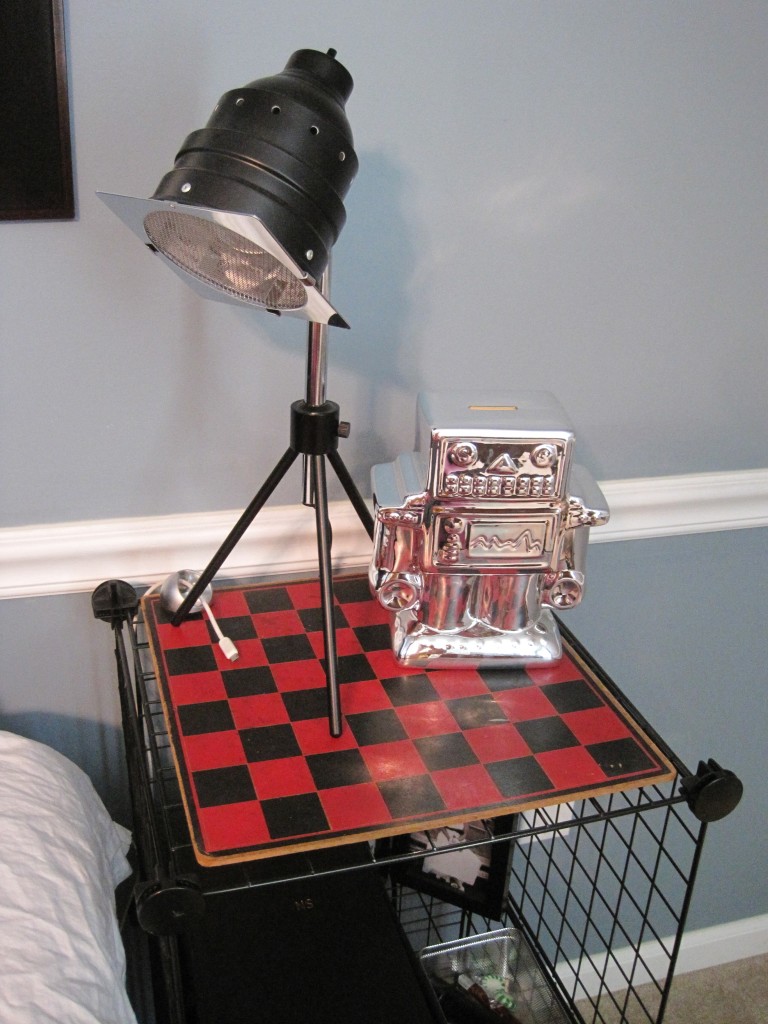 He also adds a touch of coolness and boyish charm to the room, don't you think?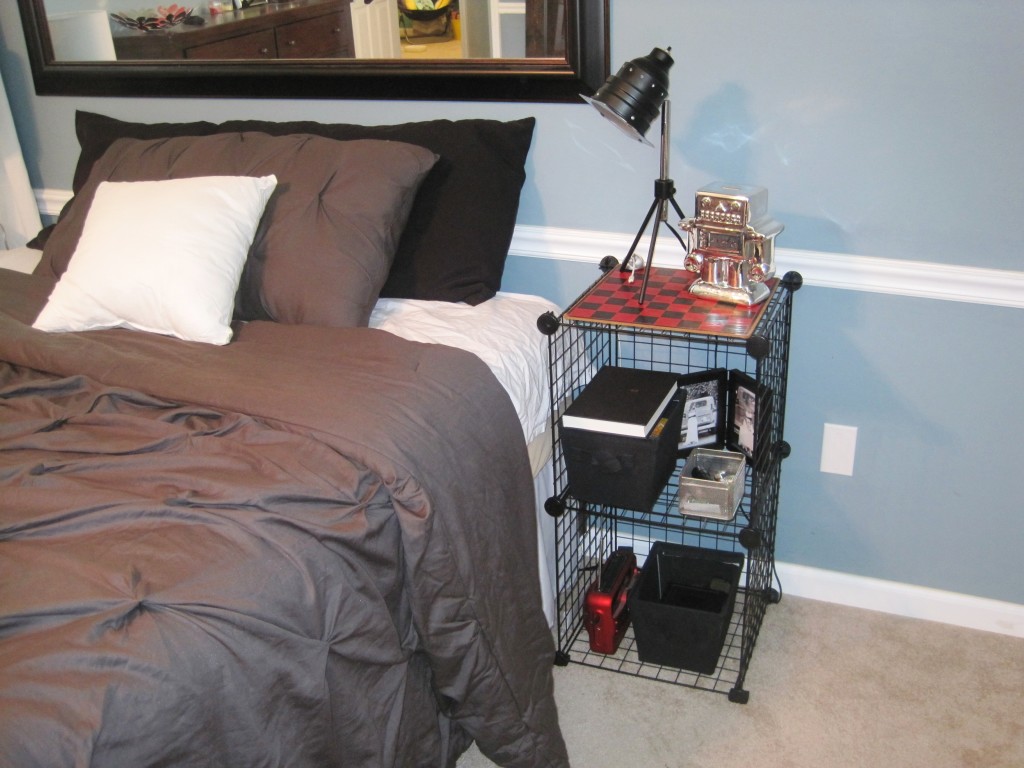 After all, it's a lot different than what's currently on my nightstand…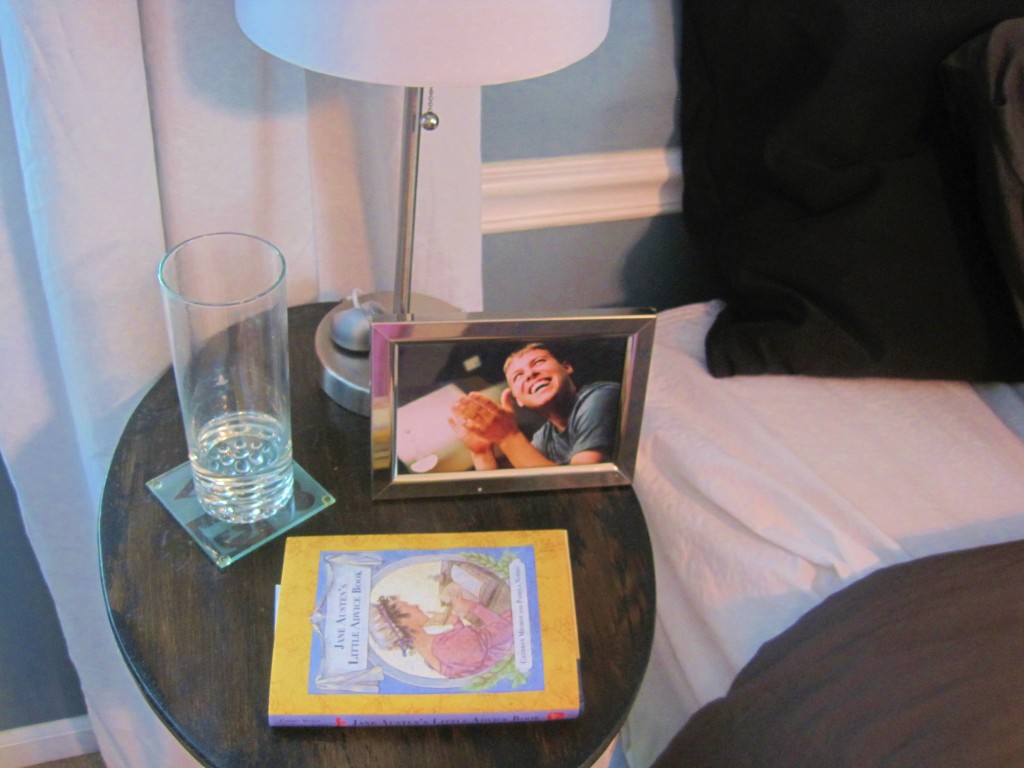 Meanwhile, Hubs went on a business trip to Washington D.C. and as part of his present to me when he came home, he returned with two little Cubebots for us to play with.  If you aren't familiar with Cubebot, he's a a little wooden puzzle/transformer/rubiks cube robot that folds up into a tiny cube or can be posed into a bunch of different robots shapes. Luckily for me, it comes with some instructions.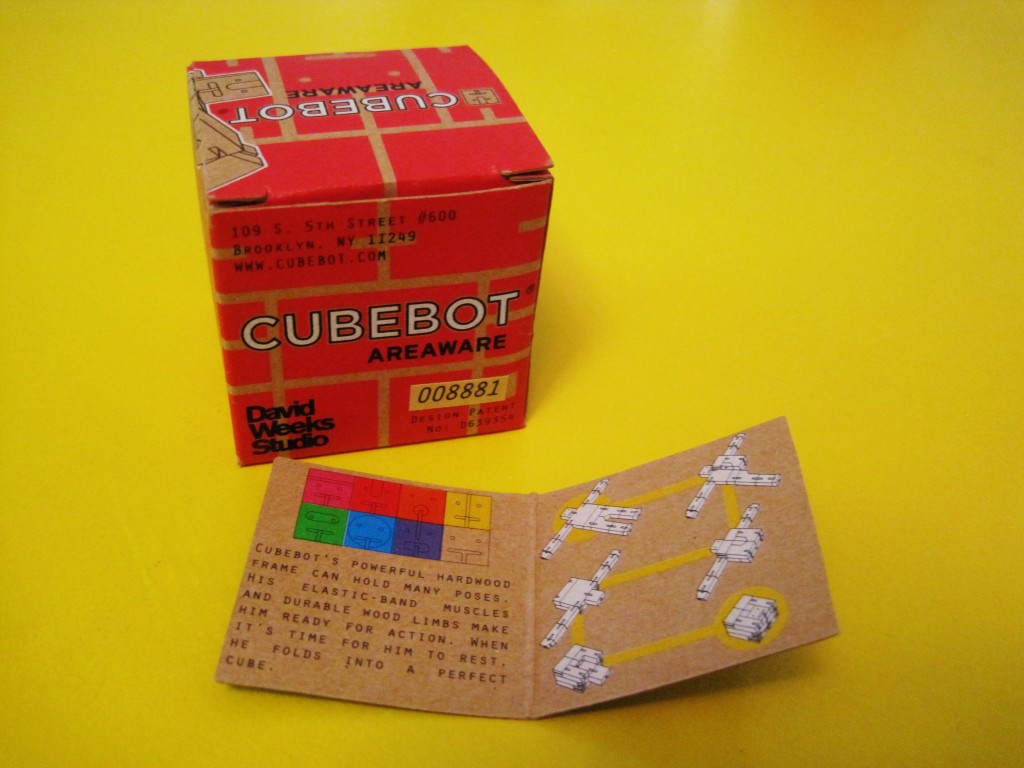 Hubs keeps his at his desk at work.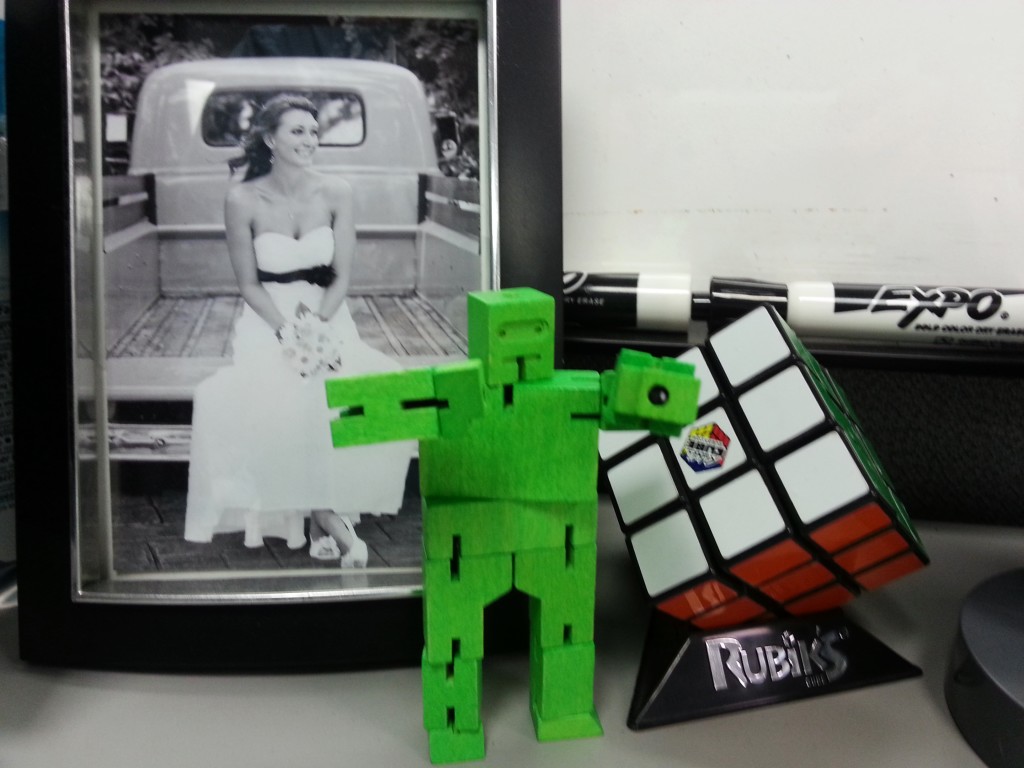 Mine is red and he hangs out on my desk at home.  They're our work robots I guess.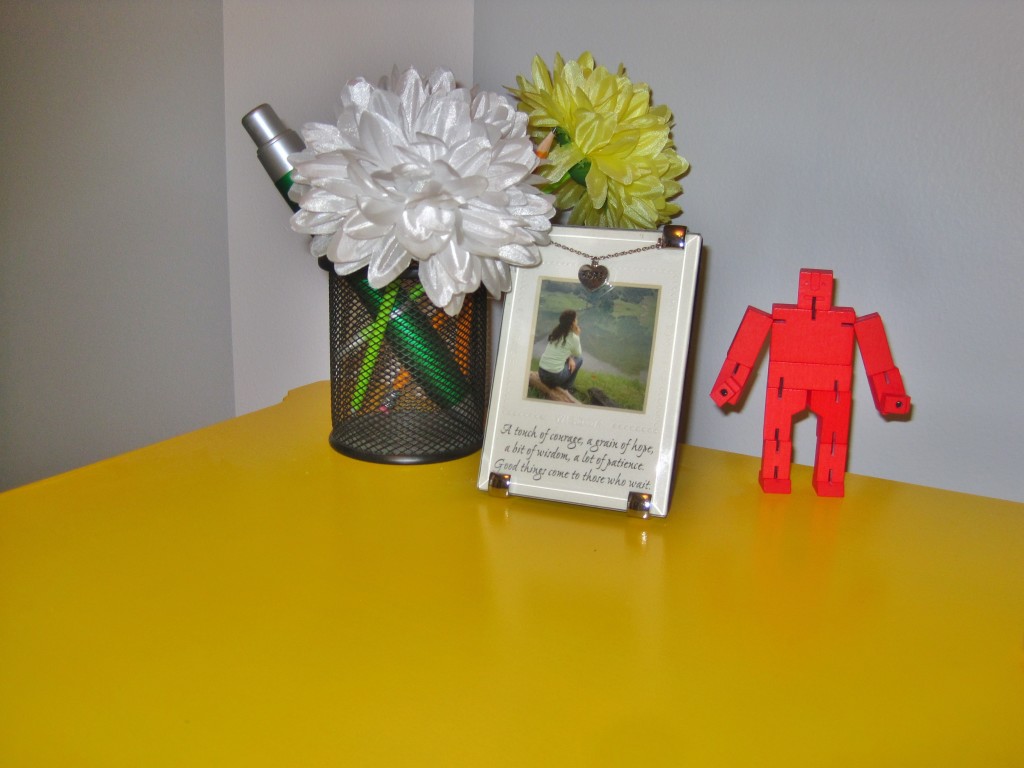 Sometimes, he even has little notes to share with me.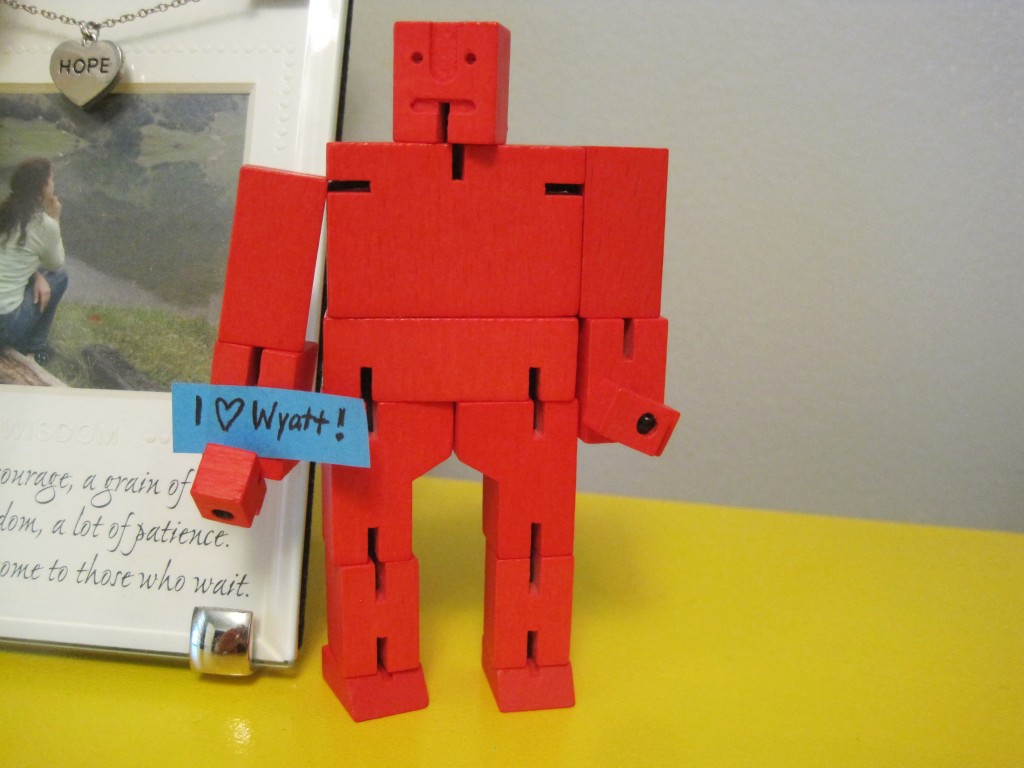 But usually, he just stands there, looking cool and reminding me of the wonderfully boyish man I married. Although, in reality, who doesn't love cool wooden toy robots?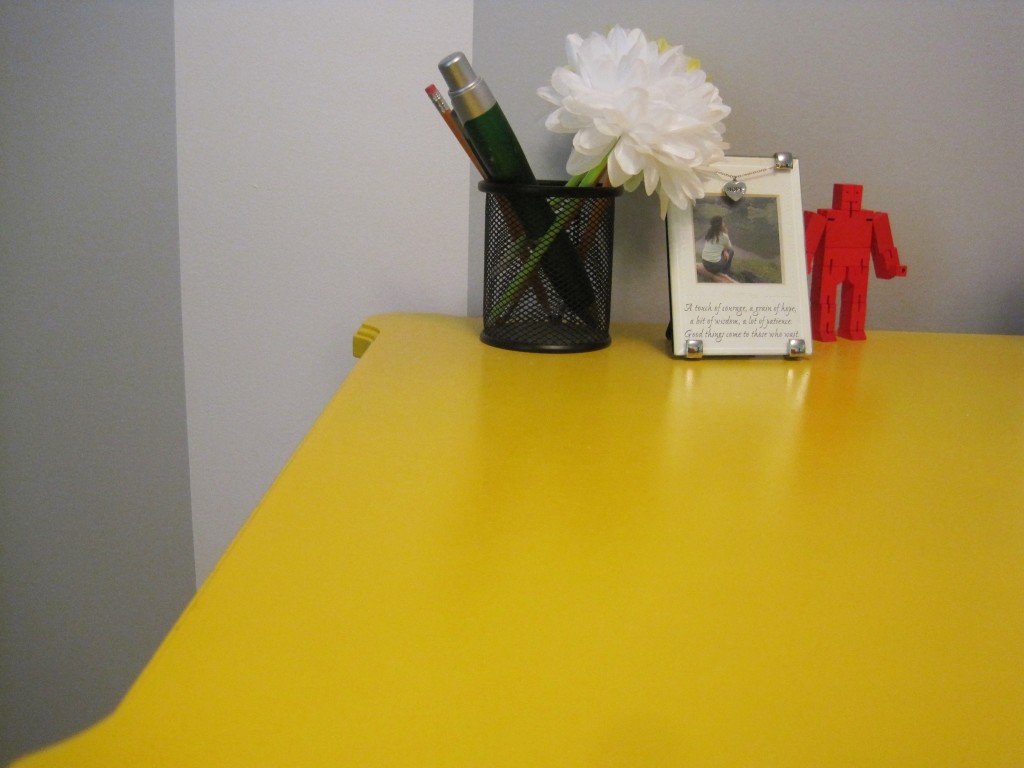 And who wouldn't enjoy putting their pocket change into a robot every night?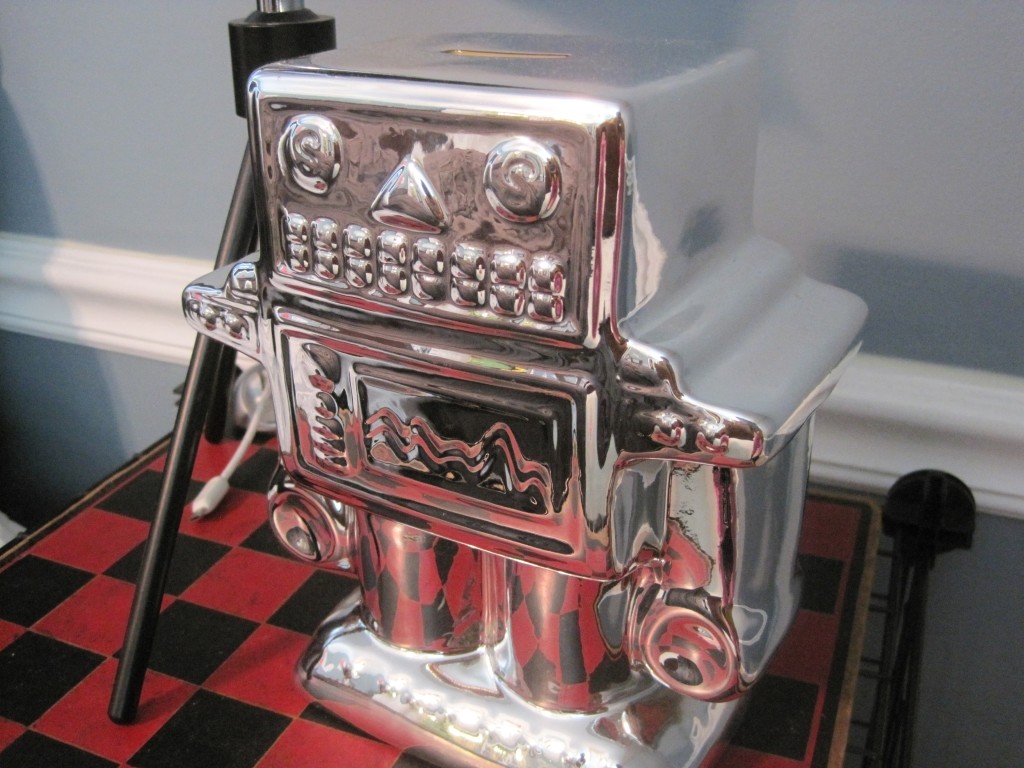 So, that's the story of how I, the semi-self-declared girly girl, came to know and admire three handsome robot men. I never imagined myself having a robot collection, especially one that invaded our home within the span of about three weeks…but I think that's why I like our eclectic sense of style that makes room for a few random pieces and reminds us not to take ourselves or our home too seriously.
What surprising collections do you have in your house? Any characters you didn't imagine you'd ever enjoy as much as you do? How do combine two styles into one cohesive home?
P.S. If you like this bank, it's no longer sold at Target—we might have gotten the last one! But they do have a bunch of other awesome ones, here. (That giraffe one—oh-my-adorable, right?!) Also, I found the silver robot, here, if you're interested…but no idea how long it's available or how credible the seller is.
Also, Target doesn't know I'm writing this post, so they certainly aren't paying me to try and sell banks. I'm just passing on the deets for you all.