Remember back when I tried, and failed, to stain the top of my nightstand a darker color? This was after priming it, painting it, then distressing it with sandpaper and adding an accent color.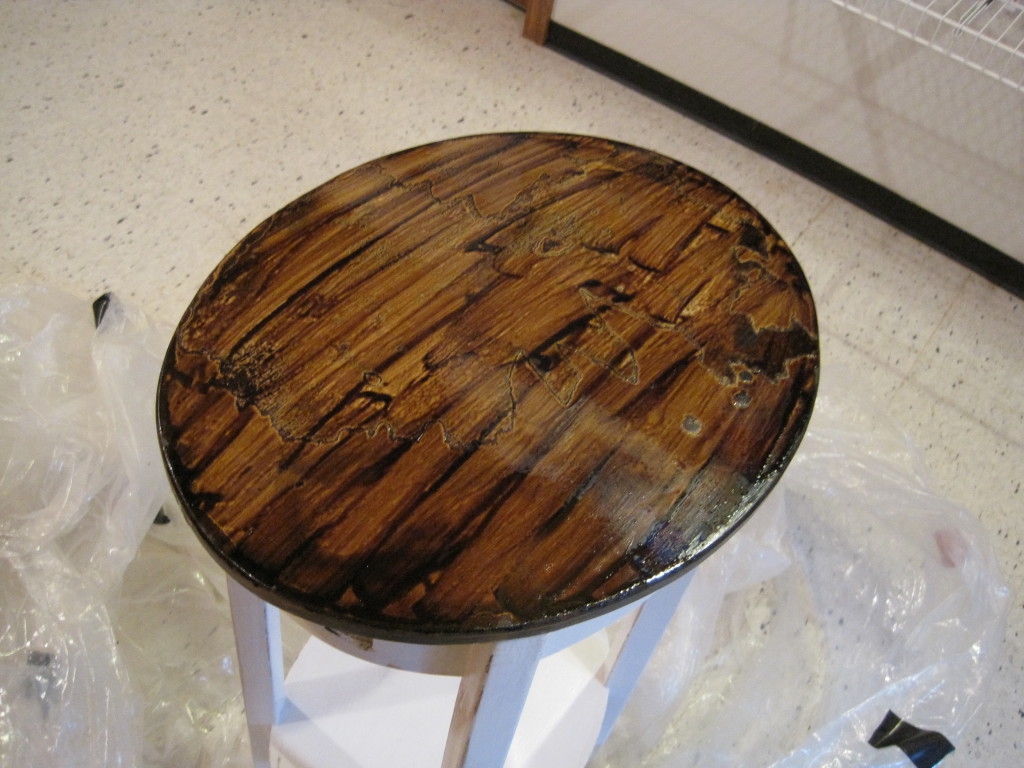 Here's the post, for a reminder. 
Well, this week, we finally finished it.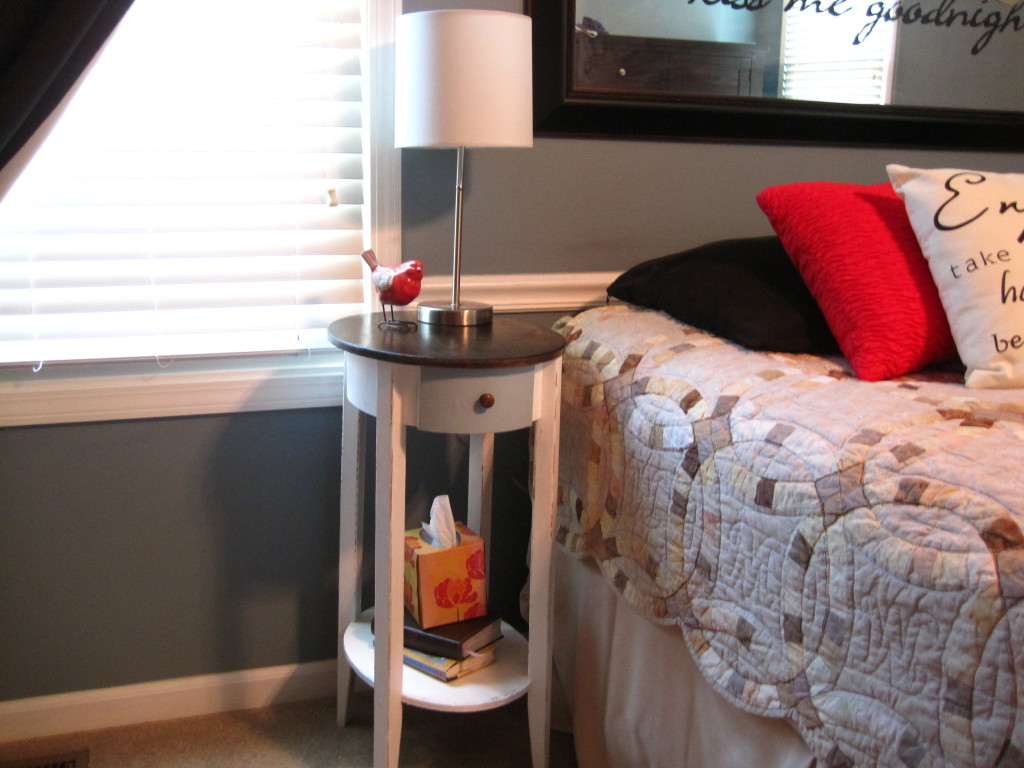 I almost hate to even admit how we got this finish, but since I'm always honest with you all, I guess I have to. Here's how it went:
Per the suggestion of my brother-in-law, we grabbed a small can of oil-based Rustoleum enamel.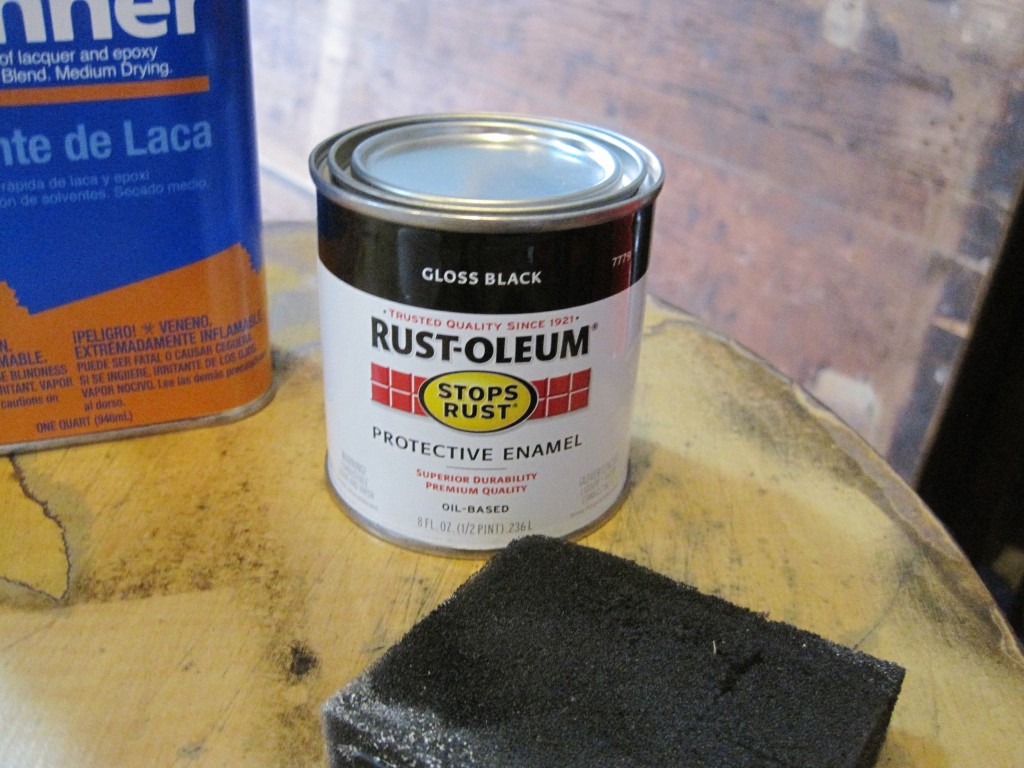 Home Depot only had black, white, and maybe blue in stock. We choose black and then thinned it with lacquer thinner to make it more transparent. (We only had lacquer thinner on hand.) We researched online to see if lacquer thinner would work instead of paint thinner and it seemed to be safe, even preferred by some for its faster drying time. Maybe this was mistake number one?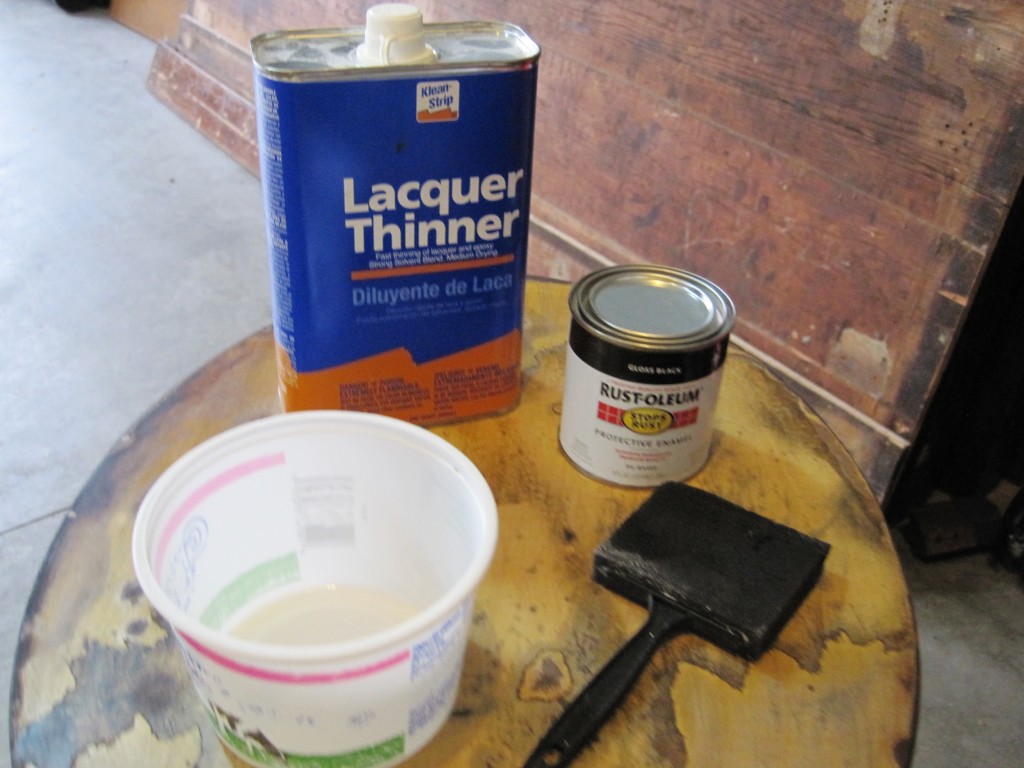 We were hoping it would go on lightly to tint the surface slightly darker.
Unfortunately, it was too thin at first. In fact, you could barely see it.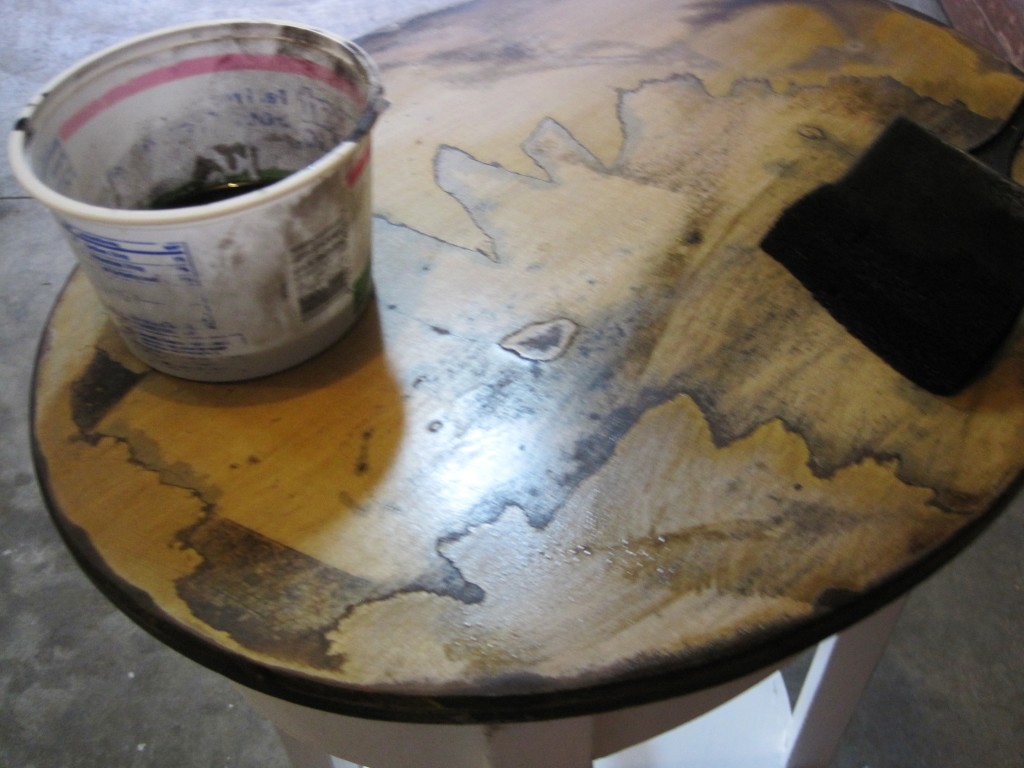 So I added more paint, which helped, but after one coat, it wasn't really the look I was going for. I ended up wiping this off and trying again.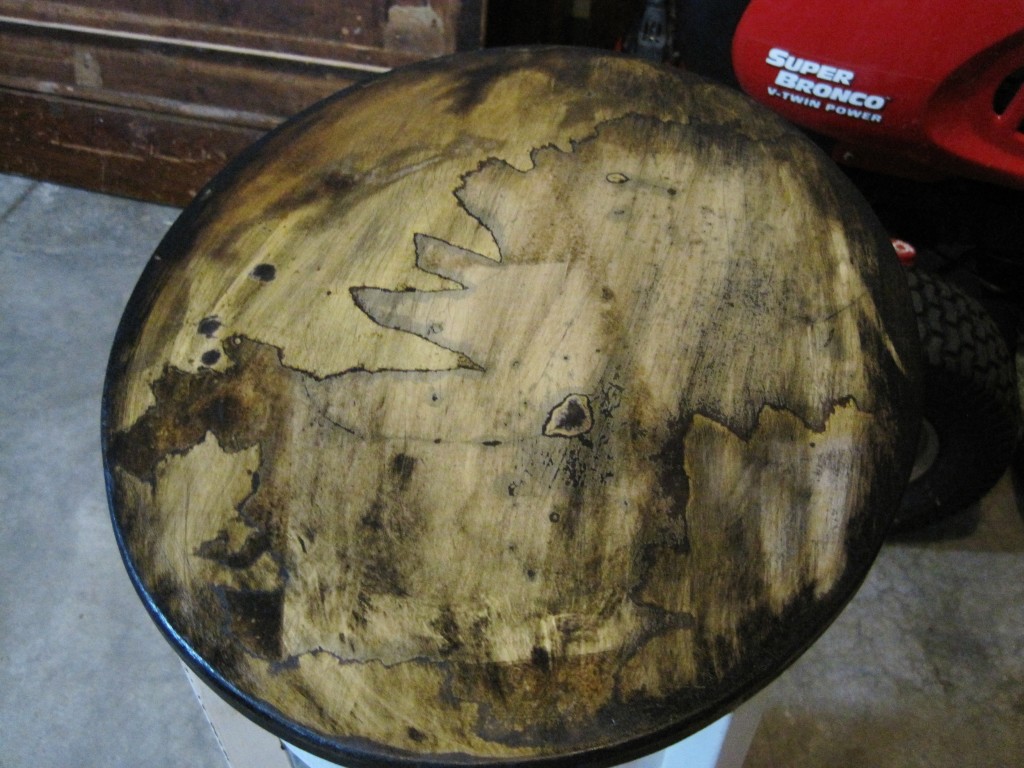 And then, on a whim, I decided to add a splash of Expresso Min-wax stain, to hopefully make it more brown instead of just black.
Surprisingly, this concoction worked.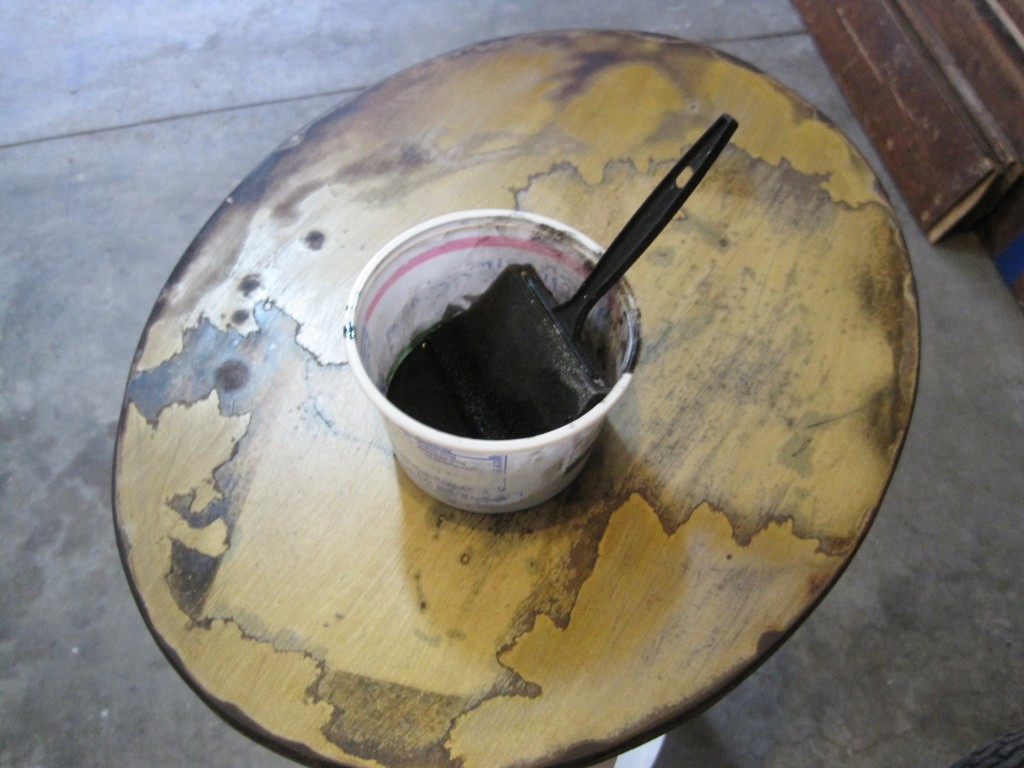 After slowly and pain-stakingly brushing it on with a foam brush, it looked like this. Dark and lovely. A little streaky, but still, pretty good!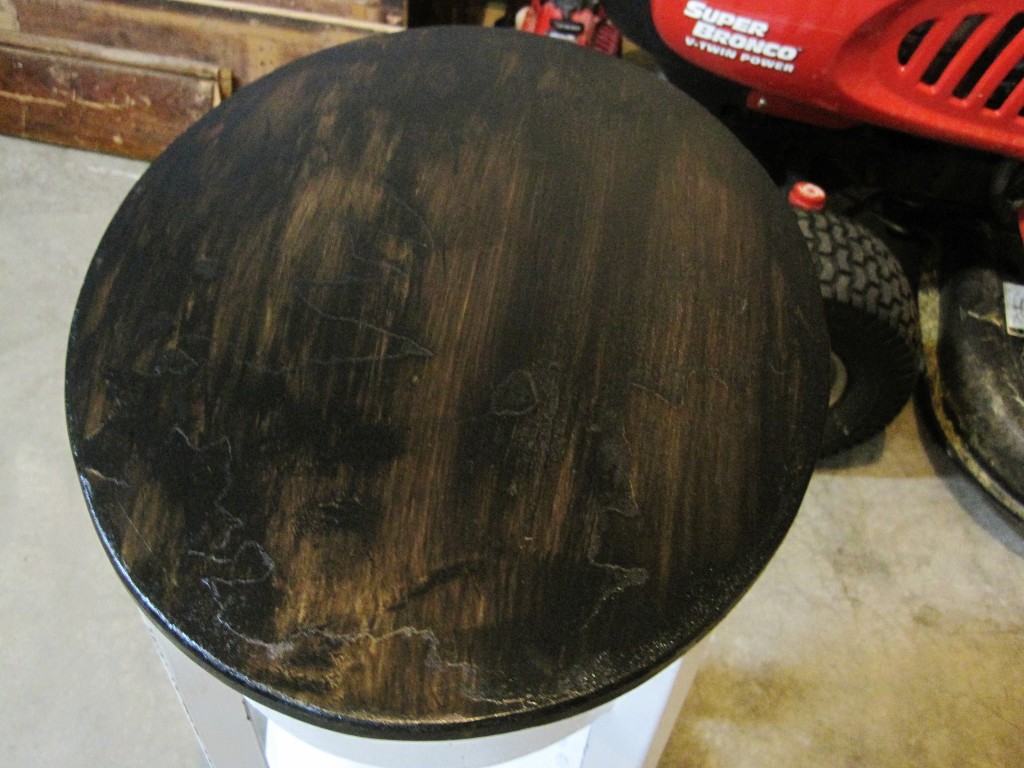 We let it dry overnight, and it looked awesome the next day. I was super pumped about how this project was turning out.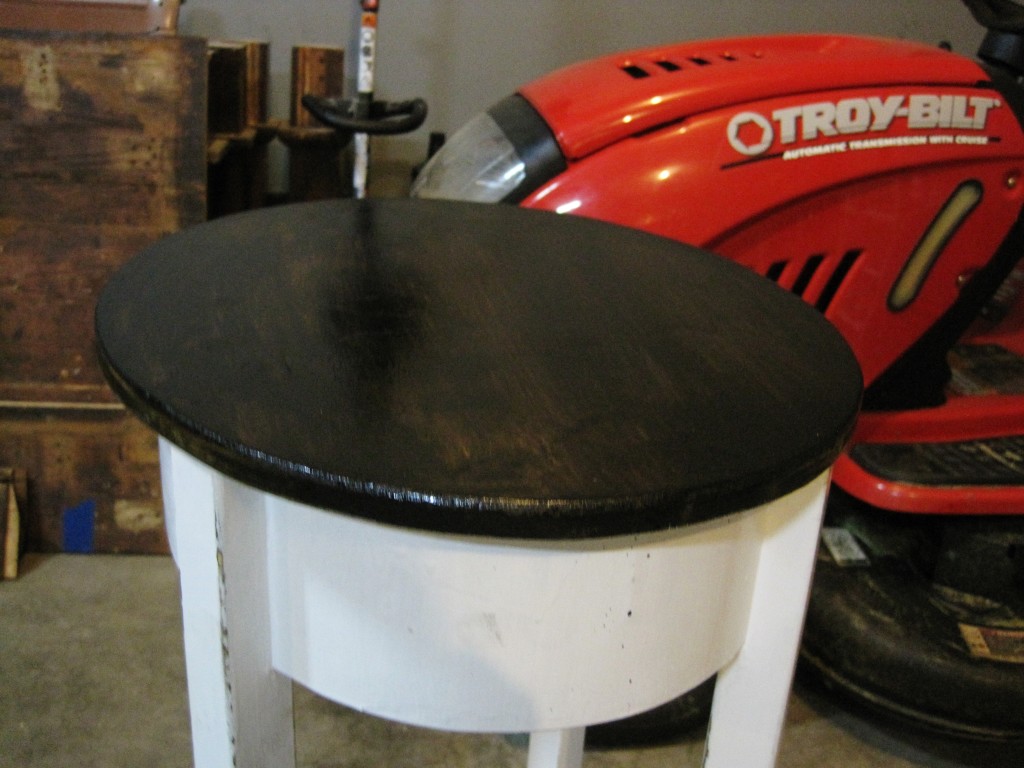 The next night, I asked Wyatt to add a coat of lacquer to help protect the finish. We didn't think twice about this, but should have, because after one brush, Wyatt could tell something was wrong.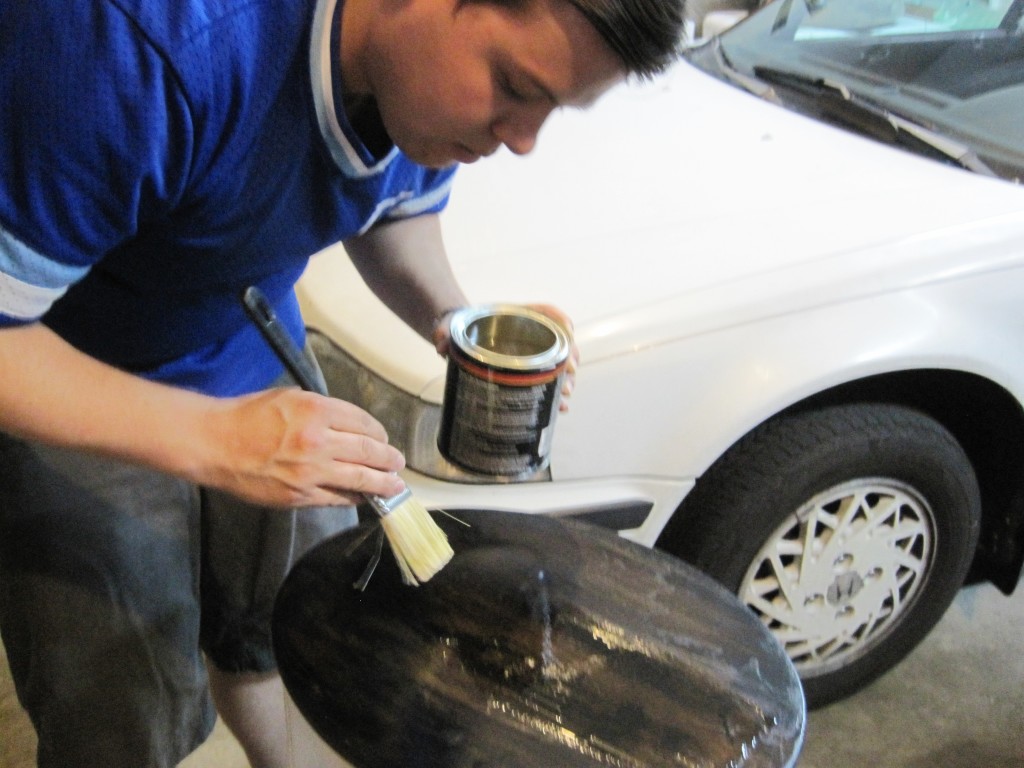 The darker color started to bubble up, which was an unexpected problem…a big problem!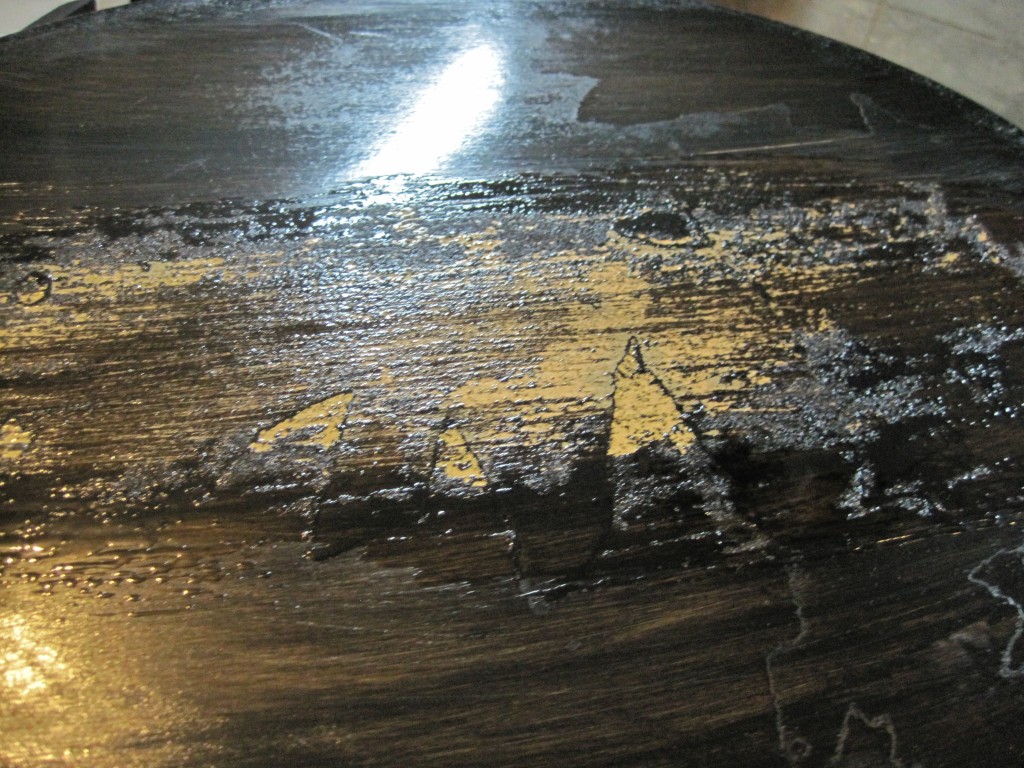 And each brush stroke took off the color more!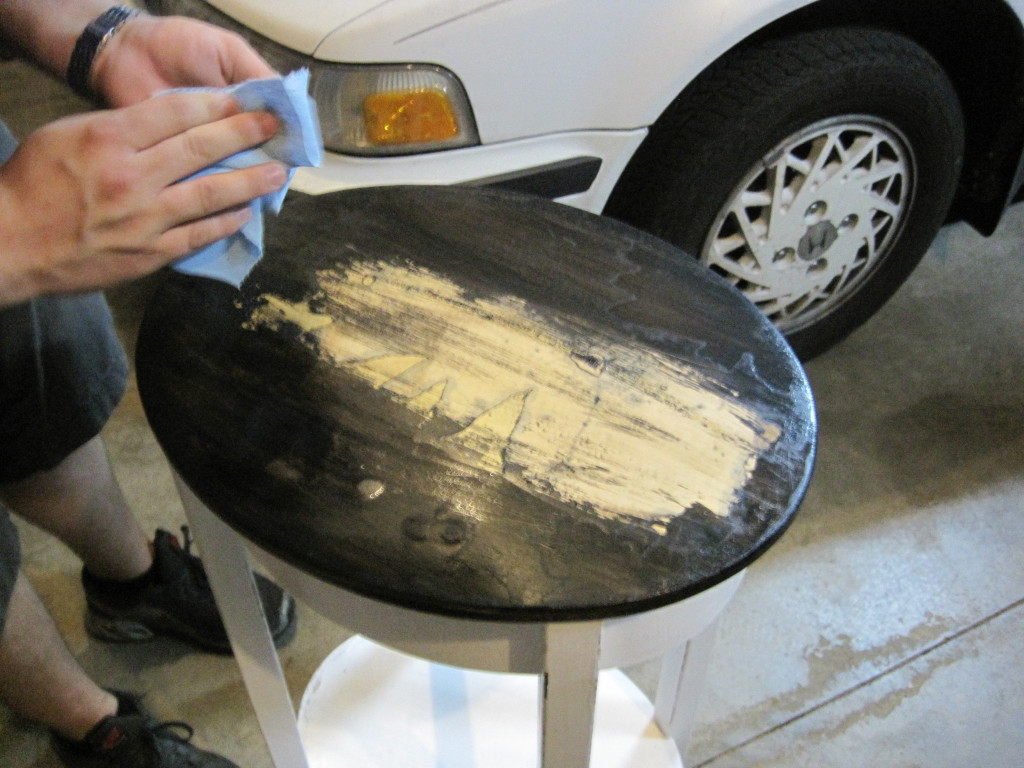 We're thinking some sort of reaction took place between the lacquer we were brushing on and with the lacquer thinner that was part of the paint mixture we're used in the first place. Not sure why the dried lacquer thinner/paint mixture was able to react with the coat of lacquer, but somehow, something didn't work.
I was so upset I wanted to cry, but I managed to control my anger and frustration enough to mix up a new batch of my paint mixture while Wyatt removed the rest of the color and prepped the surface for me to recolor it. Again.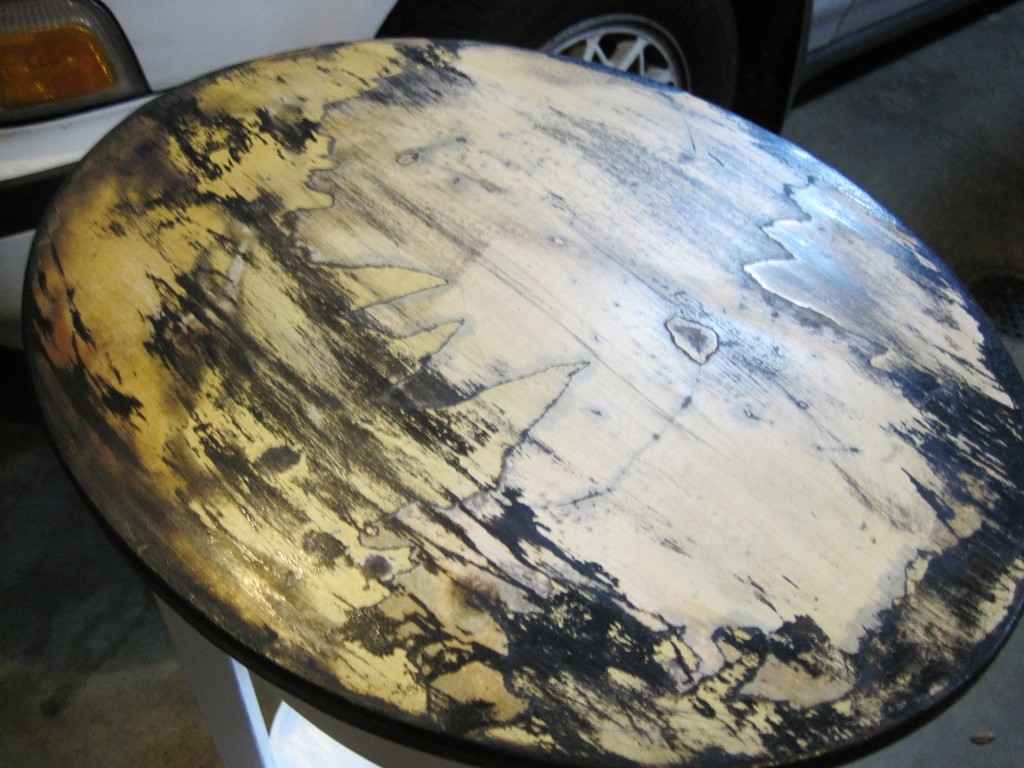 Finally, after reapplying the color, this time a little lighter (the mixture was a bit thinner I think), we called it quits for the night and I sat down on the couch with a glass of wine and did a little deep breathing to calm my nerves. Wyatt did his best to convince me, and I did end up agreeing, that it looked even better this time around. It's a little lighter, which shows the character more, and it looks a bit less streaky, with the dark stained/ashy parts showing through. Perfect.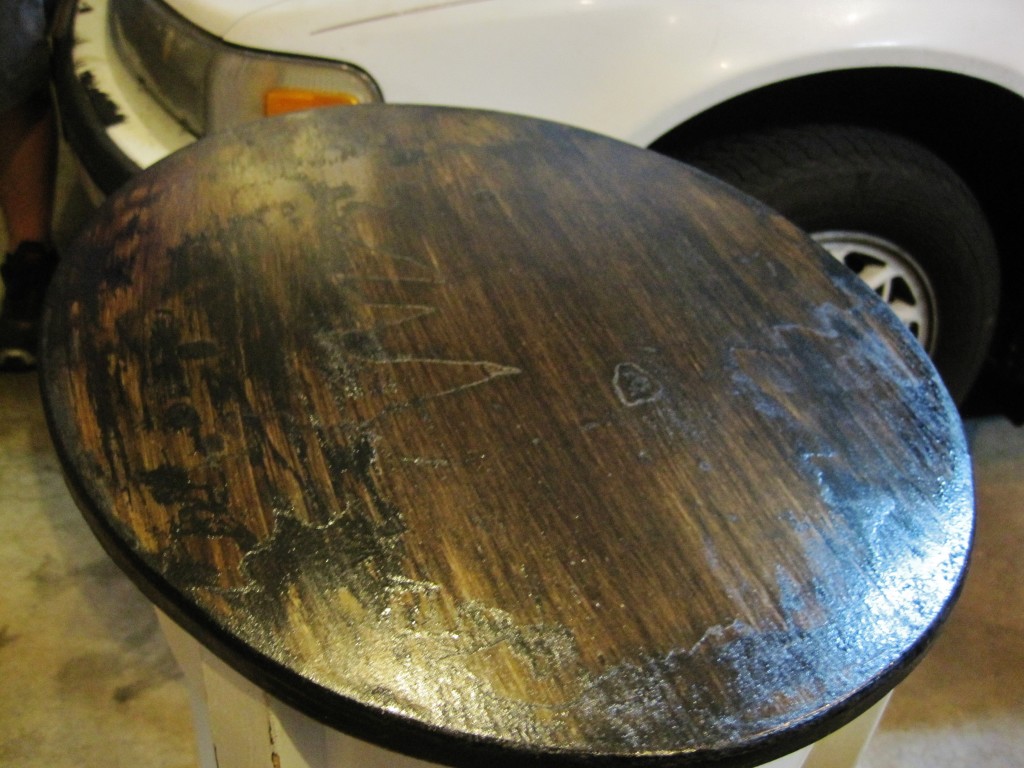 Salvaging this little table has been SO MUCH EFFORT.
Here's a look back at the steps we've gone through to get it to this point, posts here, here and here, for refresher purposes if you're interested.
It started out with a light, almost yellow, wooden veneer finish. My Aunt remembers going with my great-grandmother to the furniture store to pick it out. A bunch of years later (maybe 30? 35? 40? I'm not sure…) the house burnt, and this was one of the pieces of furniture that didn't get completely ruined.
I saved it from the house before they tore it down, cleaned it up, painted it white, distressed it with sandpaper, painted the drawer blue, and then tried, unsuccessfully, to stain the top…twice. Finally, it's done: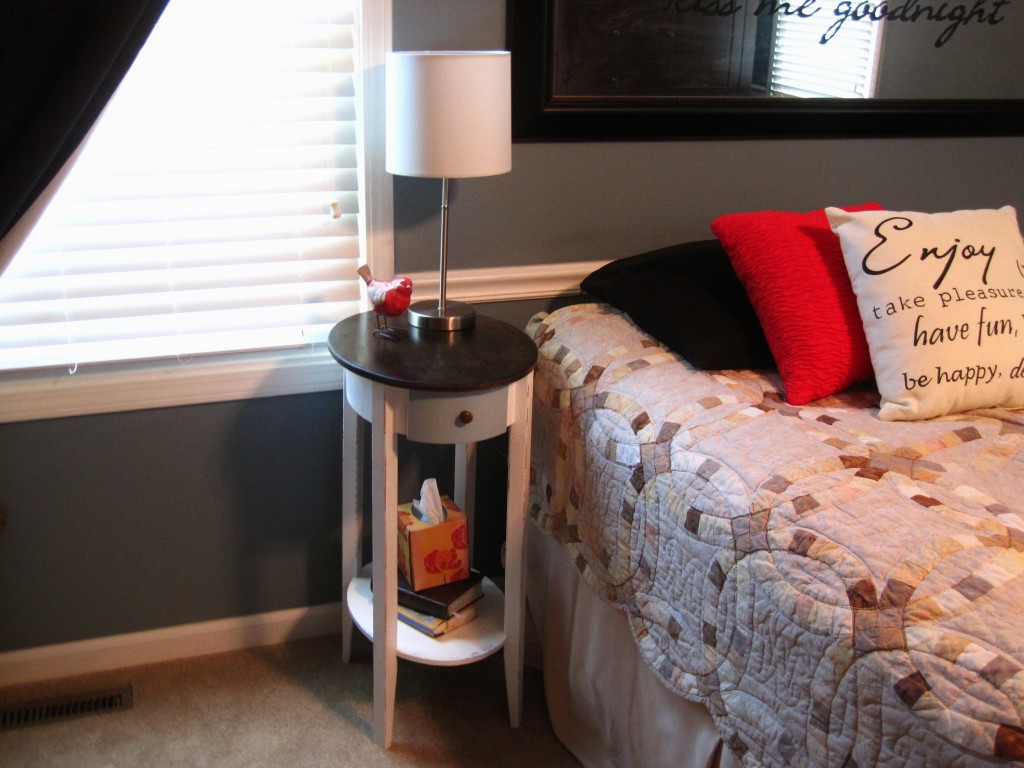 I love how the top turned out.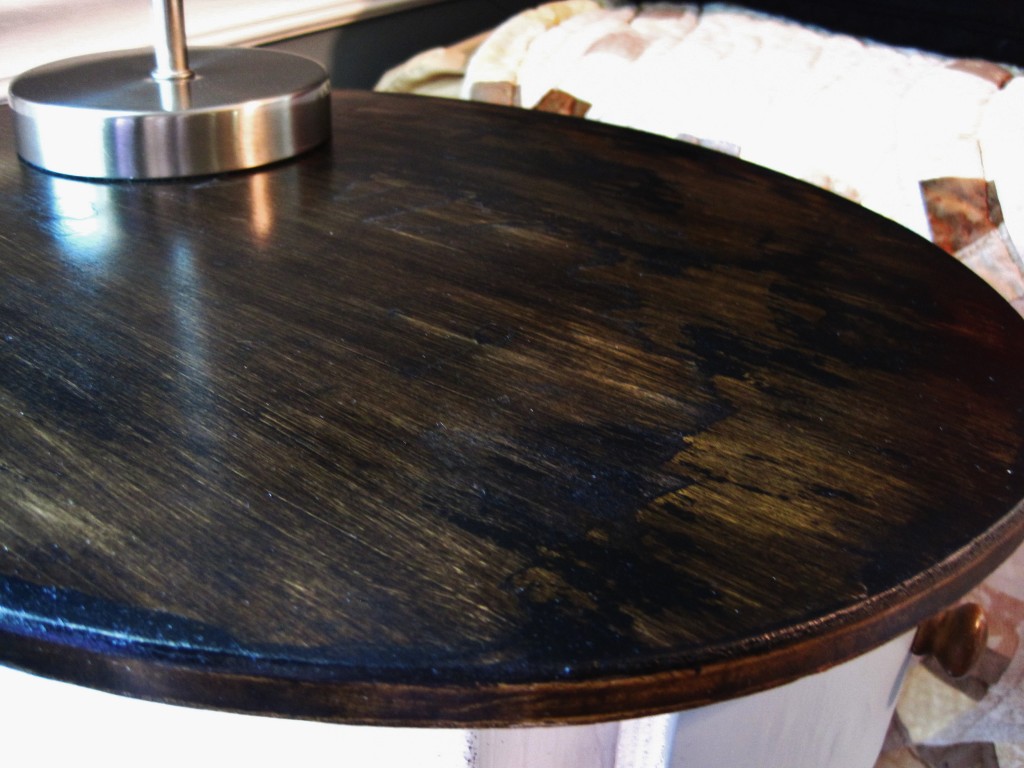 It's dark enough that it matches our other furniture, and it's light enough to still see the damaged surface from the fire. Plus, it's just pretty, I think.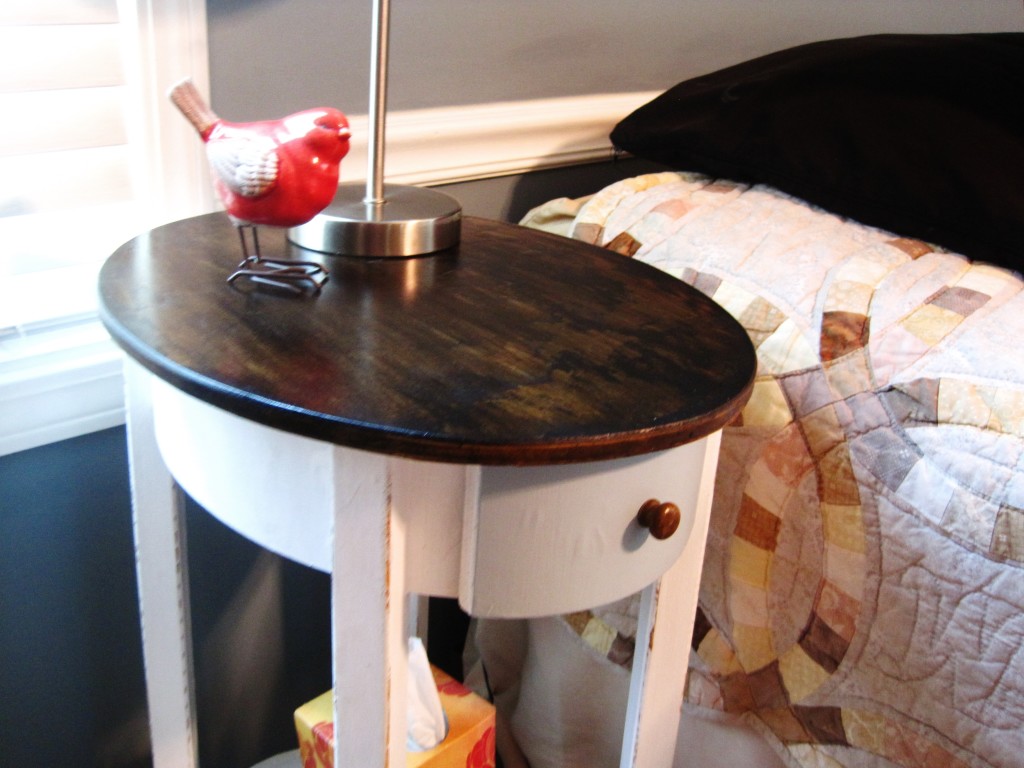 We ended up using several thin coats of Rustoleum's spray enamel on top of the finished stain/paint layer, which worked with no problems, and gives me an extra layer of protection against scratches or spills.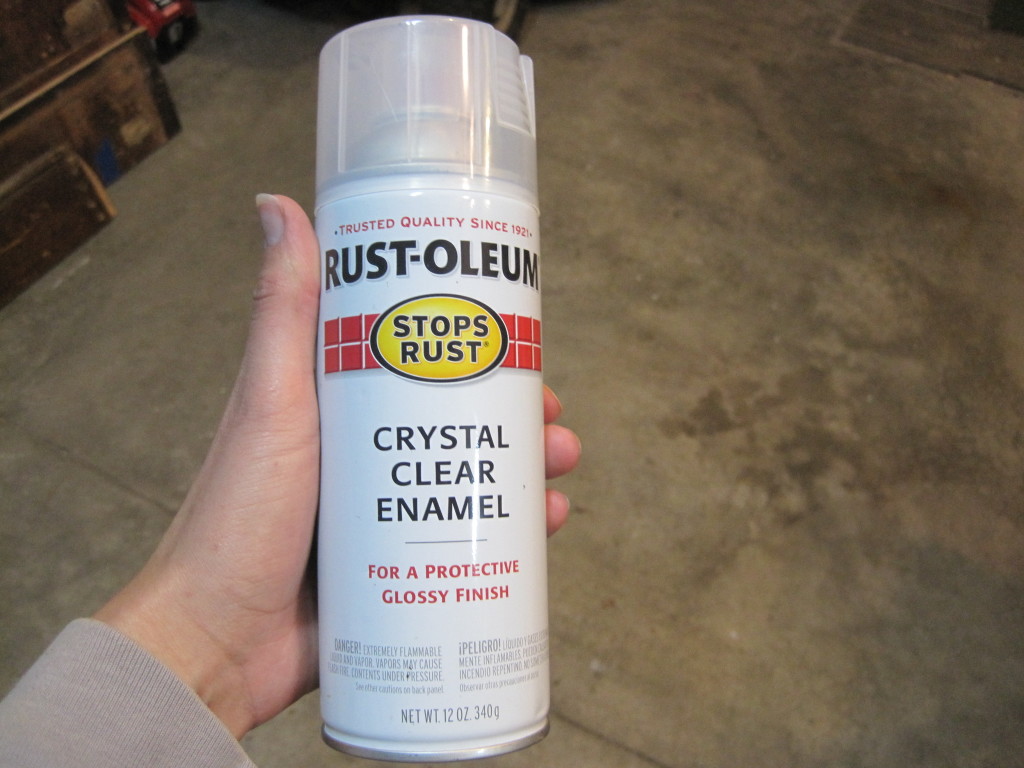 I have to admit that I think it was worth all the extra trouble.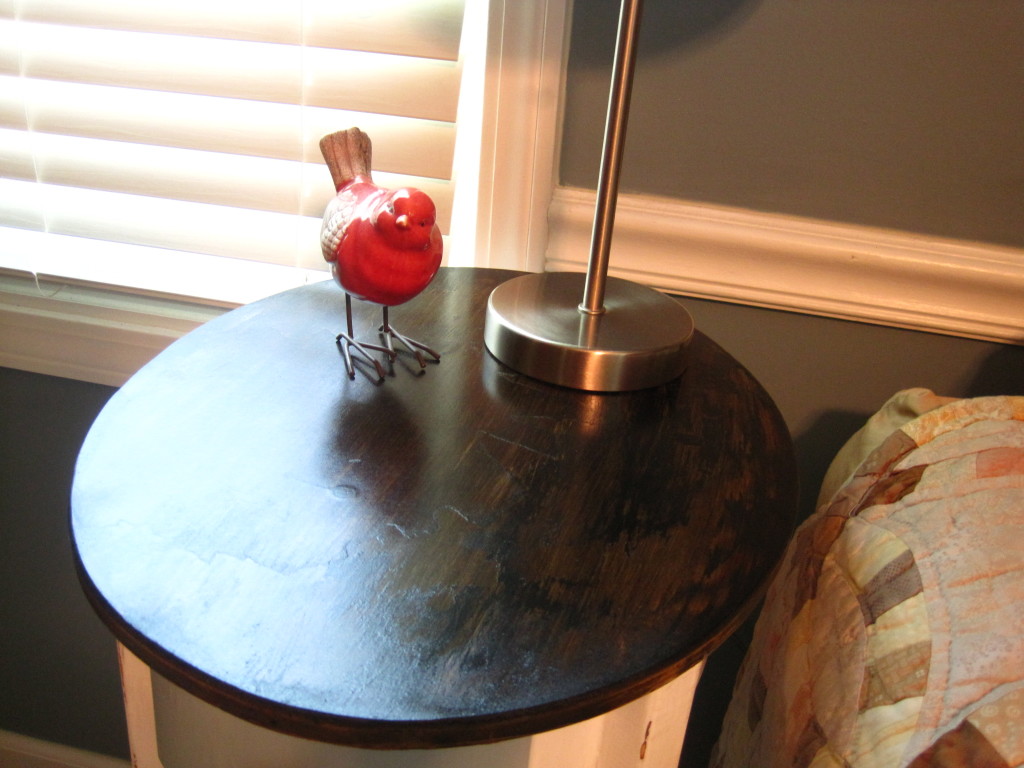 In fact, it's one of my favorite pieces of furniture in our house now!

Have you had any projects that drug on and and on and on like this one? I've been working on this for almost 6 months now! Have you had any projects that were a royal pain in the tush, but that ended up being totally worth it? Maybe you're still working on something that's taking a toll on your patience? Share your struggles and successes here!