---
Guys, I know I'm super behind the times when it comes to blogger trends so I wasn't planning to blog about this, but I just got my first Stitch Fix box (and posted about it on Instagram) and I got so many questions, I figured it was worth a blog post. So, if you're here just for the house stuff, bear with me or feel free to skip this post. There are a bunch of awkward photos of myself standing in our poorly lit bedroom, though, so feel free to read on just to laugh at how ridiculous I look.
For those of you who aren't immersed in blogger culture (like, my mother, for example), Stitch Fix is a subscription box service that sends you clothes that are chosen by a stylist specifically for you. I didn't say monthly subscription box because you can choose how often you receive them, or receive them on demand, which is what I'm doing right now.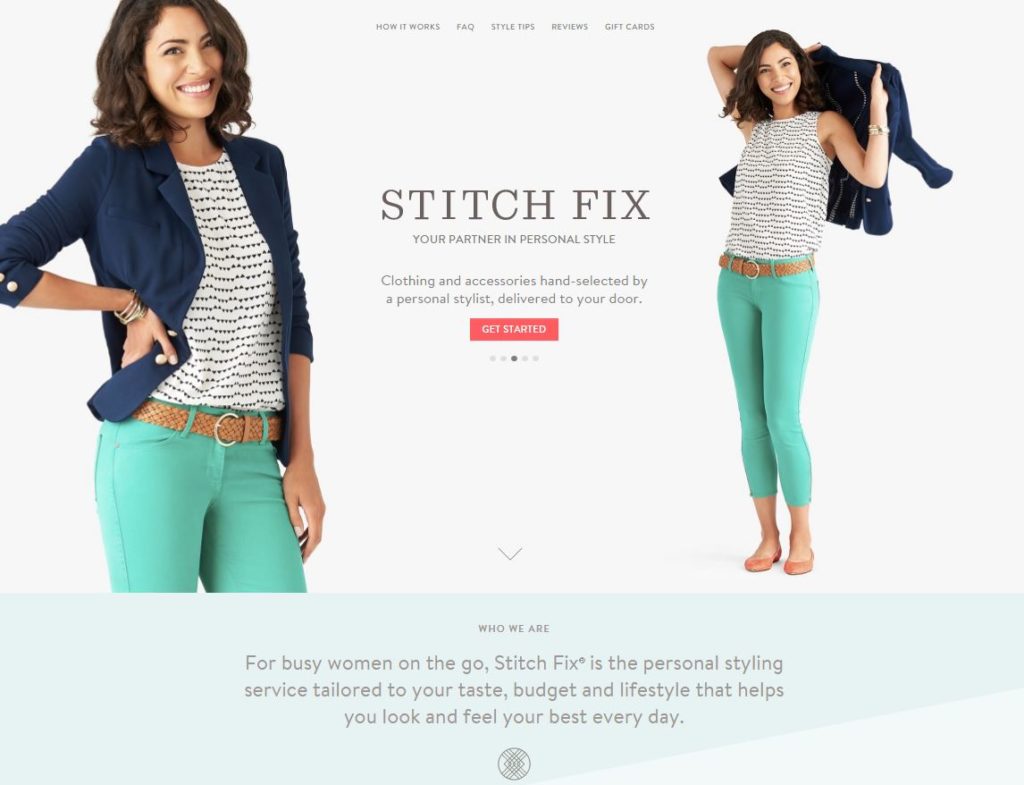 The premise is that it's more fun and convenient than spending hours at the mall. Plus, you get the option of trying things on with pieces you already have in your closet and in natural lighting, assuming you don't do this late at night after all the natural light has set for the day. But, to me, the most fun part about it was the surprise of what they might send.
Of course, you could be surprised in a bad way and hate everything they send you…and that is likely to happen at least some of the time, but in my case, I was pleasantly surprised.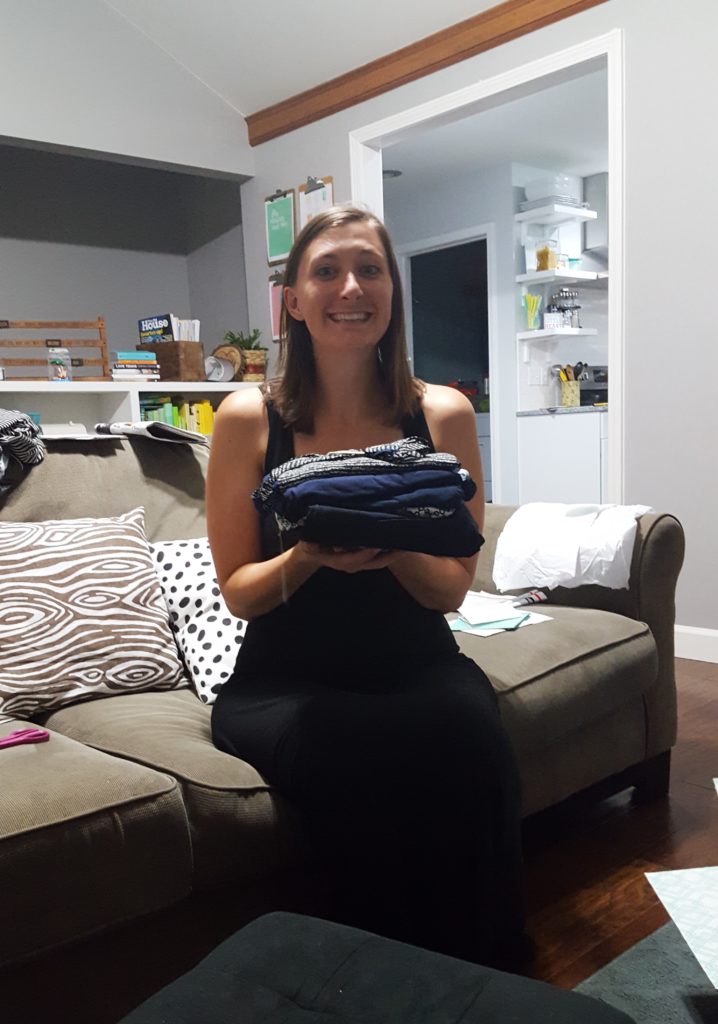 Anyway, the service charges you a $20 styling fee and then sends five pieces in each box for you to review and choose your favorites. The $20 styling fee is credited to your account if you purchase any of the items from your box, so you aren't "out" any money for the service itself…unless you don't buy any of the items. Then, you lose that $20 and send all your pieces back with nothing to show for it but the tale the tell.
I have wanted to sign up for awhile but put it off because I kept hearing the phrase, "quality pieces to invest in" which scared me off.
I'm a bargain shopper through and through. I used to have a rule if something was over $10, I didn't buy it. Can you imagine never buying clothing that cost more than $10? No wonder my closet is full of stuff that doesn't fit perfectly and doesn't really match my style that well. But, with an average item price of $55, per Stitch Fix FAQ, I was worried I wouldn't be keeping anything. If you choose to buy all 5 pieces, you do get a 25% discount off of your entire purchase, which does help a lot, but again, you'd have to like everything they send, and even then, it will run you around $200 for 5 pieces of clothing.
Ouch.
All that said, I signed up when there was a $25 credit available. (They don't do that often so I jumped at the chance!) That means, I wasn't out anything even if I didn't keep any of the items. A safety net, if you will, since my credit covered the $20 styling fee and then some. As it turned out, I only kept one item, but still, that one item seems pretty great so far.
They have you fill out your own style profile with sizes and preferences and a bunch of questions about, you guessed it, your style. I found it sort of fun and honestly, it was helpful for me since I'm slowly and surely working towards a capsule wardrobe. It was fun to think about things I like, dislike, need, want. It wasn't so fun to think about my sizes, but that just comes with the territory so I took one for the team.
Alright, ready for the Stitch Fix photos and item-by-item review? Here we go! If you want to sign up for a Stitch Fix of your own, CLICK HERE.
Item 1: THML Leomie cutout Back Blouse – $48
Apparently I was really tired when I was trying these on. #Momlife.
This was cute when I held it up out of the box, but honestly, I didn't think it looked that great on. Not only were bra straps going to be an issue, (Who has time to worry about that these days, and do they even make convertible nursing bras?!?) but, it just felt boxey.
Wyatt's take: "Interesting, but not worth the price." I agreed.
Status: RETURNED
Item 2: Loveappella Mani Button Back Mixed Media Knit Top – $58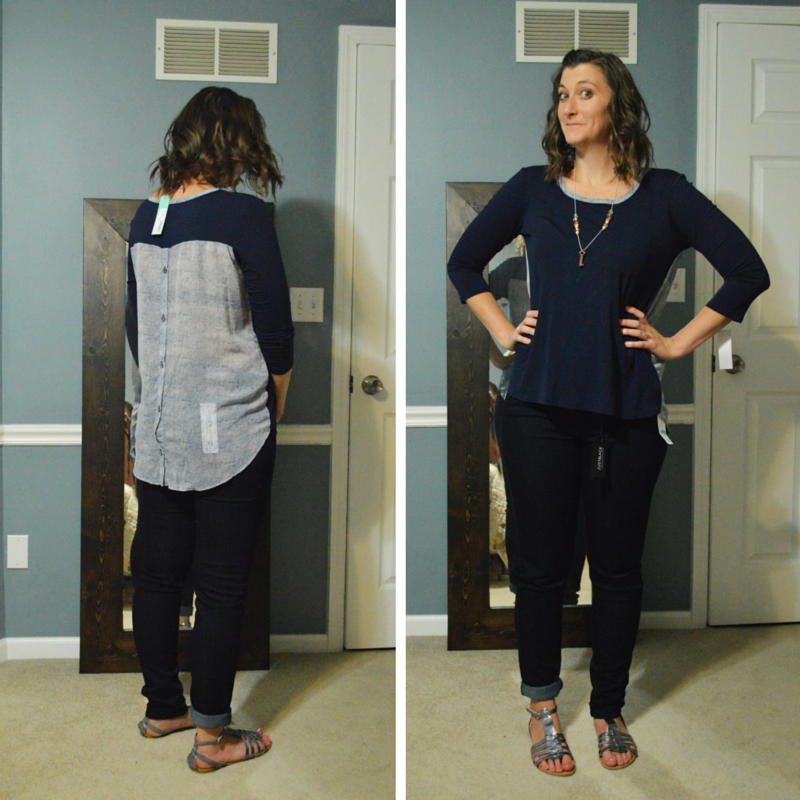 I didn't like this at all when I pulled it out of the box, but when I tried it on, I actually found myself considering keeping it. I thought the back was a little odd with the buttons, but liked the sheerness. It was subtle and almost sexy in a classy, not skimpy way. Like in a "Yes, my bra is barely showing through, but no, I'm not trashy," kinda way, if that's a thing. But, in the end, it wasn't worth $60 to me. It seemed like something I could find at TJ Maxx.
Wyatt's take: "It's cool. Almost looks like it's on backward, though."
Status: RETURNED
Item 3: Just Black Adorra Skinny Jean – $88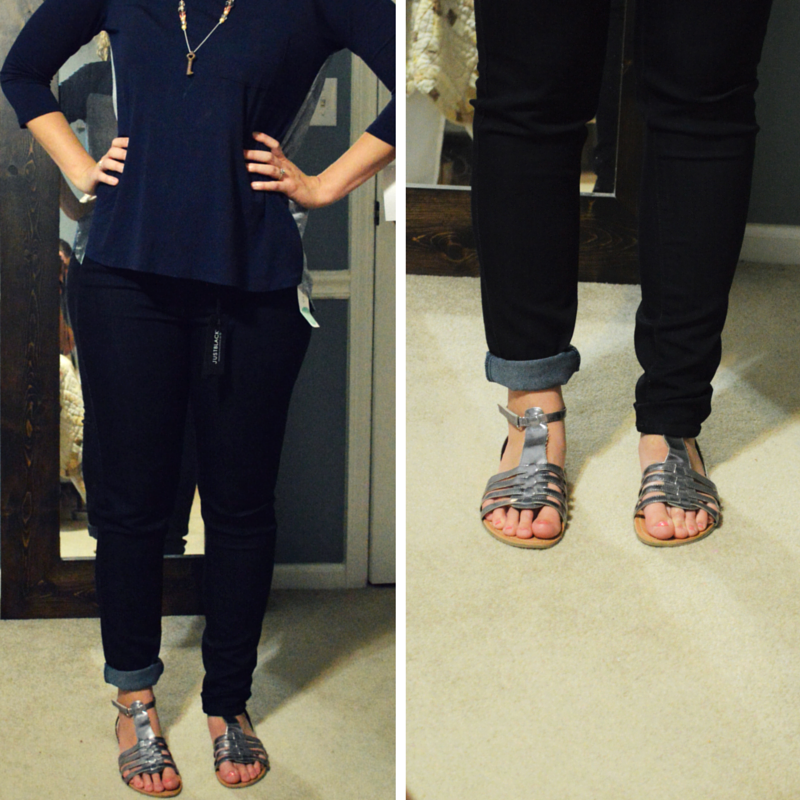 I did NOT expect these to fit. When I saw they sent jeans, I wrote them off as a wasted item in my box. But as I slid them on my first leg, I actually looked up in surprise at Wyatt and said, "Oh, wow!" They felt so nice. And honestly, they fit me really well. They were even long enough for me to wear without cuffing if I wanted to. It helps that I've been jeans shopping for awhile and had just bought two pairs at Express that were this same price but that I liked less. (They are going back now I like these so much!)
Wyatt's take: "Nice." (He's known for being enthusiastic… <—-sarcasm)
Status: KEPT, happily
Item 4: Loveappella Chanti Knit Top – $48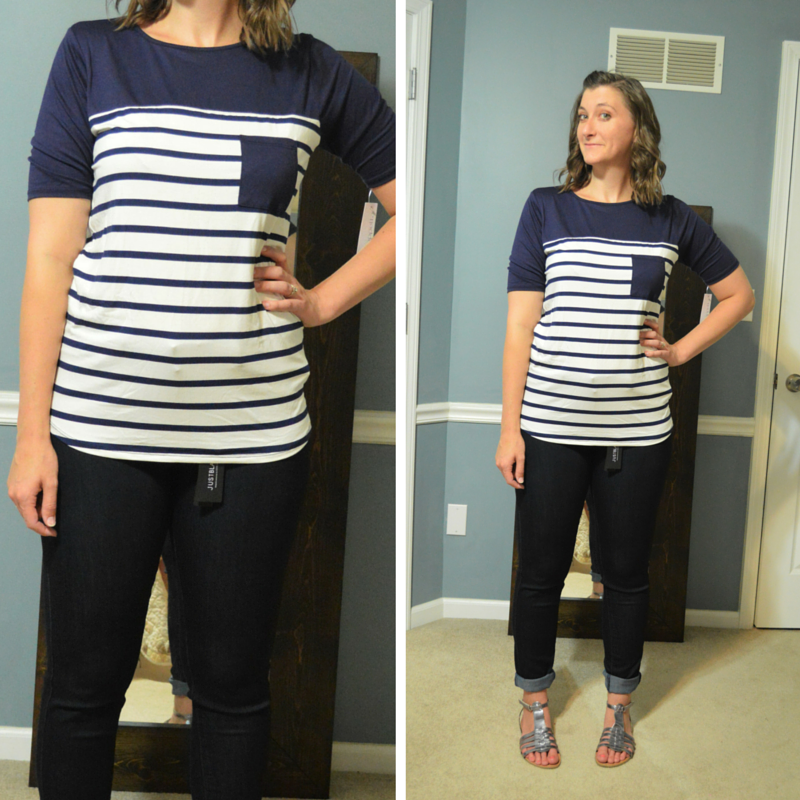 This was my favorite shirt in the box and honestly, if I'd kept it, I bet I'd wear it A LOT. I feel like this outfit would have been a favorite of mine. But, it felt really really similar to a shirt I bought from Old Navy last year for like $12. Maybe my thrifty ways run too deep, but $50 for a knit tee is crazy to me, no matter how cute the pocket is and how much it fits my personal style. That said, it did feel really nice and comfortable so it may have been really nice quality-wise. But it's hard to tell how a shirt like that will wear until you wash it…
Wyatt's take: "It's nice, but I agree on the Old Navy thing."
Status: RETURNED
Item 5: 41Hawthorne Astrid Tie Neck Blouse – $54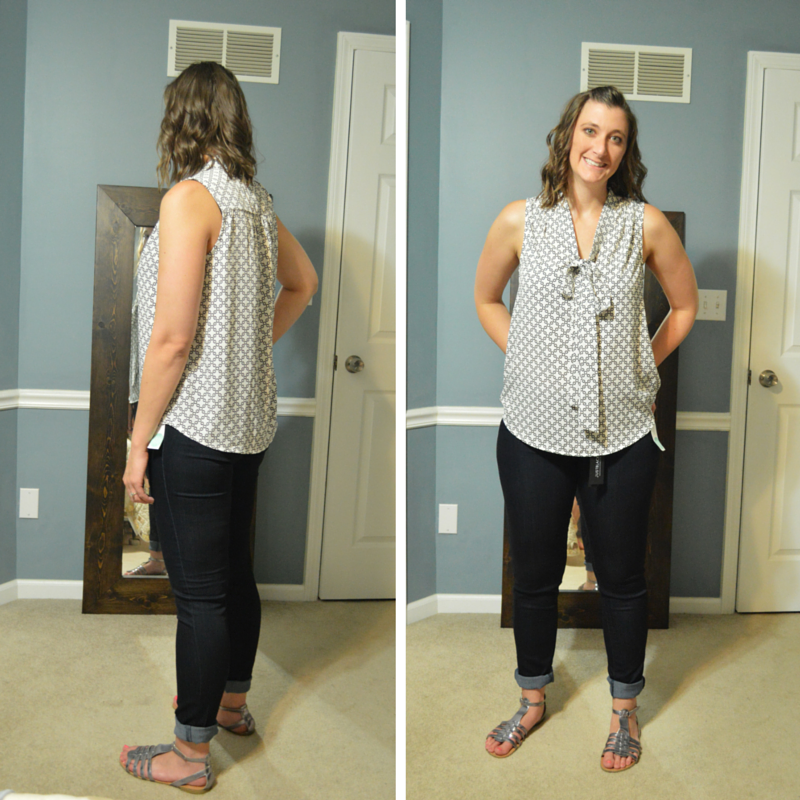 I didn't expect to like this at all, though I did like the fabric and the print. The bow neck was just too much. It felt like something I'd wear to work in an office with pumps and a pencil skirt. My opinion softened a bit when I tried it on because it was comfortable and I liked the hemline length, but the bow just wasn't my thing. Which is weird, because I like bows…
Wyatt's take: "Weird. I don't like it."
Status: RETURNED
Luckily, returns were easy. They send the prelabeled envelope/bag and it was ready to send off. Easy-peasy. I was worried I'd have to go to the post office and it would be a whole big thing.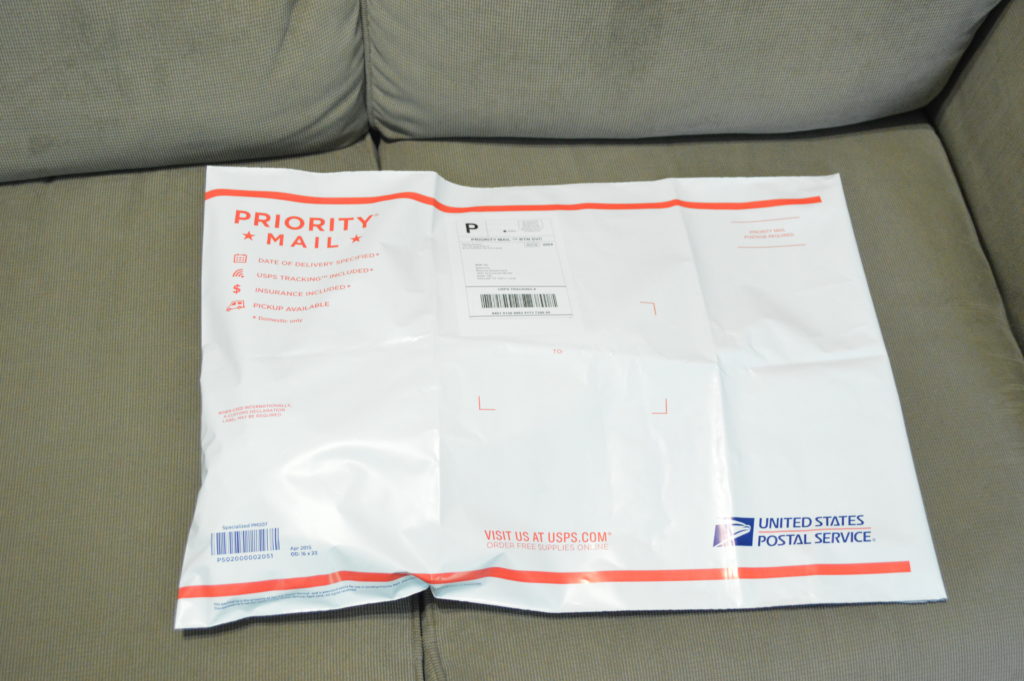 I also like that they send a style card to help you think about what you'll wear with each piece. Of course, I only kept the jeans, so that wasn't really necessary in my case. Still nice, though.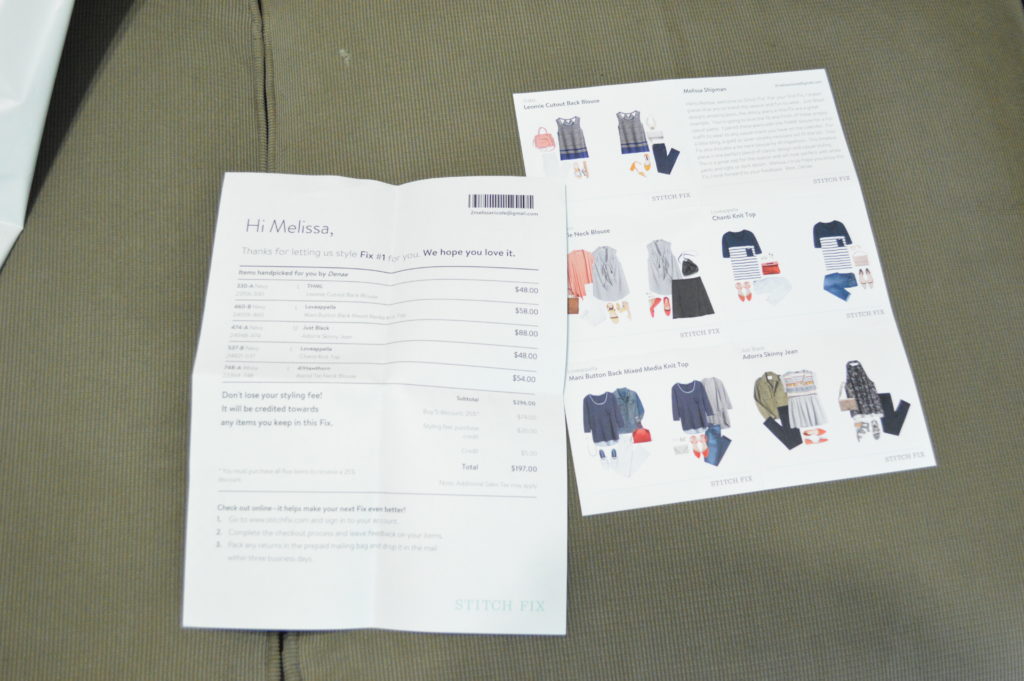 All in all, I'd say the experiment was a success. Not only was it really fun–it almost felt like a datenight! Plus, I ended up with a pair of jeans I think I'll wear a lot and that are replacing two that I was hanging onto in my closet, neither of which fit me as well as these do. And, I had a fun time trying on clothes where I could get Wyatt's opinion and not worry about Will's attention span running out mid shopping trip. Both big checks in the positive category because (A) Wyatt's opinion is the only person's I really care about other than my own, and it was cool to get his take on certain styles. I was surprised by a few things he liked and disliked when we discussed how each piece looked, and (B) Will is at an age where I get to try on like two things before he is ready to leave the store and makes it known to everyone within hearing distance of his howls.
So, who should try Stitch Fix? Honestly, if you either (A) tend to buy new clothes every month anyway, or (B) need to get out of a style rut, I'd recommend it. Maybe you have a new job and want to refresh your wardrobe. Maybe you recently had a baby or lost weight and want to "invest in some quality pieces." Or if you just have $20-$100 in spare cash and want a fun experience, do it as a birthday present to yourself or something. It will be fun. Then you can decide if it's worth it to keep trying another month.
If you want to sign up for a Stitch Fix of your own, CLICK HERE. 
*this post includes my Stitch Fix affiliate link. So, if you plan to order a box, I'd love if you do so through my links above. Thanks!