It seems like the last month was a whirlwind of people, parties and presents. Also, unfortunately, tissues, coughing, stuffy noses. In keeping with his mother's notorious ability to be sick on Christmas, Will got RSV a week before the bulk of our holiday events. Thankfully he didn't have to be admitted to the hospital for treatment, but we did make a trip to Urgent care, plus two other doctor visits. He bounced back pretty fast from the worst of it and seems fine now, albeit a little snotty when he's trying to eat or sleep, but he also managed to share his sickness with me…and I'm still not completely over it.
Still, he was a little champ, and really did great with all the traveling and socializing. But, we're all ready for a calmer few weeks, or months, at home. Since it was Will's first Christmas, I had high hopes of the perfect family photo to document the wonderful memories I was sure we would have…but…
We hosted our annual Christmas party with friends and had our first family Christmas event the weekend before Christmas. We also managed to get most of our shopping and wrapping down ahead of time, despite being sick, and having a bunch of other unexpected things come up we had to deal with. I'm going to treasure these sweet shots of my sweet, sick boy, sleeping in my arms and on our couch at Christmastime.
But, no family photos happened…and pretty soon we were down to the actual big days to try and squeeze in some photos.
On Christmas Eve, we went to church, and then came home to start our own traditions. Will was tired and not feeling well, though, so it didn't go like I imagined it would. I had high hopes of getting some cute family photos, but instead, I got the setting wrong on our camera when we tried to use the self-timer. Great job on our first attempt at family photos: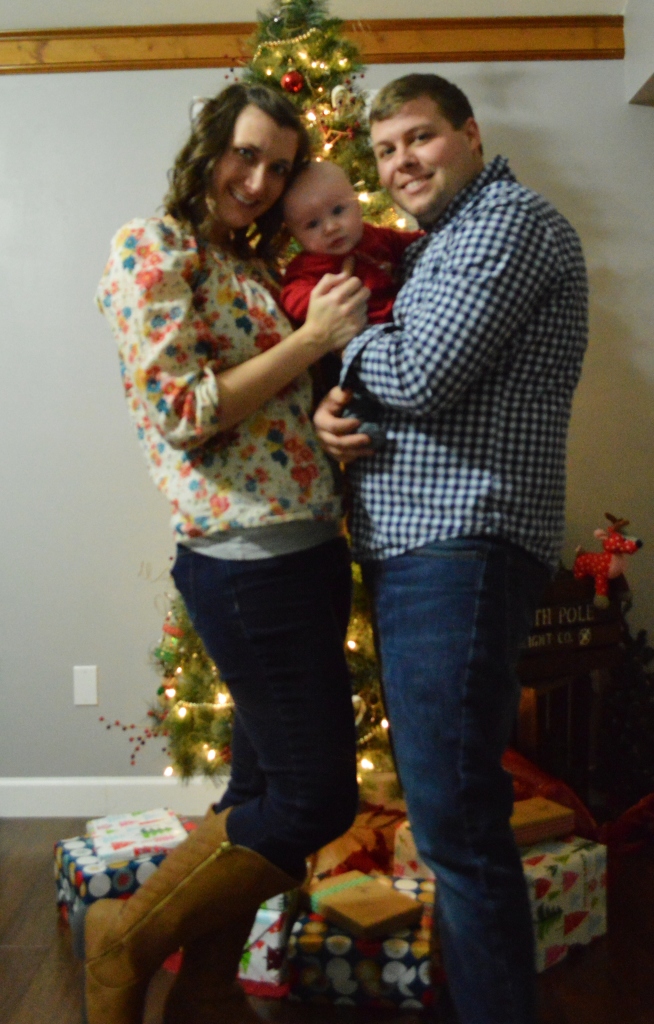 And then, Will just couldn't wait for bed another minute. Poor sweet baby.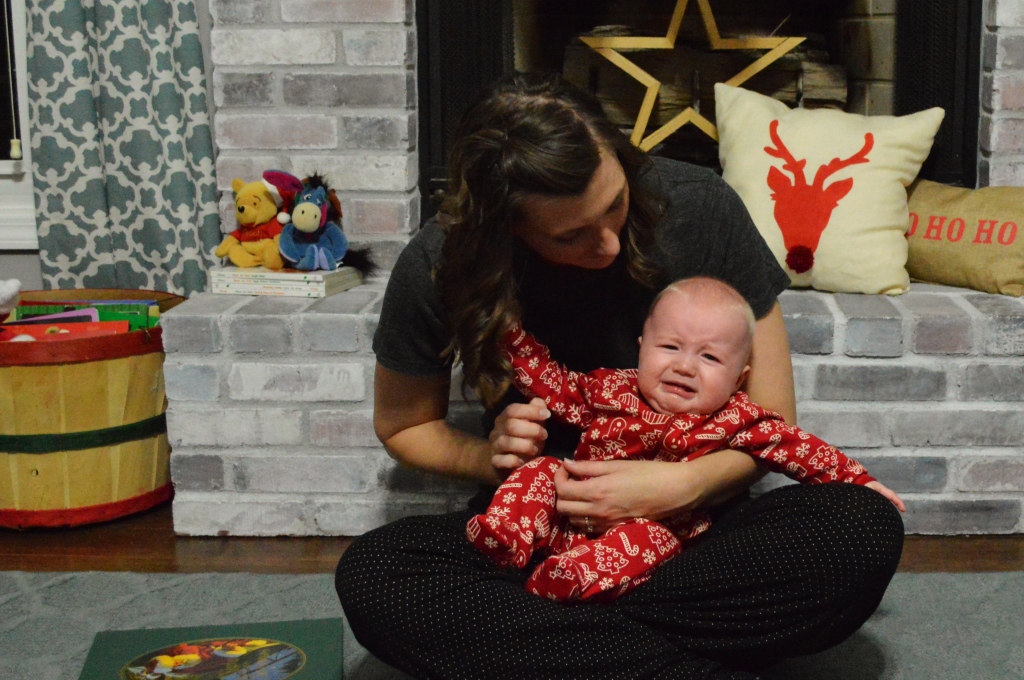 I was so disappointed to miss out on a cute photo in his Christmas PJ's and one of my favorite traditions from growing up. I know he won't remember this, and I likely won't either considering we'll have many years of reading Christmas books to cherish as he grows up, but in that moment, it was still hard to let go of the expectation.
So, in the end, Wyatt snapped this photo with his phone while I was nursing Will before bed, and it ended up being a much more realistic picture of what our first Christmas with our baby boy was really like. Moments of peaceful bliss with my sweet boy amidst a lot of chaos, and some crying. It's more important for me to remember his tiny hands holding tightly to my thumb as he sleepily nurses than it is to force a "picture-perfect" moment.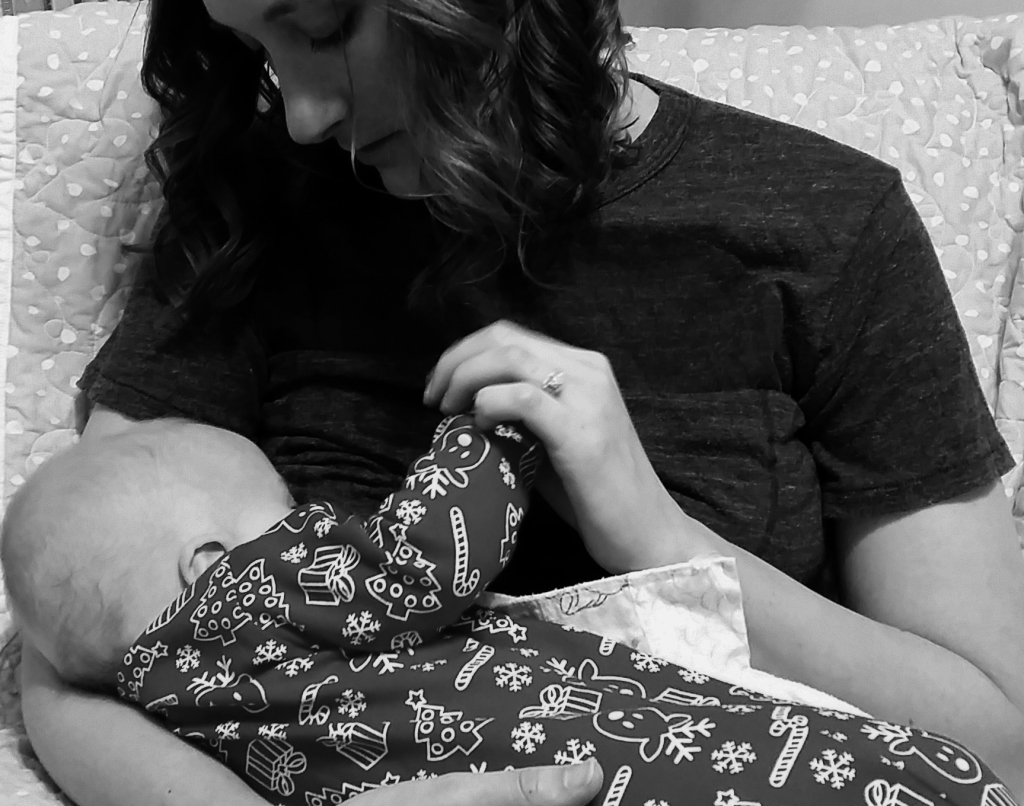 I did keep trying to get a good family photo though, and we ended up with a bunch more outtakes.
This last one looks okay, but we were there so we know that face was actually mid-cry, not mid-smile. Ah well.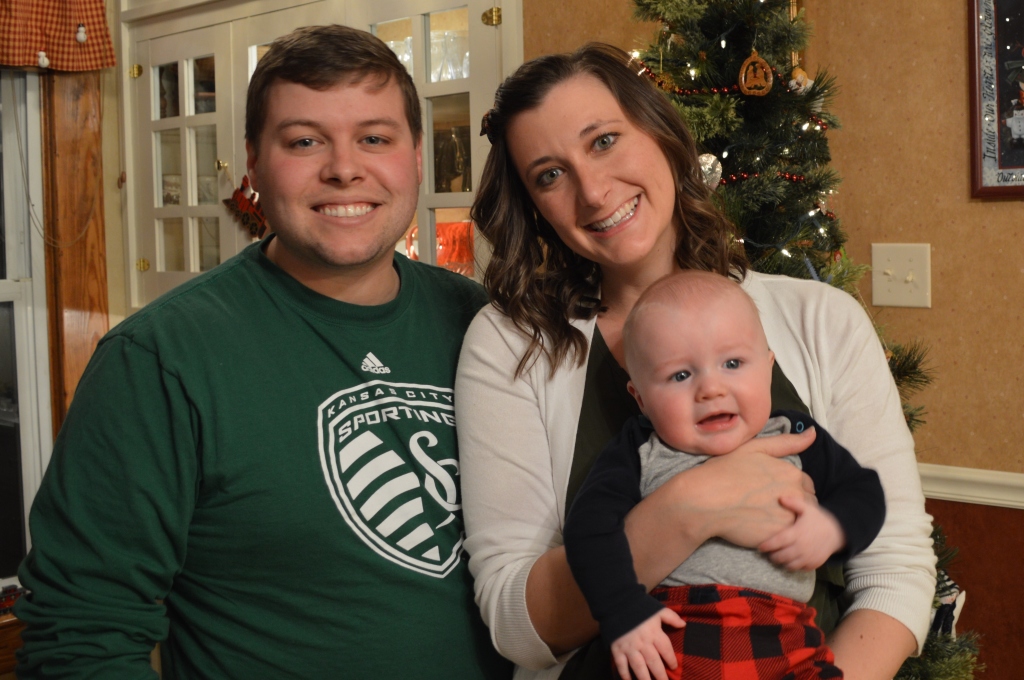 We managed a pretty good one with my entire family…but…my hand is all crazy blurry from running over after setting the self-timer, and Will is yawning or something so he looks surprised and offended we're still trying to pull this off. "Really? You guys haven't given up yet??"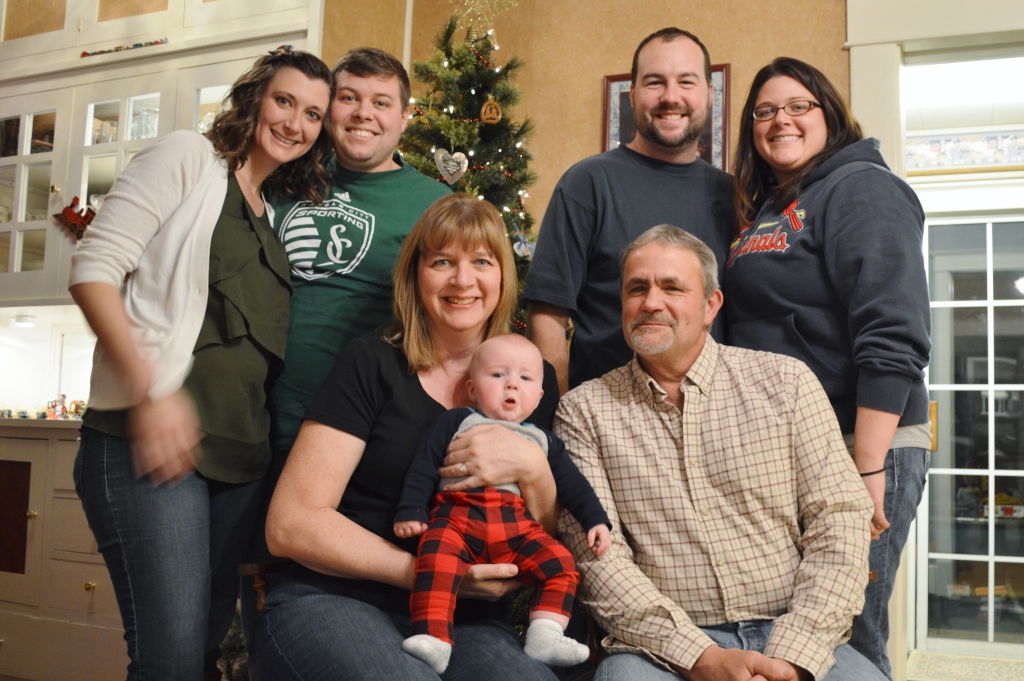 We tried again at home, one last time…but by then we were all pretty tired and it wasn't going to be possible to get a smile from Will, or to get rid of the under-eye circles and sleepy eyes with fake smiles from us. Not to mention it was late so we had no natural light, which is never a great recipe for a good photo, no matter how fancy the camera.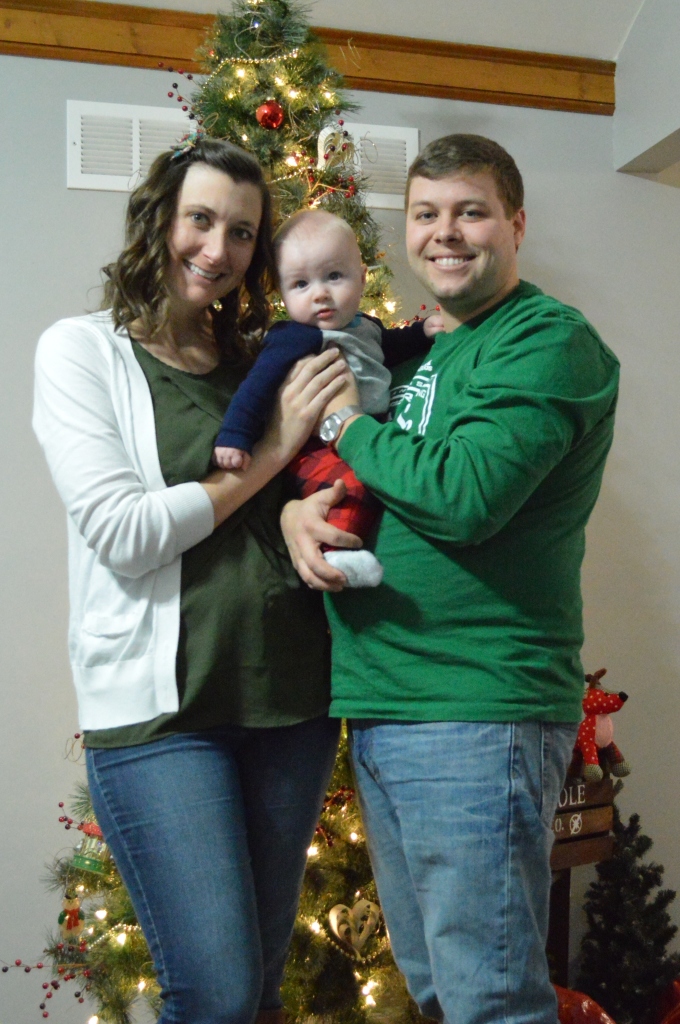 Bonus points for Wyatt who hates photos but stuck it out through all these attempts. He's a good man, that husband of mine.
Then, yesterday, we had a small get-together with some dear friends from our high school days. I'm disappointed there were a few of my very favorites we didn't get to connect with over Christmas, but I'm hopeful to get to see them soon even though the holidays are over. It's busy and a little overwhelming to do so much in such a short amount of time, but we've been blessed with some amazing people in our lives, for sure!
And despite not having the perfect photos to prove it, we really did have a great first Christmas with Will, all things considered. He's the most wonderful gift and we're so grateful to have the frustrating times along with the happy times. And blurry photos with only half of our family are better than no photos at all, right?
We have so many great memories that I know it doesn't really matter that we didn't get a good family photo, but I'd be lying if I wasn't a little disappointed. Maybe we'll take Valentine's Day photos and try again?
We'll be back soon to talk about our goals for this year, and to fess up on  how we did on our goals for 2015.
In the meantime, tell me about your Christmas. I hope is was very merry!