Well, friends. We're still battling the winter sickies over here. Whether it's Wyatt and Will, I feel like my boys and I have been taking turns with colds and flu bugs since October. Plus, that means that our work productivity has been down and we're behind on some big projects….and that means the home projects have been pushed to the back burner.
But, we've managed to get a few things done on the weekends and we're now ready to paint!
So far, we have repaired the ceiling and removed the popcorn and repainted. Technically, we hired someone to do that, but it's still done, so I'm counting it as progress.. You can read about what we learned through that process, HERE.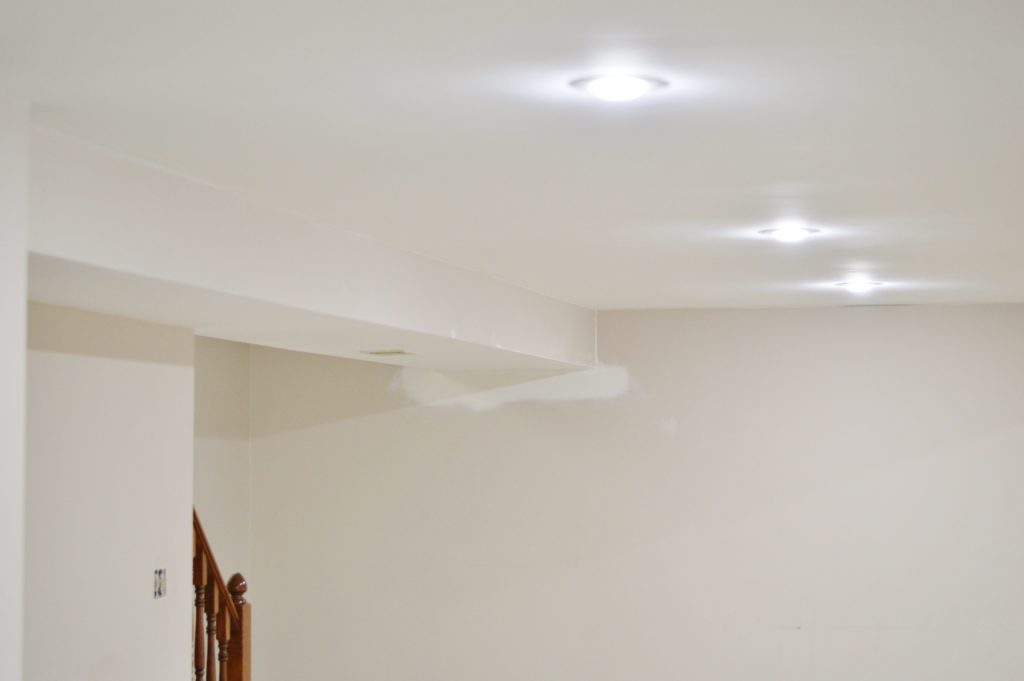 We also got all the trim painted (finally)! I started this process last year when we replaced the door, but still had two interior door frames to paint (inside and out) as well as touchups and final coats on the two windows and other two doors. But now the trim is all done.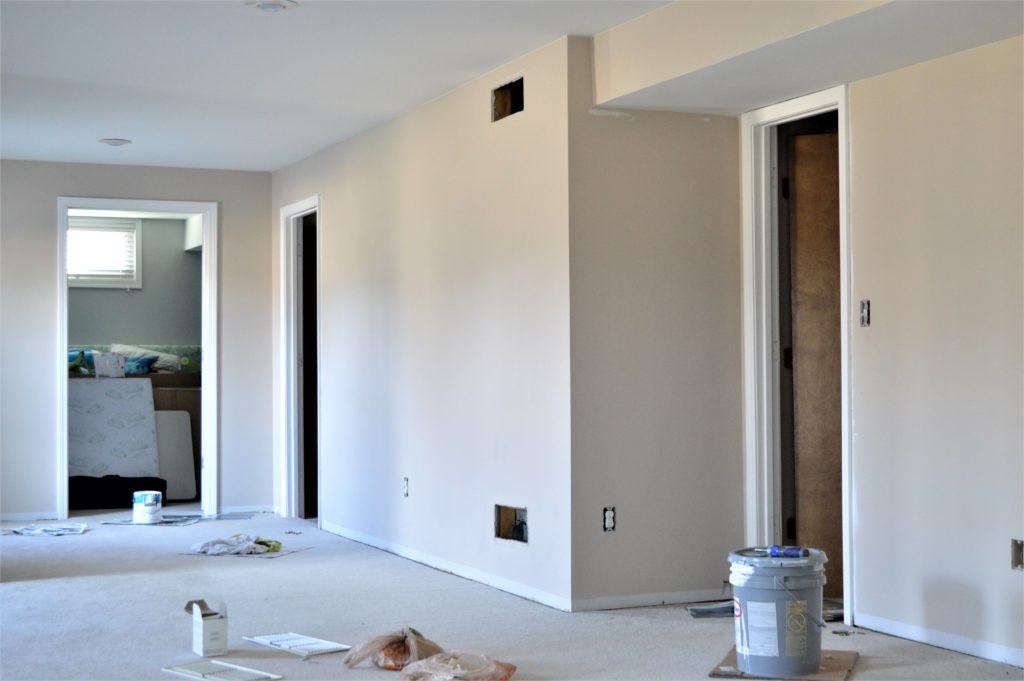 We also removed the baseboard trim (we don't have time or energy or patience to paint baseboard trim when there's carpet involved) so we'll be replacing that with new trim, like we did upstairs.
Also, perhaps the biggest update to talk about is adding a few more electrical outlets up so they'll be accessible on top of the cabinets once they are installed. We're putting built in base cabinets all along the north wall of the basement and it's illegal to abandon junctions in walls (or behind cabinets I assume, since these will be permanent) so we either would have needed to cap them off, or cut holes in the cabinets so they will be accessible.
We were going to cap them at first, but decided we might want to plug in some TV-related consoles and such, so we went ahead and left the lower outlets and we'll cut holes in the cabinets to make them accessible.
Plus, we made sure to do some pre-planning about where the TV will go on the wall so the outlet would be in the perfect place to plug it in. That involved tracing the TV outline out on the wall, and even doing a little room arrangement plans to make sure that would work with furniture and room flow.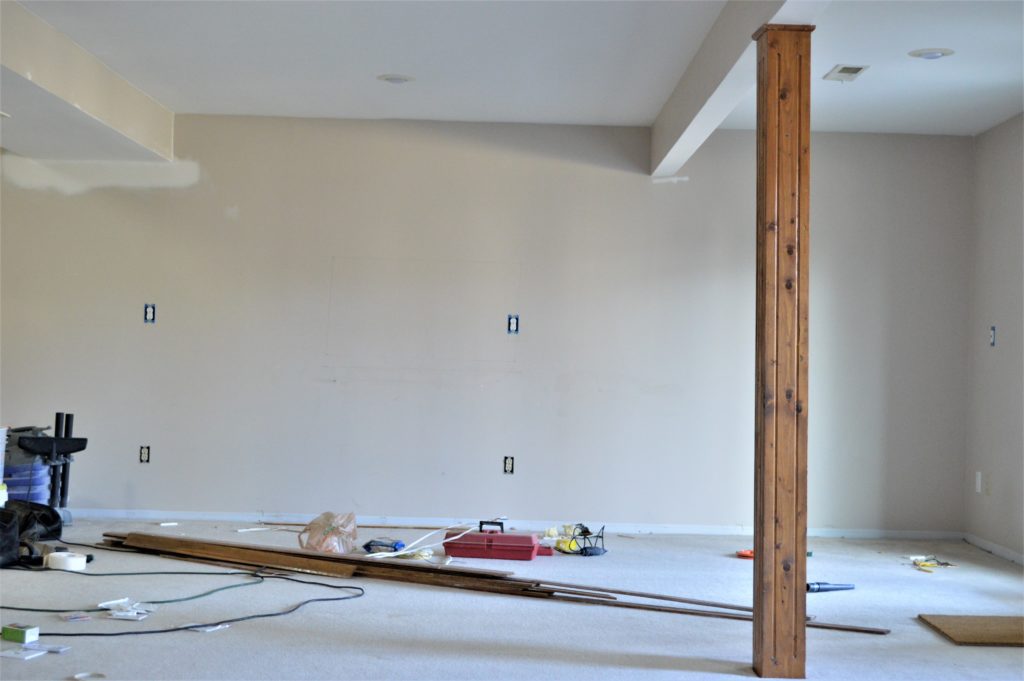 We also had to move the outlet on the end out a few inches, because it would have been cut in half by the cabinets, which wouldn't work at all. To do that, Wyatt had to cut a hole in the drywall to run the wires to the new location (the other side of the stud).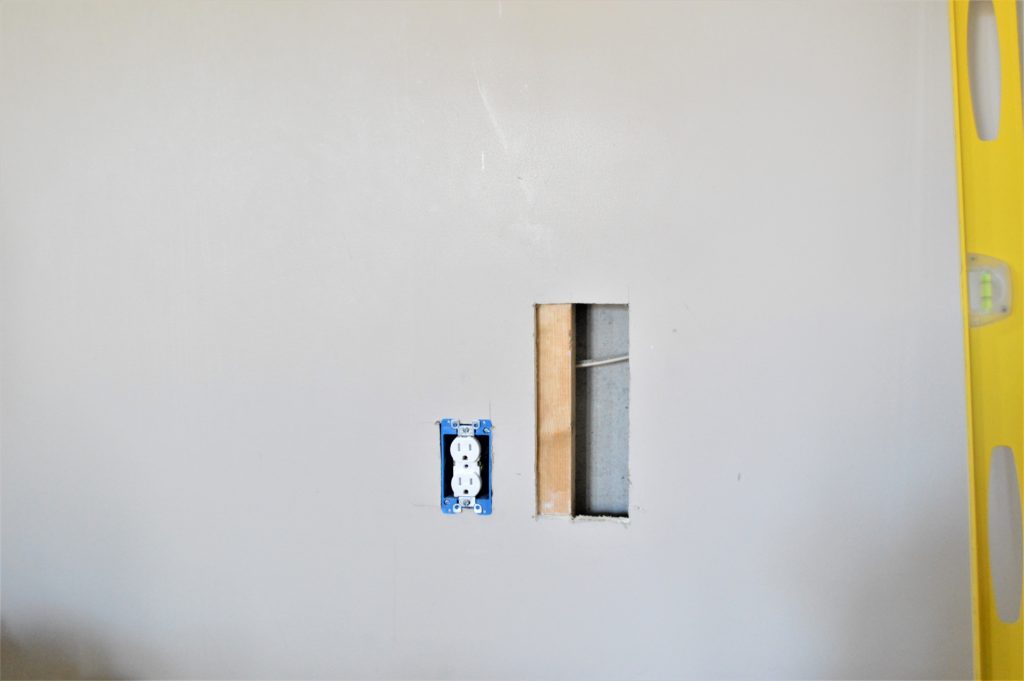 The stud was actually turned sideways in the wall because of the concrete behind it, so he just added an extra piece of wood to screw in the drywall patch.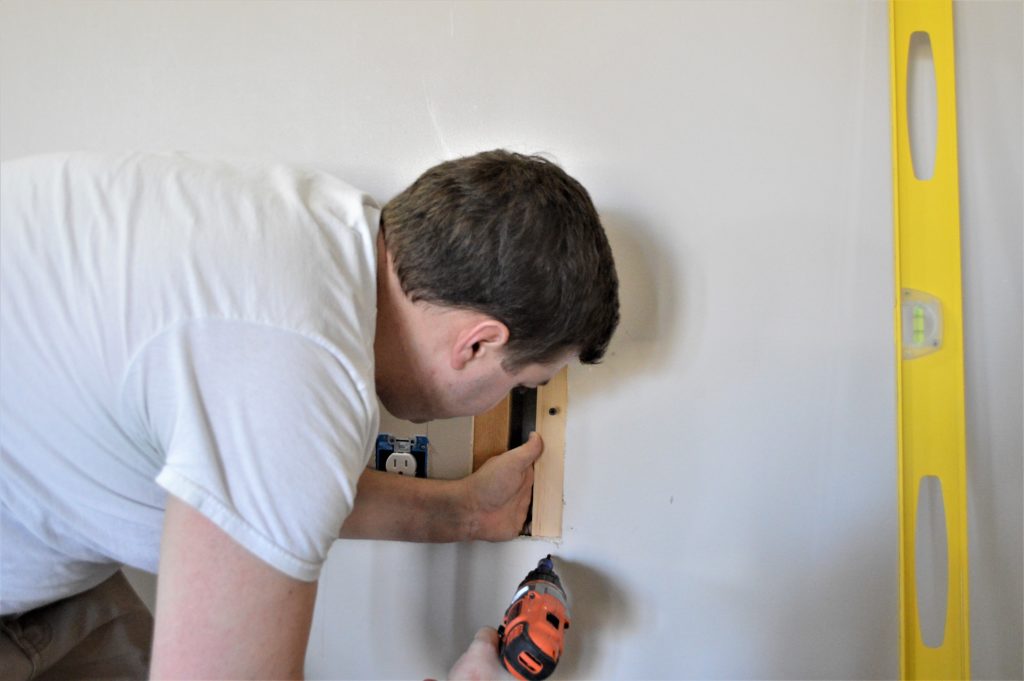 Then, he screwed in the drywall.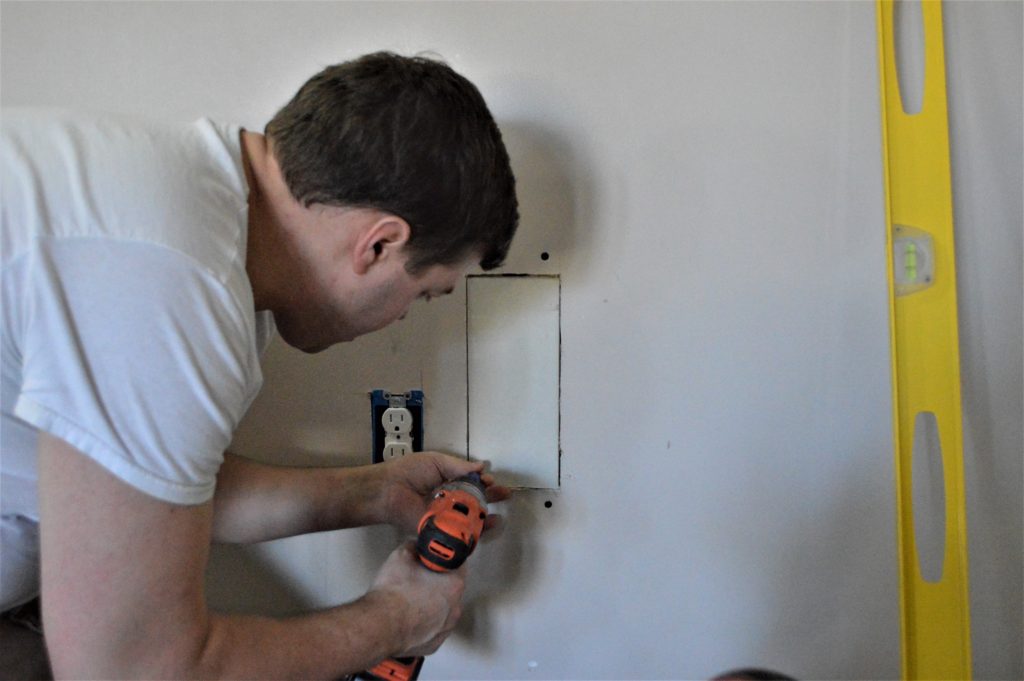 He also had to mud it, sand it, mud it again, and finally sand it smooth.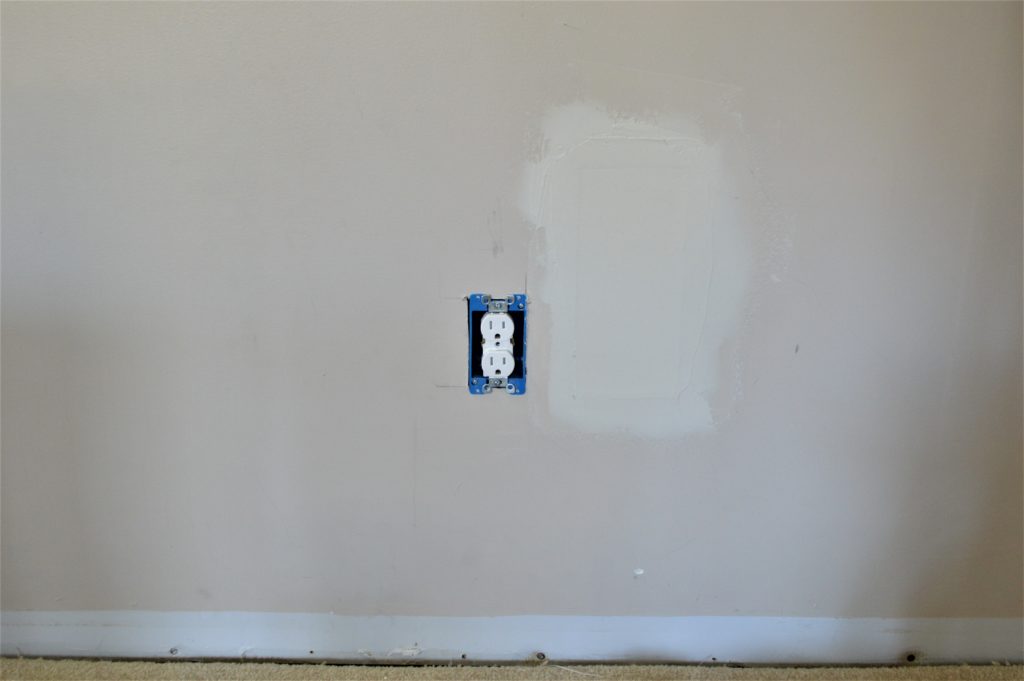 So, we're officially ready to paint, assuming we can get a final paint color narrowed down. Did I mention we're going with white? I want a bright, fresh look since it's a basement that can be pretty dark and shadowy, even with pretty good natural light.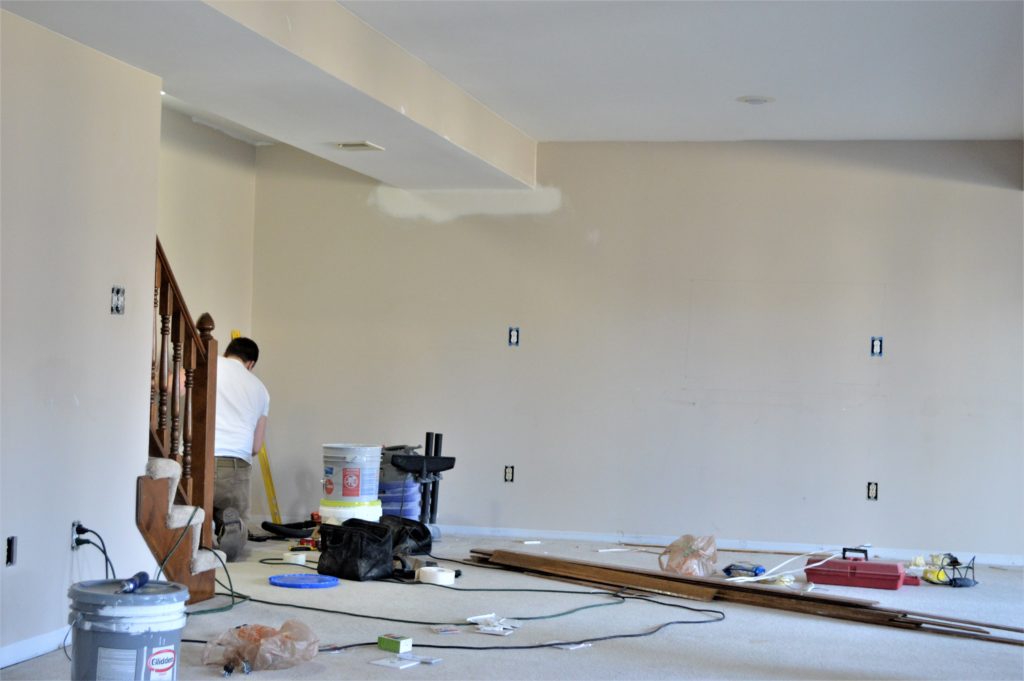 But, I'm a little nervous to choose a white paint and then get it on the walls only to discover it's actually gray or beige, or yellow. Plus, I'm worried if I pick the wrong color, it will make the walls look stark or the carpets look like dirty beige (dirtier than they already look–they're clean, I promise, we've had them shampooed.)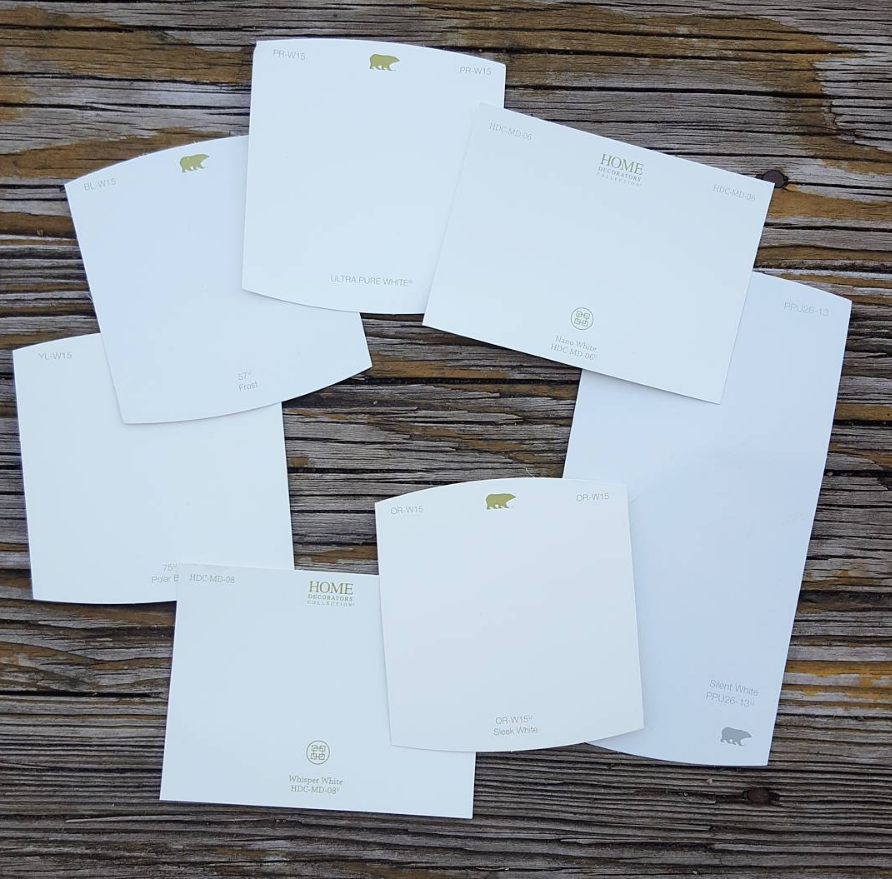 Yea, Wyatt thinks I'm crazy, but these actually do have subtle differences. I've decided I think, though. Now to figure out how many gallons we're going to need for this room and get it bought. Then finding time to paint it.
Oh, and Will is already super helpful during all of these projects, as you can imagine. He helps us find all the trash that is within a choke-able size and likes to play with dangerous tools! Ha!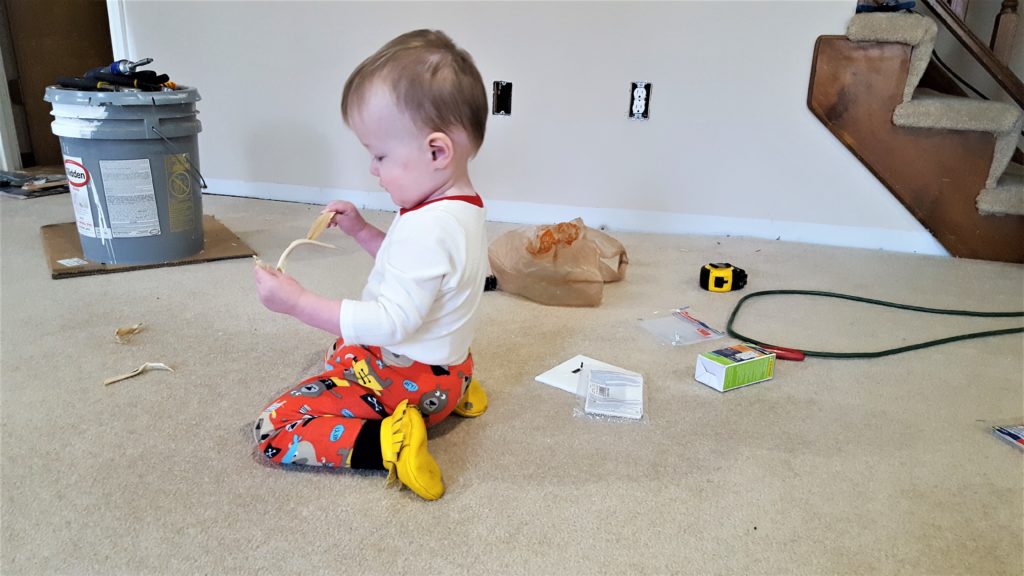 What is your thought on white paint? Boring? Crazy? Already played out? Have any color choice recommendations for us?