Another fun little update to share today – new prints for our living room clipboard wall!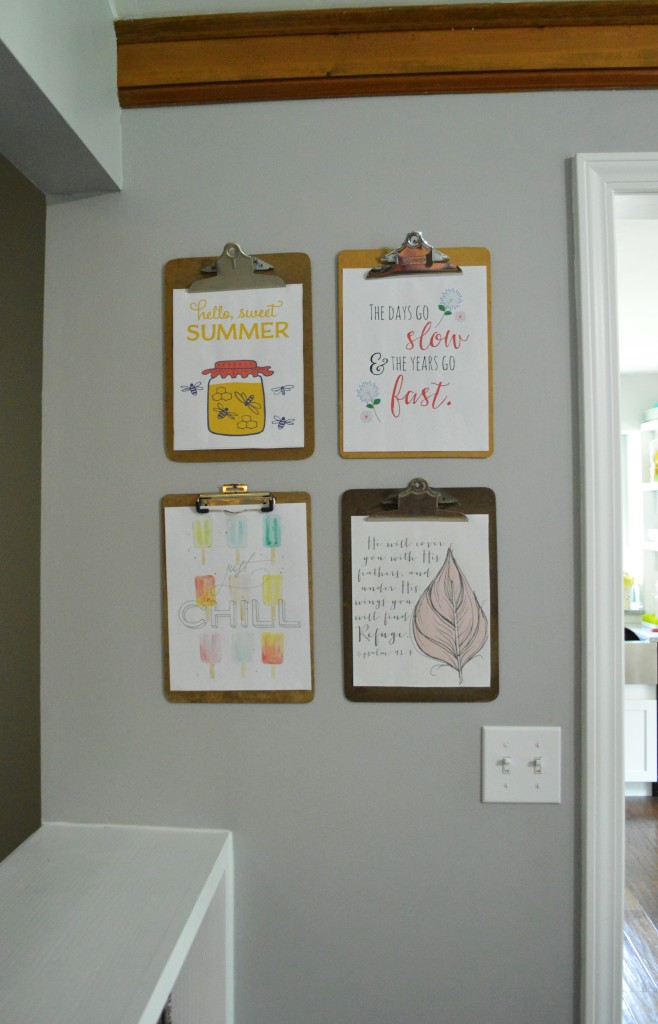 Since I didn't design any of these myself, I figured I'd just go ahead and refer to the awesome designers where you can print these yourself for free. I don't own any rights to these, nor am I going to share them here (other than the links) because I want you to visit the original websites and show some love to those bloggers instead of just downloading them here. I'm merely passing along the links because I think they are awesome and thought you might like them, too.
Because, seriously, these prints are awesome, and you should totally go score them for yourselves! Or, at least save them to your computer to print later. (That's what I do!)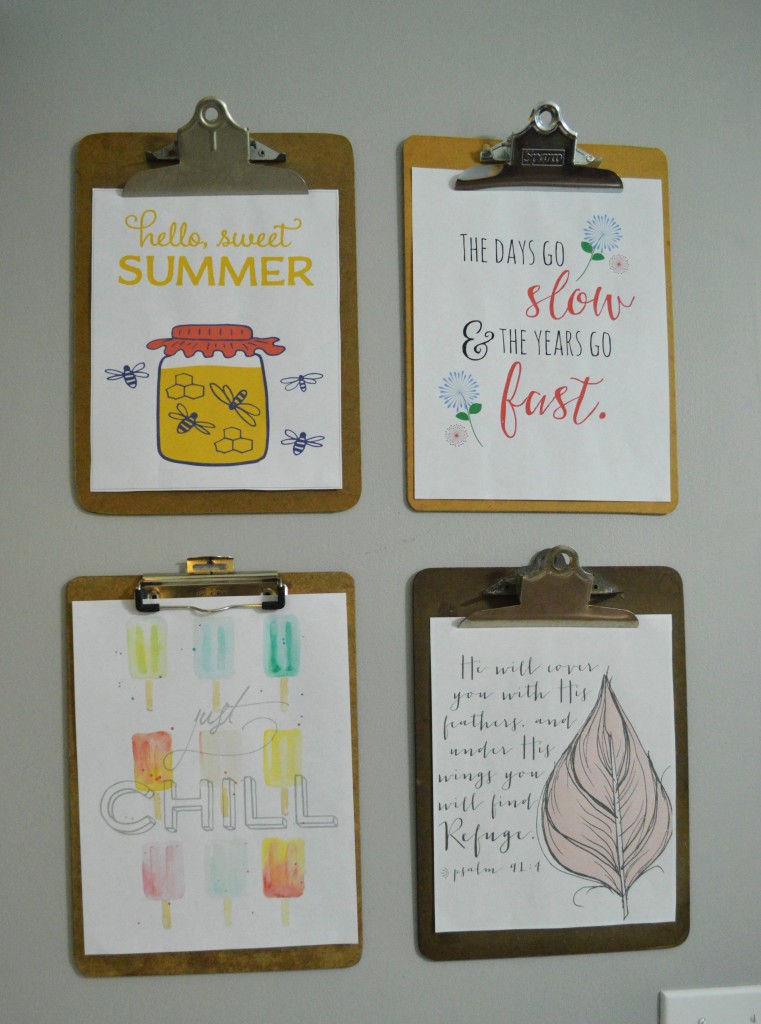 Now, for the links…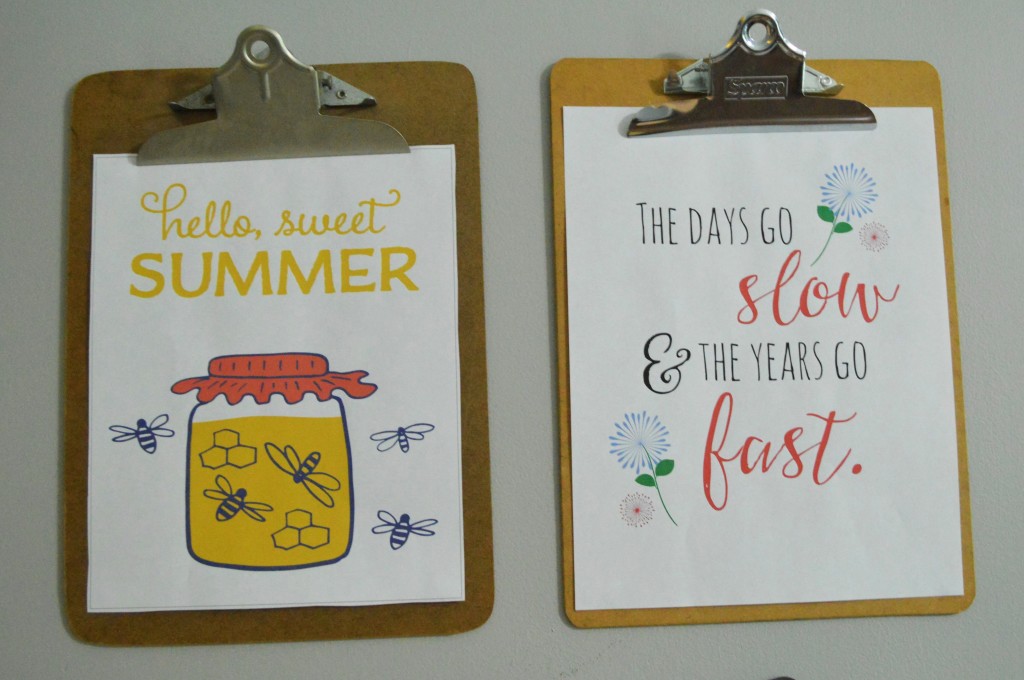 The adorable honey bee print is from Michelle from Elegance & Enchantment, and you can find it, here, on Today's Creative Life. (P.S. There's also an adorable strawberry jam themed one to match!)
The "days go slow" print is from Jenn at Clean and Scentsible, found here. She made it for her 40th birthday, but I thought it was perfect for the crazy, sleep-deprived and hectic newborn days.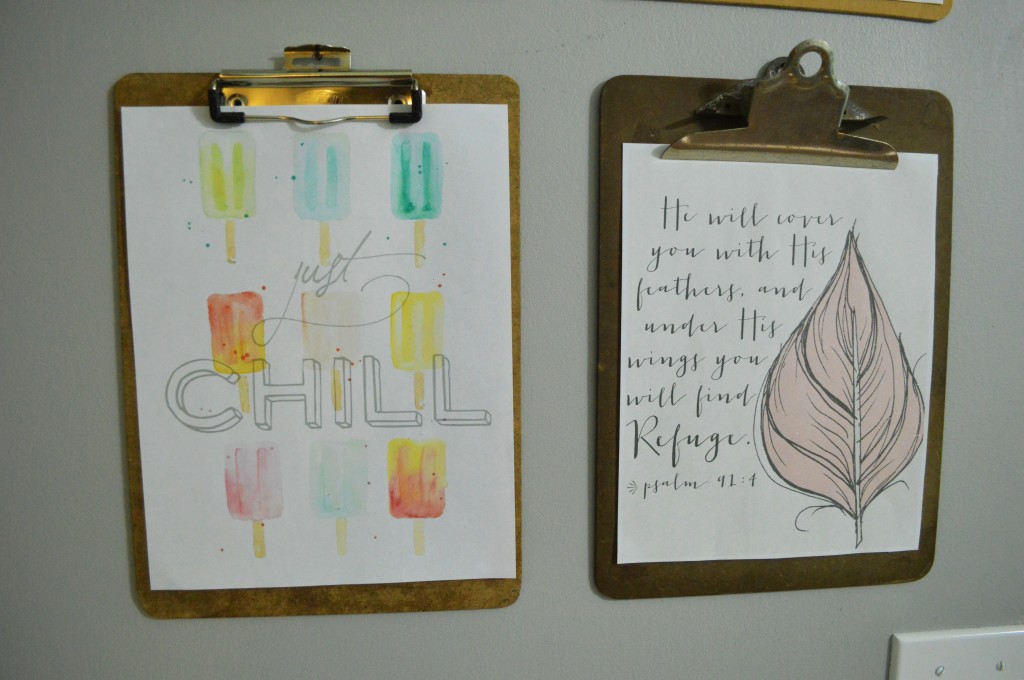 The popsicle print is adorable. I'm really into the watercolor look, and she has several designs you can choose from. It is by Sarah from Just The Bees Knees, available on Remodelaholic, here.
The last one, the "refuge" bible verse print, I must admit I don't have a great source for. I downloaded it several years ago and kept it in my files, but I think it may originally be from here. If I'm wrong, I'm happy to update the link…
So, there's my collection of new, favorite summer printables for this baby-crazy season of our life. I hope you all find them as charming as I do, and that you print a few and use them in your homes! I think the honeybee one would be perfect hanging on any fridge for the summer, as would the popsicle print. The bible verse and the "days go slow" quote would be really cute in nursery, or a bedroom…or in an office…anywhere where stress can take over if we let it. Or, maybe you just need to look at these for a little design inspiration for a project you're working on…whatever you use them for, I just hope you enjoy.
But I like them all in the living room as a collection for summer.
And yes, my kitchen is messy. This is real life, people.
Which one is your favorite?