Well, it's time to take down the Valentine's Decor (or maybe I should have done that already?) and move on to St. Patrick's Day.
Bye-bye, pink and red hearts…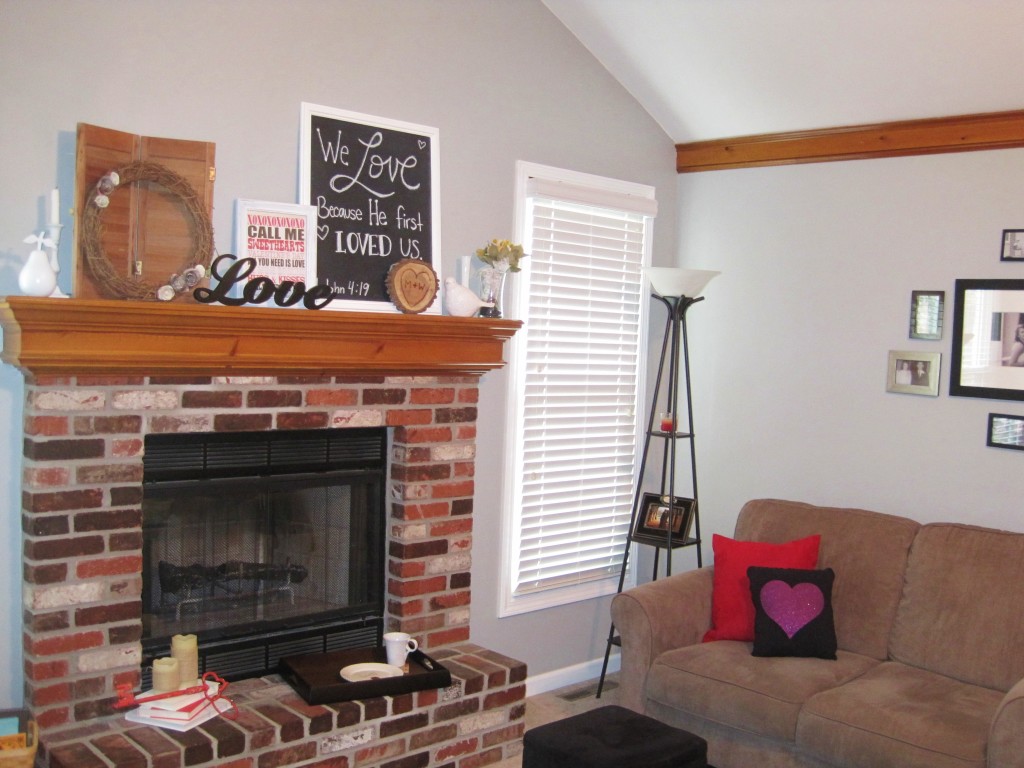 I've never really decorated for St. Patrick's Day before. Not that I don't like green. I just don't have anything especially festive for this little holiday. Nothing with four-leaf-clovers, or rainbows, or leprechauns, or pots of gold.
However, since we now have a whole house to keep festive all year long (and a blog to share all my crazy decorating ideas on), I figured why NOT?
So, to get started, I needed to swap out the print in my "Free Printable Frame." (And the chalk board, which I finished and talked about in this post.)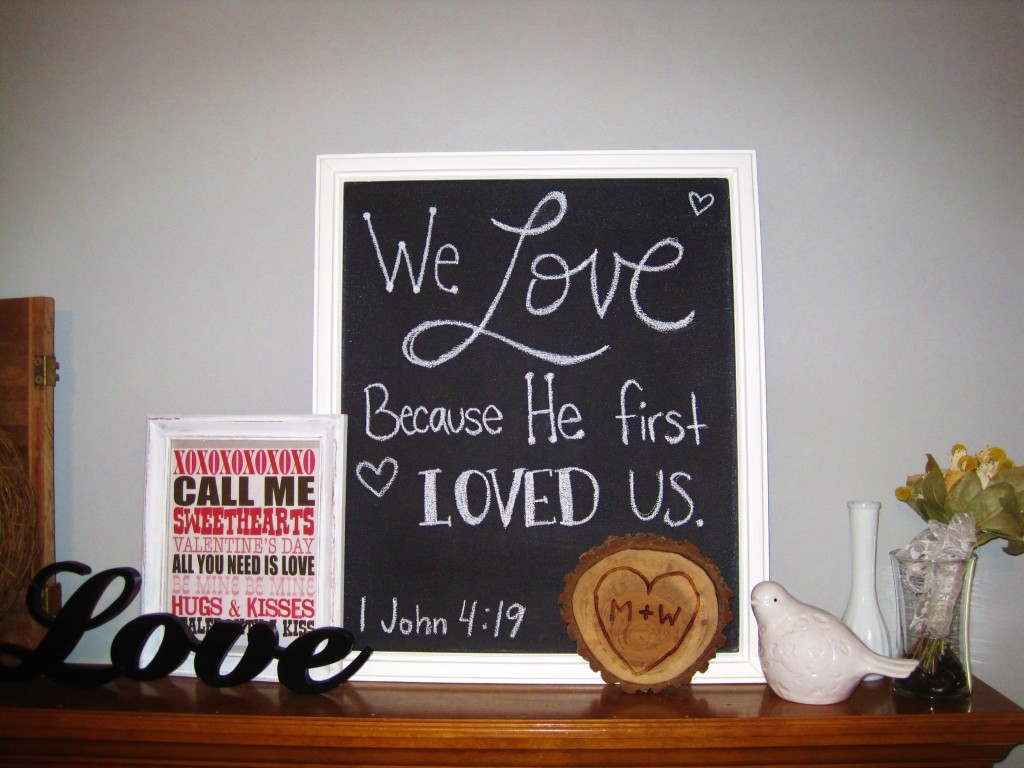 As usual, I scoured Pinterest to find some ideas and though there were a few cute ones, I didn't find anything I really loved. We're not Irish, aren't heavy drinkers, and don't have any kids to entertain with silly pictures of leprechauns or rainbows. Plus, I've never really gotten the whole "Kiss me, I'm Irish thing." So, translation:  I knew I would be spending a good portion of last night designing one myself.
Now, just a reminder: I'm a writer, not a designer, despite the fact that most magazine jobs require you to be skilled in both. I've never had a graphic design class, nor any formal training in Photoshop. I do have several friends and family members that are awesome designers, as in, that is their actual job title, which makes my lowly little Photoshop attempts seem pretty pathetic. That being said, I love to play around with design, just as a hobby. So if you don't like my design, please don't tell me how awful it is…I don't tell you how bad your model airplanes look…although I doubt anyone really still makes those things as a hobby, do they?
Anyway, without further ado, here's how my Luck-themed printable turned out: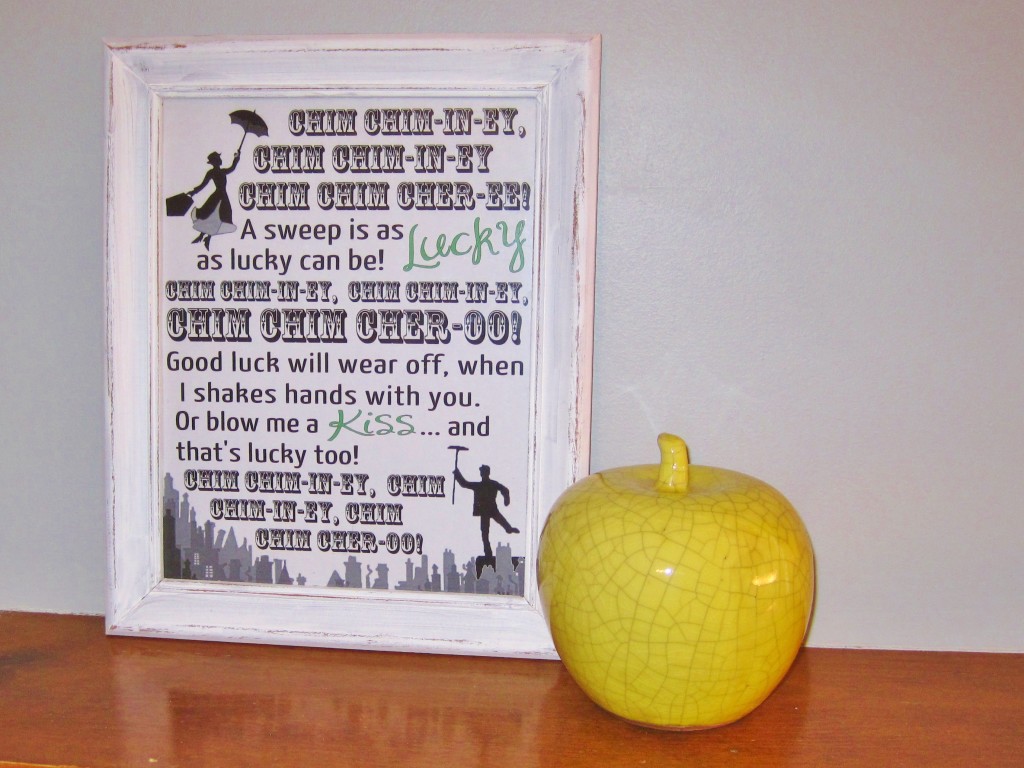 Like the Mary Poppins tribute? It's one of my top-two favorite Disney movies (the other is Aristocats) of all time, and the Chim-Chim-Cher-ee song is one of the best in the movie. I mean, who doesn't love Dick Van Dyke?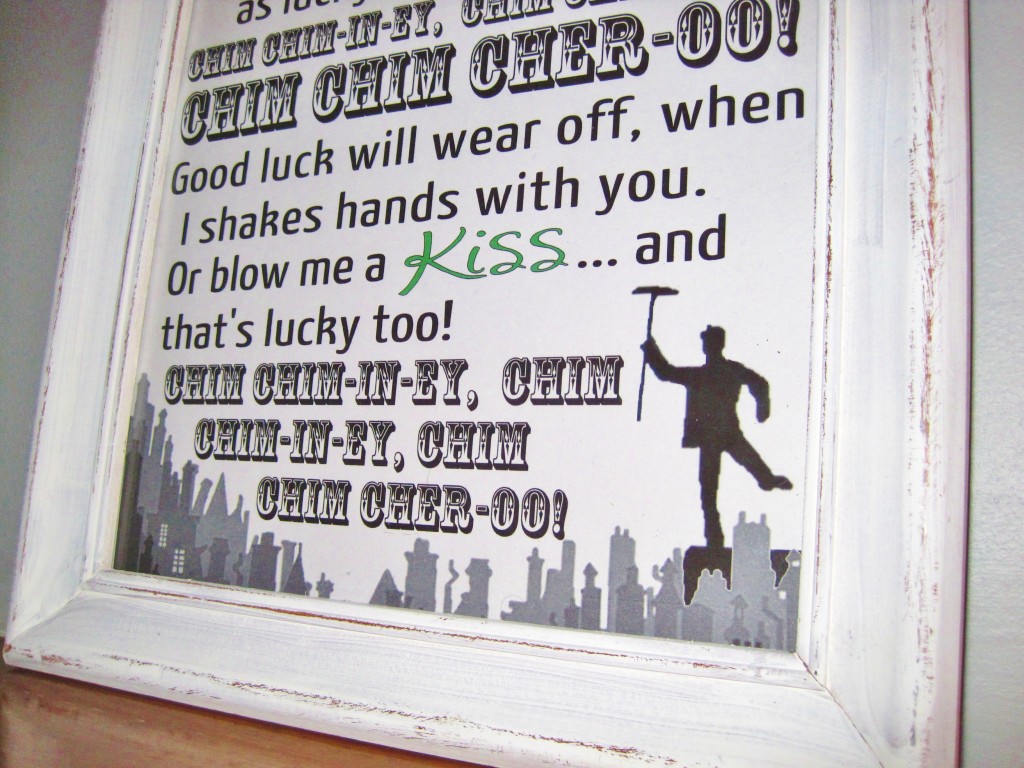 Of course, my husband hadn't watched the movie until last year, and he'd never heard of Dick Van Dyke until I mentioned his name. Sheesh. What is the world coming to these days? I hope to goodness our future kiddos take after my taste in entertainment. I'm not sure I'll be able to watch DragonBall Z and Transformers every day if they end up taking after Hubs…
I started with some Google image searching for silhouettes, which I sort of found, but I had to cut and paste and remove a bunch of color and background before I got something I liked.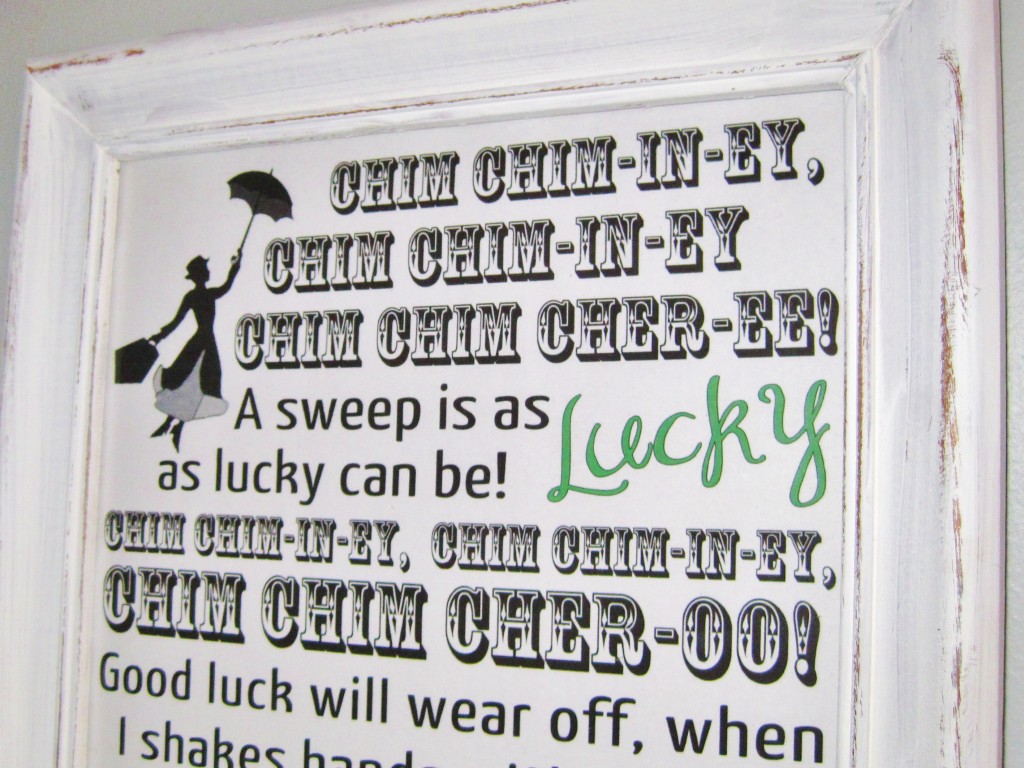 Then I added in the words, which I know aren't in the exact order he sings them in the song, but I needed them to work in a stand-alone little piece, so I like how these fit.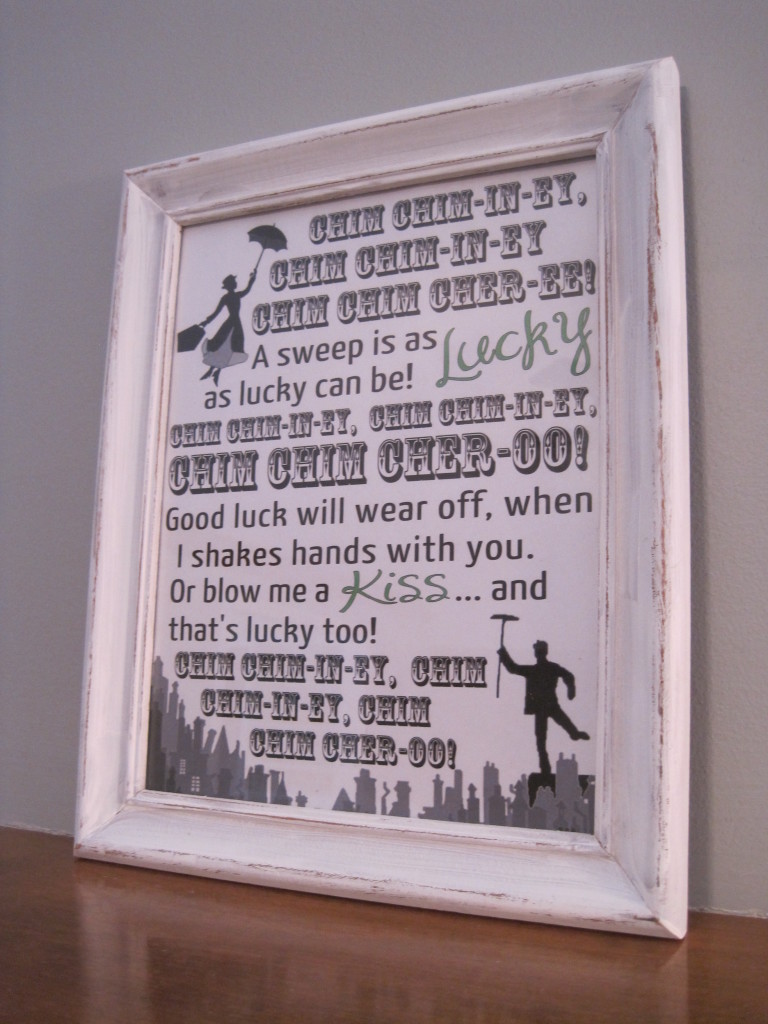 Anyway, I love how this turned out, empty mantle aside, and since I went to all that work for a few weeks worth of display on the mantle, (although I'm already trying to find a place for this to go more permanently) I figured, why not share it with you guys?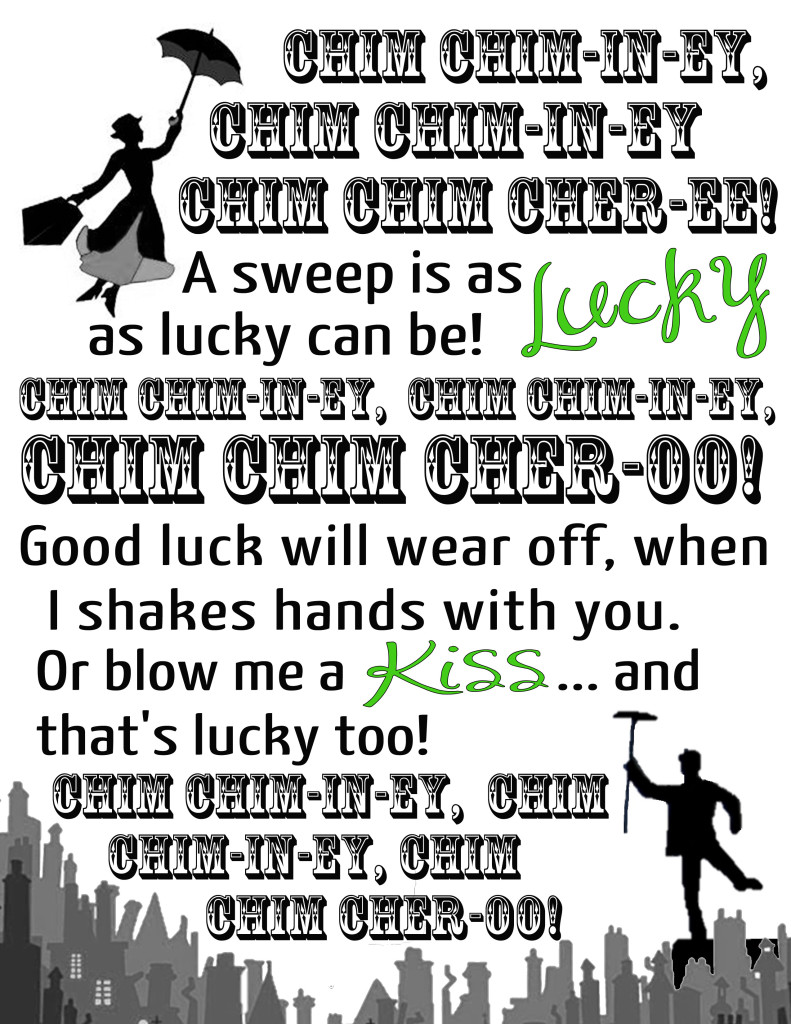 So, if you love Mary Poppins as much as me, or if you just love Disney, or even just musicals, luck, or St. Patrick's Day themed decor, feel free to click this link, and then right click on the image to download away.
Please be nice, though. It's for personal use only. No selling allowed, okay? And if you do use this print, I'd really love you to leave a comment and tell me how or where, okay?
Now, tell me about your St. Pat's decor. Or do you even decorate for this holiday? I never have before but figured I'd give it a shot. Or tell me about your love (or–gasp!–hate) of Mary Poppins. Favorite scene? Favorite song? Let's "Spoonful of Sugar" it up in here!