---
Welcome to everyone who found this post via Pinterest looking for my wine-inspired graduation gift! I hope you enjoy our little corner of Blog Land and stop to look around a few other pages, like our DIY Foam Cooler Ottoman, Ruler Growth Chart, our Kitchen Renovation, and my Free Printables!
---
Hi all, have you noticed my absence lately? Have you wondered where I was? Why I wasn't blogging all about our newlywed life? The reason I wasn't blogging about our newlywed life was because I was simply too busy being a newlywed wife!
Things have been hectic and wonderfully busy in our little corner of the world lately. We have housing developments and job developments all in the works. We've been to weddings and showers and parties and dinners out with friends.
My sister graduated from college with her doctorate of physical therapy and I made her a little wine-themed gift to celebrate.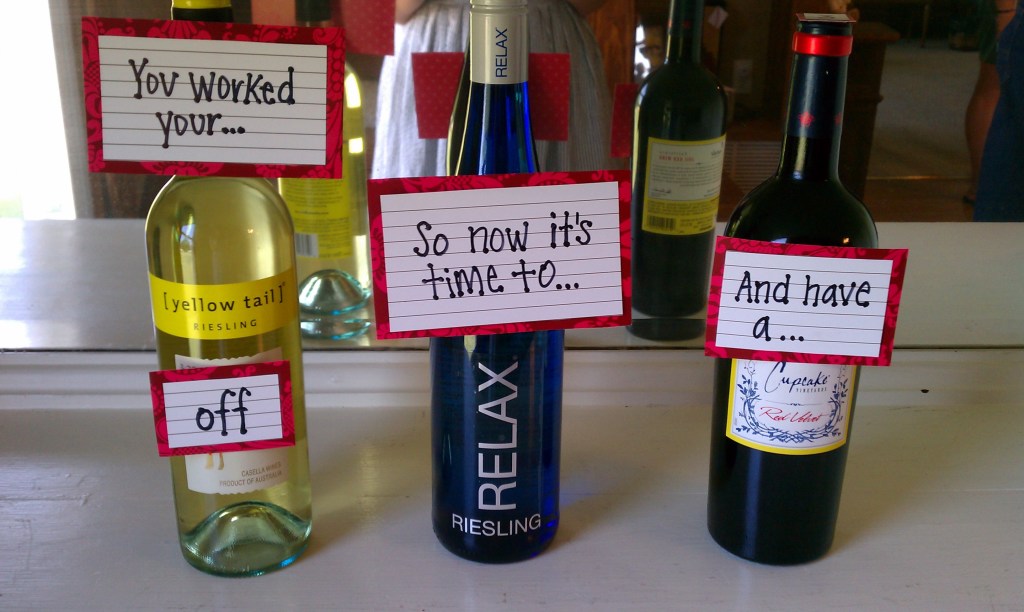 Basically, the only thing necessary is to think of a few wine names that fit into a fun message. I know my sister enjoys drinking the "Relax" Riesling, and I thought it was fun to make a play on the name…as a special way to "relax" after graduation.
Then, while browsing in the wine aisle of our local grocery store, I had the idea to add the "Yellow Tail" and the "Cupcake" bottles as well to make a complete sentence. Then, I just used some scrapbook paper, marker, and tape to attach the words I needed to fill in the rest of the sentence.
You can use whatever wines/words you want. I'm sure there are a bunch of ideas out there…what would you spell out in wine?
We've also been trying to keep up on cleaning the apartment and stocking the fridge while hunting for bargains at local garage sales.
Heck, we even took home a free kitten from a flea market to live happily ever after with my parents on the farm last weekend. He's a cute little tabby cat we got from the flea market for my parents. He stands out from all the black and gray long-hairs my parents have at their farm!
And we've been cooking at home together more than we ever did before. These veggies and potatoes are Hubs' new favorite. He can't get enough! And I think they are pretty good, too. Add in pan-seared chicken and some grilled zucchini and yellow squash? That was a dinner for a king!
We were also healing. From our sunburns. Ouch. And ick. (We're now both in the peeling stage, and I'm reminded even more often how different girls are from boys in that regard. While I'm disgusted at the way Hubs peels off flakes of skin, he's excited and amused. Yuck, yuck, yuck. Good thing I love him!)
I guess the main thing we have been doing is settling in.
We've been married almost 11 months now and that means we've also been living in the city, together, for almost a year. (I can hardly believe that!) And with this, I am learning, comes the slow realization that this is home. This is our new normal. This is where we live.
I guess part of the reason I didn't feel really "at home" in the city before now is because we just weren't that busy. We weren't really making a life for ourselves up here. It always felt as if we were visiting, or playing at living here.
All that's changing though, and I find myself feeling both excited and sad about it at the same time.
I'm happy that we're finally settling in. I'm sad that it means I'm settling in away from family and friends that are still so dear to me but that now live 2 or more hours away.
I know things change and can't stay the same, but I'm finding myself both sad and sometimes homesick as well as overwhelmed with the joy I feel at being married to my best friend and amazed by the blessing it is to live together and make this life for ourselves.
So that's what I've been doing–living and loving. What about you? What's new with you? Any new developments, realizations, or adjustments in your neck of the woods?
Want to see other DIY projects we've tackled? Check out more, here! Or, see what we're currently working on, here. Also, be sure to "like" us on Facebook and follow on instagram! Thanks for reading!