We're still playing catch up on updating you all on everything we have going on, but we wanted to go ahead and give a full review and breakdown of what we thought after using Ikea cabinets for our basement project. Honestly, I've wanted to try them for awhile because a lot of bloggers I follow rave about them in terms of value and "hackability" compared to other cabinet options for built-ins on a budget.
Style: We chose the Veddinge doors and the Sektion base cabinet frames basically because we wanted simple and cheap, but not toooooo cheap. It's a basic solid white look, very clean lines because of the smooth door faces (no panels). It's also easy to clean and won't collect dust as bad as other styles would. I can use all the help I can get in that department.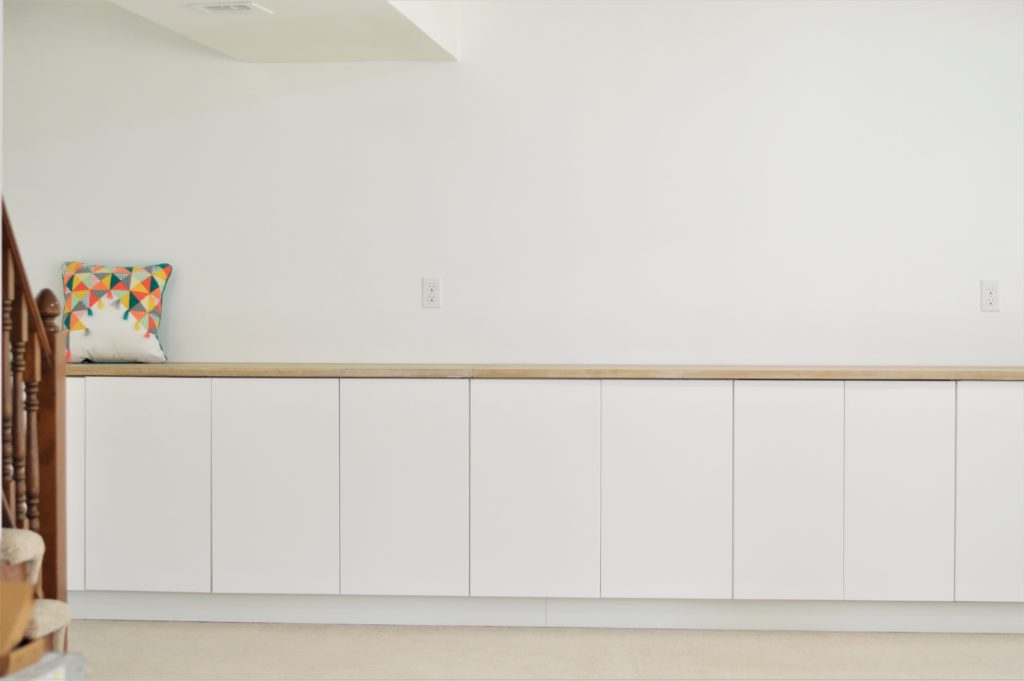 I was a little worried they wouldn't be as white-white as our white walls because I had read some reviews that said it had a more cream undertone, but honestly I would say that they are a true white, at least they look that way in our basement, despite the sort of yellowed tint in this photo. I need to work on my photography skills apparently.
Wyatt would say, "white is white" and even though I sort of disagree with that, in this case, it applies.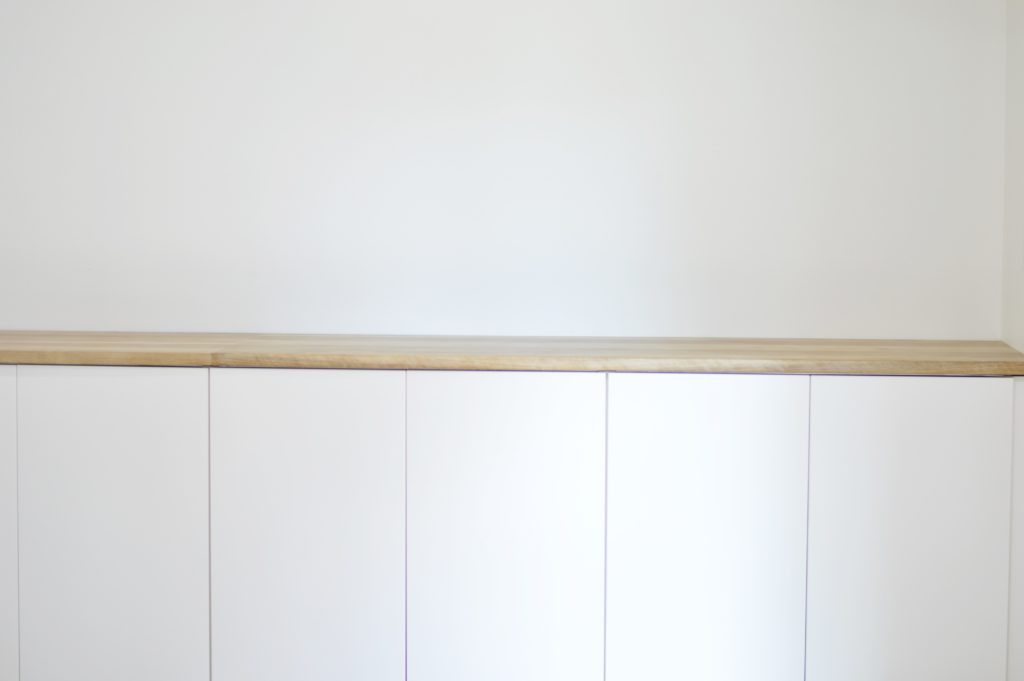 Quality: There are some parts of these cabinets that seemed a bit cheap (the backs are super super super thin…..) but honestly, it doesn't affect the function since they are against the wall permanently. And now that they are installed, they seem just as durable as our Kraftmaid cabinets. The only thing I would say is that the Kraftmaid cabinets in our kitchen have drawers on the top, which means they have a solid cabinet face behind the doors and drawers. These are just a frontless box, so to speak, so there is no front face of the cabinet top for the counters to sit on, which makes them feel a bit more flimsy. They do come with a metal bar brace to attach to the counters, though so they are supported fine, but you can see they look a bit different at first glance.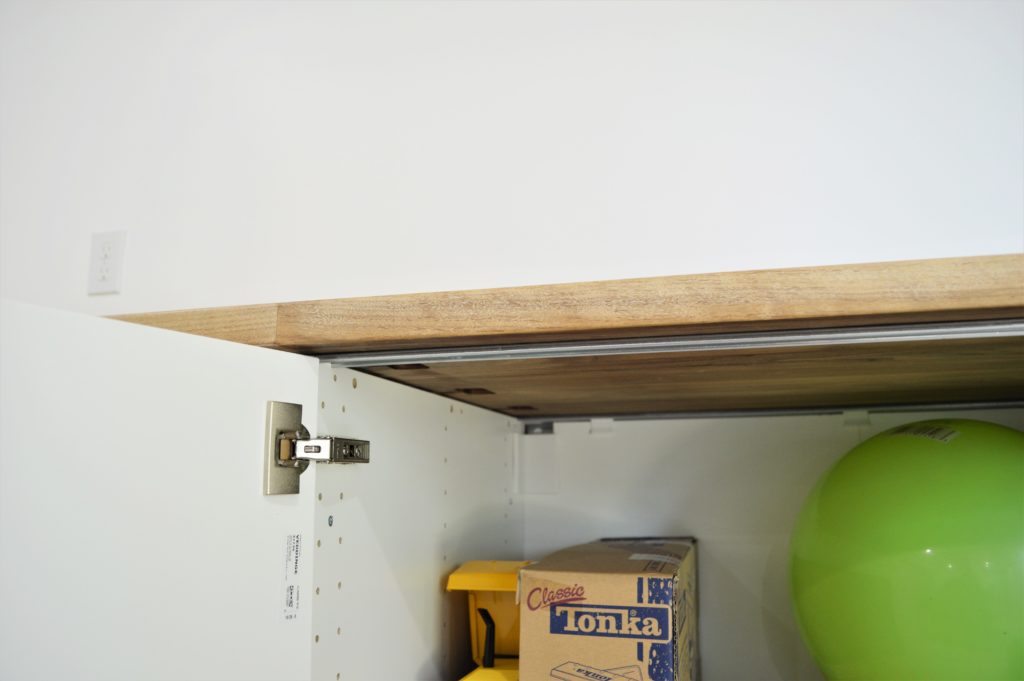 Building: The instructions for putting the cabinets together were fairly simple to follow, but it was Wyatt doing it, not me. So, if I was on my own, I likely would have had a bit harder time.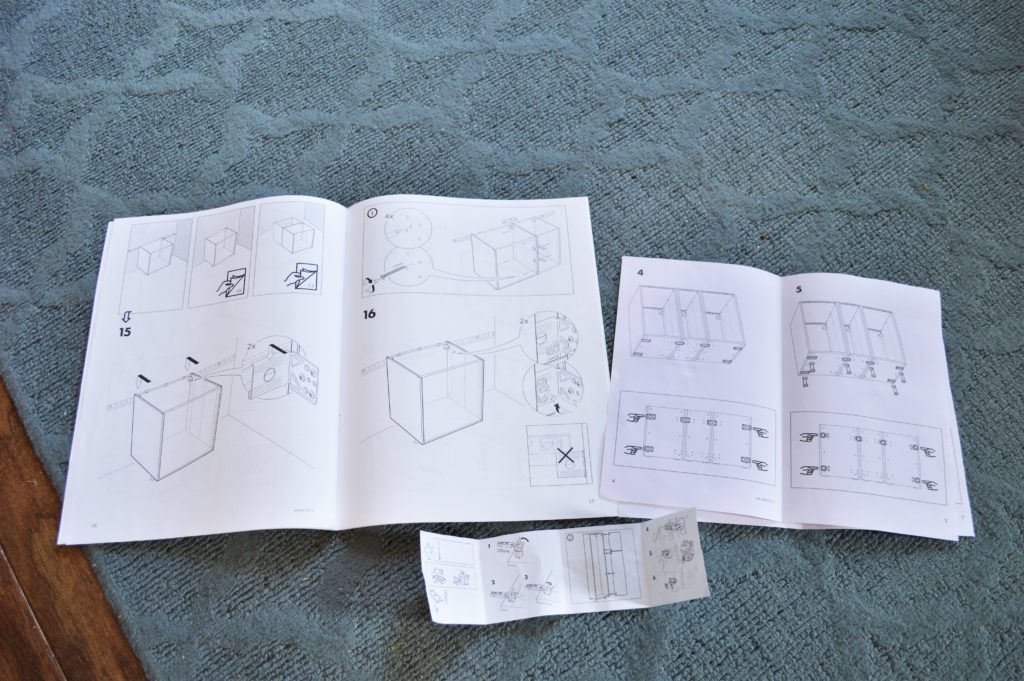 The sides were attached to the bottom with cam locks, which isn't Wyatt's favorite method, but they seemed secure enough and were going to be screwed to other cabinets in the long run of cabinets against the wall so we weren't too worried about them falling apart. Plus, they won't get a lot of wear and tear because they are along the wall with only the front sides exposed.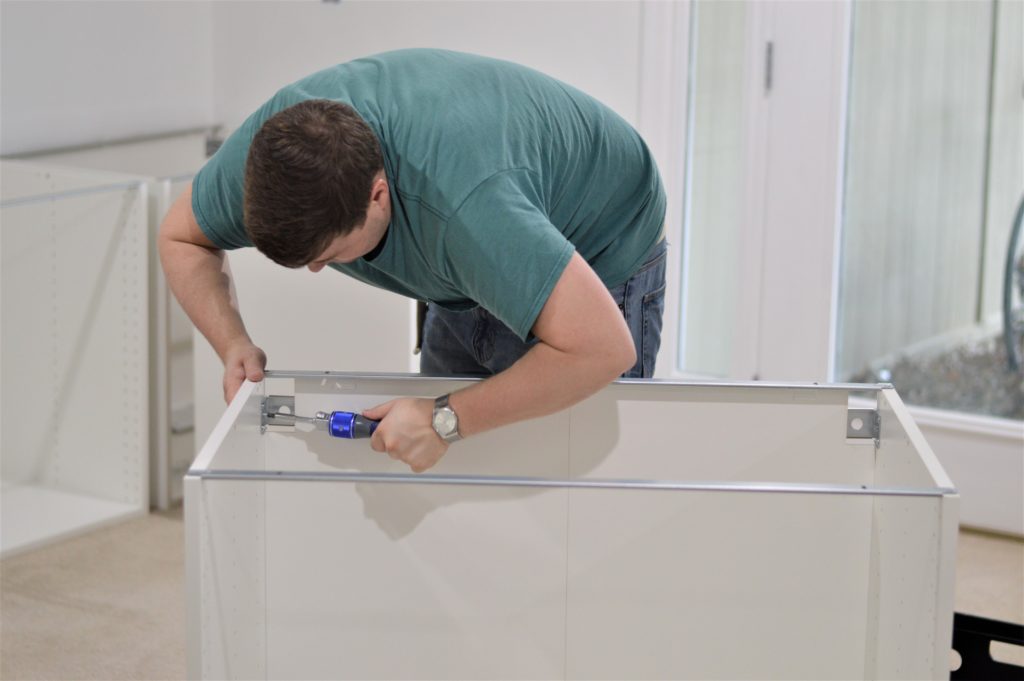 The back is nailed on which makes them more sturdy too, though the back boards are very flimsy. On the top, the sides are secured by 2 metal braces, which also helped the sturdiness.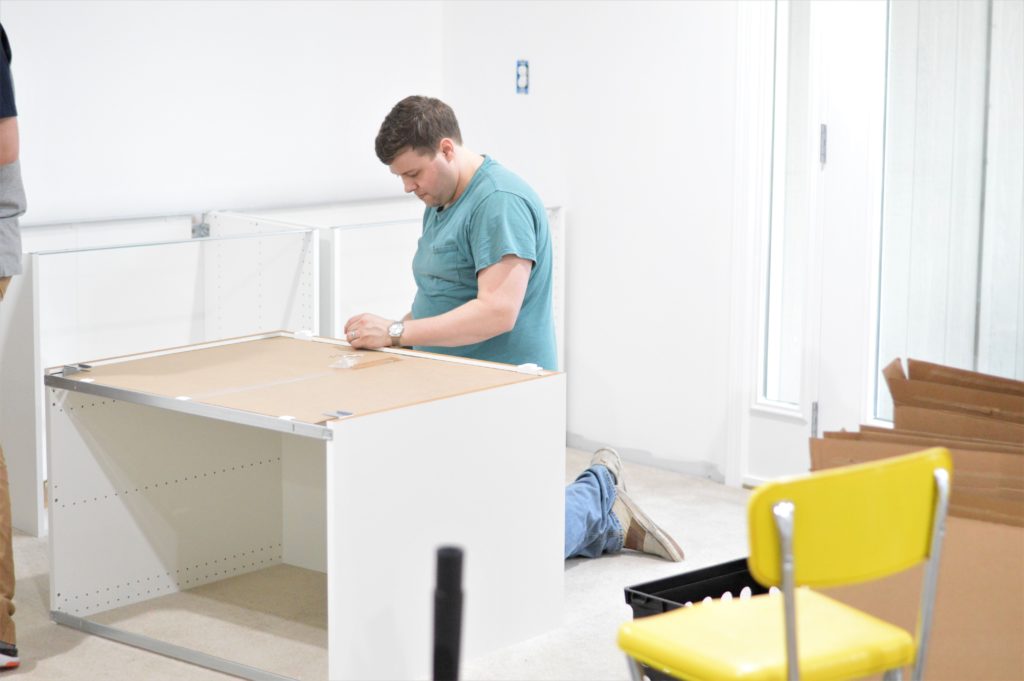 Wall Installation: For the installing the cabinets to the wall, we used the rail method. We leveled and screwed a metal rail to the wall, attached at each stud. The cabinets had brackets that screw into the sides that hang from the rail and lock in place with some washers and screws.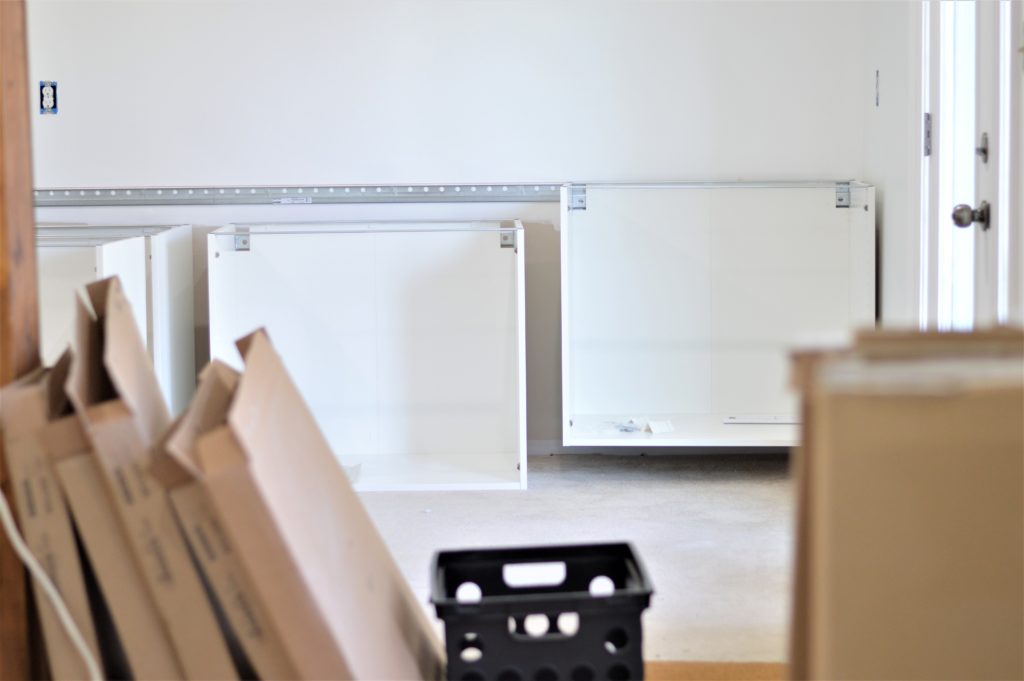 To support the fronts of the cabinets, we attached legs that span the joints where the two cabinets fit together and then adjusted the height so they were tight to the ground. The legs and screwing the cabinet sides together turn the bank of cabinets into one sturdy piece.
The filler strip that filled the extra couple of inches were screwed into the sides of the cabinets closest to the walls before final hanging. This may have been the most difficult part, but watching some videos online and planning the cuts really makes this go smoother. It will depend on your situation, but will probably involve scribing the wall to ensure the piece fits perfectly even if the wall is not straight.
Door Installation: I loved these Utrustra door hinges. I assume they are used in every Ikea cabinet as the standard option. They aren't perfect yet in terms of placement adjustment but I only spent like 20 minutes on it and was able to improve them considerably where there were some gaps originally. It was WAY easier to install these than the ones that came with our Kraftmaid kitchen cabinets. They basically just snap in place and I did it all by myself–no handy-husband-help needed. That proves how easy it was, friends.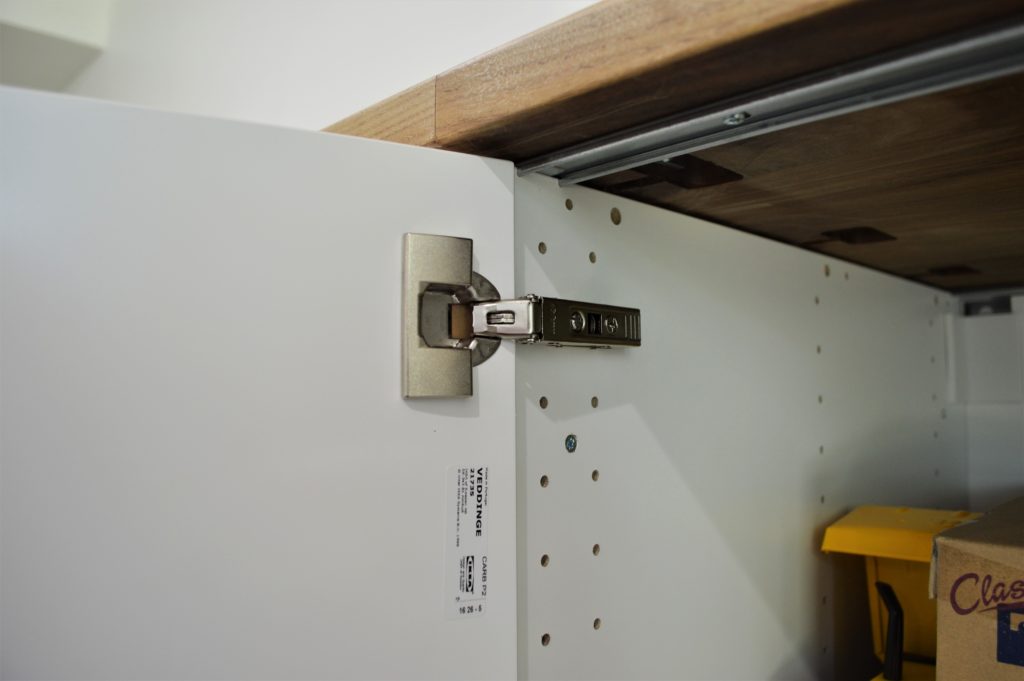 Of course, I did put the smaller doors on the bigger cabinet at first…oops. Forgot we had one that was smaller. But it was no big deal at all to remove them and move them to the right cabinet. Easy-peasy to install these doors, I'm telling you.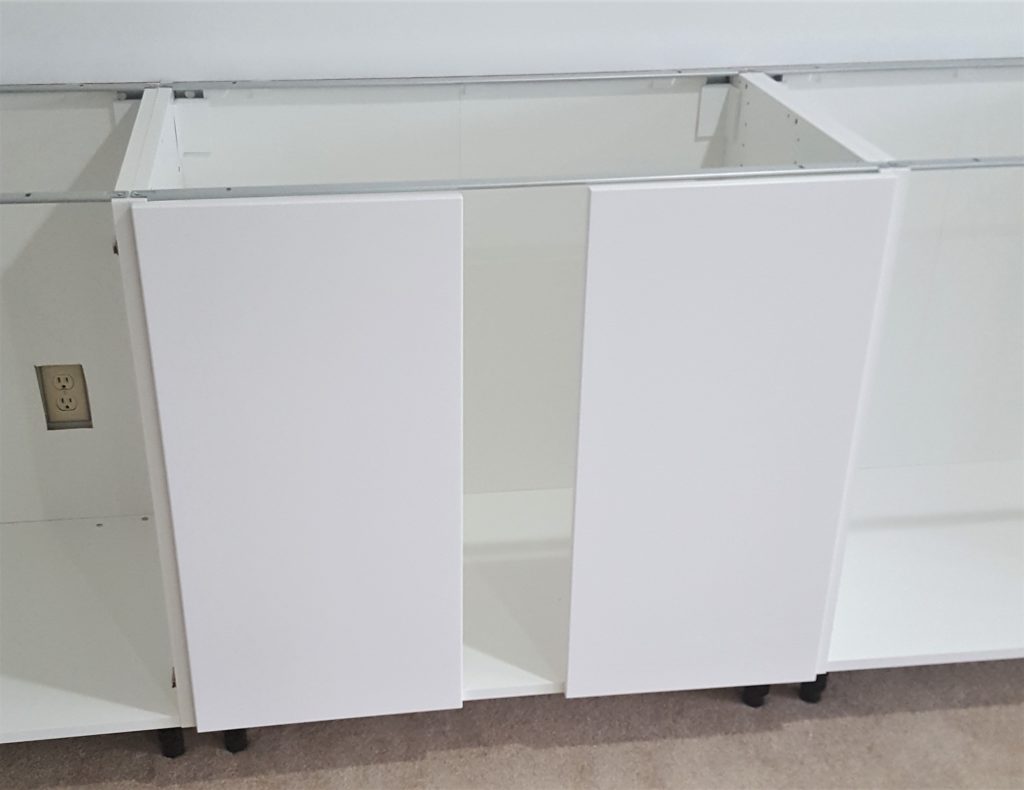 Toe Kick: We were a bit disappointed and unimpressed with the toe-kick because we needed one long run of it and the connectors that come with these kind of left a gap that was visible. We needed three sections of toe kick, but Wyatt came up with a little hack that made these seems look a little better. He'll share about that in a post of it's soon in case you have the same issues and want to do what we did.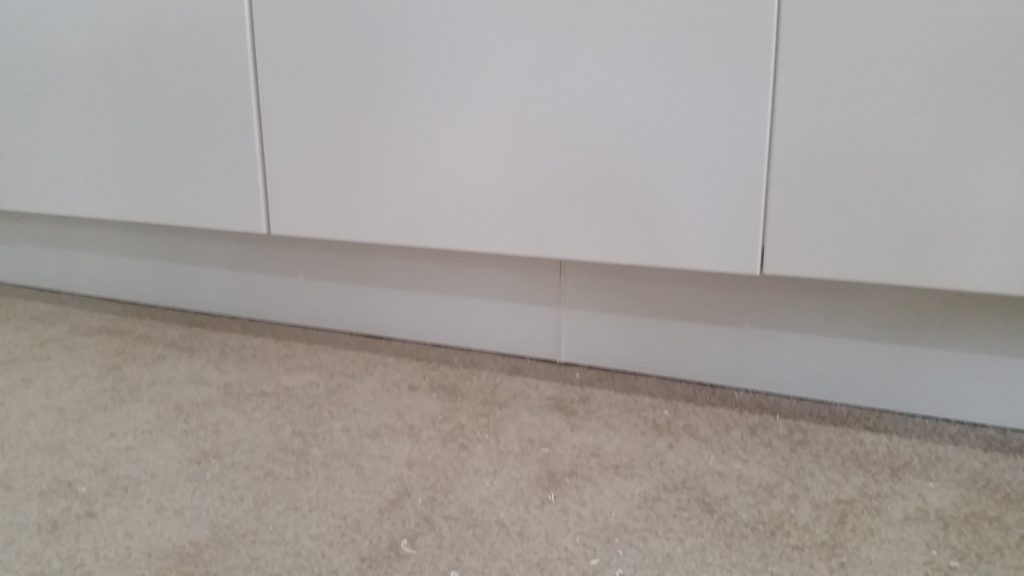 Cost: All together, we spent about $1200 on these cabinets. Ikea cabinets are actually not that cheap. In fact, not everything from Ikea is cheap. They seem to have two basic lines: the basic college dorm quality stuff that is super cheap, and the nicer—you can put this in your forever home without it looking too cheap stuff.
It certainly wasn't a cheap project, but it was fairly affordable. I do think that it was cheaper at Ikea than it would have been to do something similar with cabinets from Lowe's or Home Depot, just compared it to what our kitchen cost. The quality is a bit less, as I stated above, but I think for this particular project, it was perfect.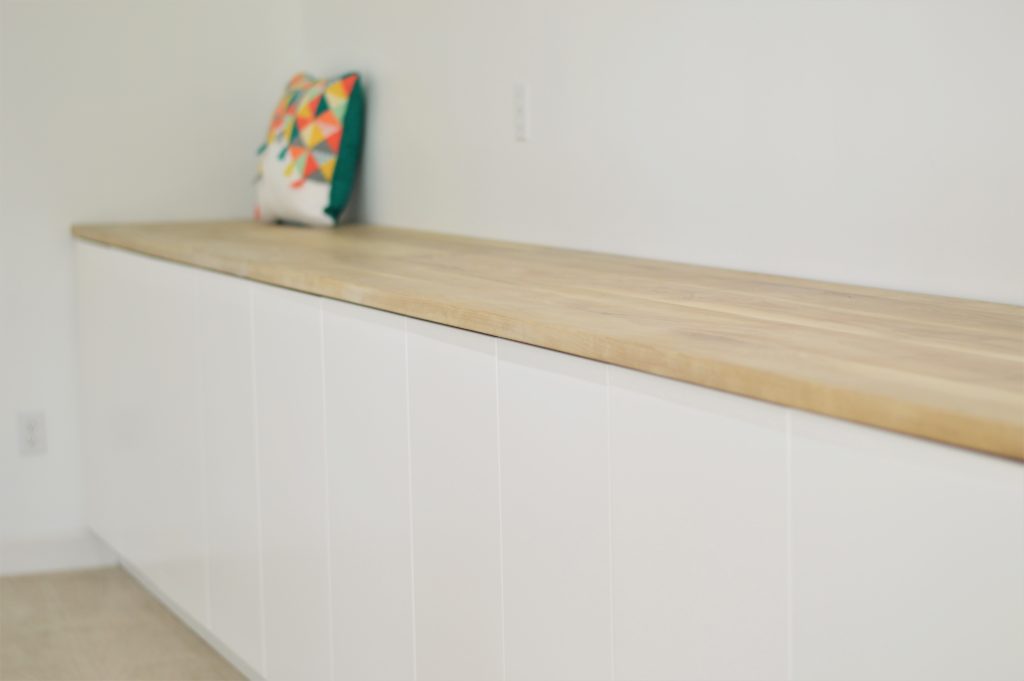 I'm very glad to have the storage and I think it adds a lot of value to the space down there. Plus, I have really enjoyed using them so far. Will even enjoys getting toys out and helping to put them back in, which is fun. And I've been able to not only put away some of the bigger toys that visually clutter the living space, but also a bunch of things (like my entire craft supply collection!) out of the storage room and into these. We also now have a home for all the outdoor doors like bubbles and lawn mowers.
Now just to finish organizing and moving into them.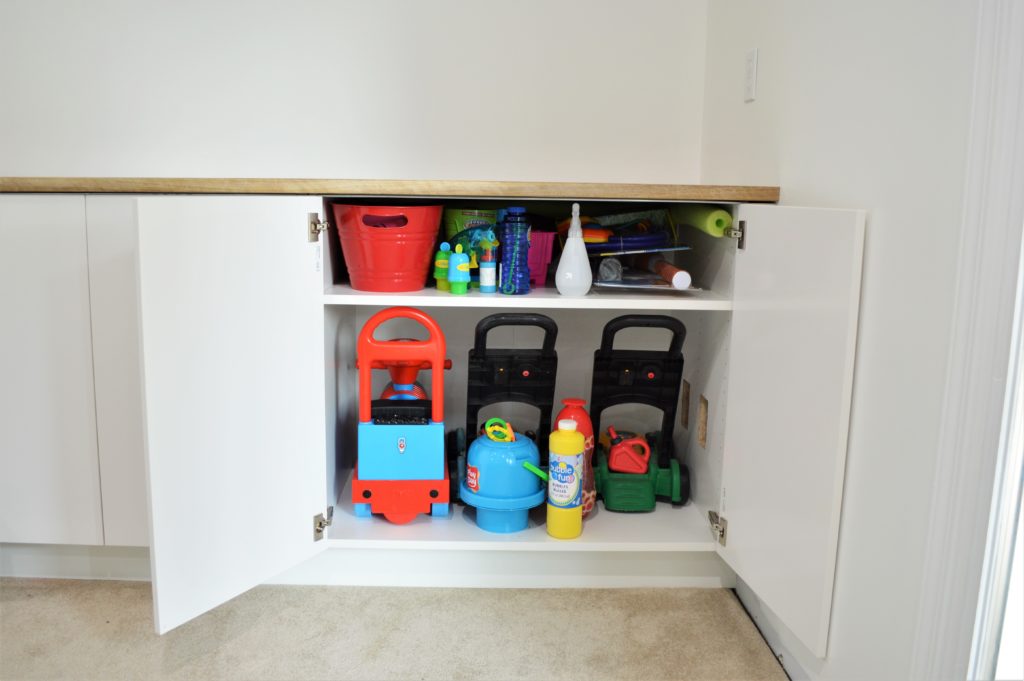 We haven't decided on what kind of hardware we want to use, if any, so they may stay "naked" for awhile. I actually like the way they look but for functionality, I think we'll need something so we don't have to bend over and open them from the bottom every time we want to get something out of them.
Have you ever used Ikea cabinets? What do you like or dislike about them?