It's not #FreebieFriYAY, but I wanted to go ahead and share a sweet little print I made for my spring clipboard collection.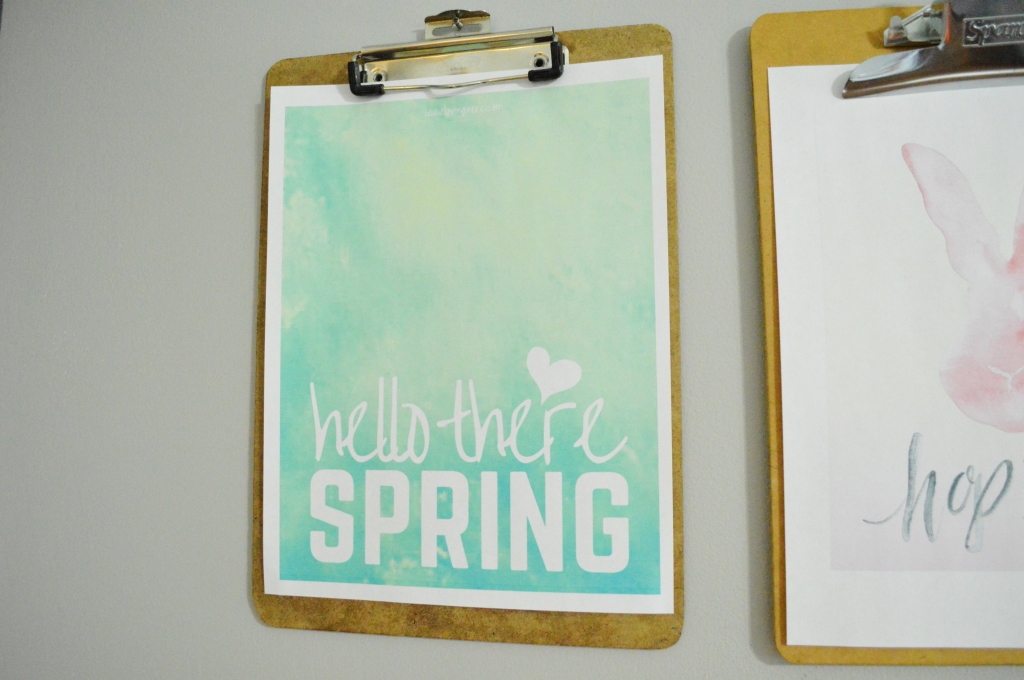 And yes, technically, I missed the first day of spring, but I think the fact that it snowed here on Sunday morning (the first day of spring) and today it's 65 degrees and sunny makes it appropriate to share this today, anyway, right?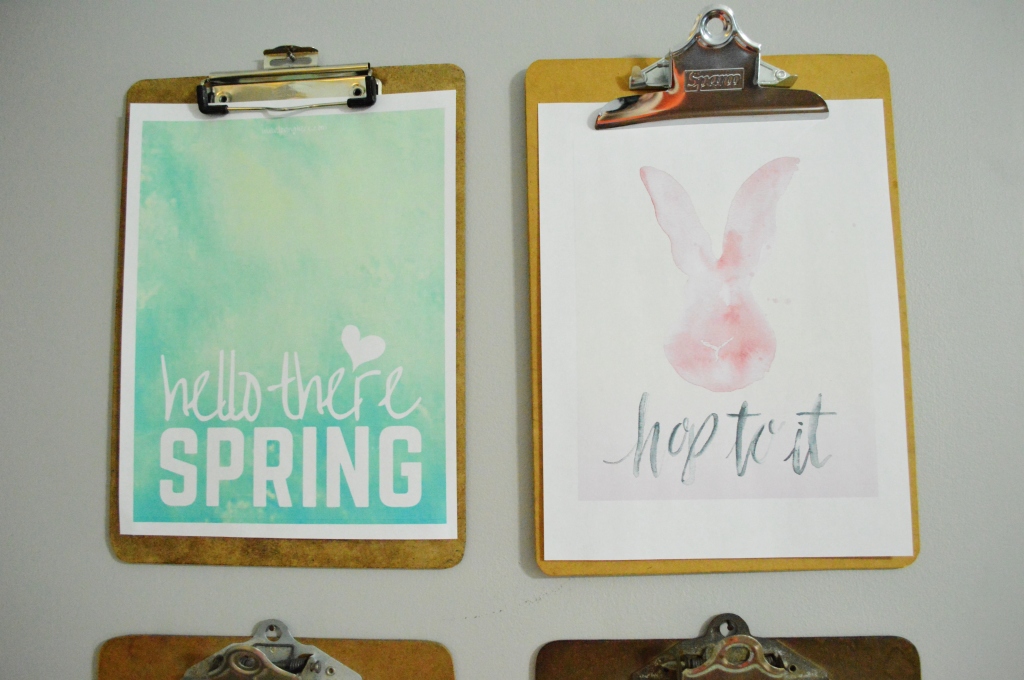 I like to design all my own prints for this little gallery wall, but our lives have been pretty crazy lately so I spent a few minutes surfing Pinterest while nursing and found a few new seasonal favorites.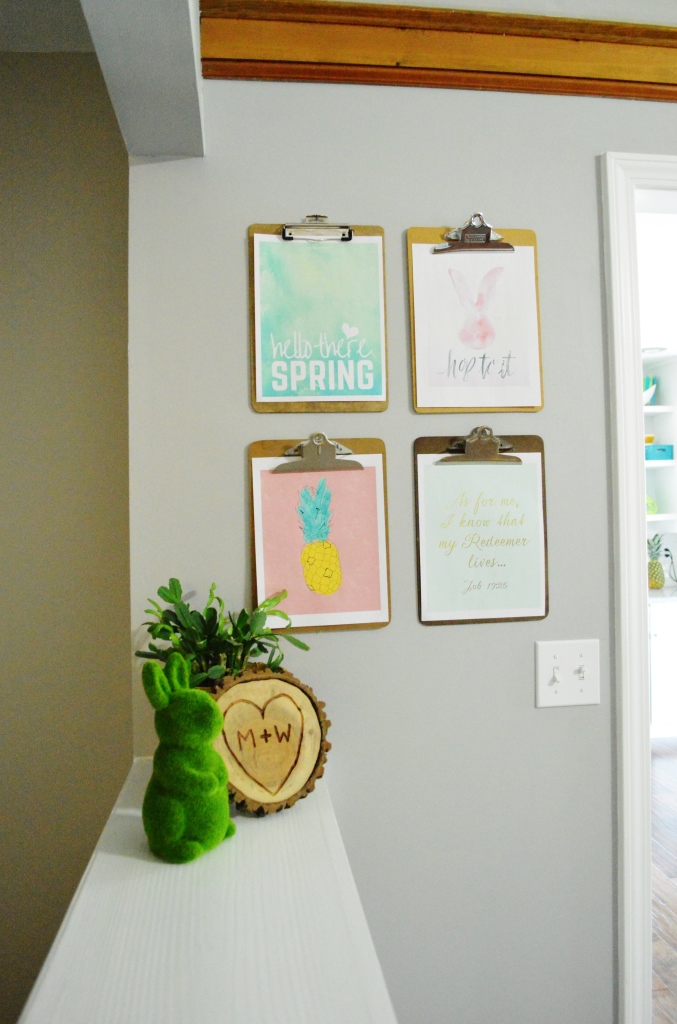 You can find the "Hop to it" bunny here, from Just the Bees Knees. It's one of my favorites, ever. (That little hint of a nose!) I want to leave it up all spring even though it's Easter-y…is that allowed?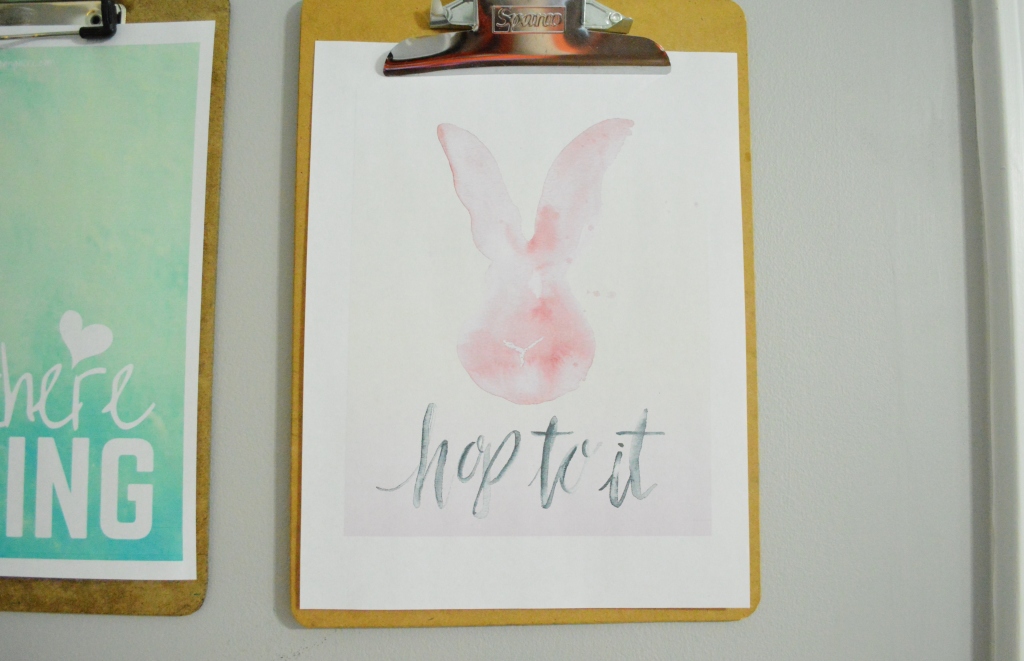 The "Redeemer Lives" verse print is from 36th Avenue, here. It's one of my favorite for this time of year.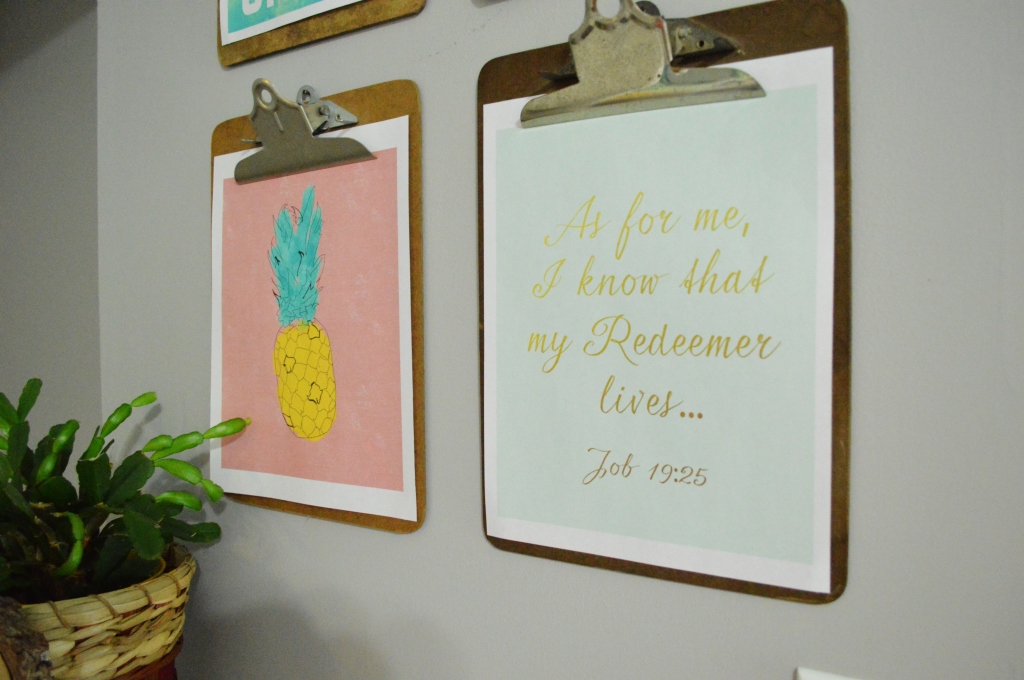 The pineapple is from Little Gold Pixel, here. I know it's not really outright springy, but it's just so darn happy and silly. Pineapples are a symbol of welcoming, so I'll just say this is me welcoming spring, right?
Also, notice the real pineapple on the kitchen counter in the background. Ha!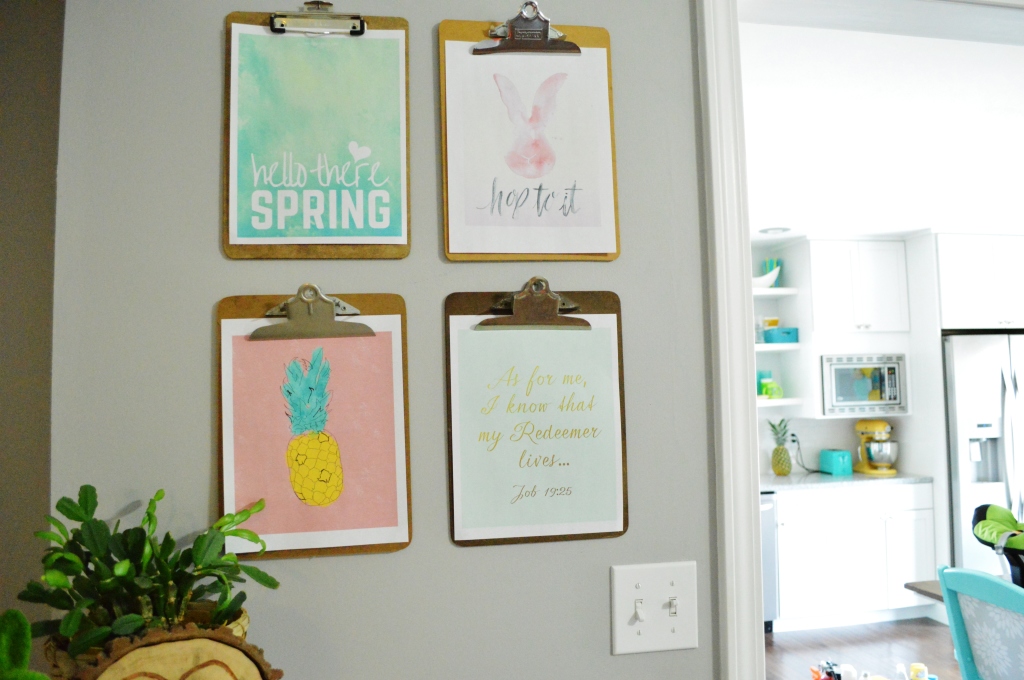 Plus, pineapples are sort of a random symbol of happiness and joy to me for some reason.
Maybe because they look ridiculous and prickly but are so sweet on the inside?
And they're yellow? I don't know.
I'm not 100% sure why, but they seem to speak to my soul a little bit, and that's enough.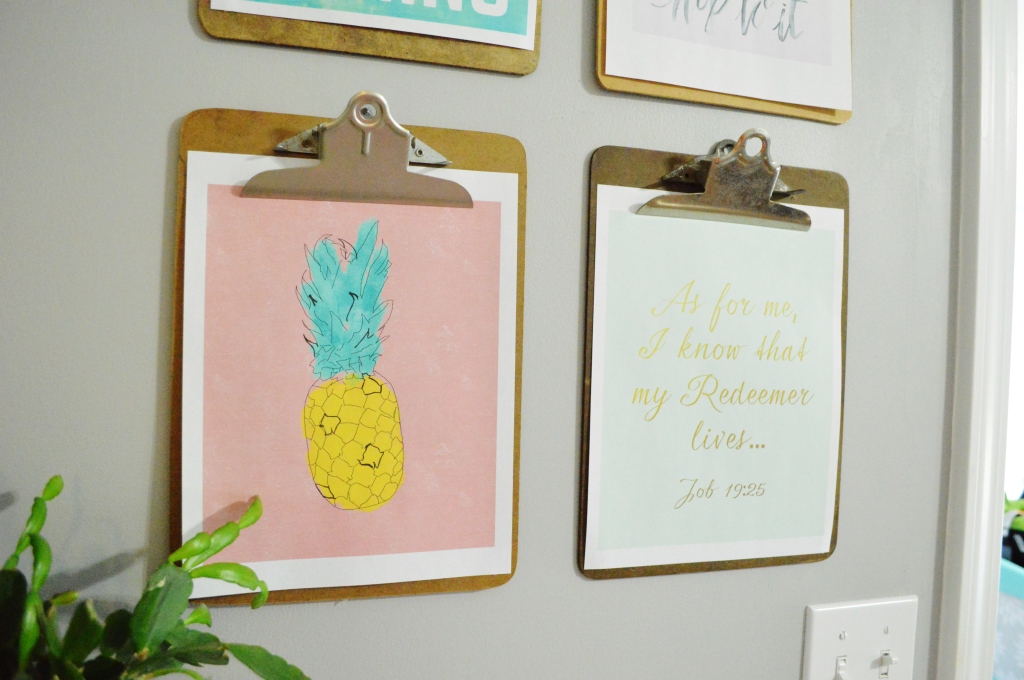 If you don't like these options, feel free to check out my Printable Pinterest board, below, to find your own favorites. And, you can find all my free prints to download, here. (There's a bunch–go check them out!)
Follow Loving Here Blog's board Pretty Prints on Pinterest.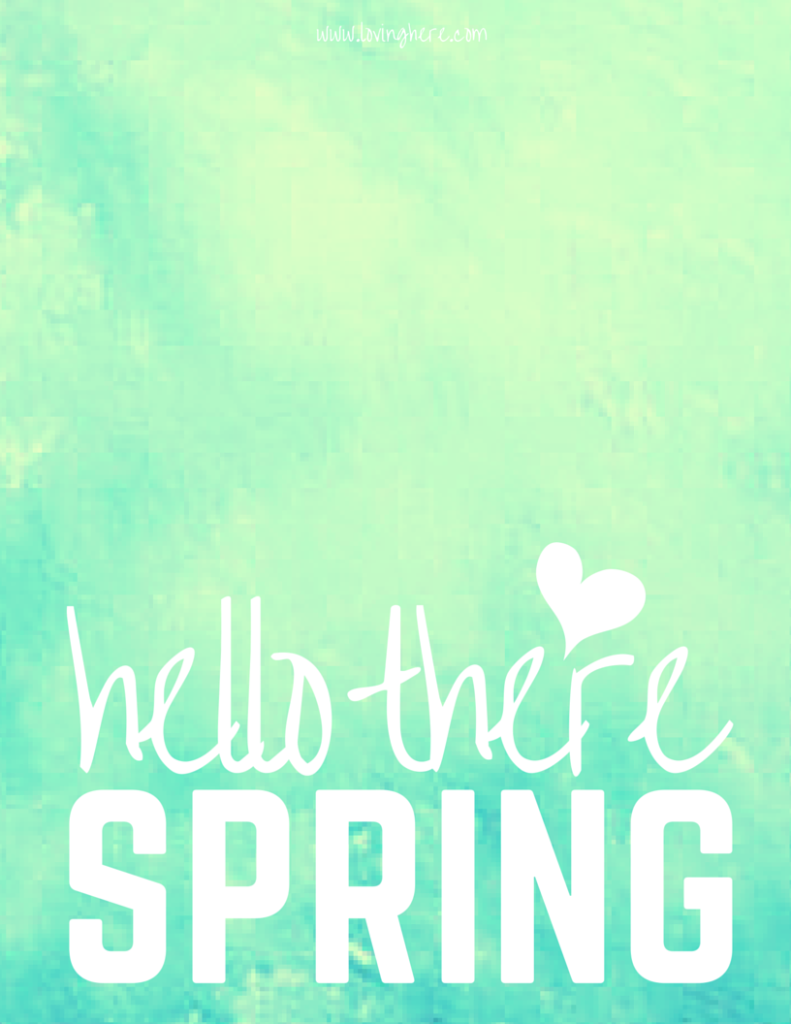 The easiest way to print is to right click on the image above and "save as" to save it to your computer and then print it out however you normally print stuff. Or post it online (with a link back) to remind all your friends of the message.
Anyway, I'll be back tomorrow with the rest of our Easter decorations. I promise it's done (mostly!), but I still need to get photos taken. Oops.
In the meantime, what are your favorite things about spring? I like warm days with the windows open. There's something about hearing birds chirping and wind chimes that makes me happier and more productive!
---
**As always, these designs are only available to print and use  for personal use. That means you aren't allowed to sell them or tell other people you created it. If you share them, please provide credit and a link back here. Prints may be available without watermark for $5. Email melissa (at) lovinghere.com for more information.**