First, let me say that I realize with this project we've officially placed ourselves firmly in the "NOT vegetarian" category. But, to be honest, we were pretty far in that category to begin with. I think I've served Wyatt a total of 2 recipes ever that he has said he doesn't mind the fact that there is no meat involved. (Breakfast cereal not included, of course.)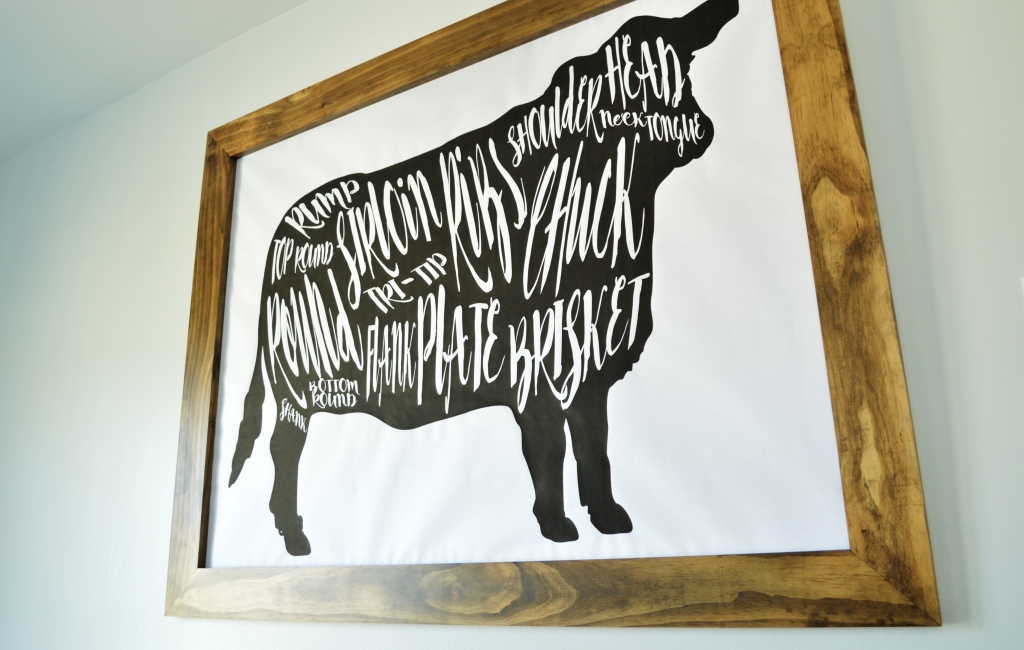 Yep, we're a beef-eating family, for sure. Although considering we're both from farming families and have participated in annual beef butchering weekends for years–since I am old enough to remember–this comes as no surprise.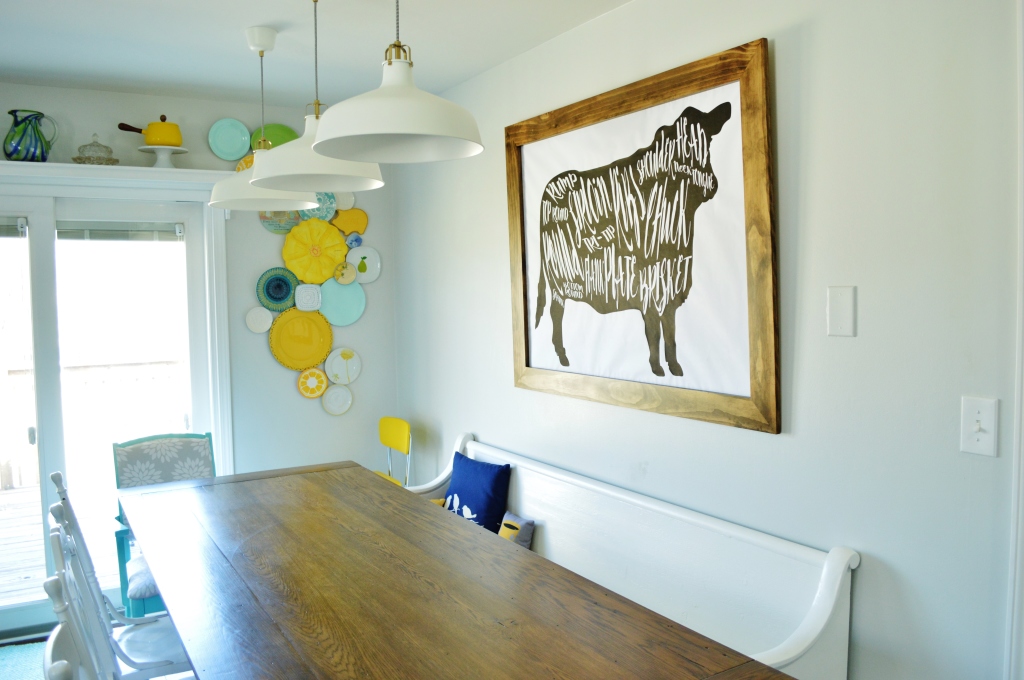 To back up a bit, I've been struggling with what to put on this wall for awhile. I knew I wanted some sort of bold word art, but Wyatt wasn't convinced…until I finally landed on an idea I thought he would get behind.
To be fair, once I told him my idea, he wanted it to be a little more…clinical or realistic, like this, but I liked the scripted print. It made it look a little more…glamorous…for lack of a better word. That's a ridiculous description for this project–but I guess I'll go with it–a glamorized butcher cow diagram. Ha!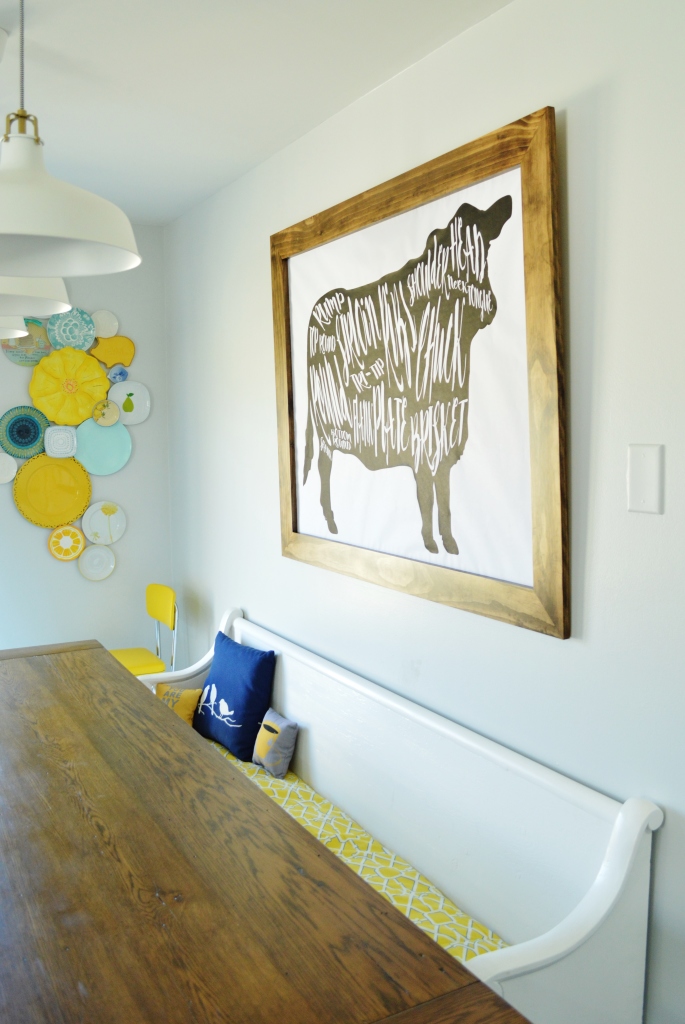 Whatever we end up calling it, I think this turned out really neat. And I like how big and bold it is.
I created the design in Photoshop and had it printed as a large format print from Office Depot. It turned out to be four feet by three feet, which cost us a whopping total of $5.88. (And I had a coupon, making it only $4.41. Cheapest art print, ever. The quality is super nice for that price. It's not photo paper, but I like that it isn't glossy. (I had trouble finding this as an option on the website, so try the link above if you can't find it.)
It's priced by the square foot and really affordable, no matter what size you order.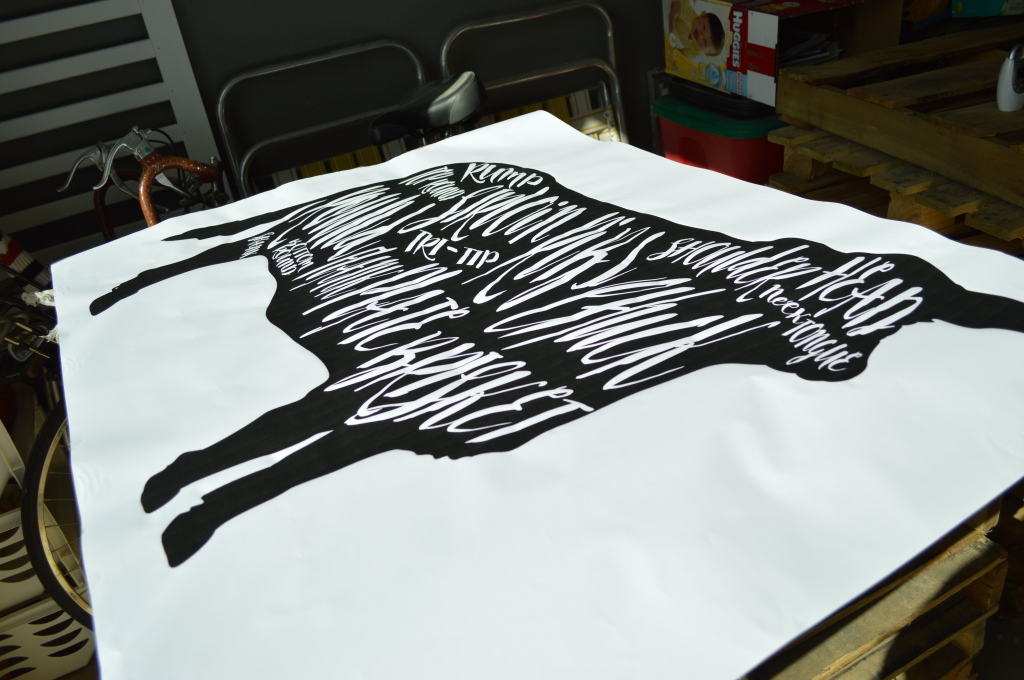 For the frame, Wyatt made a simple mitered corner frame from 1×4 pine boards from Home Depot. It took two eight-foot boards since our frame needed to be 52″ x 40″ in total. He mitered the corners to make a standard picture frame and then used his Kreg Jig to attach each side together. (Kreg tutorial, here)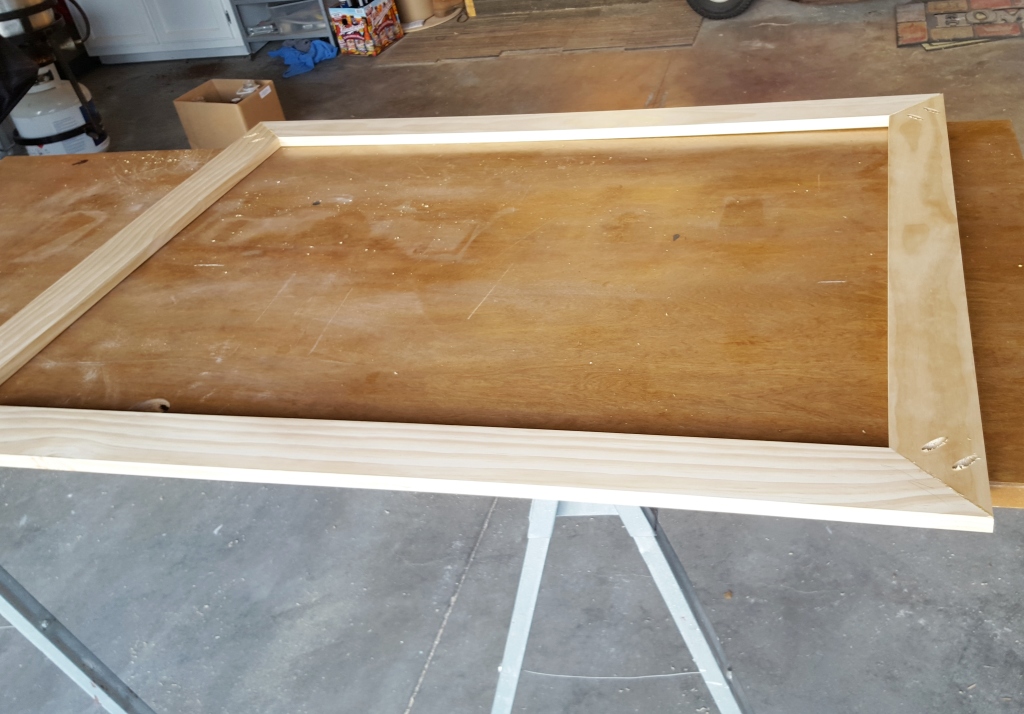 A mitered corner is made by joining two pieces of wood, each cut to a 45° angle.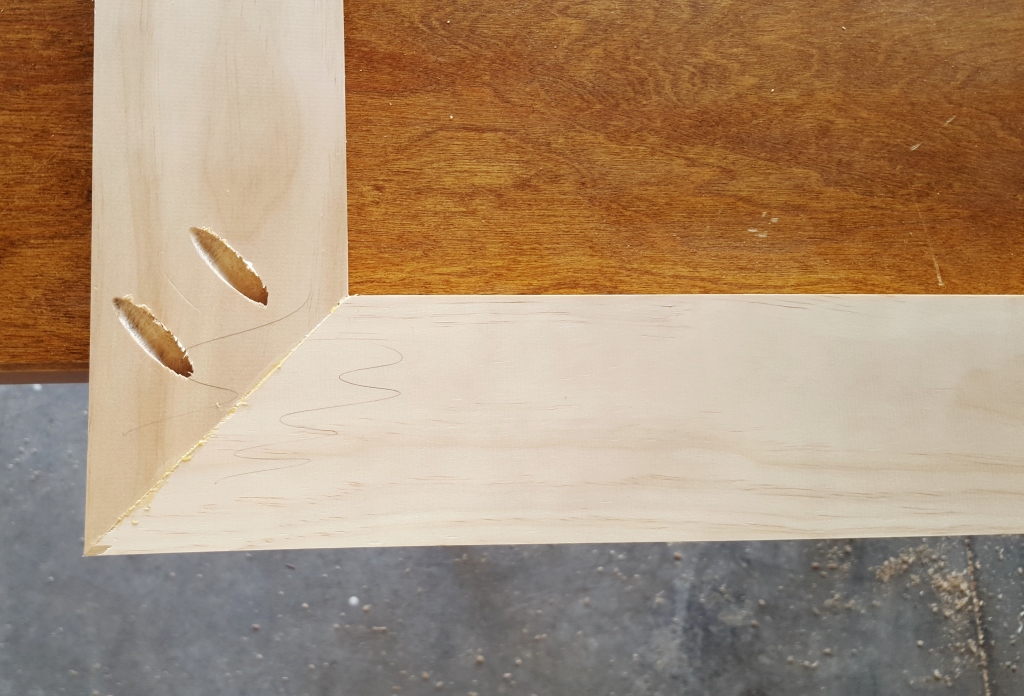 (If you'd prefer a non-mitered corner frame, there's a tutorial here that would also work for this project.)
Once the frame was made, we gave it a coat of stain using Min-Wax Expresso. We used two coats in some areas because our boards didn't have very consistent grain. After it was dry, we used two coats of spray lacquer as a top coat. Then, it was time to attach the print to the frame.
We considered just stapling it to the back of the frame, but thought it would be better if we used some sort of backer board. We decided on the cheapest, thinnest plywood we could find at our Home Depot. I think it was around $10 for a 4 foot by 8 foot sheet, and probably only 5mm or 8mm thick.  Wyatt cut it down to size and then quickly sanded the edges to remove any roughness.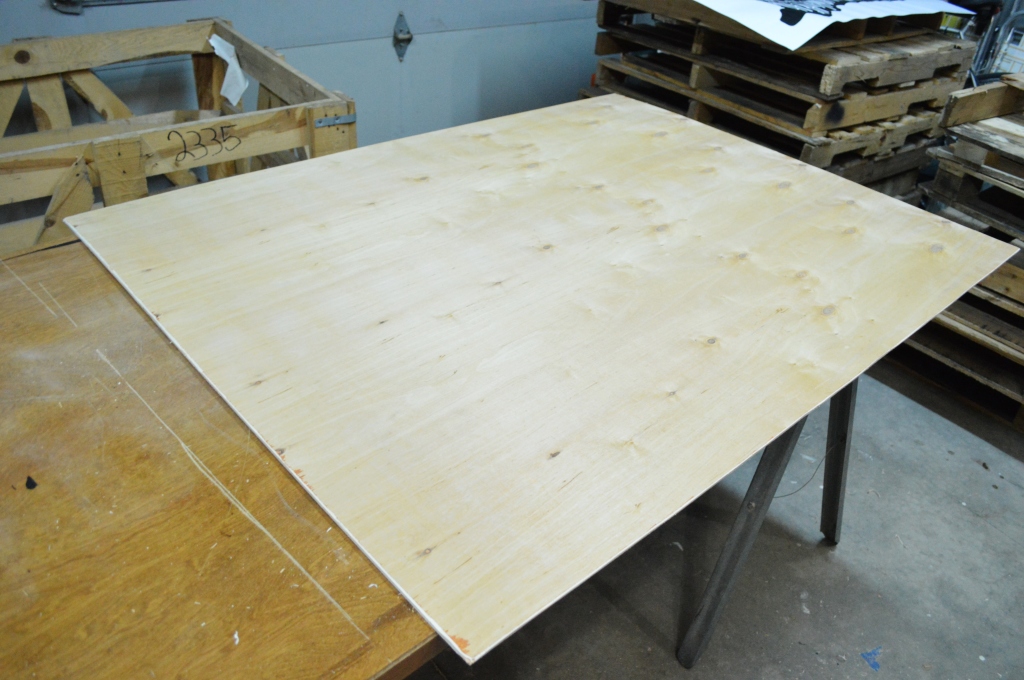 We made it slightly smaller than the outside edge of the frame.
Then, I flipped it over and taped the print down to the backing. We could have glued it, but the tape will hold it just fine since it would eventually be held in place by the frame.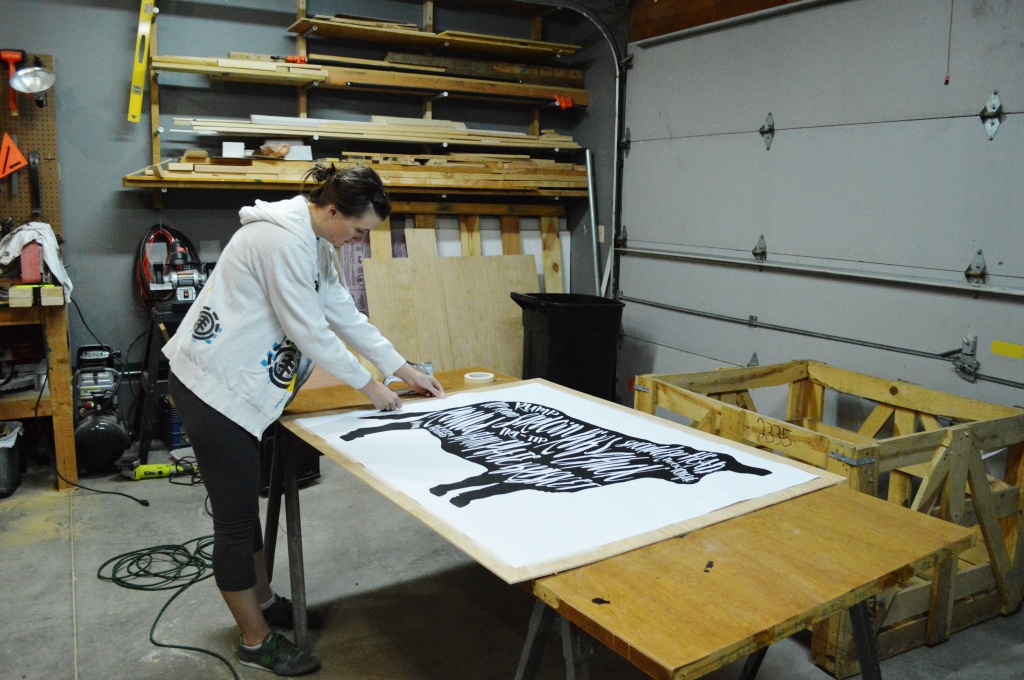 It was a little challenging to avoid air bubbles…but again, this is a slightly rustic project. So it doesn't have to be perfect, right?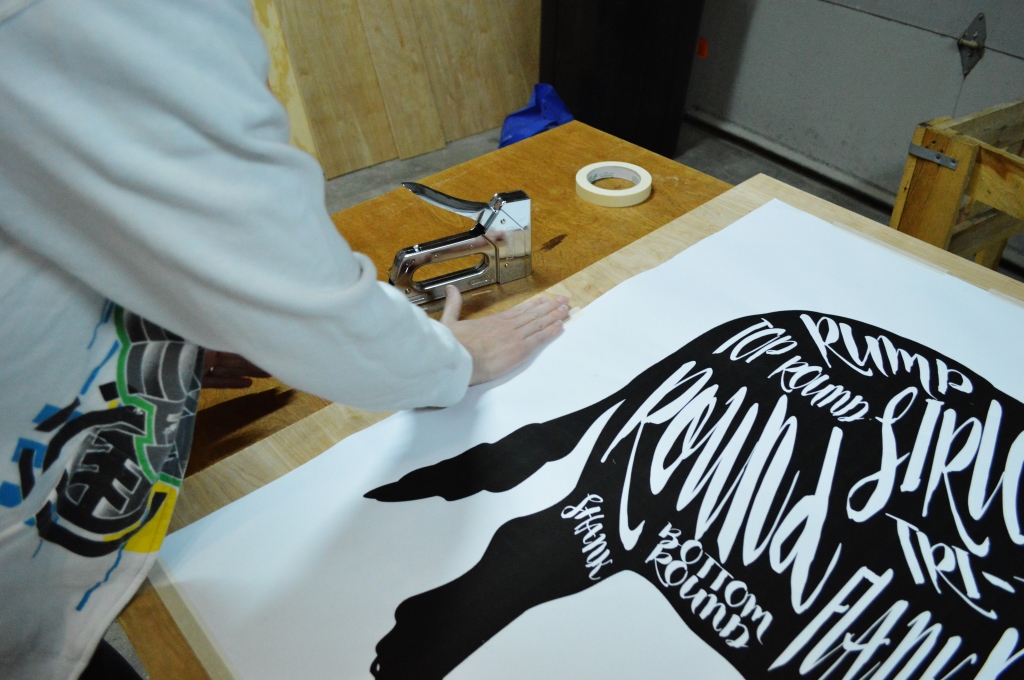 Then, we stapled the backing (with the print attached) to the back side of the frame, making sure our staples were long enough to go through the plywood and into the frame, but not so long they would shoot through the frame and be visible on the front.
To hang it, we used a picture hanging kit to attach a long wire to the back, then hung that on a stud on the wall for security. Ta-da!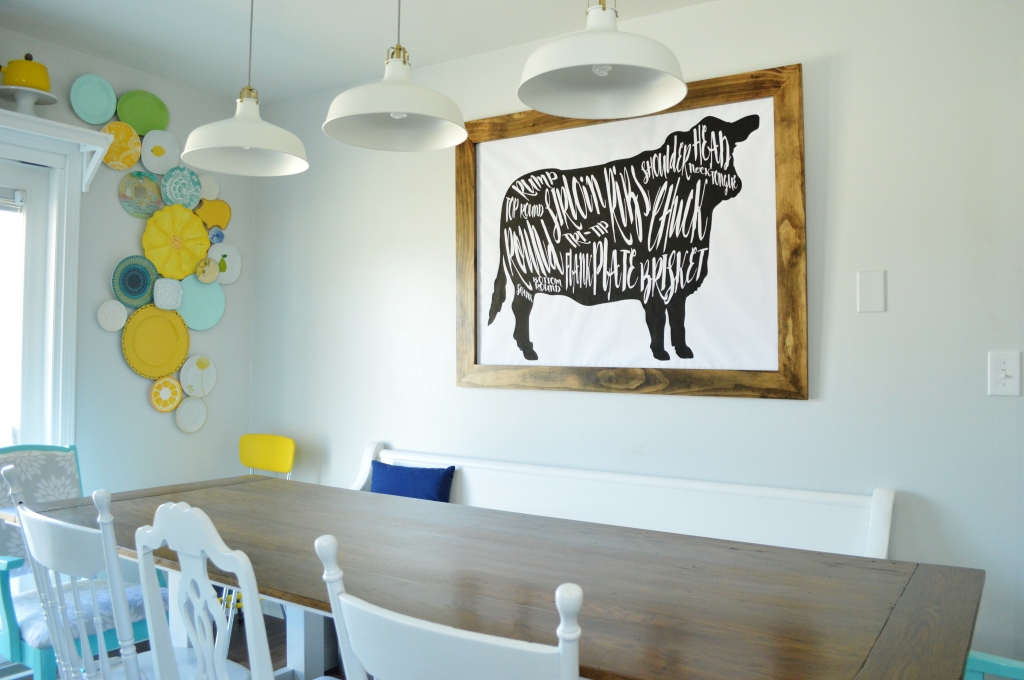 The entire process took us a couple weekends to complete, but we could have done it faster if we had worked on it more consistently. It may not  be what we have hanging on that wall forever, but for now, I like that it fills the space with something bold and graphic. Before, that wall was pretty bare and boring. Not anymore!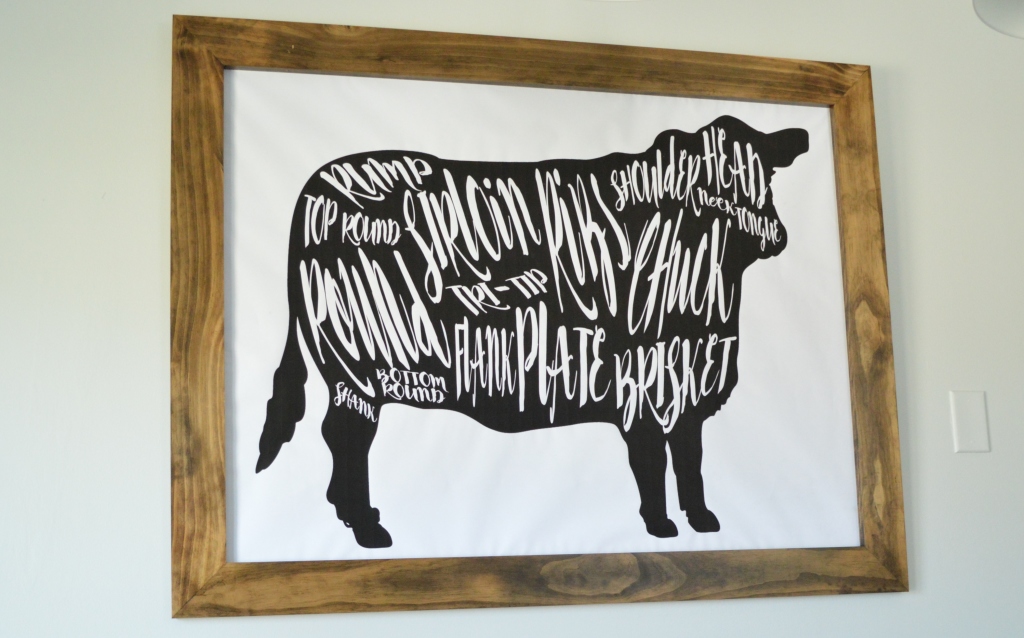 This is a good scale for over the pew and our big farmhouse table, and it was really inexpensive to make. I think all our supplies cost just under $20, and we have some leftover (plywood, stain, etc.) to use for other projects down the road.
(There's also a pretty good view of our slightly updated (again) plate wall.)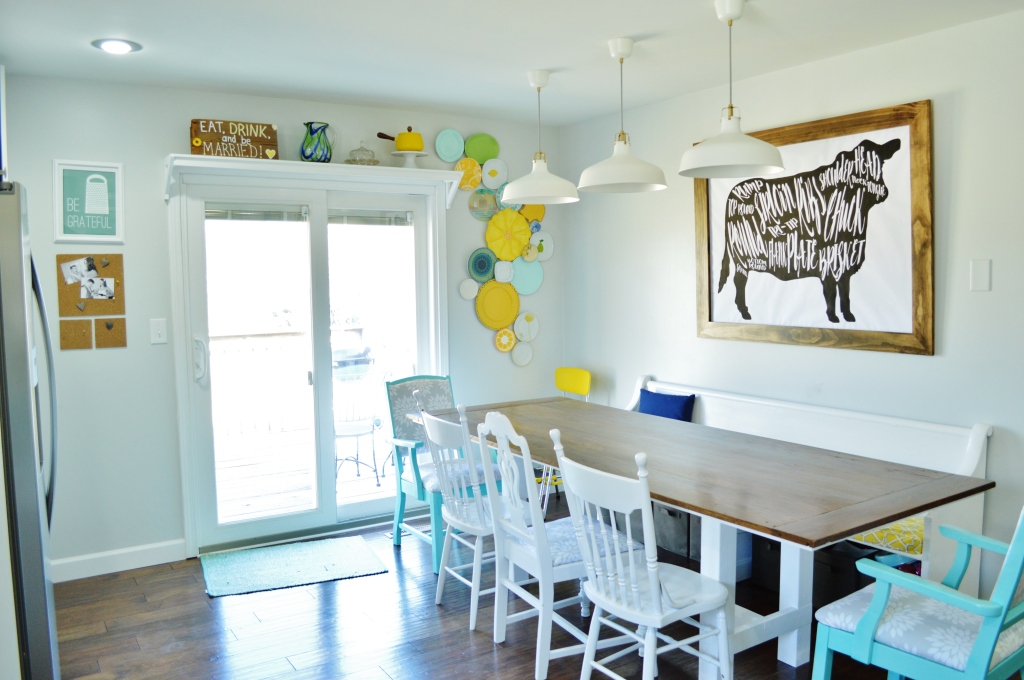 And, yes, it's not for everyone, but  I'm really pleased with how it turned out.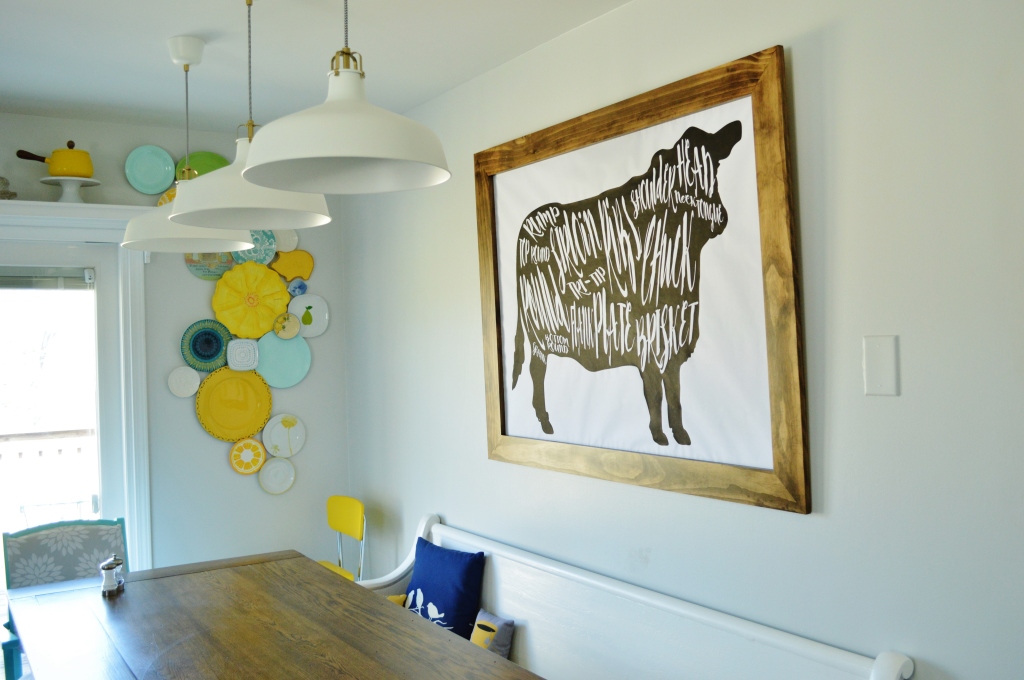 So, there ya have it, a large-scale, custom art piece for the kitchen for not a lot of money. It doesn't get more kitchen-y than beef…at least not around here I guess.
Would you ever put a giant cow above your dining table? What about a big? Or a chicken? Or maybe an eggplant for our vegetarian friends? 
---
Want a giant, glamorized butcher cow print for yourself?
I'll send you the file for $10 and you can get it printed at your local Staples or Office Depot. That should give you a total of less than $20 for a huge piece of wall decor. Email melissa (at) lovinghere.com if interested.
And, you don't even have to build a frame for it like we did here. Tack it to a cork board, tape it to the wall, or use two wooden dowels like we did for our winter wall art for an even cheaper, faster, and easier finished product. Tutorial here.)