~ This post contains affiliate links, which means we will receive a small commission if you make a purchase after clicking on our direct link. Don't worry, it doesn't cost you anything extra. And, we won't recommend anything we're not personally a fan of! Please reach out if you have any questions about sponsorship or ads on our blog. We're happy to help explain how this works, and as always, thank you for reading and supporting LovingHere! ~
---
Today, I'm sharing a quick tutorial for how to patch damaged wood floors without having to rip up the entire floor or hire a flooring expert. This is a a good trick for homeowners to know because damaged floors can cost a lot of money to repair.
So if you follow the Instagram account or saw the posts about the washing machine flood of 2016, you know a piece of our new engineered hardwood floor took some damage.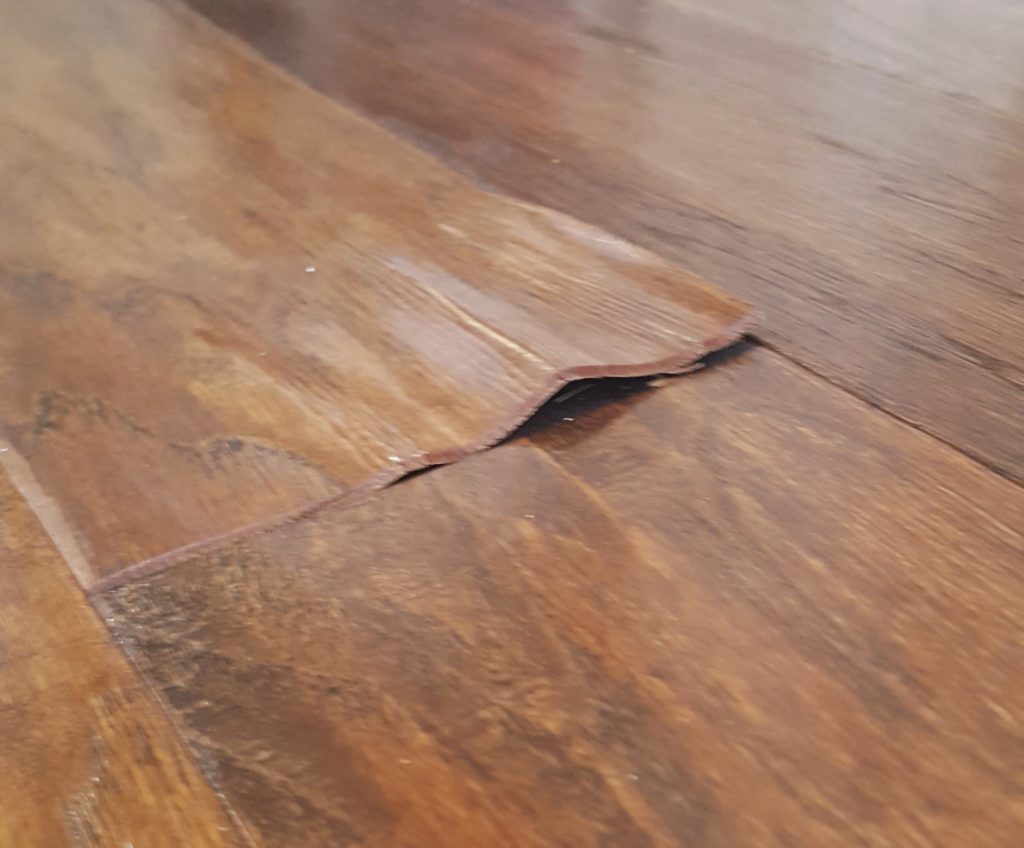 Engineered hardwood flooring is made in the same manner as plywood, where many layers of wood are glued together. The top layer is thin, and pre-finished. In our case, water saturated this area and seeped between the layers causing the uppermost (finished) layer to swell and buckle up.
Thankfully, we only had one piece that was damaged so it wasn't a huge repair job. Shortly after the incident, I got to work replacing that piece.
I used my Rockwell 3.0 Amp Sonicrafter with the Wood and Nail End Cut Blade
 to cut out part of that board. I pulled out extra nails and cleaned up the corners with a chisel and box knife. This prepared the hole for the new piece. I made sure to cut the board so that the seam it created would look intentional and not like a patch.
To do that, I ended up cutting out a larger portion of the flooring than was damaged so we didn't have a tiny board that looked like an obvious patch.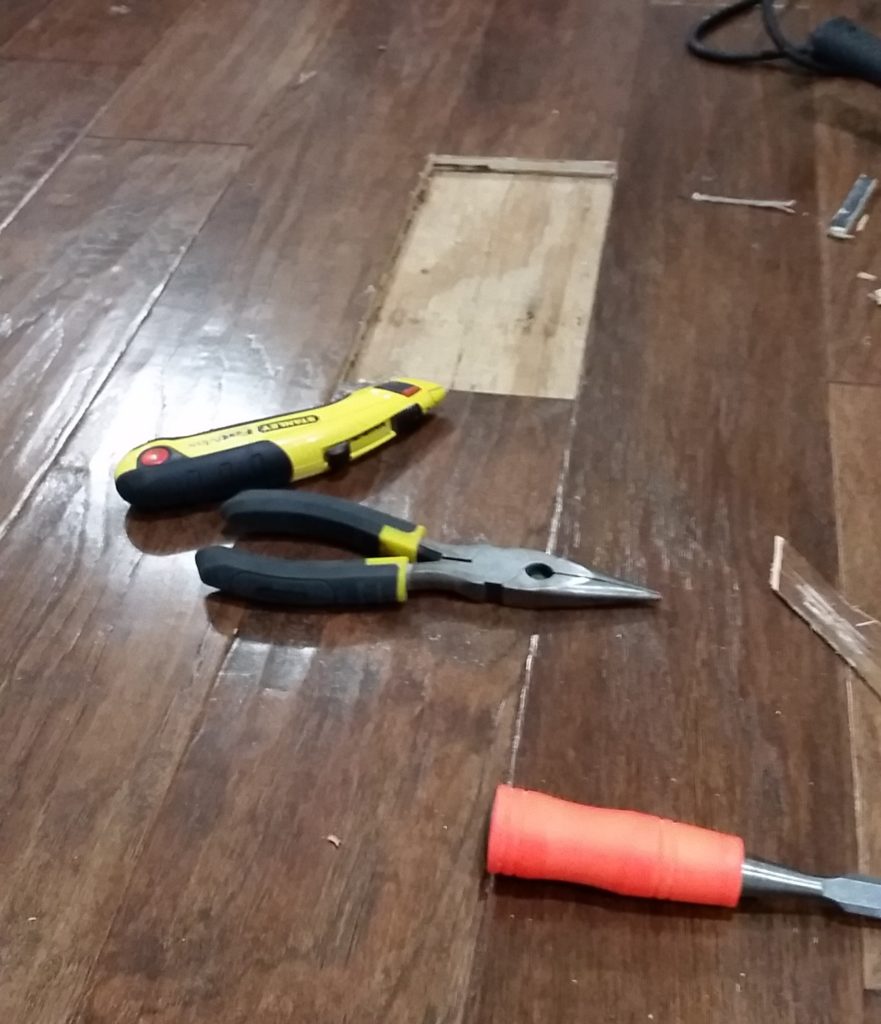 Because it is difficult to freehand a cut that ends up perfectly square, I measured and marked both sides of the hole and connected them with a line to get an exact fit.
After getting the new piece cut to length, I used the Stanley block plane my grandpa gave me to slightly undercut the sides so it would slide into the hole better.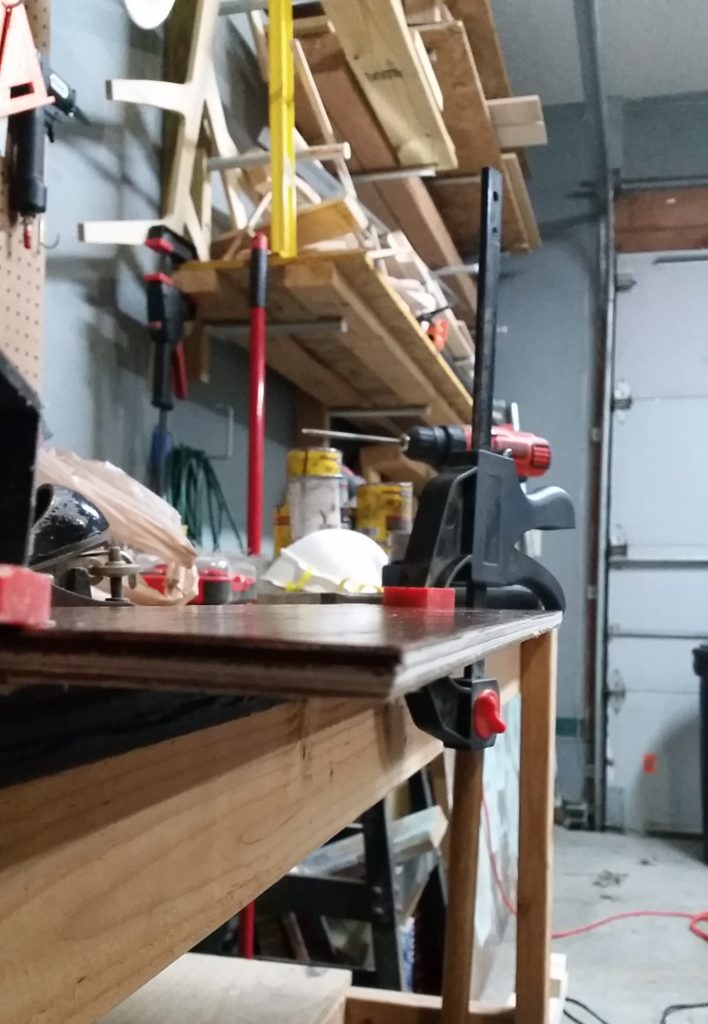 If you're in need of a block plane, this is an inexpensive option to get your started. Or a nicer model if you're looking for something more advanced.
A quick tip for test fits, tape a piece of paper or leave a tape "tail" on the patch to help get the piece back out of the hole after test fitting.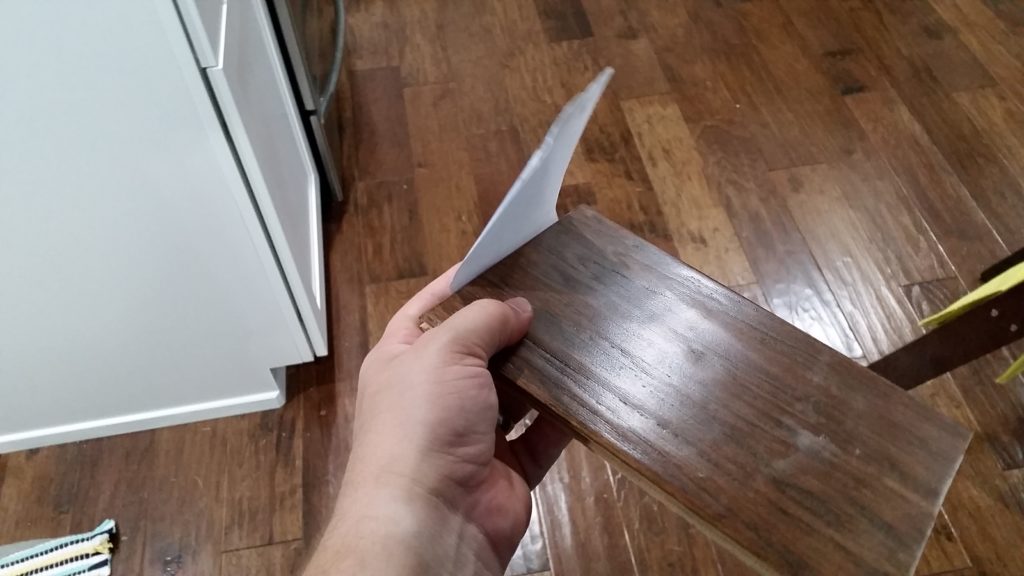 I tacked the new piece in with brad nails, since we couldn't install it using the tongue and groove method. So, you could use finishing nails, which isn't ideal in a high traffic area.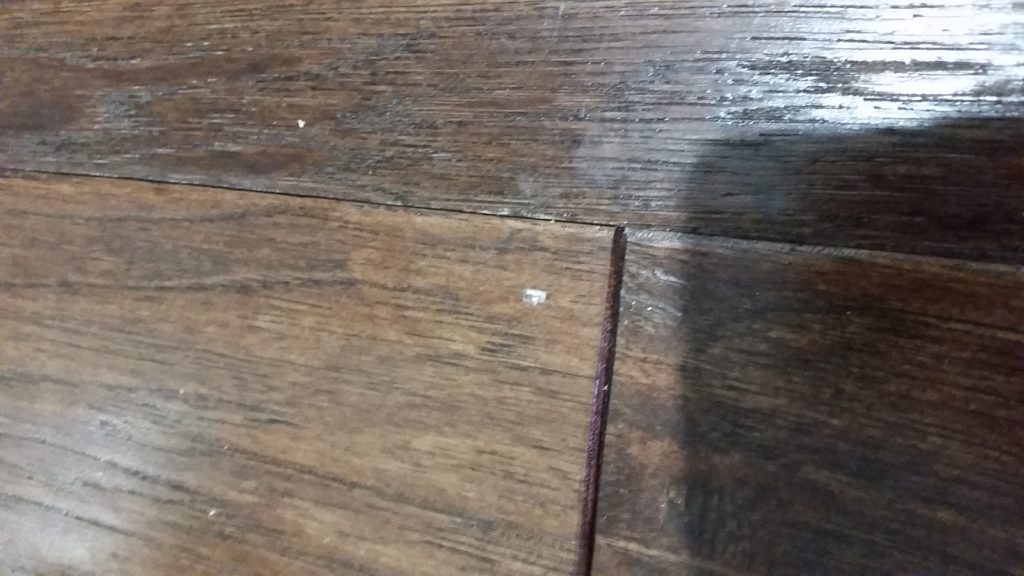 So, you'll need to use a nail set to hammer the nail below the surface without damaging the surface with the hammer. If you've never used a mail set, it looks like this and is a great tool to have on hand for less than $5.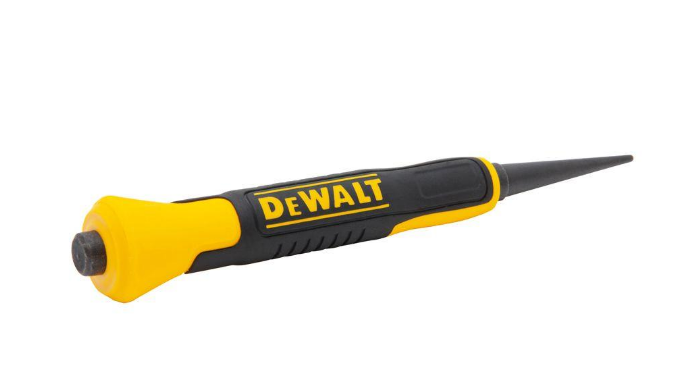 Then, once you get the nails set into the flooring, you'll need to fill them in with a fill stick.  (That link goes to a case of 6, which you won't need, but we couldn't find individual ones on Home Depot's website, so you might check elsewhere before buying 6 of them!)
To fill the nail hole, rub the stick across the indention like a crayon until you have slightly over filled it. Rub it with your finger to smooth it out, the friction heats the fill material just enough to make it easier to work with. Then, use a rag to rub it smooth and clean off any excess. If you place the nails along some darker spots like grain, the darker fill stick will help hide the imperfections.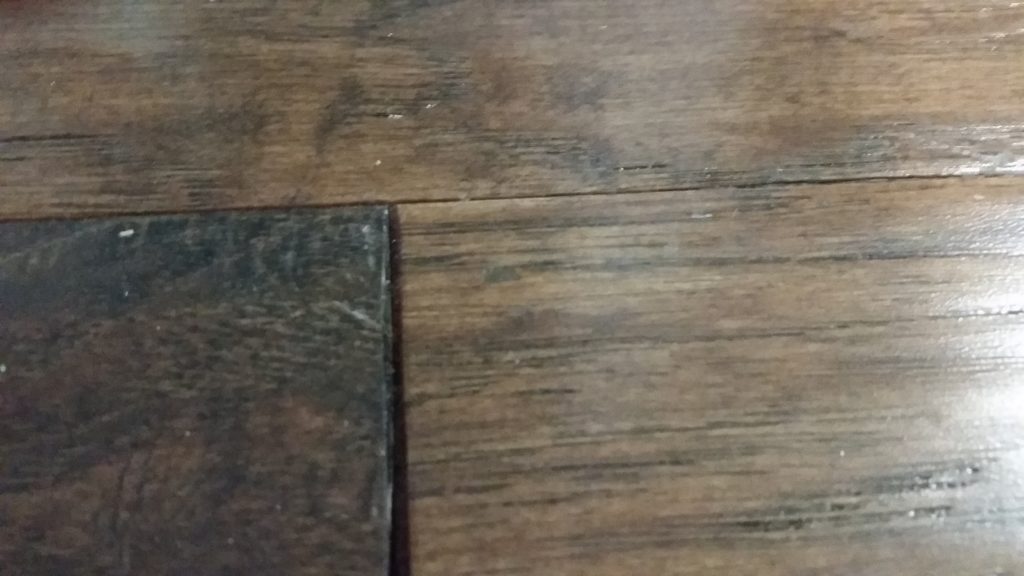 And there it is! We were able to patch damaged wood floors without spending a dime since we had all the materials on hand. No one can even tell we had a washing machine flood, right?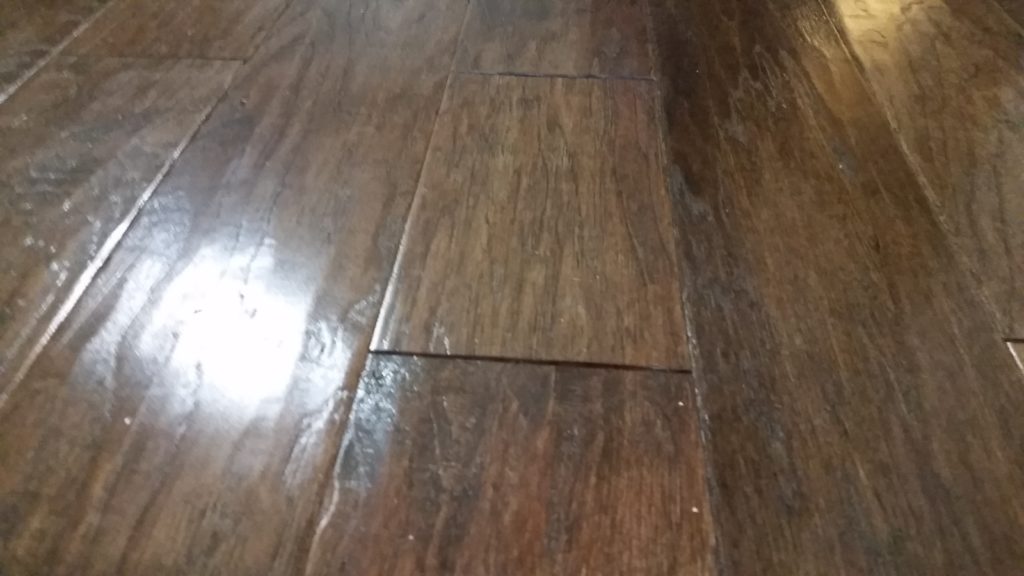 Of course, all this depends on actually having a spare piece of flooring on hand, so that's a great reason to keep your leftovers after a flooring project. If you didn't have any extra and only need a small section, you might be able to go the store and see if they'll give you a sample that's large enough.
Any questions? Have you ever had to patch damaged wood floors? This is a totally DIYable fix and will save you so much if you don't have to call a flooring expert to come help you! Good luck!
---
~ This post contains affiliate links, which means we will receive a small commission if you make a purchase after clicking on our direct link. Don't worry, it doesn't cost you anything extra. And, we won't recommend anything we're not personally a fan of! Please reach out if you have any questions about sponsorship or ads on our blog. We're happy to help explain how this works, and as always, thank you for reading and supporting LovingHere! ~