Remember back to several, several months ago when I white-washed our living room fireplace? If you are new, or you've forgotten, feel free to go back to the link above and revisit it for the steps we took.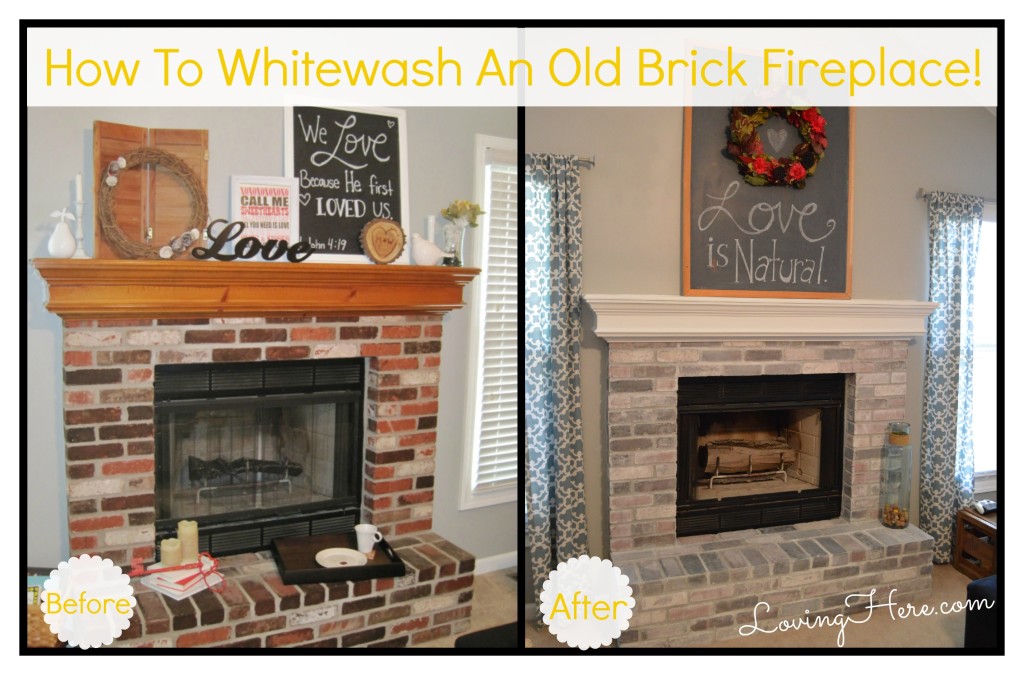 Well, that same day, I also did the basement fireplace, although I didn't get around to getting ready to paint the mantle for a few days after that.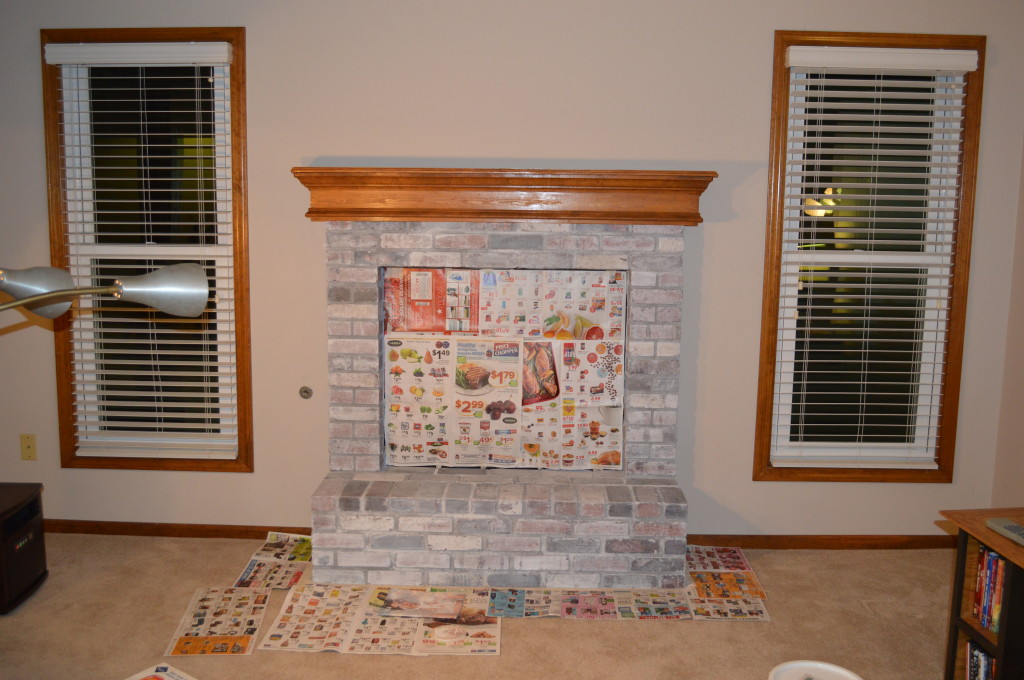 Then, I got it primed with two coats…and we left off with progress there. Yikes.
Fast forward six months (yes, six!!) and I finally finished the project this weekend.
I know, we officially win the award for dragging out a simple project the longest. Ugh. If only that award came with a cash prize. Or even a gift card to Home Depot!
But to be fair, we don't use our basement space right now. It's just for storage at the moment. So we don't go down there…hardly at all. And yes, I know we should get on our horses and get to remodeling down there, but we got busy with the kitchen and just gave up on trying to do anything else for the moment.
Yikes, again.
To back up again, we needed to do some repair work on this mantle because the builders clearly rushed into putting it together and left a ton of gaps when they built it. You can see the poorly constructed corner below: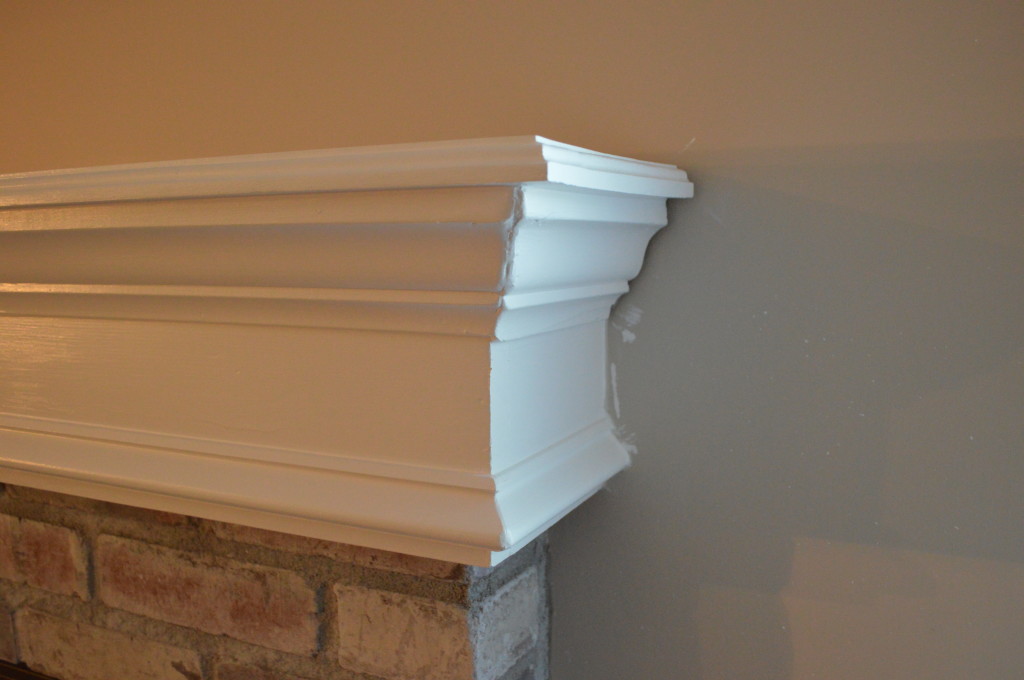 And the giant gap between the mantle and the wall. And the end grain of the front piece. Ugh. (Wyatt filled the smaller gap below this big one already in this photo.)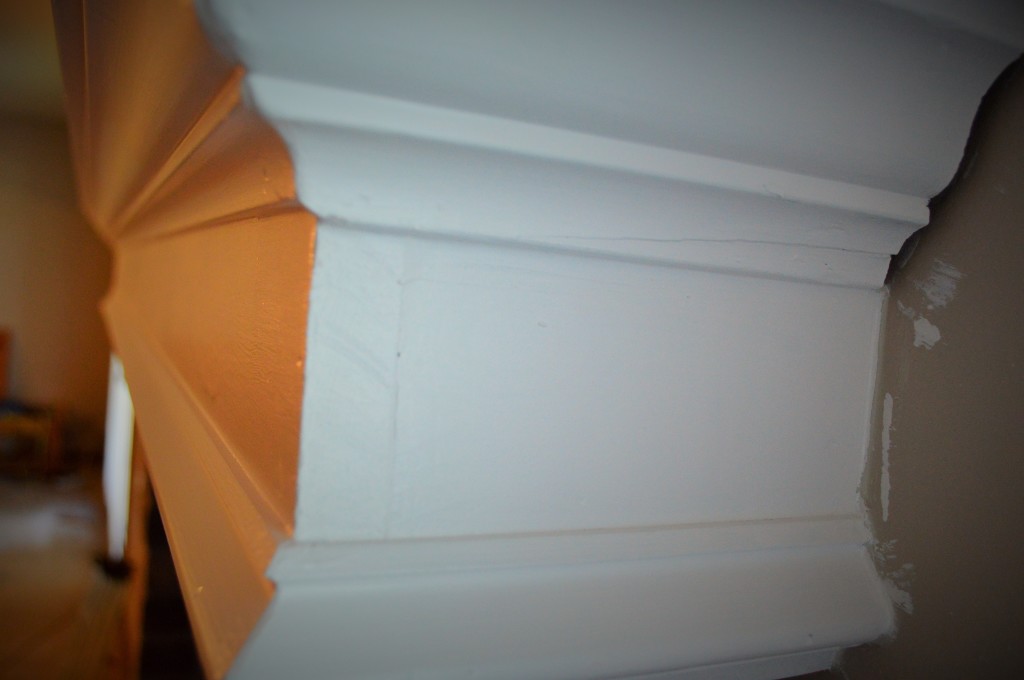 So, for a few weeks/months, I was waiting on him to fix those problem areas. The rest of the time, that was all my procrastination.
So, this weekend, I got my paintbrush and the white paint and headed down to the basement to finish the job I started in January. Sheesh.
It only took me about an hour, spread over an afternoon with drying time between the coats.
Finally, here's the finished basement fireplace…which looks pretty much like the upstairs fireplace.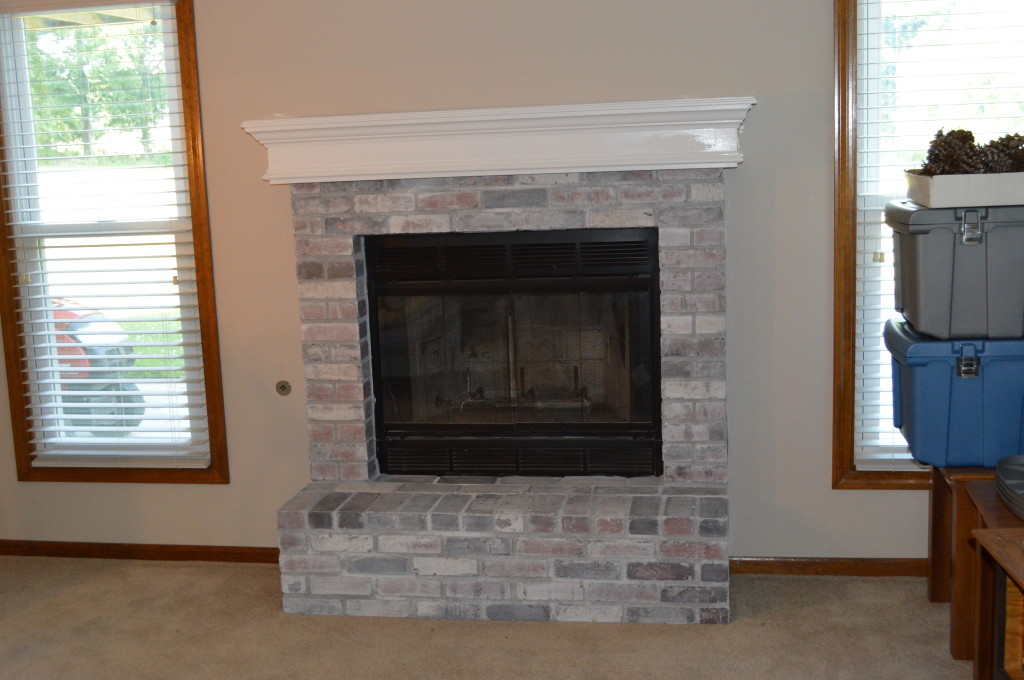 But I think that's good. It helps the house have a cohesive look.
And as for the walls, yes, I'm aware I wasn't all that neat. But the entire basement will eventually be painted (trim included) before we really start living/moving in down there, so I'm not too worried about it at the moment.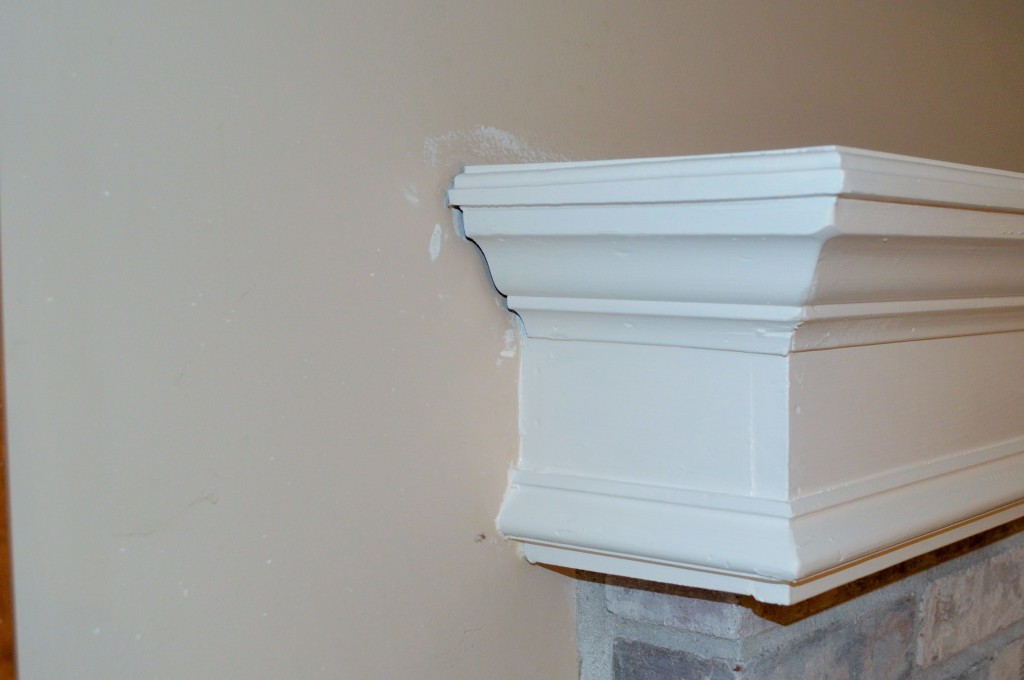 Heck, I wasn't worried about it being a half-done project for half the year, so clearly a few paint splatters on the wall aren't going to be at the top of my list either.
And yes, I know it seems silly to even focus on this at all considering the mountain of work left to do in the kitchen, but I had some free time while Wyatt worked on something else, and I just wanted to say it was done. Plus, I wanted to clean up the mess that had been out (paint and primer and old newspapers on the floor) down there.
Seriously, it was like this for way too long…see the mess in the background, below?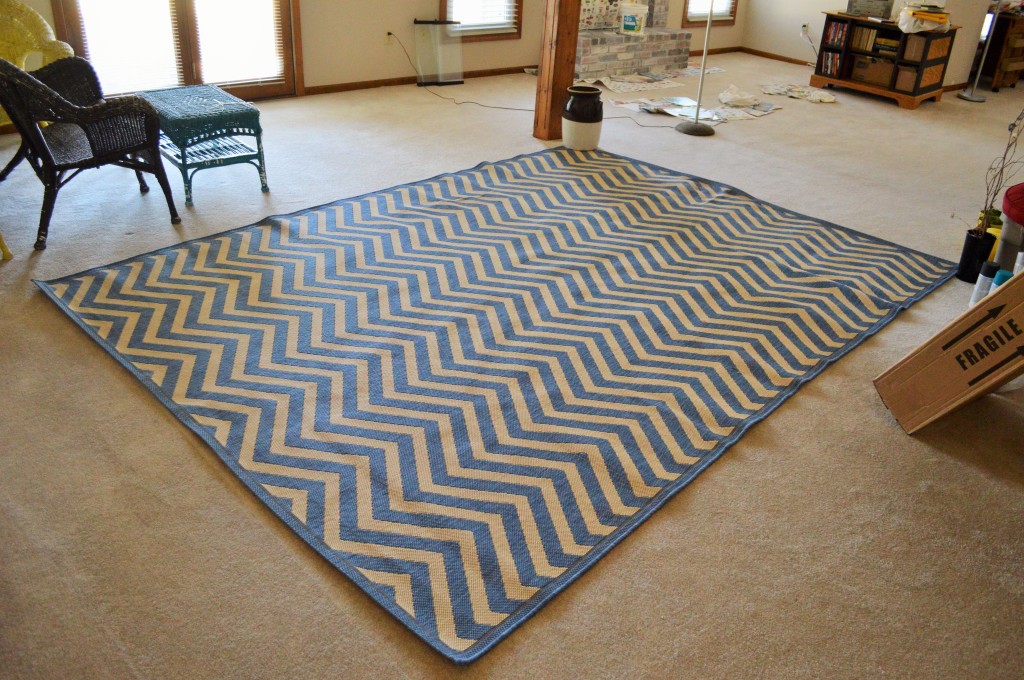 So to me, it was worth it.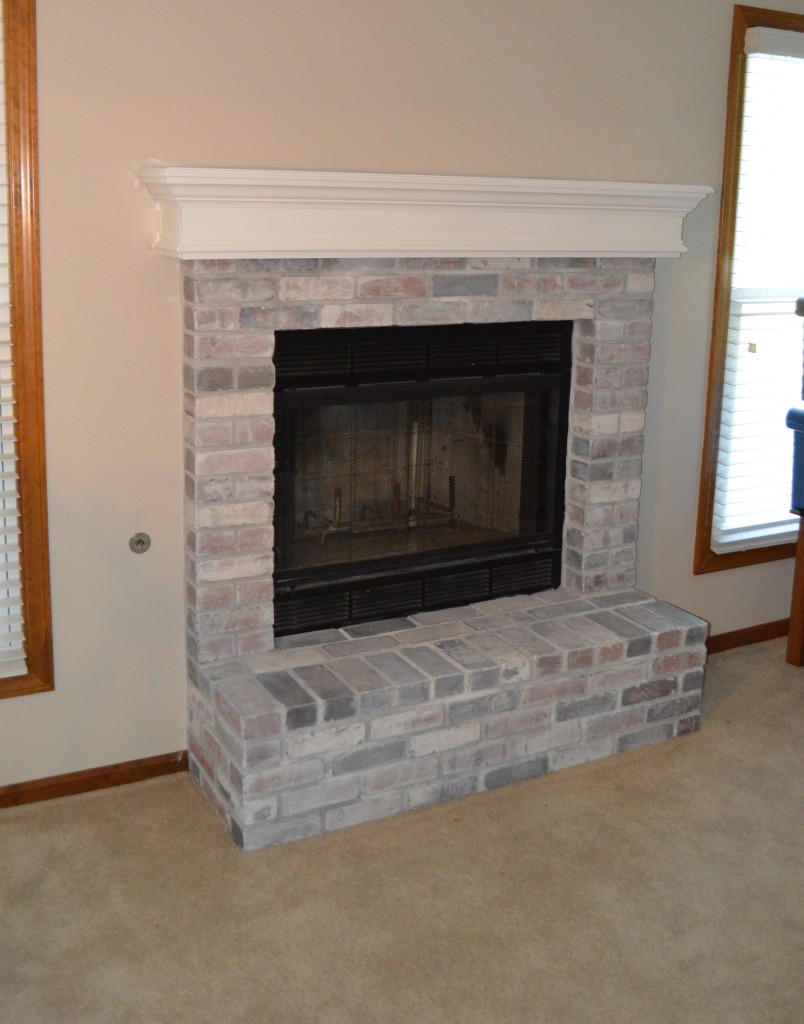 Ever have a project that took you way way way too long to finish because you took a much-too-long break in the middle of working on it? I bet my mom could think of a few items on that list…like the trim on her bathroom door… (sorry to out you there, guys!)