When I showed you our fall mantle a few weeks ago, I mentioned I wanted to add a few more fall leaves to the tree branches. At the time I wasn't sure if I wanted to use fake ones or real ones, but I since decided that real leaves, though nice in theory, are really more brown than orange (once they fall from the tree anyway) and they are also quite crumbly. Not so good for long-term inside use.
So, I grabbed a bunch of fake fall leaves at Big Lots over the weekend and set to work cutting off all the individual leaves to use on our mantle.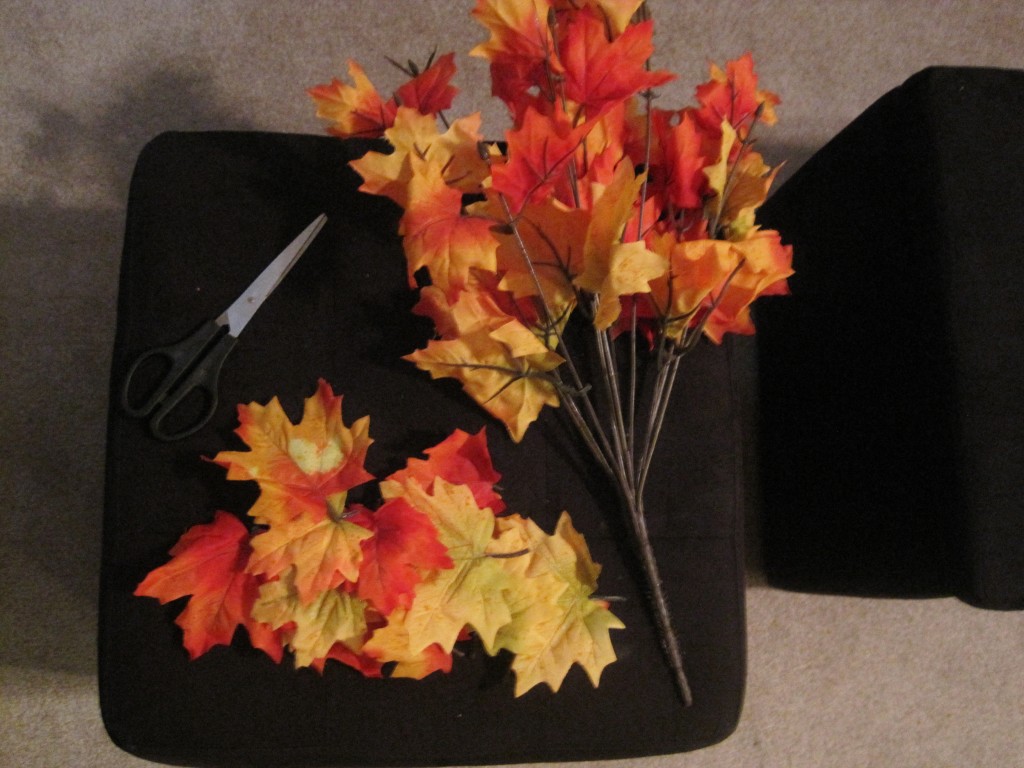 I ended up adding several more to the tree branches (with tape instead of glue so I can remove them and change it back up for winter or spring).
I also took the time to add several to the wreath.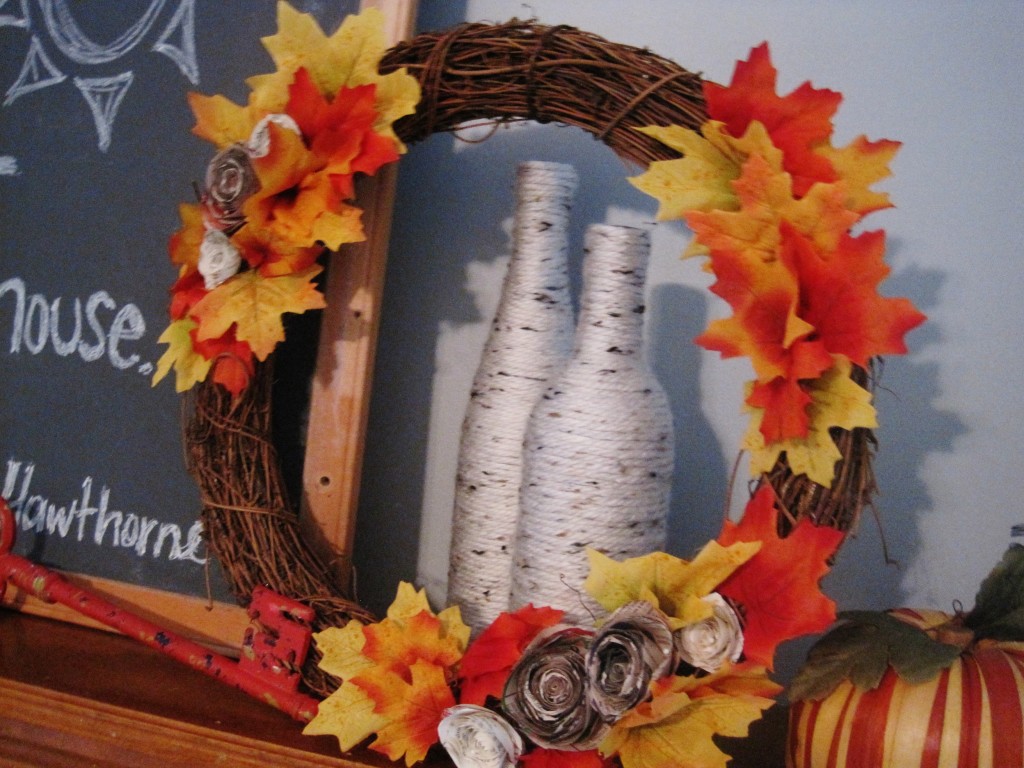 It's super easy to stick fake flower stems into the grapevine wreath, so just work with it for a few minutes if you want to recreate this look at home. Trust me, you can just play with it for awhile until it works for you. Just stick the stem from each leaf under a few twigs. If it feels loose, you can even weave it over and under a few times.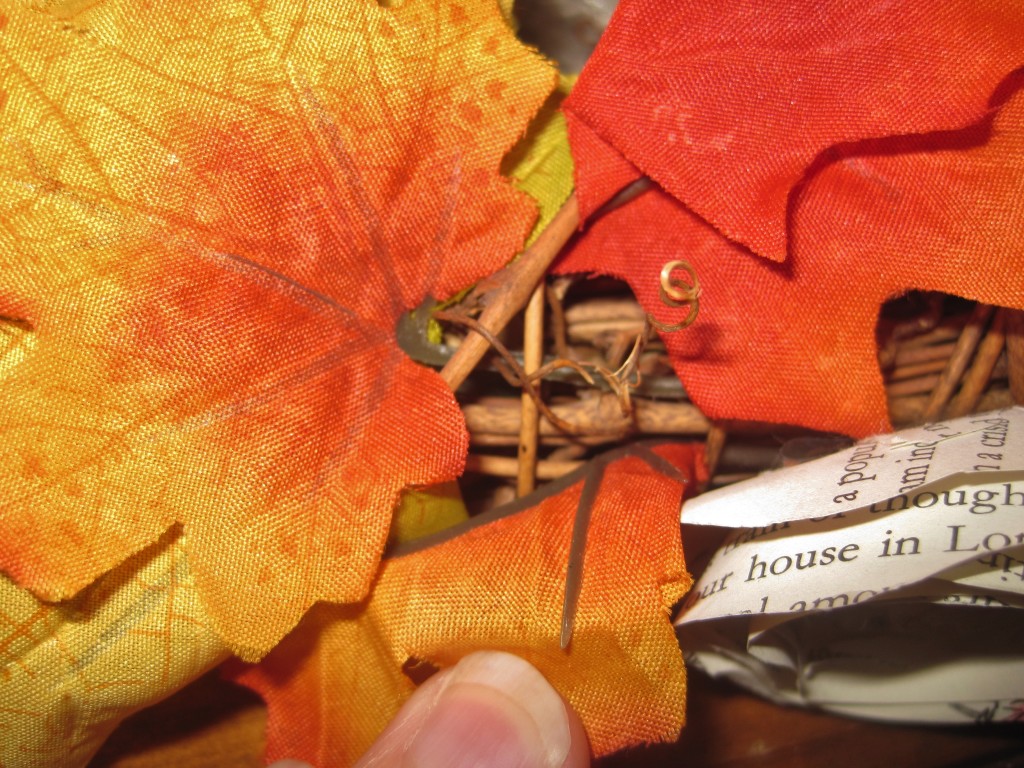 I usually work to layer the leaves to hide the stems I've stuck into the grapevine. A good trick is to turn the last leaf in your row the other direction so it has a nice finished look to it. Or for a longer area, switch directions halfway through (think the way people turn into a really large group photo).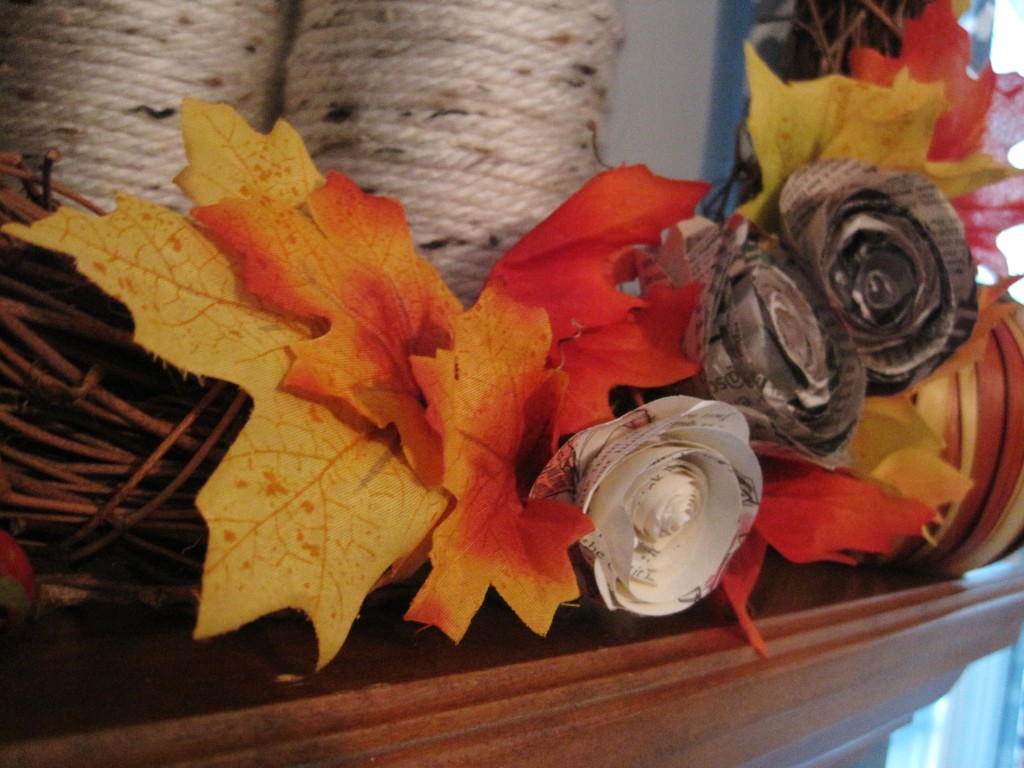 I already had the newspaper flowers pinned onto my wreath (with regular sewing straight pins) so I worked around those. I could have taken them off, but I liked the contrast between the black and white print with the colorful leaves.
I would advise you against gluing items on to the wreath, since there's really no need to do that. It will stay just fine for indoor use and will save you from buying a new wreath for every season. My mom used to do that with a wreath and I though it was brilliant, and fun to change it up every month! Of course, if this wreath will be exposed to wind, rain, and the like, you'd better glue it with some hot glue.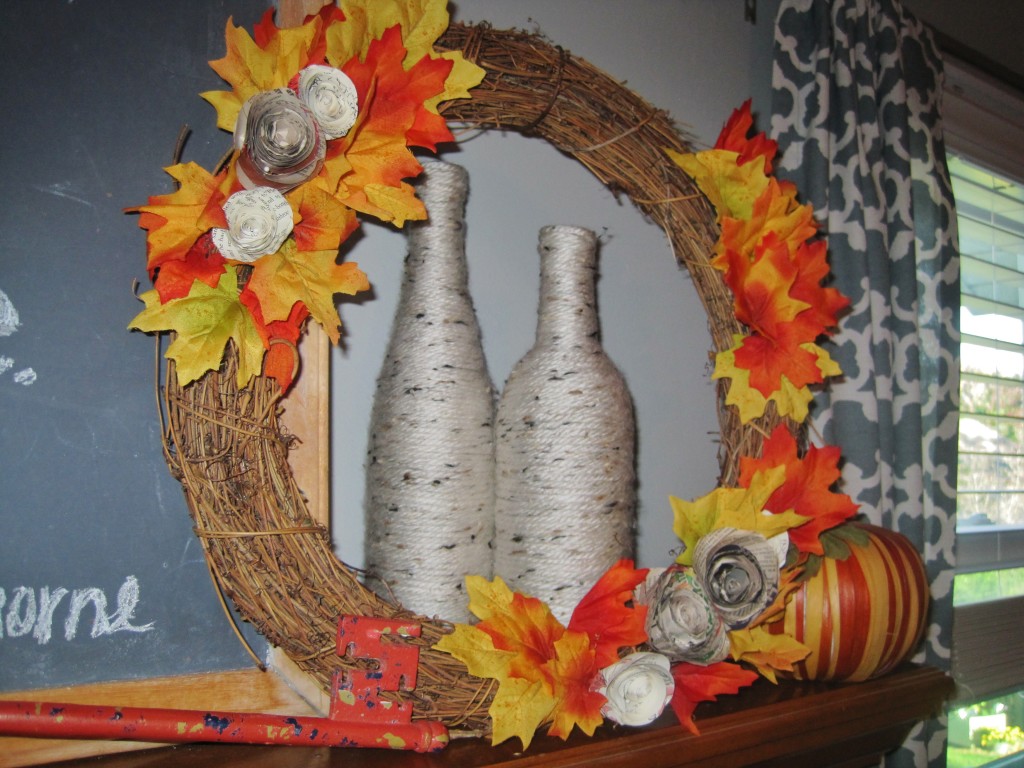 I ended up with some leaves leftover, which for now are just stuck over by our other fake fall stuff…the pumpkins!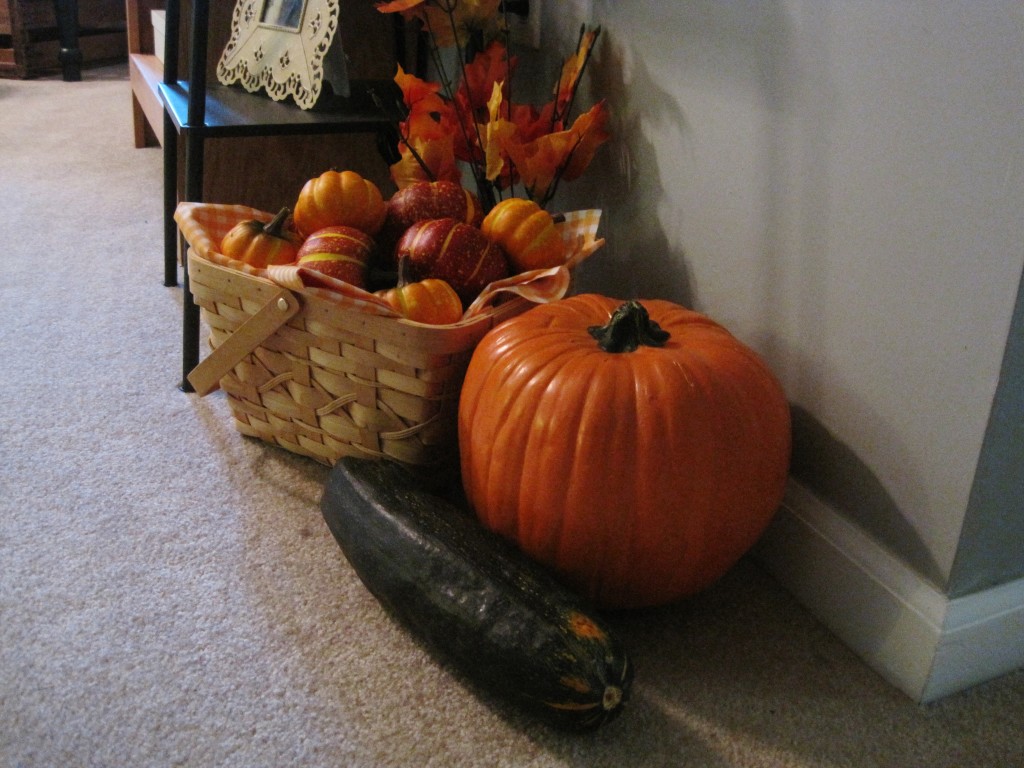 Although if you look closely, you might notice a real zucchini squash that got a bit too hard in the garden that we decided to just use for decoration.
At this point, the mantle certainly looked more dressed up for fall.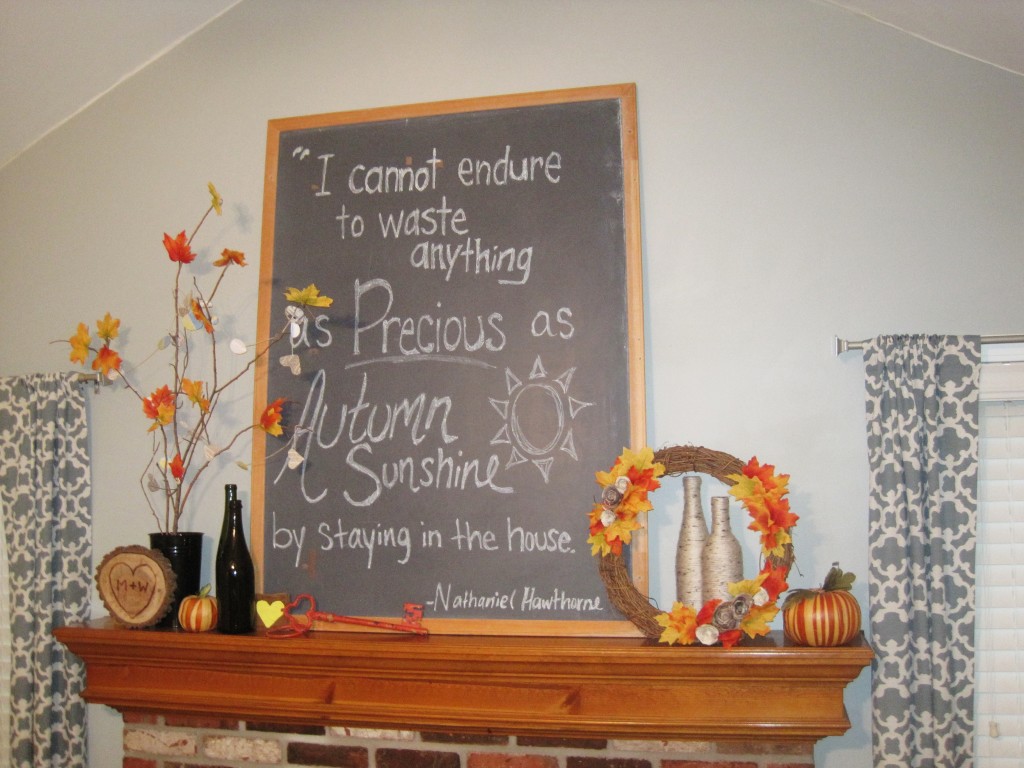 But I wanted to add a bit of whimsy and fun, so I added another fun fall craft. It started with pouring some orange paint into some recycled glass jars. (I used a salsa jar and an olive jar.)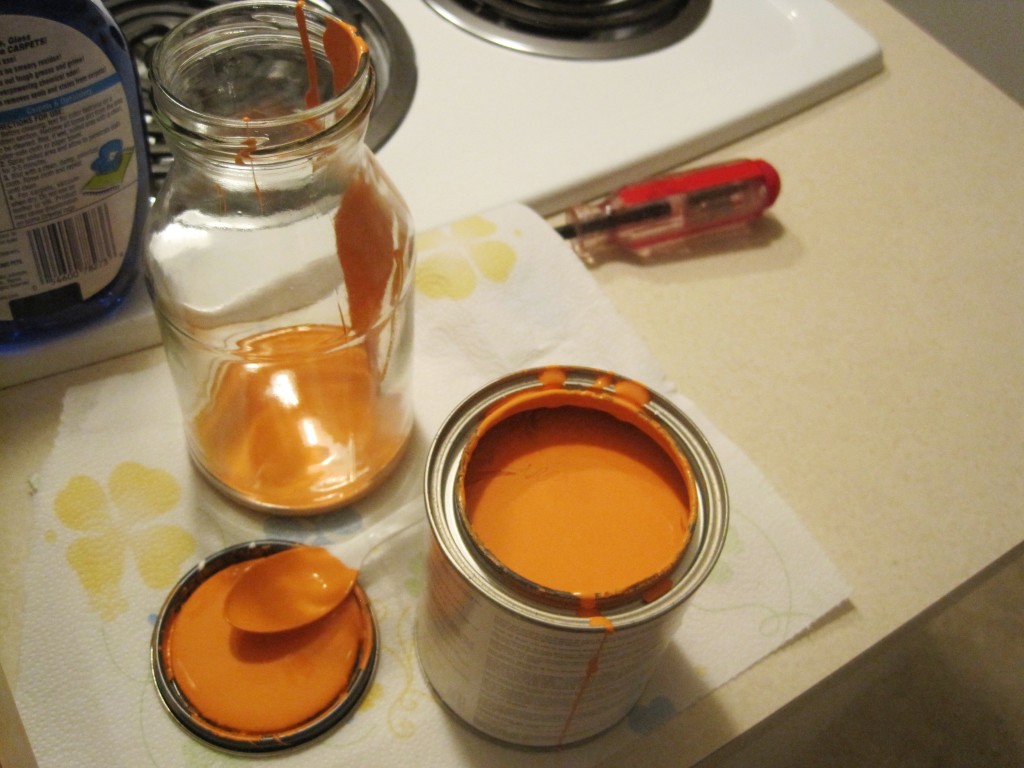 Then, swirl it around until the inside is coated. Be careful not to let it drip out on the floor during this process!
(This is the same process we used on our DIY Mason Jar Toothbrush Holder.)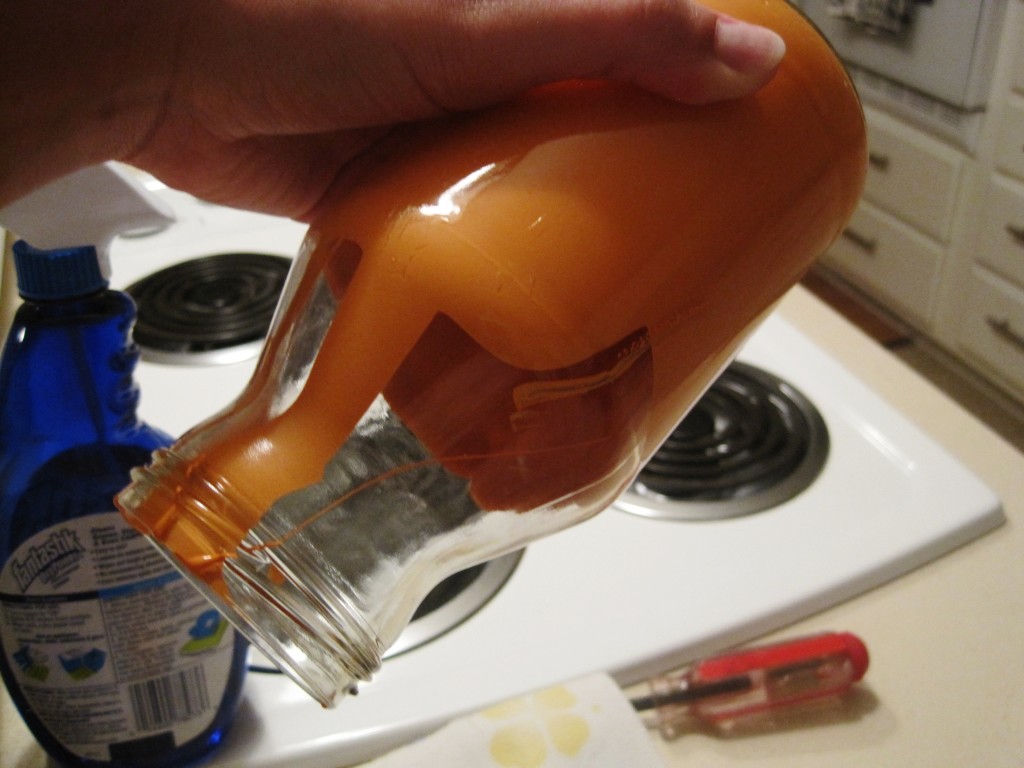 Turn it over and left the excess drain out, checking it often to make sure it doesn't stick the surface you're draining it on. After most of the excess is gone, turn it back right side up and let it air dry for 24 hours or so.  Ta-da–a nearly free orange vase!
(I did the most of this project while at my friend Elizabeth's house. You can see the wrapped wine bottles and the desserts to made as well!)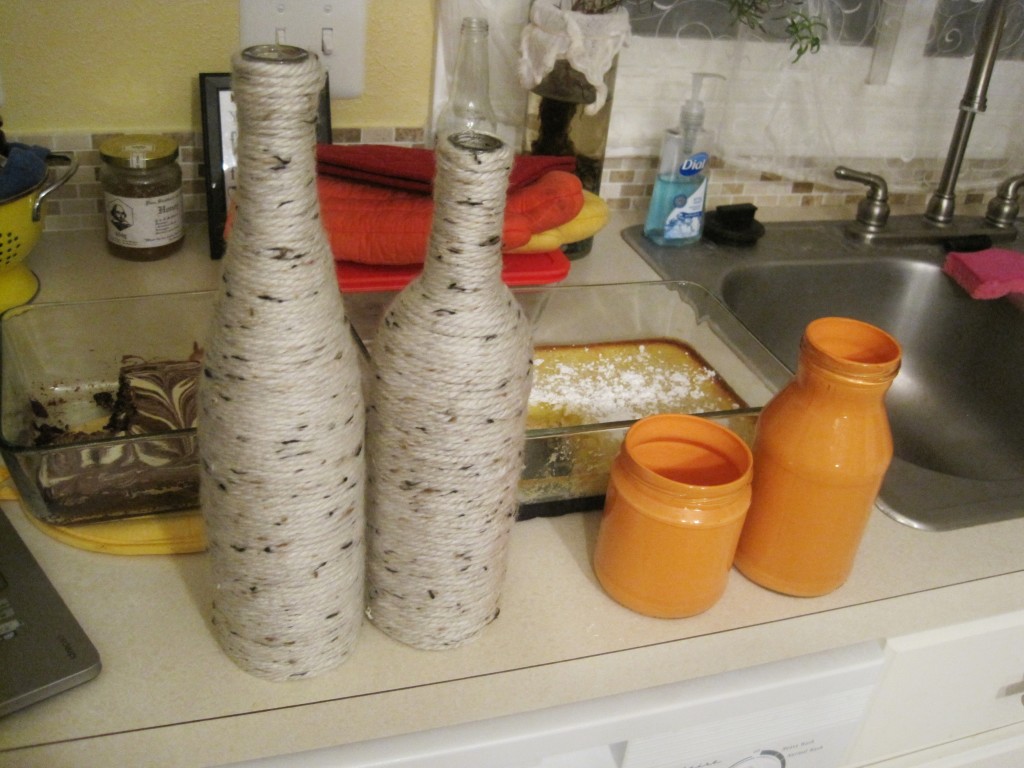 Then, the fun part…the face!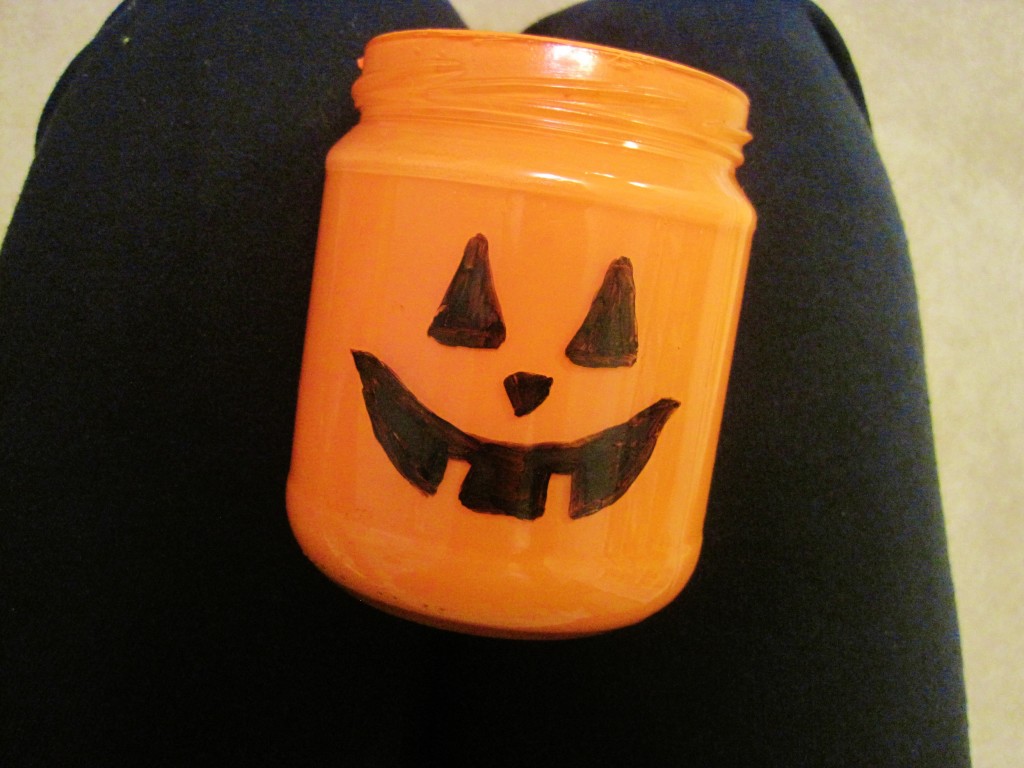 I started this idea thinking I'd use black paint but I then changed my mind and used…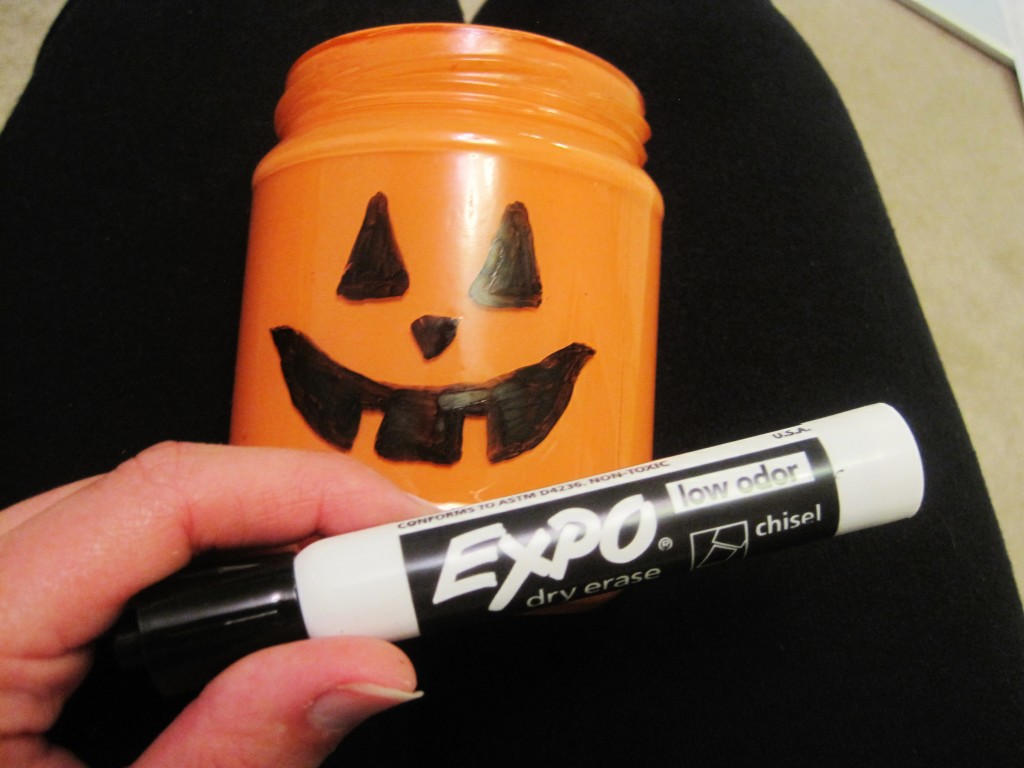 …A dry erase marker! It worked perfectly and now I can change up the features any time I want to!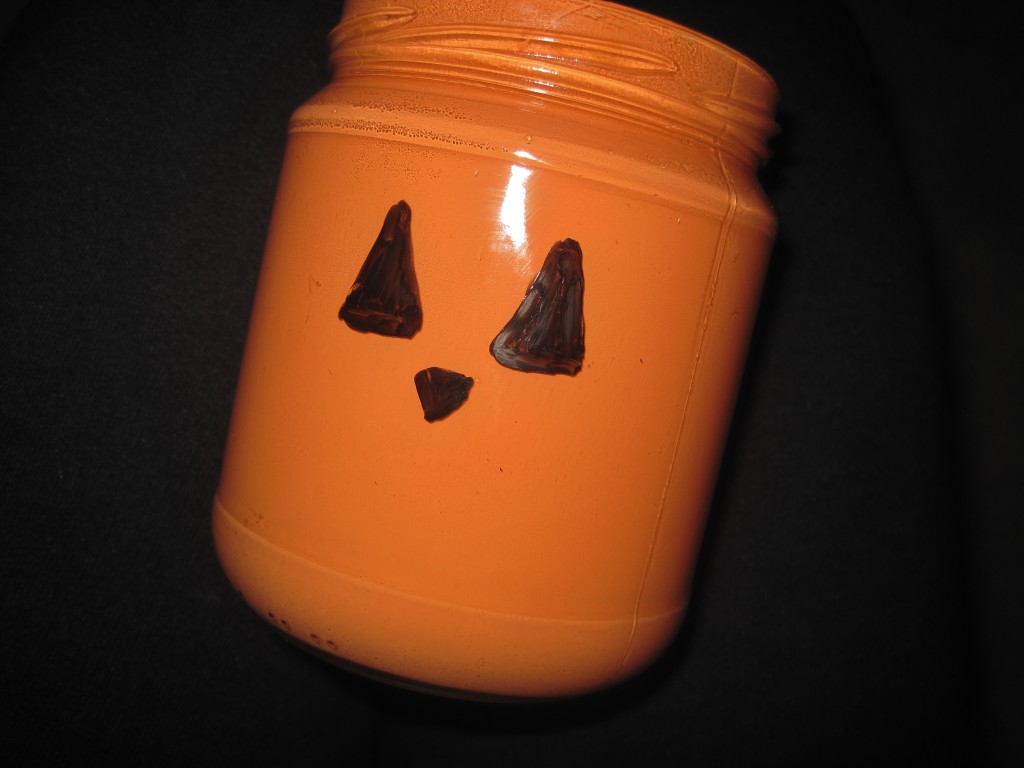 You could even get really ambitious and make a bunch of these and spell out a message on them! How fun for an interactive project with kids, huh?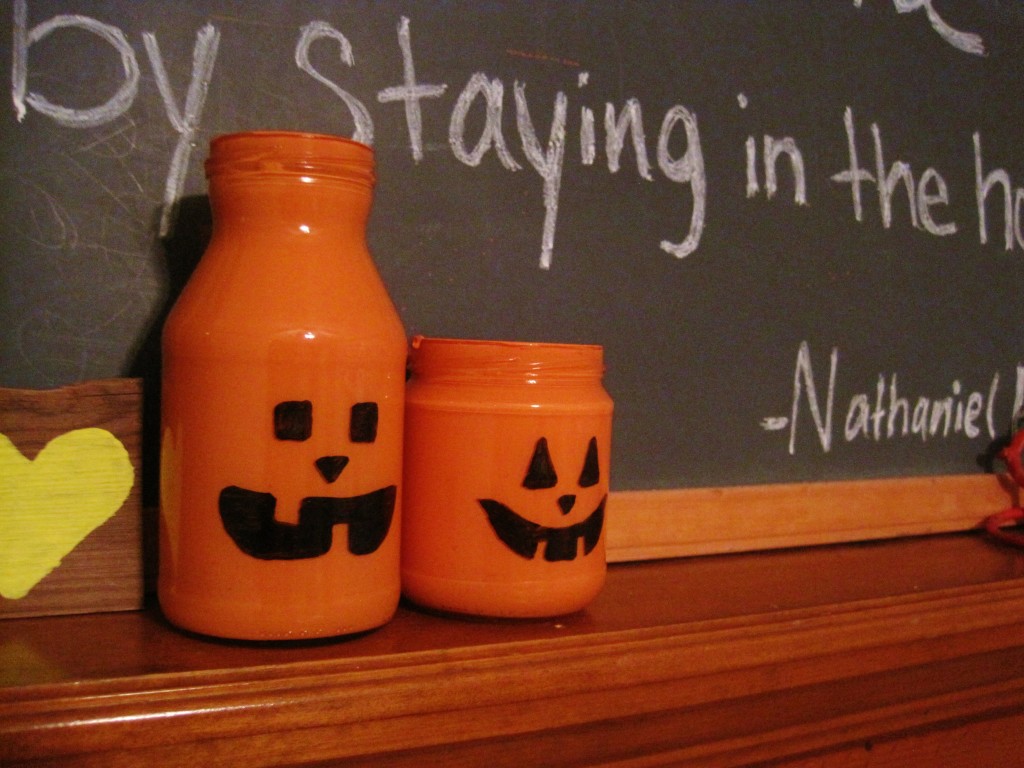 I'm super pleased with how these turned out! I'm sure you could also use it as a fun, fall teaching tool to learn about emotions. (Draw a sad face on Mr. Jack O'Lantern. Can you tell me about a time you felt sad? And so on…)
So fun, right? I think they add a bit of cheeriness and whimsy to the otherwise more subtle and sophisticated mantle. And of course, they could be used as an actual vase for flowers or branches, or to hold candy or other surprises.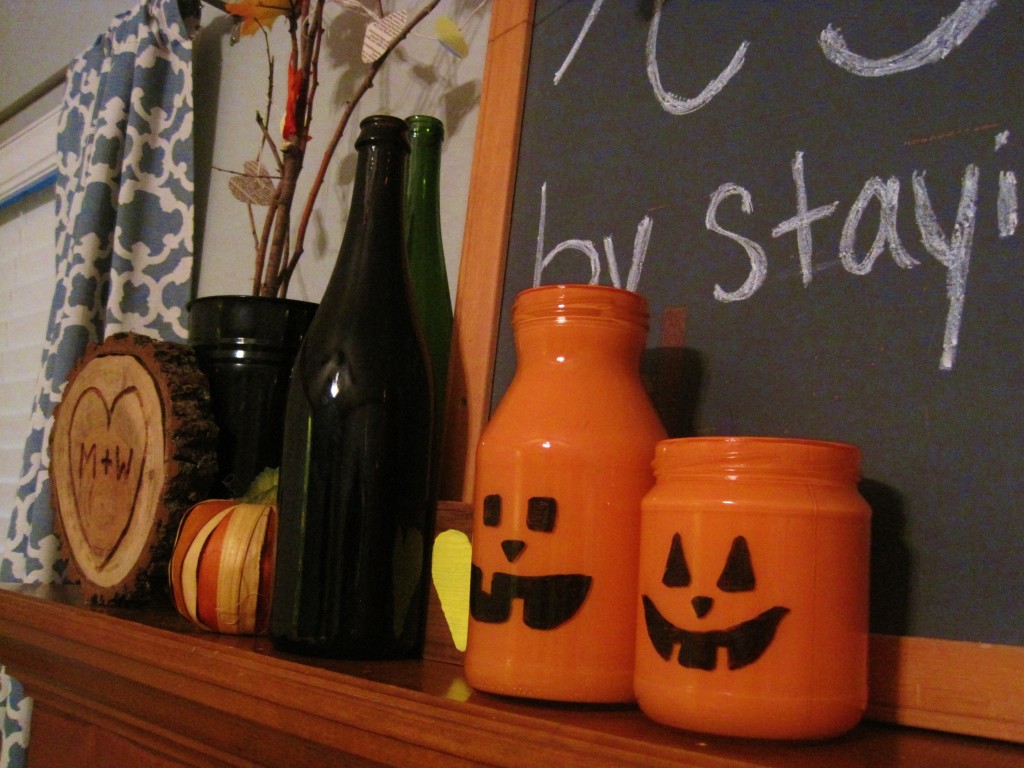 I think one of the things I enjoy most about the fall is that you can so smoothly transition from summer to winter decorations by just taking cues from outside. Often, early fall feels more like late summer, so I tend to stay away from overly autumn things, like leaves and pumpkins, until it's closer to Halloween and Thanksgiving.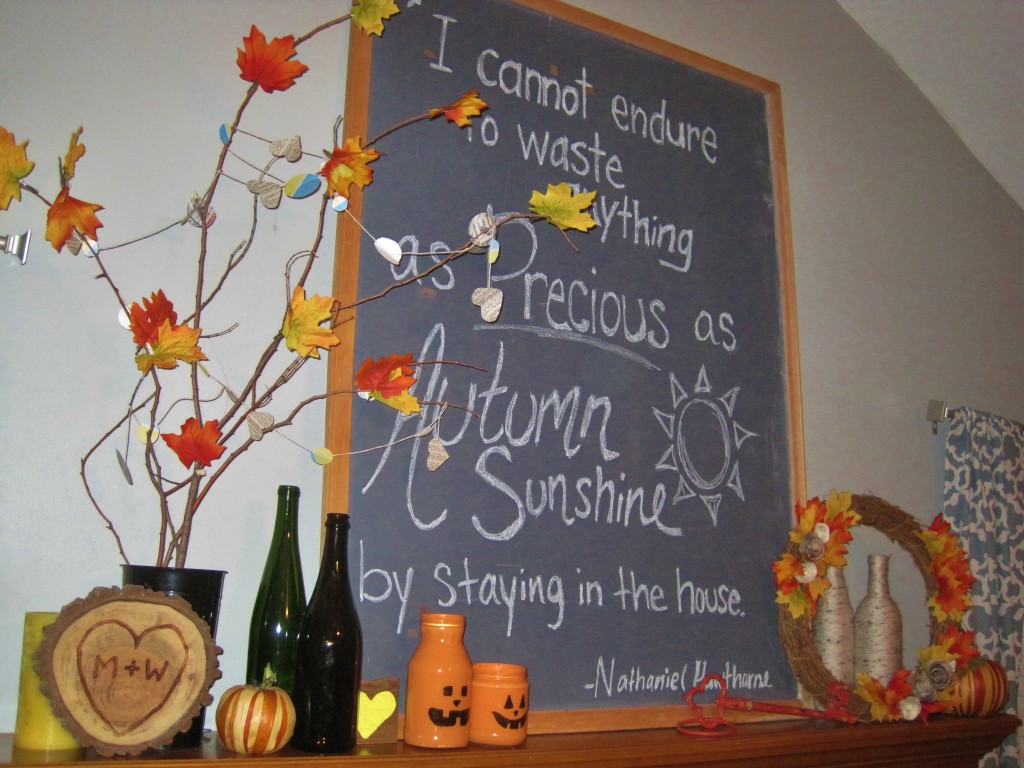 Which reminds me, I need to go hide the Halloween candy before I eat it all. And that I need to set a time for pumpkin carving! For those of you that know us well, you'll remember it's one of favorite, most special traditions!
What are some of your favorite fall traditions? How do you decorate with the seasons? Have you ever used real leaves inside? How did it work out? What would you draw on your dry erase Jack O Lanterns?
UPDATE: I added ribbons to the Jack O'Lantern jars!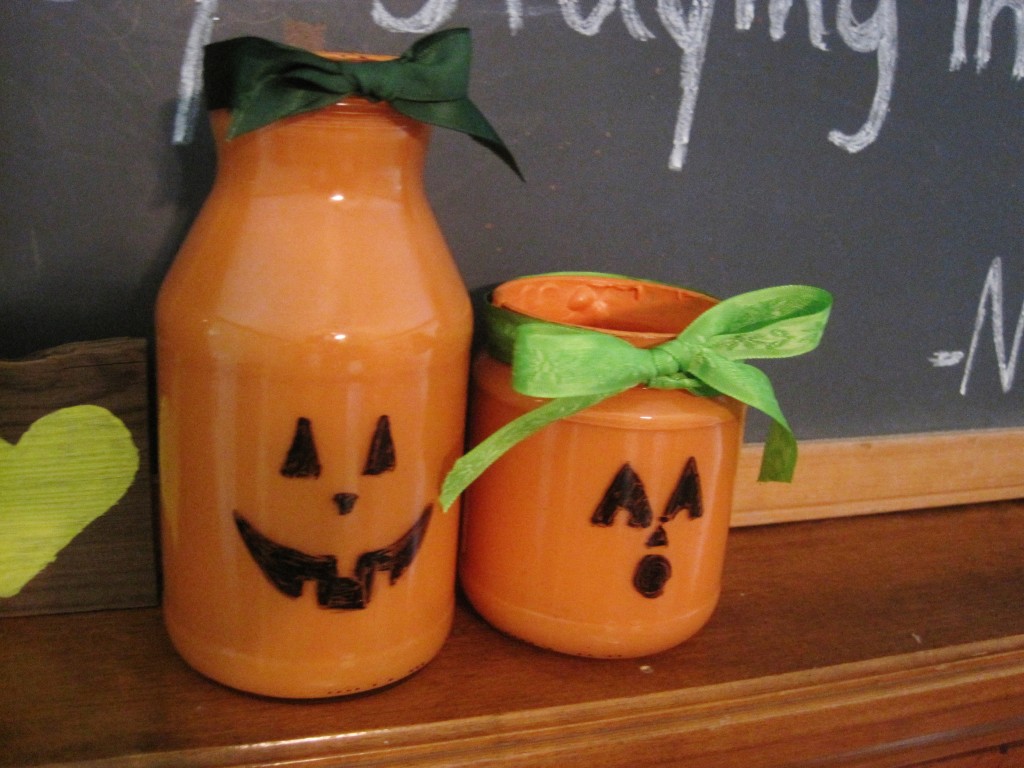 The ribbon covers up the threads where the lids used to screw on…and now they're even cuter!