This post contains affiliate links, which means we will receive a small commission if you make a purchase after clicking on our direct link. Don't worry, it doesn't cost you anything extra. 
---
One of the things I've been working on for the past few weeks is the plate wall in the kitchen. I've known since we started the renovation that I wanted to have some arrangement of my favorite decorative dishes on the wall, so I've been collecting fun plates over the past several months from thrift stores and other various sources.
Although Wyatt kept telling me he thought it was going to look like something a granny would have on the walls, I was sure it would look modern and cute if I was careful.
A week or so ago, I posted a sneak peek of some of the plates I hung to my Instagram account.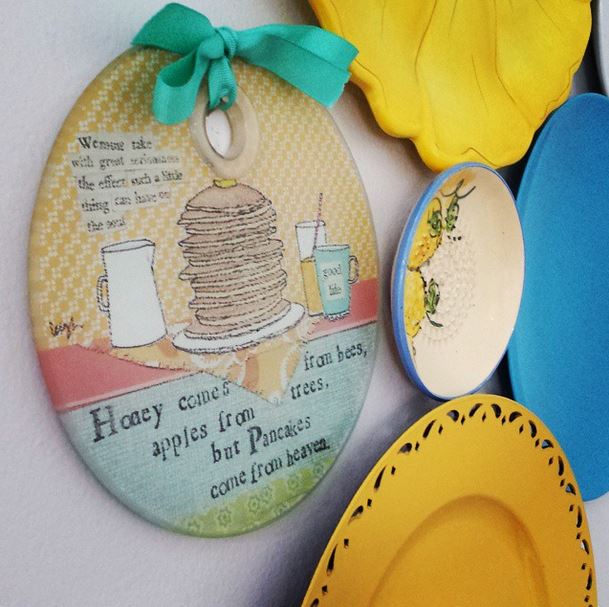 When it came time to actually hang them, I knew from various online searches that I had a few options.  Before I got started, I read a few other blogs for ideas. (This one and this one.)
I decided to try and make some plate hangers on my own to save money. However, for the plates I cared more about or thought were maybe too heavy for my DIY hangers, I did buy a few of the Disc hangers from Hobby Lobby.
You can get them pretty cheap on amazon. HERE is a set of four 4-inch hangers
.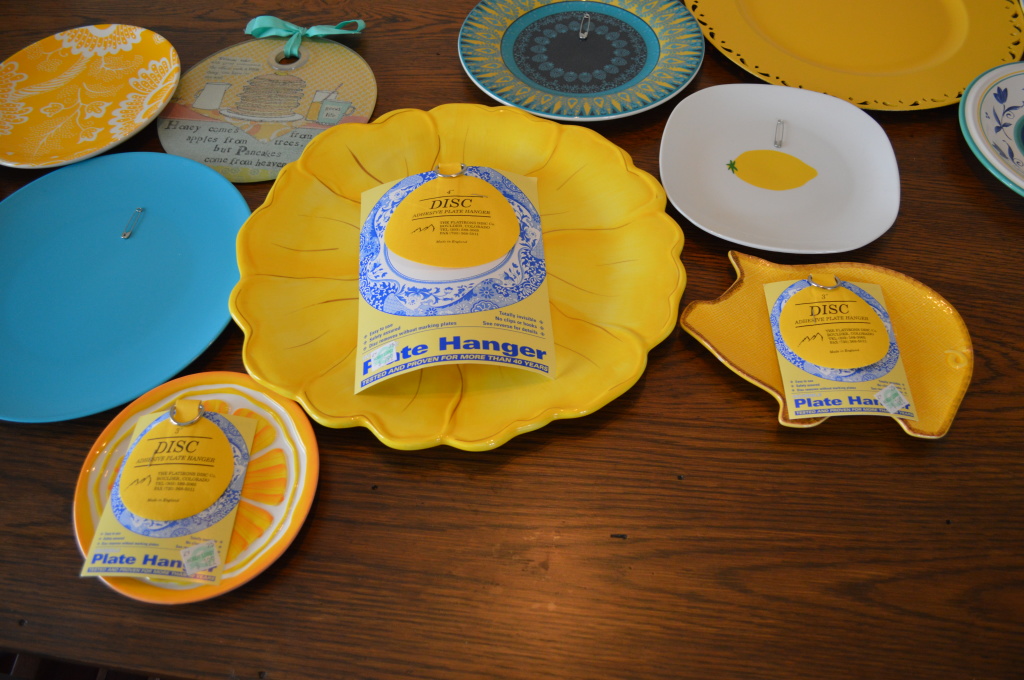 They were pretty simple to apply, just follow the directions on the package and wet the disc before applying it to the back of your (well cleaned) plate.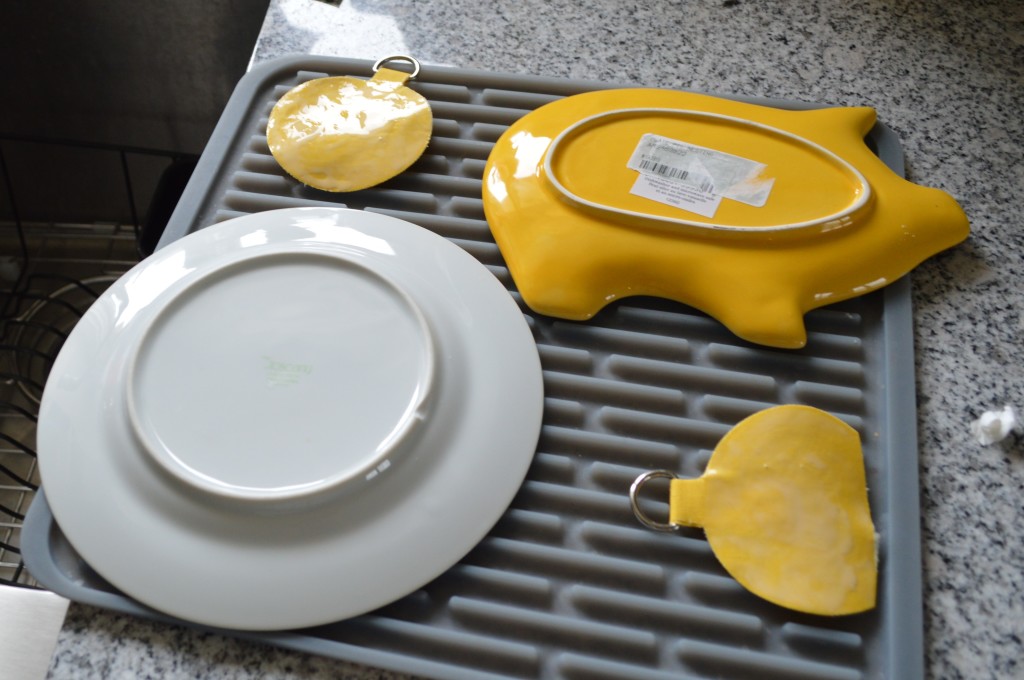 I found the hardest part was making sure I arranged it perfectly on the back so the hook was sticking up to allow for the nail room while not compromising the seal of the disc to the back of the plate by making it pull away as it dried.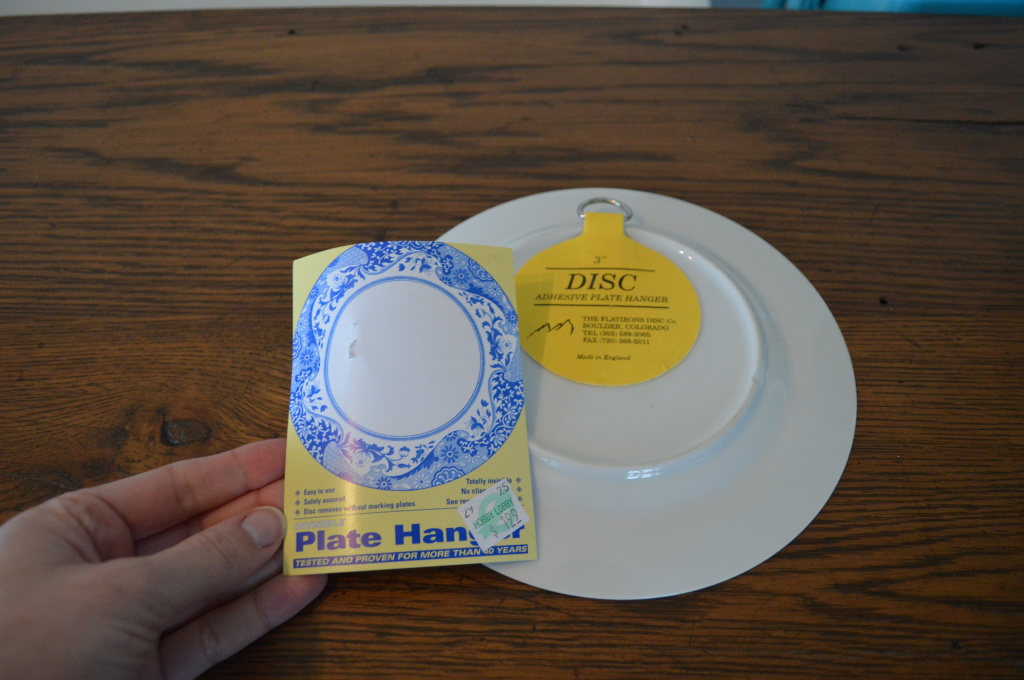 These worked well, and are removable. But, they were still more pricey than the DIY ones. Especially because I had the safety pins on hand so all I had to pick up was some of this e6000 glue at Hobby Lobby when I got the Disc hangers. You can also find the E6000 glue from Amazon
.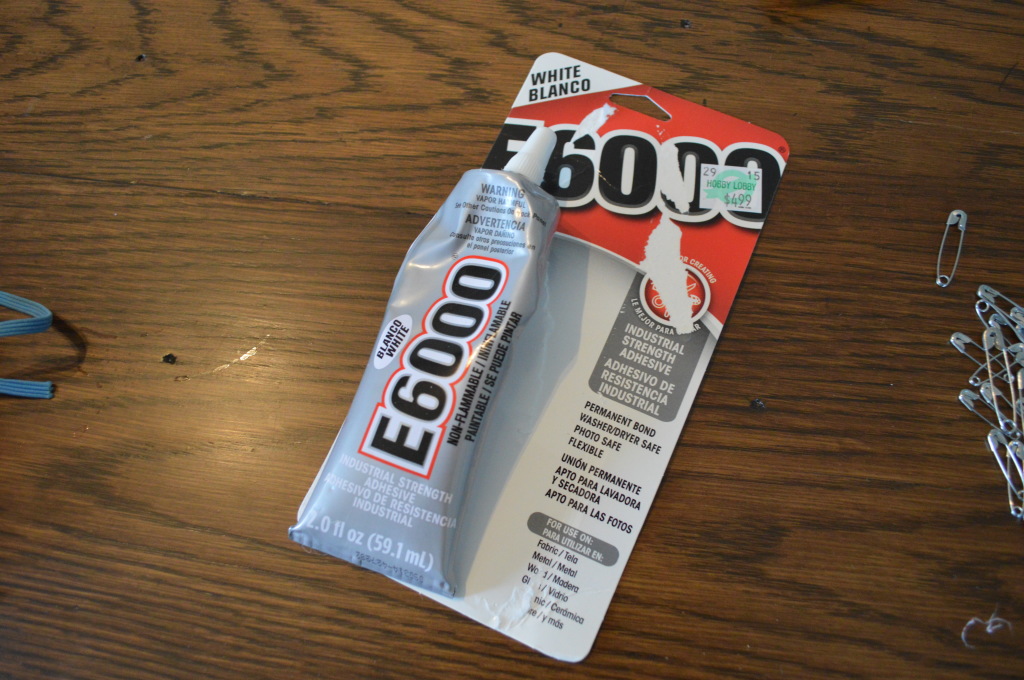 Since it was covered in safety warnings, I was extra careful, being that I'm breathing for Beanie, too. I did this project outside on a windy day (no fumes hanging around) and I wore a breathing mask and rubber gloves. I'm telling you, I was careful.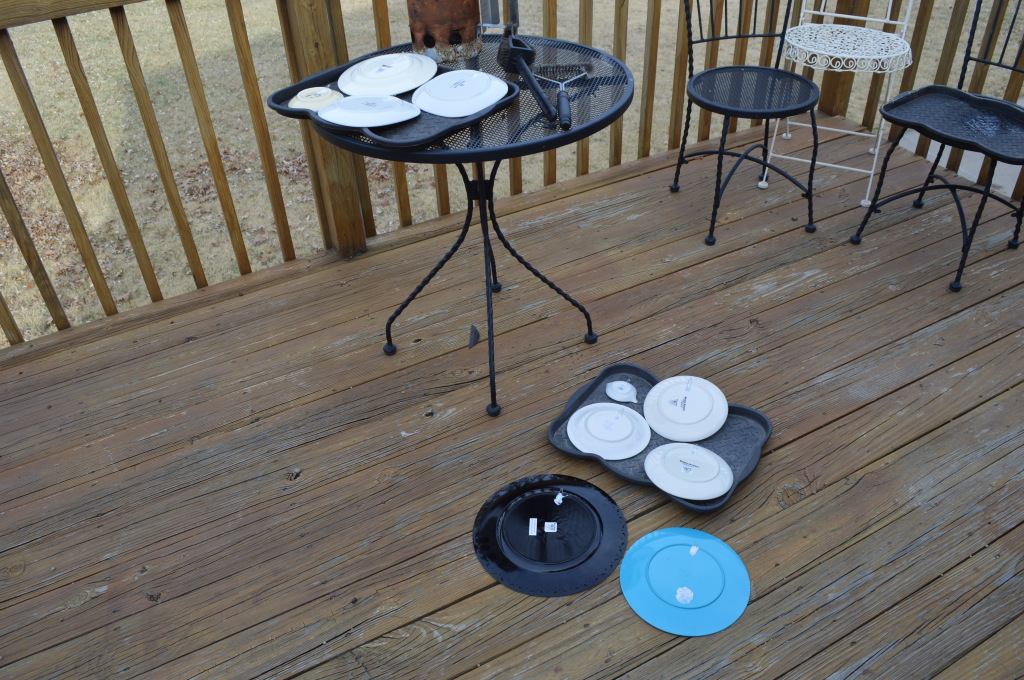 The good news is that it was easy to work with and it only took me about 5 minutes to glue all these up.  I gobbed it on there to ensure I got a really good seal. Be sure to leave room for your nail to go in the top of the safety pin.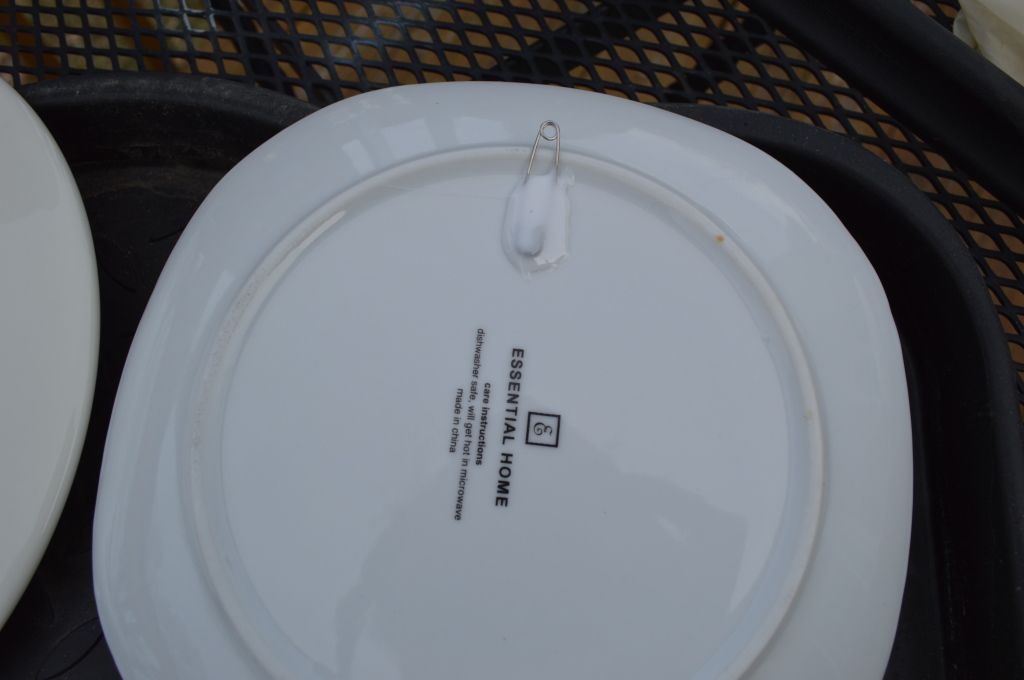 Just keep in mind the glue method is permanent and you won't be able to remove the hooks from the back of those dishes. One of the selling points of the yellow discs is that they are removable. I haven't tried it yet but I imagine they work pretty well considering how popular the internet seems to say they are. The DIY version seems to be holding just fine to the wall, though, and I never would have used most of those plates anyway.
I left them outside to dry all afternoon and we brought them into the garage overnight to avoid any moisture. After letting the glue cure for about 48 hours, I was ready to start hanging everything up. But, first, I had to decide what arrangement I wanted to use.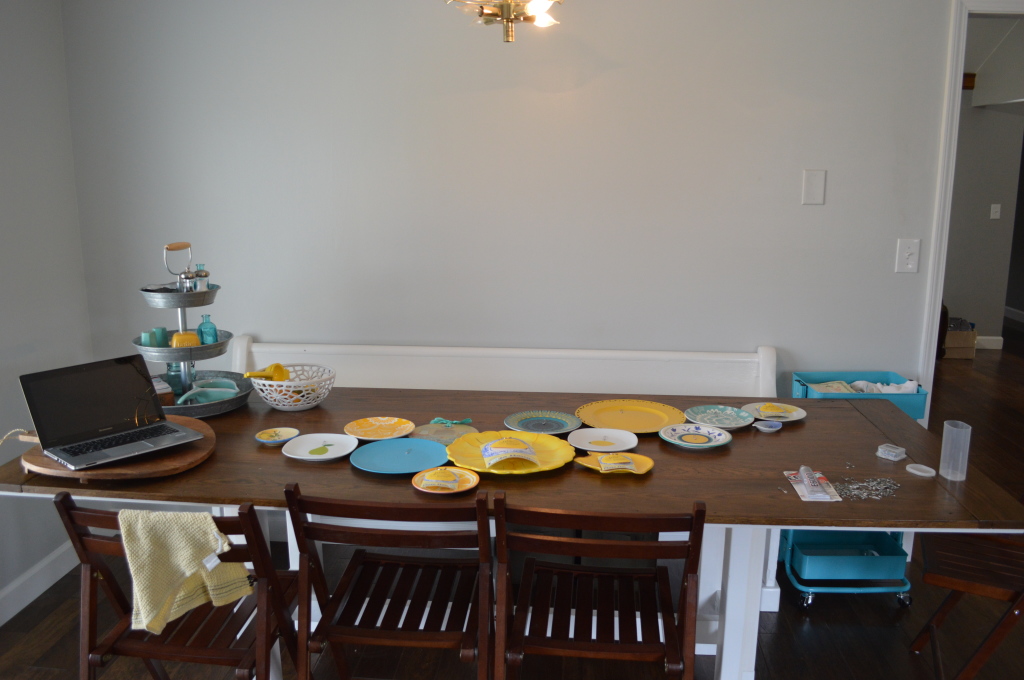 The first step was to choose a wall, but even that proved difficult for me because I wasn't sure the best plan.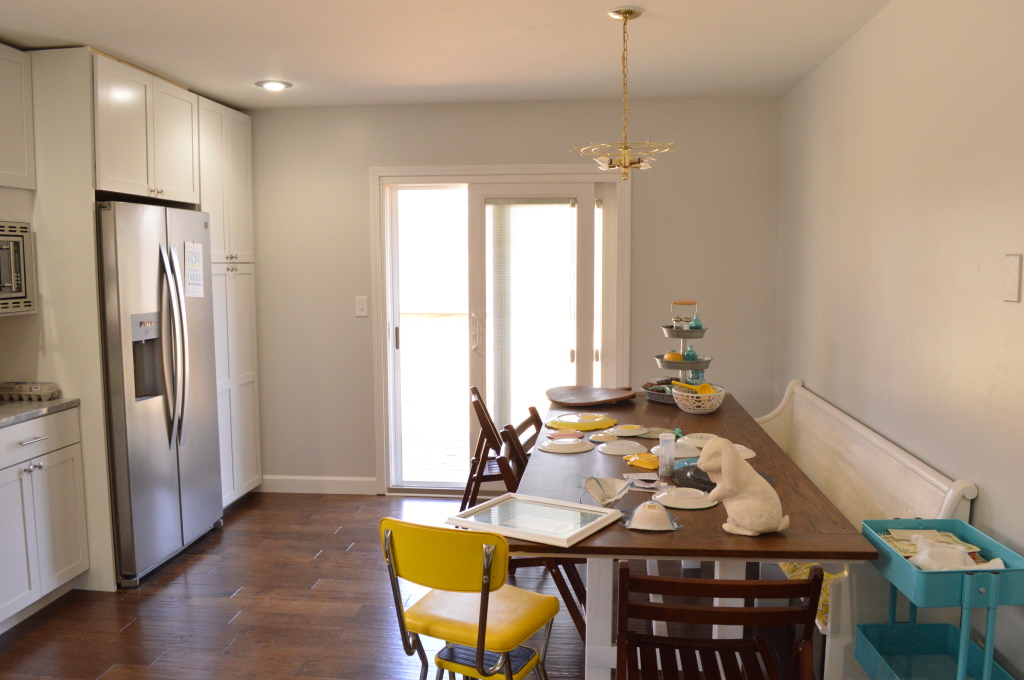 I created these mock ups to help me picture what the arrangement might look like on the wall once it was finished. The big one on the left is a giant wooden cutting board I was going to incorporate but didn't.
They were helpful, but I ended up going with a totally different arrangement on a totally different wall. Of course I did, right?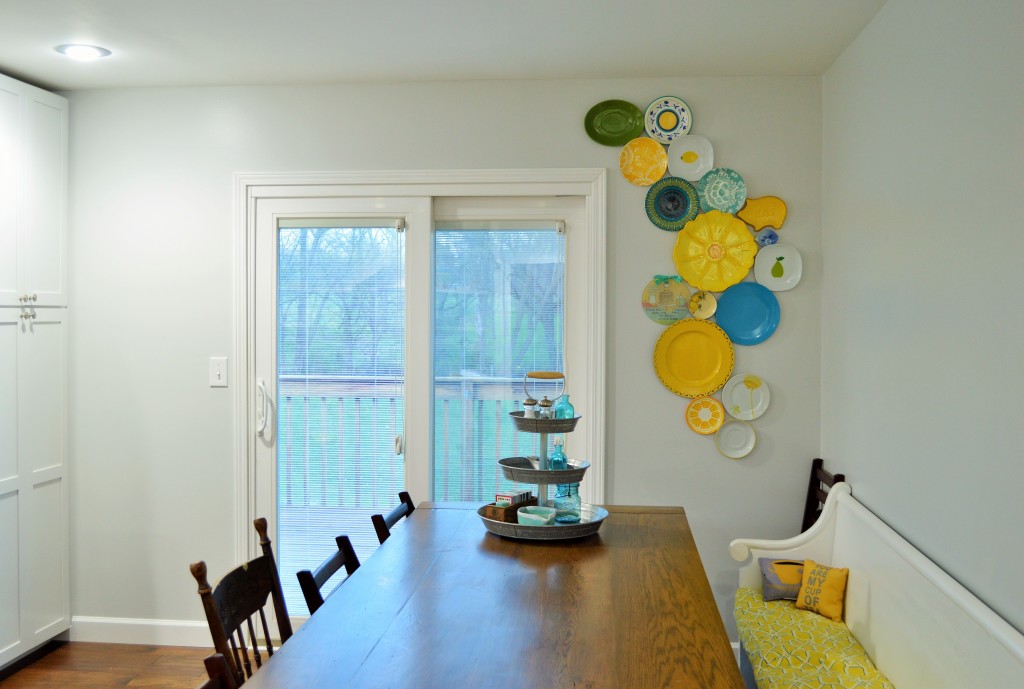 But I'm glad I changed my mind because I think it was the way to go, for sure. For one thing, I didn't have enough plates to fill the entire big wall without leaving room for some other form of wall art…which I couldn't think of anything to go with the plates. Same problem for the design that swept from one wall to the other. I would have needed something large to balance the design on the right hand side of the wall and I was having trouble thinking about that.
So, I switched up the plan entirely and put everything on the small wall next to the door. I followed a similar design for the layout of the plates, though.
I also knew I wanted the plates to hang as close together as possible, overlapping even. To do this, I used the toothpaste method I used when hanging the gallery wall in our living room.
It's simple and lets me hang everything without measuring. I tend to be more reliant on my eyes when doing things like this (I know when something looks "right") so it works perfectly for me.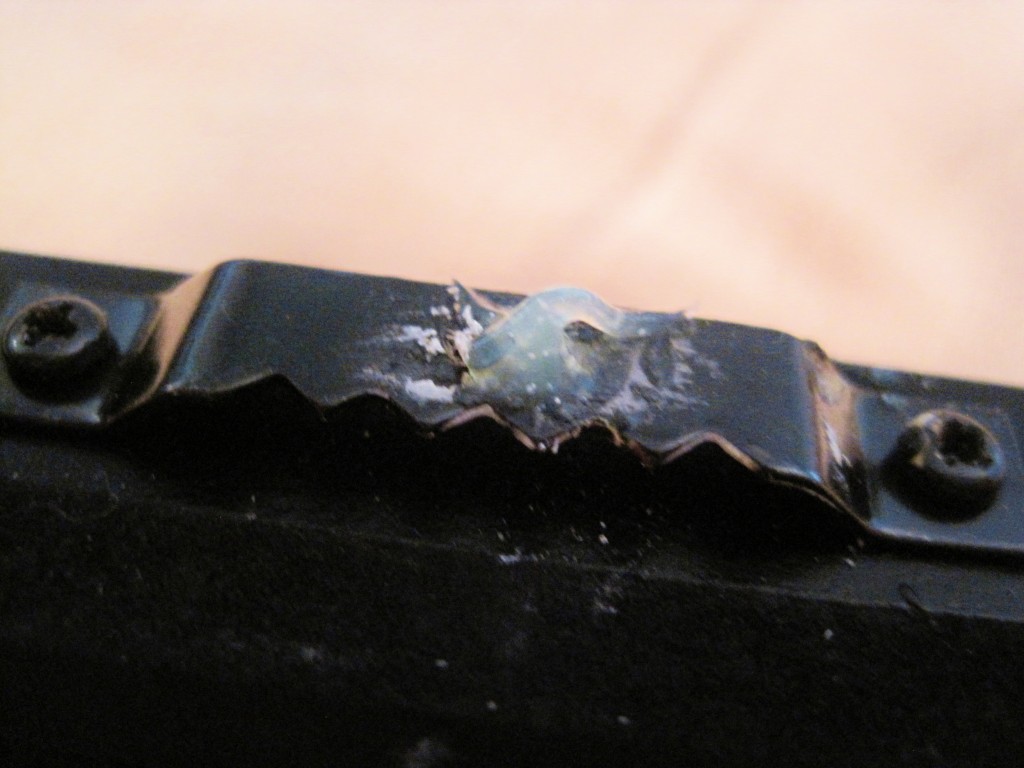 You could also cut out paper shapes of each plate and tape them on the wall to mark where you want everything, but I don't ever take the time for that stuff. I prefer to wing it when possible, after the proper planning, of course. Ha!
We used small nails to hang each plate. You just need to make sure whatever nails you use will fit inside the loops of your safety pins if you're DIYing your hangers. All in all, I think it turned out really cute. Not old-lady-ish. And even though he was skeptical, Wyatt said he was impressed with the finished result and that it didn't end up looking like he imagined it would.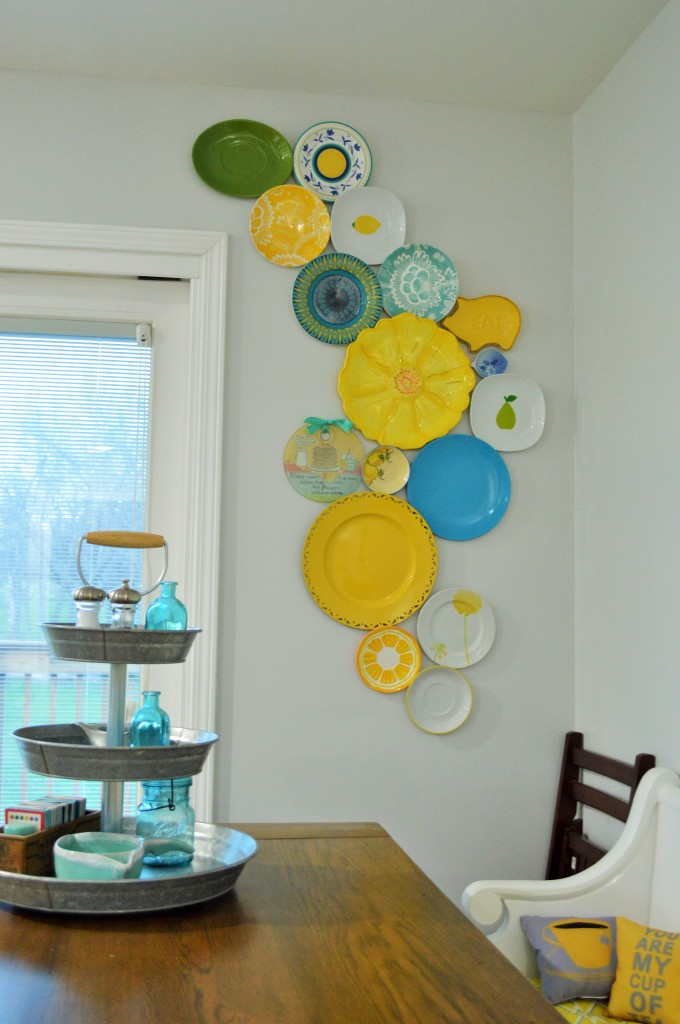 Also, I get to display some of my favorite dishes. We bought the big plate on vacation 2 years ago, and the little blue one is from my great grandma's house.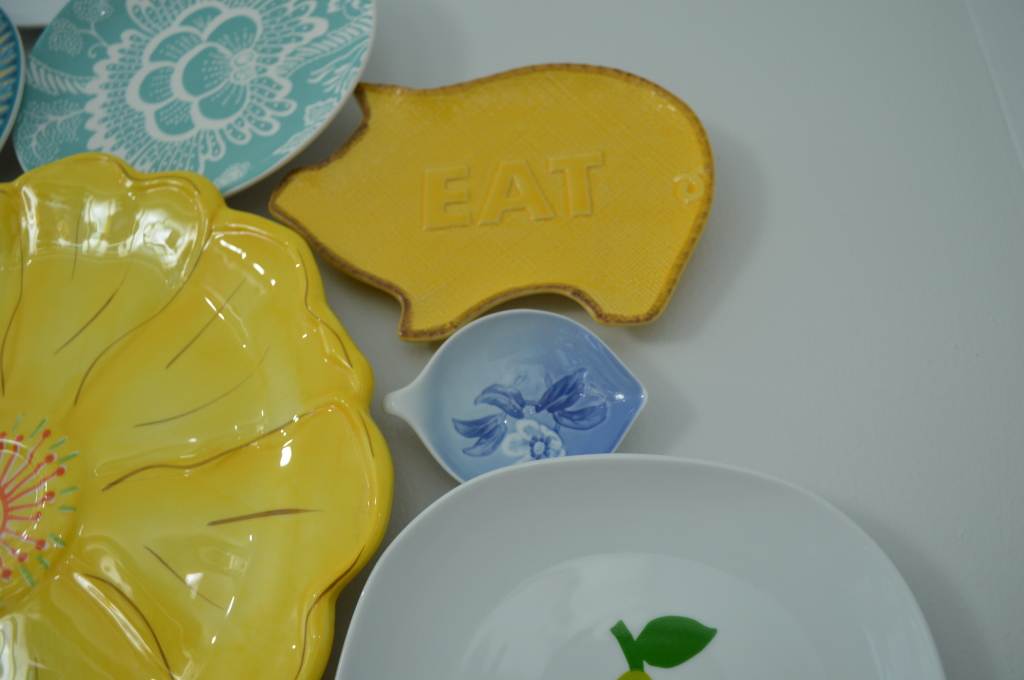 I think it's special to have plates on the wall because my grandparents always loved collector plates. While these aren't really the same type of plates they collected, to me, it's inspired by them and that makes me smile. And, we have plenty of room for other decor ideas on the remaining walls.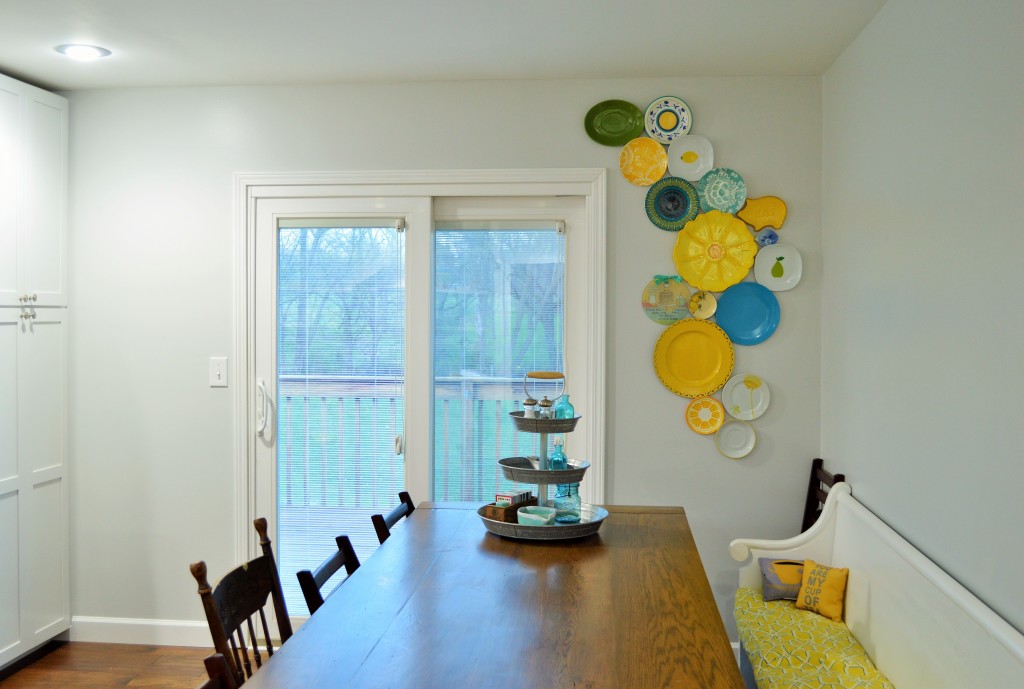 I also like the pancake trivet we got at the same store I found the pig plate. Fun, right?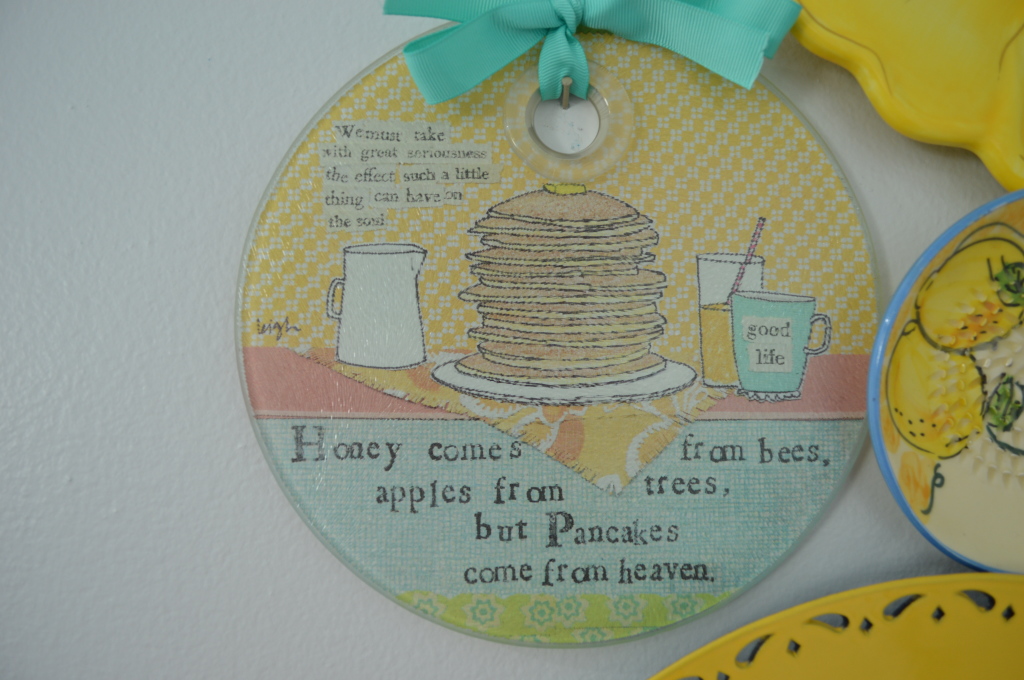 Plus, I'm looking forward to being able to change or add to the collection as I find new plates.
What's your plate wall opinion? Cute or old lady-ish? Have you ever tried making your own wall hooks to hang decor on the walls?
(WANT TO SEE AN UPDATE OF THIS WALL, CLICK HERE.)