PROMOTION HAS ENDED. HOPE YOU GOT YOUR CARDS! 🙂
I don't usually post deals and other such things, but because this is so awesome, I had to share with you all. You can get 35 TOTALLY FREE CHRISTMAS CARDS right now from Minted. Here's how.
1. Register for a new Minted account which will automatically place a $25 credit on your order through my referral link. (To be honest, I also get a credit, but that doesn't take away your credit and we both win, right?)
2. To find the cards, click on the "Minted Stationary" tab and select "Holiday Photo Cards." (Or non photo cards work, too!)
3. Sort the cards by "Price Low to High" and choose a card style and quantity that will be between $50 and $60 (it will be 15, 25, or 25 cards depending on the style you choose). I chose the "fa la la" one on the bottom right, but you can choose whichever one you want.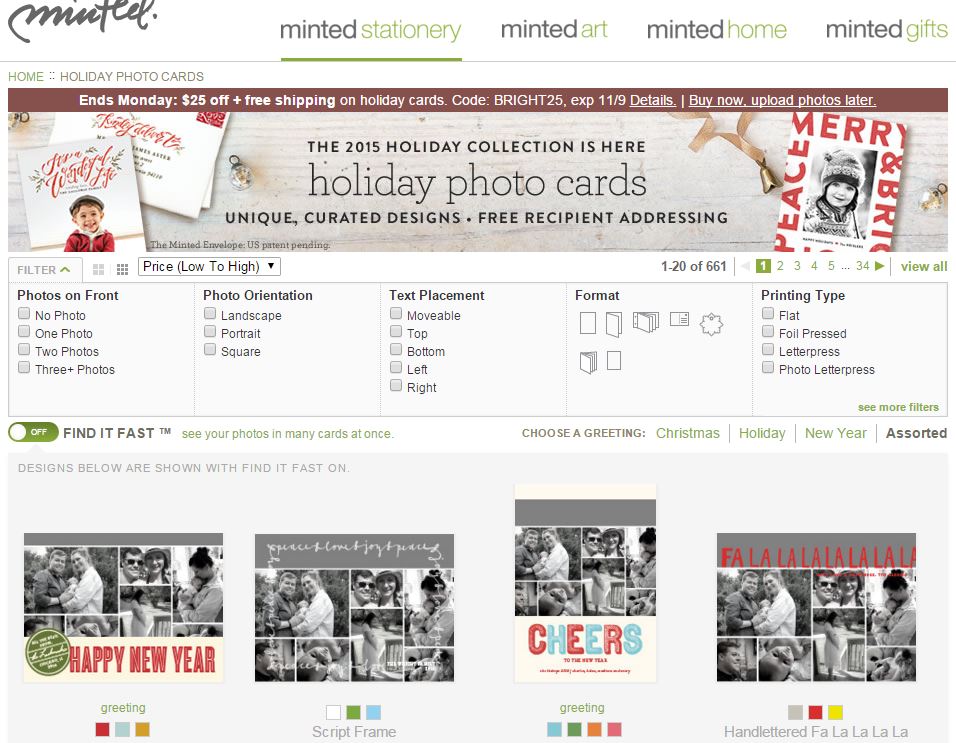 4. Upload your favorite photo and/or customize your card however you'd like. Be sure to choose the free blank white background and the free white envelopes so there isn't an upcharge, unless you want to pay extra for those, then by all means, go ahead.
(I went all fancy and uploaded a custom photo collage which allowed me to use more than one image, but if you had just one photo you liked, that would also be great. As a side note, I will design your custom collage for free using code LOVINGHERE2015, purchased here, but that step is totally unnecessary to the deal if you just want to use one photo.)
5. Add to cart and select "Express Service" which will take $10 off your total automatically. Then, during checkout enter promo code BRIGHT25 (after billing and shipping info) – this takes off another $25 and gives you free shipping, leaving you with a $0.00 total.
The code expires Monday, 11/19, so just do it right now so you don't miss it, okay?
HERE'S THE LINK to get this sweet deal.