So, I wanted to share a little update on the basement to keep you all up to speed about that project, and to share a little bit about what we learned with hiring out the drywall repair to a professional.
The short version of the story is that yes, we would consider hiring out portions of our remodeling projects again…but, I'm not sure we'd do it in the same way.
For starters, it was really great to get the project done in only about a week's time. I mean, if we had scraped the popcorn ceilings, removed and replaced the water damaged drywall, patched, mudded, sanded, primed, and painted that whole ceiling, it might have taken us a month. Not a month of constant work, of course, but when you factor in our real jobs, our toddler, being sick, the holidays…it's likely we would still be working on it, to be completely honest. And this way, it was done in a little over a week. (It was still months after the damage, but once the repairs started, it was fast.) Thank goodness.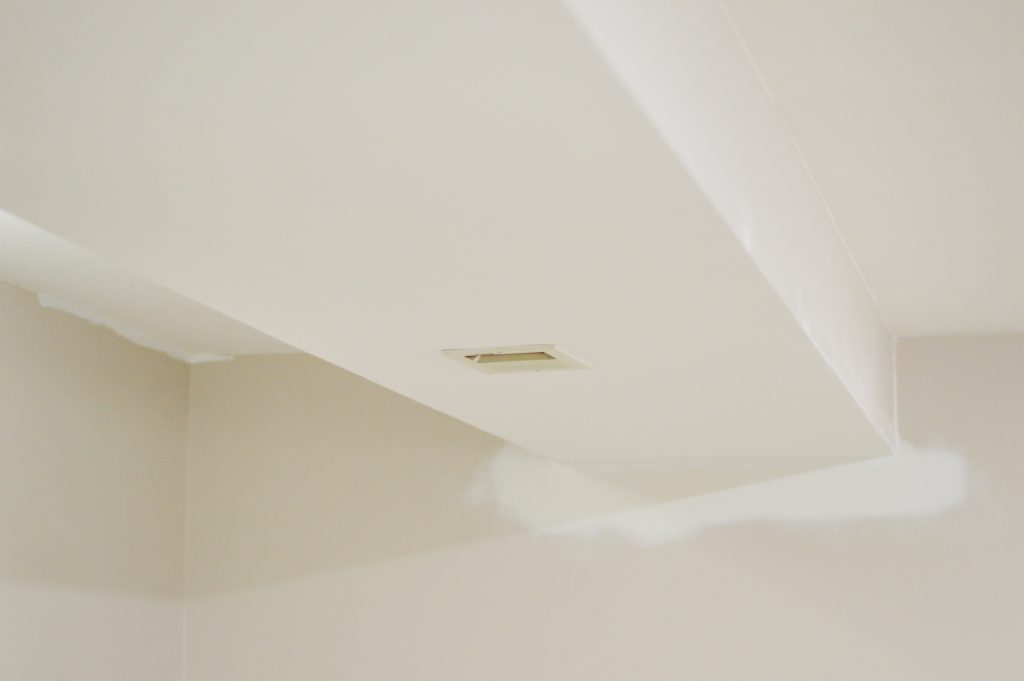 So, in that regard, we're very glad we decided to pay someone to do it.
On the other hand, we're not really sure the quality of the work turned out much better than we could have done ourselves. Maybe we're perfectionists (I'm raising my hand there) or maybe we hired a sub-par company to do the work, but I wanted to share our thoughts with you all either way.
We called him and they came back and made some repairs which helped, but still, we're a little disappointed we didn't walk down there and gasp in awe of how great it looked.
For example, the guy's company name had painting right in the title, so I would have expected neater corners. Of course, I can repaint, and we will be painting anyway, but it wasn't what I expected.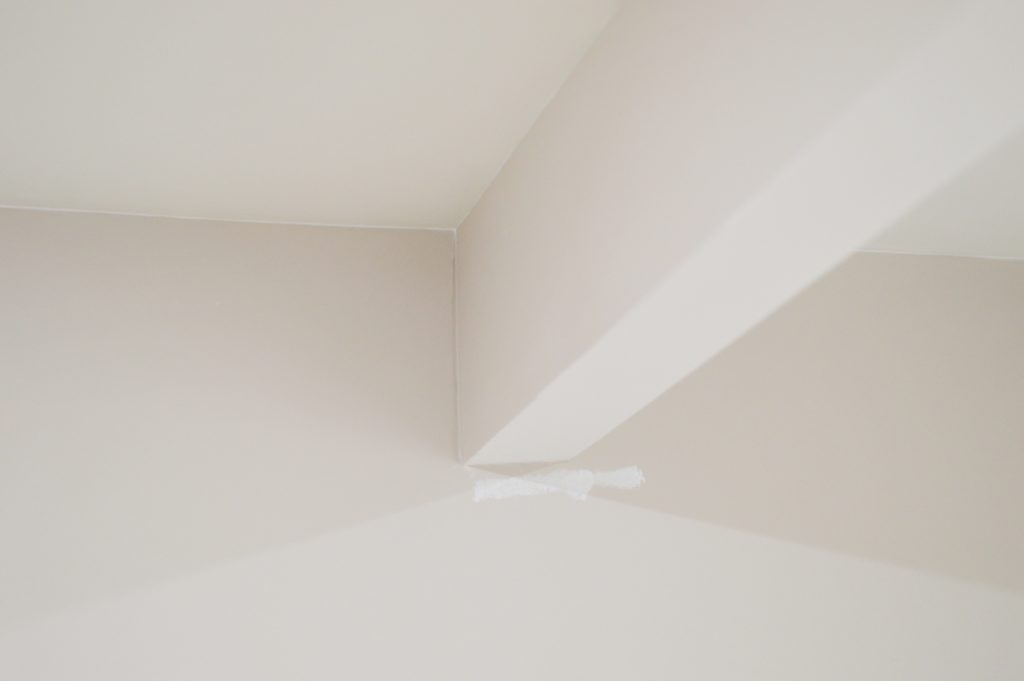 And, we had some issues with the corners on the duct work. It's a tricky area, and technically, we only hired him to do the ceiling, but it seems like the corner of where the ceiling meets the bump outs on the ceiling would be a priority.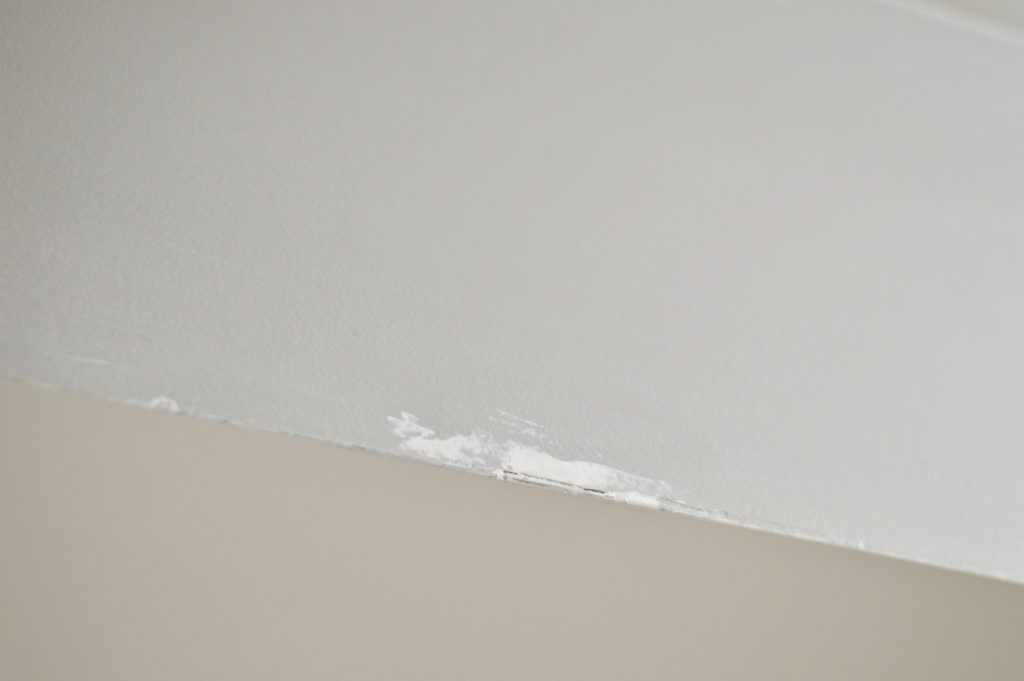 Plus, while they did tape off the basement to avoid dust getting upstairs, at one point, it came loose and thus, a snow-like layer of dust settled all over the carpet on the stairs and the hardwood floors. That was fun to clean up with a toddler tracking it everywhere.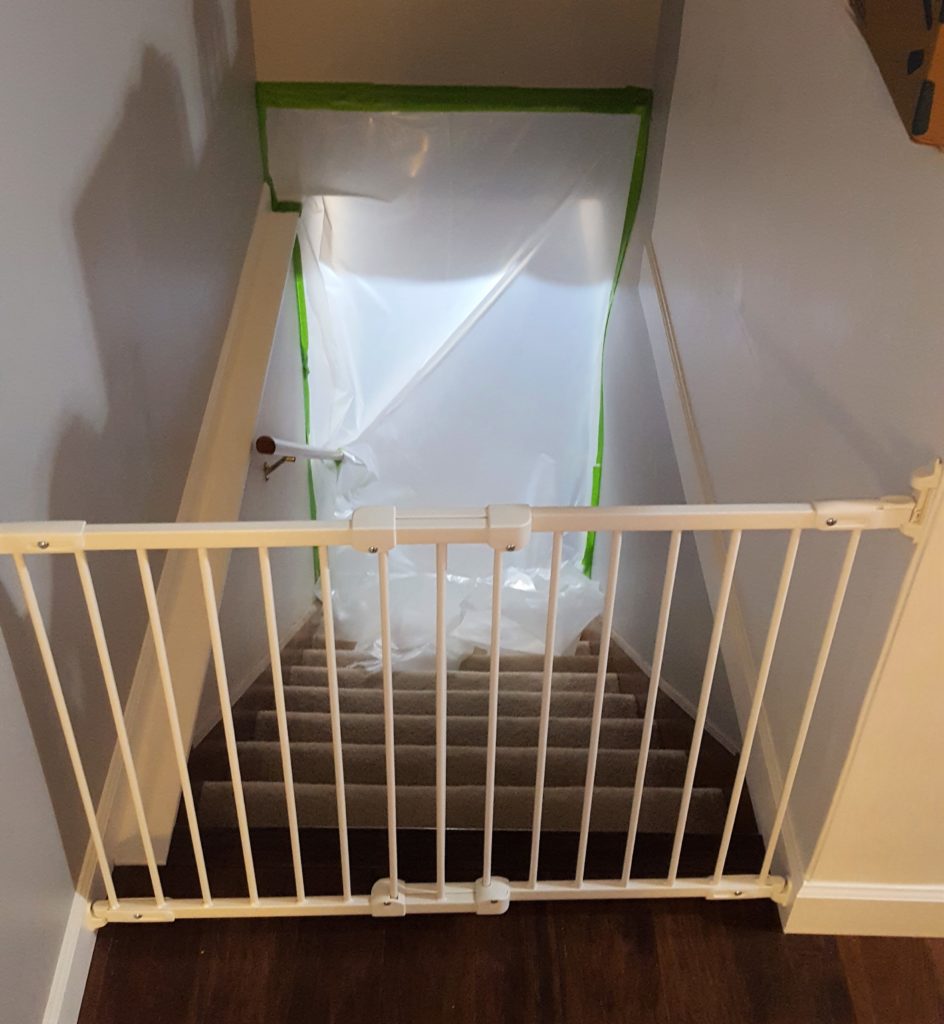 There were also some sanding imperfections near the lights. Which is easy to understand because I'm sure they had the can lights pulled down and there would have a been a shadow where they were working…but still. We're DIYers and we have worked around those conditions and gotten better results. We just expected more from professionals.
Of course, this is our first time every hiring out home repair work, so maybe that's normal. Or maybe we're just better DIYers than we thought, but we expected it to look…perfect…at least for what we were paying. (We purposefully chose a more expensive bid because we thought he seemed the best…) But it definitely wasn't perfect. So, we've officially given ourselves a promotion in how we think about the quality of our work I guess. Ha!
I do think I'd do it the same way again if I had to choose from the three businesses we met with, just based on a few factors such as the contract we had with this company. The others weren't going to have us sign a contract, which made me nervous after watching Mike Holmes on HGTV repeat "get it in writing!" on every episode. Plus, this guy was very fast and available shortly after meeting with us, which was good because we were doing it right before Christmas.
And, he did treat the ceiling for mold, even though we weren't sure that was necessary. We do have a baby, and Wyatt has a history of coughing issues we believe are tied to living in a moldy apartment in college. So, that seemed like a "better safe than sorry" option.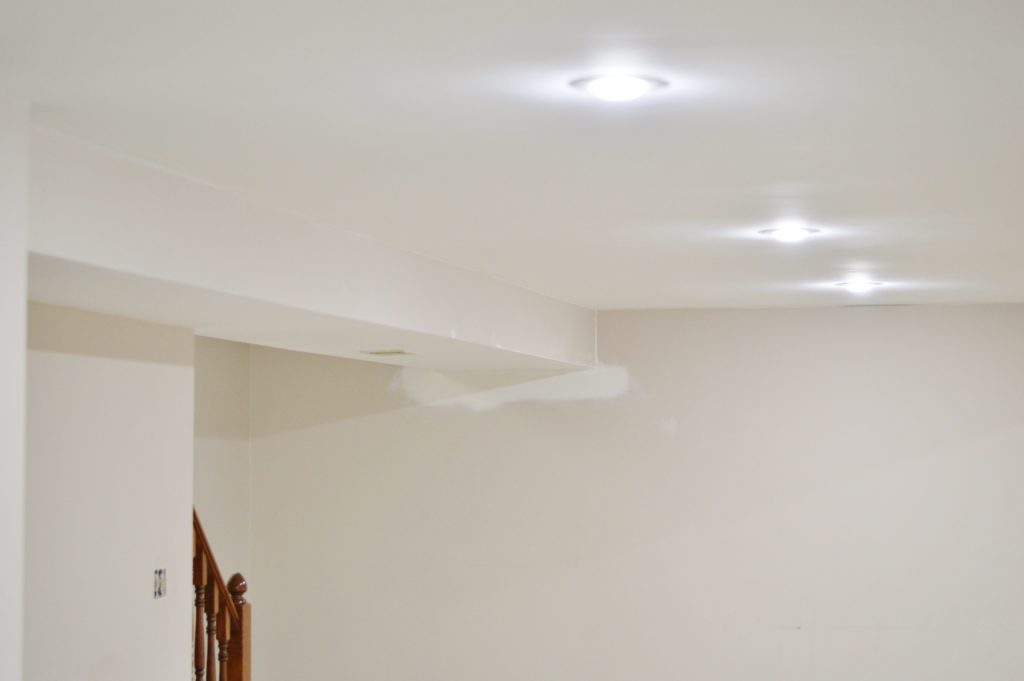 And it's better than this!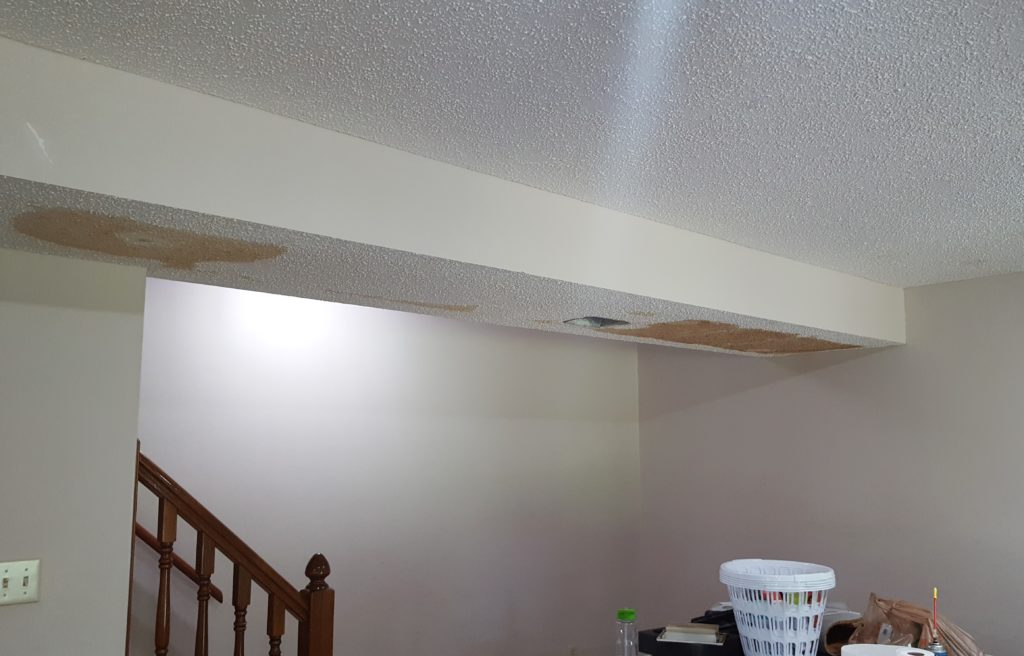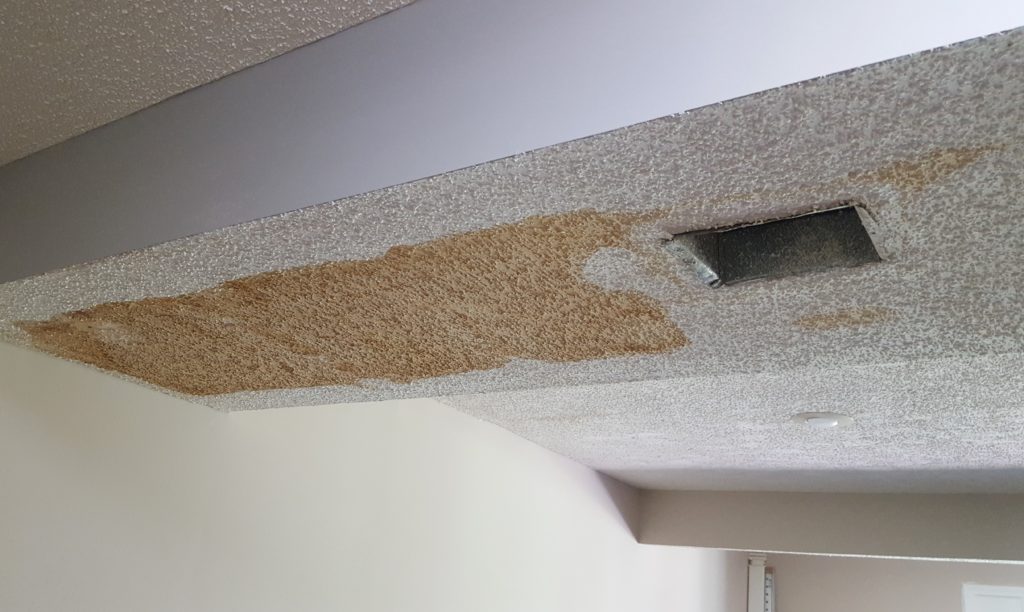 That photo with the popcorn and the brown stained water damage makes me feel so gross just looking at it. Very thankful to have this taken care of, for sure!
The thing is, it's DONE. And we probably won't give it a second thought now that we won't be inspecting it. I mean, who looks at the ceilings for imperfections every time you walk into a room? Not me. At least not when the rest of the room is finally finished, right?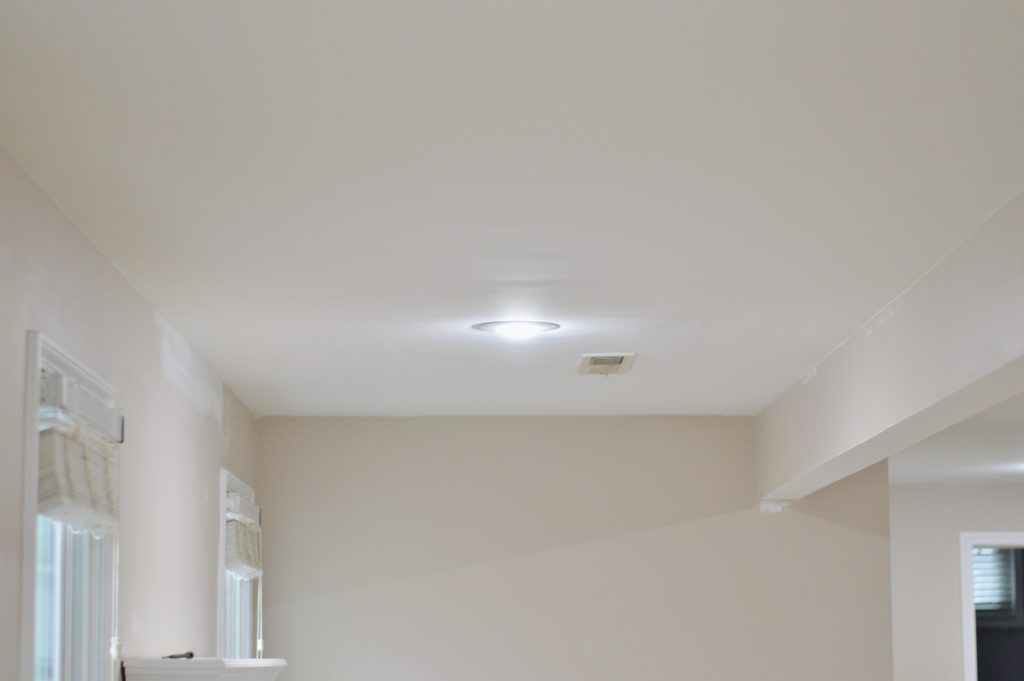 And thankfully, we do have a savings account for repairs like this. (Because we also learned home insurance claims are a really sucky process and honestly not worth it if you aren't dealing with a HUGE claim amount.)
Still, it was a learning experience in hiring a contractor for sure.
Sort of like it was a learning experience for us to DIY the popcorn ceiling removal upstairs. For a recap on how to do that (and why we think it's sometimes worth it to do it yourself, READ THIS POST.)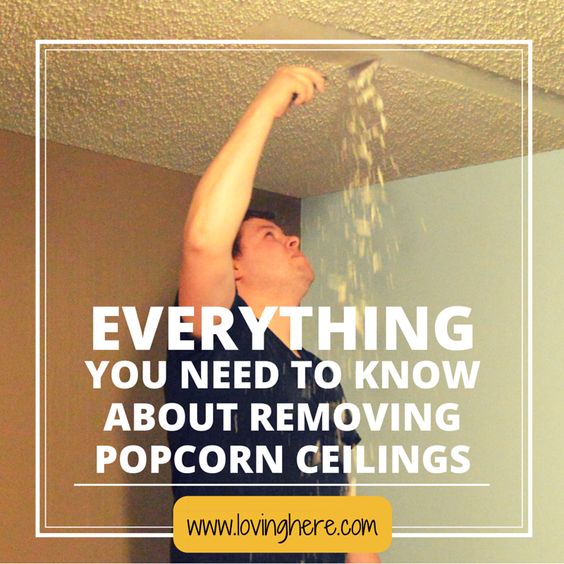 So, now you tell us, what have you learned from hiring professionals to repair or remodel your home? What tips can you share with us for "next time." Although I think we're both hoping there is no next time, at least in terms of the water damaged ceilings!!