Yes, yes, there's snow on the ground again. Yes, it's frustrating and sad and a little ridiculous. But, let me take a few minutes to celebrate the fact that even though it's cold outside, it's spring in here.
Easter, specifically, although I purposely decorated my living room in a way that will make it easy to transition from Easter to spring. Other than the eggs, there really isn't anything exceptionally "Easter" about these decorations.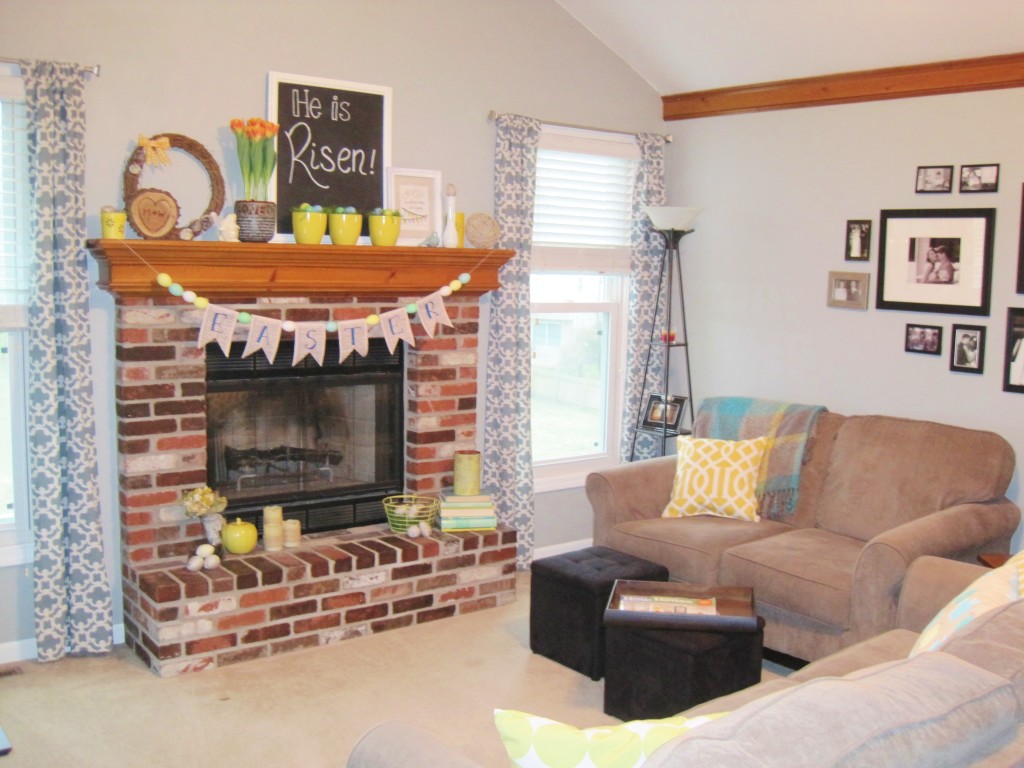 I added a yellow bow to the wreath (made the same way I made the green one here)
My "Printable Frame," was the easiest thing I did, because I simply replaced my awesome Mary Poppins printable (which you can download for free, here!) with the cute spring print I used in our apartment last year. I don't even remember where it came from, but I'm sure I found it on Pinterest.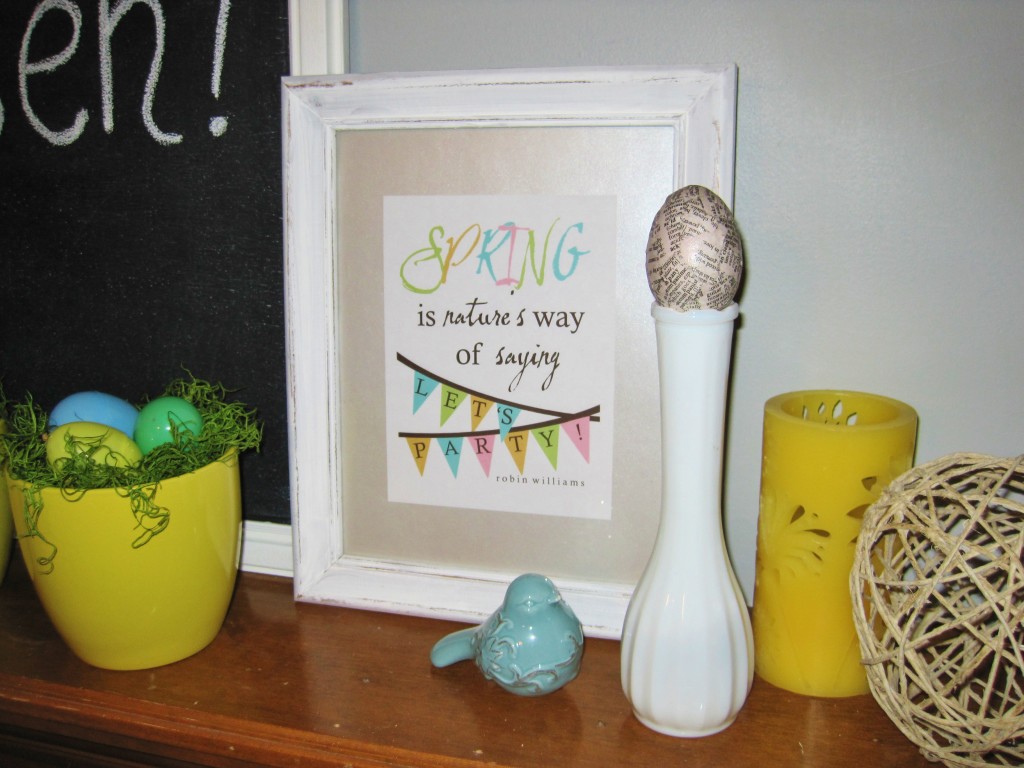 A simple, "He is risen" on the chalkboard is perfect for Easter, and I can quickly change it out to something more springy after the holiday is over.
I can also just take down the garland, made from the real dyed eggs I made, but I love it for now. It's very festive.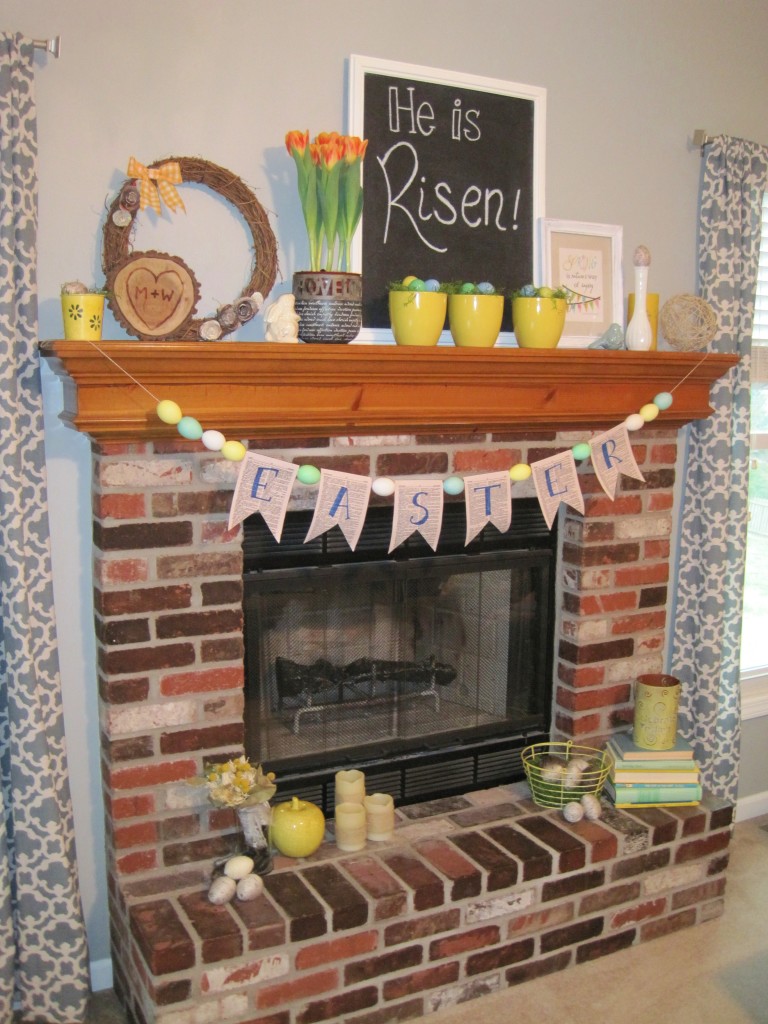 My yarn eggs found a home on the hearth, most of them in this cute yellow basket my mom gave me for my birthday(?) last year, with some soft green Spanish moss (from Walmart) as a bed.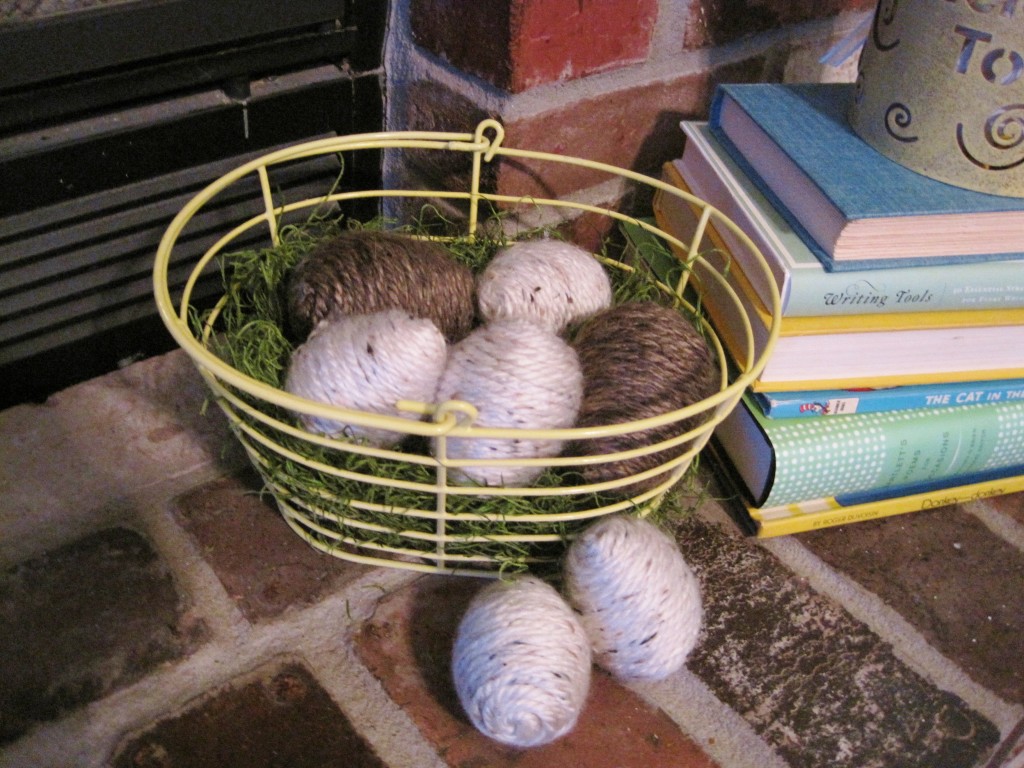 The rest found a home in a little pile next to my wedding bouquet, which I still like the idea of seeing everyday.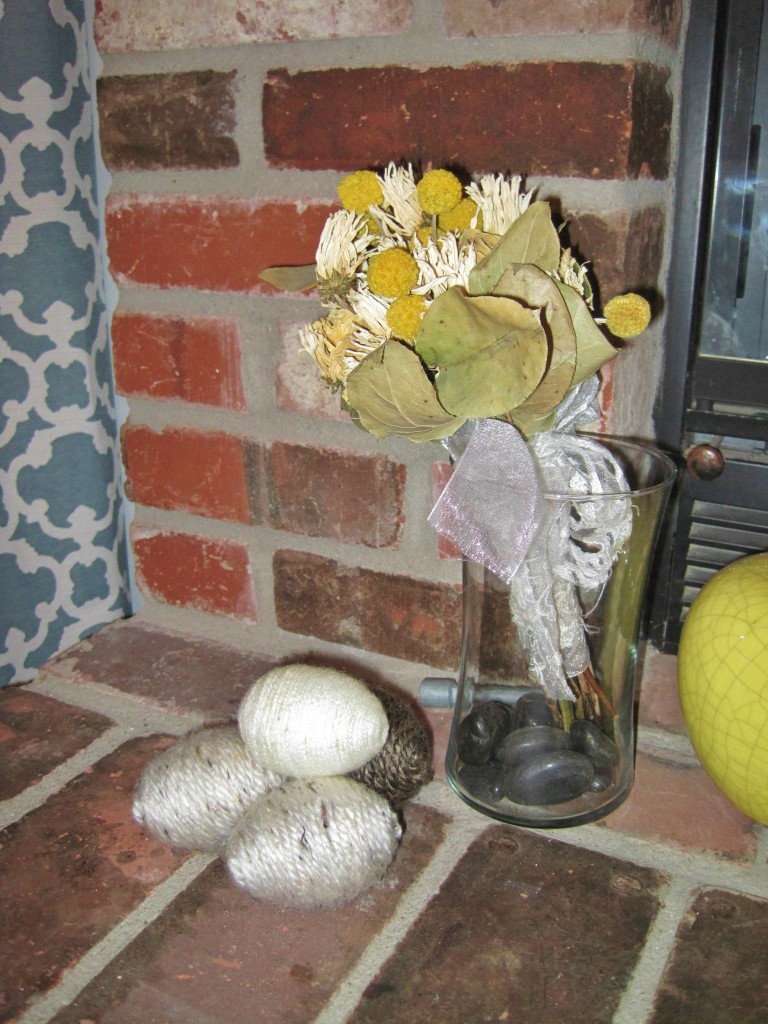 I've decided I like the idea of choosing a few books, based on color or theme, to sit out in the living room every so often. Not only does it give each book their own little time in the spotlight, but it helps give the ones on the bookshelf a little more breathing room. (Trust me, they are in close quarters!)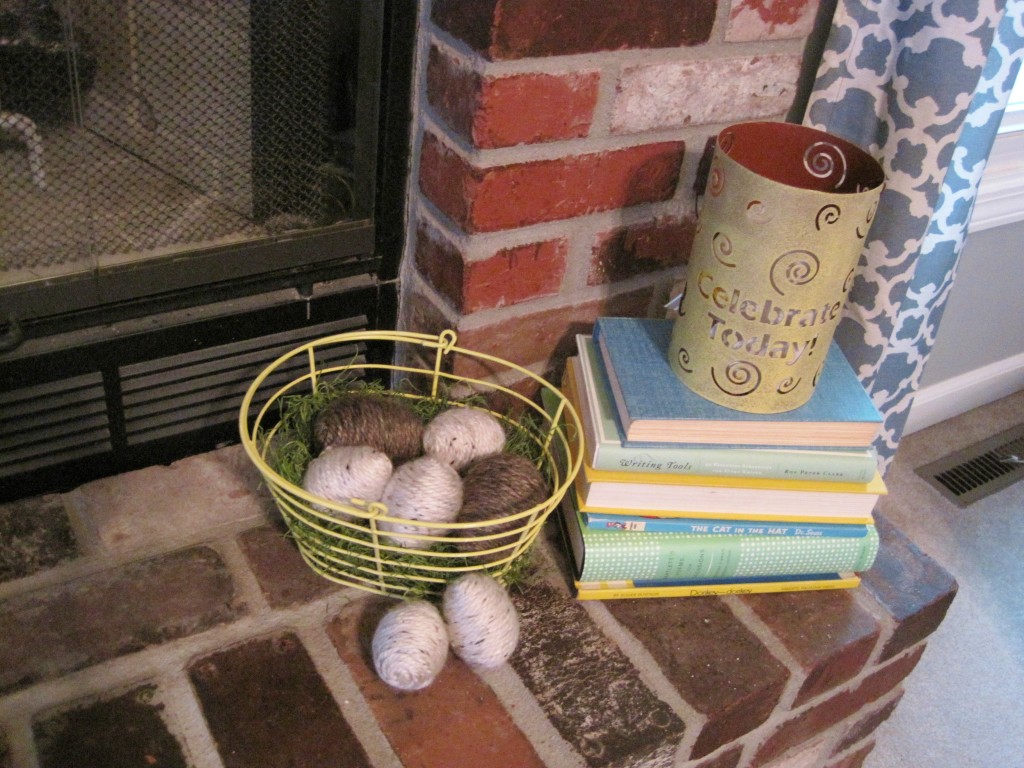 The dictionary eggs got to live on the mantle, two in their cute yellow basket, and one perched atop a bud vase.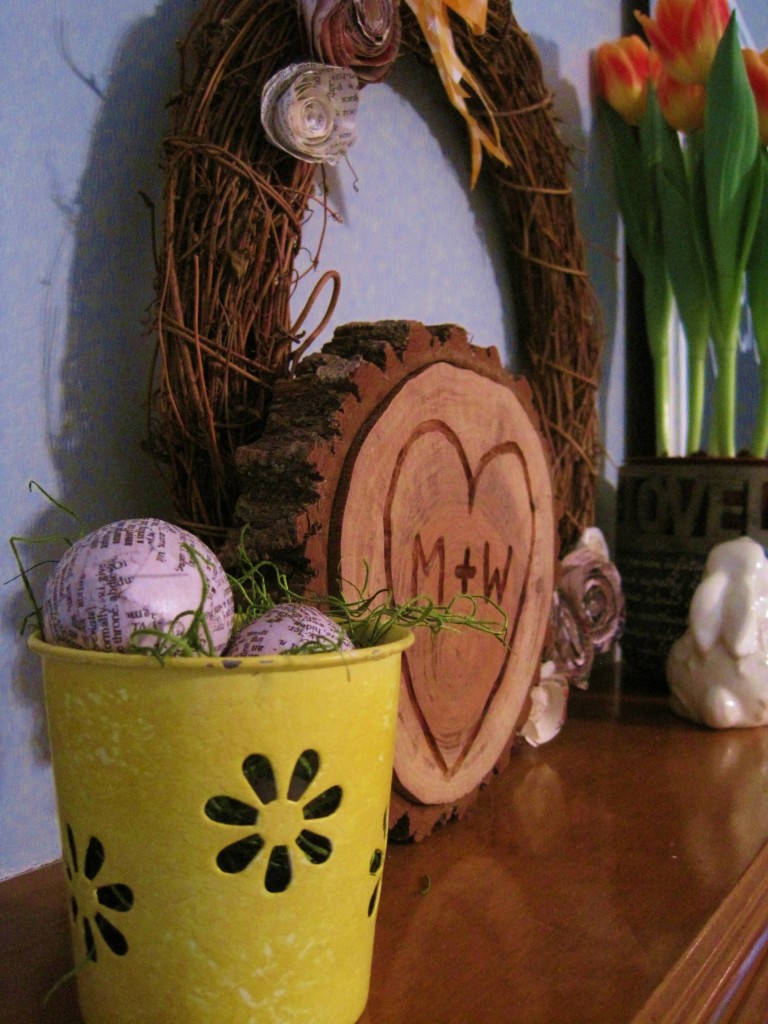 The twine egg sits on the right side of the mantle, balancing the other natural wooden elements on the left side.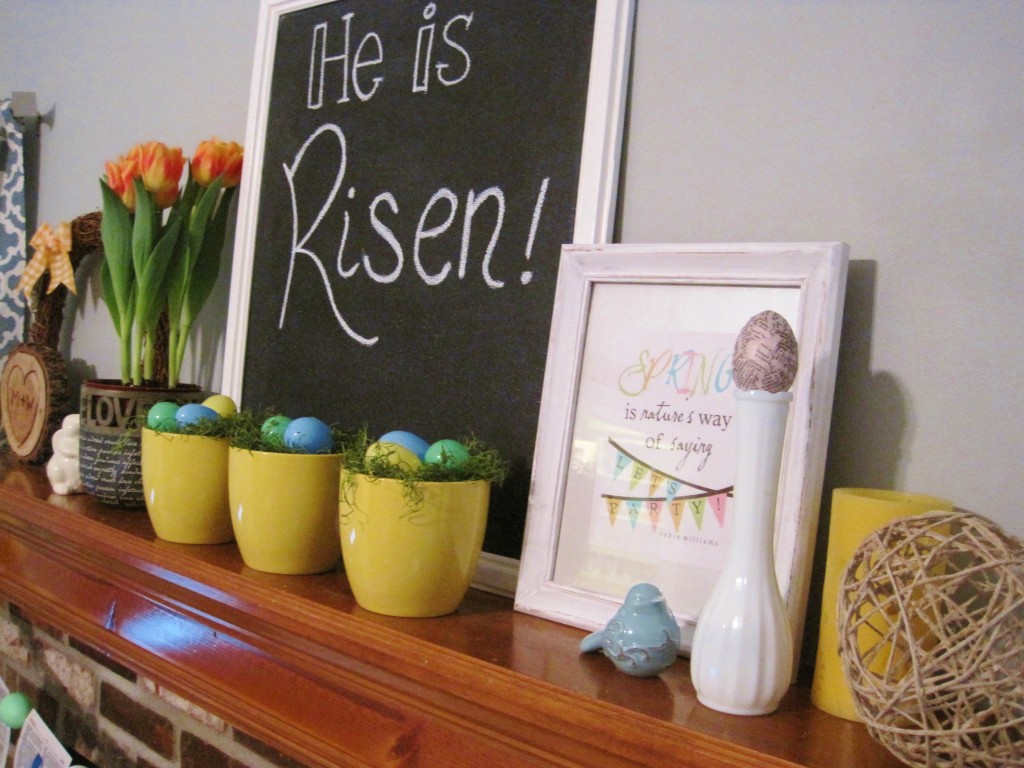 I found these adorable yellow pots at Dollar Tree, for, yes, $1 each. (Wow!) I added some moss and some plastic (yes, cheap plastic eggs also from Dollar Tree), to add a little more color, and I love it.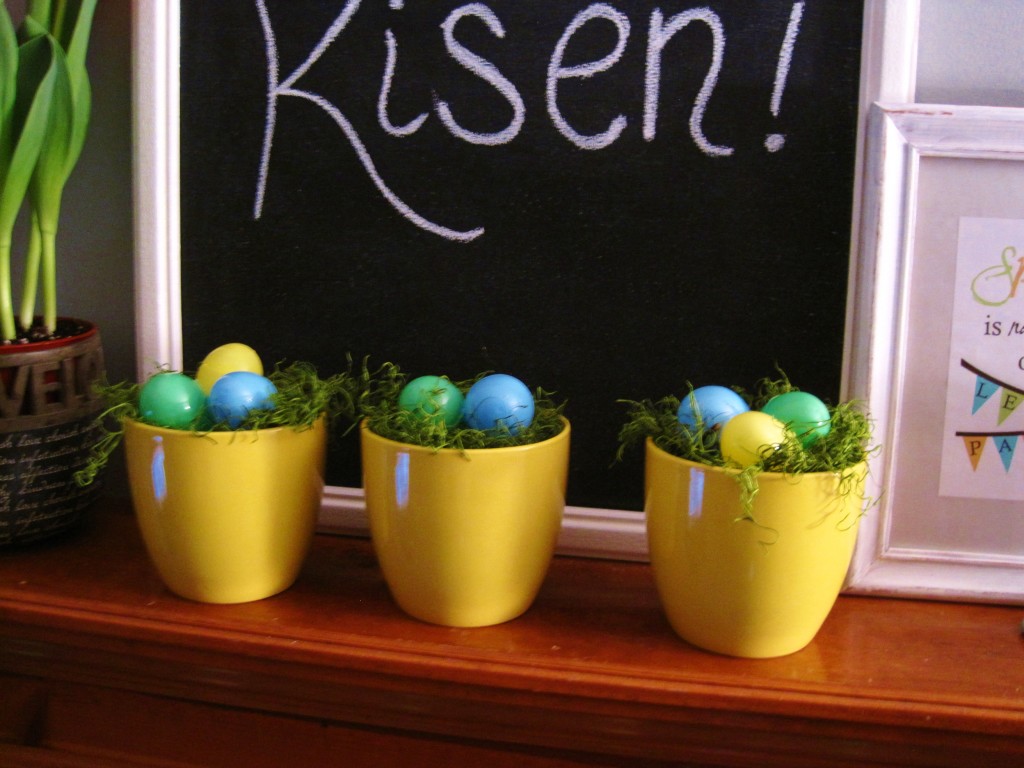 Maybe next year, I'll dye more real eggs (or buy some wooden ones on clearance after Sunday) to use instead, but these worked great for the budget I was working with.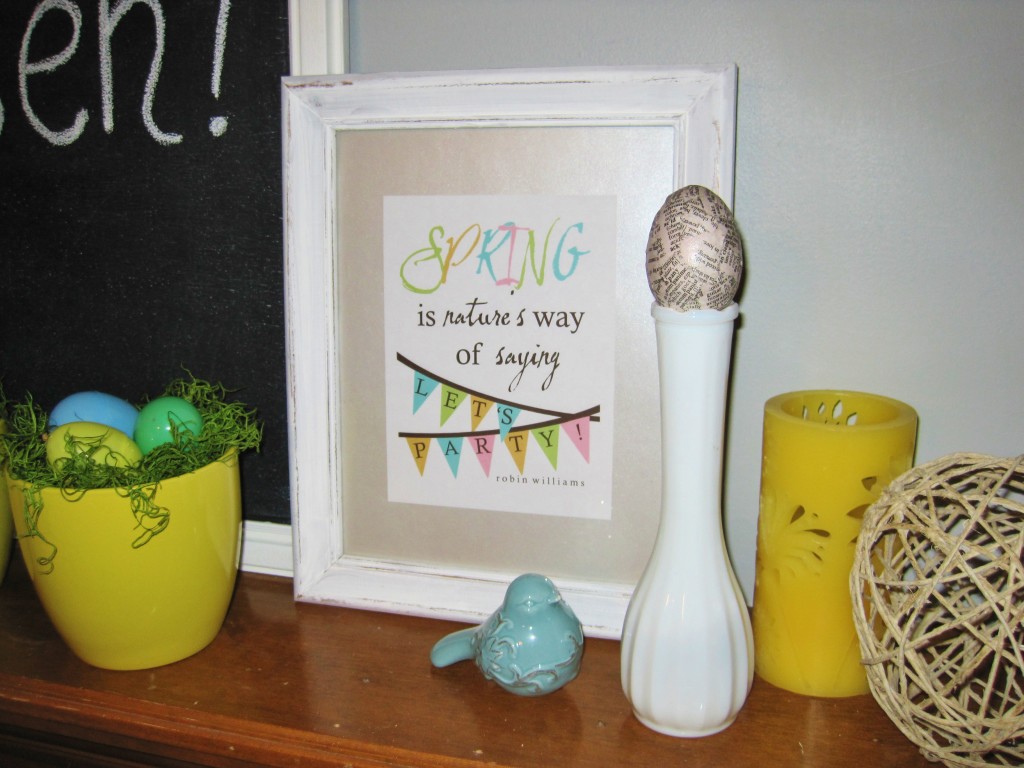 Oh, and I can't forget the fresh (still living) tulips that I love, love, LOVE.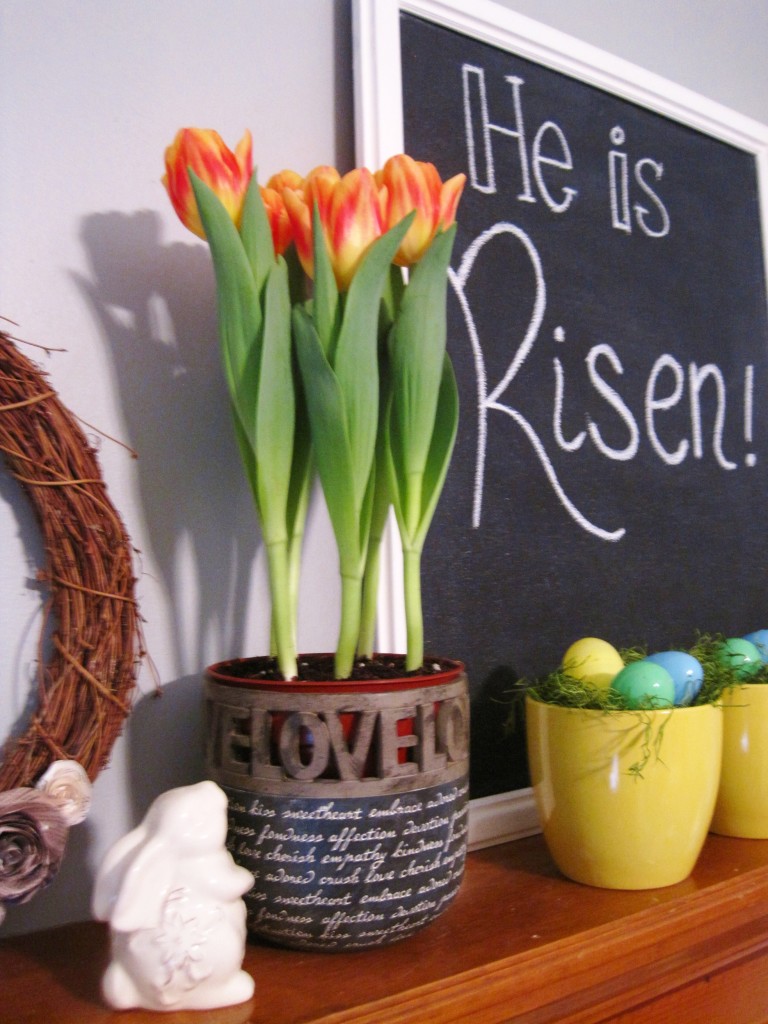 (They are from Walmart, too, can you believe it? So beautiful!) And vase is actually a big candle holder that we got as a wedding gift.
Oh, and I can't forget to introduce Benny, my little ceramic bunny. And Bella, my little blue bird. Both of those guys were clearance items from Hobby Lobby, and I love them. End of story.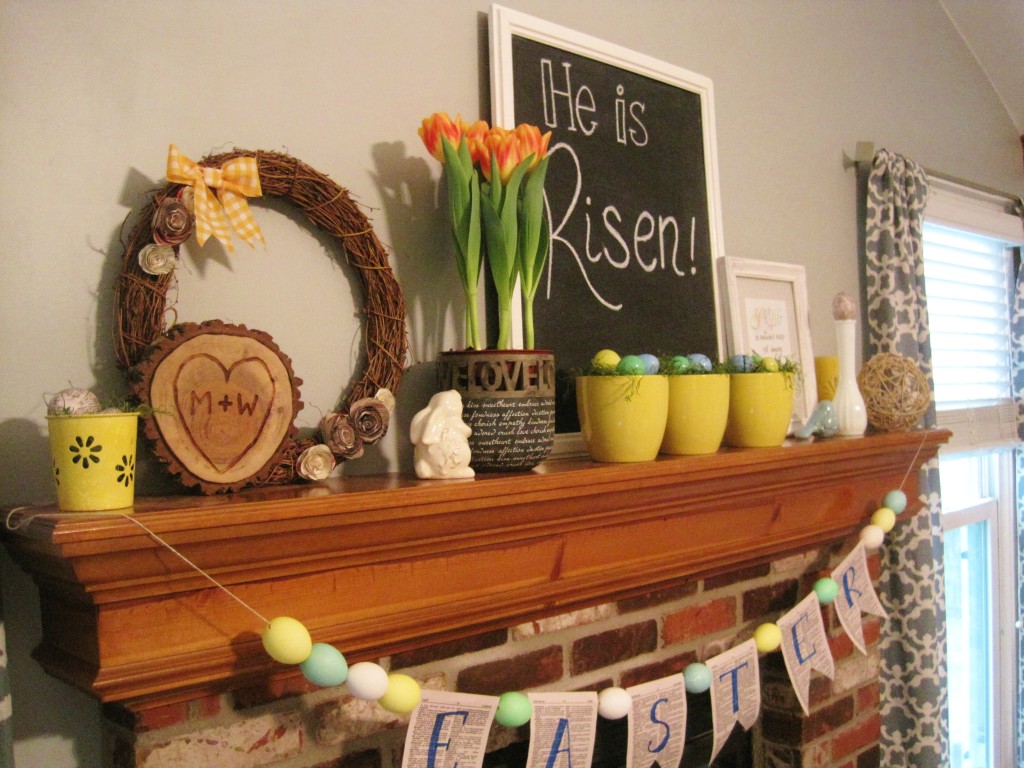 I love how simple and bright and cheerful it all looks together, especially with our bright yellow and blue pillows on the couch, and that it will be easy to transition to spring, since there aren't that many more days before the Easter season is over anyway.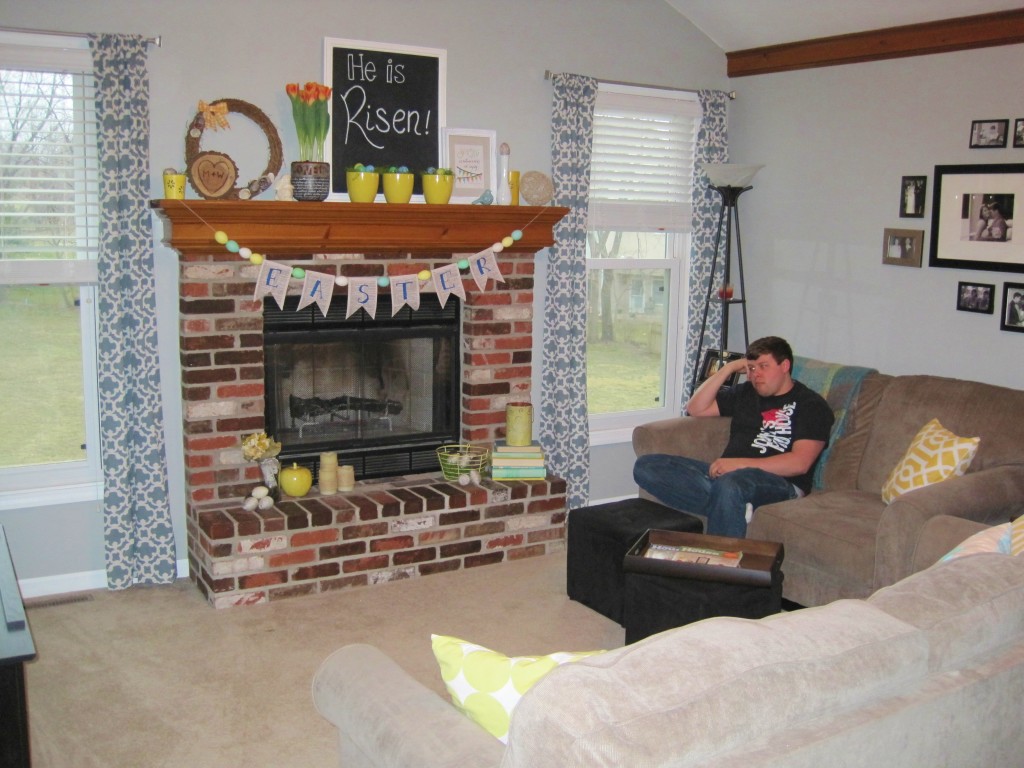 (That picture brought to you despite a Hubs who was watching the Sporting KC soccer game.)
Oh, and the kitchen got a little springtime makeover as well. I love these bright yellow daffodils that Hubs brought home for me on Thursday with the teal blue of the jars.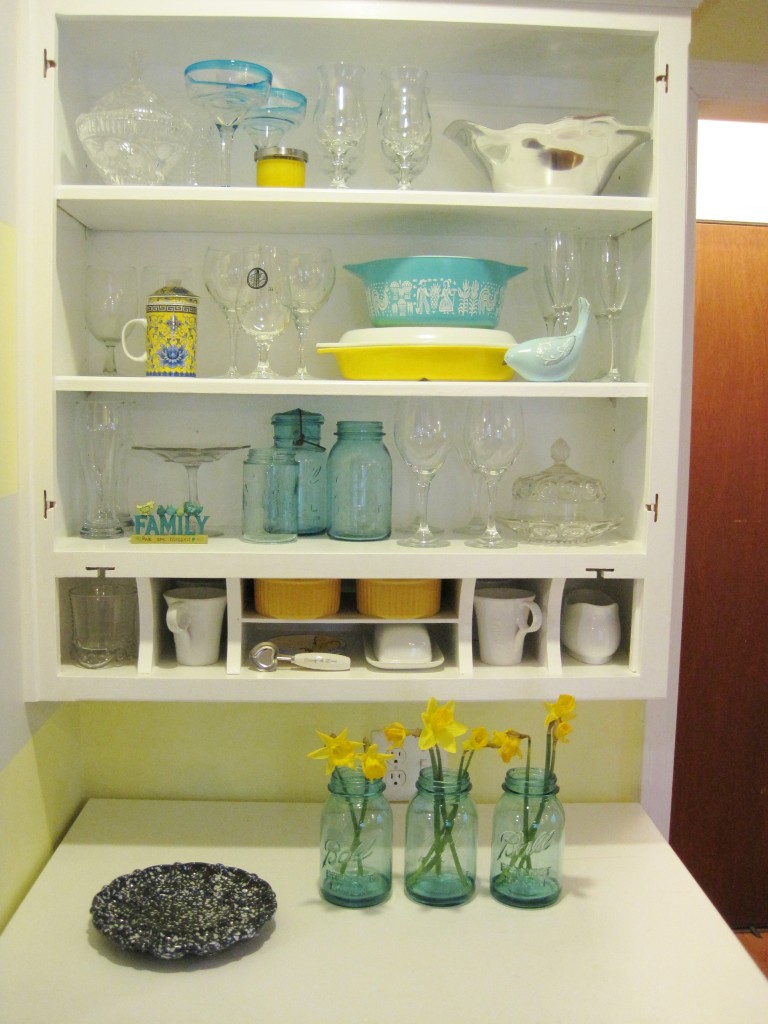 There's a new birdy in here, too, Betty.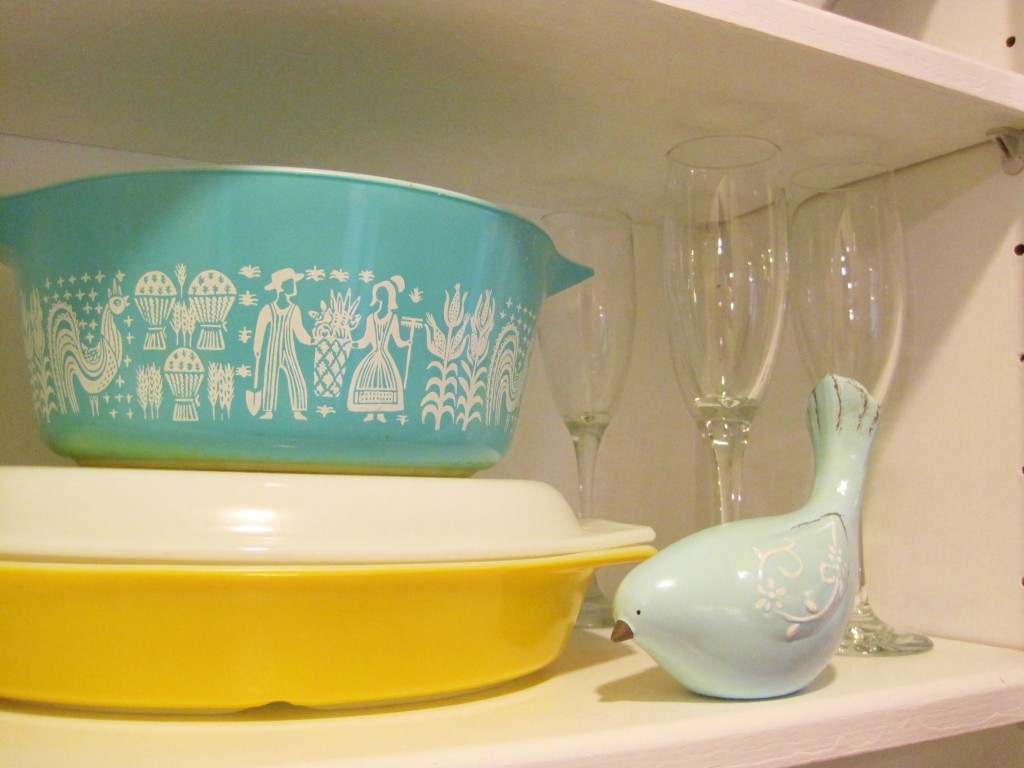 Perfection…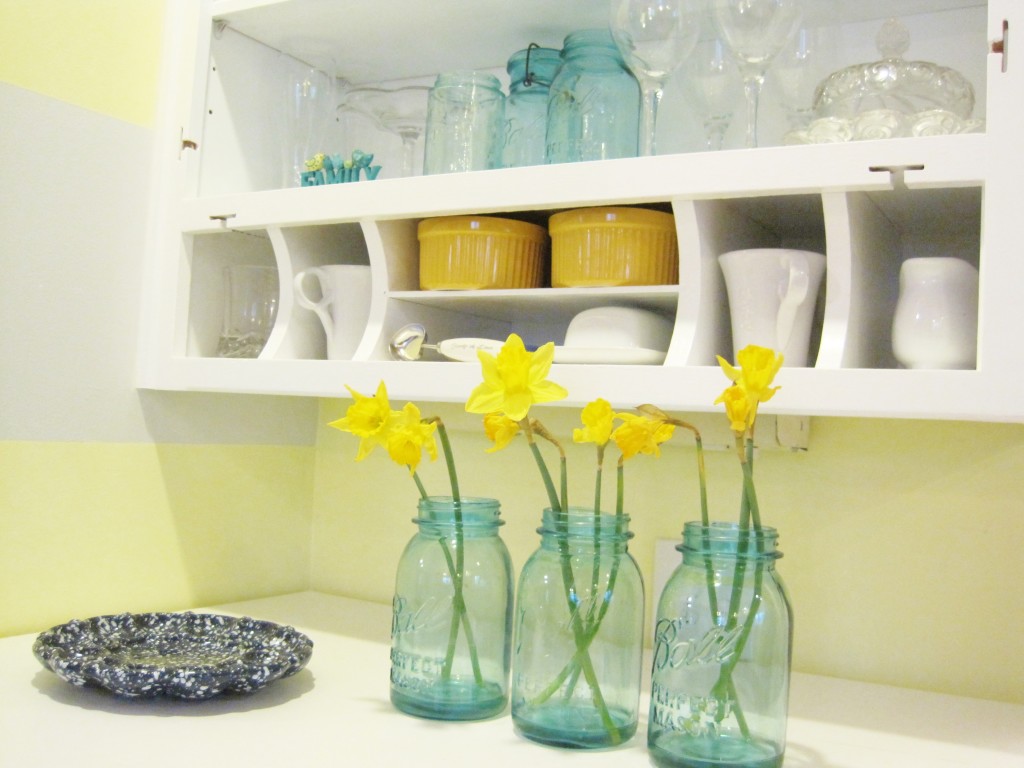 I'd love to see how you decorated your mantle! Send me a link or an email with your springtime decor! If you didn't decorate, I'd love to hear your favorite thing about how we decorated, or the cutest Easter things you've seen in stores–so I can go find them after they go on clearance Monday morning!