One of the things on our goal list for this year included making some toys and games for Will. Even though I didn't specifically include books in that goal, I wanted to share a fun book project I recently completed that has become one of Will's very favorite books. Basically, it's a DIY Shutterfly family book and I think you should add it to your list of projects or gift ideas right away because it was easy and awesome and I'm confident little ones (and big ones!) of all ages will love it!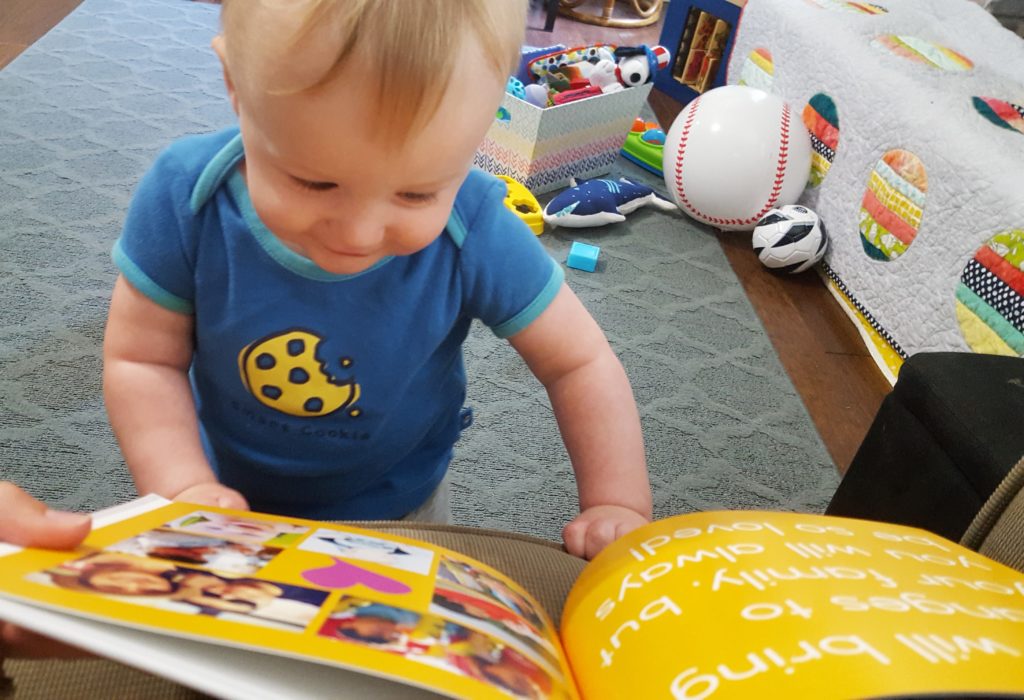 Also, if you sign up for a new account with Shutterfly and USE THIS LINK, you and I will both get a free photo book! That means you can make your photo book FOR FREE and then just have to pay shipping to get it sent directly to your house. Totally affordable for a custom book that I think your kids will really, really enjoy.
But, I got ahead of myself a little bit. Here are the details of this sweet DIY family book. I know most of you are probably familiar with Shutterfly and have likely even made memory books for graduations, Christmas presents, weddings, or even yearly photo albums, but this was a slightly different take on it that I think is really sweet.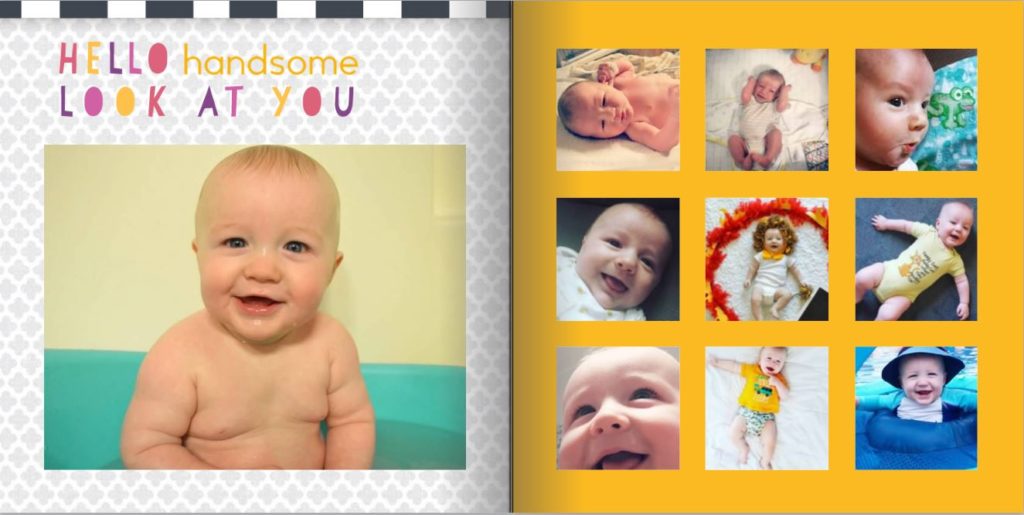 I started with a template that comes preloaded on Shutterfly. The template was called Little Love if you want the same one I used, and it's actually sort of "girly" but I just customized it to only use the gender neutral features. I used their customize page option to add text boxes and change the photo sizes and locations. Then, I added some of their pre-loaded free banners, backgrounds and stickers to add some flair and make it bright and fun for a kid to read. my books are usually more classic (black and white) but since this was for Will, I knew I wanted it to be fun and colorful.
The book opens with a photo of all of us, to help Will learn what the word "family" means.
I made a page at the beginning for Will, then a page for myself and for Wyatt.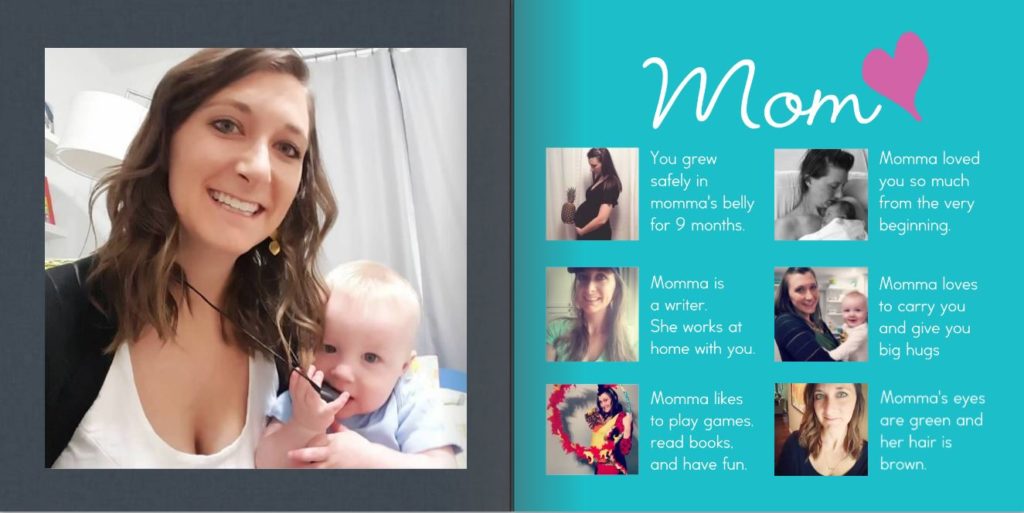 We included little details about ourselves for him to read and learn as he grows older. For now, we basically just talk about our "names" (momma and daddy) and point to our faces and to Will's face to encourage him to say those words. He's not a big talker but this is helping him associate words with faces.
I made similar pages for his grandparents and aunts and uncles, as well as his great-grandparents.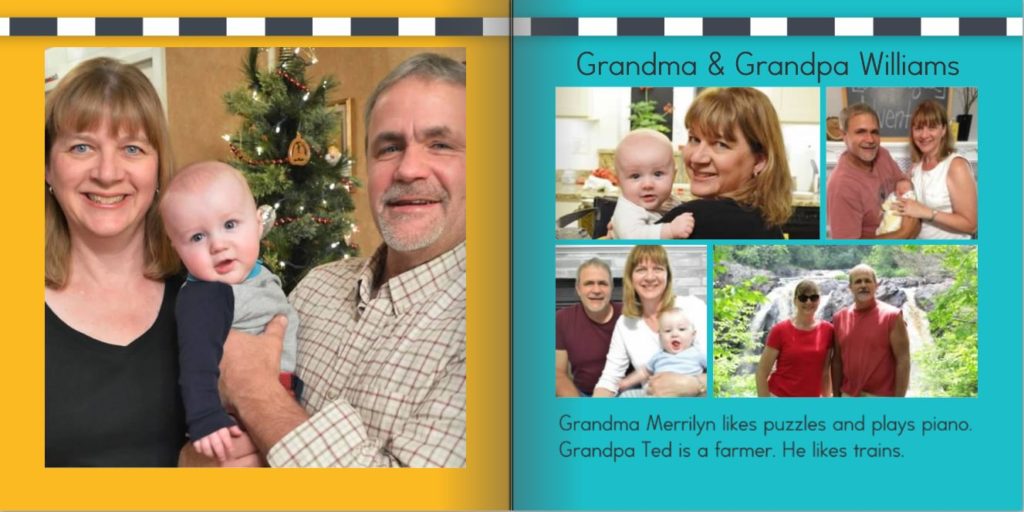 Here's a video tutorial from Shutterfly if you feel lost.
Again, I think this project was one of the most fun to create and has already been one of the most enjoyable things to share with Will. He can't talk yet but his eyes light up when he sees himself and others he recognizes as we look through the pages. And, it helps him remember family members we don't see as often. We read it at least once a day, if not more.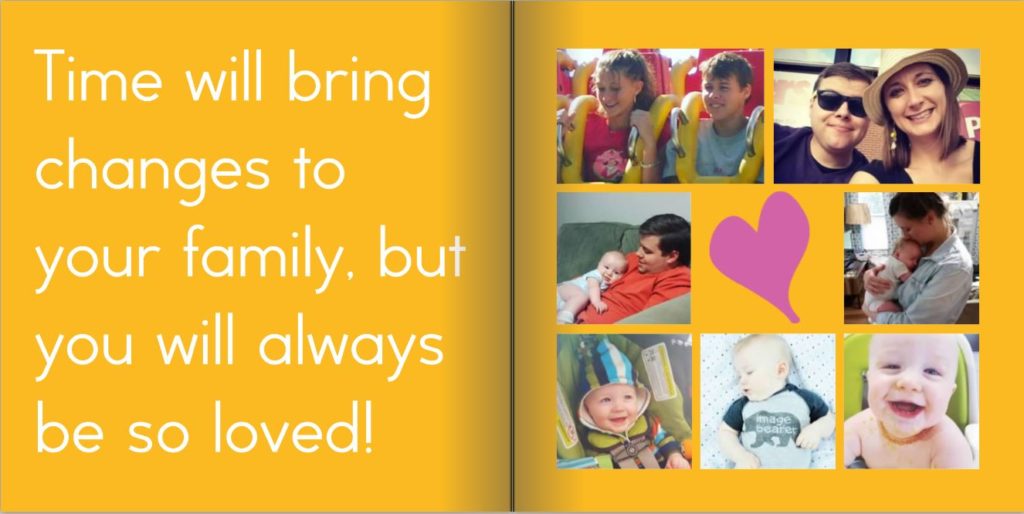 I've used Shutterfly to create several books over the years so I'm happy to answer any questions you have as you're designing. Or, if you would prefer I do all the hard work for you, feel free to email me at melissa (at) lovinghere (dot) com and we can talk about a custom order where I'd design the whole thing for you start to finish!
Or, if you want to go another really easy route, just choose a template they have and don't customize it at all. Simply upload your photos and drag them to the pages in the order you want them, add your text and order. Easy-peasy.
Really, I think this is one project even the most non-DIYers can tackle and end up with an adorable book your little one will treasure for years. I can just imagine Will reading it to us as he gets older. He's already so proud and giddy to see himself on the pages. Seriously, it's adorable. Just go make a book and see for yourself.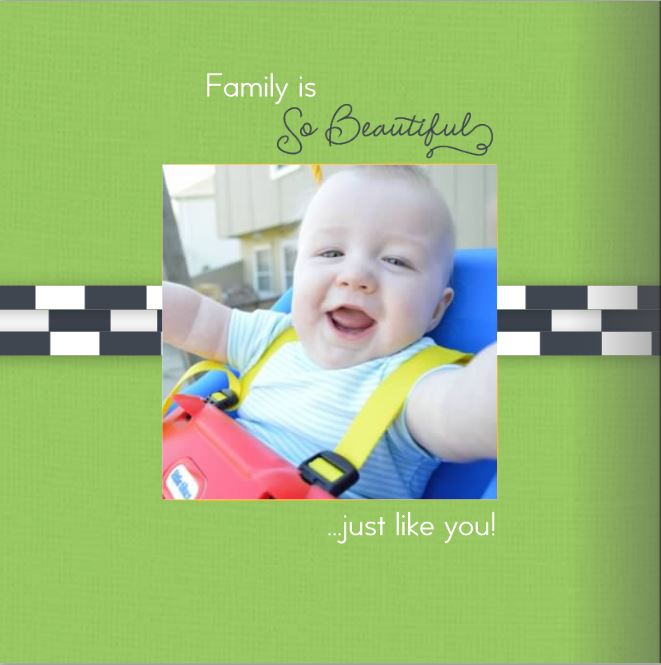 **This post contains my direct referral link for Shutterfly and we'll both be gifted a free photobook if you sign up for a new account and redeem your free book offer! Thanks, and happy designing!**