I always get the urge to freshen up our decor for springtime. Anyone else? So, in honor of the first day of spring coming up next week, I spent a little bit of time over the weekend making a new "wreath" for the front door. To be honest, it's not a wreath at all. And it's not made from fresh flowers (fake lasts forever and real ones don't, sadly) but it still fells fresh and happy as the weather gets warmer.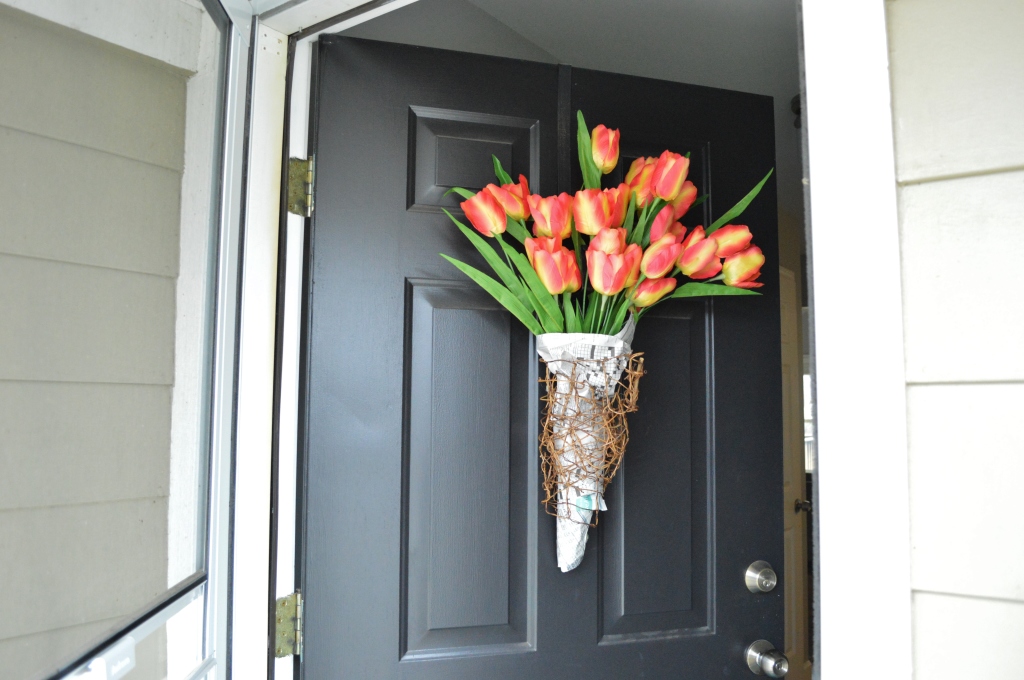 The idea for this started when I spotted some $3 bunches of fake tulips at Wal-Mart.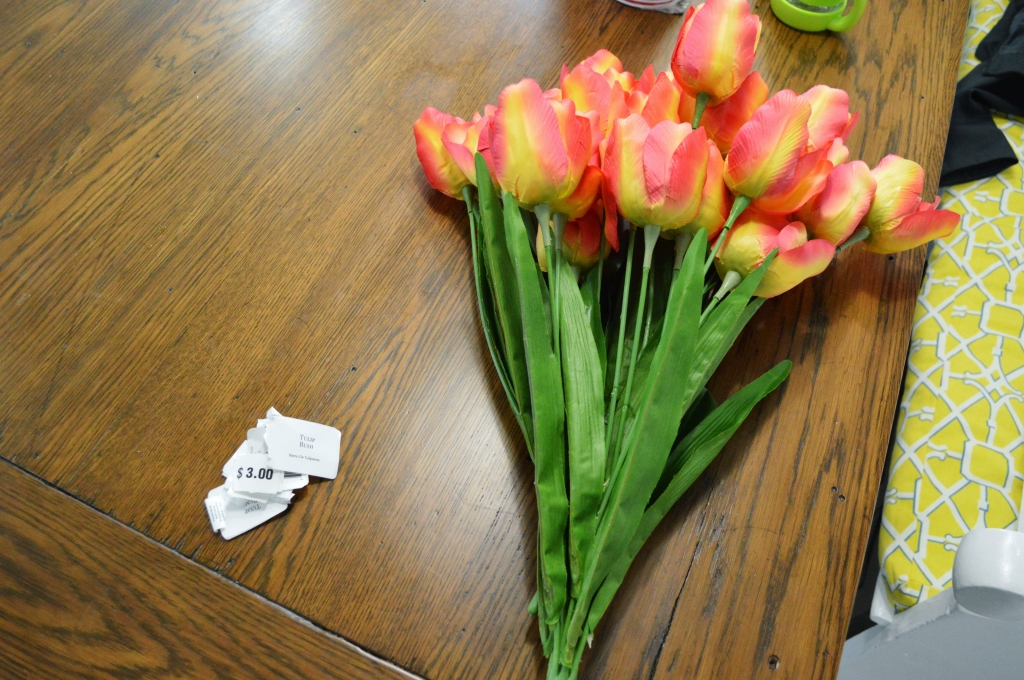 There were eight blooms in each bunch, which was pretty good bang for your buck when fake flowers are concerned. Of course, these aren't super realistic looking, but from a distance (the sidewalk, etc.) these look great. And they still look pretty good closer up, too. Even though I'm not usually one for fake flowers at all.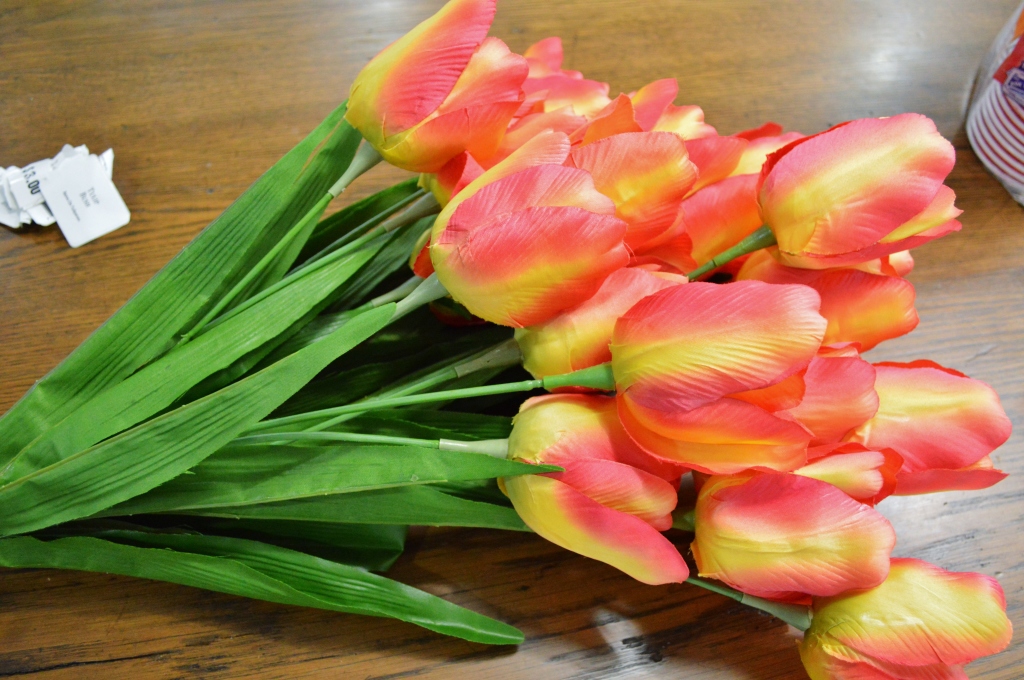 I started by layering the three bunches so they fanned out in a nice bouquet shape. I wanted some varying heights so I staggered the bottoms. I didn't have any floral wire (I don't ever work with fake flowers) so I used tape to secure them together. Not the prettiest, but it worked.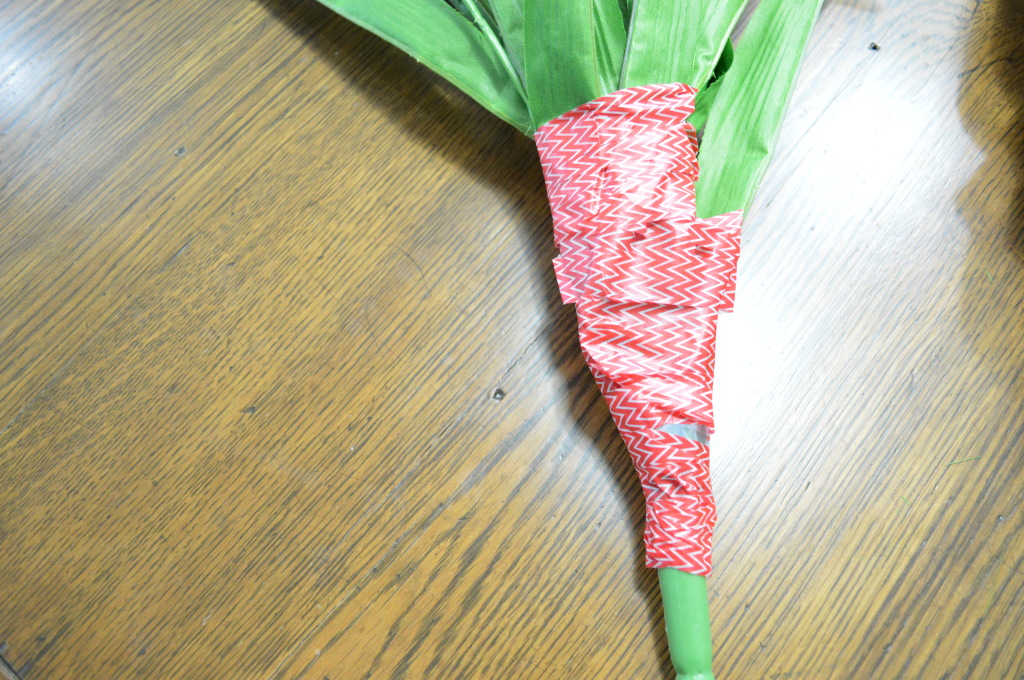 Then, I took it a step farther and snipped a few of the greens from the bottom (where it was more full) in hopes of doing a little rearranging.
I hot glued them onto the stems near the top to add some greenery up there, too.
I understand not everyone will notice that, but it makes me happy that it's more balanced now.
Then, I got to work on my "vase" for the bottom. I wanted something natural looking, and I happened to glance over and see our Sunday paper sitting on the counter so I ripped it up and wrapped the bases of the stems with newsprint. I like that it mimics the look of a fresh bouquet that might be wrapped with newspaper to prevent it from dripping water as you carry it home.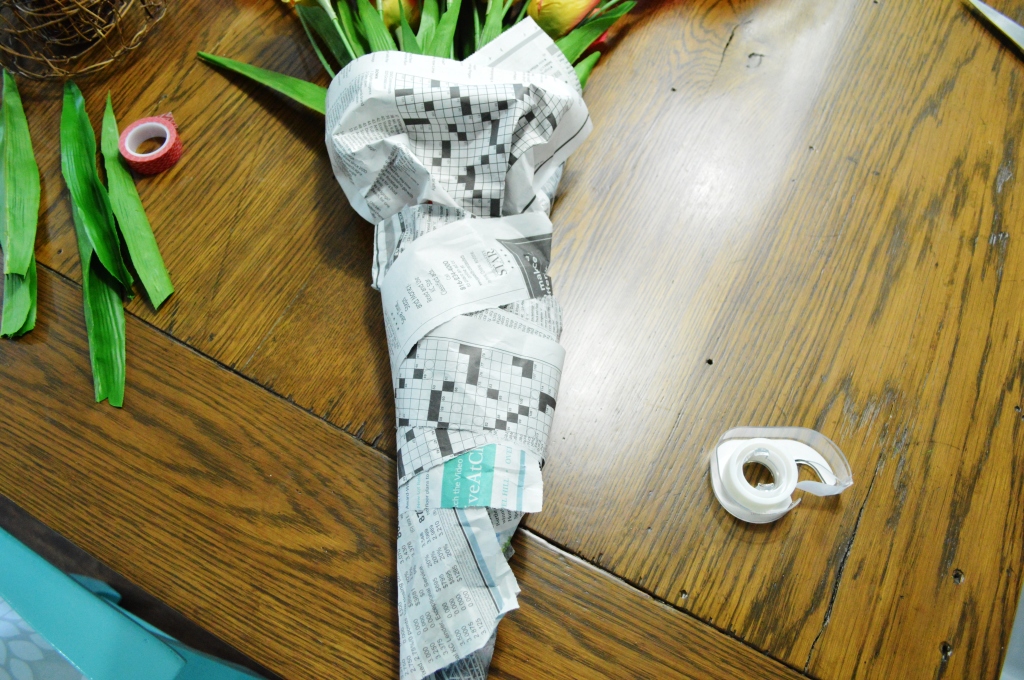 And yes, I specifically had the crossword showing, because it's awesome. (And better than political news–boo!)
I just taped the newspaper together (from the back side so the tape isn't visible) and then squirted a bunch of hot glue down into the tube before shoving the flowers down in there and crunching it together to secure it.
Then, I used a grape vine garland I've had in my craft supplies for several years to add another layer to the bottom and help secure the newspaper even more. The garland had wire in in so I could pinch and twist it where I needed to.
Finally, it was time to hang it, which was a little challenging because there wasn't anything to hook over my wreath hanger. But, I ended up using some yarn to create a loop from the grapevine and that worked pretty well.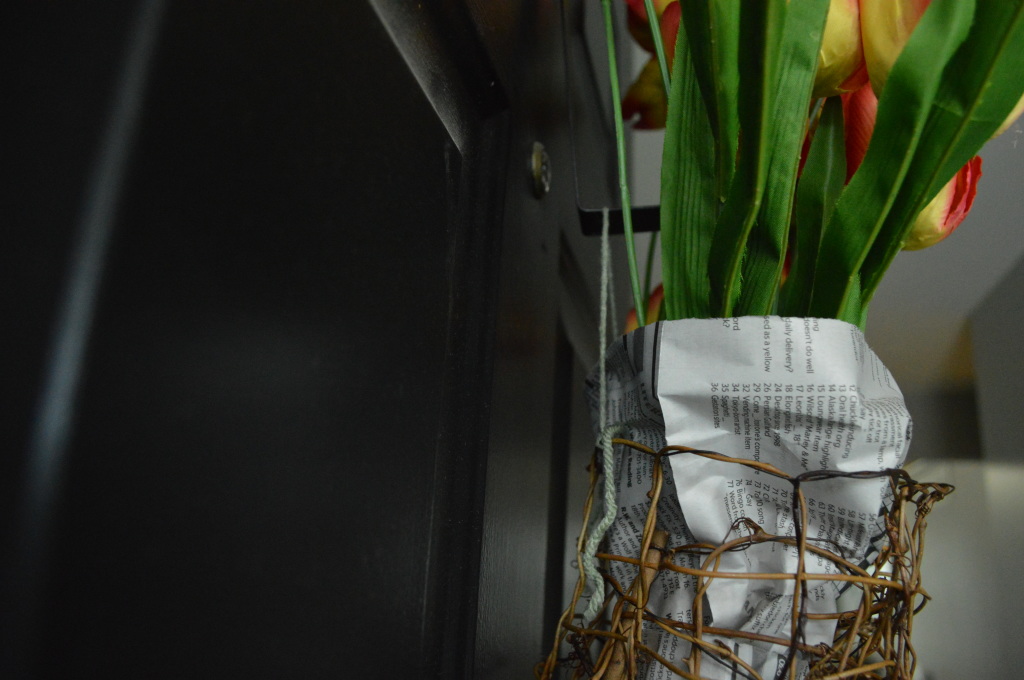 I had to manually twist some of the tulip stems around to help balance the weight to keep it from hanging weird on the door, but I think it looks really cheerful and fun. Tulips are my favorite, after all.
And yes, it fits between the door and the screen, although it's a bit squished.
Now, I just have to wait for my real tulips to bloom. They are sprouted (although I'm super bummed they didn't all make it through the winter and I'll have half was many as last year!) but will be awhile before they bloom.
So, in the meantime, I'll just enjoy the fake ones. They certainly do add a bright splash of color!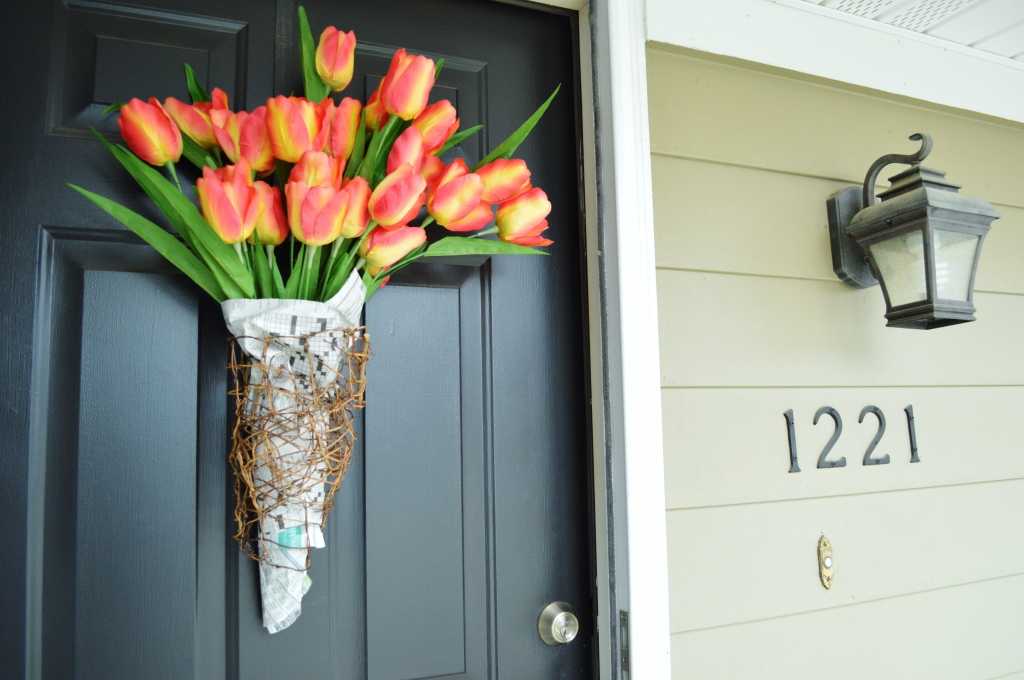 What are you doing to get ready for spring? Any spring cleaning? Any fun craft projects? Any planting?
---
For a previous year's spring wreath tutorial, click here.