~ This post contains affiliate links, which means we will receive a small commission if you make a purchase after clicking on a link. It doesn't cost you anything extra but it helps us! Please reach out if you have any questions about sponsorship or ads on our blog. We're happy to help explain how this works, and as always, thank you for reading and supporting LovingHere! ~
---
I have a little nursery update for you all. Or, rather a big one. Can you tell what it is?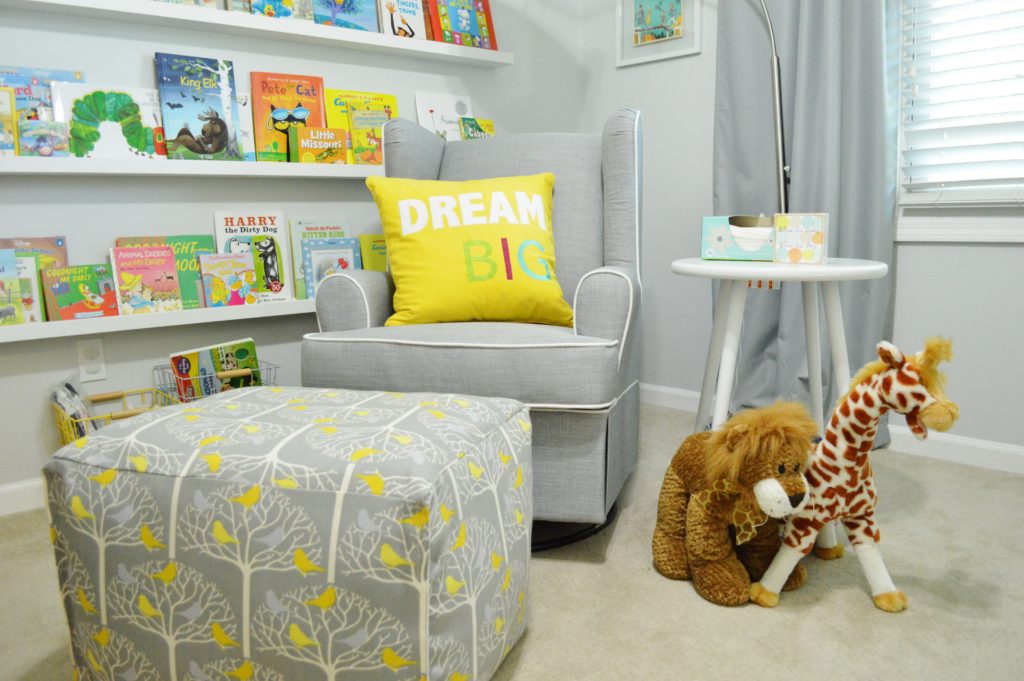 Any guesses?
No?
What, you don't have our entire house memorized by now?
Ok, I'll tell you.
We bought a new chair.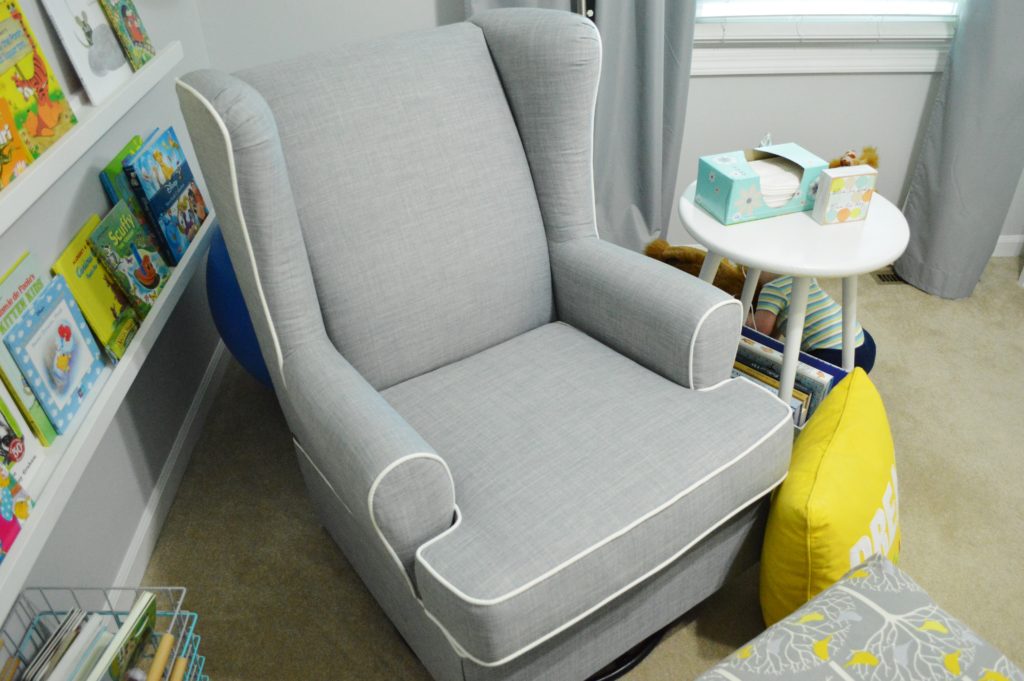 I know, I know, the chair we had was great, and honestly, I didn't want a new chair…but the short version of the story is that after one too many rough rocking sessions with a crying, fussy baby who was fighting sleep, I gave in.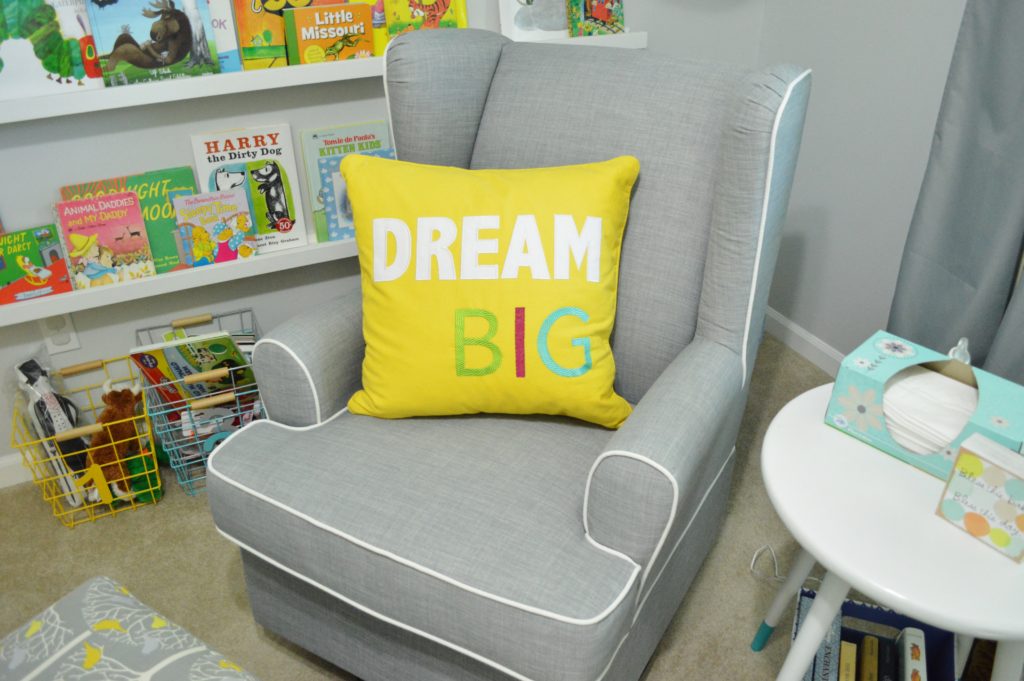 Here's the full story.
Will has never been great at falling asleep. He almost always had a period of crying before naps and bedtime. Yes, he's generally happy and wonderful, and yes, we had many wonderful peaceful moments of cuddling and rocking our sweet boy, but we also had a lot of hard moments of trying to help him fall asleep. No matter if we tried putting him down when he was extra tired, or barely tired, he just didn't fall asleep peacefully. We tried everything and nothing seemed to be "the trick" to getting him to fall asleep. Even nursing him to sleep, which worked for awhile, eventually became a battle. He would nurse wonderfully for awhile, but then pull off and arch his back and cry for a long time while I tried everything I could think of to get him to settle down. For awhile, I thought I was just a bad mom who didn't know how to soothe her own baby. I cried. Wyatt tried to help, but didn't have much more luck than me. Eventually, we figured out a few ways that seemed to help, but they weren't fool proof.
One way was bouncing. He usually liked to bounce on the yoga ball better than he liked to rock. Or, if he didn't want to bounce, rocking him more rigorously helped. The problem was our rocker "walked" all over the carpet when we were rocking more forcefully. And while I loved the sweet, subtle, soft rocking motion for nursing and other peaceful moments, I was going crazy sliding all over the floor when I was "hard-rocking" a crying, ever-growing babe on my lap. One day, after a particularly frustrating nap cycle after more than a week of an awful sleeping strike that had me at my wits end, I had enough and told Wyatt I wanted a new chair. I needed a glider that would stay put if I was going to be spending so much time trying to rock our fussy boy to sleep.
For those of you not following, we had a rocking chair, which was nice, but it had rockers, not a gliding mechanism like many modern nursery chairs. I liked the rocking motion better than the gliding motion. I liked the look of the rockers better than the gliders. That's why we specifically purchased a rocker instead of the glider. But sometimes real life and function wins out.
So, I settled on a new chair, and a couple weekends ago, we ordered it from Target.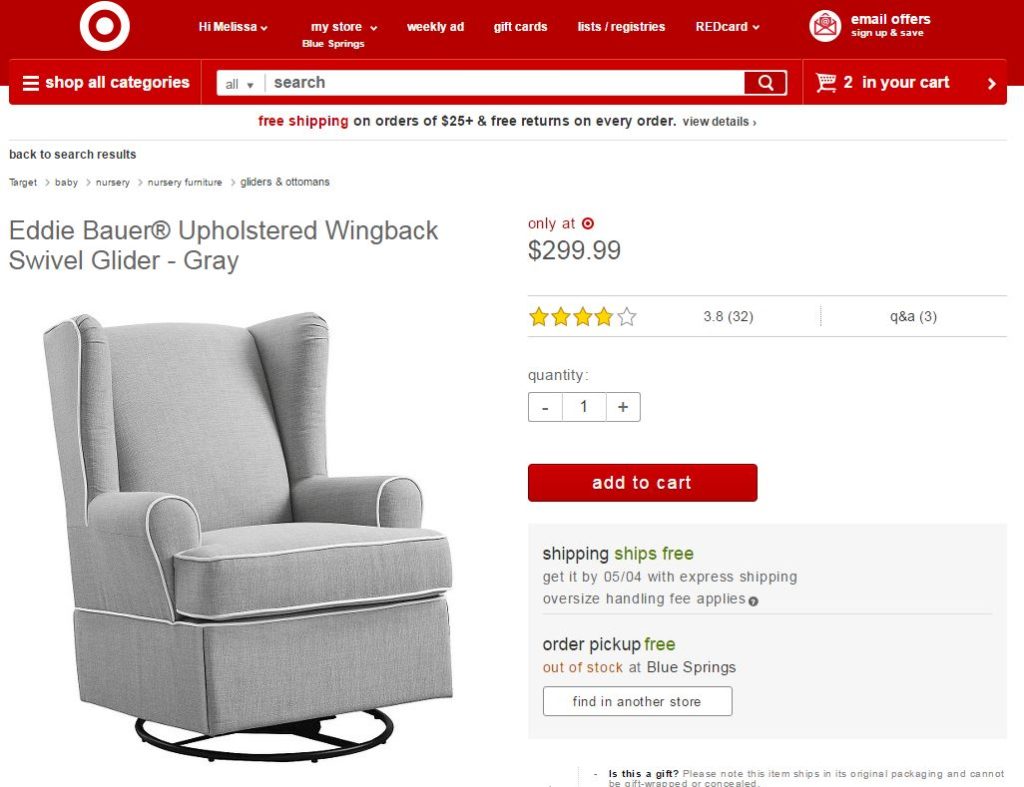 You can find it here.
They actually look similar, although the new chair is slightly lighter in color. (It's not this noticeable in person, my lighting was just way better for the new chair.) Here's the comparison shot: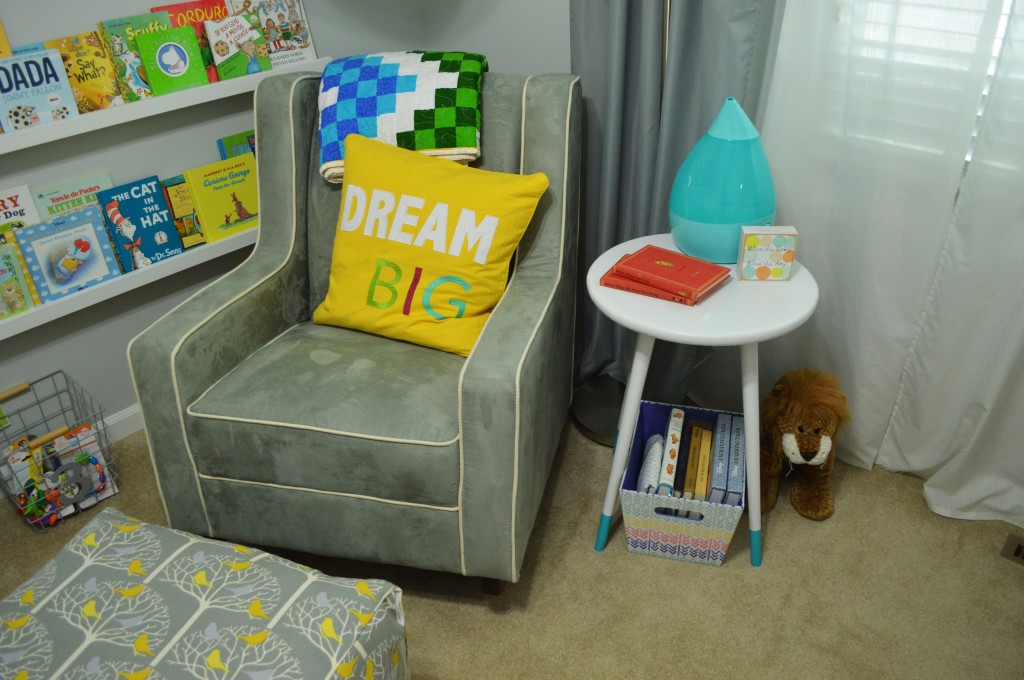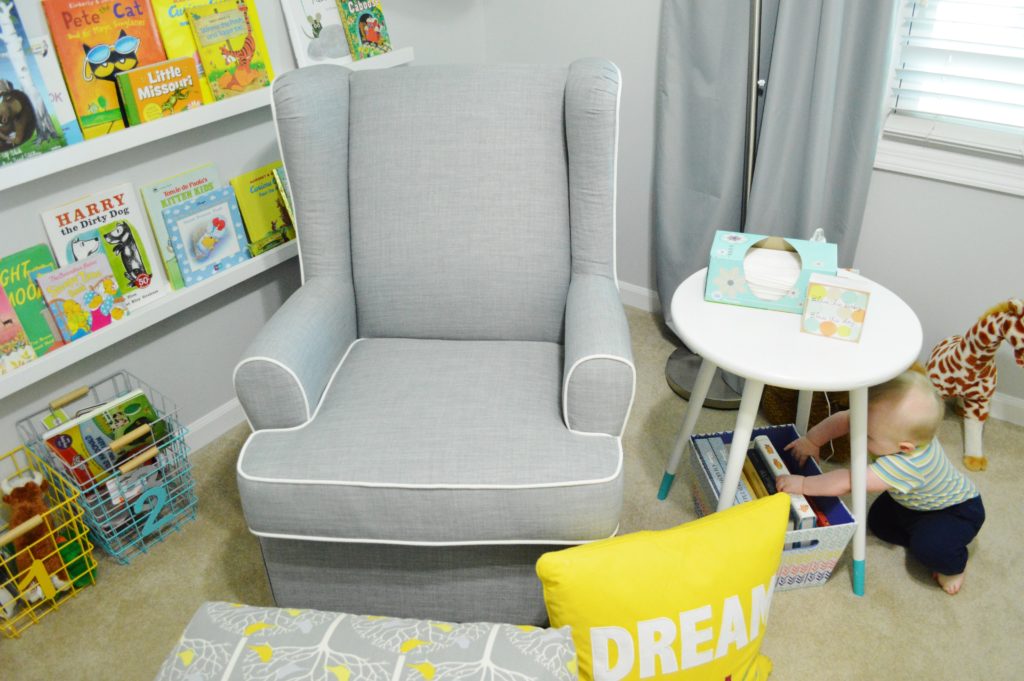 Of course, a few days after getting the new chair, Will started sleeping much better. He even generally nurses peacefully until he's almost asleep and then we lay him down in his crib where he falls asleep after just a couple minutes of rolling around while talking or lightly fussing. Call it Murphy's Law, or Buyer's Remorse but the irony certainly isn't lost on me that we finally caved and bought a new chair, only for Will to no longer need to be rocked to sleep for so long. But, I'm sure we'll still get a lot of use out of it since we sit there to nurse several times a day, and several times a night.
And, we still snuggle up and rock sometimes, too.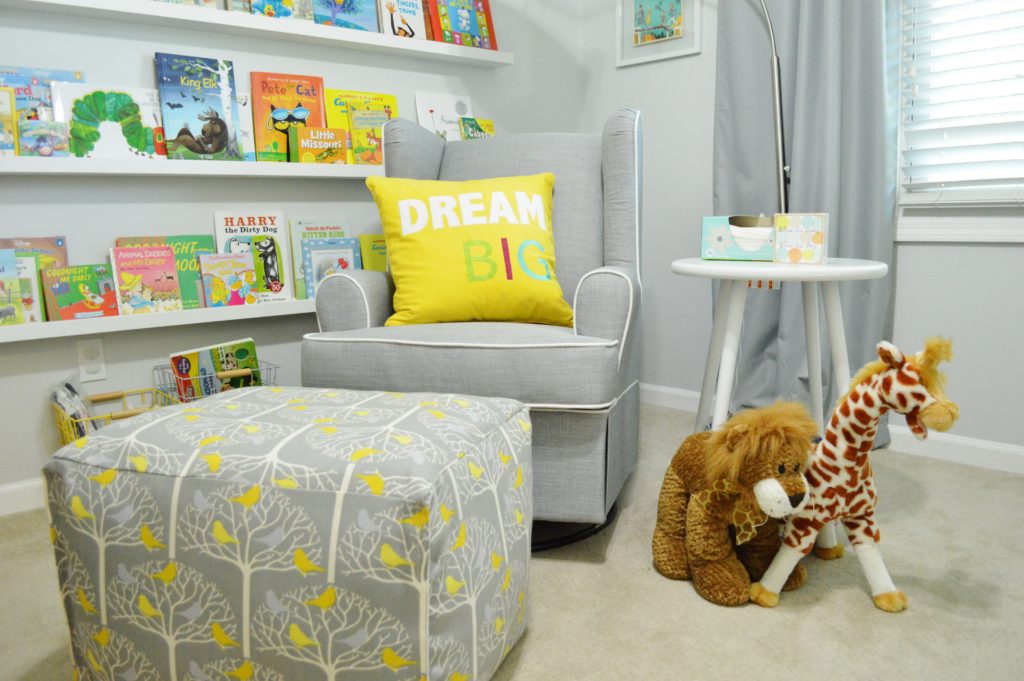 Blame it on the sleep deprivation. Or whatever you want, but in the moment it seemed worth it to save my sanity. I was seriously going crazy with the rocking chair sliding around all over the carpet. I was bumping into the side table, hitting the bookshelves and the toy bins and the ottoman. I felt like I was trying to rock on a slip-n-slide.
But, in all honesty, I sort of miss the old chair. We thought about selling it but ended up deciding to wait. After all, it was the chair we rocked in the first night home from the hospital. The chair we have spent many, many hours nursing in for the last nine months. And I have honestly found it to be very comfortable. So, I wasn't quite ready to part with it. Maybe we'll move it to our room. Or the basement if we ever start hanging out down there. Right now, it's chilling in the living room until we decide.
Let me also say that these chairs aren't cheap. I wasn't planning to spend $300 on a new chair in April, although we did snag it on sale with a $50 giftcard offer. (And it was much more affordable than some of my other favorite designs, but still, not cheap!)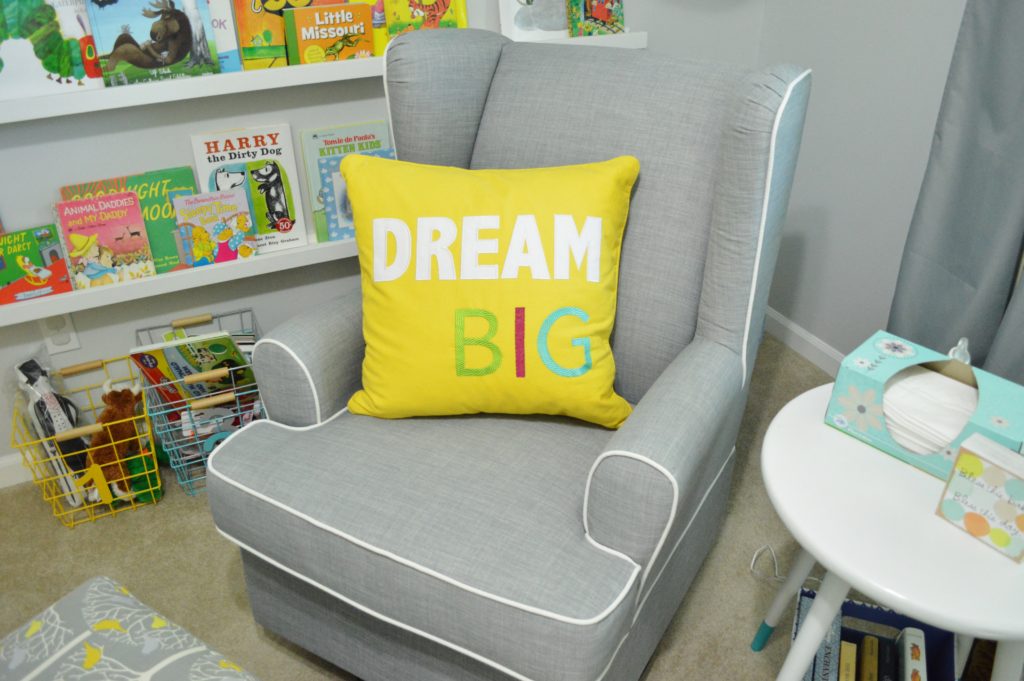 Plus, if you remember, we also paid around $300 for our original chair. That was right in our budget for the room, but no small chunk of change.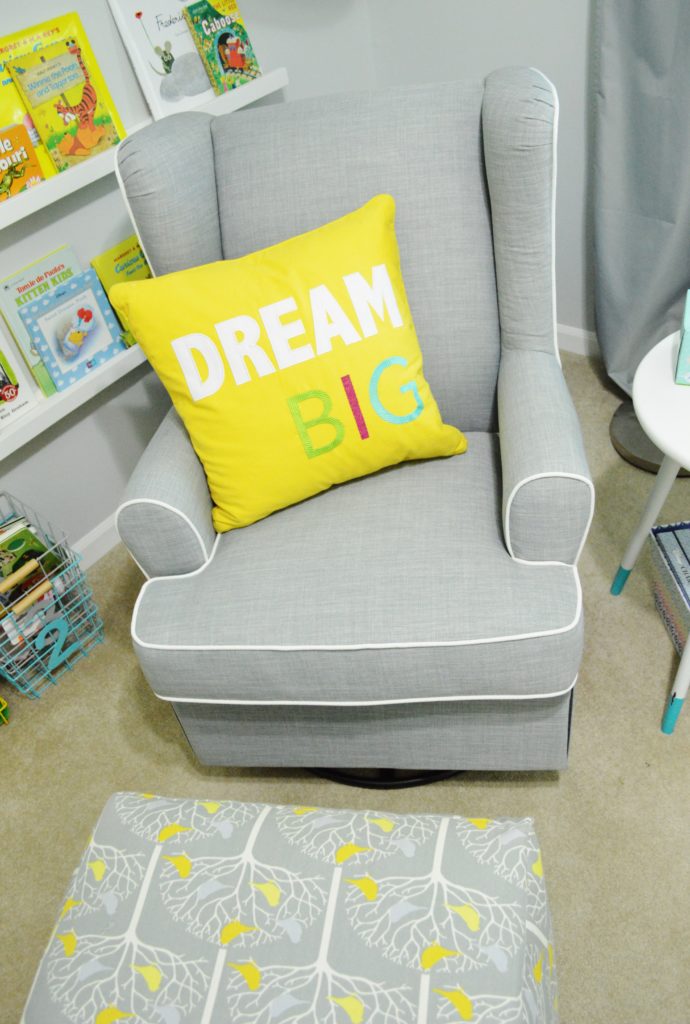 All that said, I do really like the new chair. In fact, I'd choose it if we had to the do the room over again, even though I'd still prefer a rocker if I could have my cake and eat it, too. (As a side note, I've never understood that expression. Who has cake but doesn't eat it?!?)
Anyway, the new chair has a really nice smooth glide. In fact, it's so smooth it catches me off guard sometimes. Plus, the shape is lovely with the modern yet traditional wingback feature. And the fabric is great. I love the color and the texture even more than the original chair. It feels really high end, in my non expert opinion.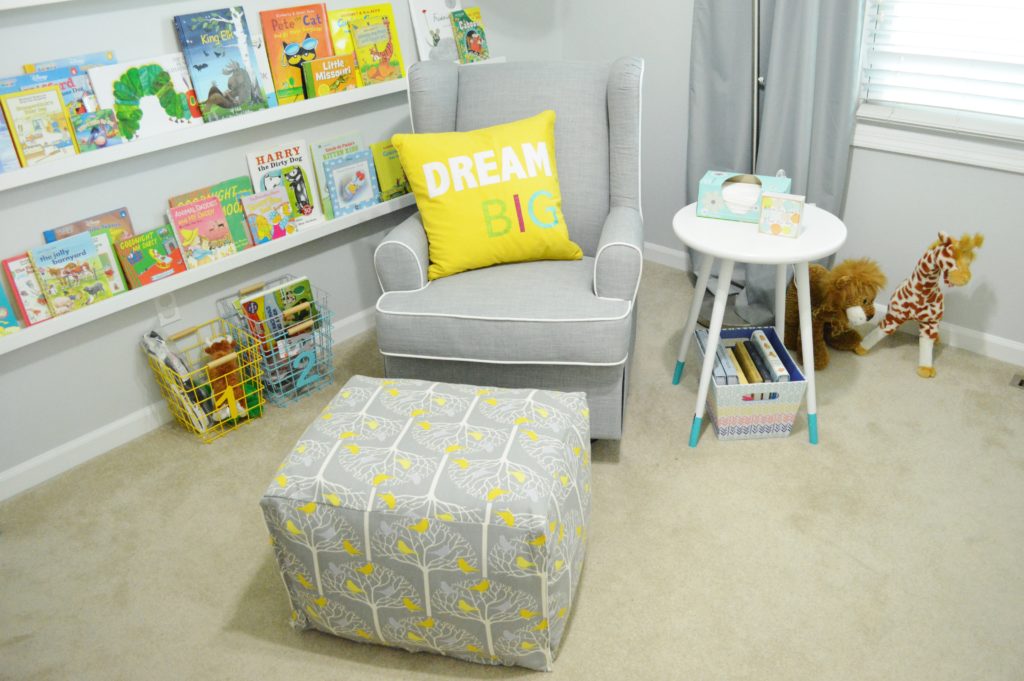 Of course, we don't actually get to enjoy the fabric much yet because it's almost always covered with a blanket to protect it from stains in these early, messy months. Will had a runny rose (teething?) and sometimes he ended up getting sick during the night if he got choked while nursing. It's pleasant for everyone involved when that happens, I can assure you. So, for now, I'm erring on the side of vomit…Let's face it, babies and breastfeeding can be messy at times.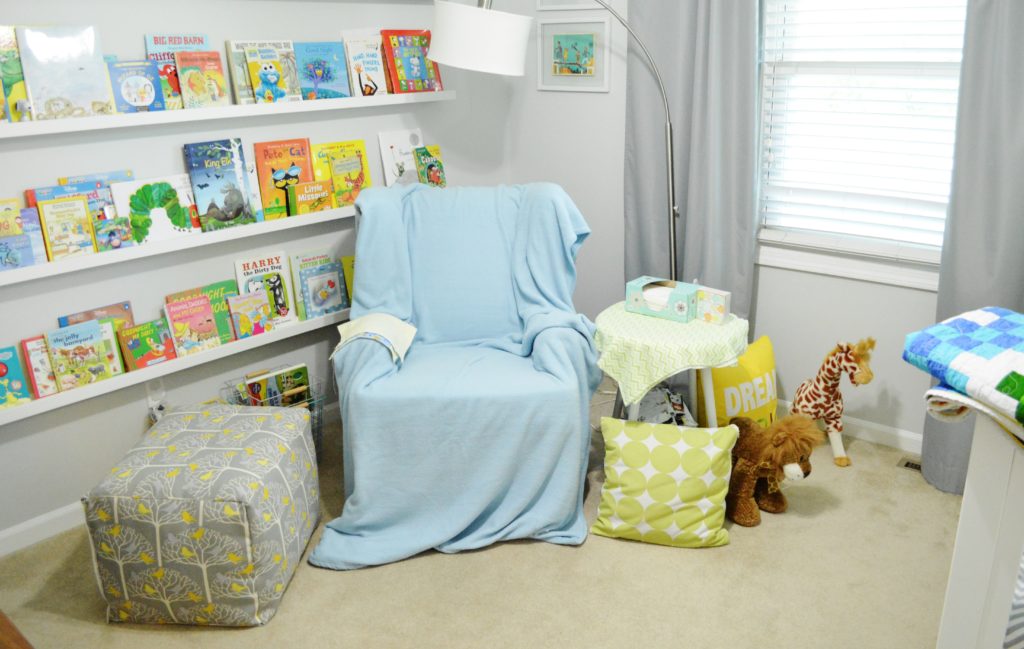 But, the new chair is really lovely, and comfortable too. I think I'll like it even more once it's a little broken in. Right now, it's a bit firm. Although, it sure does look nice.
The nursery is on my short list of favorite rooms in the house, for sure! For more details and PHOTOS! of how we put this room together, click here.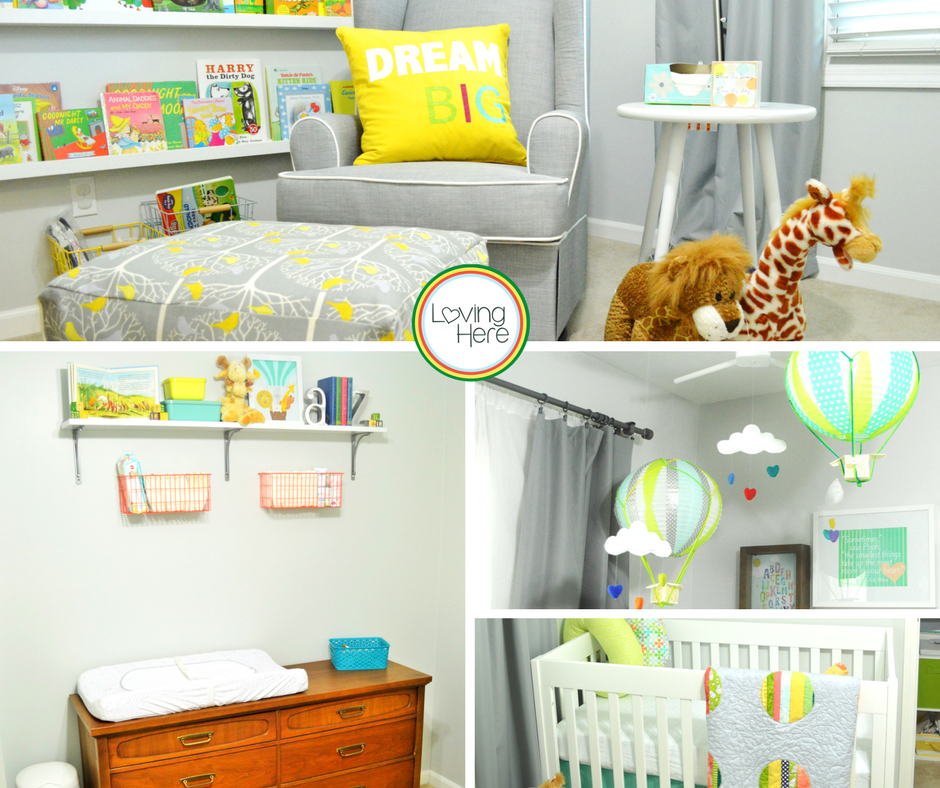 Also, don't forget to create a Target baby registry –even if you don't get all the items as gifts, you get a completion discount you can use to save money on big purchases like this glider!
Now, to make me feel better, tell me about something you purchased that you thought was perfect but ended up not working. Or tell me about a purchase you thought you needed, but ended up being okay without. Or just tell me you like both of these chairs and I'm not crazy for buying two!
---
~ This post contains affiliate links and I will receive a small commission if you make a purchase after clicking on my link. It doesn't cost you anything extra but it helps us! Please reach out if you have any questions. Thank you for supporting LovingHere! ~