We've now passed the halfway point in the year, so it's time to check in on our progress on our home goals for the year. We still have a lot to do, but I think we've made a dent in this list, at least a small dent.
1. Add a garbage disposal back under the kitchen sink.
Done! Read about this project, here.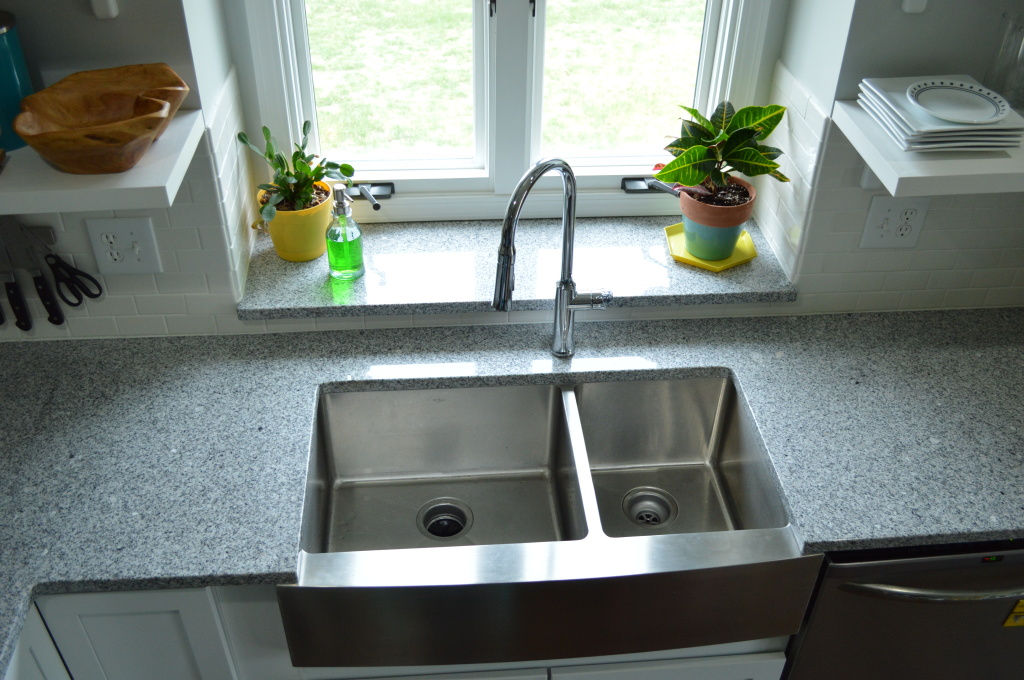 2. Revamp the laundry room.
We've done some brainstorming, but that's it. I even did some online tile-shopping, but haven't purchased anything yet. I have also been pinning ideas like a crazy person. Go check out my laundry room board and give me some feedback on what you think would work in our space!
3. Declutter and "babyproof.
Still working on this. It's been hard to decide just how much needs to be done because Will changes his interests daily. And, we don't want to secure all our kitchen cabinets if it turns out that isn't really an issue. What we have right now is working for us, but we do need to continue this process.
Secure furniture to walls (In progress)
Get a baby gate for the stairs. Read about this project, here. 
Make sure all breakables and other adult-only items are put away/locked up (In progress)
"Cushion" the hard edges of the brick fireplace, TV stand, etc. (In progress)
Add door locks to applicable cabinets (In progress)
Tie up all window blind cords. (In progress)
Get rid of the junk. (In progress)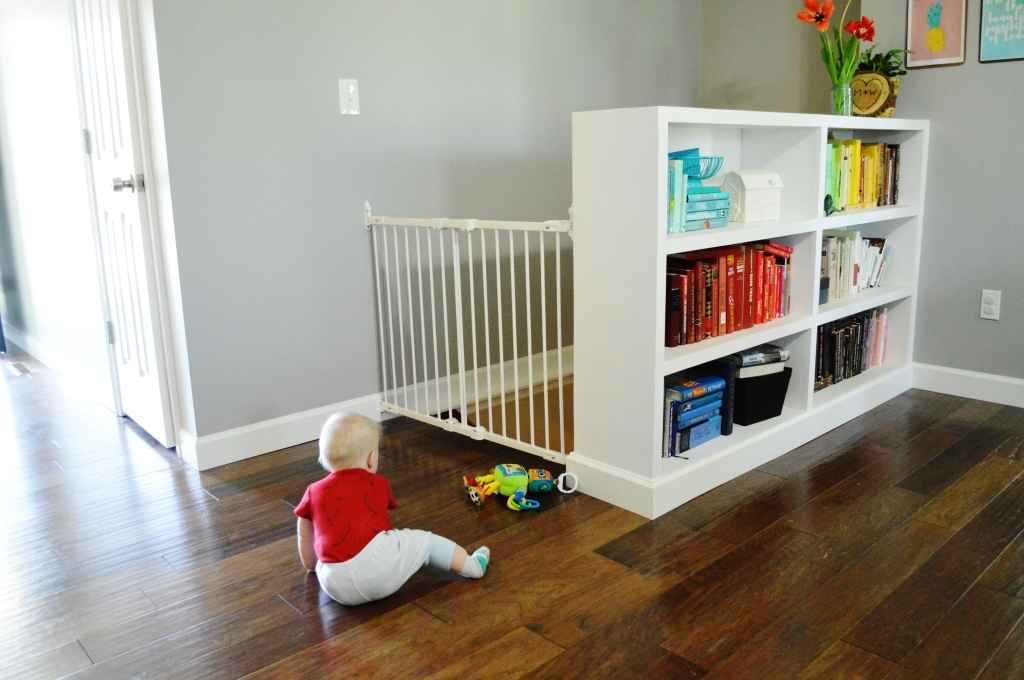 4. Build a new strawberry planter. 
We got the strawberry planters done. You can read about that project, HERE. And see an update in our most recent garden update post, HERE. The original goal also included a clause about possibly planting potatoes, but we decided against it for now simply because we weren't really sure if it was worth the effort. Maybe it would be a fun project to do with Will once he's older and can see the fun in growing something underground, but we can buy a 10-pound bag of potatoes on sale for a dollar a lot of times, and I can buy a lot of potatoes with a lot of dollars before I justify the time and effort to both build a potato planter and tend to it all summer.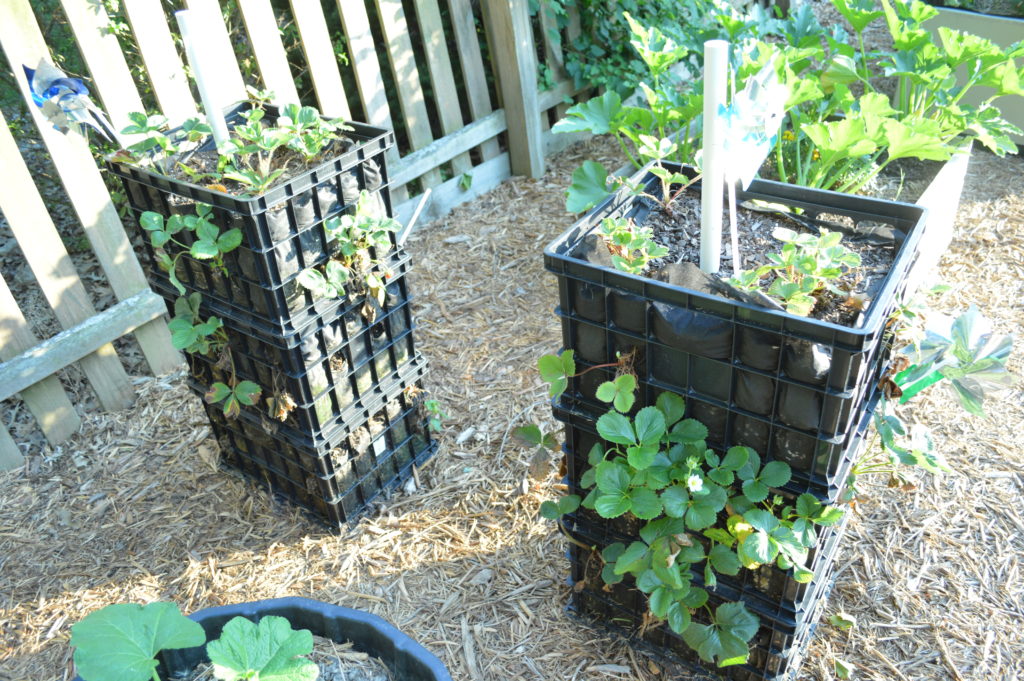 5. Take Will on his first vacation.
Nothing planned yet, as our sweet boy hates to ride in the car… but we have been having a fun time this summer introducing him to pools and fireworks and ice cream. We did go to the zoo and have plans to go again soon, so I think that sort of counts as a staycation activity, right?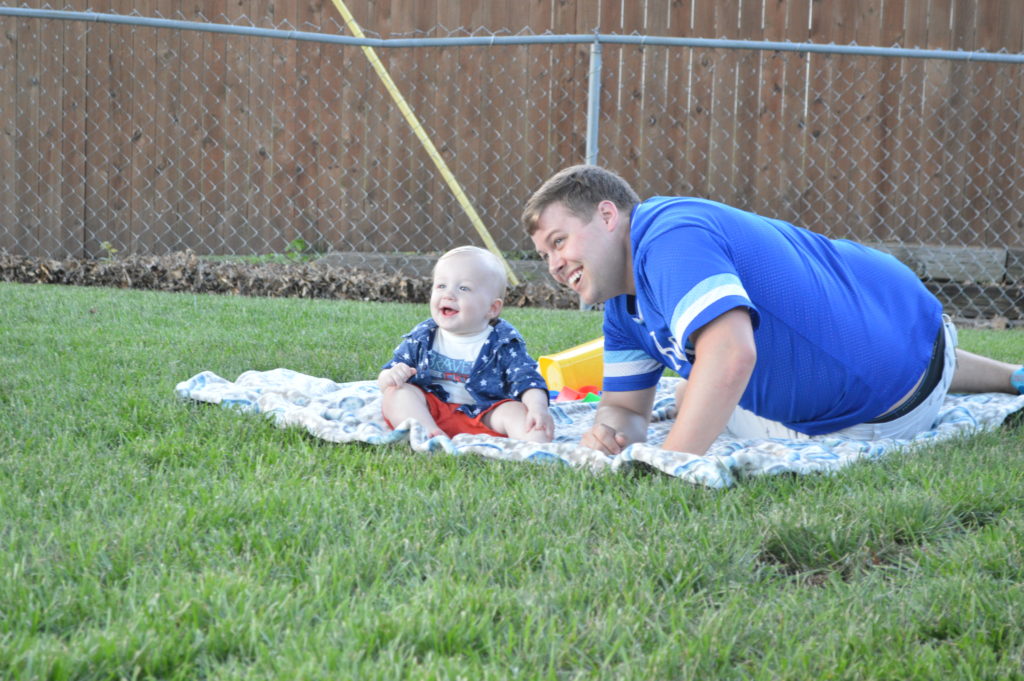 6. Conquer the basement storage rooms.
Um…we've recently made a little progress down there, but it's still pretty bad when you think about all the clutter we're storing. (And trying to get rid of slowly!)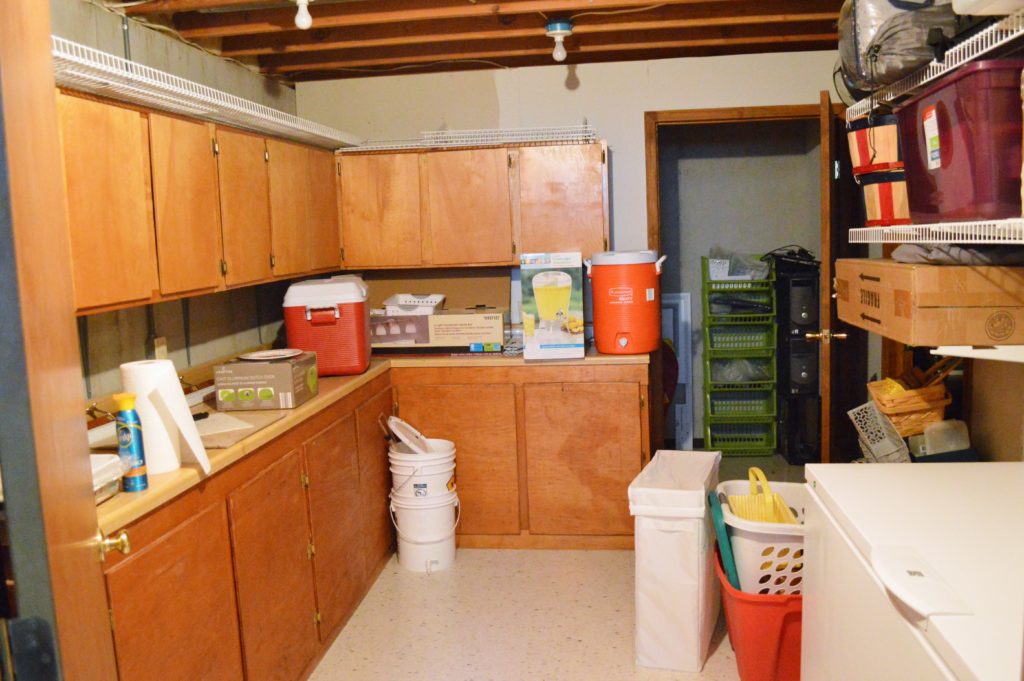 Still, the main room is at least picked up and ready for overflow from summer parties. Plus, we have room for Will's pop up play center he got for his birthday.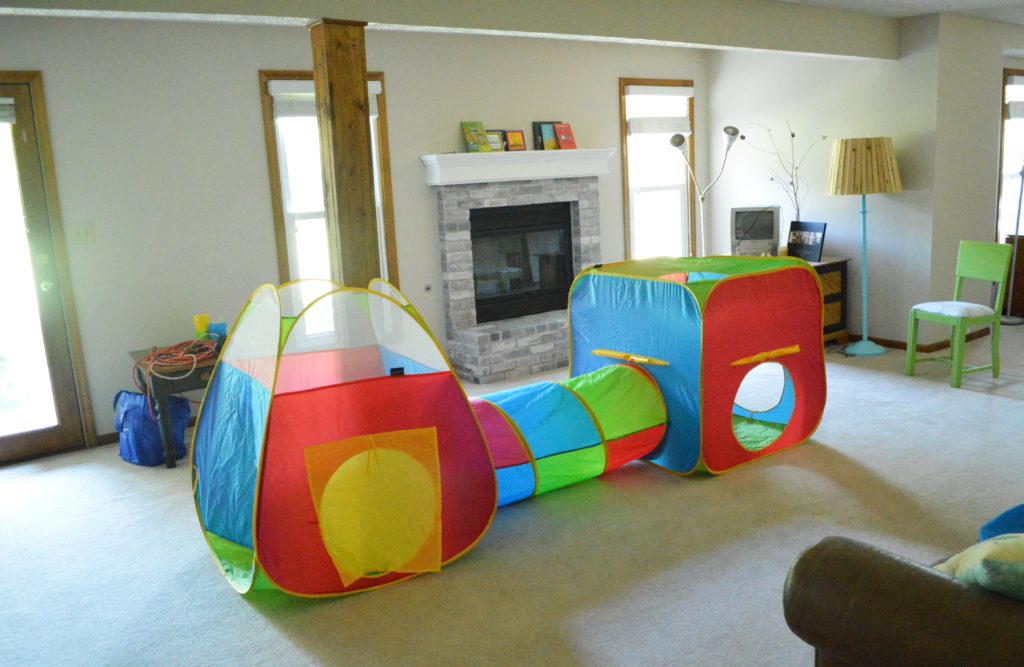 7. Read 20 books.
So far, I've read:
The Cat Who Knew Shakespeare – Lilian Jackson Braun
Grace Based Parenting – Tim Kimmel
Go Set a Watchman – Harper Lee
Who Was Walt Disney – Whitney Stewart
Loveable Liveable Home – John and Sherry Petersik
Beautiful Outlaw: Experiencing the Playful, Disruptive, Extravagant Personality of Jesus – John Eldredge
In progress:
Simply Tuesday – Emily P. Freeman
Life on the Mississippi – Mark Twain
Looks like I need to step it up. I actually ordered four new books that I'm really excited to dive into, and I've also started listening to podcasts, doing a devotional app, and I'm trying to catch up on reading magazines…so I've been taking in a lot of material lately. Let's hope I start to feel extra inspired as a result. Here are the next books on our reading lists. Any guesses as to whose are whose?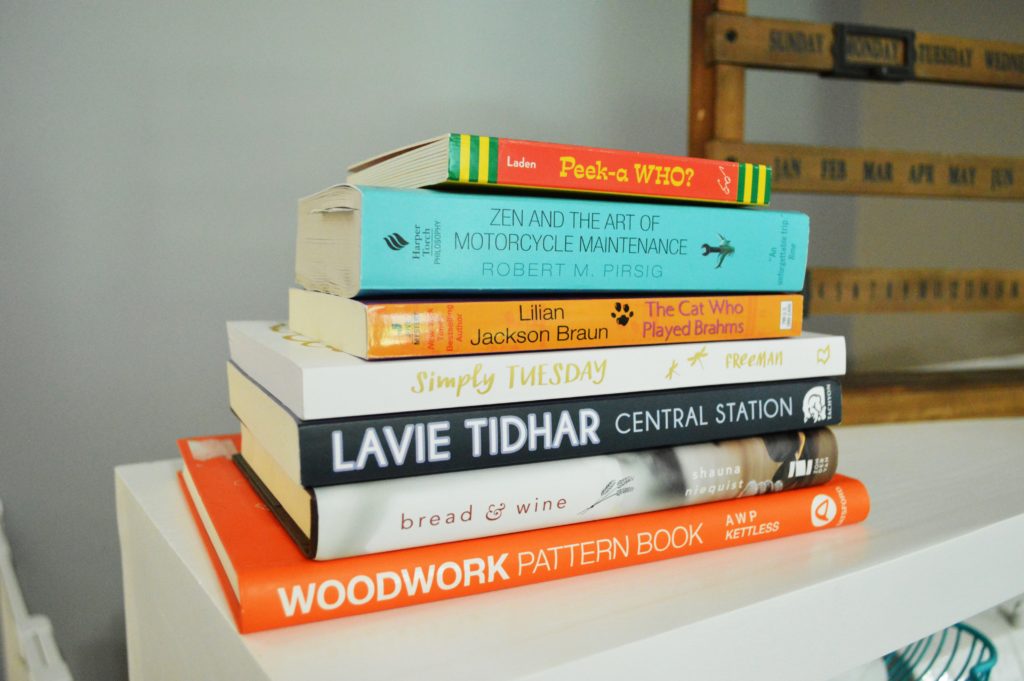 8. Make some cool toys or games for Will. (Sort of done?)
I' have made one book for him for his birthday, and we've got a few ideas for toys, but nothing official, unless you count the homemade maracas and drum I made him out of "trash." He loves both of those, so I guess I can count them. We play with them daily, and have for several months now. It's the simple things, for sure!
9. Make some cool stuff to give to friends and family.
We have a list started of projects. Just need to get going on them!
10. Make some cool stuff to sell. (And sell it!)
We've now completed two custom orders and I'm working on adding a page to the site where readers like you can reach out about custom orders as well. Fun stuff!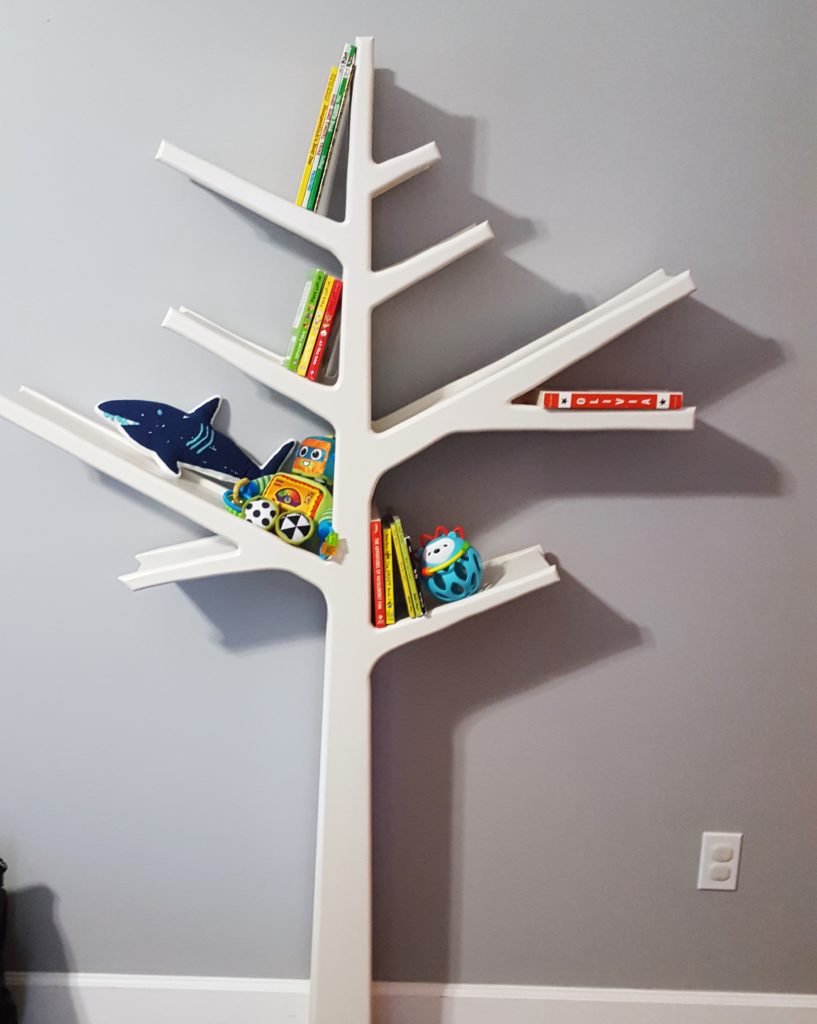 11. Finish decorating our master bedroom.
Nope, not done. The only thing I've even remotely started so far is some "window" shopping for Kirkland's. You can see more about my inspiration pieces, here.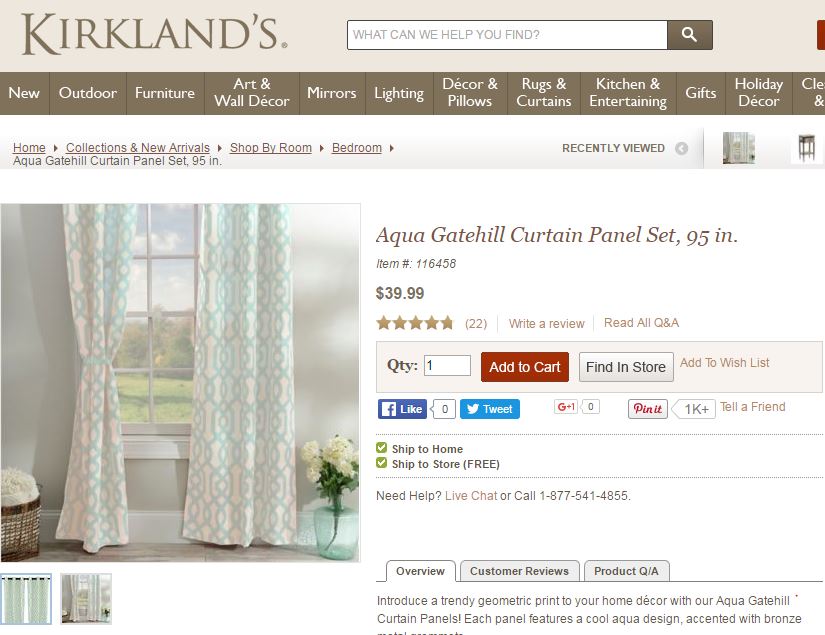 12. Paint the basement window and door trim in the main living space. (Sort of In Progress)
Planning to start this soon. We'll actually be replacing the door trim on the main door now, so I won't have to paint it until we get the door installed, but the windows are on my list for a Saturday project. And maybe the closet and bathroom door trim, too. Our new door should be in soon. Now just to get it painted and installed. Woohoo, right?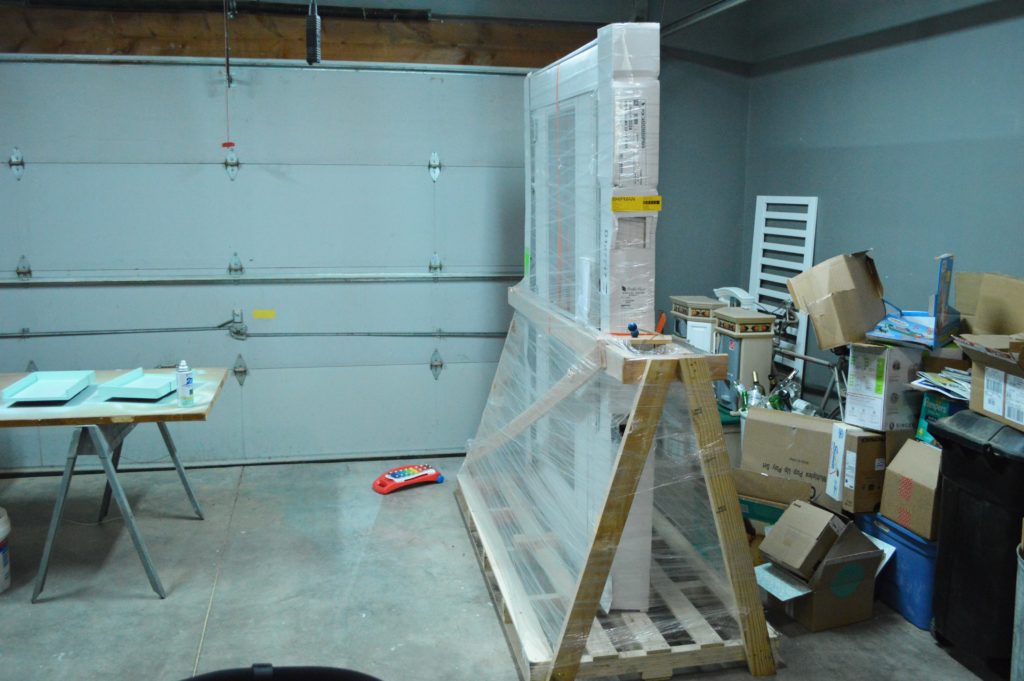 Don't judge us on the garage. We can't be the only ones who end up with mounds of cardboard and tubs of glass that build up every weekend we forget to take the recycling, right? Please tell me it's not just us…
13. Organize the kitchen cabinets.
Not done. Maybe before the fall garage sale. (Insert embarrassed Monkey emoji here, right?)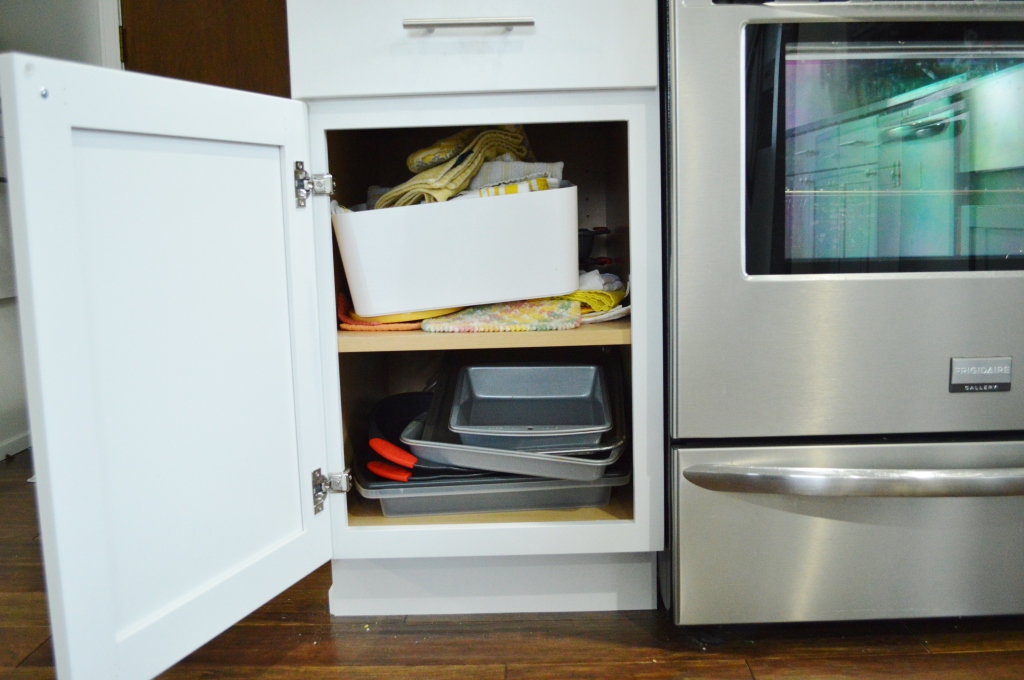 14. Buy a new laptop. 
This is done, and it's going well after a rough start that involved Wyatt having to update the driver for the wi-fi within the first week. But it's so nice for Wyatt and I to each have our own computers again, and to have one that isn't as slow as mud.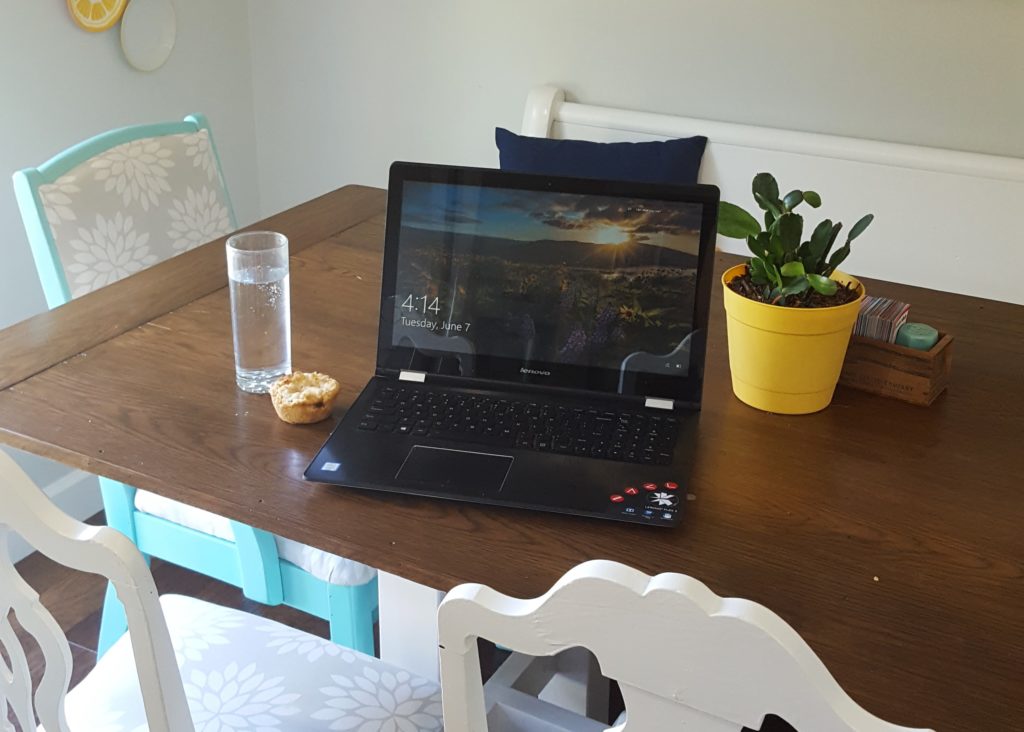 15. End the year with more houseplants than I'm starting it with. (In Progress)
So far so good. I have so many little baby plants right now that I'm trying to grow from cuttings, and six larger ones that are doing pretty well, too. Plus, all my Christmas cactus sitting around the house. I think I now have five of those in various rooms, not including the baby ones in my office. So, that's a total of 11 plants, plus six babies. Not bad!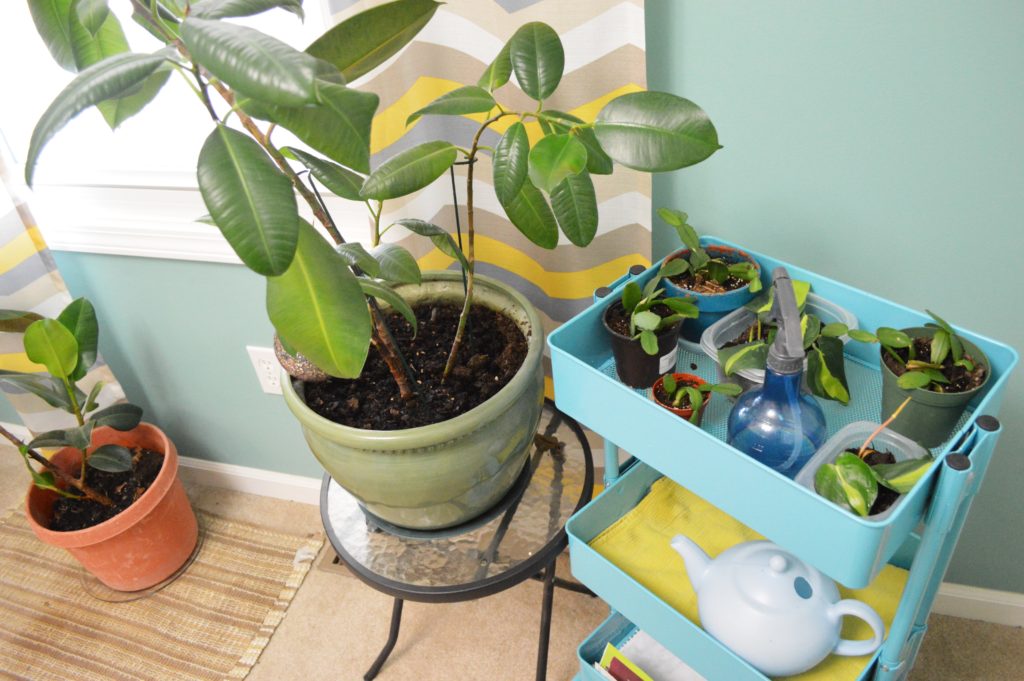 16. Replace the garage door, and maybe the basement door. (In Progress)
Like I said, above, the basement door has been purchased. It was a custom size (unfortunately–$$$) so we have to wait for it to be delivered now and will hopefully get it installed soon. We've done some shopping for the garage door but need to purchase it. I think it may be a lot of effort to do since we'll need to repair or replace the entire frame and maybe the threshold, too. Maybe after we tackle the basement?
Well, only four things officially crossed off the list of 16. Better pick up the pace if we want to get to them all. We do have several other things in progress, so I think we're close to being halfway done at the halfway point of the year. Maybe? Eh, probably not…
Now, tell me how you're doing with your goals. And give us encouragement and some gentle prodding to get going on these home goals, okay? 
For a look at our original goal list, click here. And for how we did with our 2015 home goals, see this post.