As we go through the process of slowly upgrading a lot of hand-me-down pieces of furniture and freebie artwork, it seems like we're constantly changing things in and out. All of this switching in and out leaves us with pieces that are in transition. Sometimes, those things get taken down to the basement for storage until we need them somewhere else.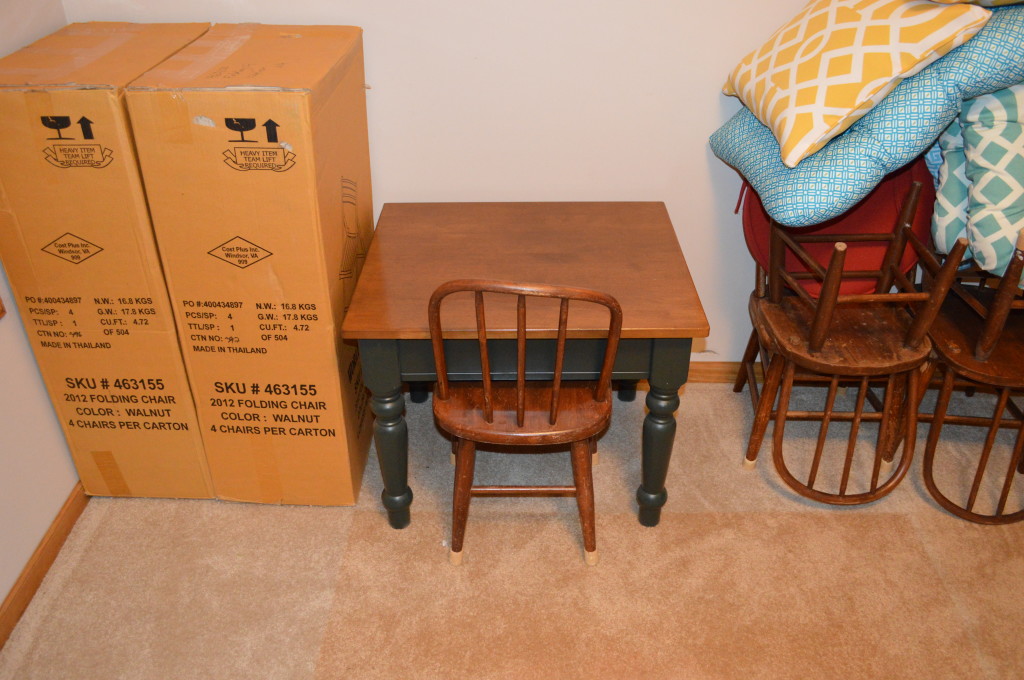 Other times, things get sorted into our garage sale pile.  This doesn't happen as often as we might like…I sometimes have a hard time selling things that I know would be more expensive to replace than what we could get for them.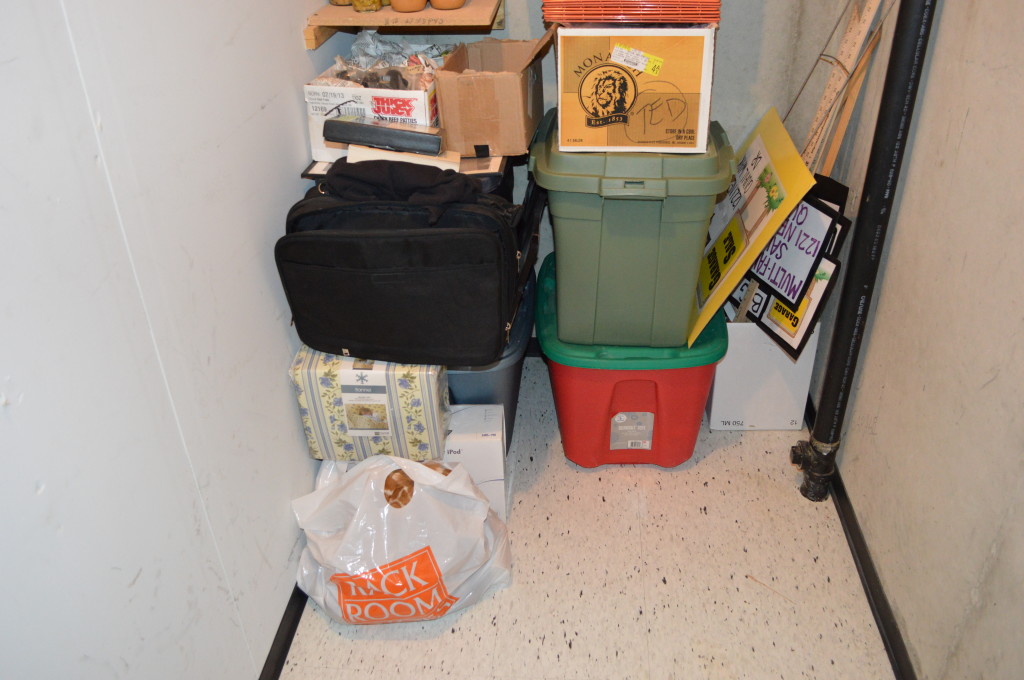 And still other times, they get immediately repurposed into a new location. It might not be as exciting as buying all new items, but it's a thrifty way of decorating a house as we slowly get more long-term favorite pieces.
For instance, when we built our map pinboard, we moved the handmade "Welcome to our happy place" artwork to my office.
In the living room, when we added our new much-bigger, much-better chalkboard to the mantle we were left with the smaller, handmade chalkboard.
(I talk about how I made that smaller chalkboard here.)
Instead of just taking it down to the basement, I scribbled a little lovey-dovey message on it (a great Jane Austen quote) and set it on top of Hubs' dresser.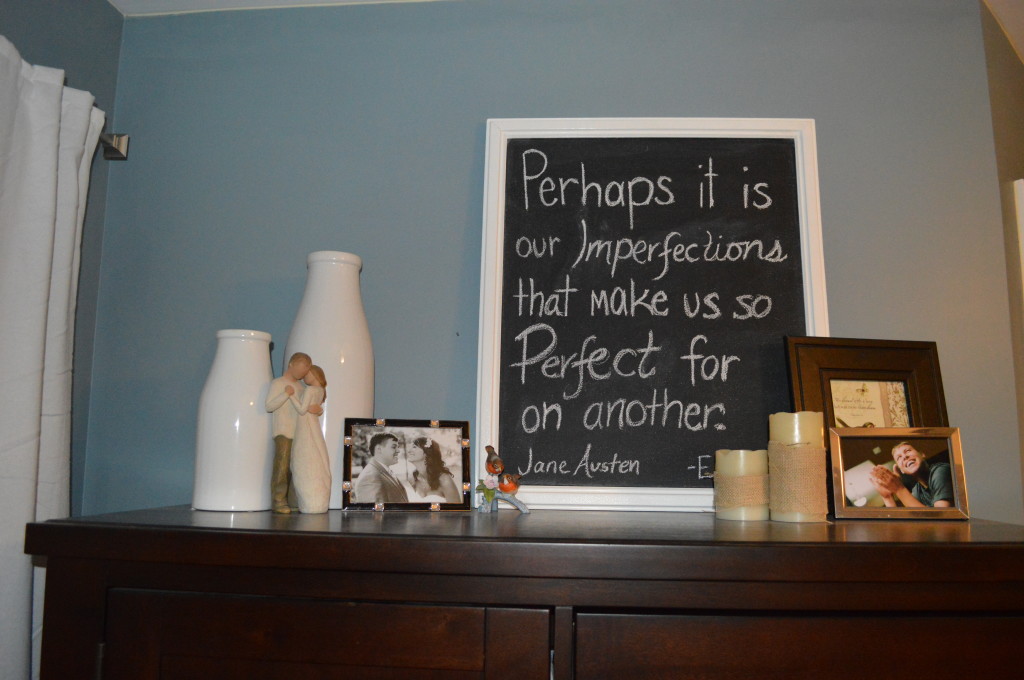 Of course, the quote was made even more perfect when I realized, a month or so later, that I had "imperfectly" left off the "e" on "one." Oops.
Anyway, here's the newly-edited chalkboard in the bedroom. I went with something simple in honor of Valentine's Day this weekend.
I'm not sure we'll leave this in there forever, but for now, I liked the height it added to the top of the dresser. I think a tall piece of furniture can look even grander if you have something tall on top of it.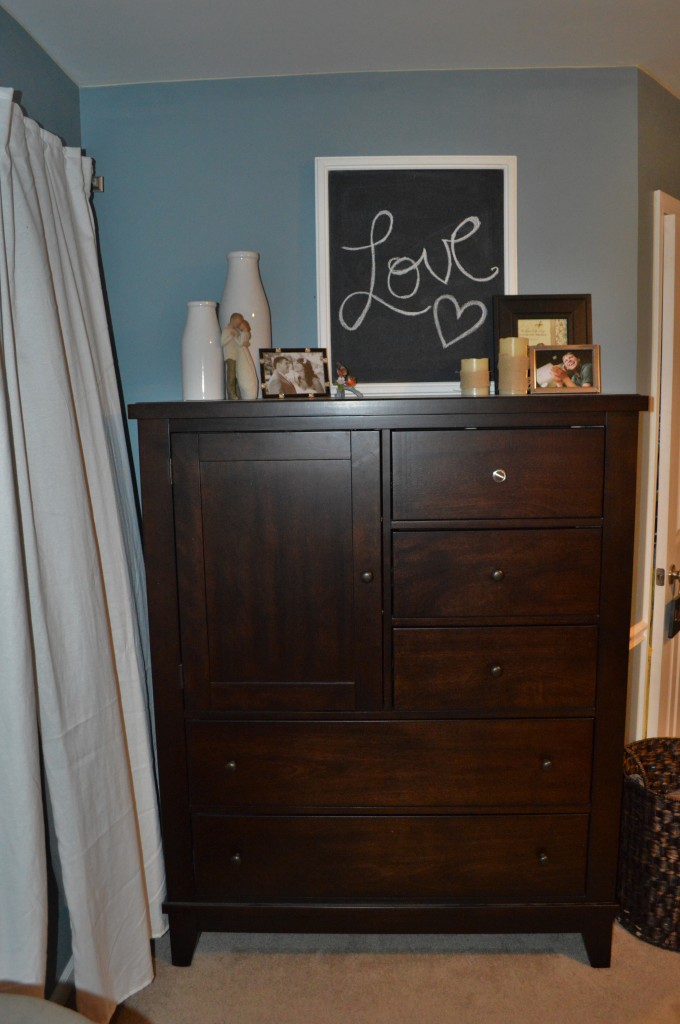 And it looks good with our milk bottle vases from Target, which are also pretty tall.
So, tell me what you like to do with items once you replace them with something newer or better. Do you keep things or are you someone who has an easier time letting things go into the garage sale pile?