Guys, I'm sorry we've  been MIA the past two days. I don't have a good reason for not blogging this week, other than that if you could look around our house, you'd see I'm also too busy to put away the clean dishes in the drainer and fold the pile of clean towels and underwear on our bedroom floor. Don't judge. I'm just being honest here.
So, to get caught back up, be ready for a double take today. That's right…two posts coming atcha!
First, here's a few little snapshots of what life's been like around her lately.
1.  Wyatt turned 26! His birthday was on Tuesday, and we had an action-packed night from the moment he walked in the door to his birthday cake surprise.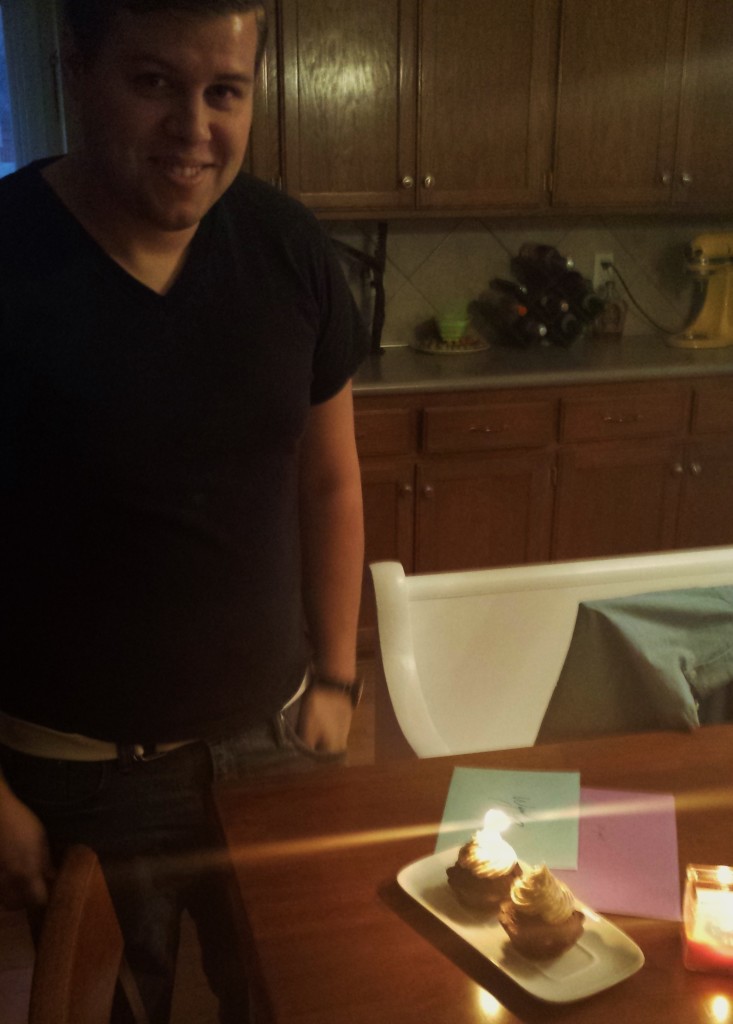 After quickly opening a few cards (his present from me hasn't arrived yet) and scarfing our pre-dinner cupcakes, we headed off for a little nighttime disc golf action. Or rather, he played with a few friends and I walked along behind them with a flashlight trying not to fall down. Then, we had dinner at 5 Guys (burgers and fries was his choice–what else??) and helped some friends hang a new ceiling fan in their living room.
That meant we also got to see our favorite little one-year-old and eat more cupcakes. 🙂
He even got an awesome present from his friends, which he previewed on Twitter, here.
All in all, Hubs said he had a great time, which made me really happy because he tends to feel pretty underwhelmed about his birthday usually. (While I feel uber excited about my birthday every year!)
Sidenote: compare this pic Hubs snapped of me on my birthday to the one I snapped of him (above) with our birthday cupcakes. How similar are these expressions??  These photos make me smile so much and honestly a little teary… I will argue to the end of me that everyone should have a happy birthday moment, even when they are 26 or 42 or 89 years old!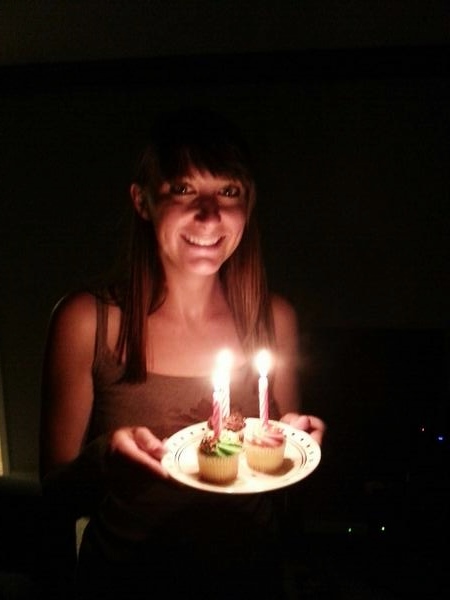 2. We've started Christmas preparations! Since Wyatt's birthday is in December, it can easily get overshadowed by Christmas…so, we try out best to wait until December 4 to start any decorating around here. We still don't have our tree up (hopefully we can do that tonight!) but I've done a few little projects I'm excited to share with you all. And I have all the fall stuff put away, or at least piled up ready to be stored away. Next on the list is a major cleaning session because I can't enjoy Christmas decorations with a house as cluttered and messy as ours is right now. But, I get to decorate with the awesome CD Wyatt got me for his birthday!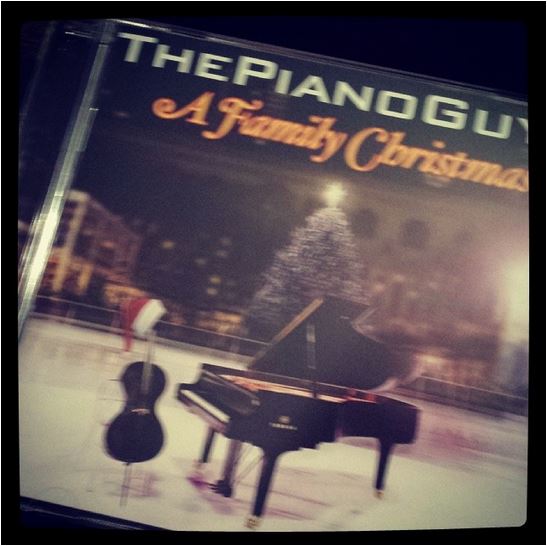 (I told him that was a risky tradition to start, but he gave it to me anyway. What a good one he is!)
3. The table, chairs, and pew are seeing some real progress. We've spent a few late nights in the garage this week and we worked a lot over the weekend, too. We're working to get some posts to you all about those things, but it's just hard to do all the work, post about all the progress, and then keep up with our real jobs sometimes. Promise you're being patient? 🙂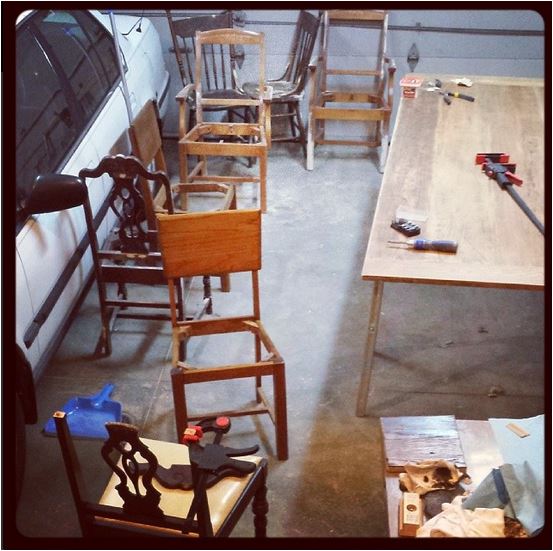 Basically, we have so much going on with various stages of painting, staining, sanding, sealing, scraping, and stripping that our garage has turned into a partial workshop (Poor CR-V has been staying out at night in the cold!) and the mess is slowly moving its way into the laundry room, then the kitchen, and now, it's reached the living room. Still, it's fun to see progress, no matter how messy or slow it seems.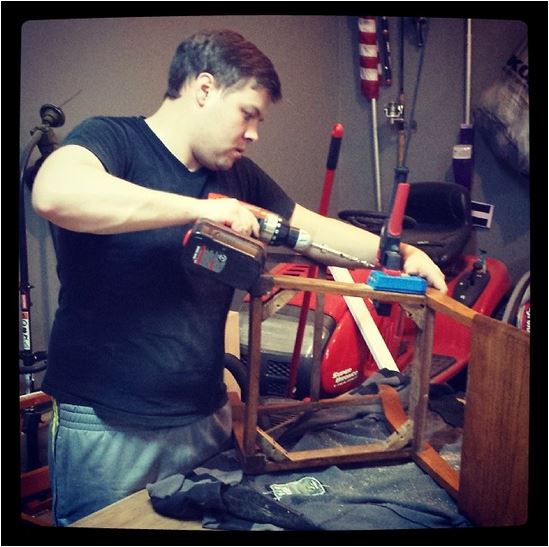 4. We had snow last night! Yup, winter is really, really here. (Thank goodness it was warm on Tuesday for the nighttime disc golf or I would have waited in the car with the heat on!)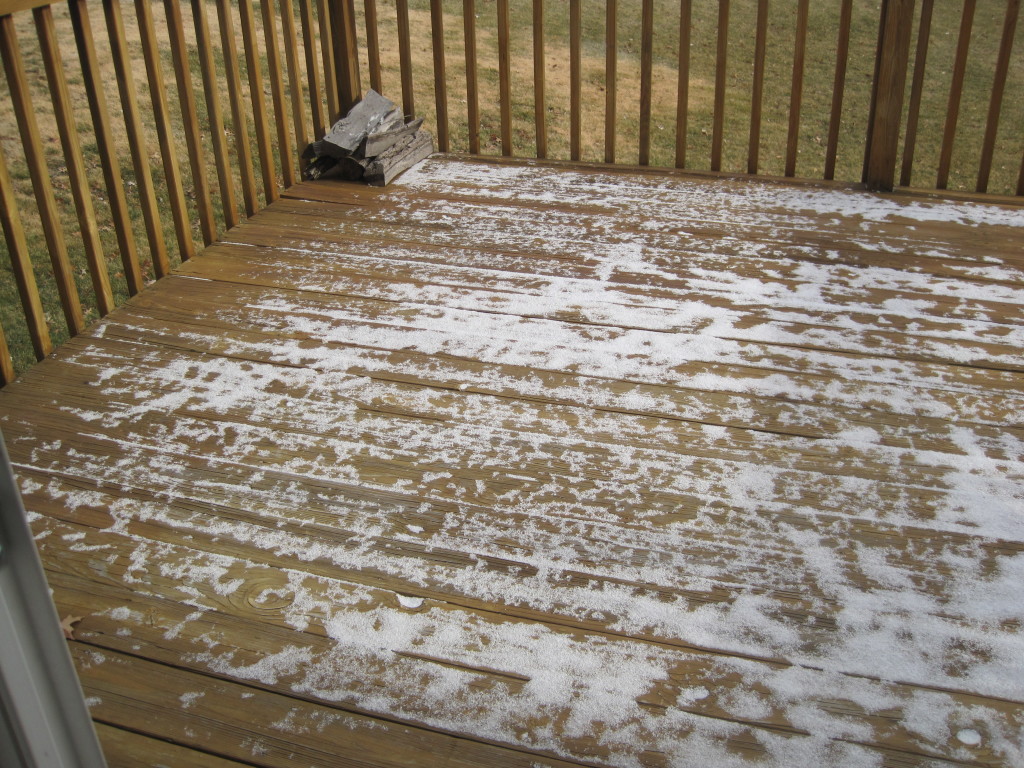 5. Work is in that busy, let's-rush-and-get-all-this-done-before-the-holidays phase that makes my back and neck ache from sitting at the computer all day. Yesterday I worked too long in too few sitting sessions, which left me with a headache for the first part of the evening. I need to learn to sit p straight and take breaks to rest my eyes and neck.
While we've been away, I'm sure you've done some exciting stuff. I'd love to see your decorations for inspiration to get our house all festive! Please share!