Happy Day After The Day After Labor Day!
We had a great long weekend. It was sort of an extra-long weekend because Wyatt and I spent half of yesterday doing a stadium tour and watching the Royals game. (He worked from home so we could do the tour over lunch. Then, we came home and worked for the afternoon before heading back to the game at 6:30.)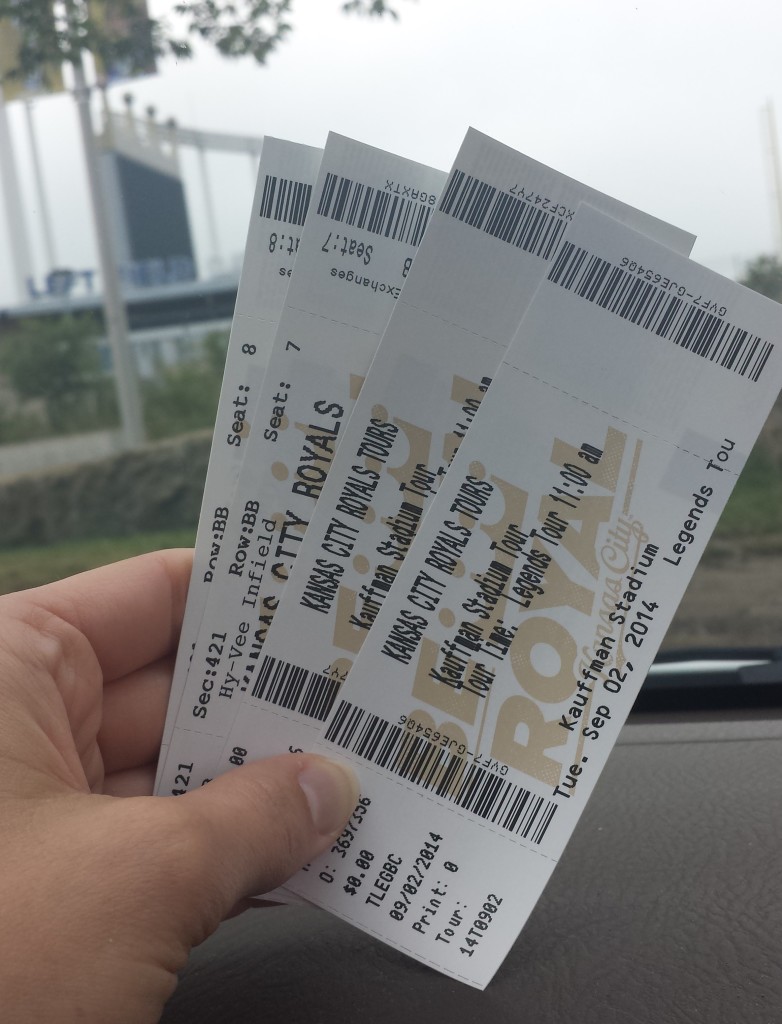 We got to hang out in the dugout.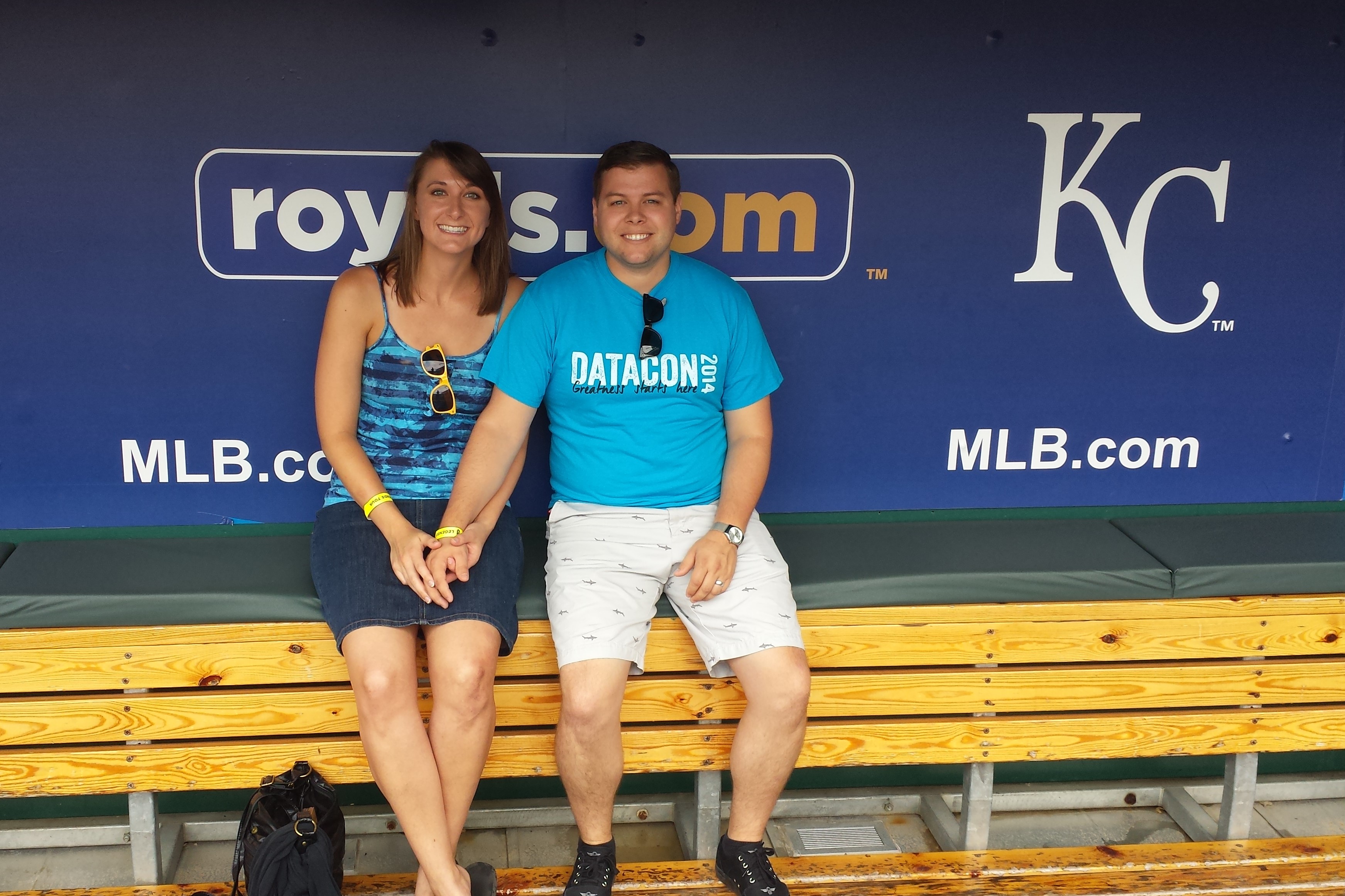 And visit the Hall of Fame for some fun.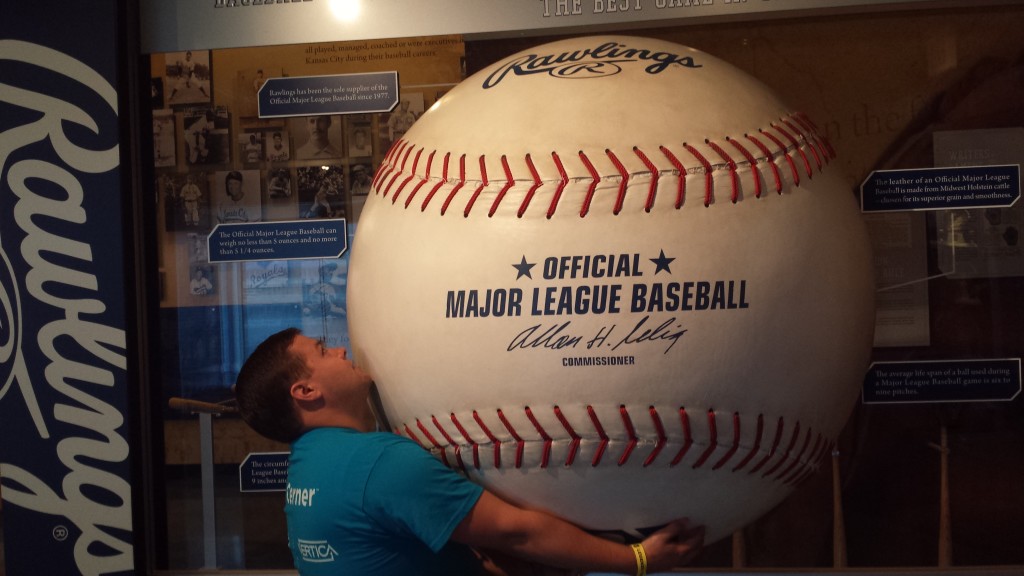 And see the giant screen up close. Sheesh.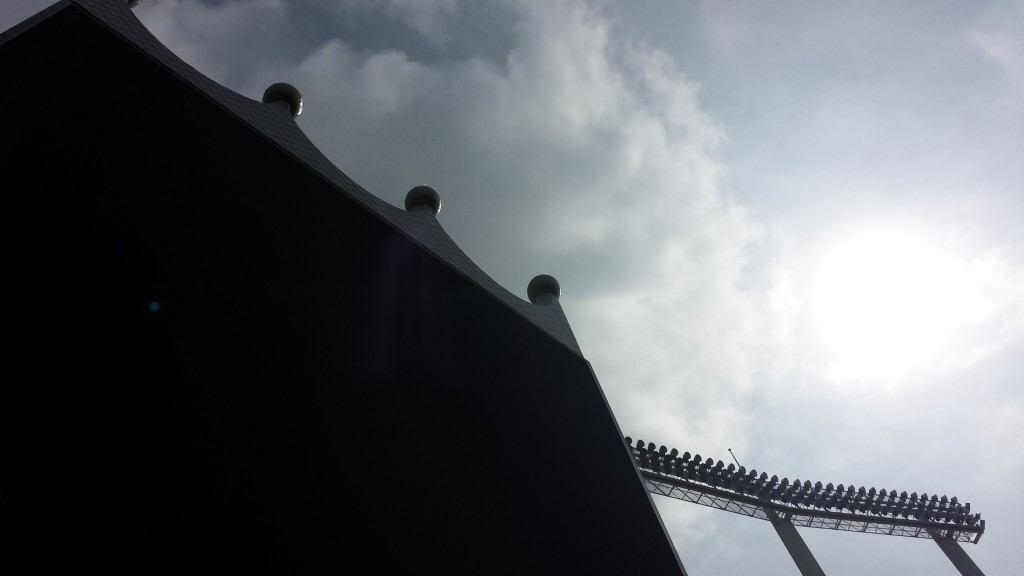 Then, we got to see a Royals win!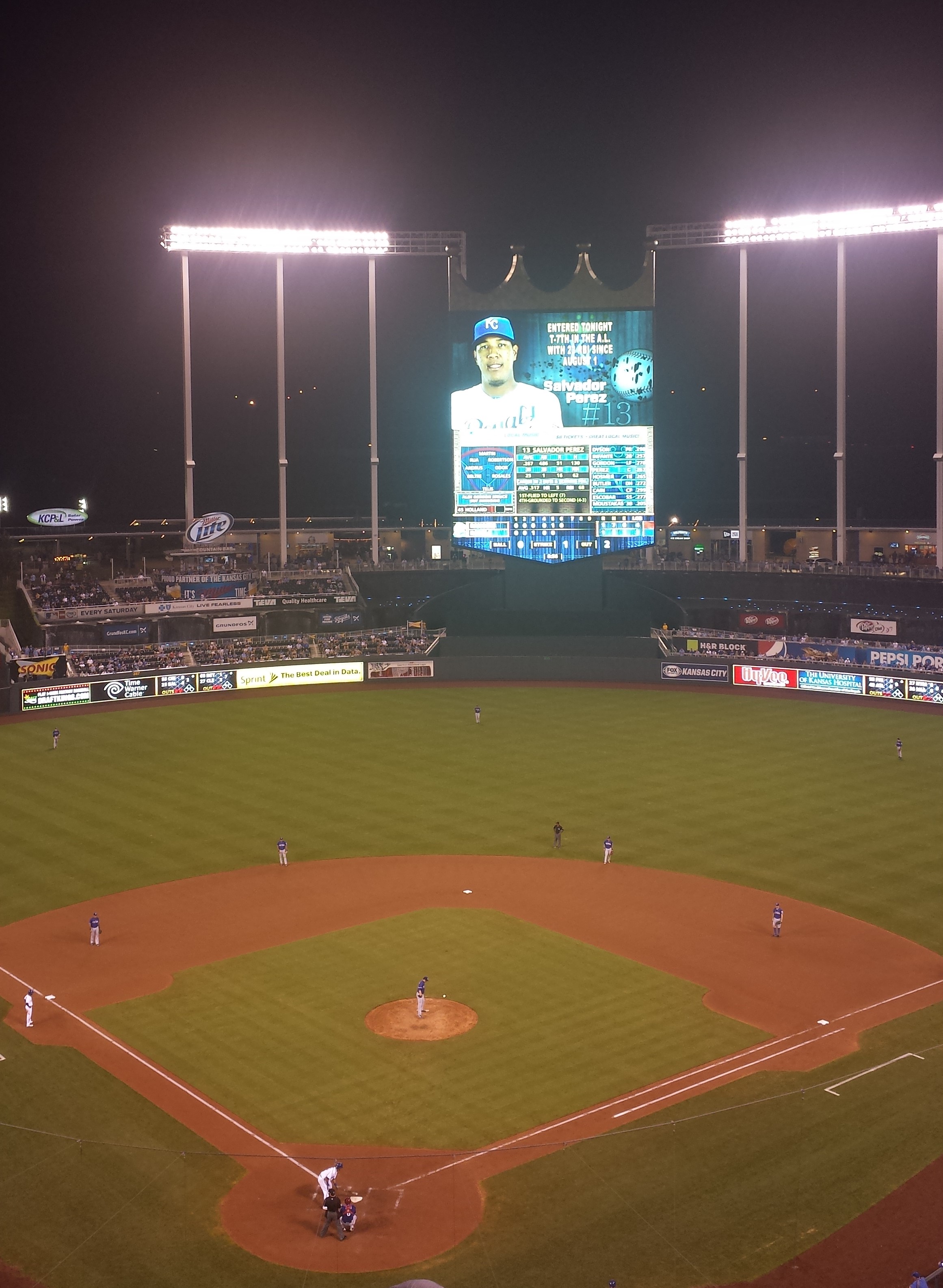 We're both looking forward to seeing the Royals and Cardinals in post-season this year, but I know there's a long way to go before that might happen. Still, it's just fun to go to baseball games and eat nachos and have a good time.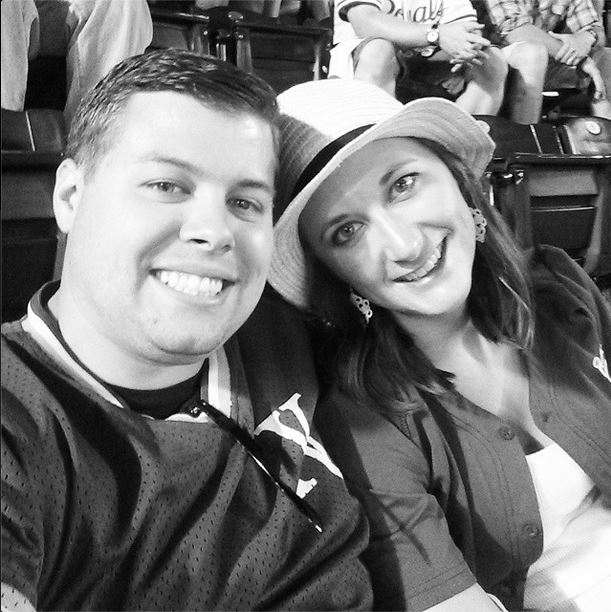 It was a fun, relaxing way to end our long weekend. Especially since we spent a lot of Monday laboring on the kitchen. Or fighting with the kitchen.
One of the goals was to get the three upper cabinets in the nook area installed, which seemed like a small task until we realized how crooked the walls were. See how much closer it is at the top?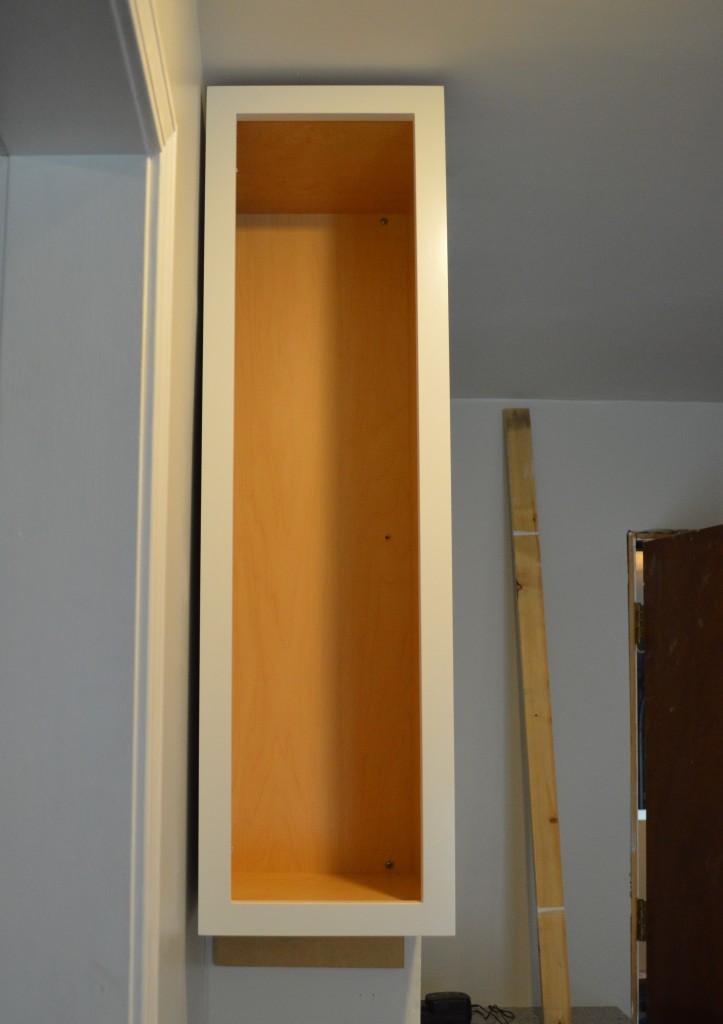 So, we had to battle that for most of the day.
Luckily, it did end up pretty straight. And we can cover any of the minor imperfections with a small bead of caulk when we're all finished installing.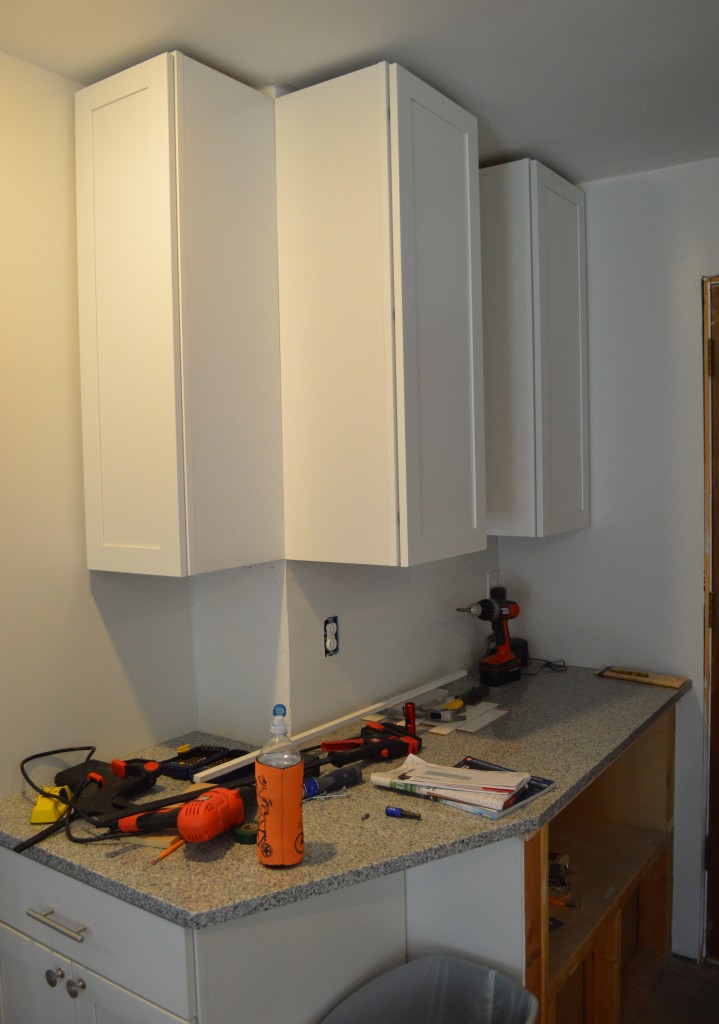 And now, we have some upper cabinets! (And a few more boxes out of the garage!)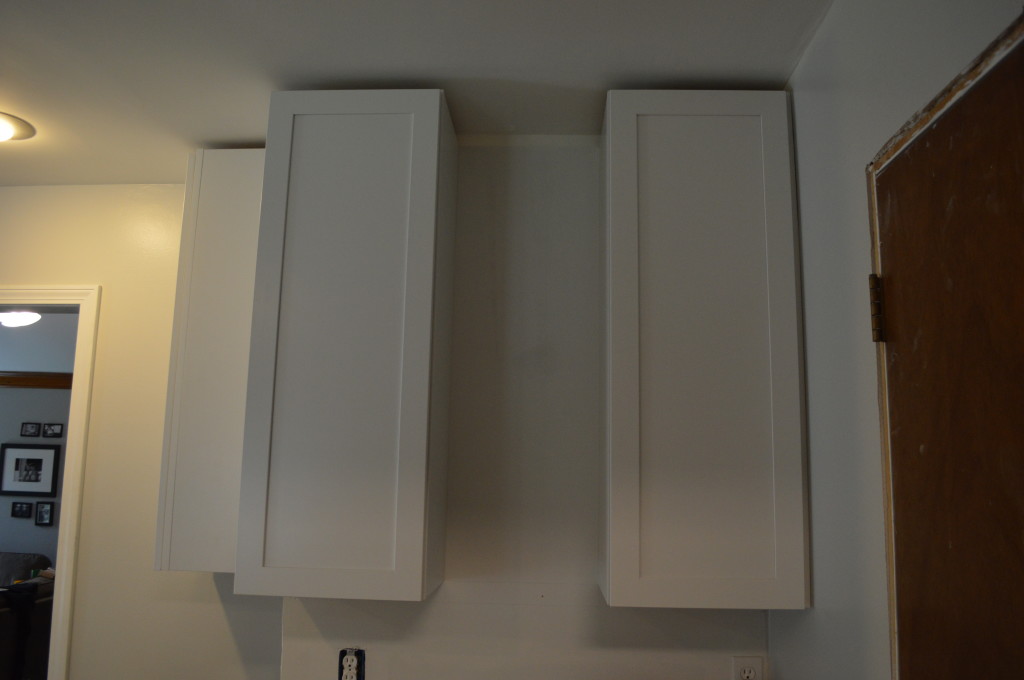 I'm really excited about all the new storage we'll have.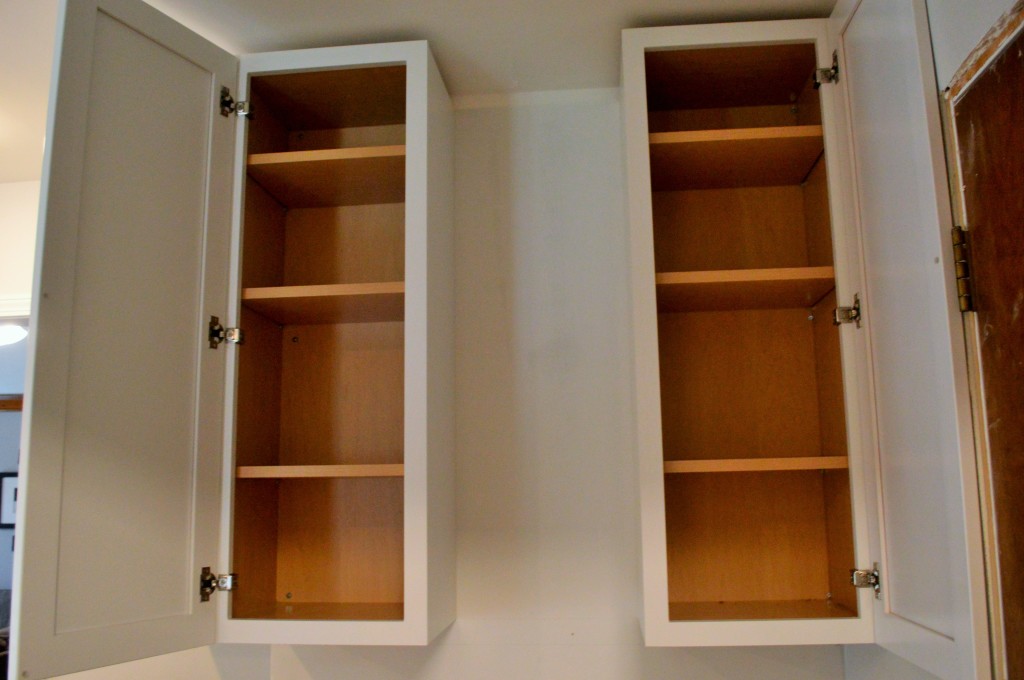 Of course, we still have the odd hole in the middle where Wyatt is going to build in some shelves for cookbooks and wine bottles between these two cabinets.
We also made some progress on building and painting the pantry cabinet. (Also being made by Wyatt.)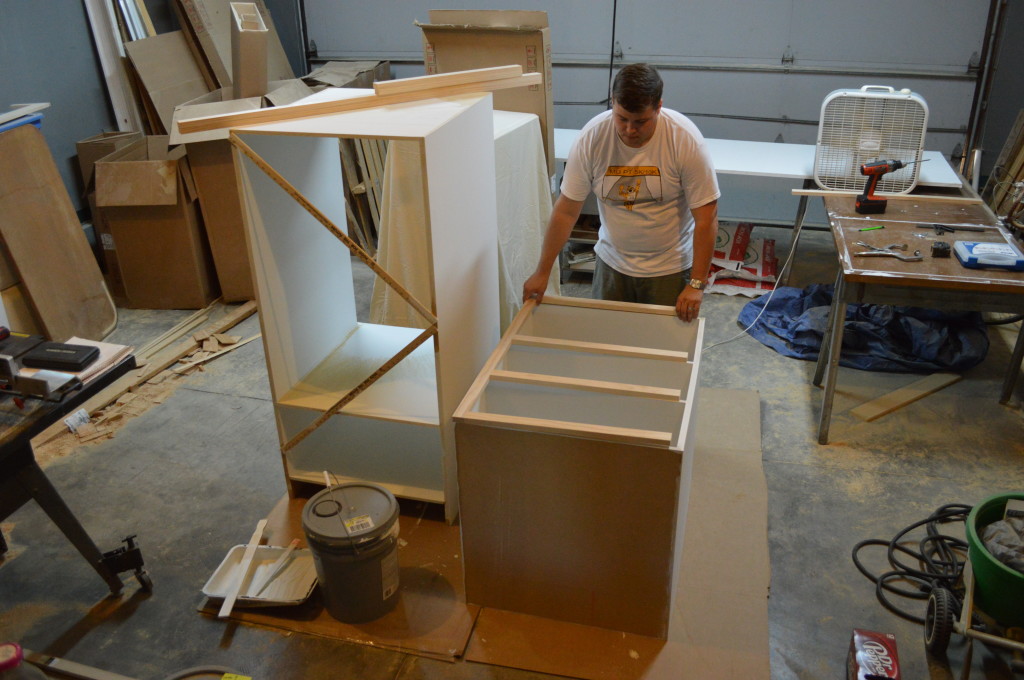 But of course, those fought back, too.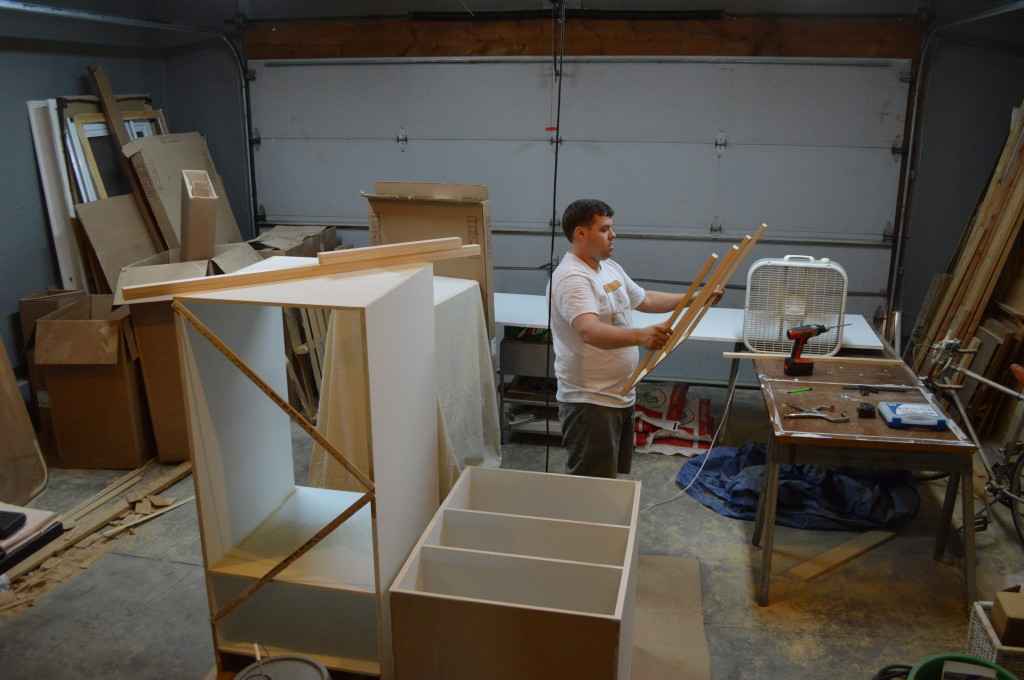 It's clear we still have lots to do. You'll notice how dark this room is because we're missing a light. Lots to do, I tell you.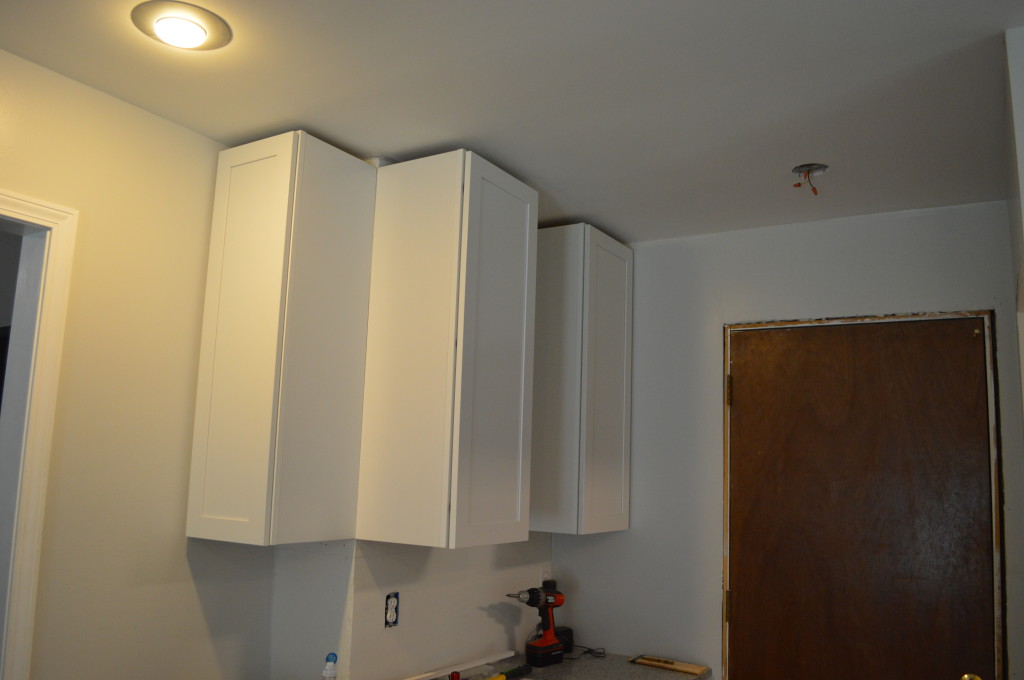 Things like choosing all new light fixtures and installing the tile backsplash, hanging the range hood and venting it to the roof, installing the pantry and microwave cabinets…laying the hardwood flooring…
Lots and lots to do.
But I can't help but be super excited when we see how far we've come. Seriously, remember what our kitchen looked like a month ago?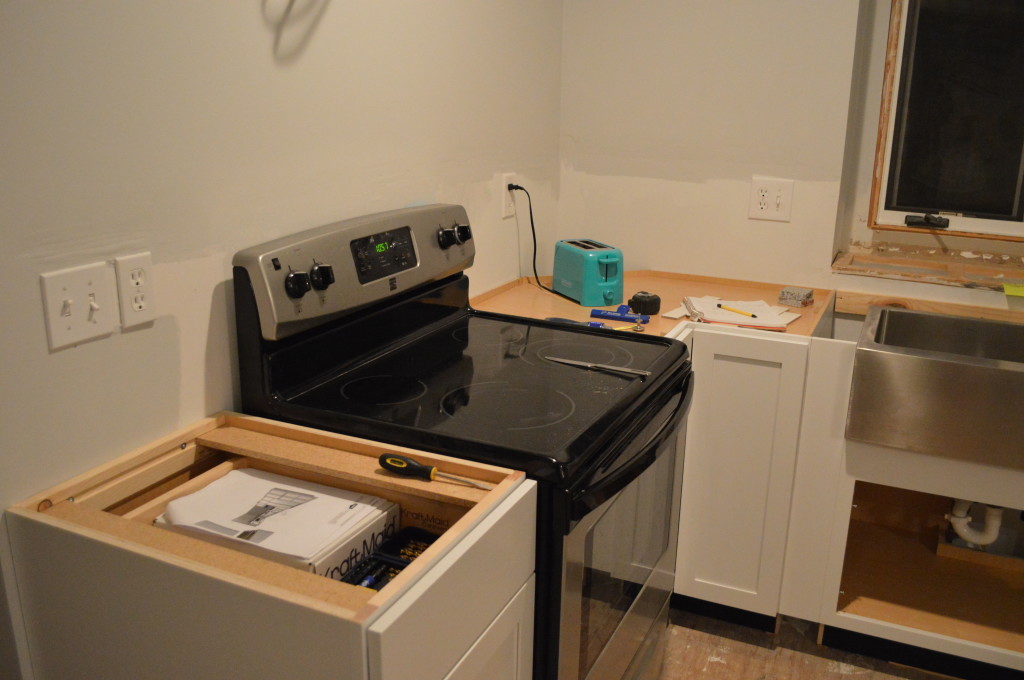 And a month before that?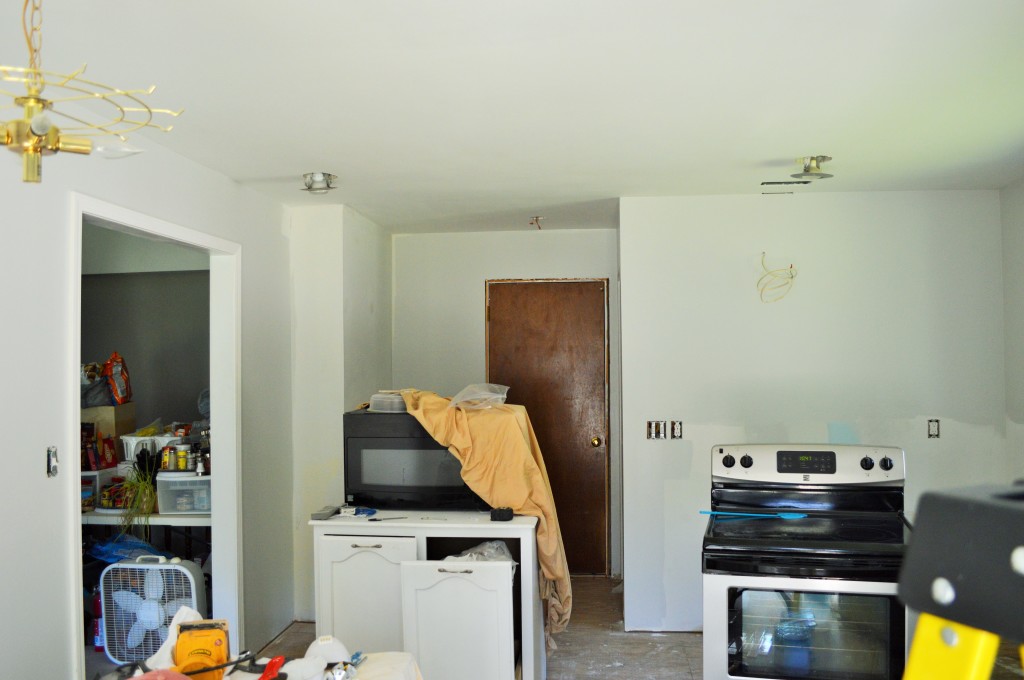 And another month before that?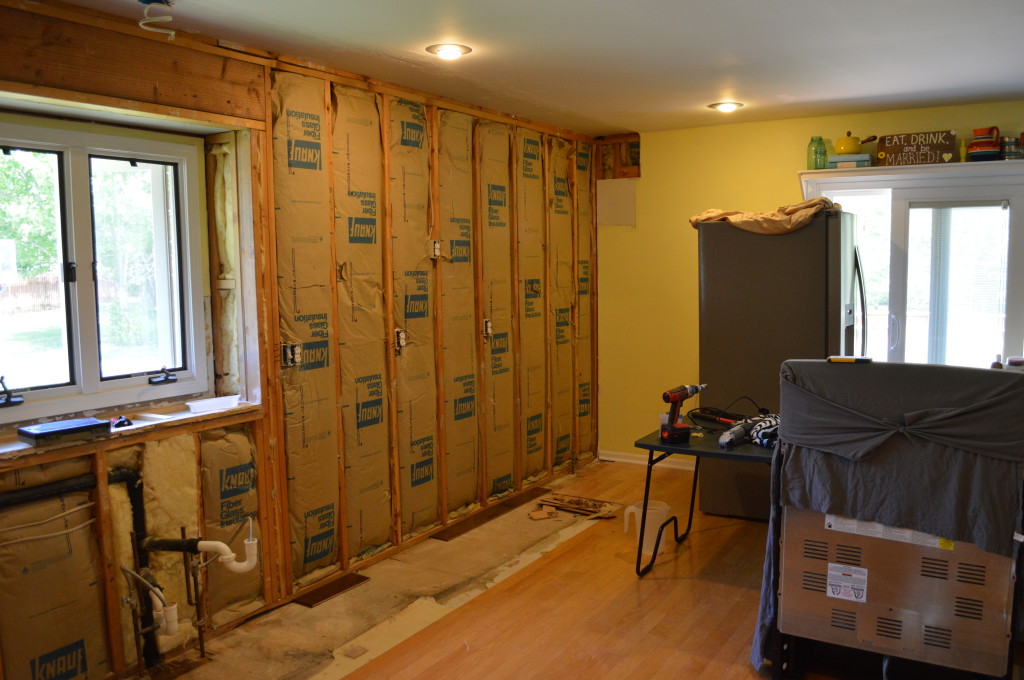 Wow. We've done so much. It's a long process, but very rewarding. Plus, we've saved so much by doing pretty much everything ourselves. We never would have been able to afford this full renovation if we'd hired it out. No way.
(Just a reminder, you can see all the posts in our kitchen renovation series, here in case you want to follow along with us as we try to get this giant project finished up sometime before the end of the year. )
We also spent a lot of time this weekend relaxing and doing other various projects around the house like tending the garden and mowing the yard.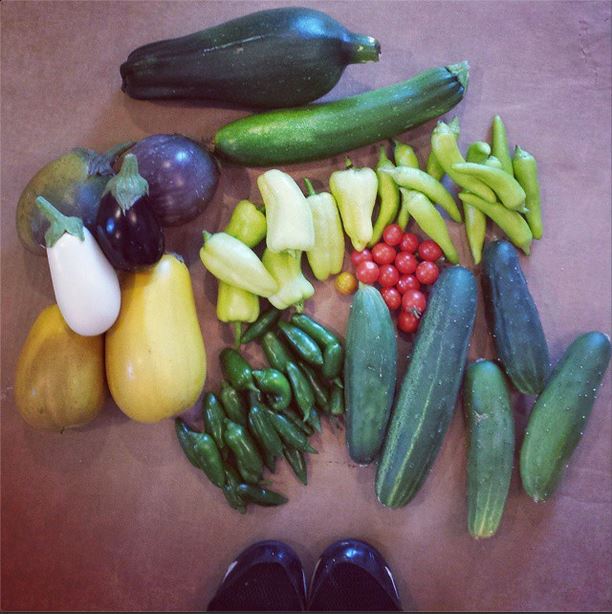 We also had great seats for the Sporting game (they lost, but big thanks to Wyatt's boss for letting us crash their family seats), met up with some friends for disc golf and playground time (ever seen an almost two-year-old count down before going on the slide? It's adorable.), went to a barbecue and played kubb for the first time (it was really fun!), and grilled a pizza. (So delicious!)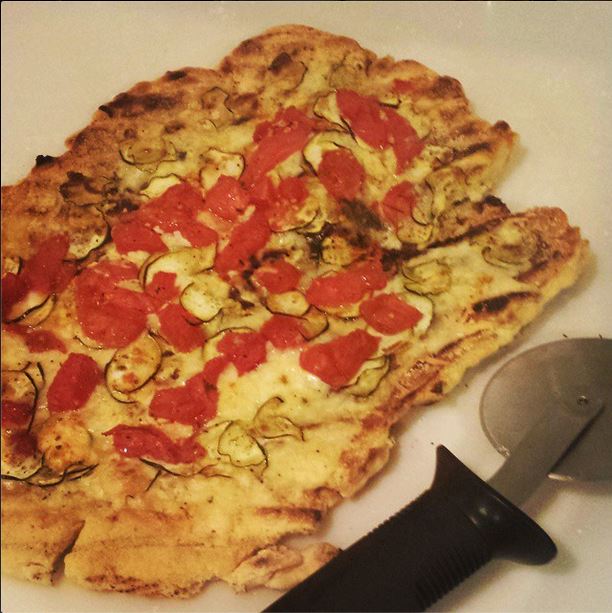 So, while we were laboring on the kitchen and spending time with friends this long holiday weekend, what have you been up to?
Oh, and because I can't help but share, check out the photos we got of the crazy awesome sky at the Sporting game on Friday night. I've never seen such orange clouds or heavy rain. Crazy.