You guys, it's been 60 degrees the last three days in a row. Is it cliche to say the little babe in my womb has been leaping for joy? (Okay, so I'm just now getting to the stage when I can feel those little movements more often) but I like to think it's because we have a summer-loving child in there, just like his/her momma is!
All that being said, we haven't done ALL that much in the way of house progress in the last three days. Partly because we were out enjoying the weather. Partly because we had other things planned. And partly because we were at a stopping place and took a little intentional rest weekend to get geared up for a week of hopefully big efforts.
I did manage to move into the new nook drawer. It you recall, on Friday, I was talking about how pretty it was. Now I'm also talking about how functional it is.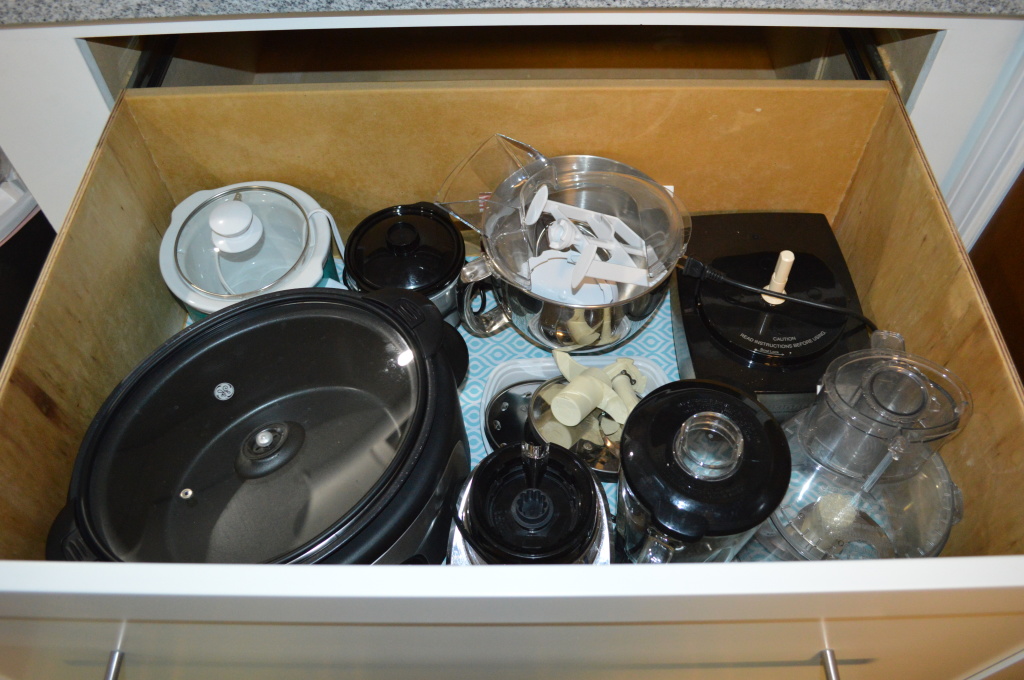 It's giant. It's wonderful. It's a brilliant solution to that weird space we were working with.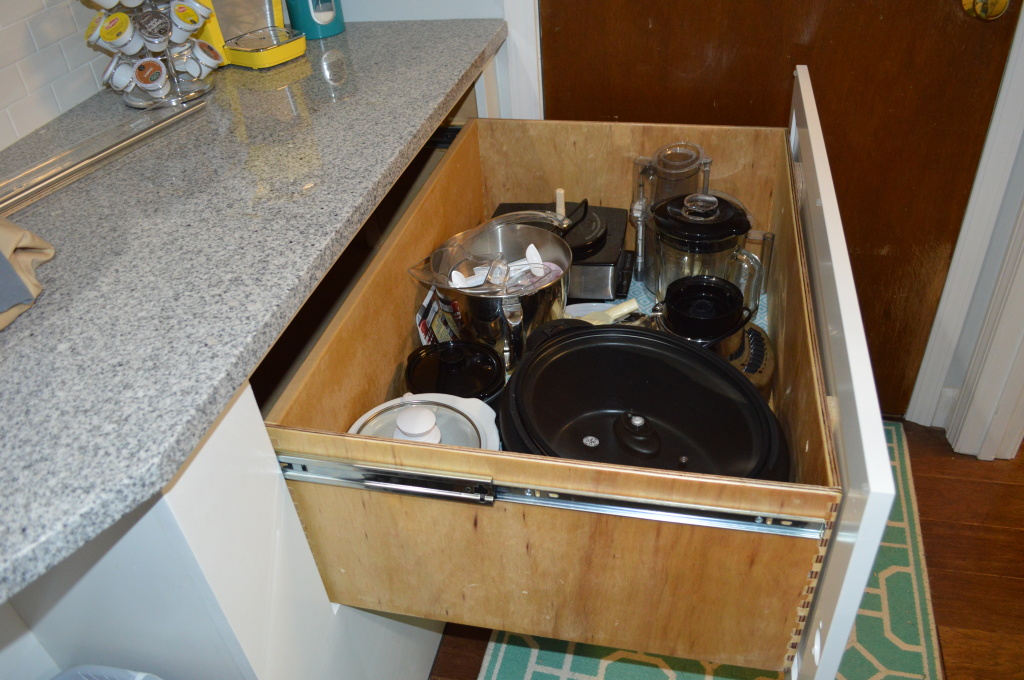 All our often-used appliances fit in there and it's amazing. Also, baby bump sighting in the very bottom  of the photo…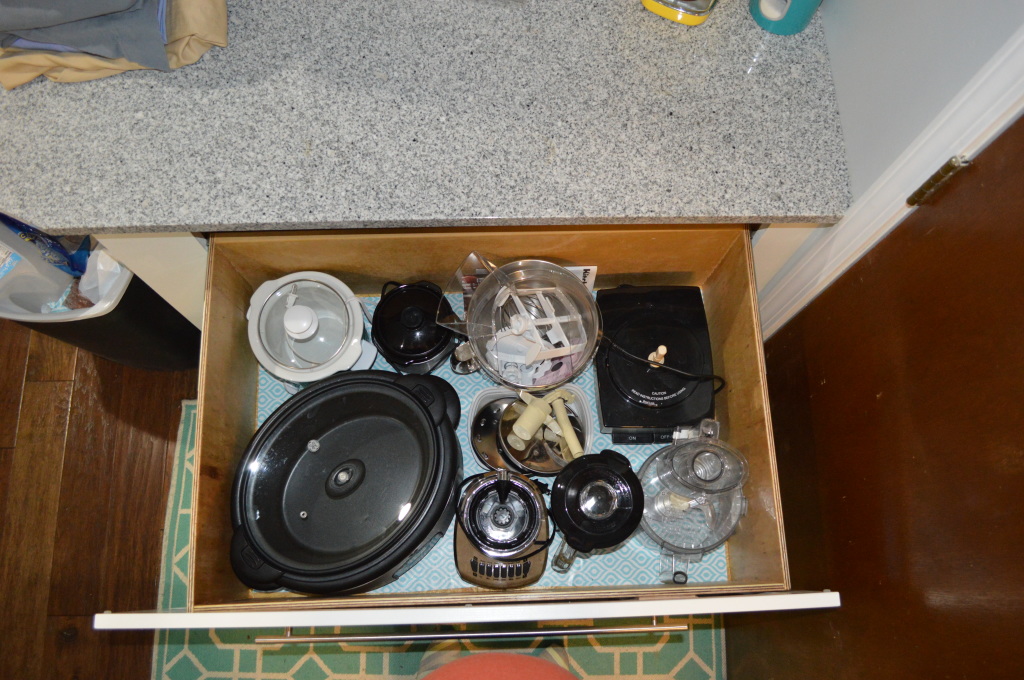 I also took the time to line it with matching shelf liner that we're using in the pantry. I talked about that process here.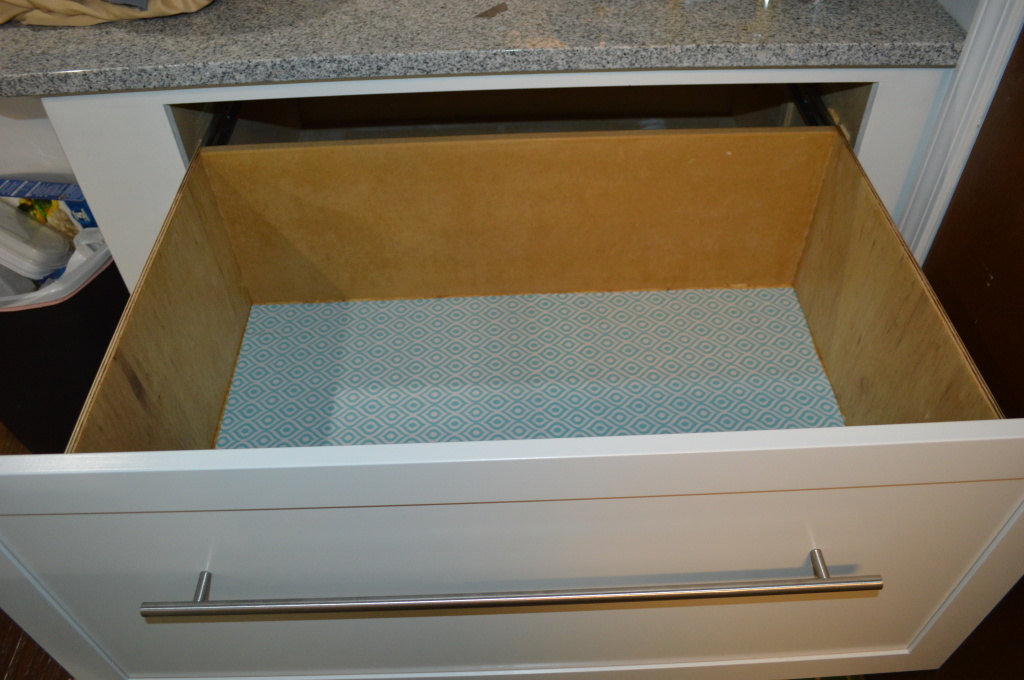 Oh, and we cleaned the entire kitchen and got rid of the clutter we had been dealing with. We also actually ate at the table this weekend. Who would have thought that was possible?
My grandparents came up to visit Saturday afternoon and we had some friends over that night for dinner. Wyatt grilled steak. It was delicious, as usual. All that good pre-summer stuff.
Oh, and I discovered something lovely in our front flower bed. All (or most) of the 50 tulips I planted there in the fall are starting to come up.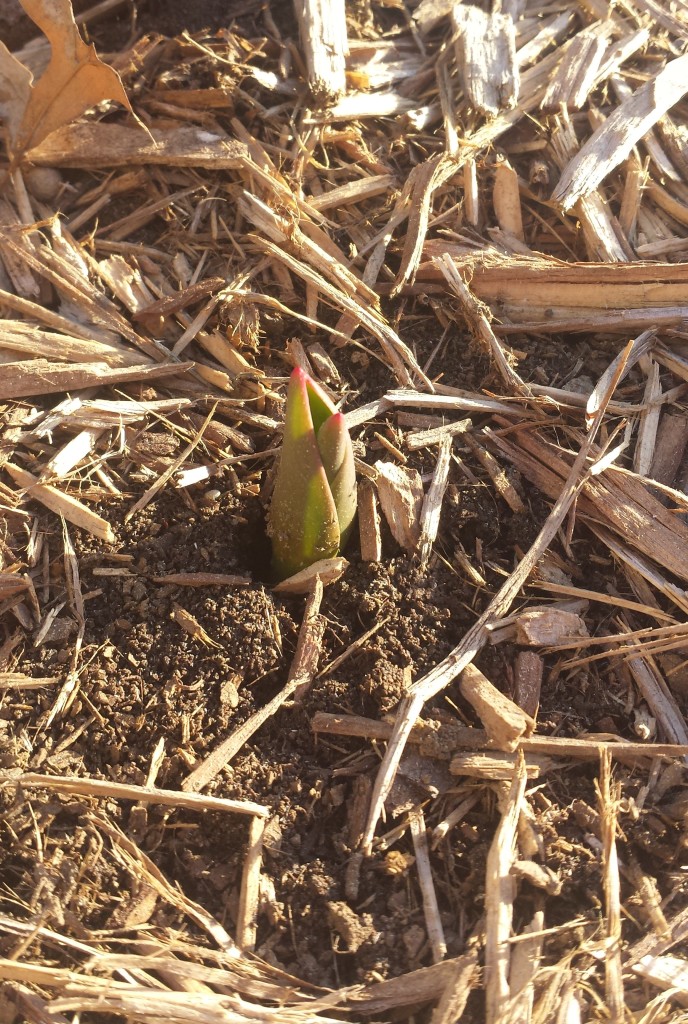 The ones in the back are also working their way out of the ground. They just make me so happy!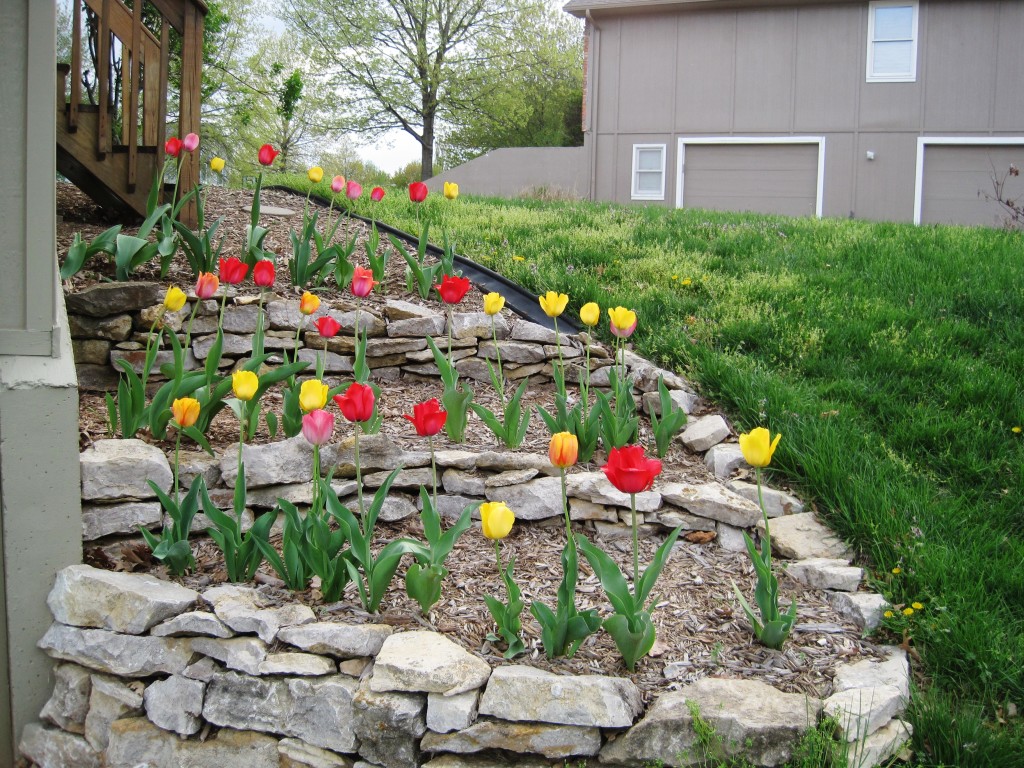 Which reminded me that I had been saving some tulip bulbs in the garage to try and grow indoors. So, I grabbed a jar and added some rocks and some water, following this advice. Fingers crossed they'll bloom inside just fine. 🙂 I'll be sure to let you guys know if my method worked and if so, exactly how I did it.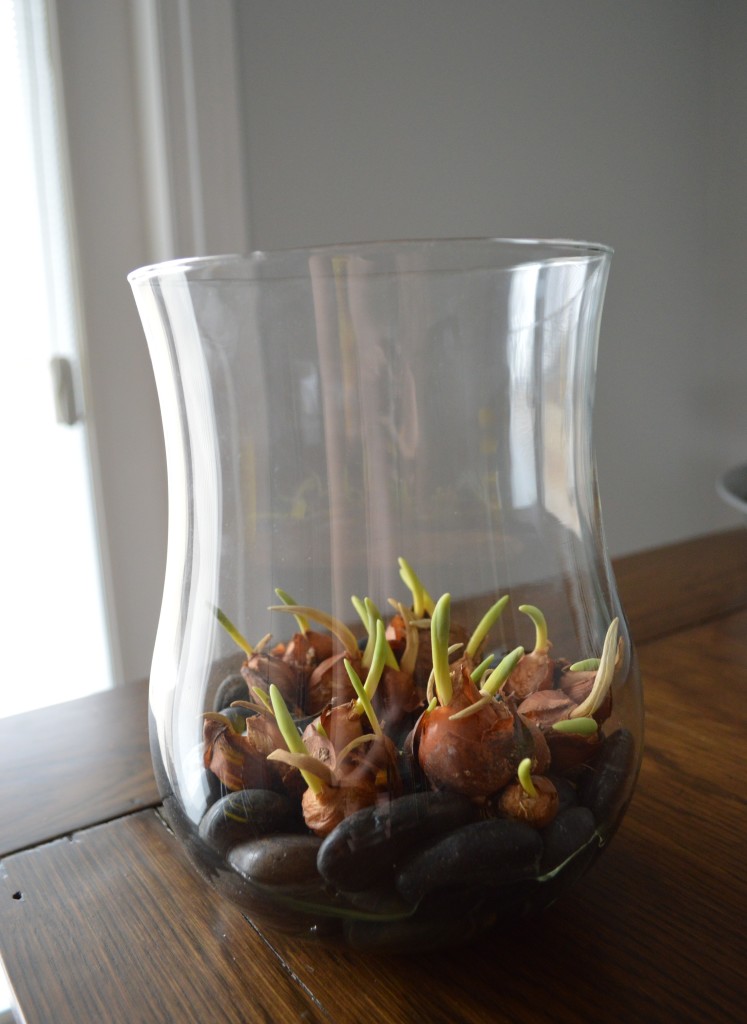 Have I mentioned how much tulips in the spring make me happy? I think I have. You'll remember when our kitchen looked like this a couple years ago…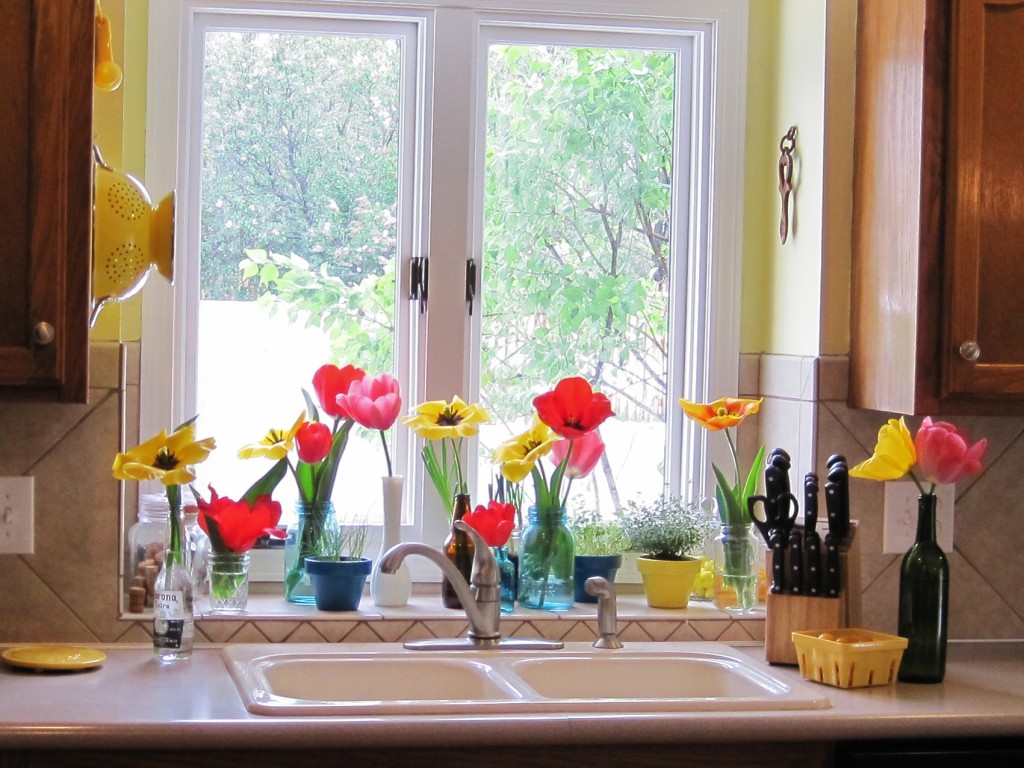 …after an unexpected snow storm in May.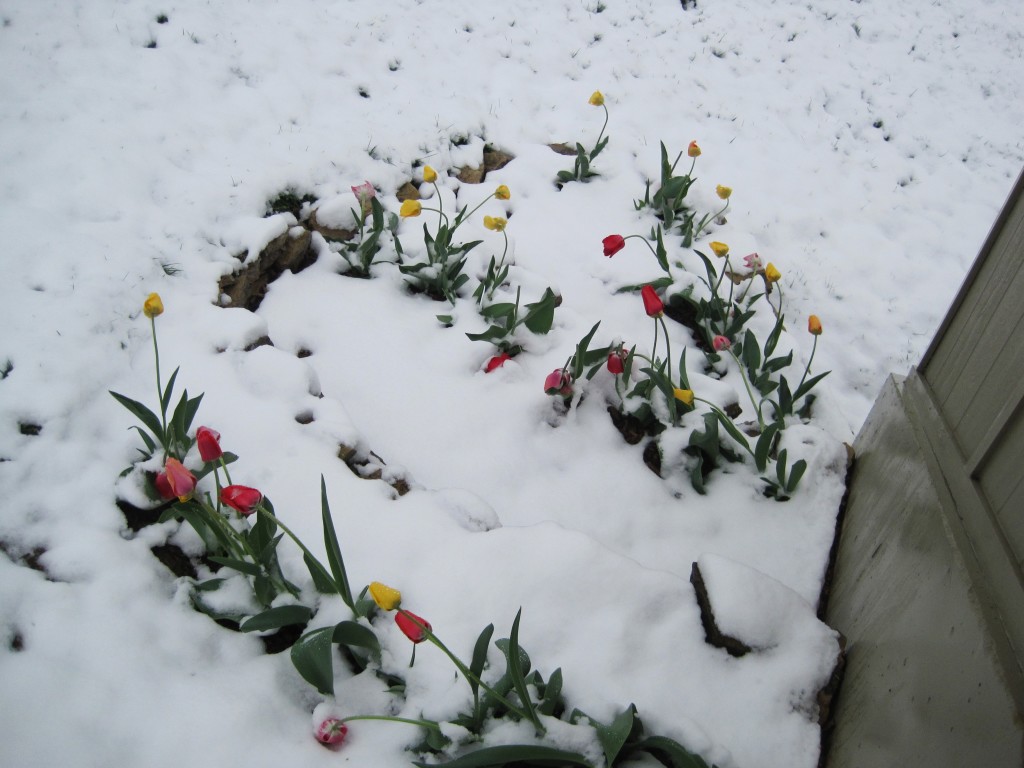 Excited to fill the new kitchen with fresh blooms, too. And if anyone wants to bring us fresh tulips at any time before these bloom, as I'm sure I still have a month or so to wait, feel free. I'll even save the bulbs and plant them. It's the gift that keeps on giving. 🙂
Ok, enough about tulips. For now. I'm sure I'll be posting updates as they grow.
While I was walking on Saturday afternoon, Wyatt cleaned out the garage. Well, he dusted it out. It still needs major cleaning and organizing after it has collected all our junk from this kitchen remodel, but he got rid of the worst of the sawdust. That stuff gets EVERYWHERE in the winter remodeling season. And I hate tracking it into the house, so I'm thankful to have it gone…for now.  Just look at that clean concrete!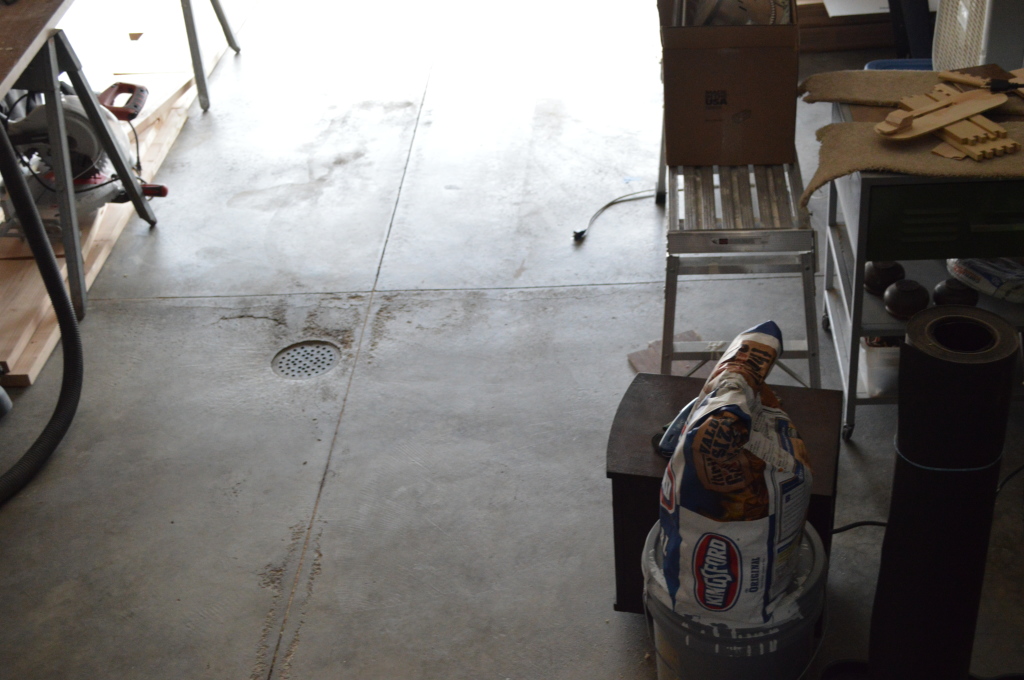 On Sunday, I took another walk (three cheers for walking weather!) and Wyatt went to the home opener for Sporting Kansas City with his brother and friends. All in all, a great weekend.
Now, tell me what you did this weekend. I want to know how you took advantage of the warmer weather, if it was warm where you live. I know some people were still getting snow…