This weekend I finally mustered up enough motivation and energy to tackle some organization. The first project? Moving into the new built-in bookshelves in our living room: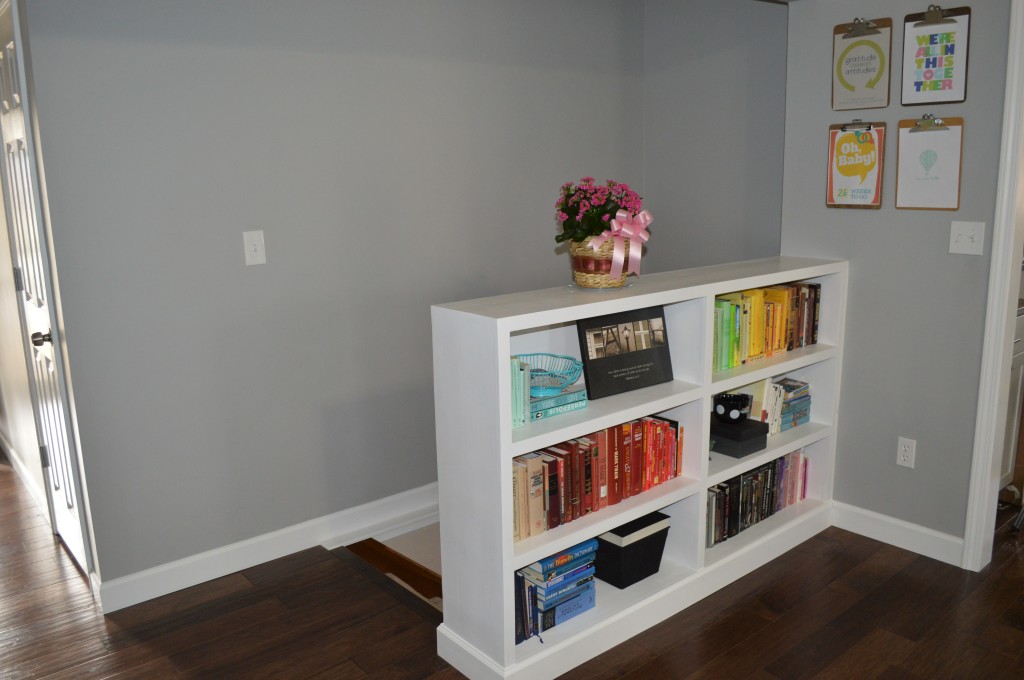 These bad boys were pretty bare for the past 2-3 weeks after I took down all the random Christmas decorations I'd stashed there when we finished building these the night before we hosted a Christmas party at our house.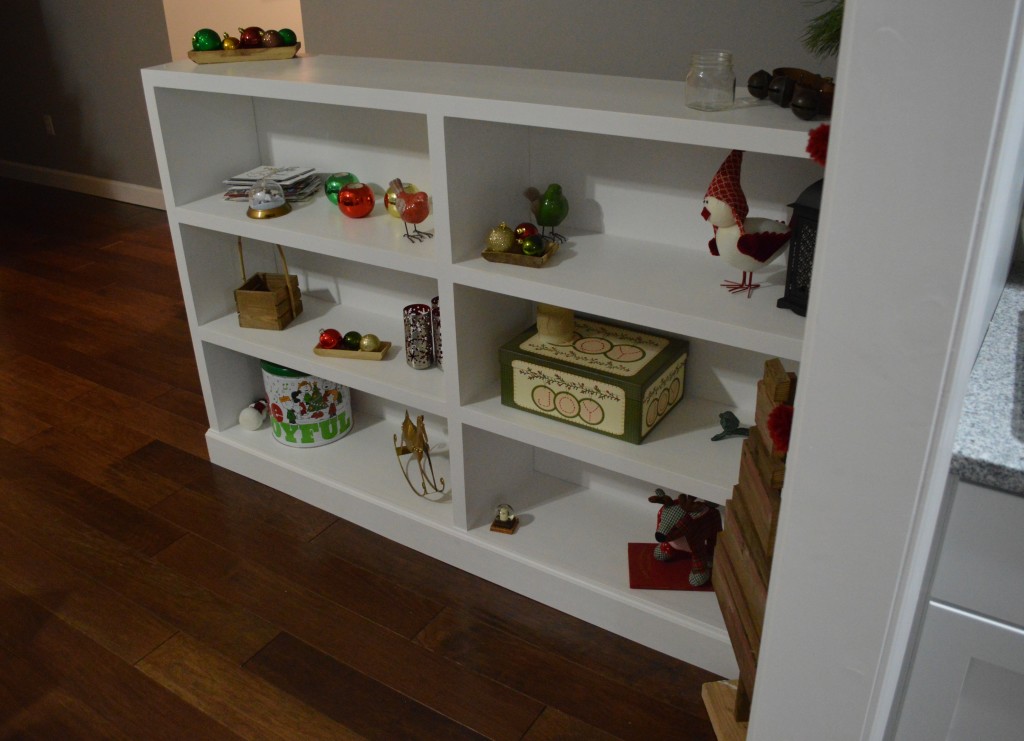 And, I'd spent the next few weeks debating what I was going to put on these shelves. On the one hand, I wanted to use them for pretty things (pictures, antique books, ceramic birds, and other niceties) but I also really wanted to move our books out of my office and into a more prominent location.
I figure, why bother having and keeping all these books if they are just going to be crammed and stuffed into a too-small bookshelf in my office? Plus, I think books can be beautiful, and I had envisioned using these built-ins for books since I asked Wyatt to build them earlier last year. The problem was that I was currently not feeling very inspired by the way my books looked on the shelves in my office. Not so pretty.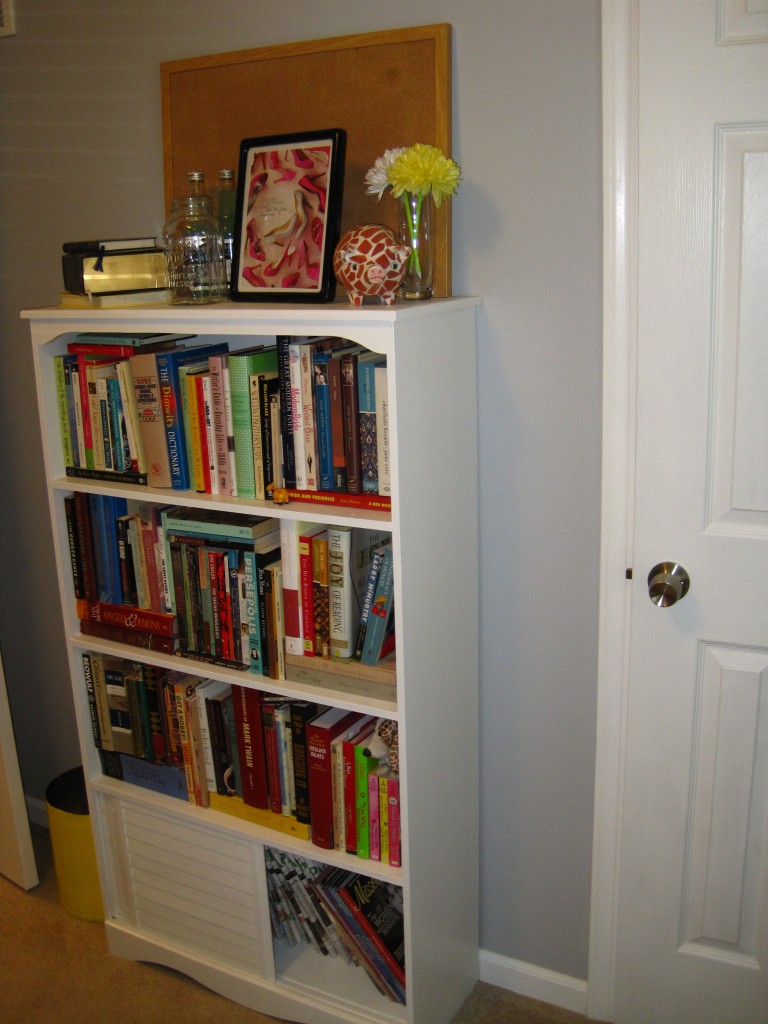 I had seen, and really connected, with some images of rainbow bookshelves on Pinterest and really wanted to try it. But, I had arranged my books in a careful order already (topically – based on which authors would get along best with each other).
I wasn't sure I'd like (or if I'd hate) having my books all random and willy-nilly. How would I find a particular book if I couldn't remember what color it was??
But, I figured I wouldn't know until I tried it, so I dove in and started stacking everything by color.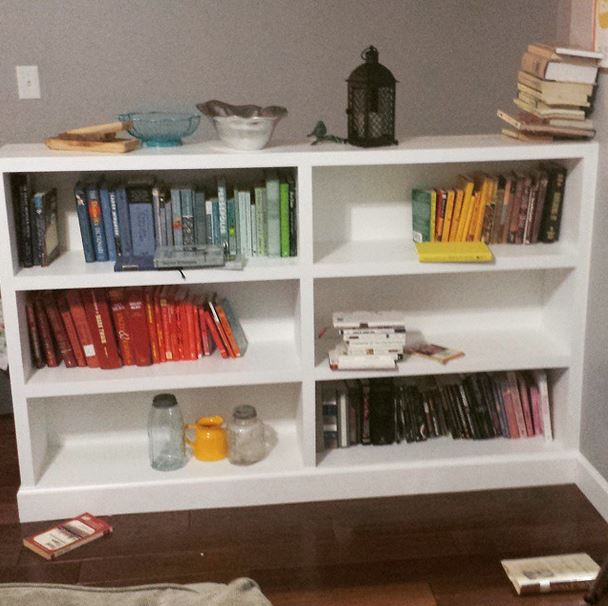 It actually took me several hours to settle on this final arrangement because I don't have enough books to fill the entire bookshelves and I couldn't decide which sections to use for books and which to use for other items. In the end, I put books in every section, dividing up my blue and white books between three of the remaining shelves.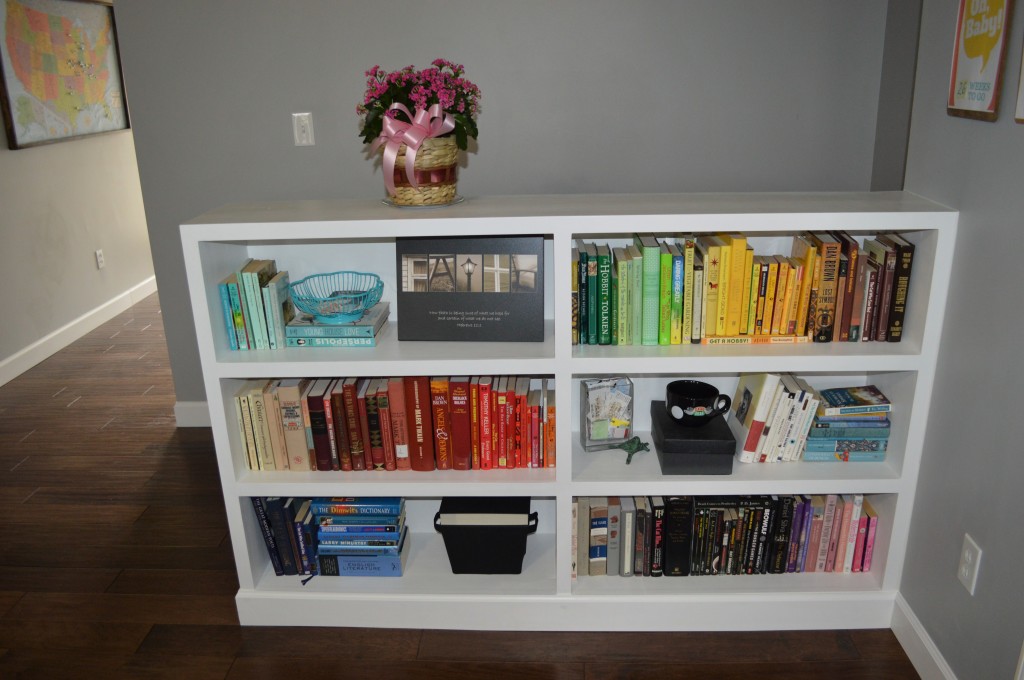 I think it turned out really well and I'm planning to leave it this way, at least for awhile. (I don't anticipate redoing it until long after baby comes. It's not high on the priority list.)
And, it's really surprising how many colorful books I actually had. When they were all spread out, I assumed I'd have mostly white and tan books. Not really the case. I was surprised to see just how many books are red and yellow!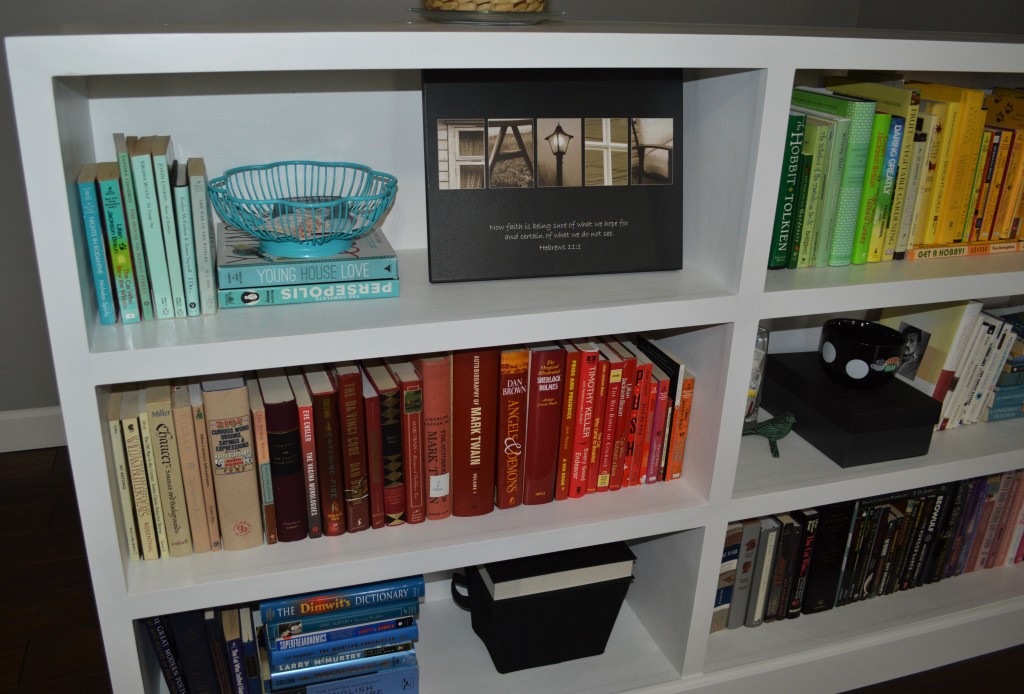 All in all, I think this is a fun change, and since I don't have THAT many books overall, I think it won't be that hard to find a particular one.
I also had the thought I could make some sort of catalog and keep it on my computer of what order they are in. Not sure we'll get to that with the pile of other projects we need to tackle before July.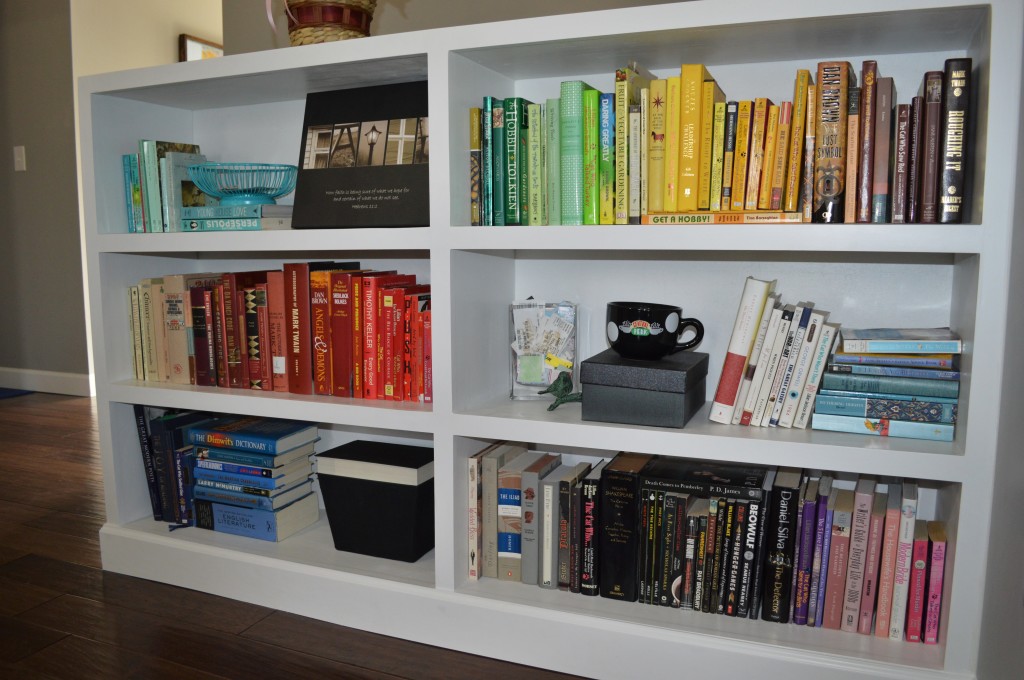 Oh, and this isn't all of the books in our house by any means. All the children's books are set aside to go in the nursery. I also have all the "religious" books in a separate stack. Not sure where those will go yet. And of course, my antique collections are still on the nice bookshelves my brother-in-law made us for a wedding present. I think we'll be putting those back in the living room now that we're done with flooring in there, but I'm not sure. They may end up in my office or the basement once we get moved in down there.
I hadn't really considered how much having a baby would require us to move furniture around, but I guess that's part of the transition process. Anyway, I'm pleased with this project and officially calling it done. I'll try and keep you guys updated with how I'm liking the rainbow arrangement as I live with it for awhile.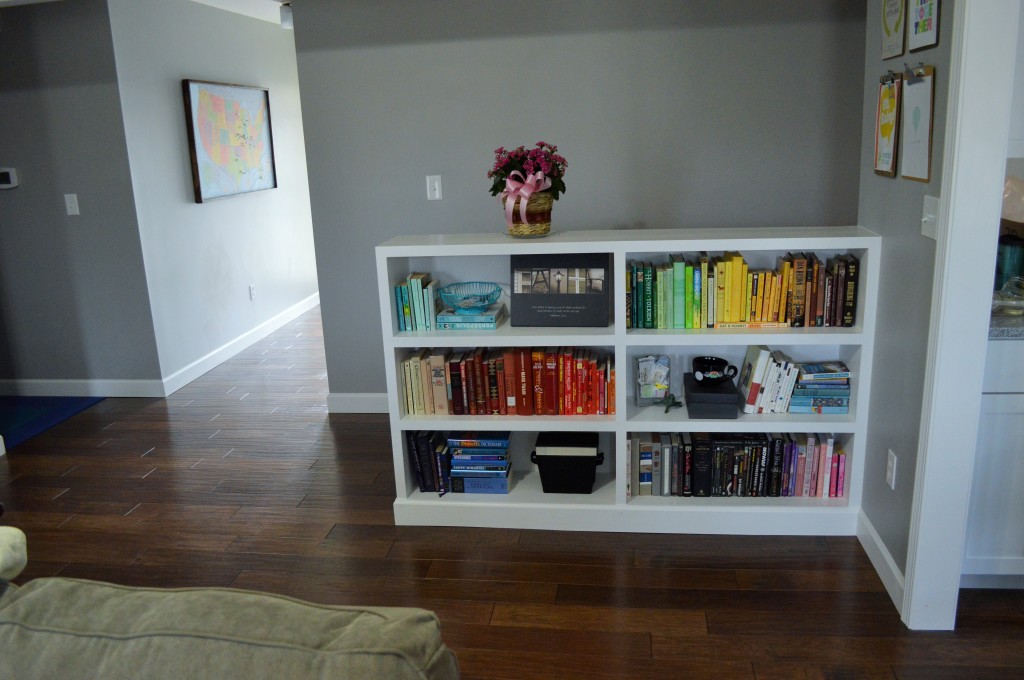 How do you arrange your bookshelves? Or maybe you don't have many books to arrange? (I am a big reader and an English major college graduate, so books are kind of a big deal to me…although not as big a deal as our friends who just amassed a 1000 book collection!)