This weekend, we officially tackled the garage. We had a pretty big task ahead of us, so I'm not at all surprised we didn't get it finished, which is fine. Plus, it rained a lot of the time, which made things go a little slower.
Here's a couple photos to show you what we were working with in terms of a mess. We just had SO MUCH junk out there. And several projects still in progress don't make things any better, let me tell you!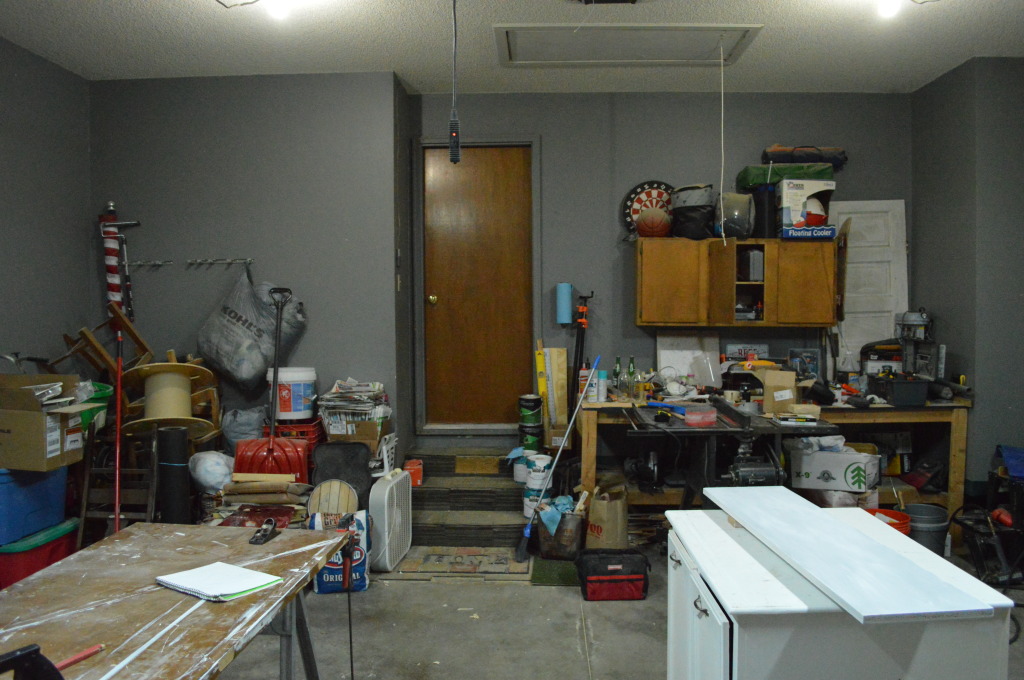 Wyatt's lumber stash takes up a decent amount of room, not to mention all the other trash I had out there. Like those foam coolers I was going to make until ottomans, like this DIY one I made a year or so ago.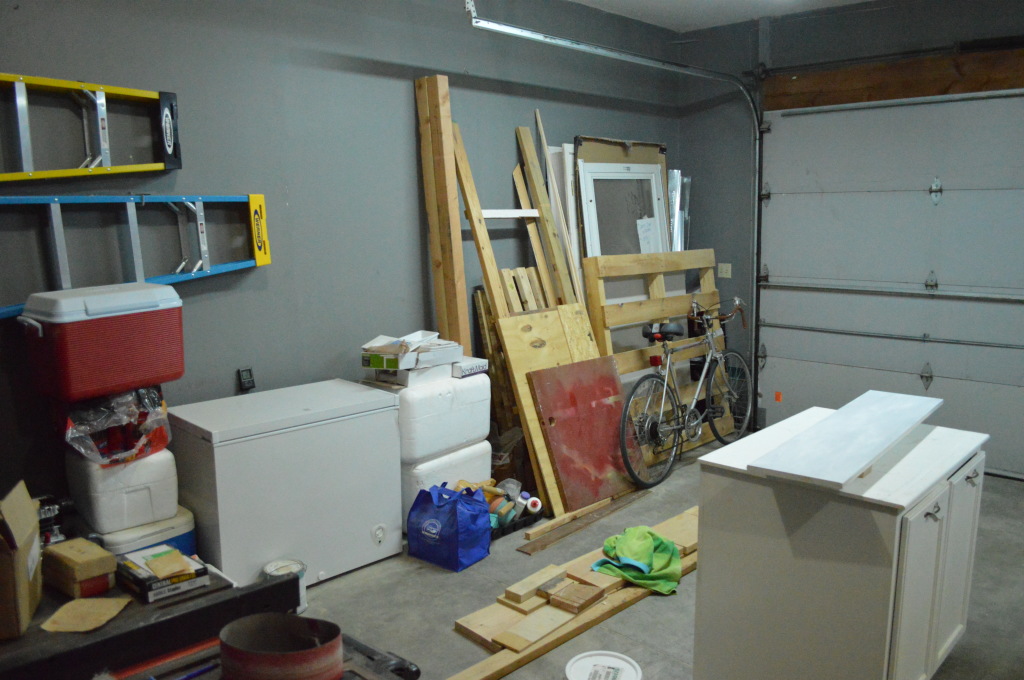 Just look at all that scrap wood we've been hanging onto during this kitchen renovation. It just gets out of control, let me tell you.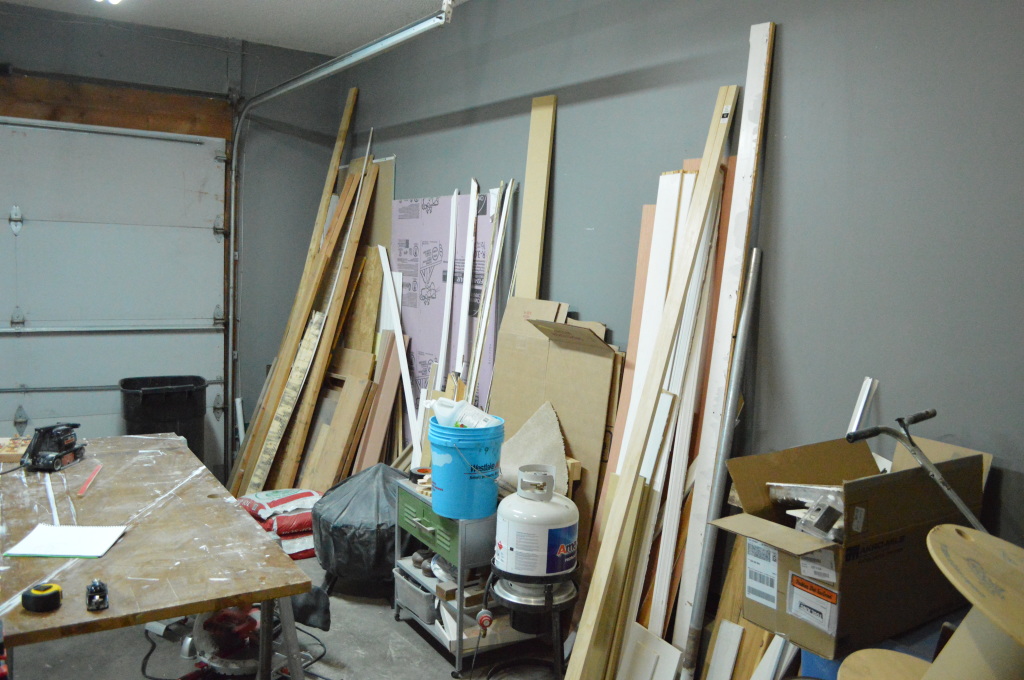 To start, we decided to do some major rearranging and move Wyatt's workbench from the front wall to the right side wall to give us more room at the front for bigger things like the table saw. That involved altering the legs so they could rest of the concrete ledge that runs around the garage. He built this work bench right when we moved into the house so there isn't a post about, but he's happy to answer any questions if you're looking to build one yourself.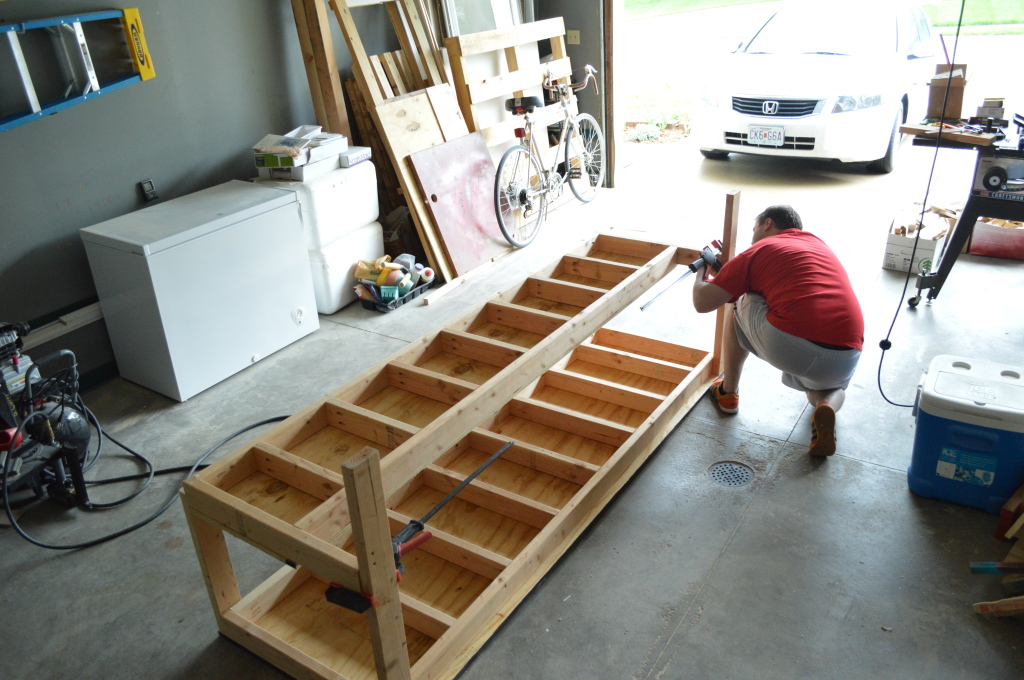 But, that gave us a big empty space along the front.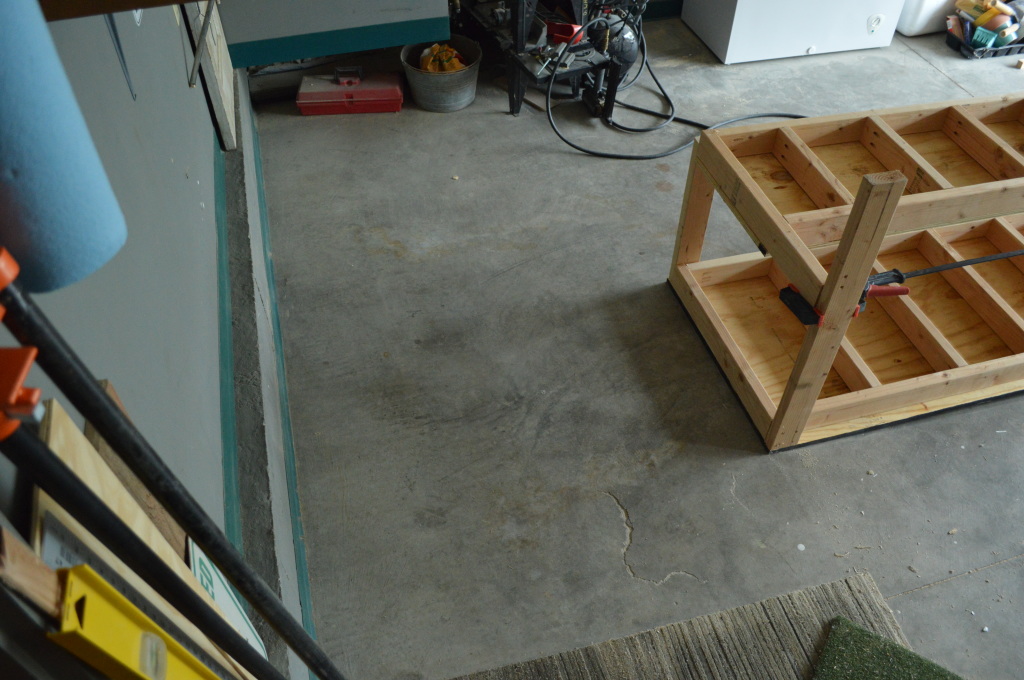 Please note, this is after I swept that area a few times to get rid of the saw dust. The saw dust is never-ending out there.
Then, it was time for the pegboard project. We purchased a sheet of pegboard from Home Depot for around $17 and brought it home. Then, Wyatt made some blocks to install behind it as a spacer so the pegs could sit in the board better, and it avoids a gap between the pegboard and the workbench so nothing can fall back behind.
He pre-drilled holes in the wall studs to install those.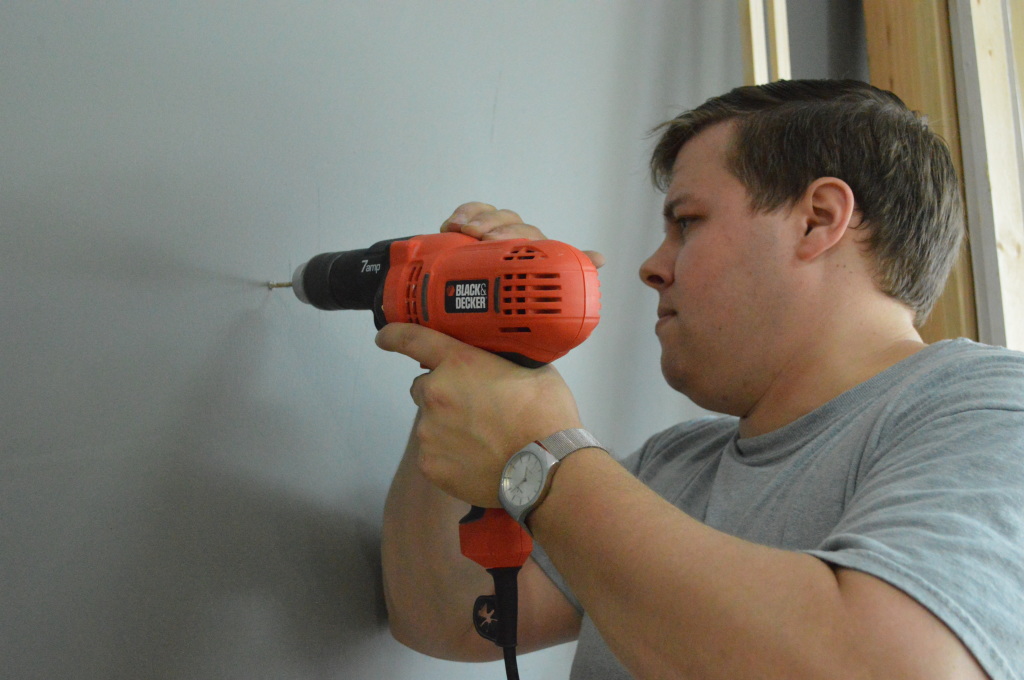 Then, he screwed the spacers into place.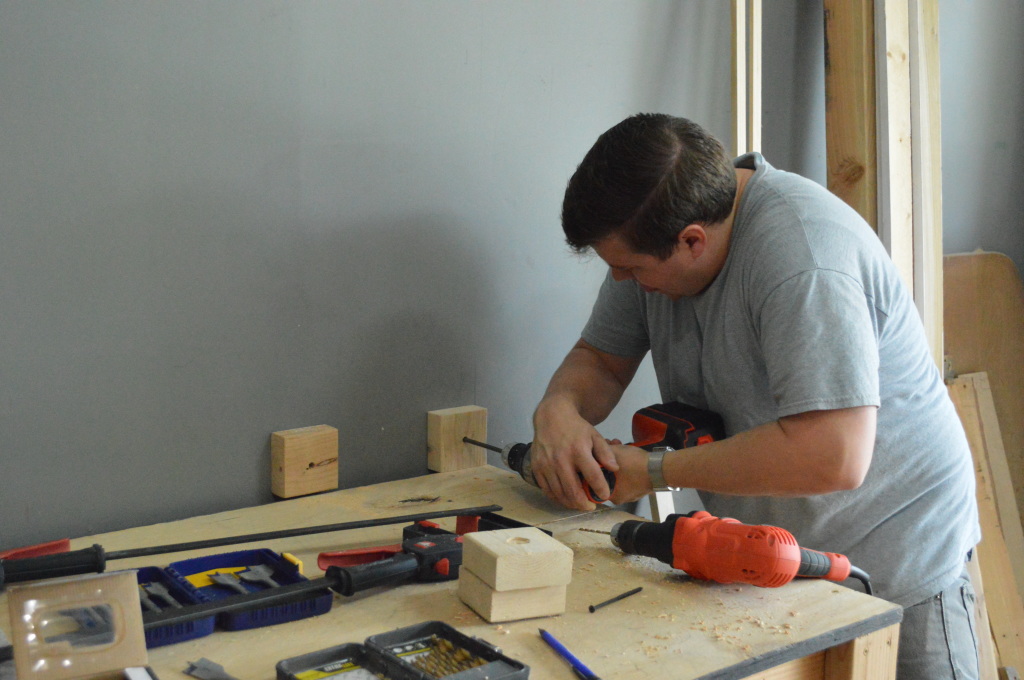 Unfortunately, we found our garage wasn't built with standard stud spacing. Pretty frustrating…but a little funny to me considering that's just the way it goes. Why on earth they needed those 2 studs so close together is beyond me.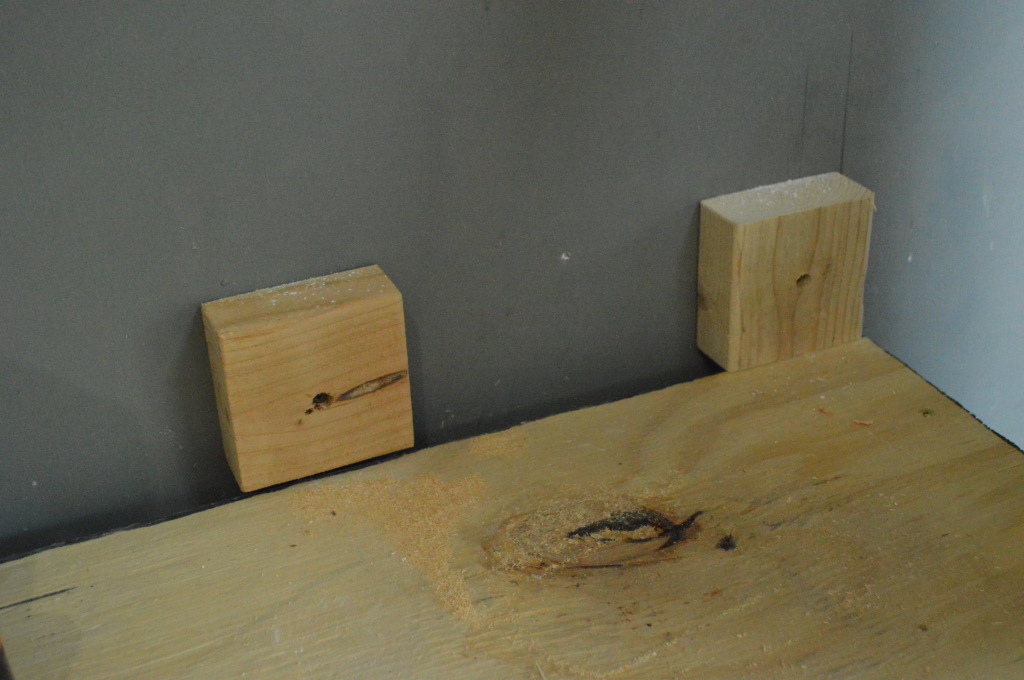 He put spacers along the tops, sides, and in the middle to keep the pegboard from bowing when pressure was applied to it. It's still a little flimsier than we'd like, but it was the only option Home Depot carried in the store, and we didn't want to have to order it special online.
Finally, we were ready to attach the sheet of pegboard. We chose to install it with the wooden side facing out, even though the other side was painted white. I figure brown won't show the dust as much, right? Plus, it "matched" the workbench. Always thinking, we are, I tell ya!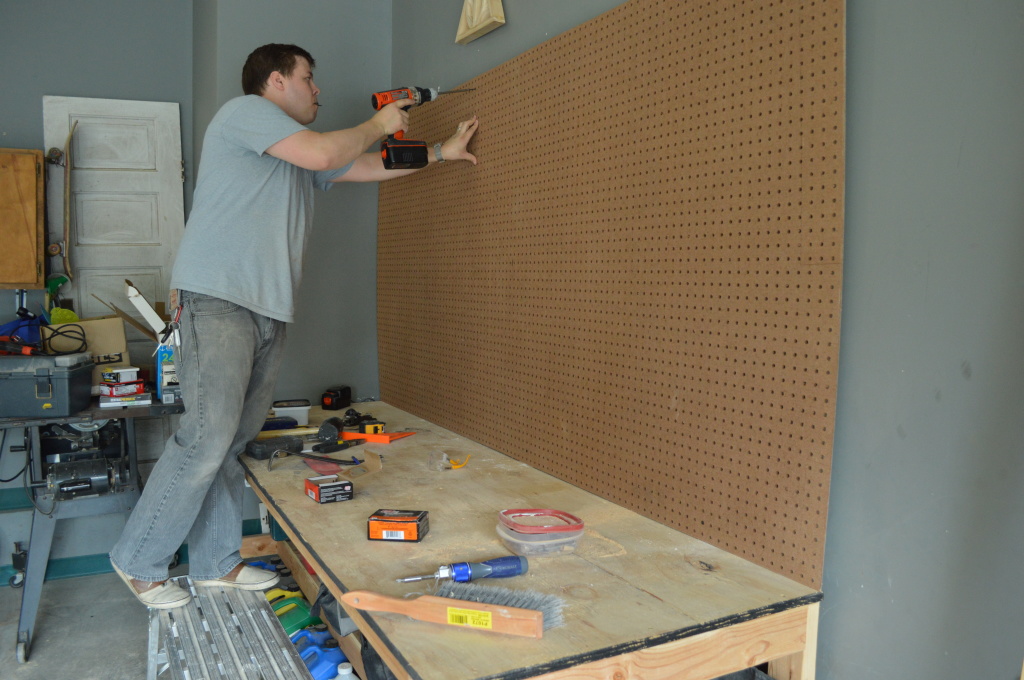 Here's the spacer, for reference.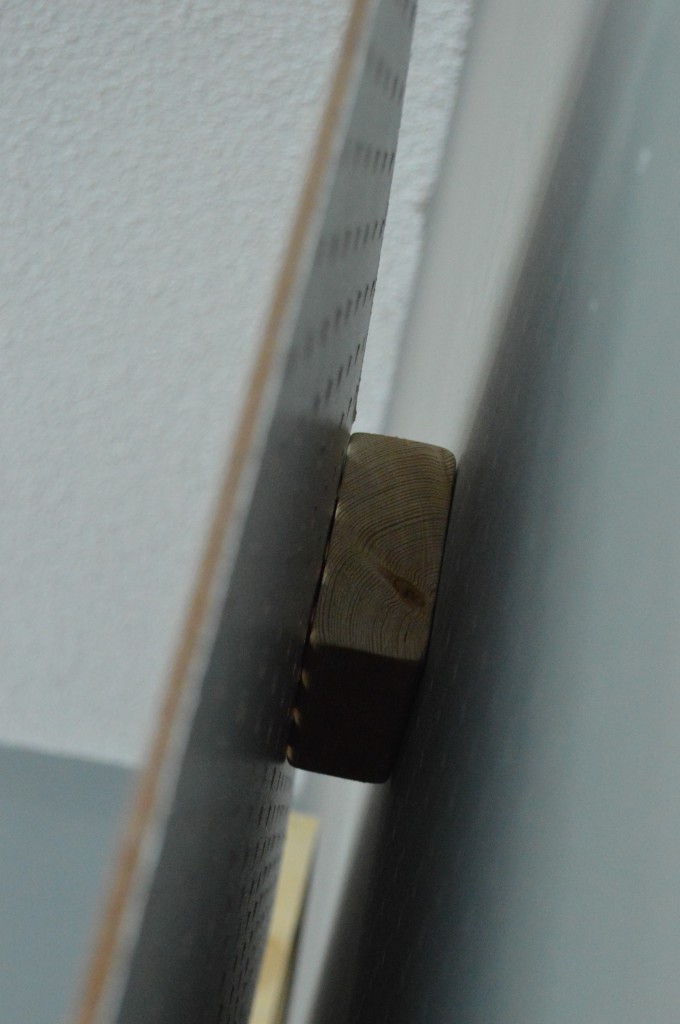 At first, I was worried the blocks would be a pain when installing the pegs, but they are visible from the front, so it shouldn't be too bad.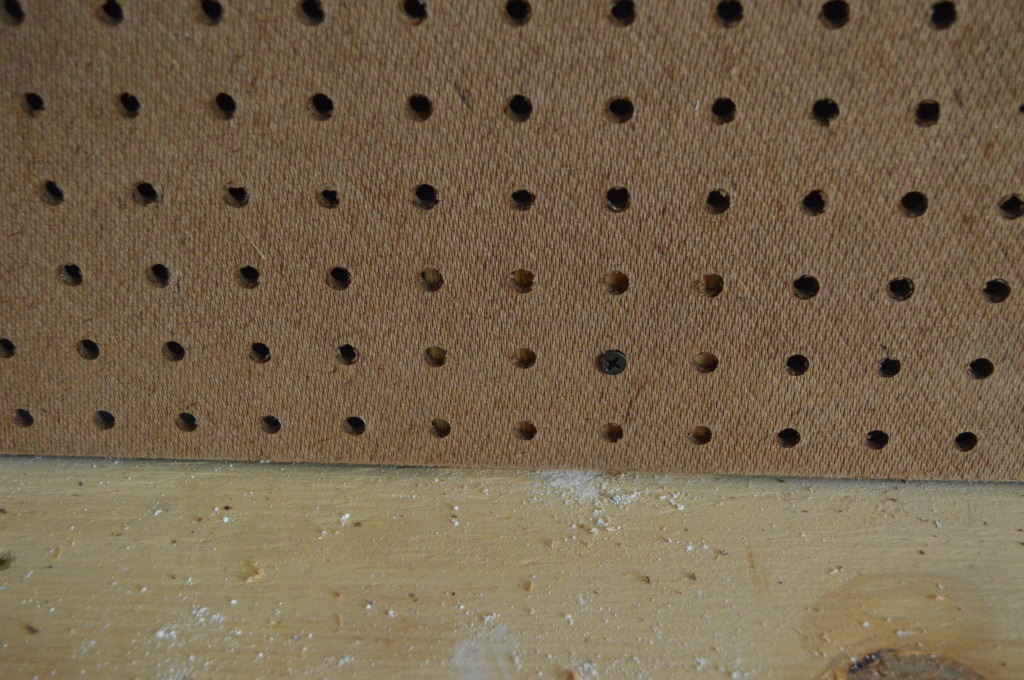 We ended the day with a new workbench area and a lot more tool storage, both of which are good steps in the right direction, even though we still have a lot of organizing to do.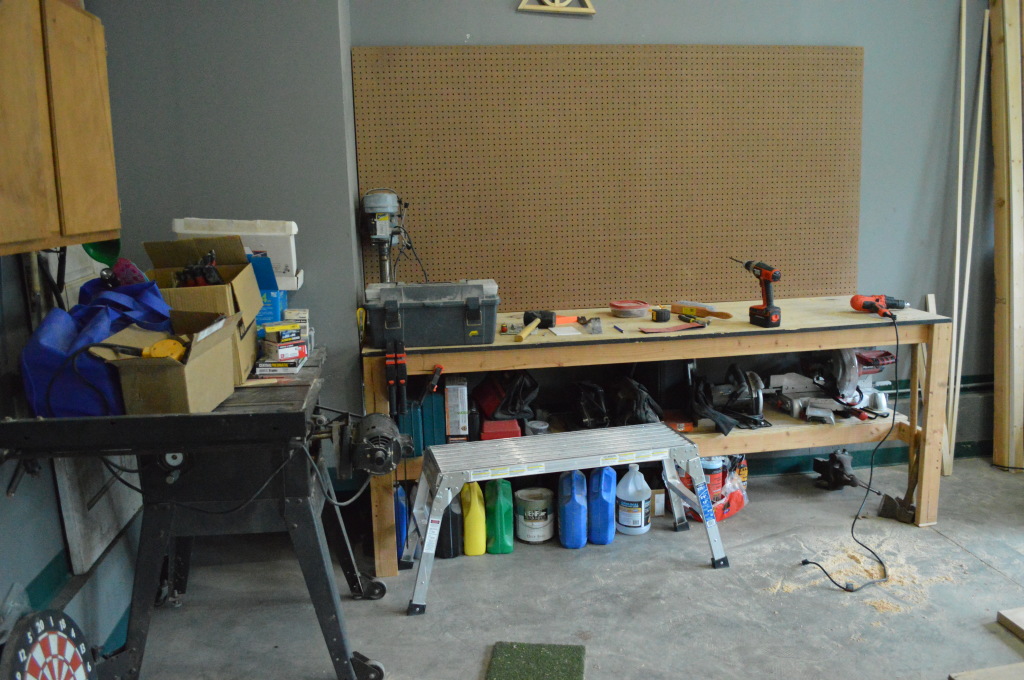 For a pregnant lady and her tired, hard-working husband, I think we managed to get a lot done. We're back at it again tonight in hopes of Wyatt finishing some wood storage he's working on. I'm going to work on another cabinet and gardening area for some of my stuff. And maybe hang some of his tools on the pegboard if he'll let me…fingers crossed.
We also have big plans this week involving the basement and the yard getting mowed. All this rain and sunshine is really giving it a jump start on growing. Eesh. Not to mention I need to work on the garden. I'm already feeling a little short on time…and it's only Monday! But then again, the baby's due date is officially less than 3 months away now, so we're in full on Baby Prep mode over here.
What did you do over the weekend? Tell us about it!