This weekend involved finding some studs in our house. Luckily, I have the right tools for that job, including my very own stud!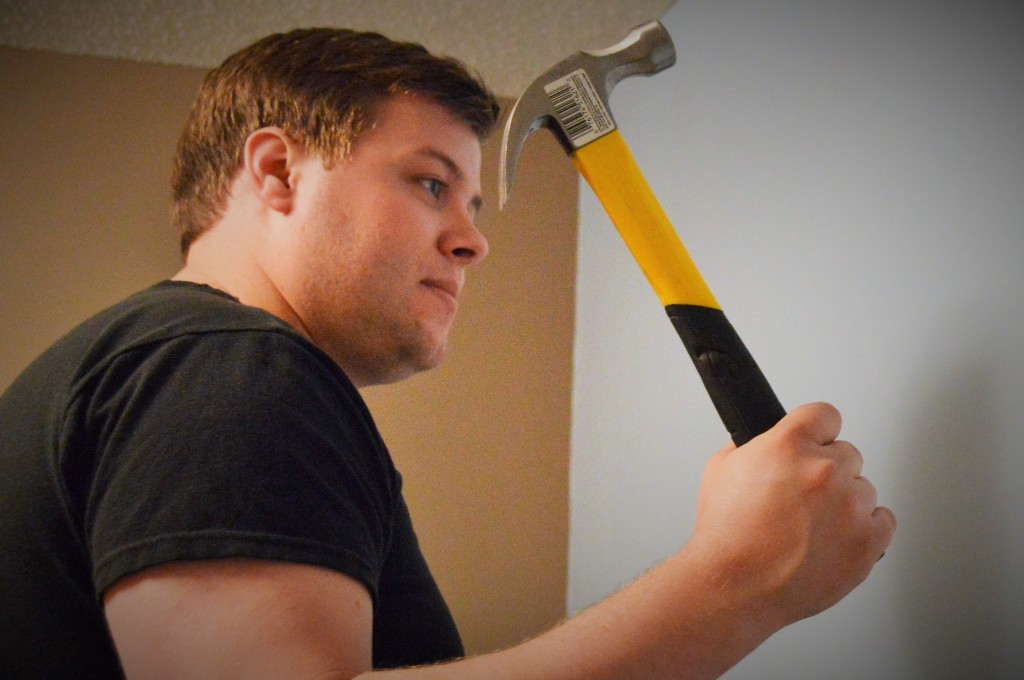 And his studfinder, of course.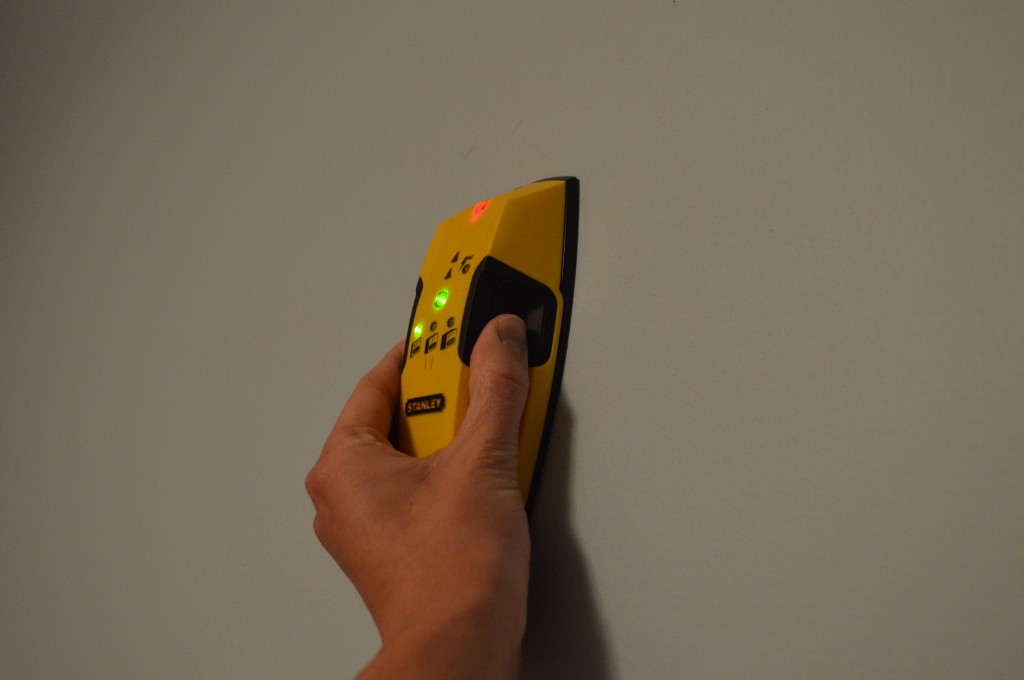 In the guest room, we finally got around to hanging a painting we received as a gift from some new friends at church.  We're really lacking on wall art in this house. Pretty much all our walls are either empty or filled with photos…which is still okay. But, most of our artwork is really cheap handmade stuff (sometimes just as nice, for sure!) hand-me-downs from college, or simply nonexistent. So we were really excited when offered this cool piece. What a blessing and sweet surprise, huh?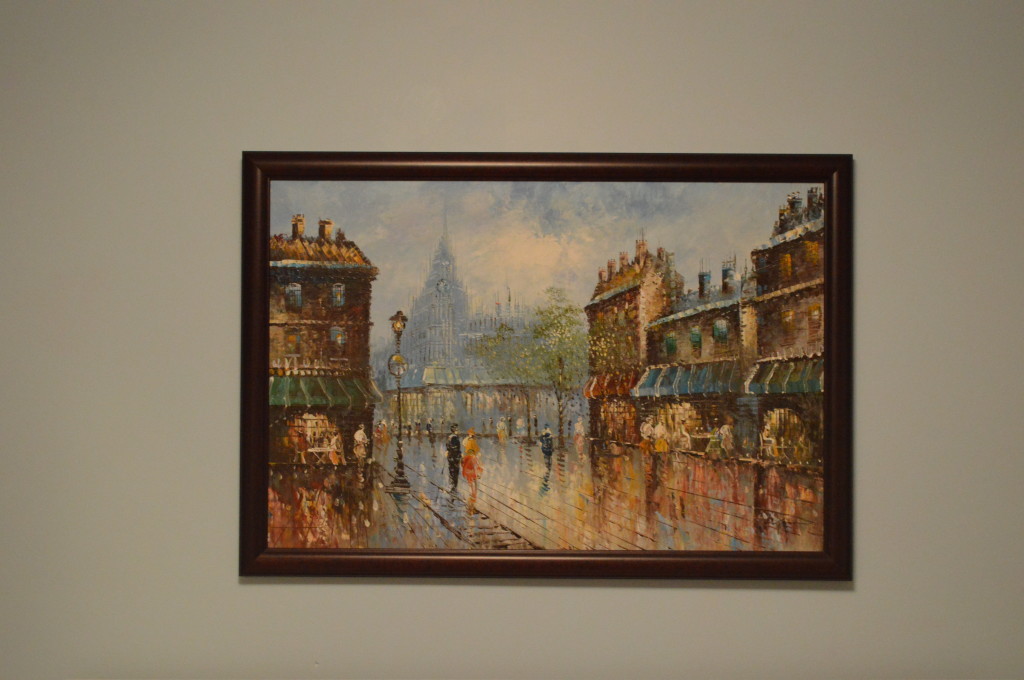 We centered it over the bed by finding the stud closest to the middle of the room and then inching the bed over to match it. It's a good trick for making sure your artwork is securely fastened to the walls without having to sacrifice having things centered. We were lucky to only have to move the bed an inch or so.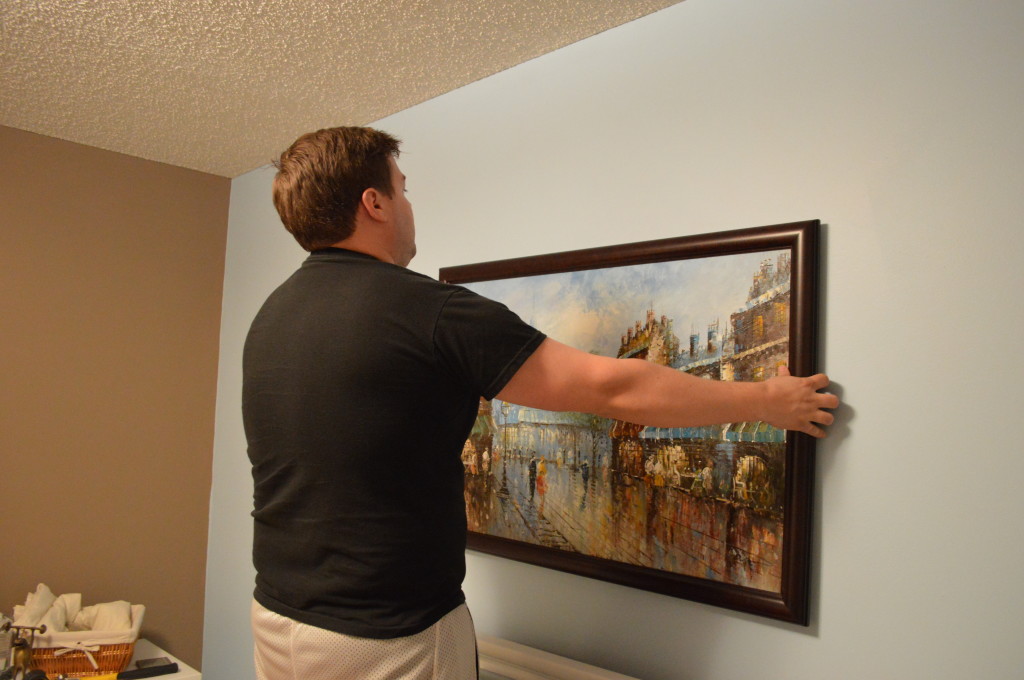 Wyatt pointed out the silvery building in the middle looks a little like the Disney castle behind Main Street, probably because that's fresh in our minds after our trip last month, but I instantly agreed and though the guest room, with it's map-themed decor already, would be the perfect place to hang our new painting. What a fun subtle, yet sweet reminder of our trip!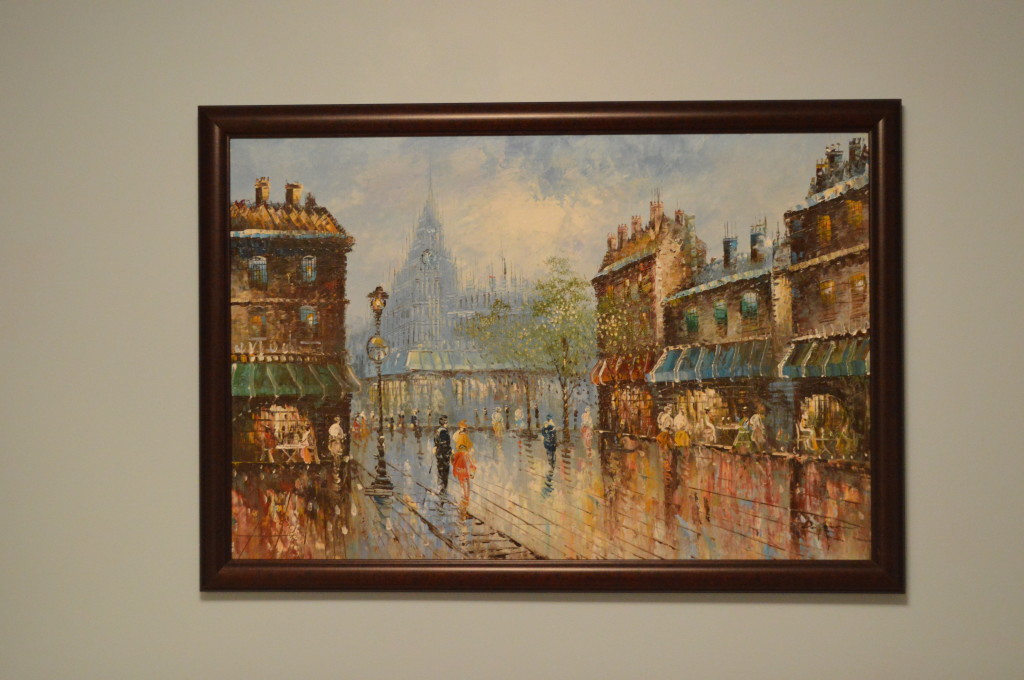 In the kitchen, finding the studs was a lot more literal.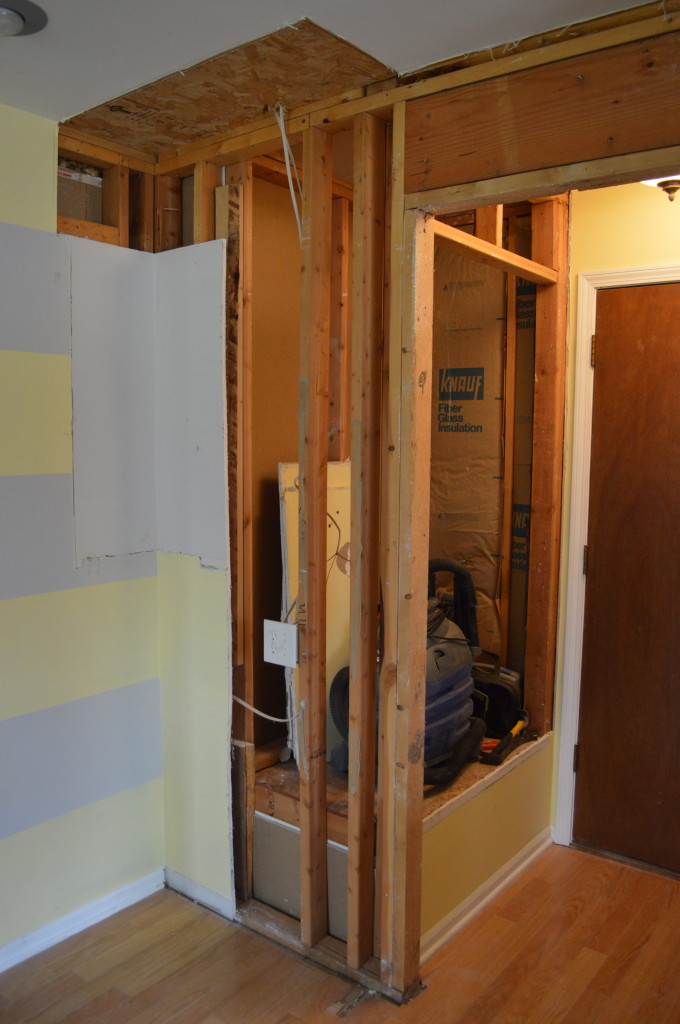 Yup, we removed the drywall and such from the wall we're planning to remove in our kitchen! Hubs was a little reluctant to get into it, but I convinced him it was necessary to keep moving forward, despite the mess. So, on Sunday afternoon, we got to work with the hammer and pry bar to get rid of as much of the wall as we can without taking the studs out.
He did all the heavy, hard work up on the ladder. Carefully prying down pieces of drywall and then dismantling the frame for the soffit.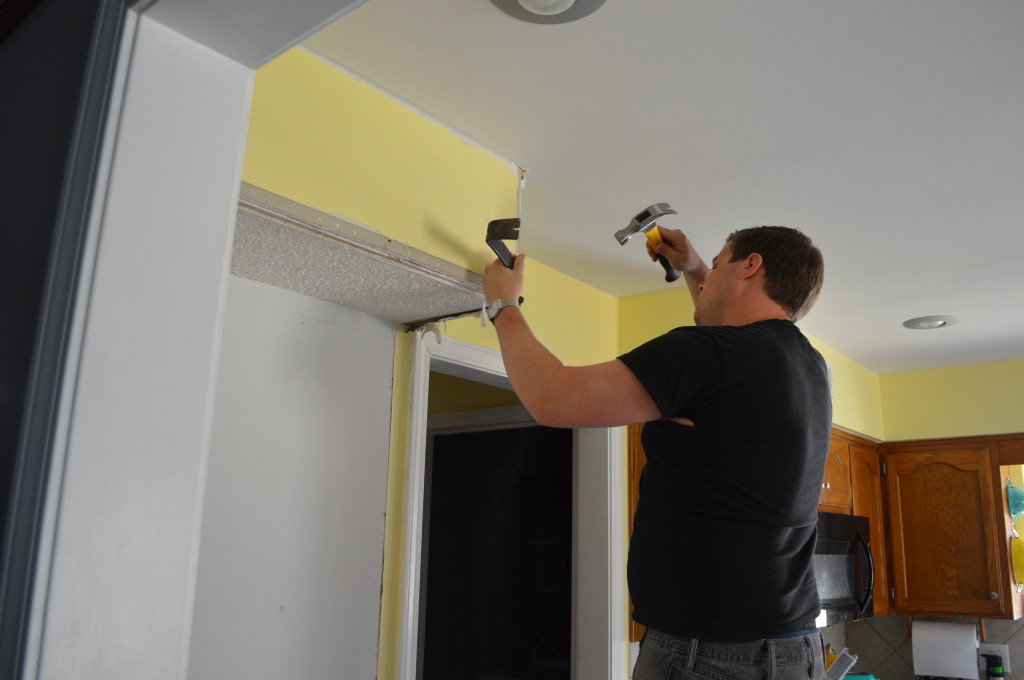 He started by removing the metal strips that made the corners on the soffit.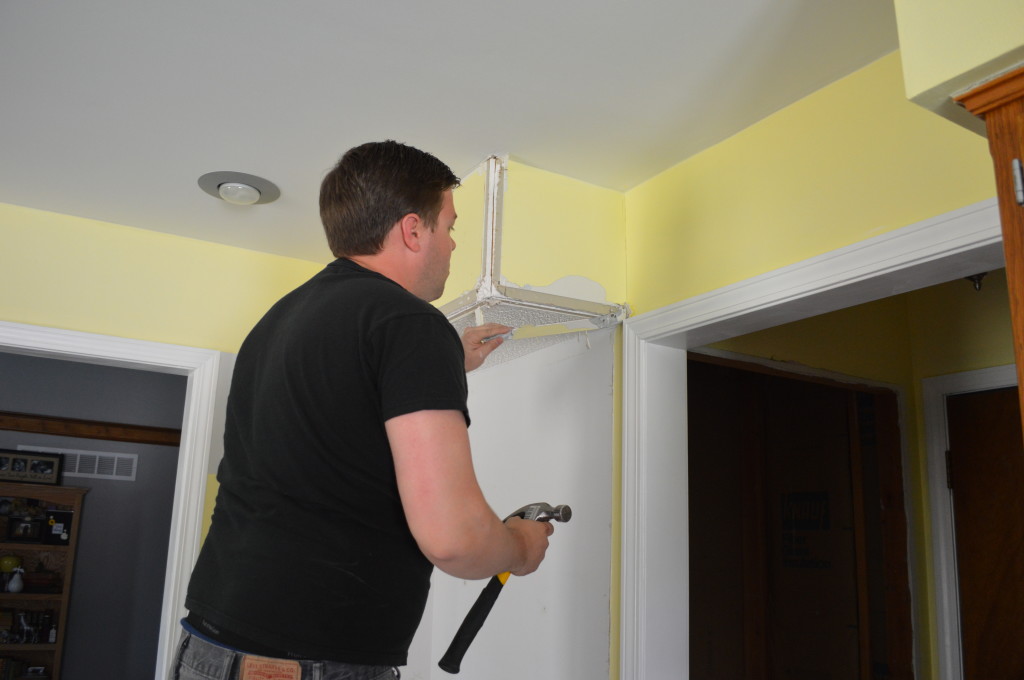 Then, he tackled the drywall. After that, the wooden frame was dismantled.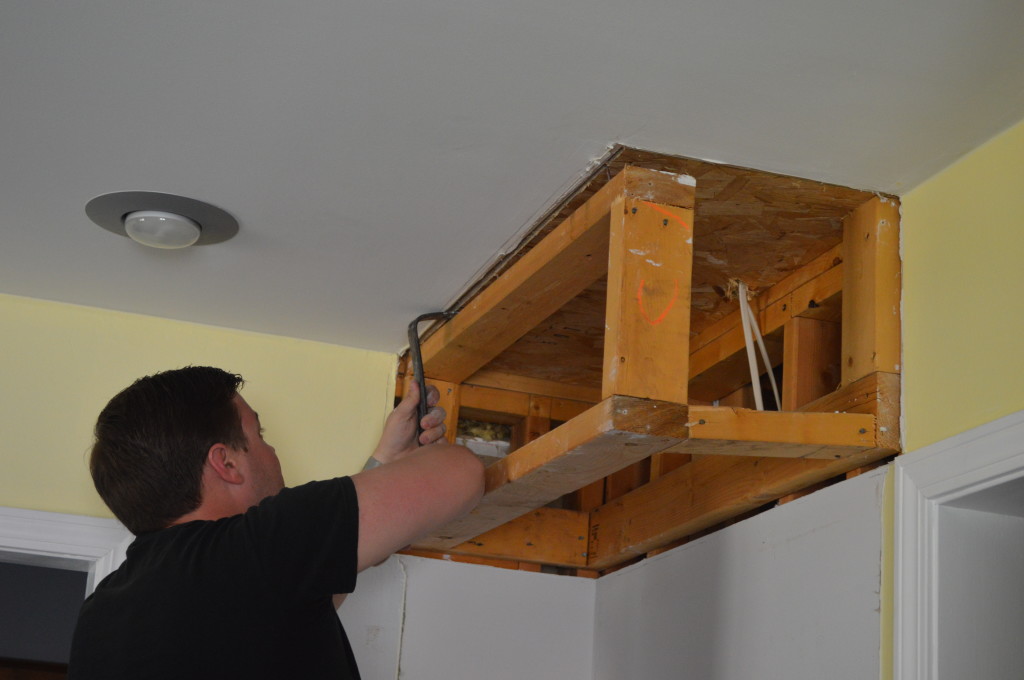 He cut the drywall carefully so as to not break any pieces of trim, and to take it out in nice big chunks.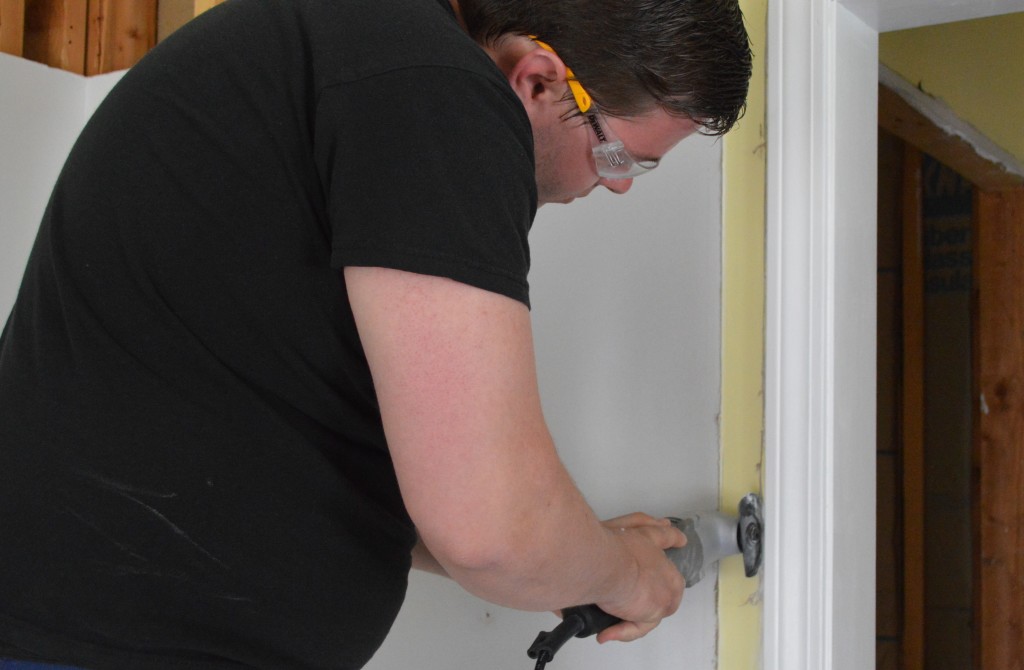 We set up a tarp on the floor to pile our debris and I got to work removing nails from all the various pieces of trim and 2x4s.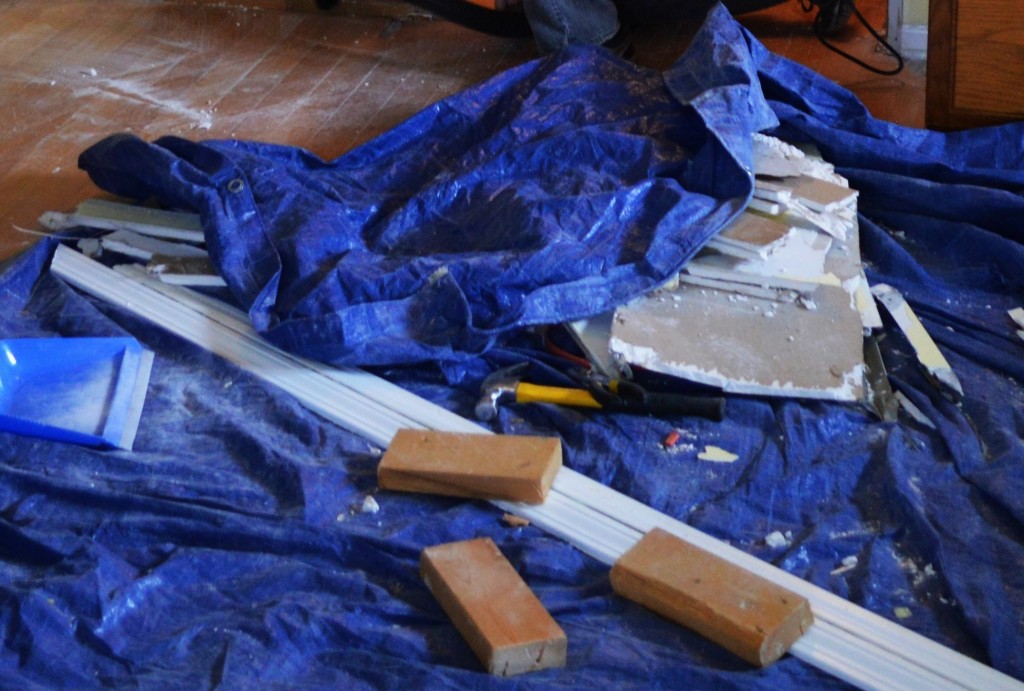 We are saving some of those to reuse. But we also just didn't feel great about leaving nails all haphazardly sticking out for us to step on or catch our clothing or arms on later when we dump this tarp into the dumpster…especially considering Hubs already bloodied his foot last week by stepping on a hammer. (If you're squeamish…look away for the next photo…)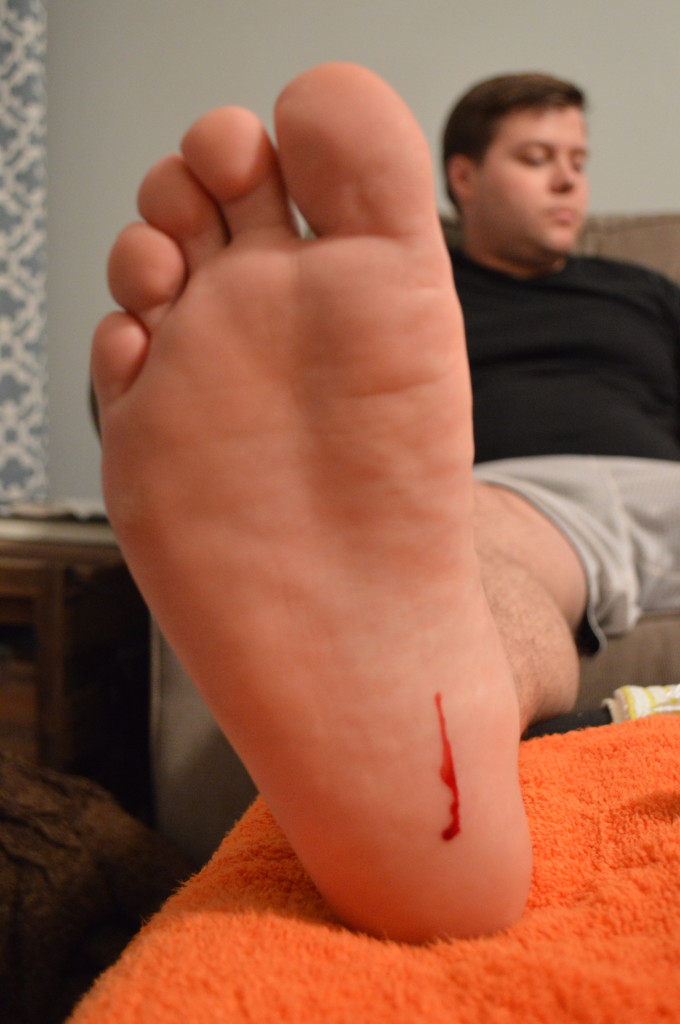 To control the mess, we vacuumed as we went.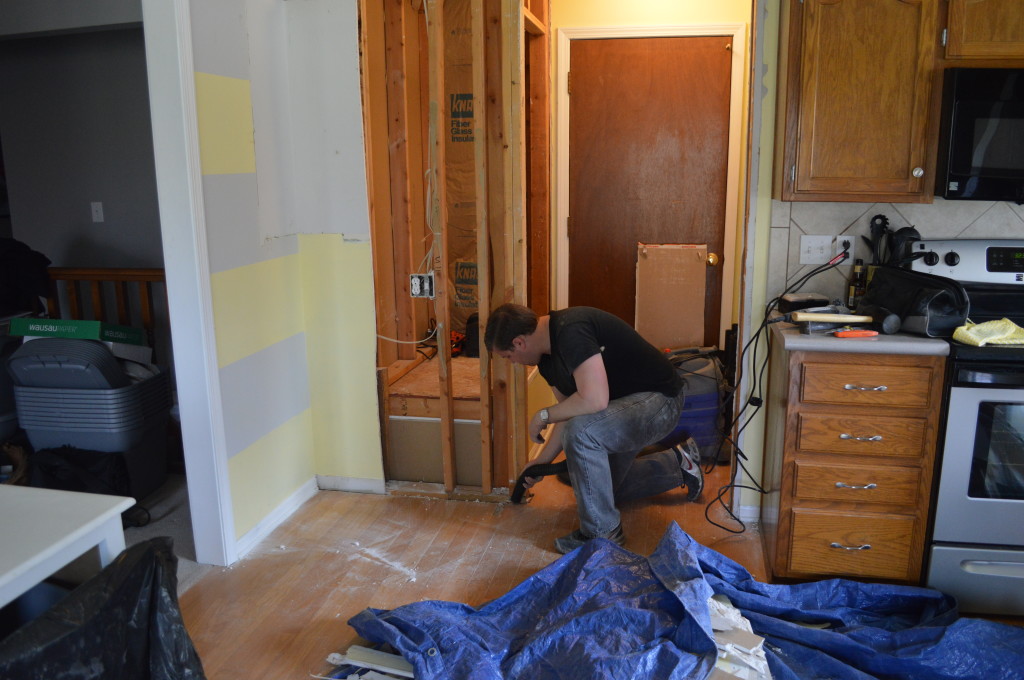 It already looks more open in there, even without the studs gone.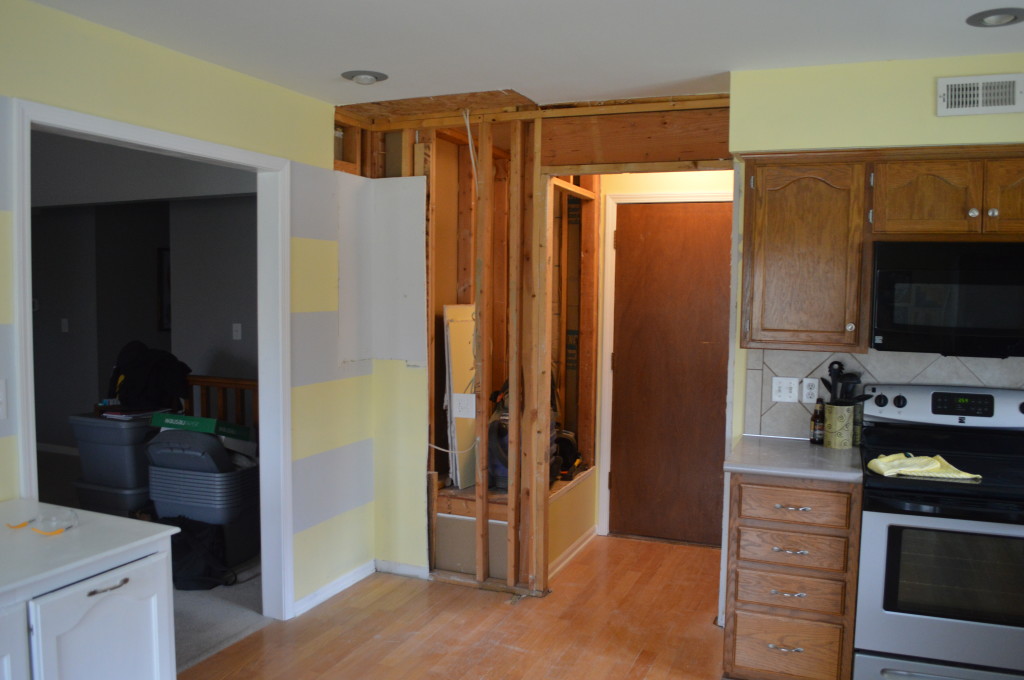 The view from the other side is also better. You can see into the living room from the garage practically!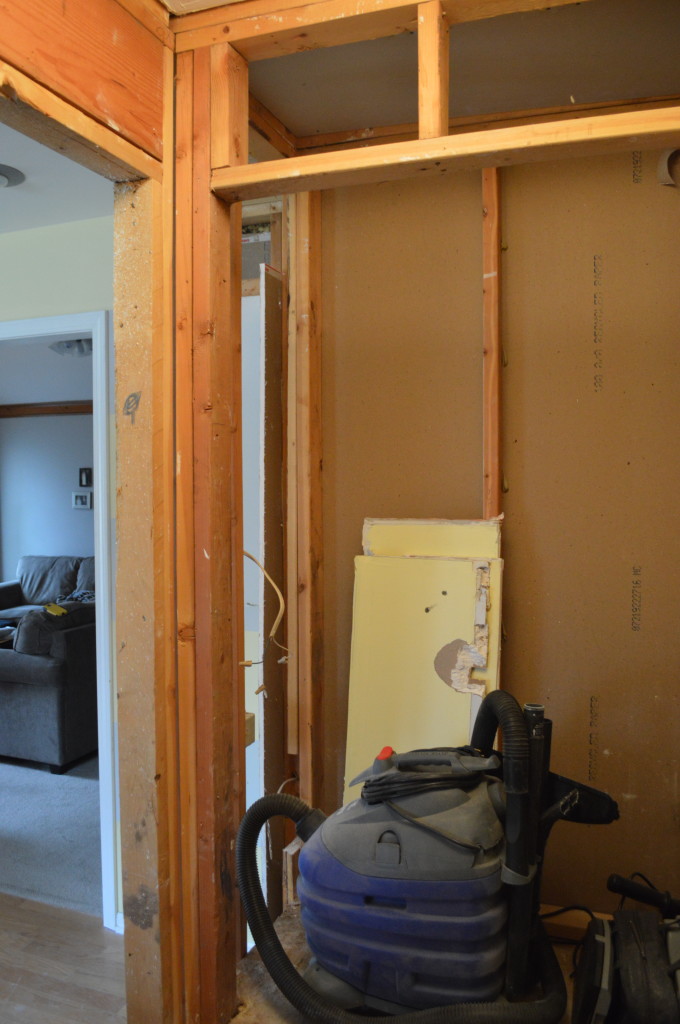 I'm crossing my fingers we'll get the rest of the wall out this week. And that we'll finally get the cabinet design finished and ordered. But we'll just have to see how things go. We've already dealt with several setbacks and we've only been working on this a week! Before the studs can come out, Wyatt has to brace the ceiling and the floor a bit where we'll be removing the wall, just for some added security against any settling.
I will tell you we've made more progress in figuring out what to do about our cabinet/pantry dilemma. Thanks for the suggestions, guys! I'll be back, hopefully tomorrow with some news and updates about our decisions.
Still, in just a week, despite some setbacks, we've gone from this: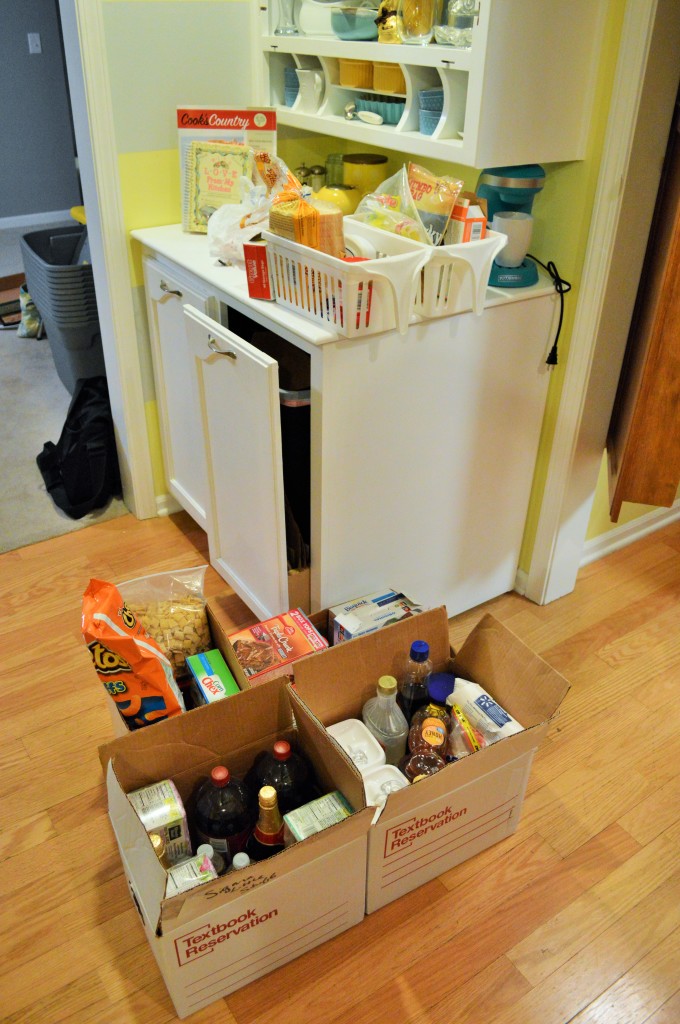 and this:
To this: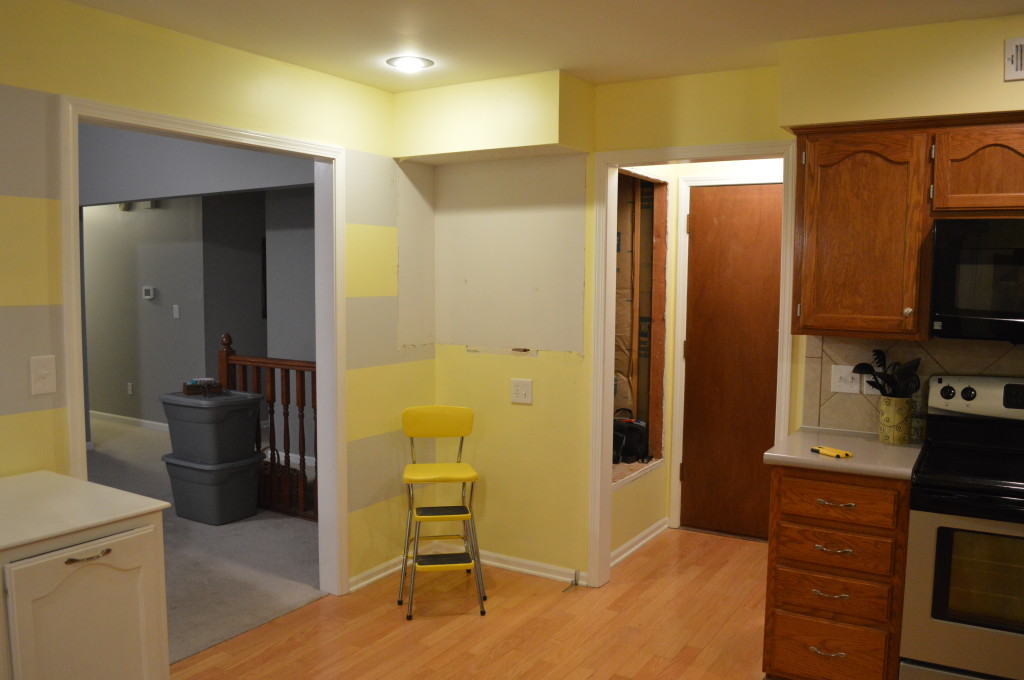 and this: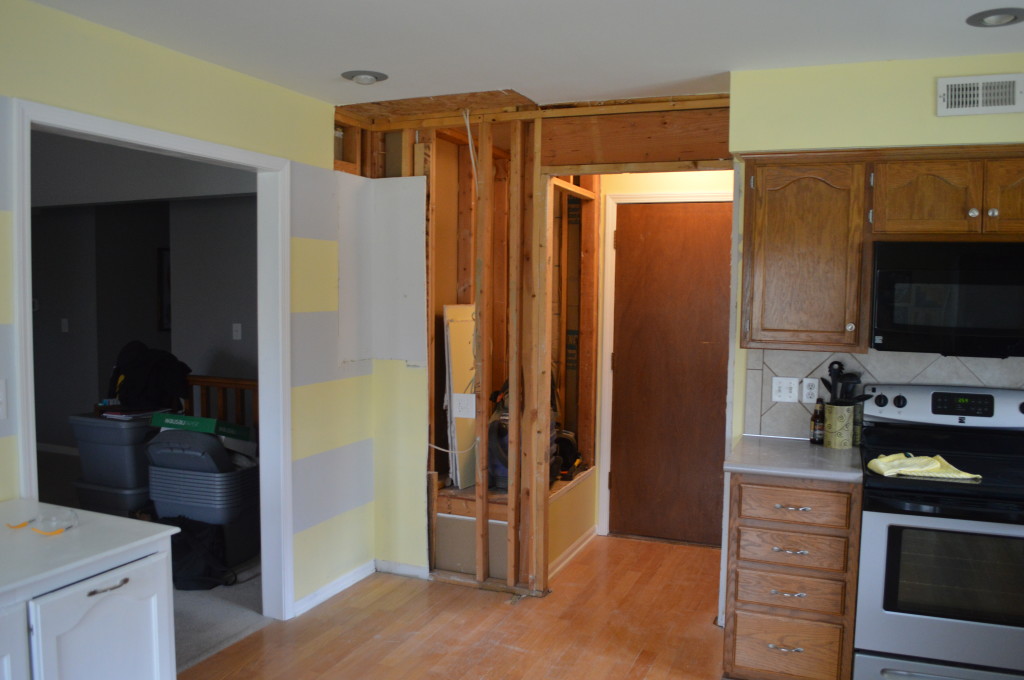 Yikes. Let's all just hold hands and remember that it has to get worse before it gets better!
In the meantime, tell me what you did this weekend? Find any studs, human or otherwise? Let's hear about it!