It's been a long time since we've shared a weekend rewind with you all, but since I had several photos from this weekend, and some things to document and remember (the ride down was pretty eventful), I figured I'd go ahead and share everything here with you all, too.
We have been planning a little mini vacation to Branson for the past month of so, mostly because I thought Will was old enough to have a really fun time riding rides and exploring with us. And because Wyatt has been working late a lot lately and we just needed a little break.
Then, Wyatt ended up with a bad cold last week and ended up having to stay home from work on Wednesday and Thursday, and he was pretty much in bed all day. I had pretty much given up on going that weekend but Wyatt woke up Friday morning and said he felt well enough to go, so we got packed up and headed out a little after noon, in hopes that Will would nap in the car on the way down for a couple hours. It's about a four hour trip and he's not a good rider so any sleeping time is good time.
But, he ended up only napping for less than an hour. Oh-uh. Cue the fussiness.
So, we rigged up my phone with some downloaded favorites on Netflix and hoped for the best for the rest of the trip. He did okay for a little while, but got really grumpy by the time we got to Springfield. Meanwhile, the sky was darkening as a storm moved in and we ended up going through Springfield at rush hour during a tornado warning. All. The. Stoplights.
Fun times. Oh, and then Will suddenly started puking in his carseat as the rain and winds picked up. I can't make this stuff up.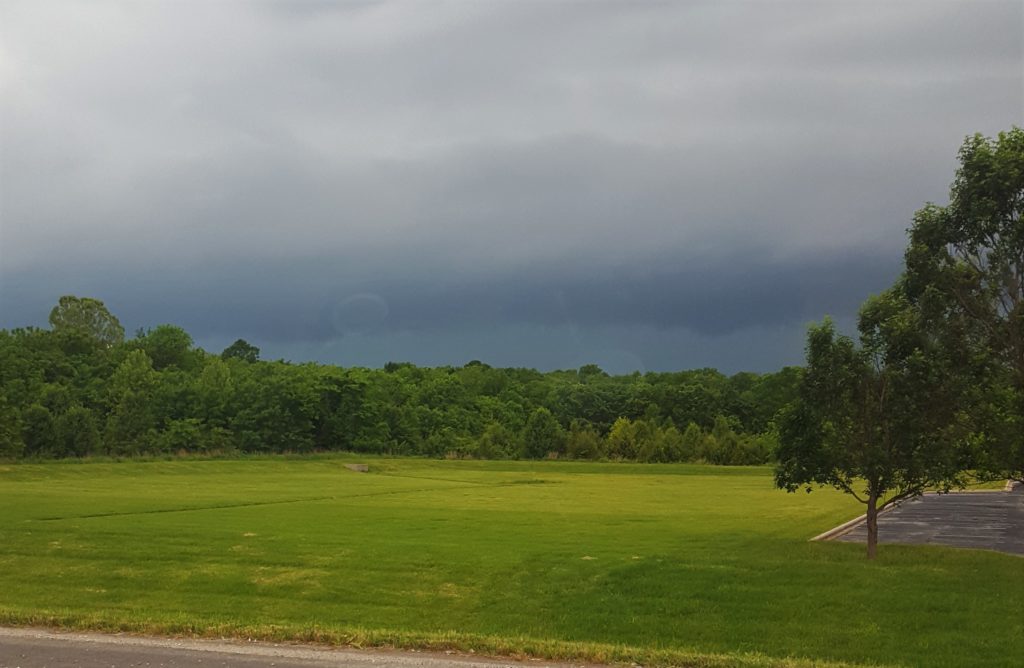 We were almost to another stoplight and managed to pull off the highway and under the awning of a nearby funeral home…where a funeral was getting ready to take place. So, we were wiping puke and changing clothes and all that fun stuff as the rain poured down and the nice funeral worker asked us if we were in the direct family and offered us trash bags and bottled water. We accepted the trash bags, but got out of there as fast as possible and were immediately faced with an unmarked detour after a wreck had closed the highway.
At this point, I'm wondering if we should give up and go home. But we were already closer to Branson than we were to home so we decided to try and keep going. We managed to make it to the condo after taking it very easy on hilly and curvy roads to avoid any more carsick-induced episodes from Will—at least we were hoping it was carsick, since he hadn't shown other signs of the flu or anything. But you better believe we were watching him closely for any signs of sickness.
We got everything unloaded and Will was acting like he was starved so we gave him a few trial Cheerios and after he did okay with those, decided to go ahead and get some dinner. The rest of the night was fairly uneventful but we all went to bed pretty early, after a super fun shower of course. This kid loves showers.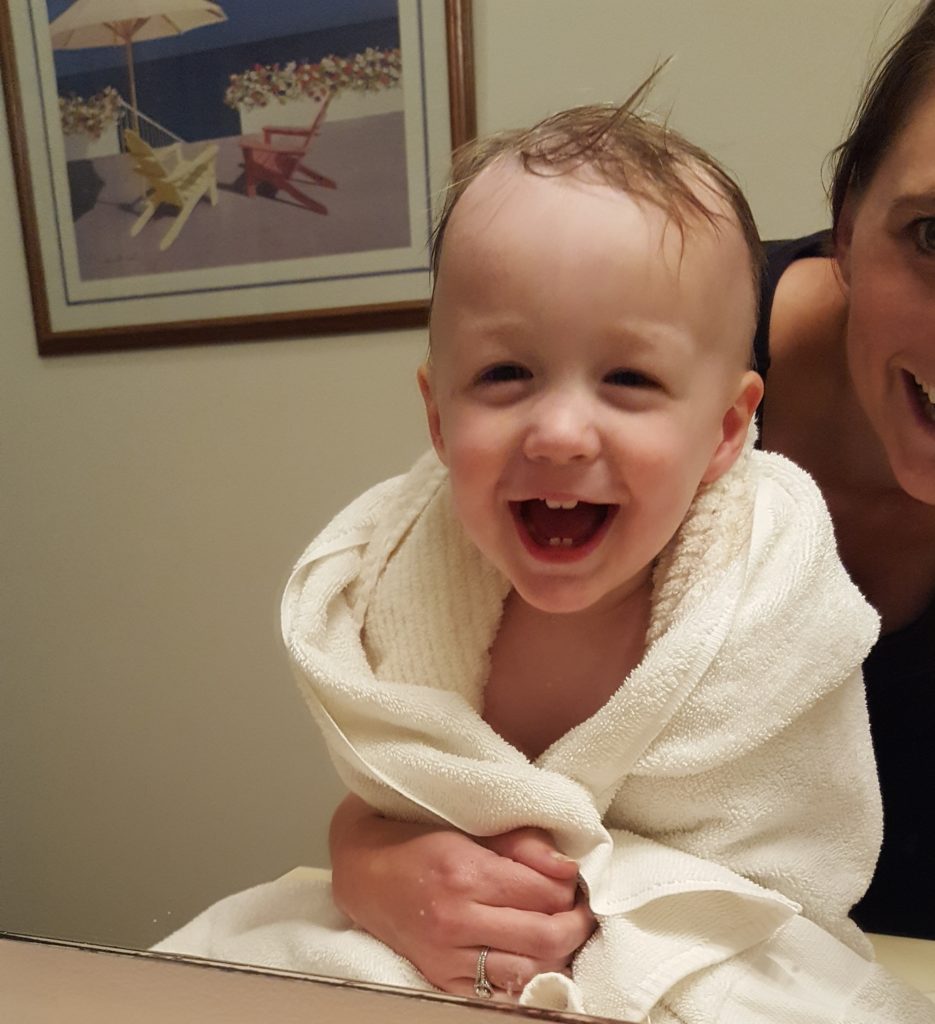 We had a great time the next day at Silver Dollar City, riding rides in the morning despite wet weather and a fear of more motion sickness, but we took it pretty easy. Luckily, Will was almost as happy to watch others ride the rides as he was to ride himself, which was good because he was too little for most of them. He had fun and was full of smiles that morning though.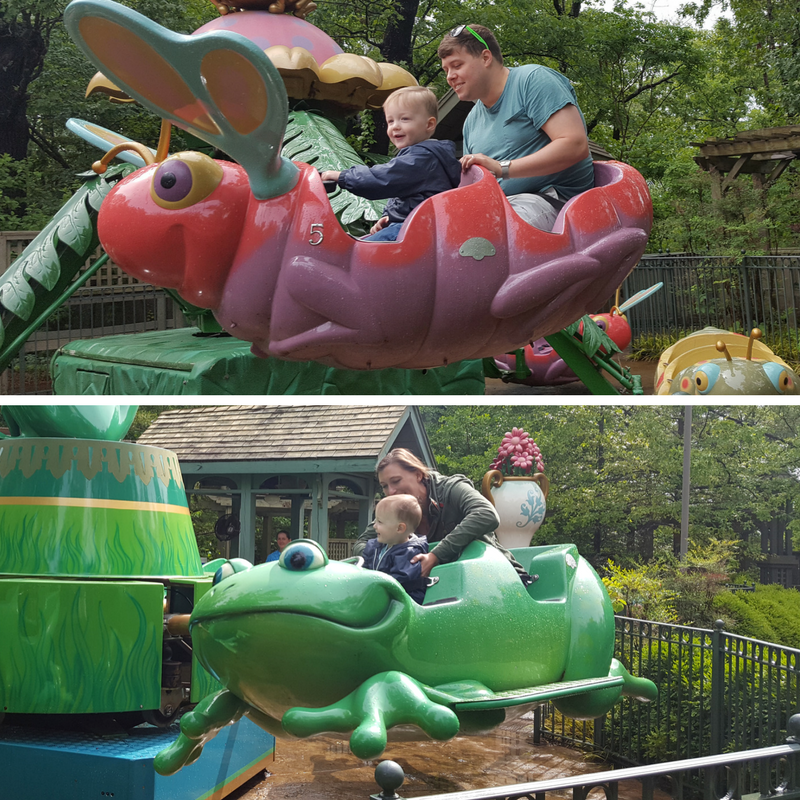 Around noon, he got tired and we found some lunch and headed out shortly after so he could nap. He didn't sleep long, but was rested enough for us to head back to SDC that afternoon for a little more fun. He really loved watching people come down the log ride and we stood and watched the big splashes for awhile while he grinned.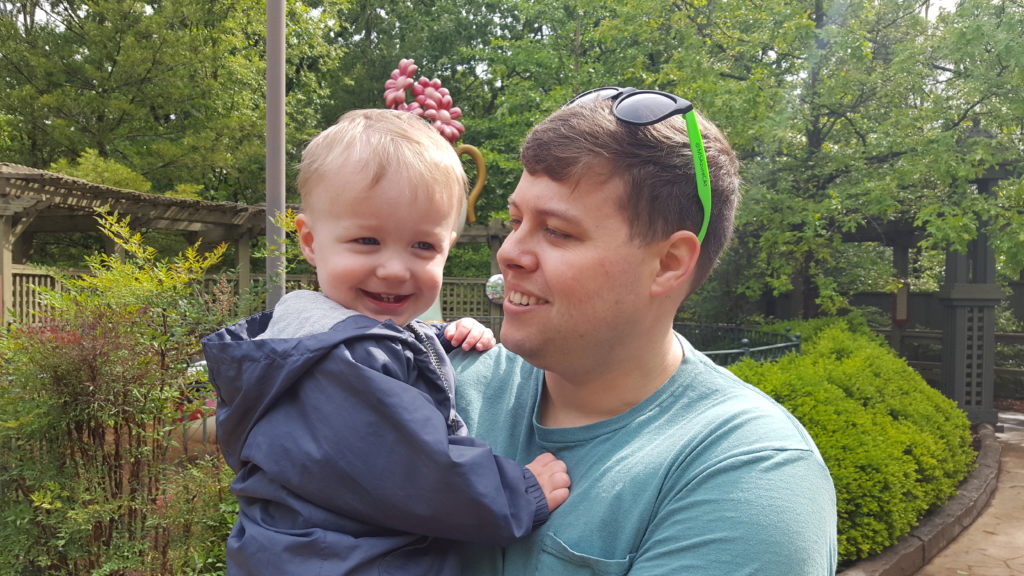 We even got to have some frozen drinks. Let's just say Will was a big fan.

We had a pretty successful dinner out (no public toddler meltdowns!) and again, went to bed early since we were all exhausted from a day of walking around outside. It wasn't exactly what I imagined for the weekend, but we still had fun and I'm glad we decided to stick it out.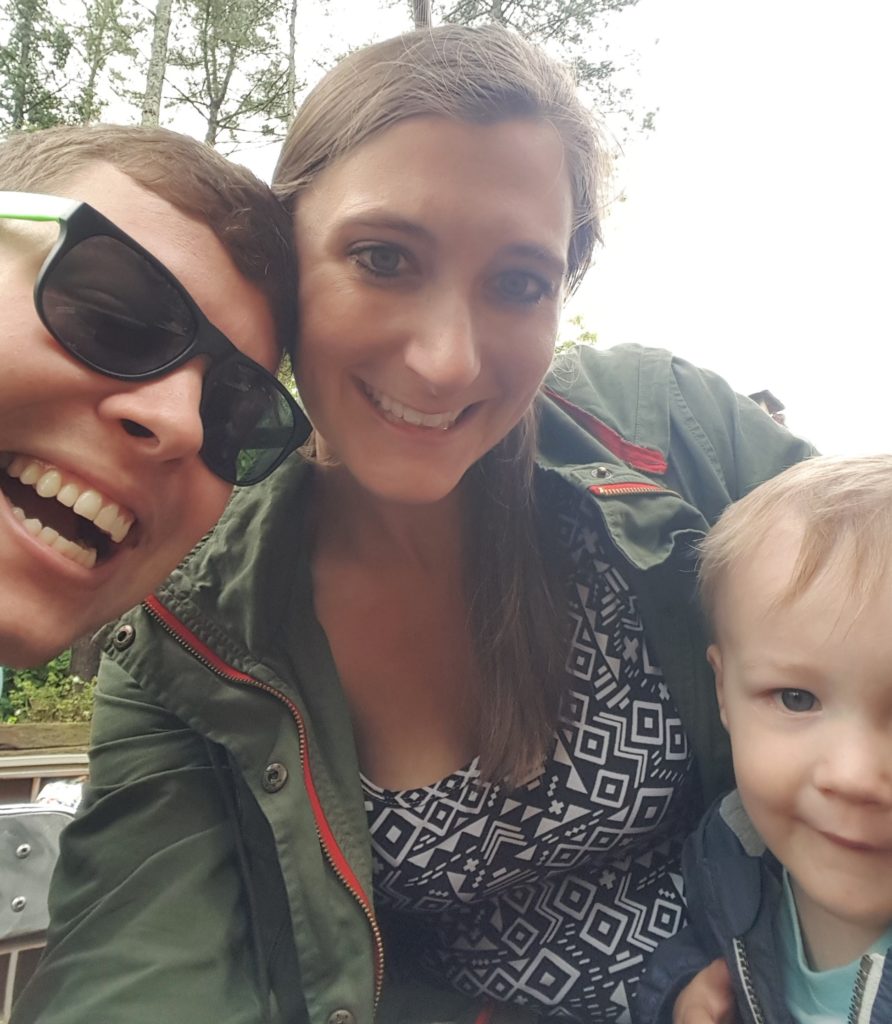 Will did start coughing that night, a sign he had picked up at least a little bit of Wyatt's cold and we packed up and headed home the next morning after attempting to get breakfast at our favorite diner but ended up at Hardees since it was closed on Sunday. Ah well.
We had decided to stop a few times on the way home to let Will get out in hopes of avoiding any more car puking incidents and we found an awesome park in Springfield where we fed the fish the rest of Will's Cheerios and found a fun walking trail to explore. He didn't nap well on the way home either, not a big surprise since he's just not a good car sleeper, but we made it home that afternoon without a lot of stress.
All in all, we had a good weekend, despite a rough start and being pretty exhausted the whole time. Now we're home and had hopes of things settling down, but Will and I ended up catching the cold Wyatt had last week, and he's still recovering too it seems. Here's hoping for a restful week and that we'll be all ready for a fun, productive holiday weekend in a couple days!