Building wooden furniture and adding landscape are both pretty expensive projects so this weekend wasn't a cheap one. However, as we look for prices on hardwood floors, kitchen counter tops, and custom cabinetry, I suppose I may have to rethink my definition of "expensive." So, despite costing us a couple hundred bucks at Home Depot, this weekend was a great one! Luckily, the most expensive projects are also pretty powerful!
We had great weather for working on our front landscaping, and thankfully, my parents were gracious enough to drive up here late Sunday afternoon in order to bring us a load of dirt to fill our freshly-raised stone edged flower bed along the front of our porch.
Unfortunately, it took us a bit longer than we planned, and thanks to a really long pizza delivery time, they didn't make it back by their goal. Still, we were very thankful they came because it meant our front bed went from this: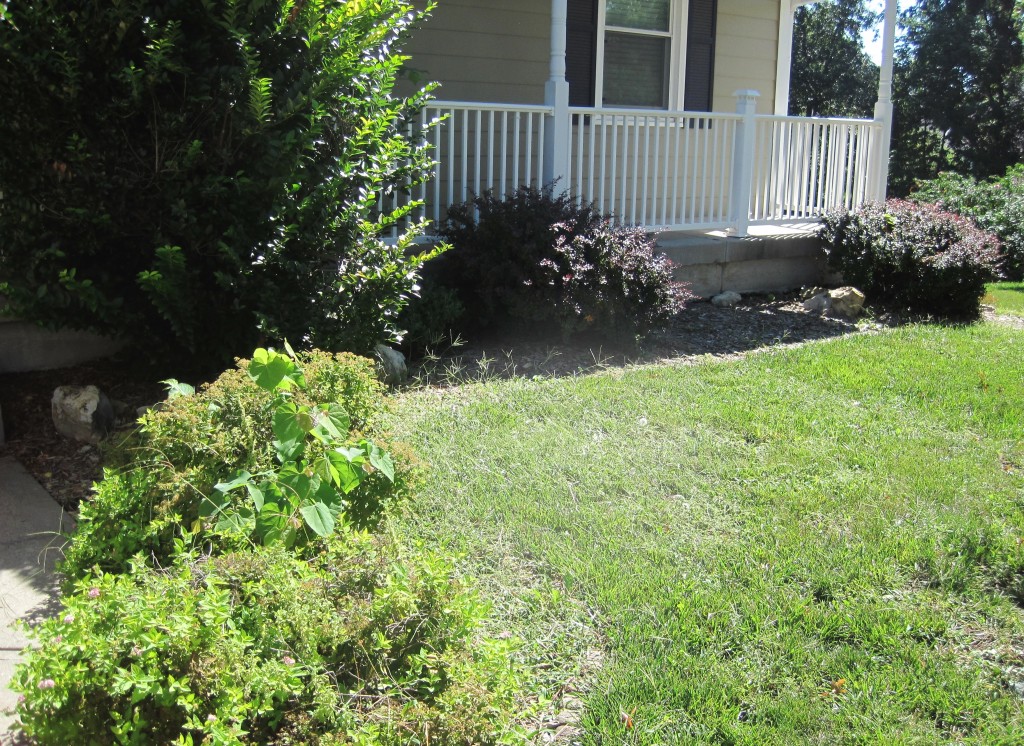 To this…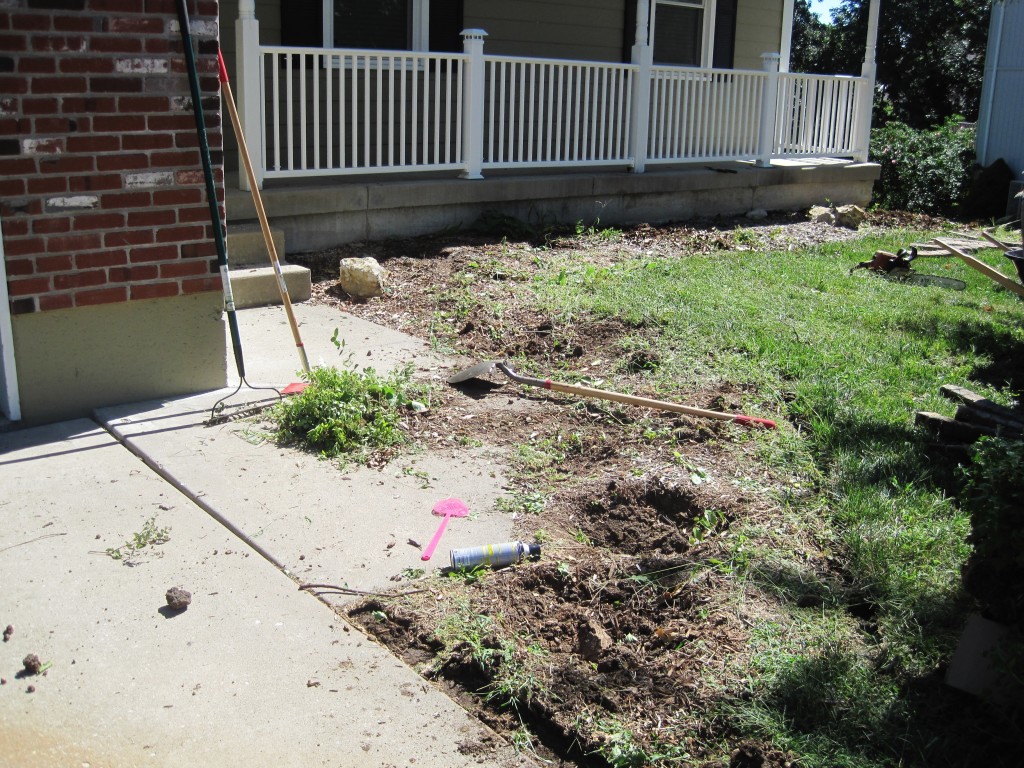 To this…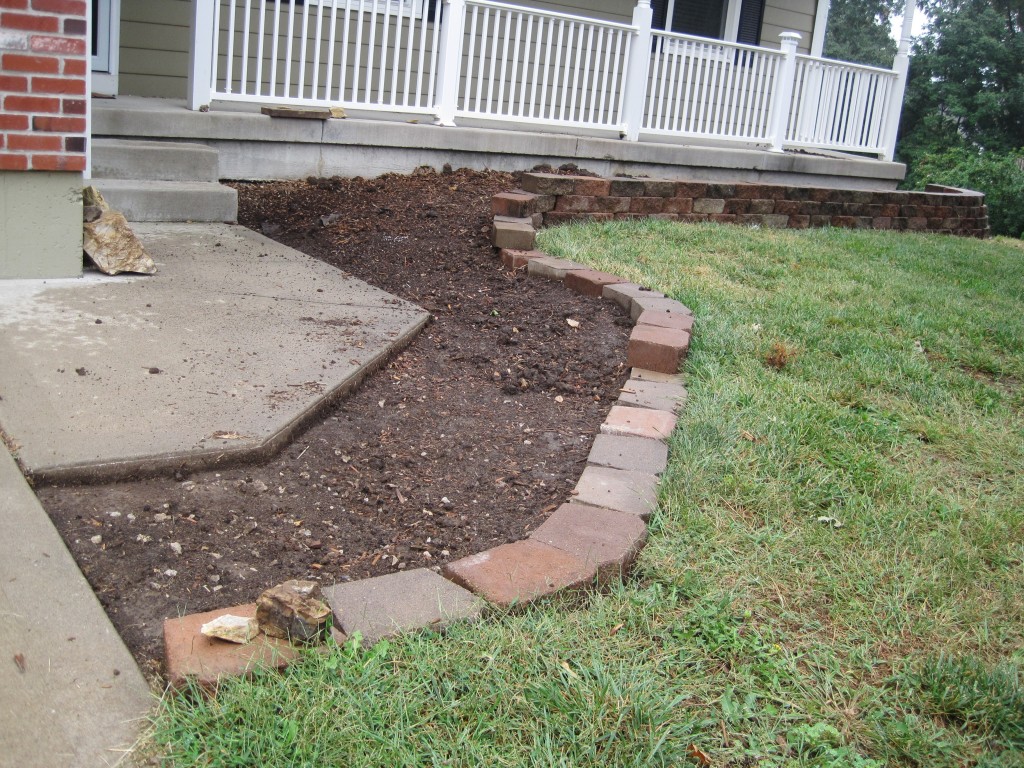 To this!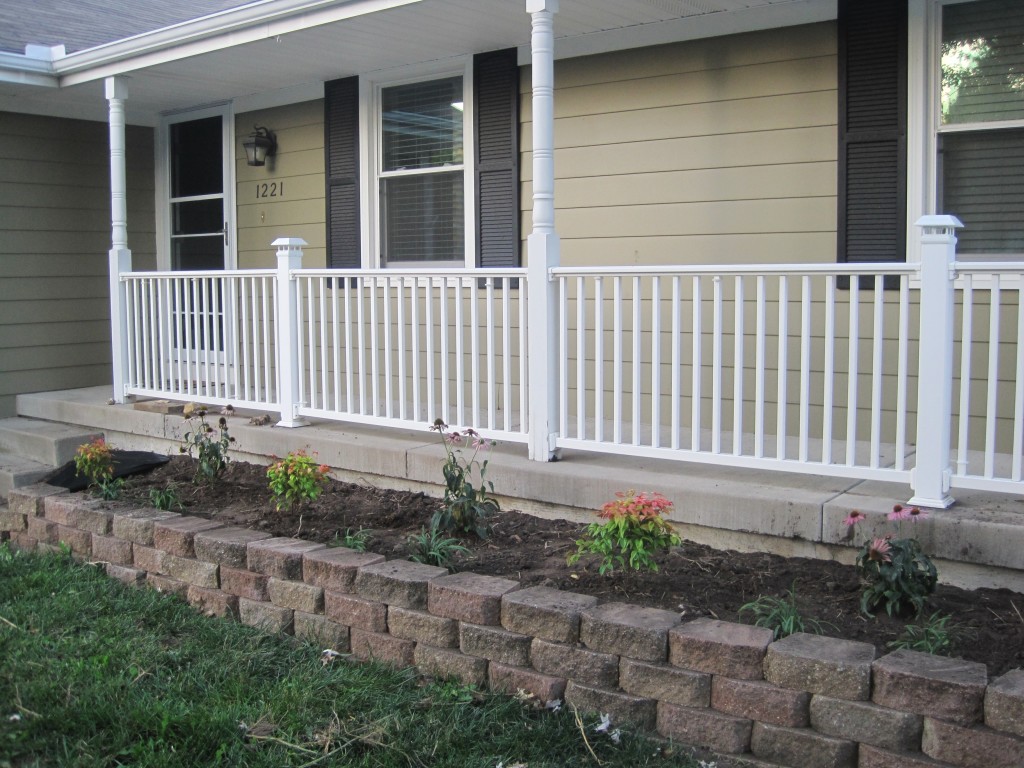 It was amazing to me how much of a difference adding the dirt made. It looks so substantial and purposeful. Of course, the plants didn't hurt either. But I'm getting a little ahead of myself here.
We grabbed all the plants for this project on major markdowns at Home Depot. It's the middle of October after all…they have to start making room for Christmas trees!
The most we paid for these plants was $5.49 a piece for four Nandinas. Everything else was $5 or less, for gallon sized plants. Major score!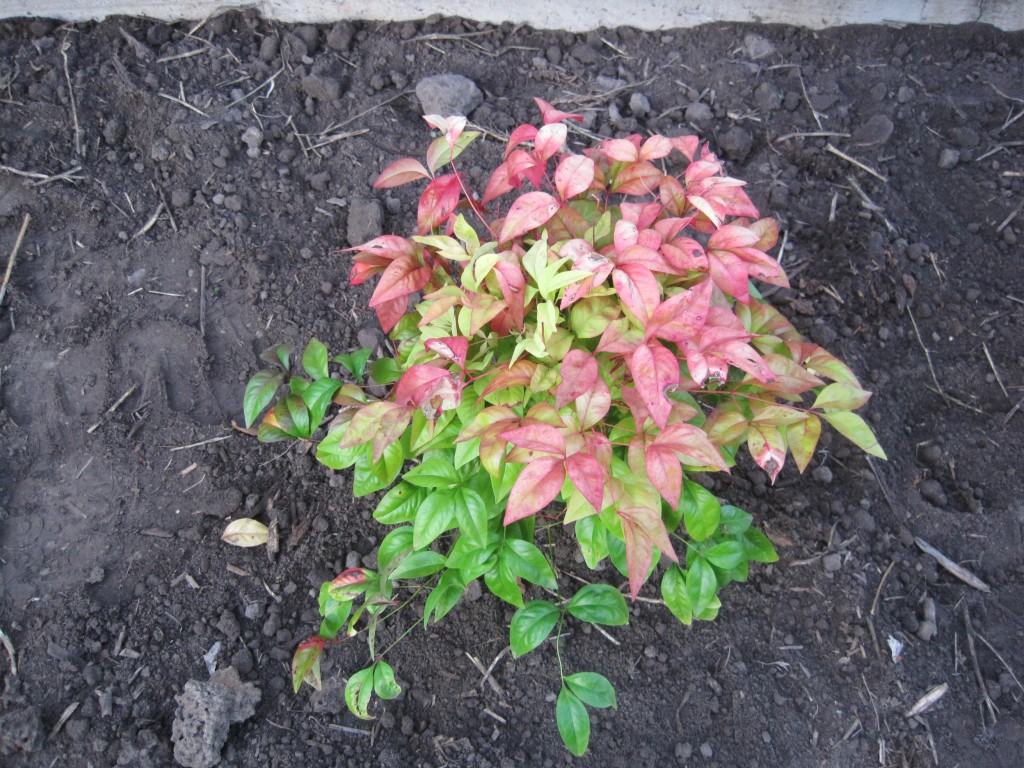 We also got this adorable holly plant that should be self pollinating.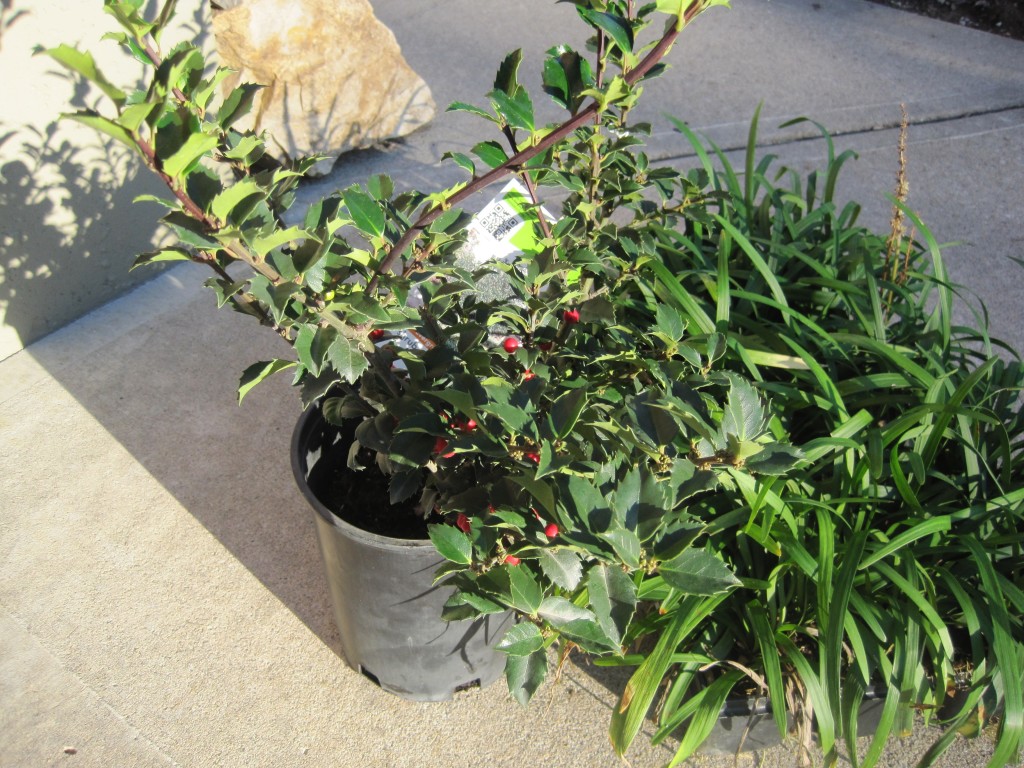 It was the only one they had left and he instantly spoke to me. He said, "Please, please take me home with you and plant me next to your warm house and whisper sweet nothings into my leaves."
In a word, he was too cute to argue with…and so we picked up a holly that wasn't at all on the list…or even for the front of the house. I think he's going to find a home over on this side, where this monstrosity used to be…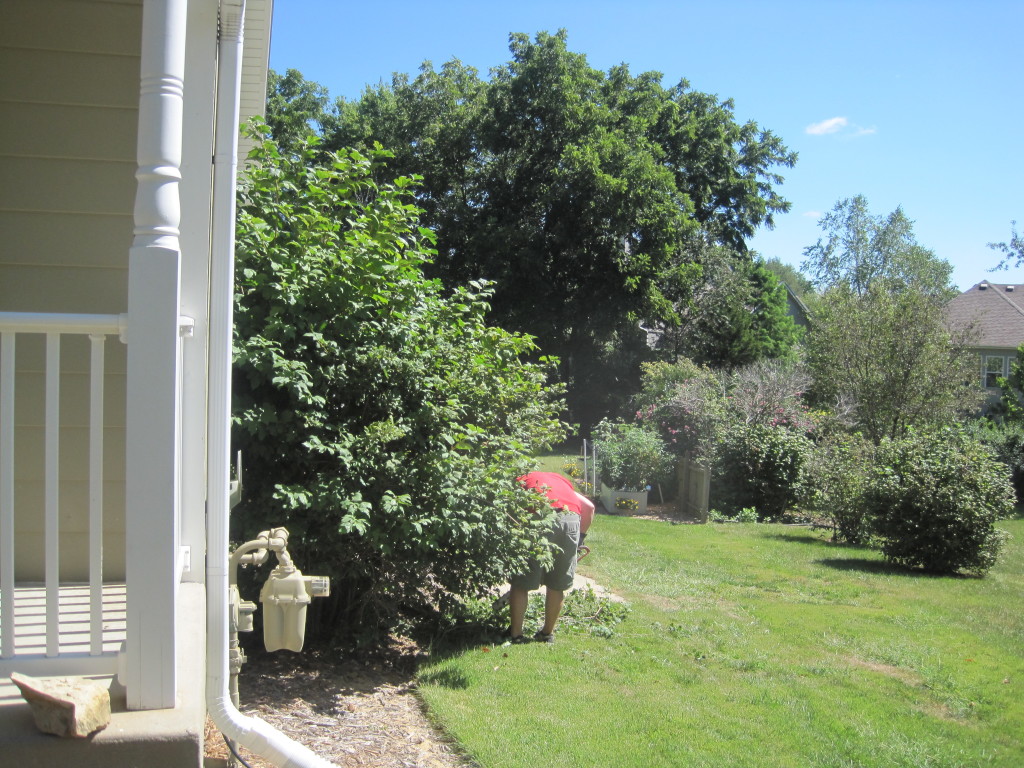 Which reminds me that I spent a few hours this weekend doing one of my favorite outdoor activities–killing barberries. Yup…these are gone!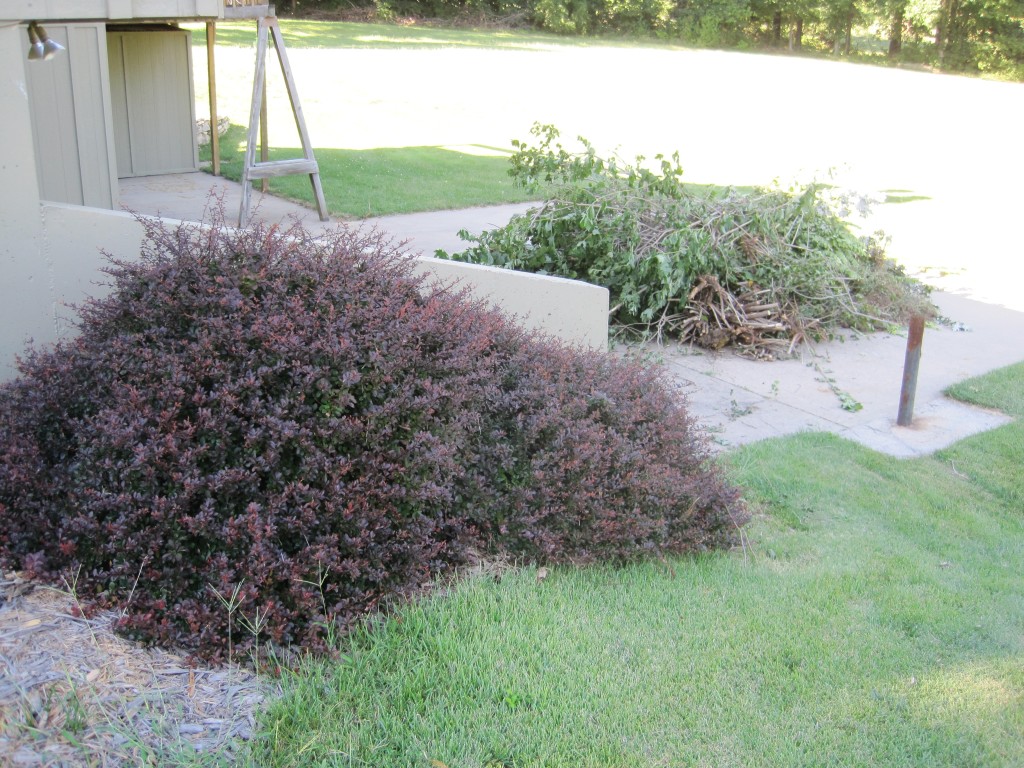 See? You'll notice something else big, ugly, and unneeded got removed this weekend too…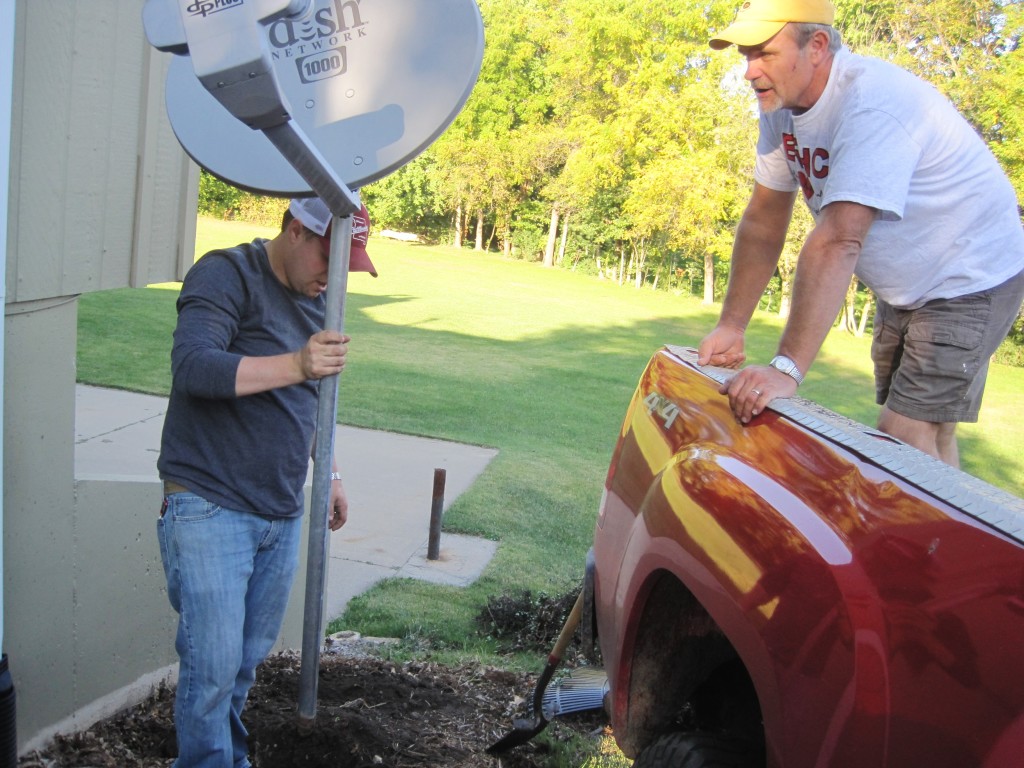 Yup, we've now removed EVERY SINGLE SHRUB that was planted on the outside of our house. I didn't set out to do that…but it shouldn't be a surprise considering that when we first toured this place, one of the only negatives we could find was that the landscaping included all of my absolute least favorite plants.
But, again, I'm getting ahead of myself. Can you tell I'm excited about all of this progress? Back to our plant list for the front.
We also grabbed three pink cone flowers, two burning bushes, two big six-packs of liriope, and four baby junipers. I like the cone flowers aren't shrubs. I think they'll bring a bit of color to the front and the wildflower look will help it not look too "shruby," since neither of us like traditional bushes or hedges very much. Of course, the cone flowers we picked up, the last three they had, were a little bit past their prime.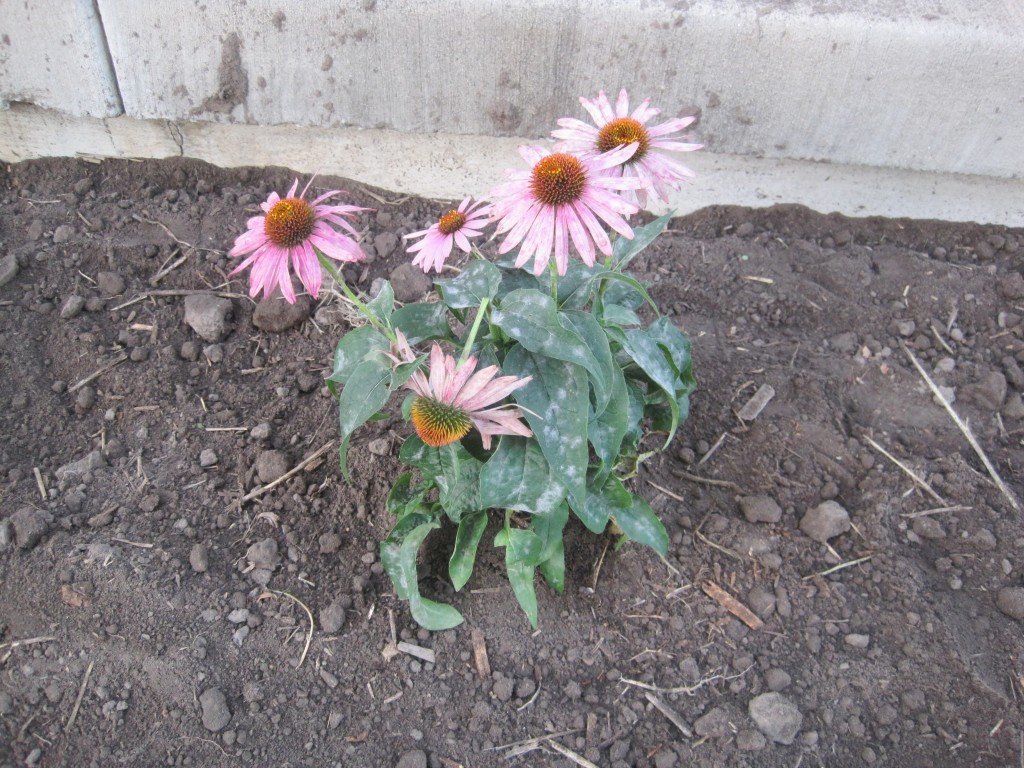 That's okay. They should come back in new glory next spring.
While we were at Home Depot, we grabbed the lumber we were going to need for our table project. Exciting…but also a bit pricey. And "fun" to climb around on as Hubs looked for the best boards.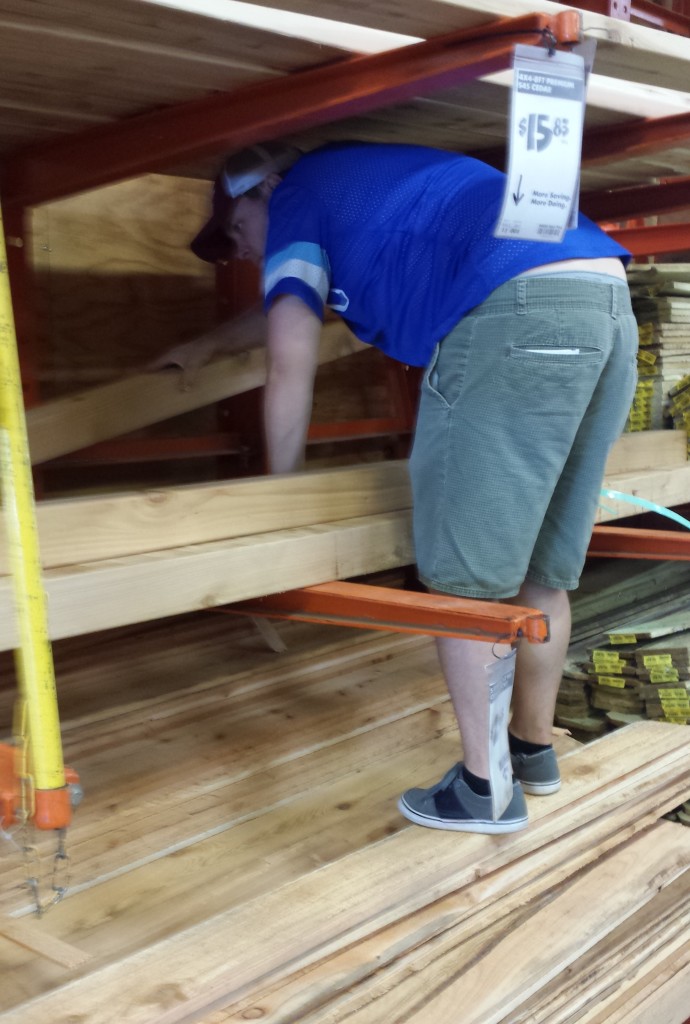 A few other odds and ends later and we were checking out with $200 worth of work to do.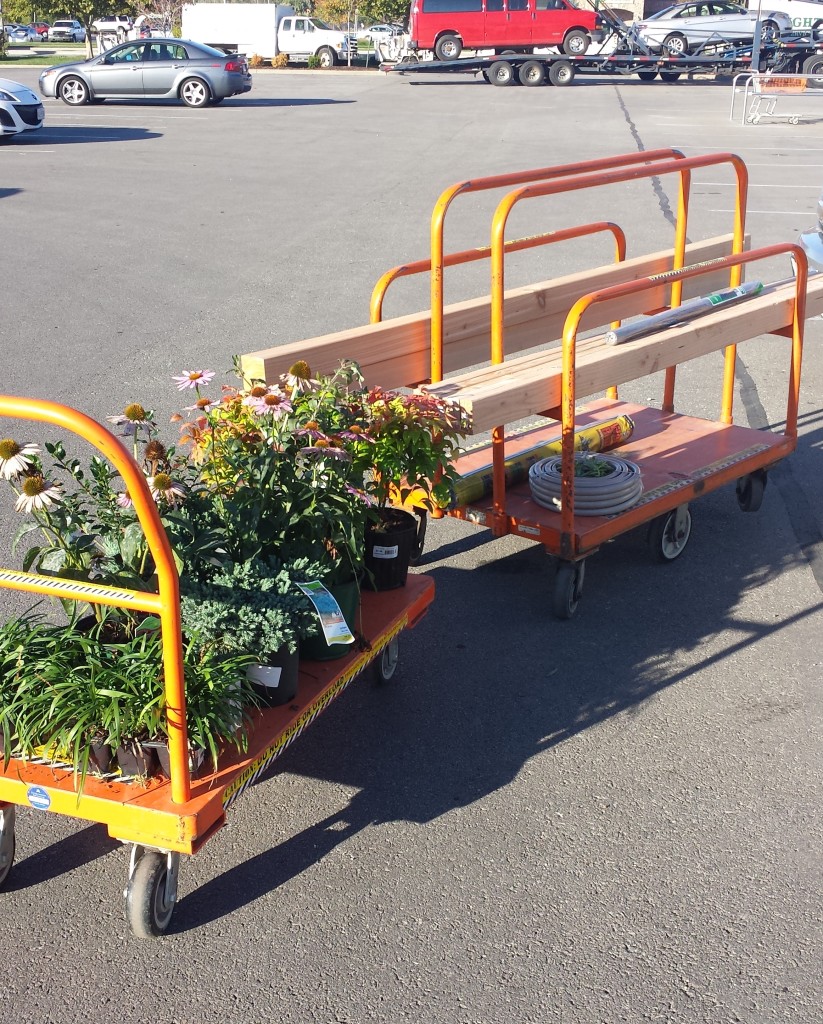 Luckily, the CRV was fit to handle the hauling job—we think it's the perfect little DIY car.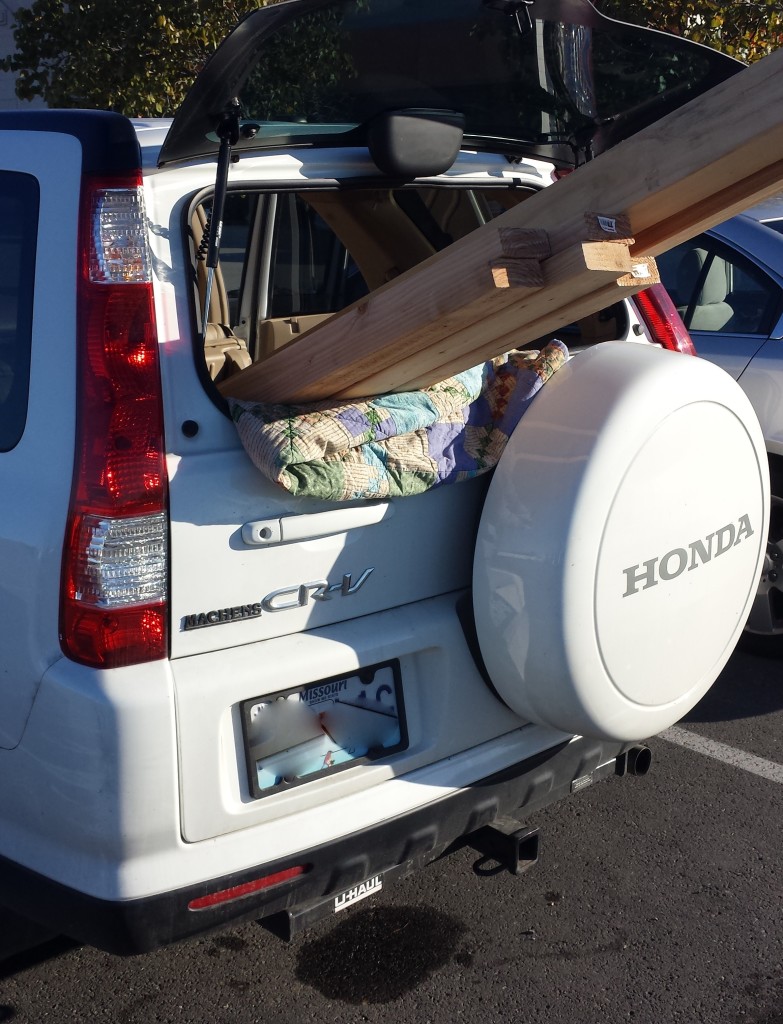 …Other than the fact that we cant really haul a load of dirt…hence the trip my parents made up here in the truck.
Once we got home, Hubs filled my love tank by immediately vacuuming out the back of little CRV.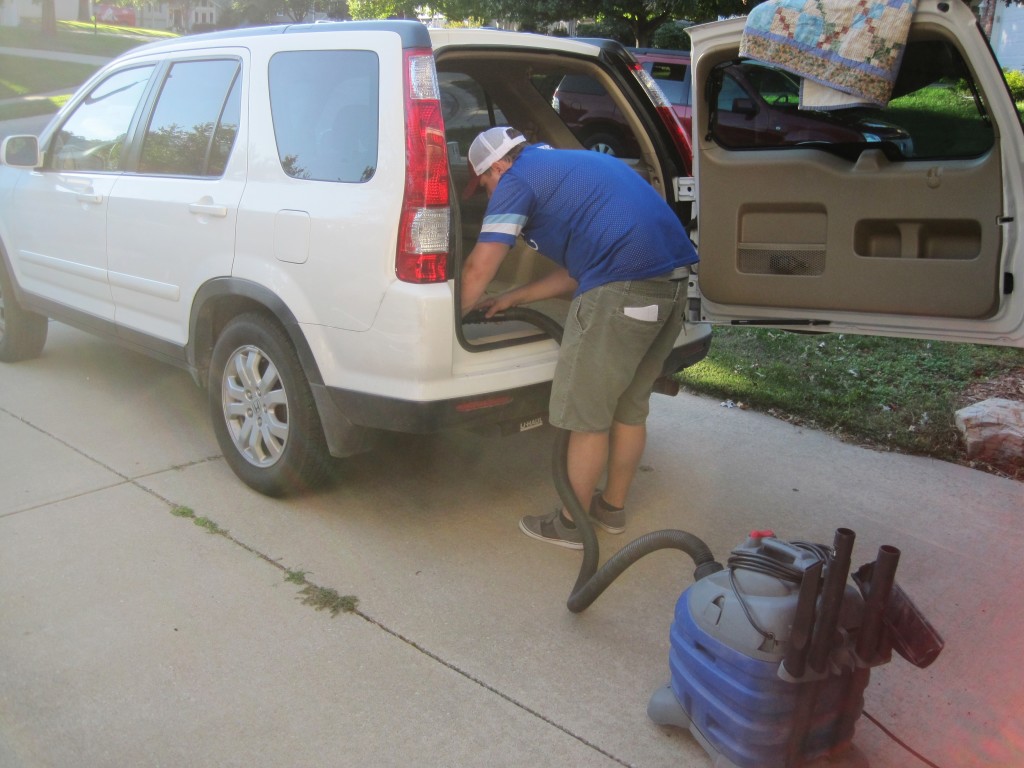 Then, he set to work on the table, which he'll tell you about in a post later on, and I started setting out all the plants where I thought I wanted them.
A few minor adjustments later and I was satisfied…although I had to move most of them to make room for the dirt my parents were bringing.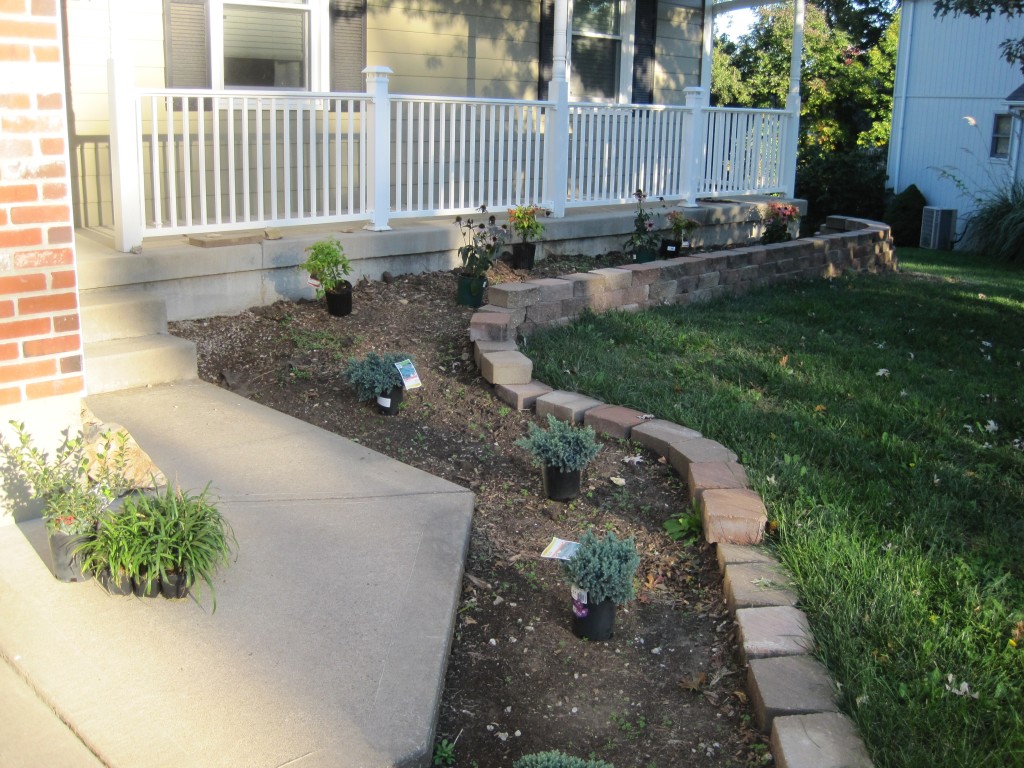 I did plant a few though, the ones that wouldn't be in the way. Here's one down…twenty to go!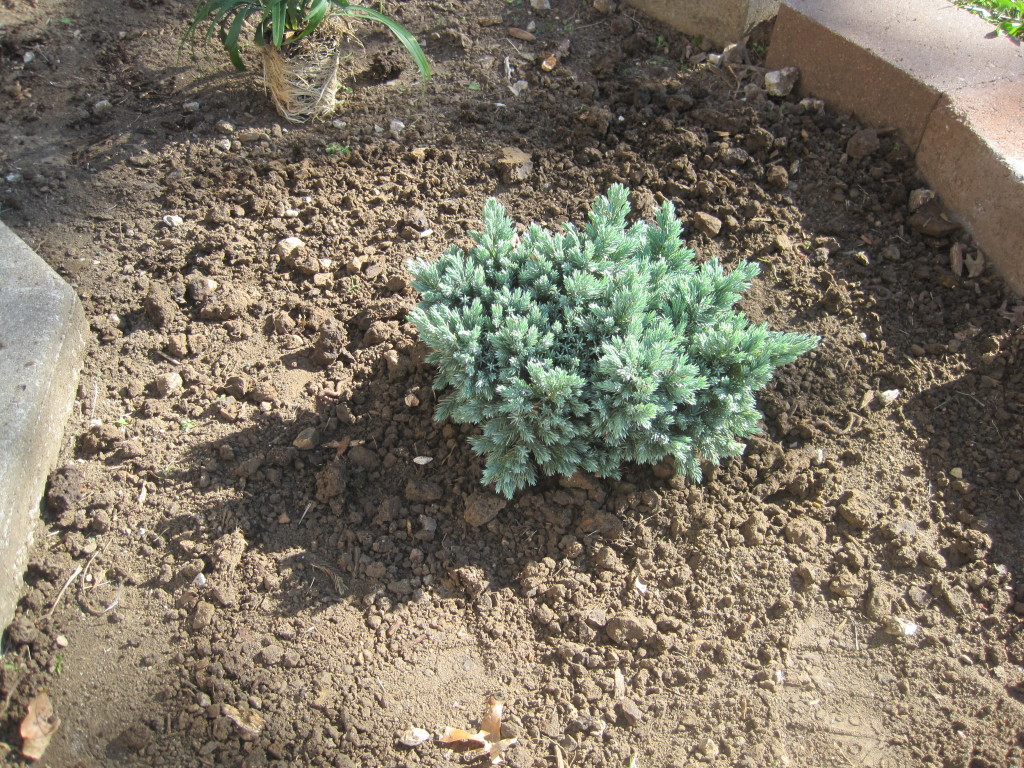 Aren't the rest all cute lined up on the steps, like they are taking a class portrait?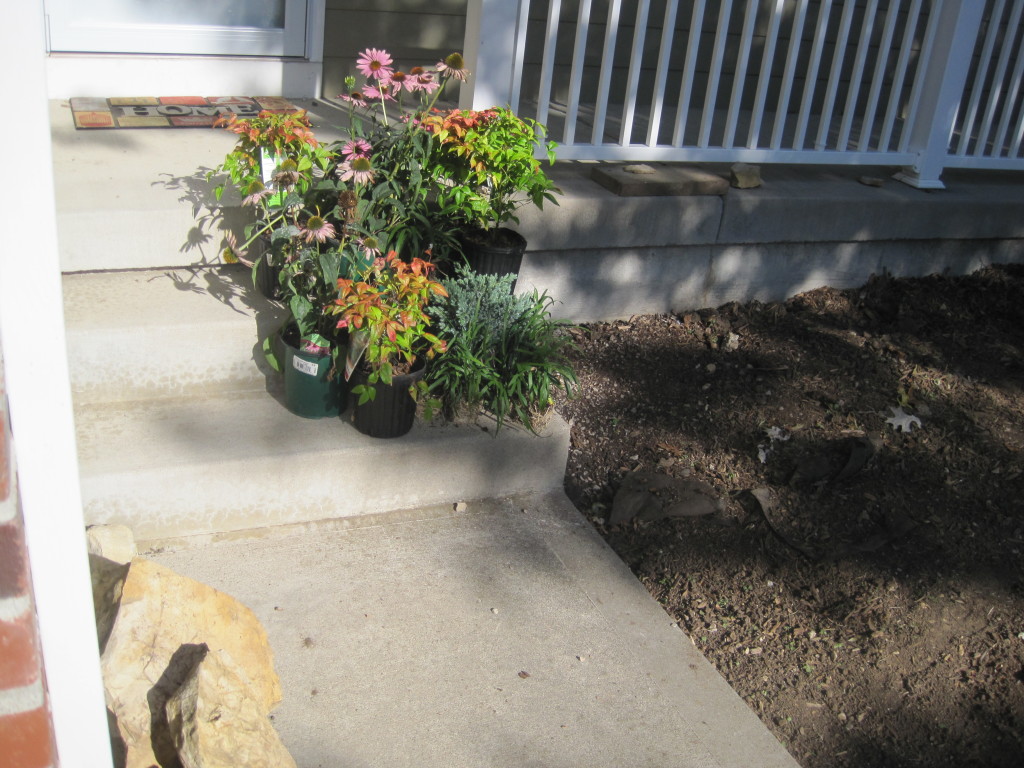 I can't help my silliness…plants make me a little giddy.
I'll be back for another final update soon, but in the meantime, here's how it looked when we quit for the night last night…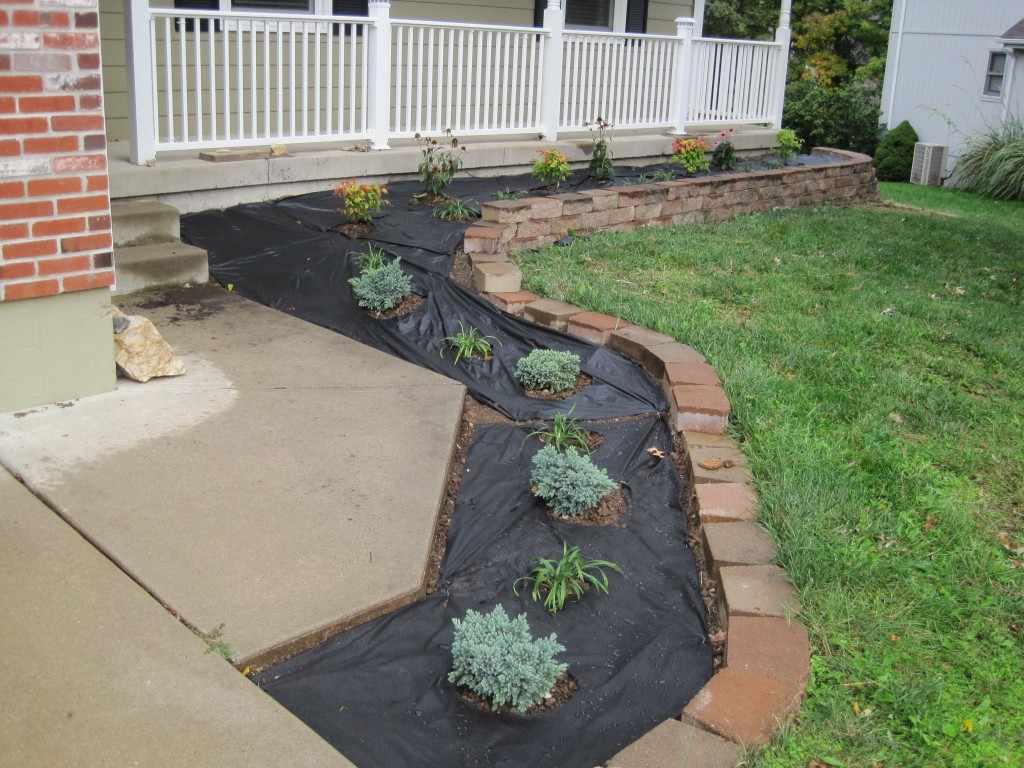 Or rather this is how it looked when we stopped for the night: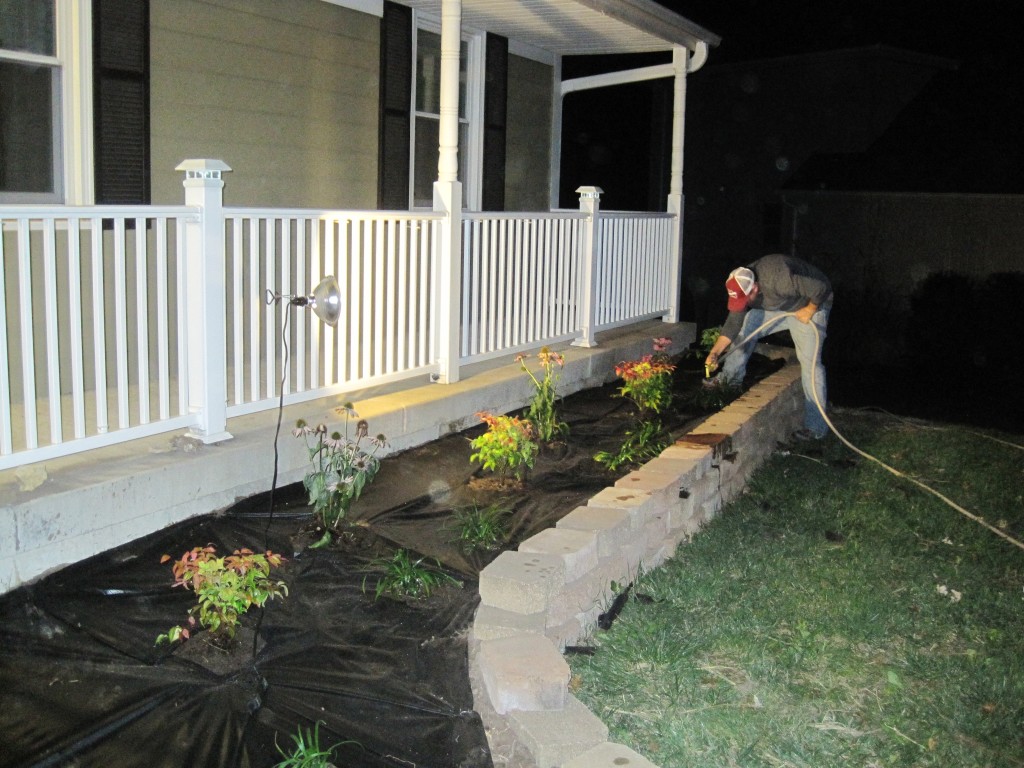 We were rushing against the clock a bit at the end to get everything watered in and covered with weed barrier fabric.
So, now tell us what you did this weekend and what projects you're working on. What car do you think is the perfect little DIY vehicle? What projects do you think are the most expensive but totally worth it?