As we've found time and time and time again through this entire year of remodeling, projects beget projects.
So, after spending the majority of the last few weeks on the floor, literally, while we put down our new flooring, we noticed a few drafts coming in from various places.
Namely, the front door wasn't sealing well. At all.
As in, when we got down to look at it, we could SEE LIGHT, a lot of light, under the door. (Also, flooring sneak peek!)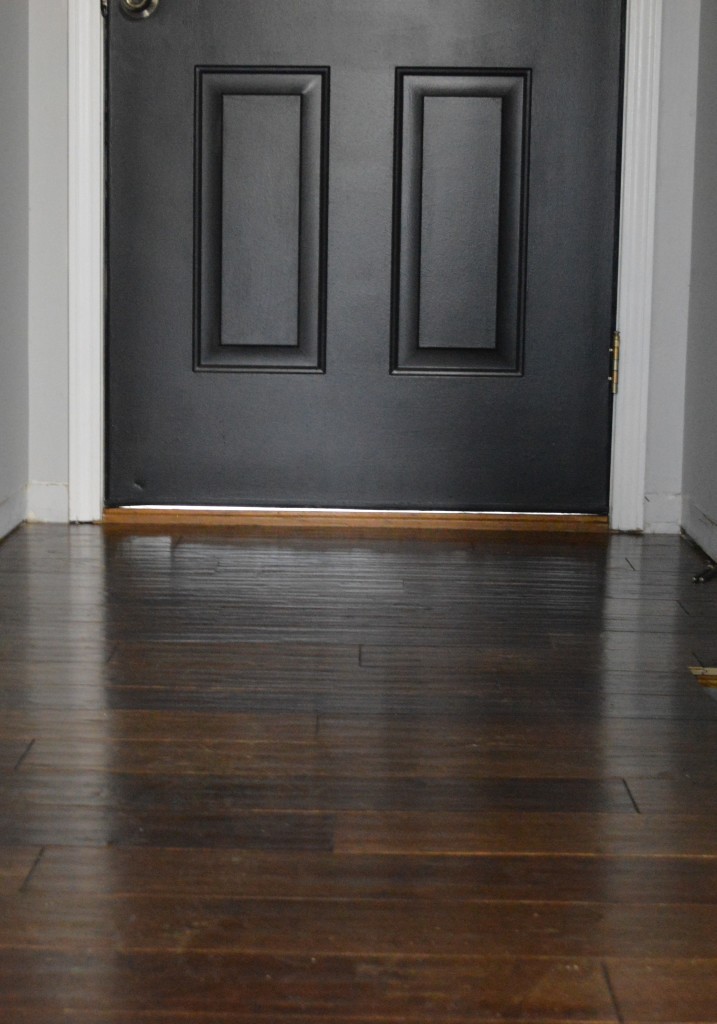 See all that light? Good grief, right? And if light can get it, cold air can get in.
(And if light and cold can get in, bugs and leaves and other critters can get in too. Yuck. Ick. Awful.)
In the past week as the temps dropped outside, this became increasingly noticeable. as the entryway was super-duper drafty. Not good for our toes or our heating bills.
So, on Sunday afternoon after church, we stopped by Home Depot to see about fixing this little big problem. We ended up coming home with this piece after comparing what we had with the choices in the store and by seeking advice from a helpful employee.
(It's blurry but says "Replacement Door Bottom")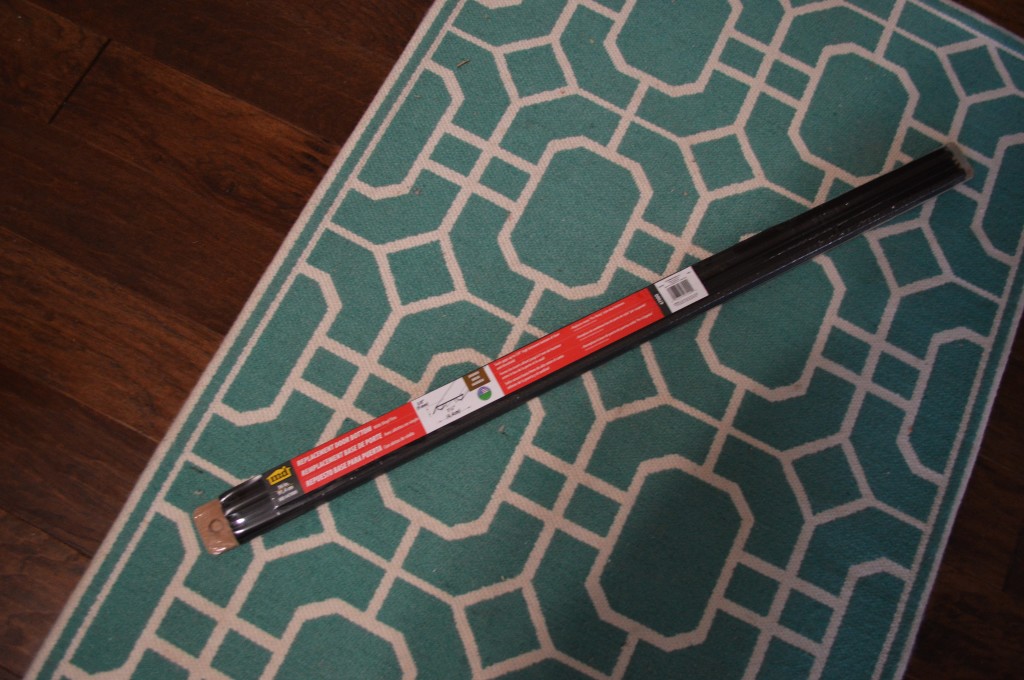 Wyatt started by removing the door from the hinges so we could work on the bottom.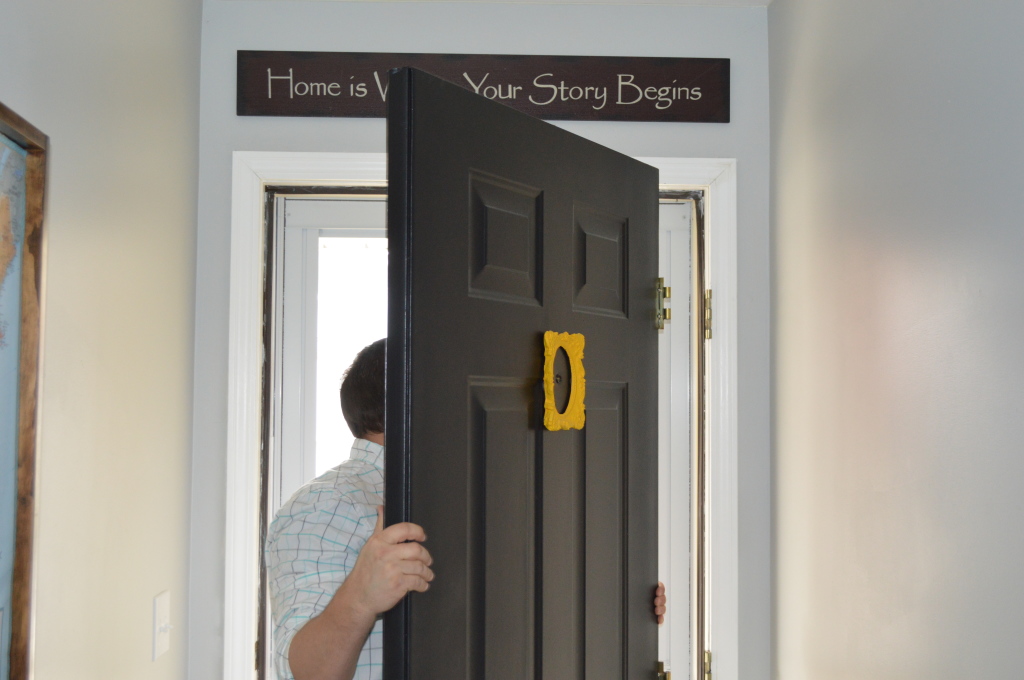 You could really tell it had seen better days.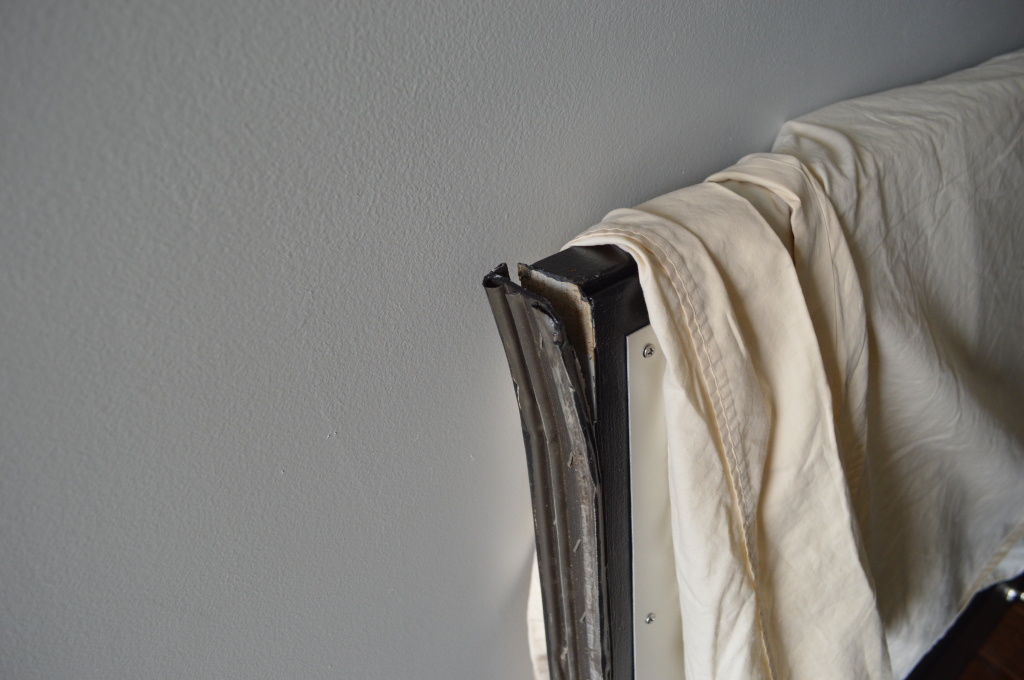 Then, Wyatt removed the existing piece from the bottom of our door.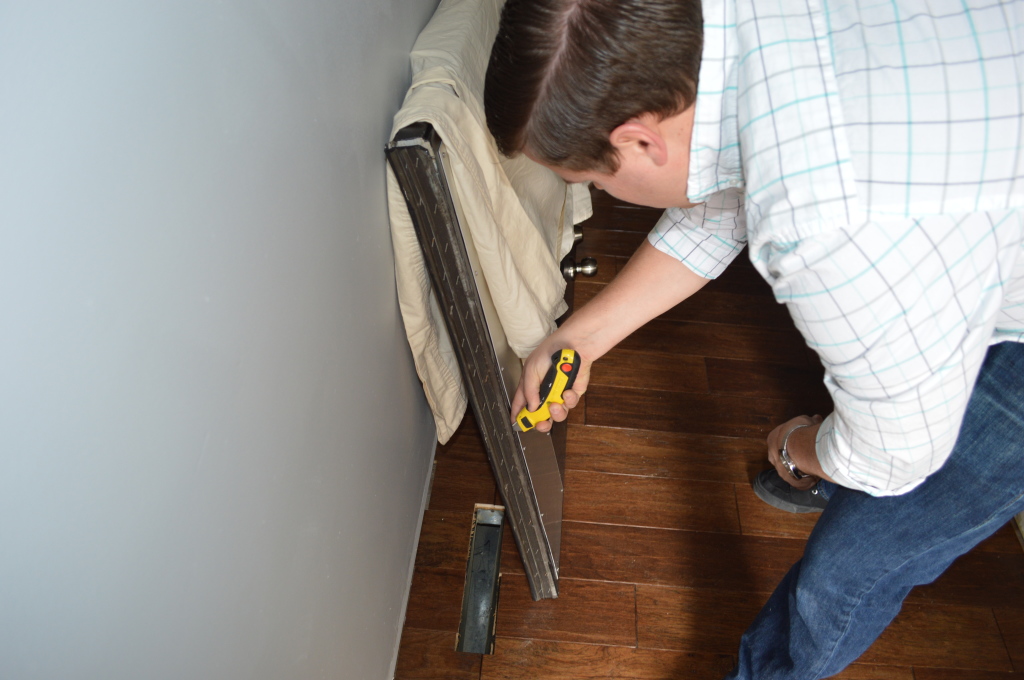 He had to pry the old squished rubber off. There were PLENTY of staples holding it on there, that's for sure.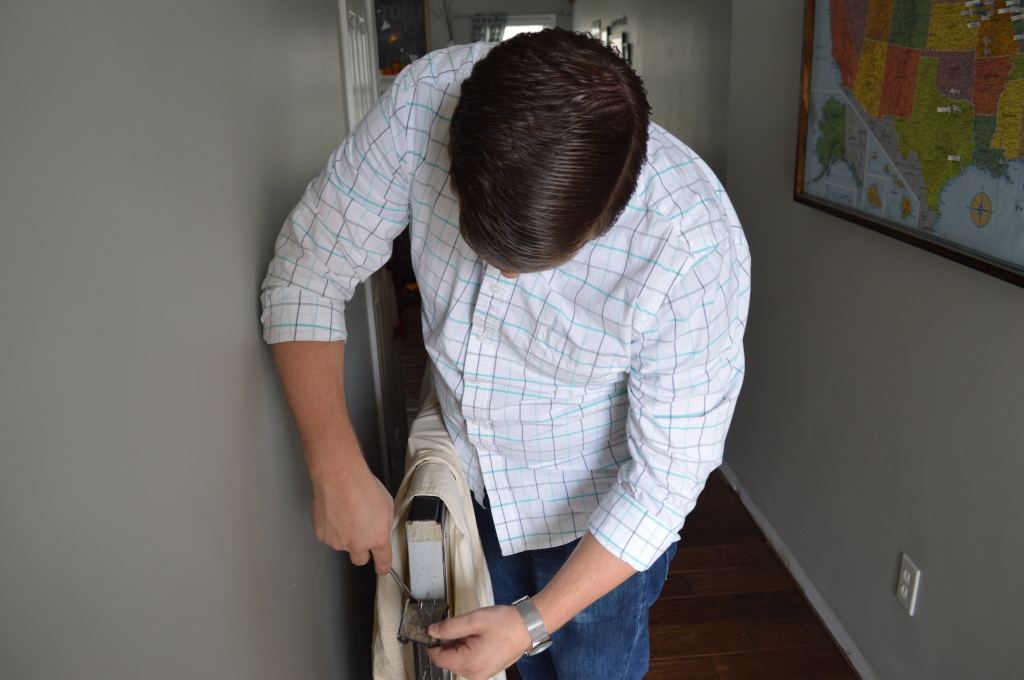 You can see how old and broken down the old one was considering it used to look like the new one on the right. Yikes. No wonder our toes were cold!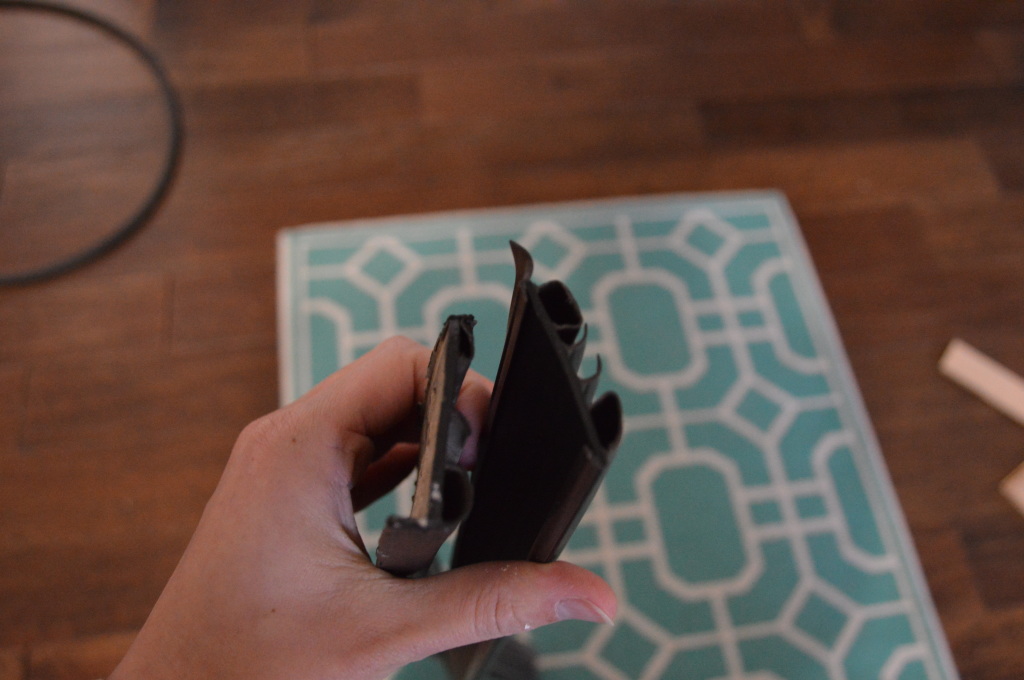 Then, it was time to attach the new piece to the door. Wyatt tried using the staple gun at first but it wasn't tough enough to shoot staples through the rubber.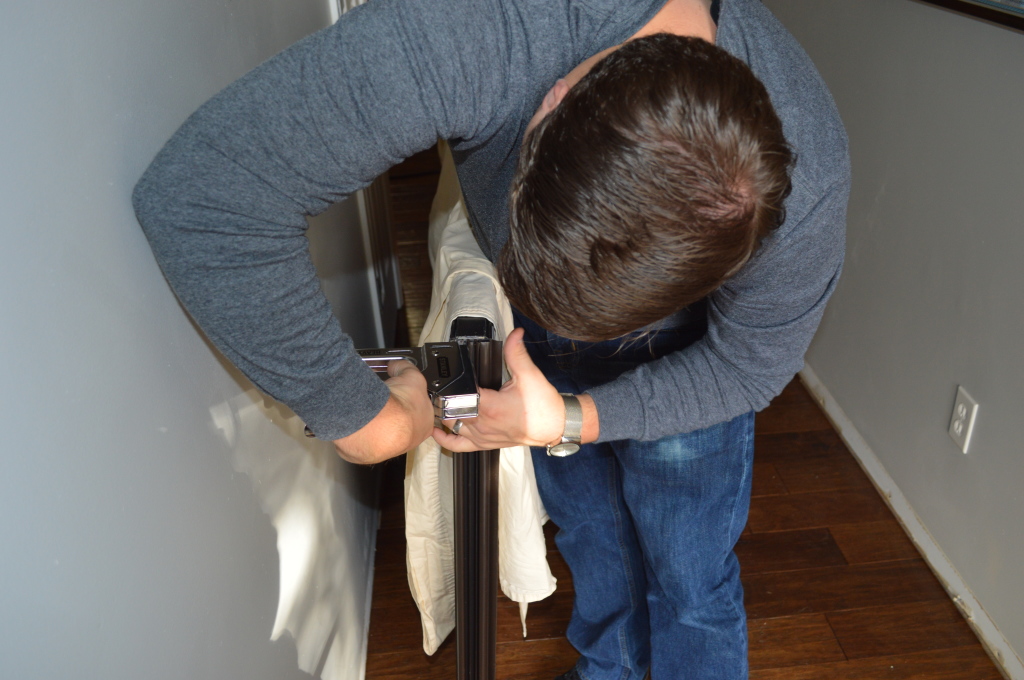 So, we took to using an old fashioned hammer and nail approach. (Our door is wooden with a metal casing so the nails worked great.) To keep from smashing the rubber seals as he hammered, he used a punch.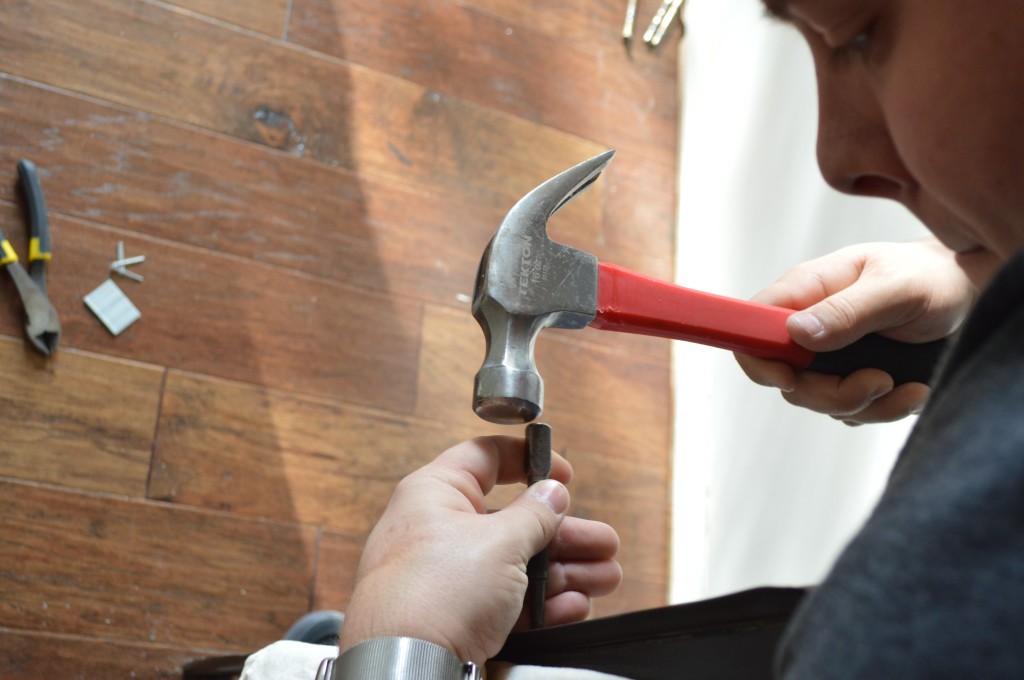 Then, he trimmed off the excess since our door was slightly more narrow than the trim piece.
And then it was time to reattach the door and see how much our new trim piece helped.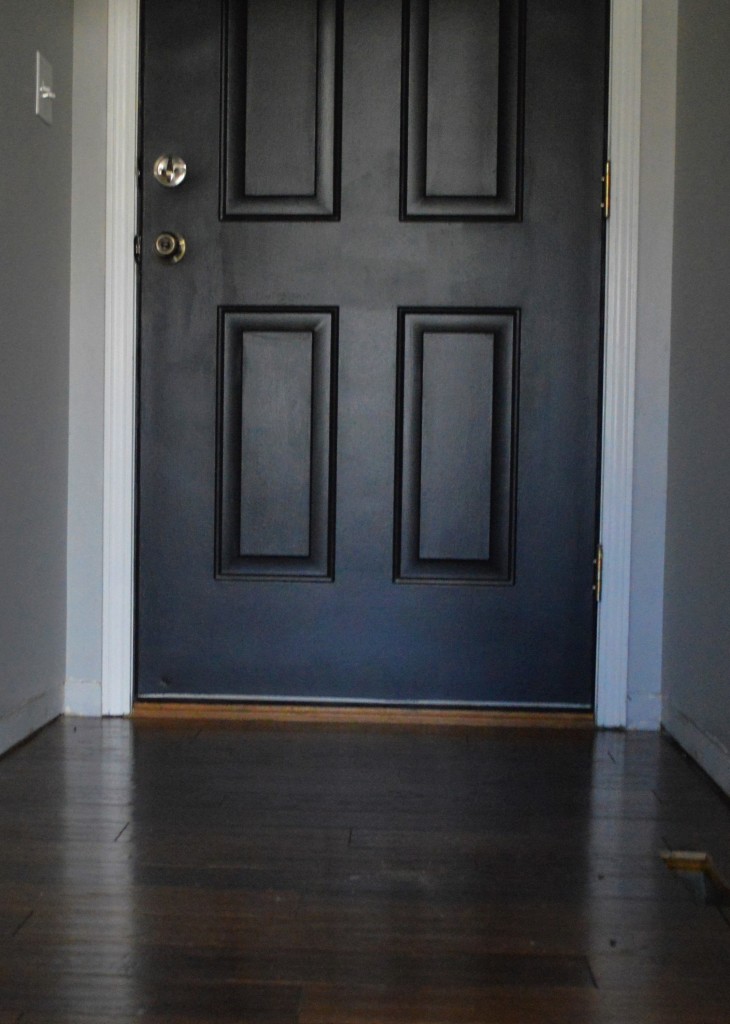 Ta-da!
(The white strip you're seeing on the bottom is the unpainted door as the rubber didn't cover the exact same area. I'll touch that up with some black paint soon.)
To be fair, when we first checked, there was still a tiny sliver of light visible in two places under the door so Wyatt loosened the screws on the threshold slightly which raised it up just enough to give us a perfect seal. So much better. And warmer. And less leaves and dirt and bugs.
I mean seriously, just look at how much light/air was getting through there before for comparison! To be fair, I think this got worse when we removed the old flooring because Wyatt was prying against the threshold a bit, but I'm sure it was bad before, just maybe not as noticeable. But, no matter because we're all sealed up now.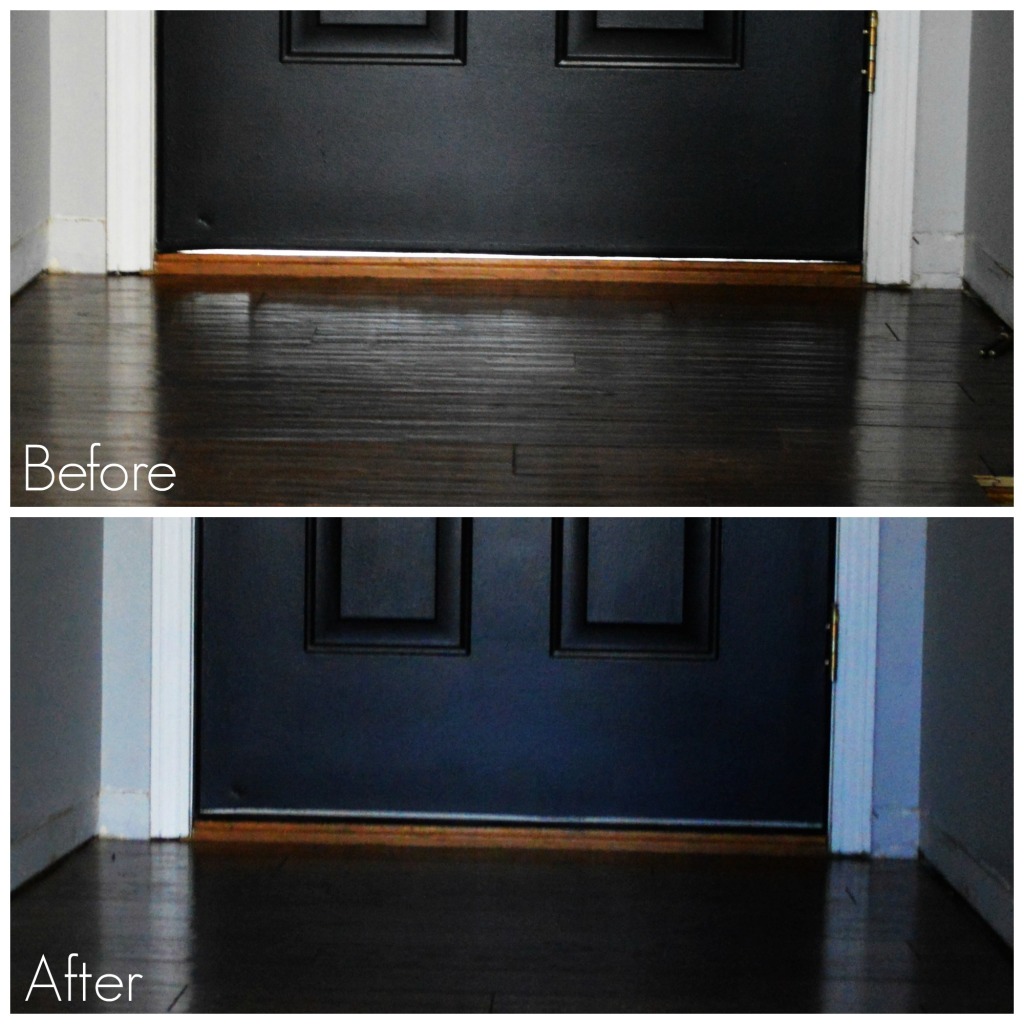 We had a similar problem in the kitchen because when we removed the old flooring in there, we found the door had been leaking because it wasn't installed properly. Thankfully, that was an easy fix as well, and now, no more water (or ants) have found their way inside! We are also planning to use some insulating foam in a few other bad places before we re-install all the trim. Our house should be warmer this winter!
We worked on cleaning up the garage enough to pull one car in so Wyatt won't have such a cold car in the morning when he leaves for work. Boo on winter arriving so suddenly guys. Where did our fall go?
And can I just take a minute to say how handsome my handyman husband is? I mean, goodness gracious. I'm a lucky lady.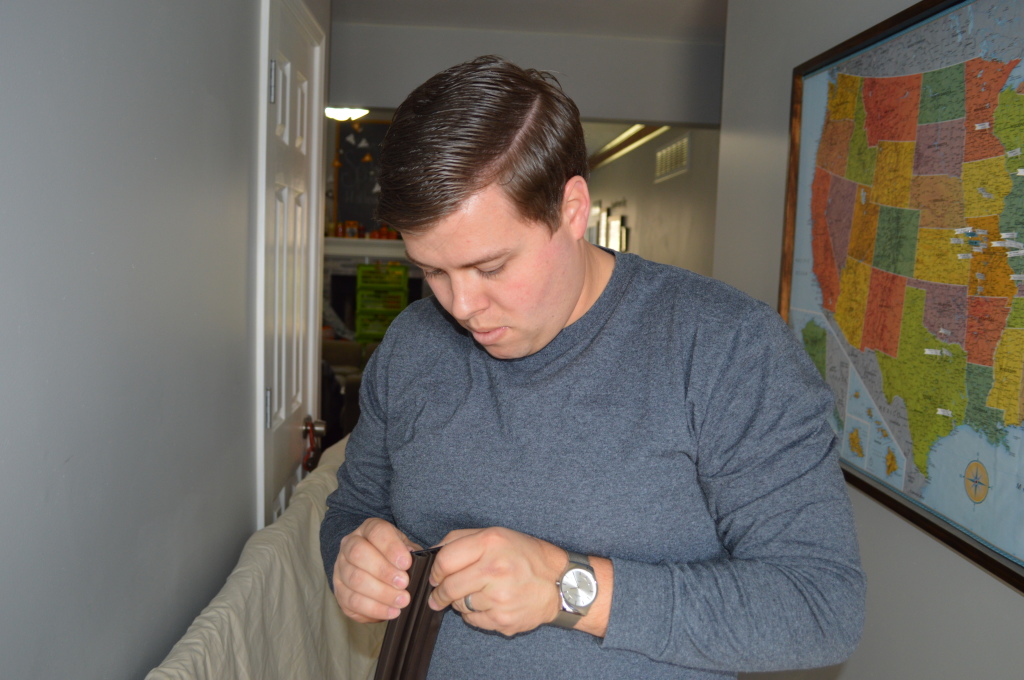 Unfortunately, this took up a significant portion of our work time on Sunday afternoon since we had other meetings and such to attend that day as well. So, we didn't get the trim installed like I'd hoped. We did get started though, and I have high hopes for a good night of progress tonight, too. Fingers crossed we get the pile of lumber for our new shelving out of our kitchen floor this week, guys. Fingers crossed.
Are they crossed? Seriously. Cross them.
I'm pretty certain we won't be done by Thanksgiving, but I'll be darned if I'm decorating a tree in an unfinished remodel, guys. We're going to power through if it's the last home project we do! (It won't be–don't worry. We just may need a break from big stuff for awhile.)
What did you work on this weekend? Did you do something to keep your house warm all winter (cut wood? seal windows?) or to keep your family warm for the night (hot soup simmering on the stove?) It was COLD here, so we're feeling like winter has arrived!