Hey friends, I've been doing a lot of online window shopping lately as I'm working on choosing design styles and organizing my ideas for the basement family room. We haven't decided on a couch yet, but have one we're planning to go look at and sit on soon, and to hold myself over, I spent some time looking for bright throw pillows at Target (online, because I haven't had a chance to go browse the aisles in our local store recently).
I found so many favorites (that were all on sale!) that I was inspired to pull them all into a little wish list to share with you all in case you might be looking for a little throw pillow therapy in your life today. The sale prices end either tonight or later this week depending on the pillow so if you see one you like, I'd snag it now!
Plus, this will be a fun way to add a (hopefully) weekly post to my blogging schedule when I've been so behind on keeping up with life here, lately. Turns out "We haven't worked on any projects this week" makes for a pretty dull blog post, so I was in need of some motivation and thought this was a fun idea to share. Let me know what you want me to window shop for, next and I'll try to do it next week!
But, in the spirit of wishlists, here's a little throw pillow therapy for your afternoon!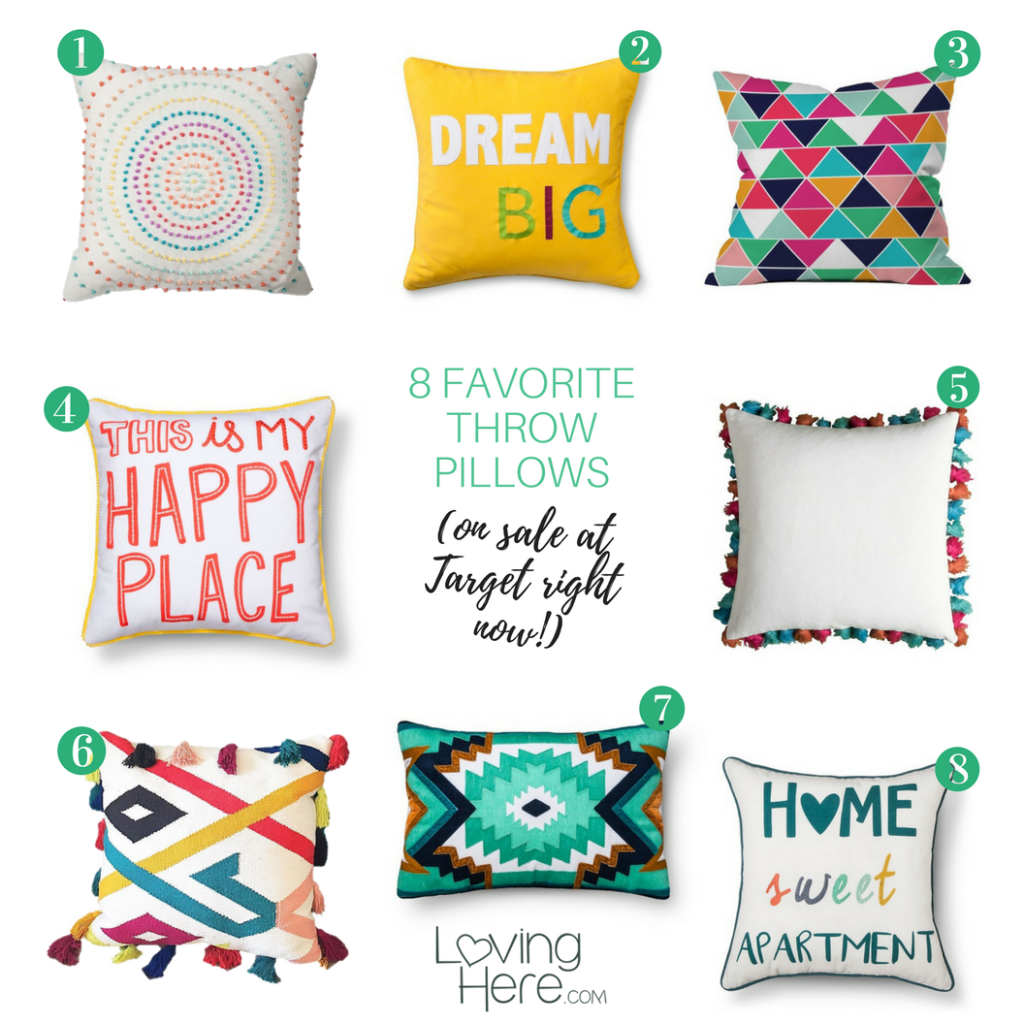 You can tell I was in the mood for bright throw pillows. Maybe because bright colors remind me of happy spring and summer days. Or maybe because I'm just in a bright, happy mood thanks to all this throw pillow therapy. Either way, here are the links if you want to grab any of these for yourselves (affiliates):
Now, I know the last one doesn't really apply to us since we live in a house, but I was window shopping, not actually shopping, and I couldn't help reminisce about our first apartment together, one bedroom, tiny kitchen, spider infestation–but home. I would have totally bought that back in the day.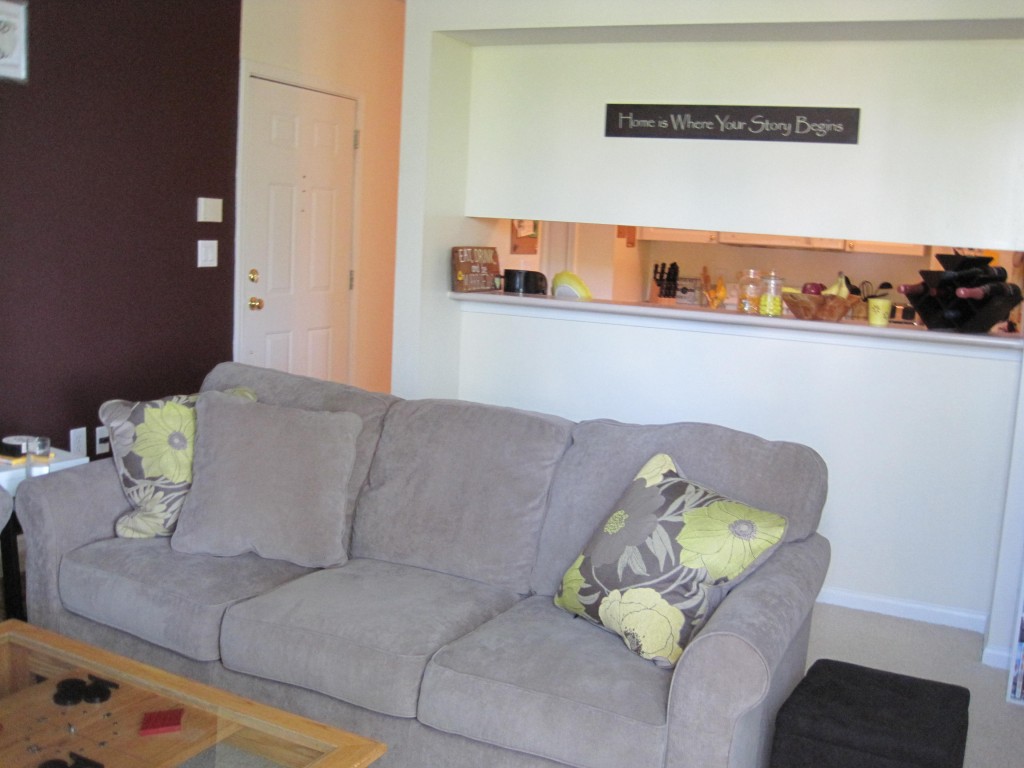 Related side note: The pillows that come with your sofa or love seat and probably not the ones you should be using, as you can see from the photo above. You can do better. Trust me. 
You also might recognize the pillow in the top middle of my wishlist from Will's nursery. You can see it's a really large pillow–much bigger and fluffier than I expected when I ordered it for his room a couple years ago.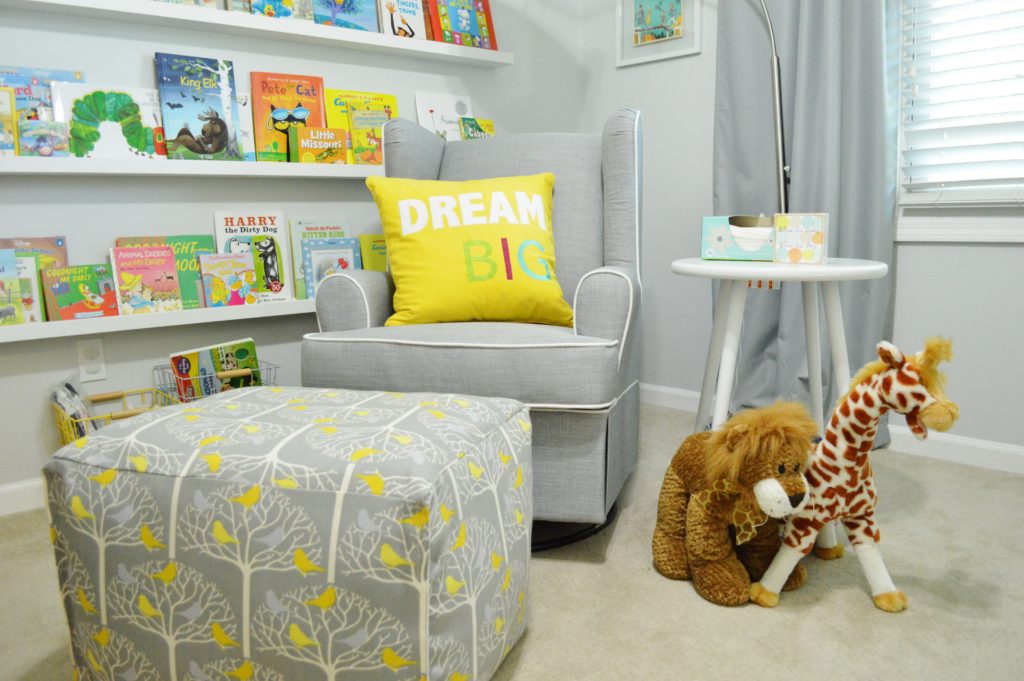 Ok, so now I have to get back to working on the actual mood board for the basement, but you should go buy a couple new bright throw pillows right now while they are on sale! Take a break, you deserve a little throw pillow therapy too!
Happy Wishlist Wednesday, friends! Which one of these throw pillows is your favorite? Or have another favorite? Drop it in a link in a comment, below!
**If you're reading this post and the sale has ended, I'm sorry—but remember there are often coupons or discounts available–and when you use your Redcard, you'll save an extra 5%! Plus, you can use eBates to save even more by getting cashback! So, there's your money-saving tips for the day!**