I've been working on a small home office makeover for awhile. Really, I've been cleaning, but I'm going to pretend it was a full revamp, okay?It's looked like this for WAY too long this year.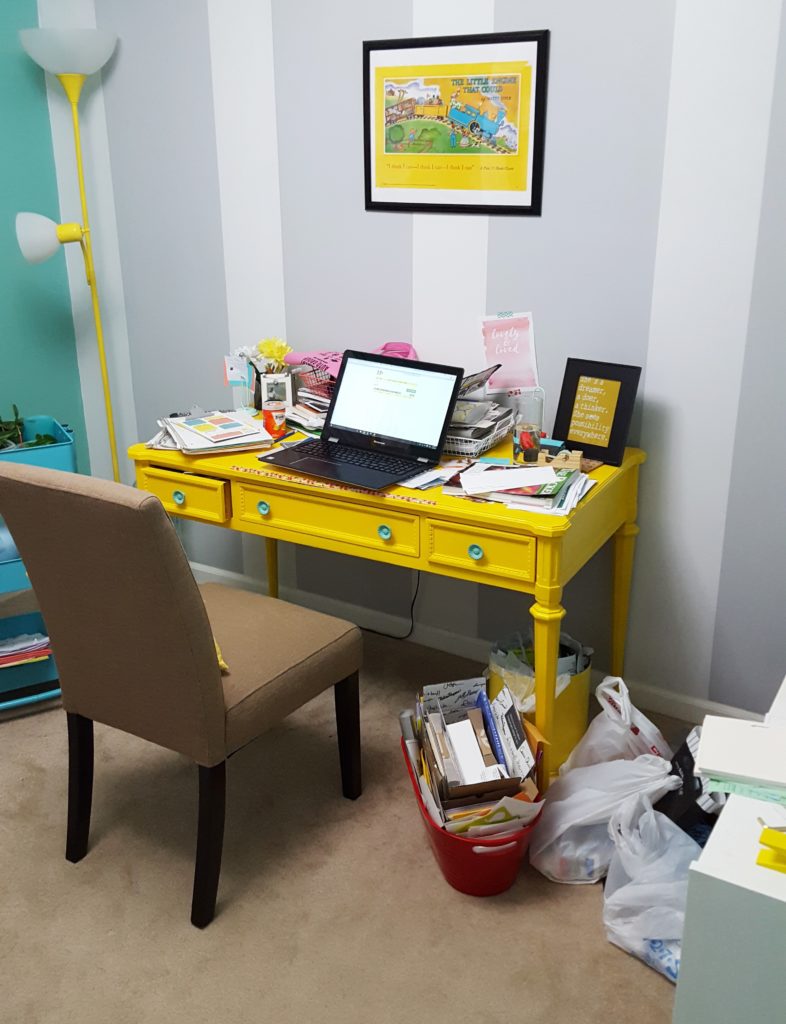 But since I also added some furniture, I'm going to pretend it was more than just cleaning. It was also organizing. Organizing is a task all on its own, right?
One of the biggest reasons my office was always messy is because I just didn't have any storage in there. Other than my desk (which has three fairly small drawers), and the little printer cart, there wasn't anywhere to stash papers, notebooks, extra supplies, and even the bills and checks that needed to be cashed. Basically, I always had piles of clutter on my desk and on the floor.
So, to add storage, we picked up two of these small gray shelving units from Ikea the last time we were there. It's called the Draget and only $29.99. It's metal but pretty light duty, just for your reference. Two of them fit perfectly on either side of my desk.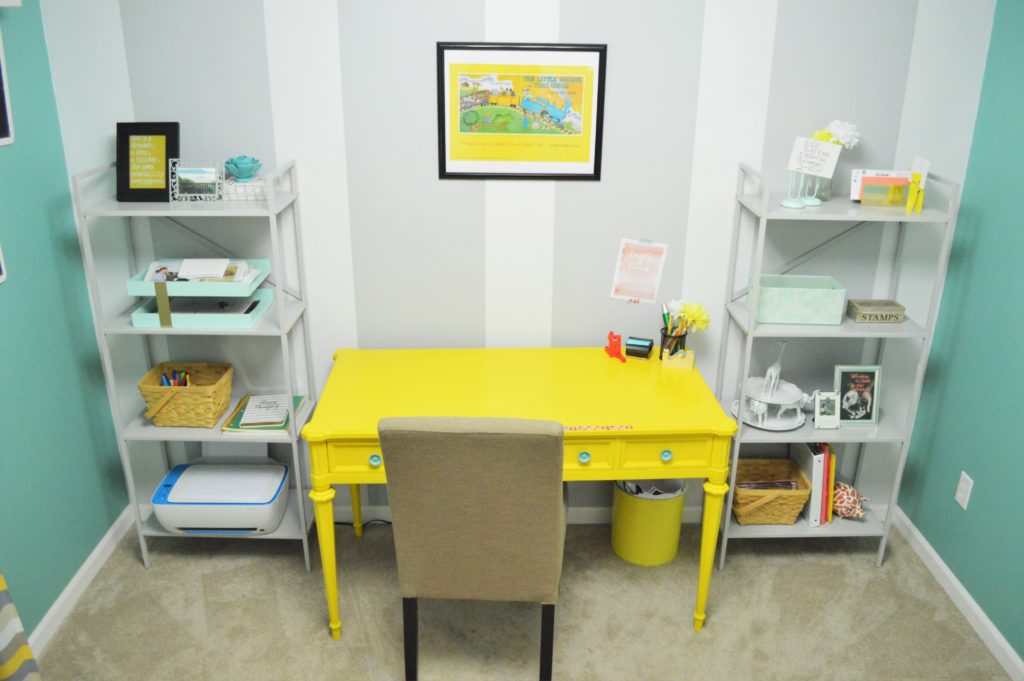 (Sidenote, the more I look at these photos, the more I really dislike the color of our carpet. If we were rich, it would have been one of the first things to go. But since we're not, I've tried to choose elements that sort of match…like the chair. But I'm so over the dirty brown color. Even when it's freshly vacuumed, like it is above, it just seems dirty.)
Wyatt put them together for me and once I figured out where I wanted them, he secured them to the wall so Will couldn't pull them over on himself if he's ever in there with me. He had some spacers on hand which helped keep it perfectly level since it was set out from the wall at the base because of our trim.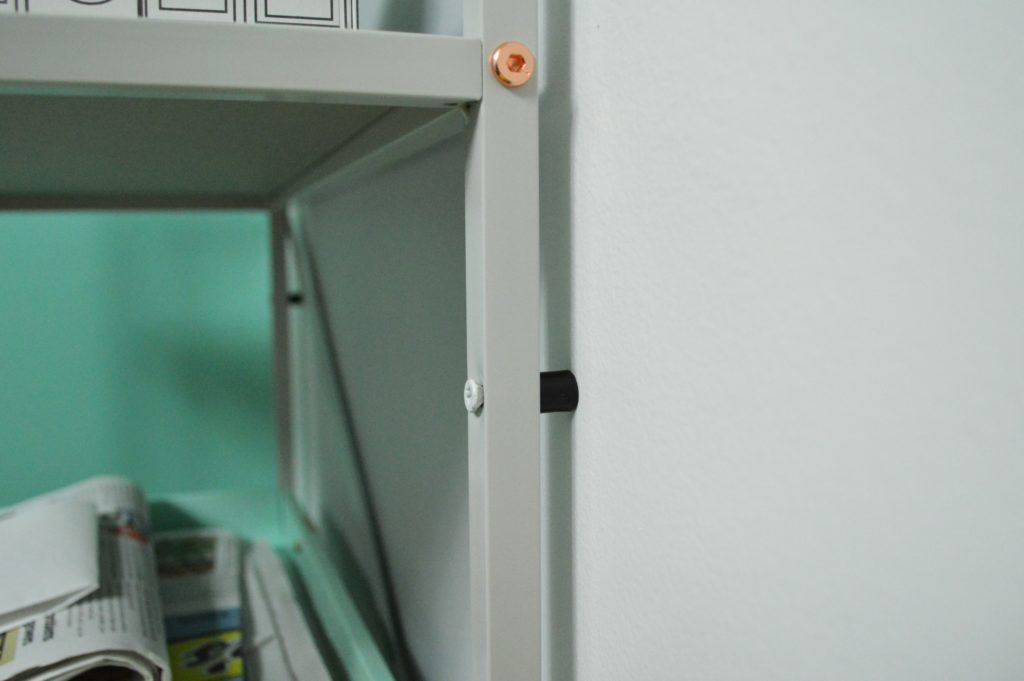 I was drawn to these shelves because of the size and shape, but also because of the little copper details.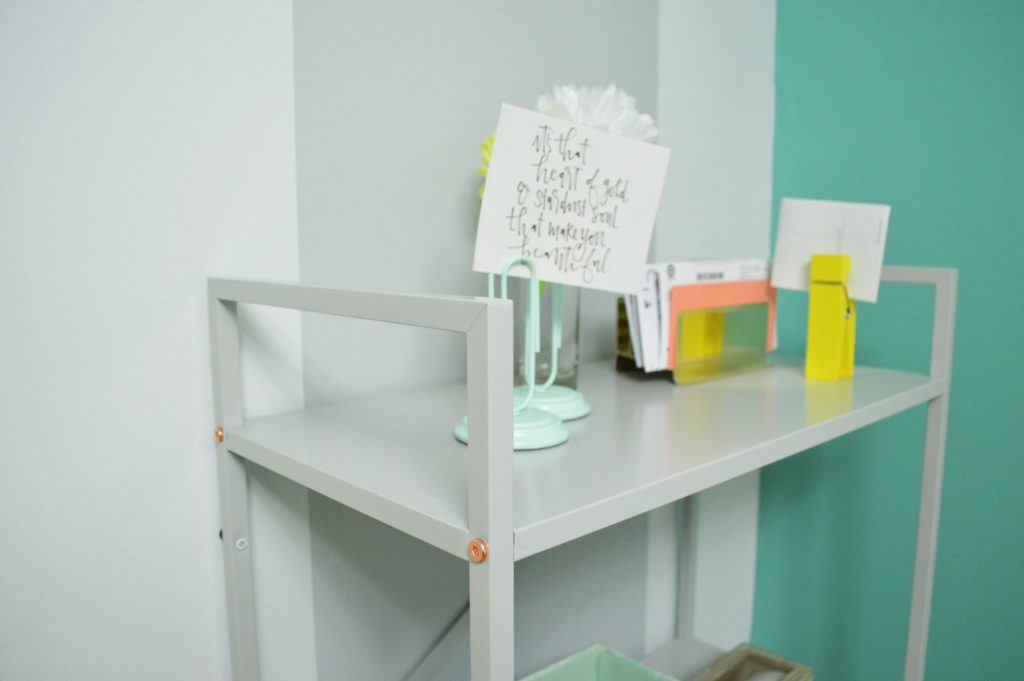 Then, I filled them up with stuff. It's not the final arrangement of things, yet, but it's better than having all this stuff on my desk and on the floor. And, I even got some things out of my crammed drawers. And I got to display a few pretty pictures and things, too. It is my office, after all, and I want to feel like it's a space just for me.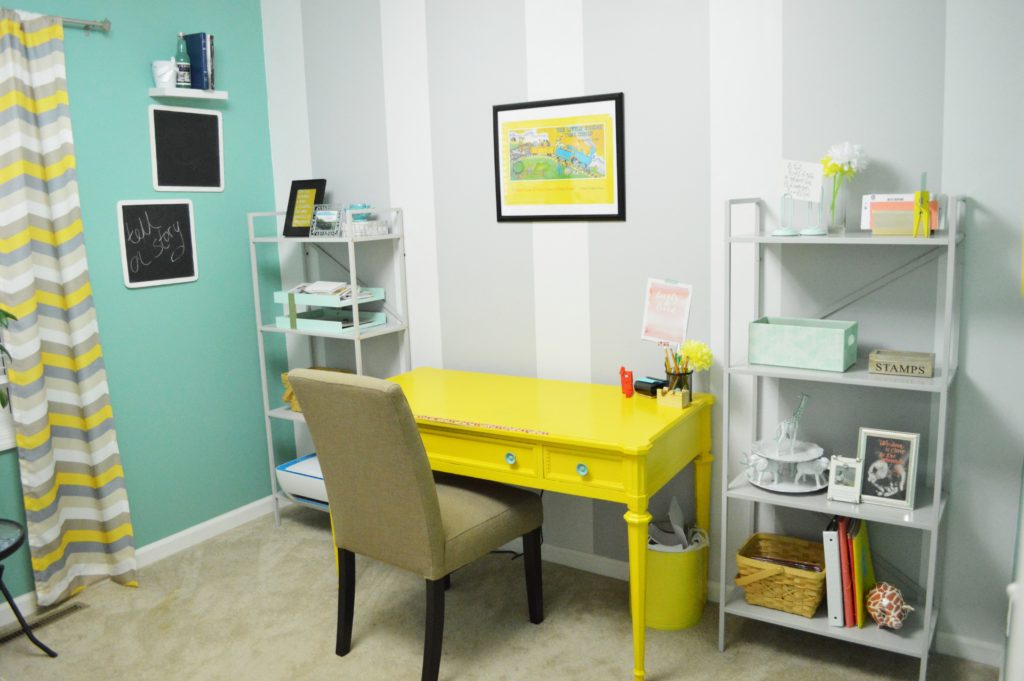 The printer sits on the bottom shelf of one since we got rid of the little cart is was sitting on (more on that later) and I'm thinking I'd like to get a small little trashcan for one shelf so I can get rid of the one of the floor.
I also keep the camera on one shelf, but not while I was taking these photos, of course. I don't do a good job of keeping it in the bag and it's usually stashed around the house randomly, and too often in the reach of Will's grabby little hands. Now, hopefully it will stay safer and out of reach. A place for everything, right?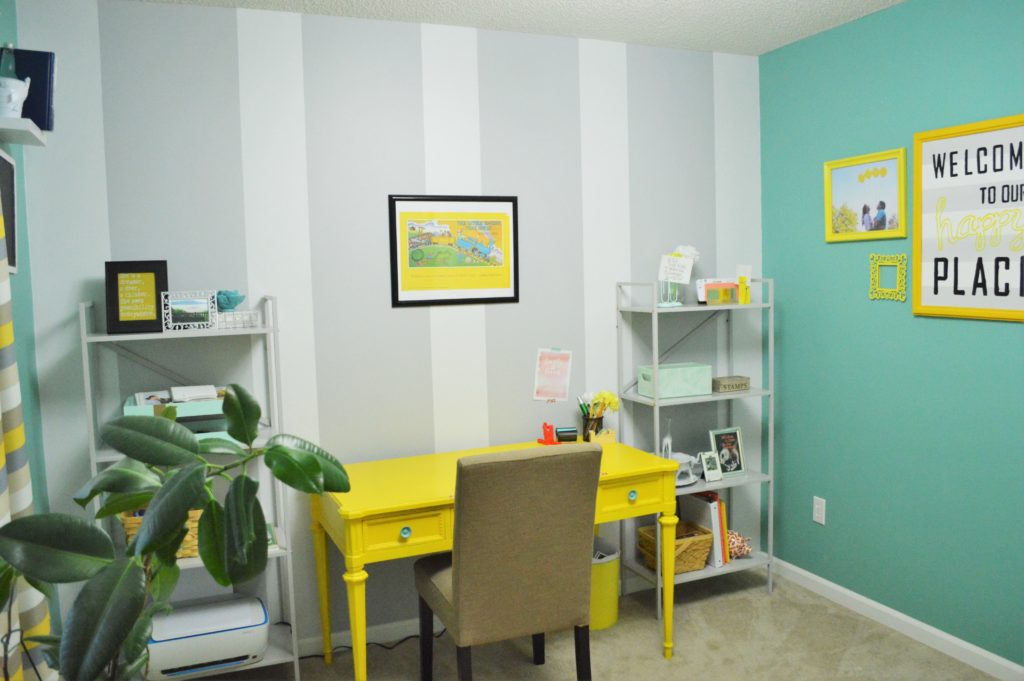 Now the question is…do I paint the desk gray to match? What about white? Or some other color? Or leave it yellow? I like it yellow, but the paint has rubbed off on the front edge where my arms touch it all the time. So, for now, I covered it with some fun washi tape to stop the peeling. But that's a temporary solution.
I like the yellow…but I also feel like a change would be fun. What do you think? It probably won't happen for awhile (we're trying to work on the basement, although the washing machine flood did slow us down on progress down there.
I also want to freshen up some other things in here, like the curtains and maybe some of the wall art or other decor items. And, I'm always trying to declutter. So, I'll check back in when I've made some final progress toward making this room feel more finished.
So, thoughts on the color of the desk? Thoughts on ways to blend/hide the color of the carpet? Thoughts on how to keep the shelves organized and uncluttered? I'm open to all your office ideas!