Remember back to a couple of weekends ago when we had a garage sale and officially declared ourselves crazy?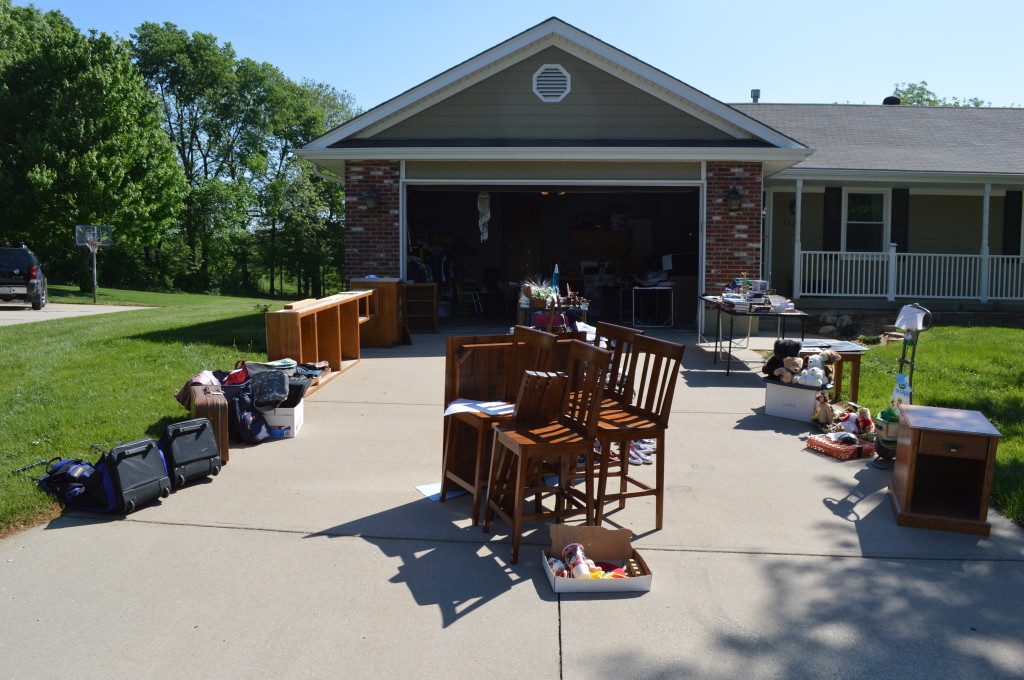 After we closed up shop, my mom and I sorted out several items to donate or throw away, one of which was this sign, purchased as a souvenir from Rocky Mountain National Park in 1983 by my parents when they were first married.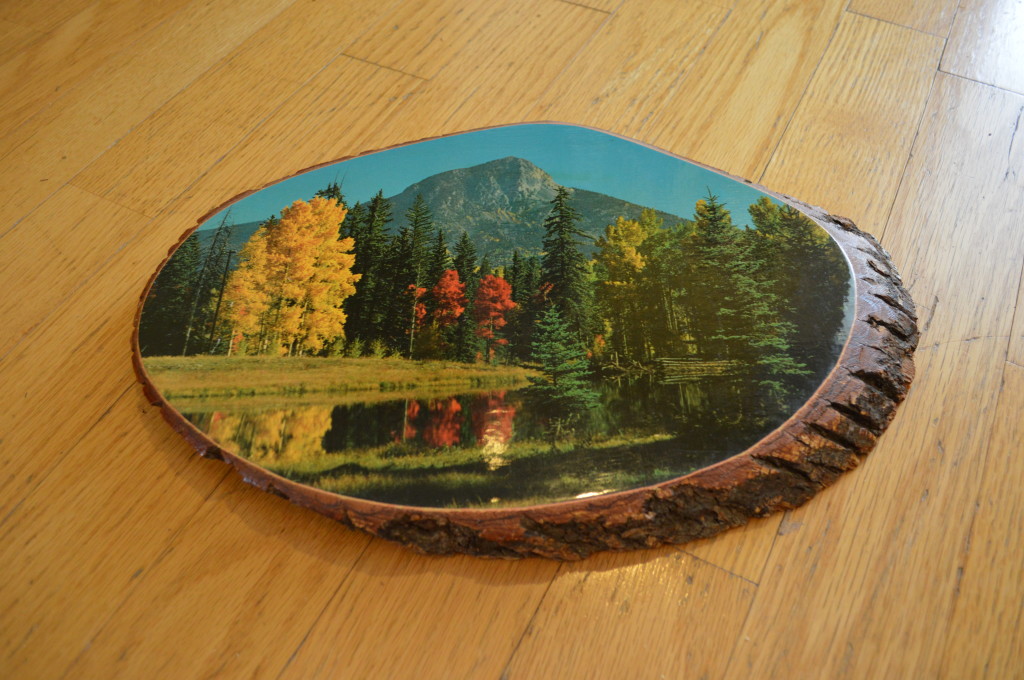 Even though it's dated, I liked the history behind it.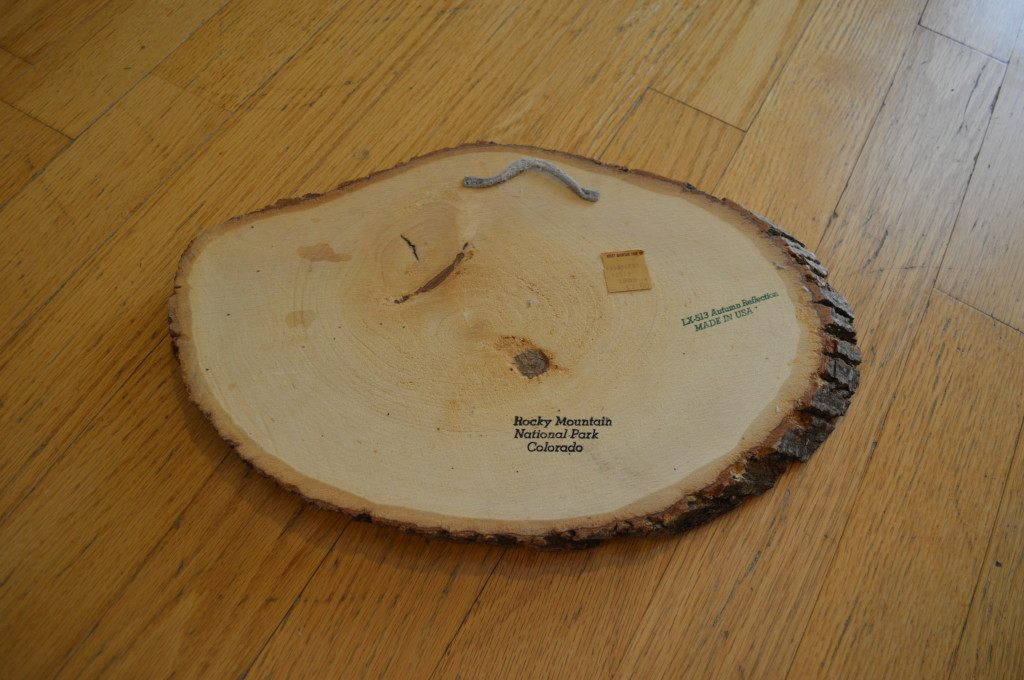 It's certainly out of style, but still kind of cool, I think. And, being the sentimental saver I am, I thought it was sad to think of it just being thrown away. But, I totally get why no one wanted to buy it…and why my mom didn't want it on her walls anymore…and to be honest, I couldn't really picture it just hanging as is on our walls either…
So, I told my mom I'd try and repurpose it somehow. At first, I considered just painting it a solid color over the photo image and then using it as a tray or something in the kitchen. Kind of like this: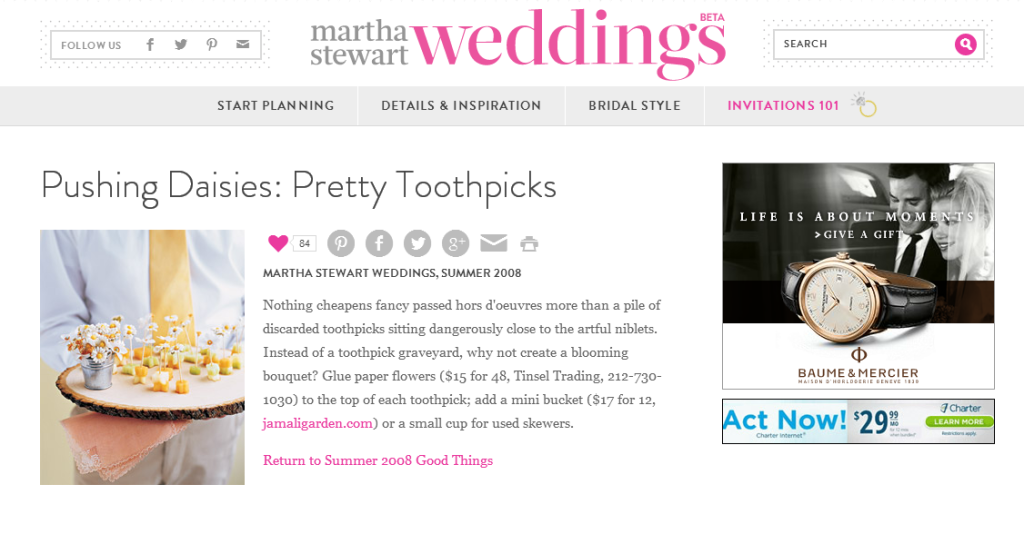 Or even using chalkboard paint, like this one:
Even something like this would have been awesome: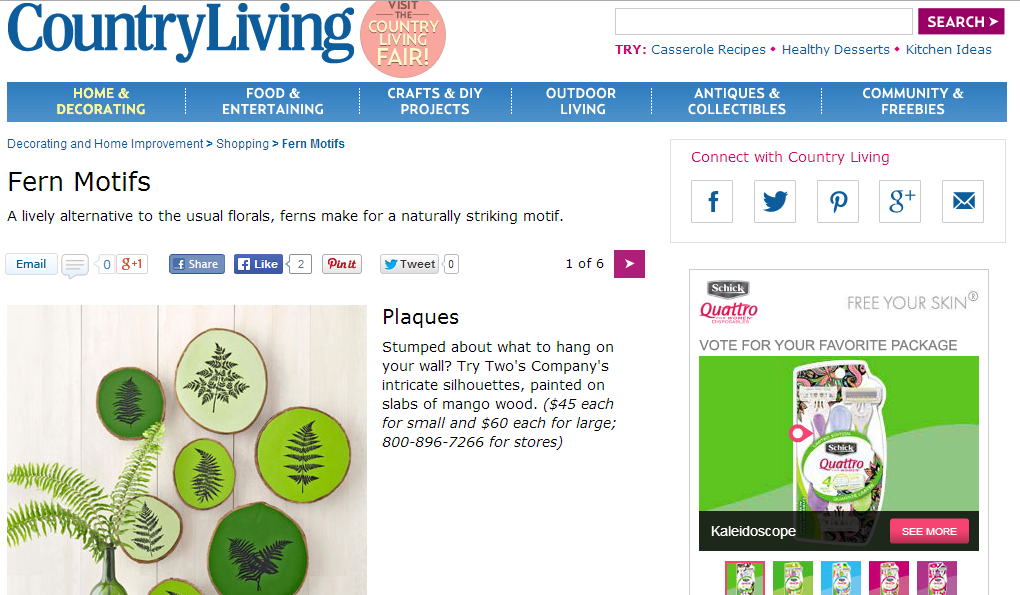 But, ultimately, I decided I wanted to preserve the photo, at least a little bit. And I remembered seeing this project on Young House Life, so I figured it was worth a try here, in some form or fashion. So, I quickly wiped off what I had already painted and switched up my plan.
Unlike their project, I wanted to paint the entire photo white, leaving just the letters exposed as the original photo. Also, I was doing this pretty quickly inbetween helping Wyatt rerout the A/C vent in the kitchen, so I didn't take the time to print out letters for a stencil.
Instead, I drew them onto some freezer paper (which I also used as the stencil for my DIY glitter Mickey tee) and cut them out.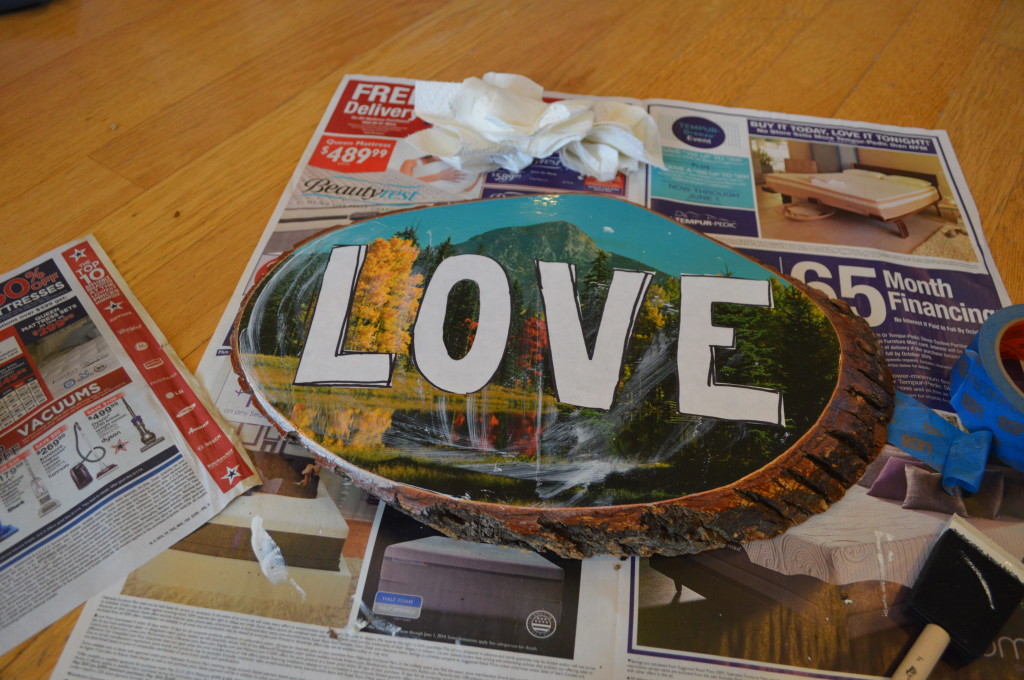 Then, I used some spray adhesive to lightly attach them to the surface of the plaque. I was a little worried about how they'd peel off later, but I decided this was a free little project, so I should just go for it.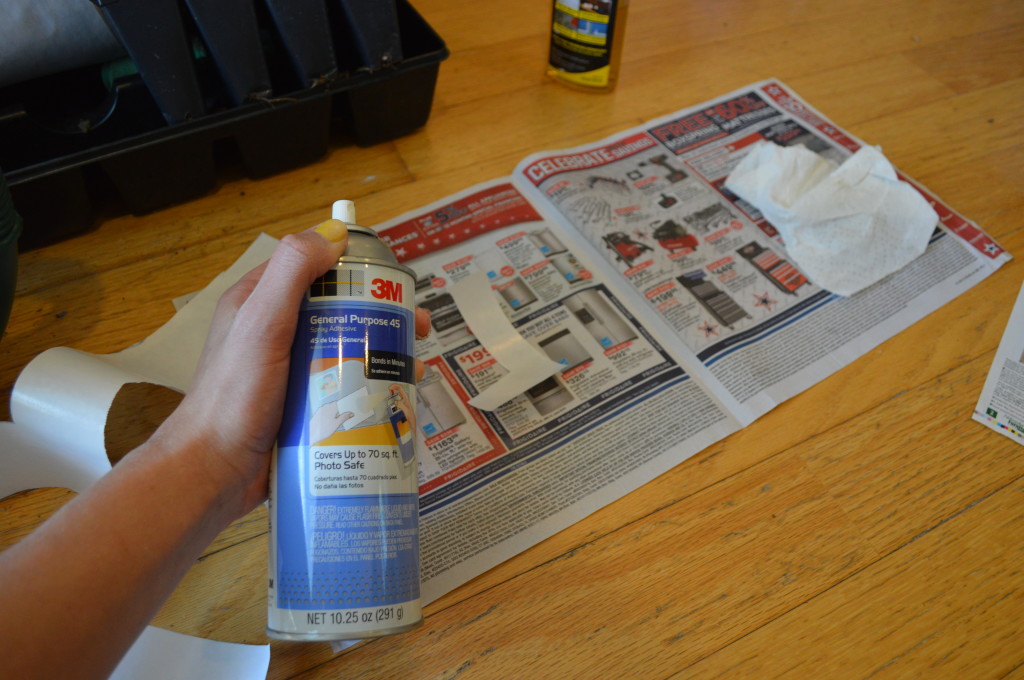 Then, I grabbed a test paint pot of white paint (we're trying to get a color to match our new cabinets–this wasn't a good match) and painted over the letters. I think it took about three coats to get a nice even coverage without too many brush strokes showing.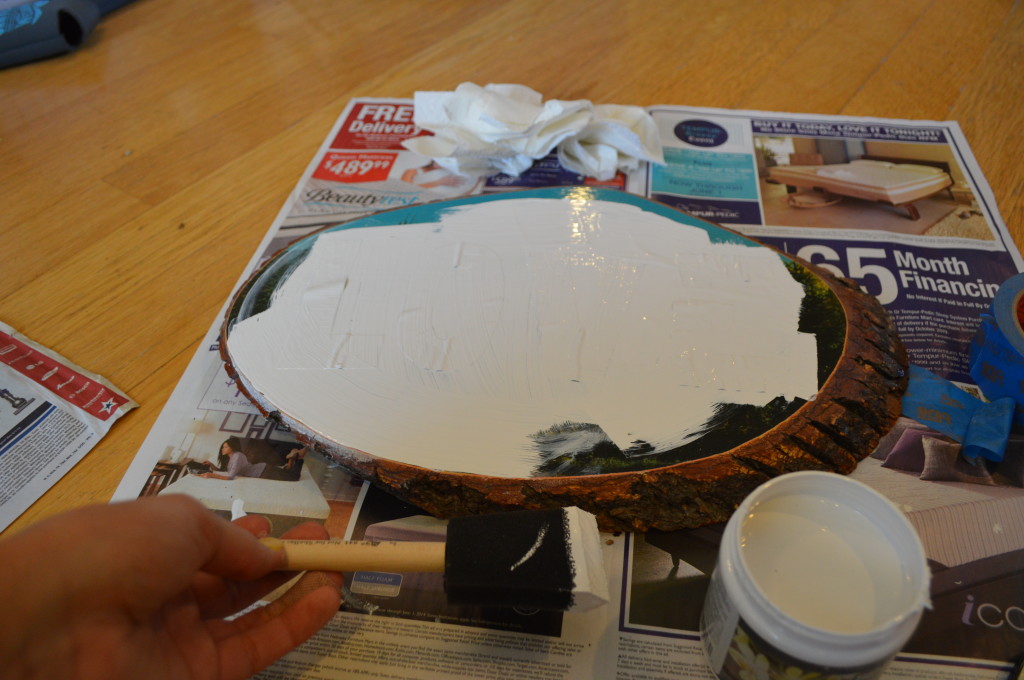 After everything was dry, we used an exacto knife to release the edges of the letter stencils since they were pretty buried under all those layers of paint.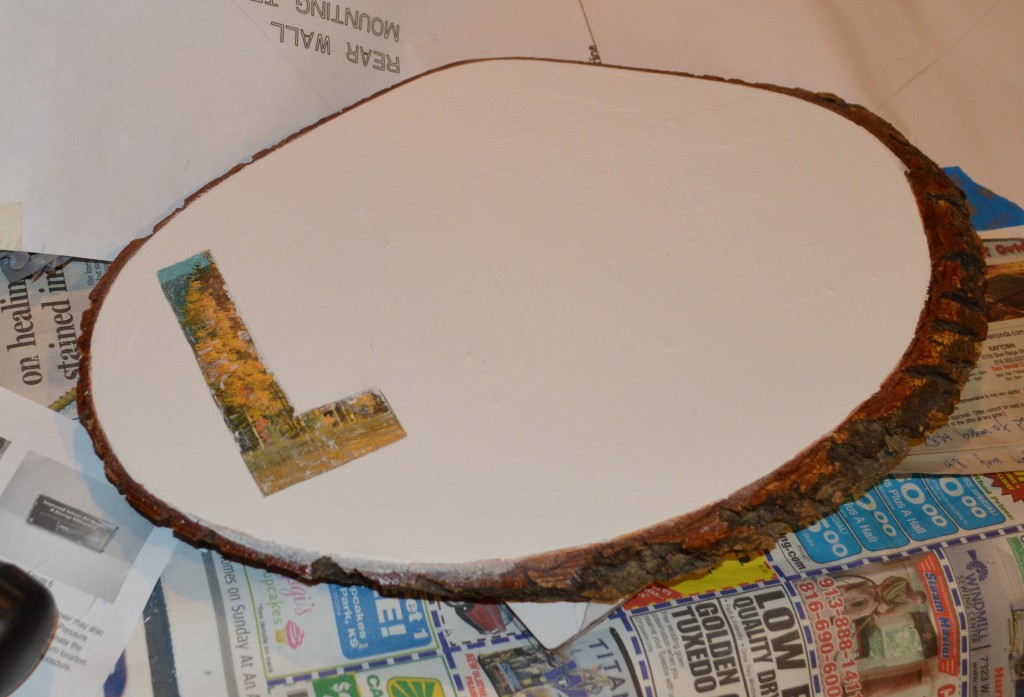 All of this was good in theory, but after peeling the letters off, we were left with this: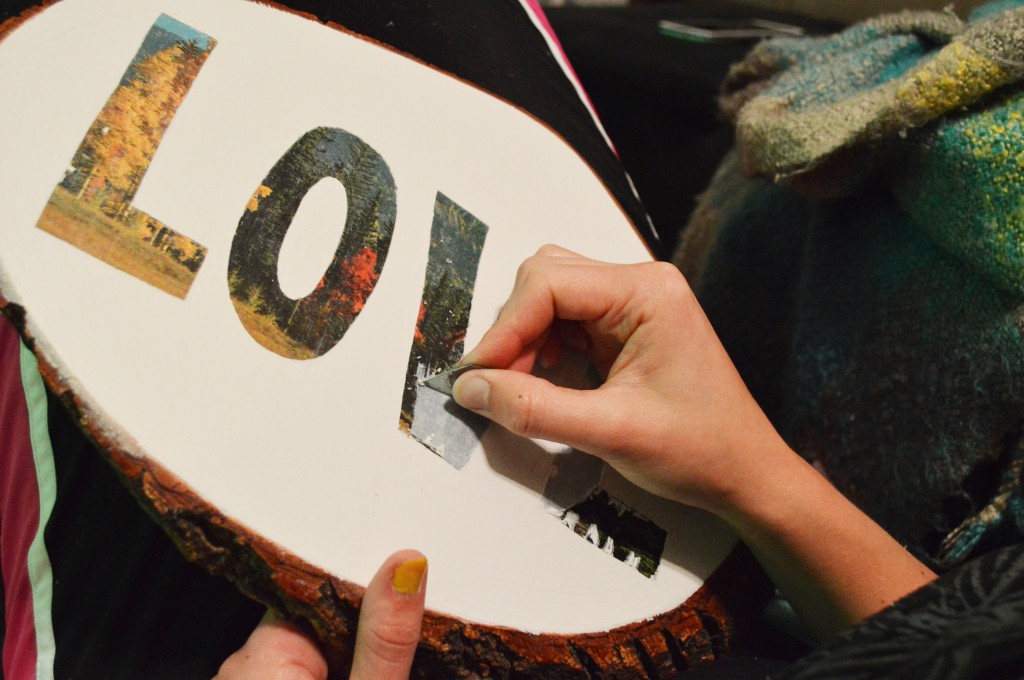 Not so great.
The glue adhesive had left a residue (the waxy part of the freezer paper I believe) on the plaque, and some paint has seeped under the stencil. I thought that was going to happen as it had bubbled up a bit while I was painting the thick coats on each time.
Luckily, it was pretty easy to scratch off both the paint and the residue with the knife blade, leaving us a nice outline of the letters.
I told Wyatt this was one of those projects that was just frustrating enough to make me want to give up and call it quits, but just successful enough to make me want to keep going on scratching off the residue. And, it only took me about 20 minutes, while watching TV last night, to get it looking pretty good.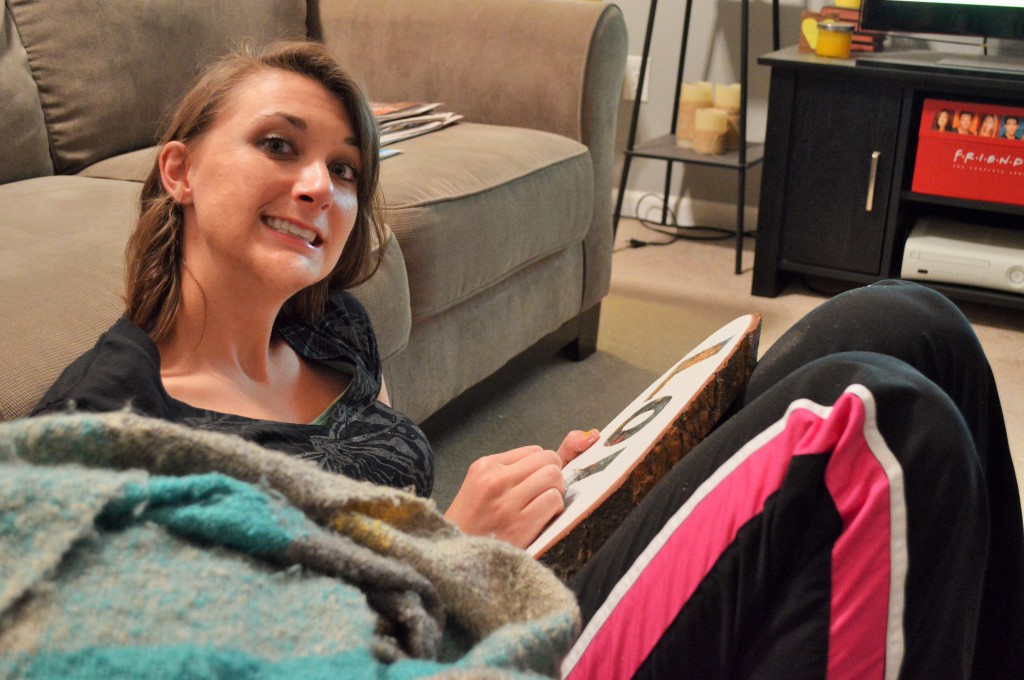 Wyatt actually helped with the first letter, and accidentally dug in a little deep, gauging the photo and exposing white wood underneath. And, I had a few small issues with that on the bottom edge of the "V" where I had trouble getting the stencil edge loose from the paint. But, I just grabbed a blue ink pen and lightly filled in those white spots to camouflage the scratch, and I think it's pretty hidden now. Totally good enough.
I also grabbed some brown craft paint and touched up the edges of the wood a bit in a couple places where my white paint had seeped down a little too far onto the unfinished wooden edge.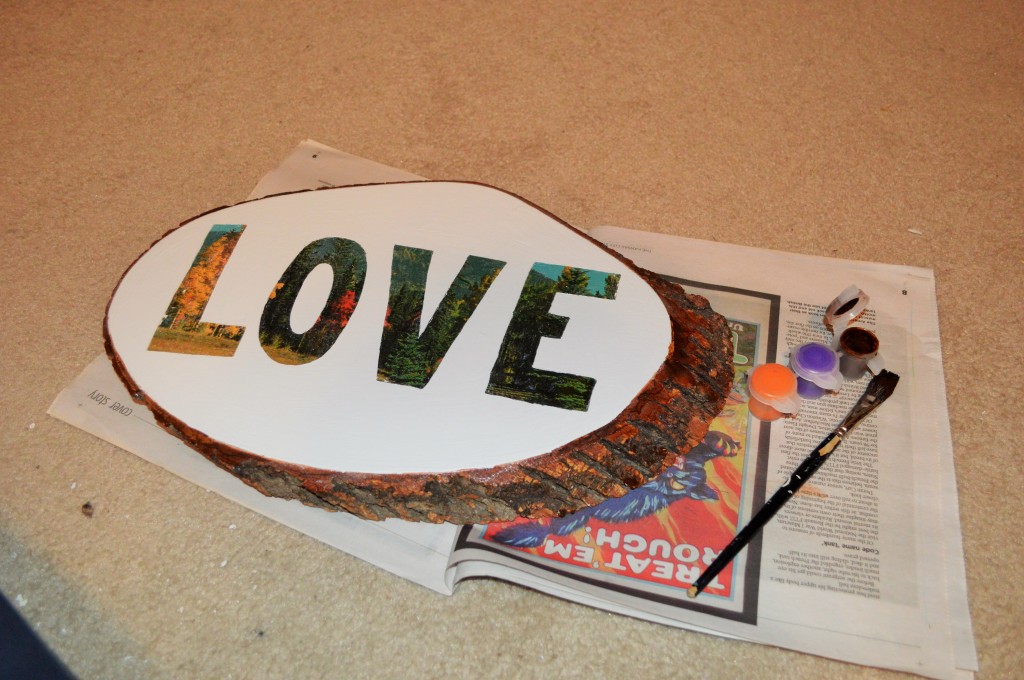 It was a quick fix and made the end result look a lot more "professional."
Then, I added a quick coat of spray matte top coat. Since the print underneath the paint was pretty glossy, I was a little worried about the paint scratching off it we bumped up against it with anything. And, it brightened up the print where we had scuffed the surface while scraping with the knife. The lettering isn't perfect, but I think that's okay.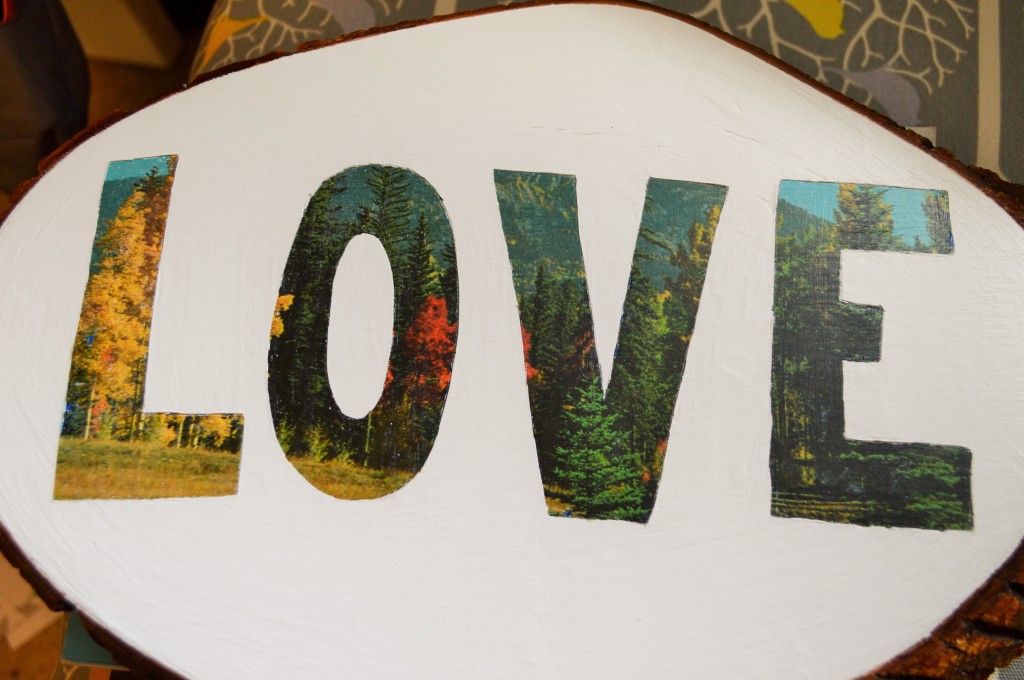 All in all, I think it was a really successful little salvage project. I'm not sure exactly where it's going to go. I guess, I'd be willing to send it back home with my mom if she wanted it, but I bet she'll be just as happy to see it on our walls somewhere.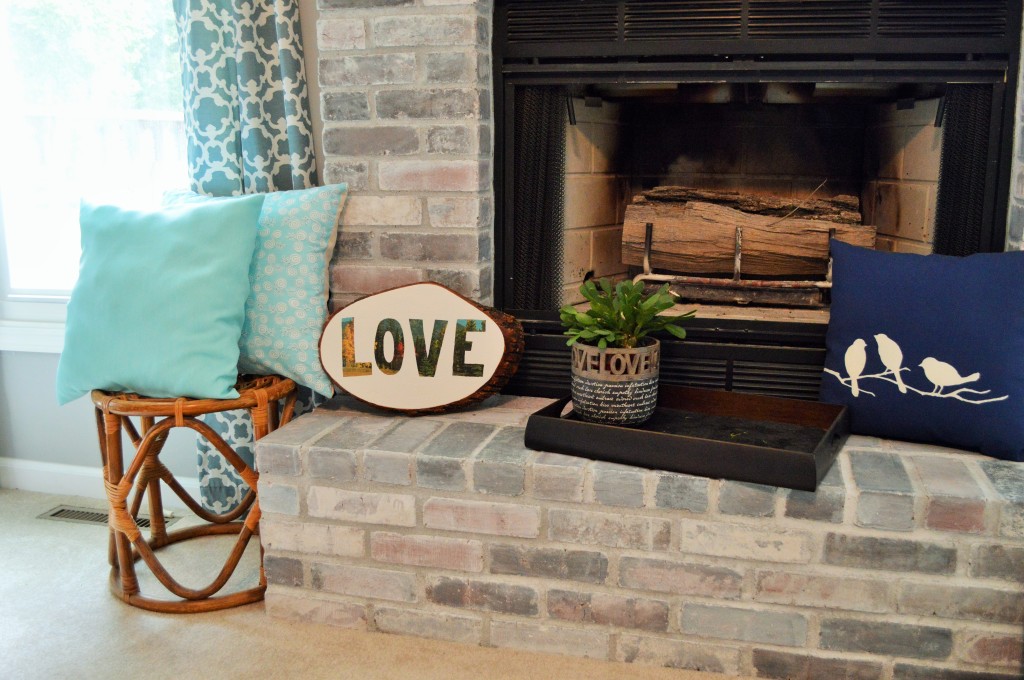 I think it's a fun update to an outdated piece of wall art, but I'm glad I decided to preserve a little of the photo instead of painting the whole thing. It's a little bit sweeter of a memento instead of totally erasing the previous print.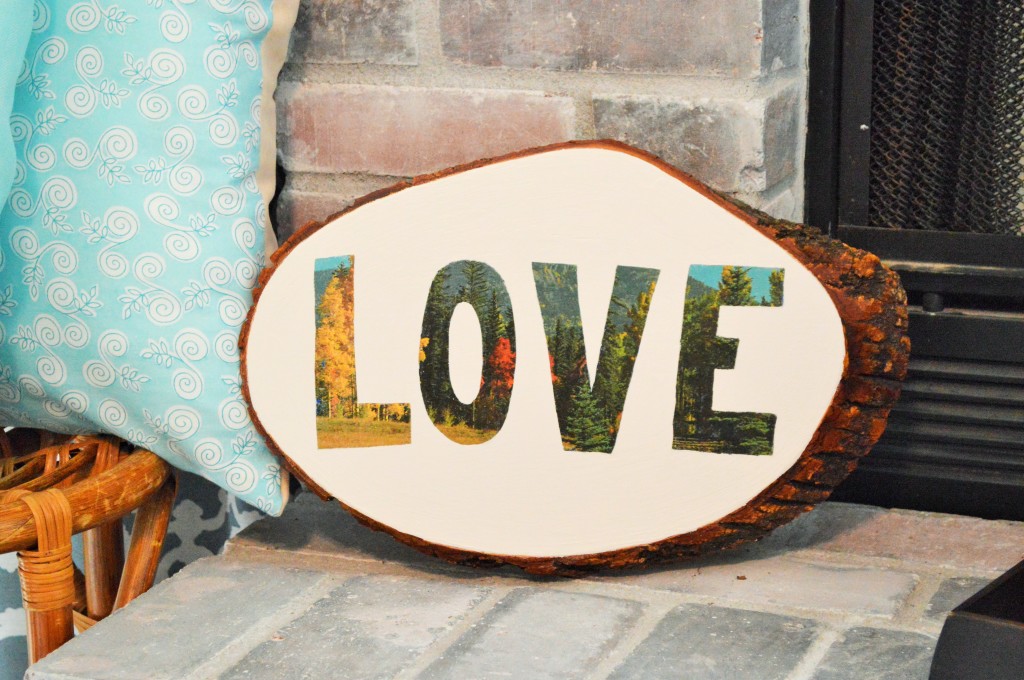 Ever painted over a photo or painting to make your own version of art? Ever made stencils? I love the idea of using them, but sometimes, they are just so annoying to work with!