One of the crafty projects I had wanted to complete for Beanie's nursery was a mobile. We didn't end up having time to finish this before he was born, but I did get part of the project finished before his arrival (which you can read about here.) However, I didn't get a chance to get it all written out for you until now. I wonder why… 🙂
Even though we didn't go with a full on theme for the nursery, I was really drawn to clouds and other sky-themed mobiles for over the crib. We wanted modern, gender neutral, and colorful (reveal post here) so I thought something along those lines would fit in nicely with our overall look. Plus, it seemed fitting to be looking up at the clouds, vs. looking up at floating animals or cars or something else that typically hangs out on the ground. Not that those mobiles aren't cute…they totally are. Can we all just agree any mobile is adorable?
If you're looking for similar inspiration, you can check out my Pinterest board for drool-worthy ideas:
Follow Melissa's board Magical Mobiles on Pinterest.
I ended up having a family member offer to make the cloud portion of our mobile so I only had to make the balloons. Woohoo! So, just as a little preview, here's what I'm showing you how to make today:
So adorable, right? Even if you aren't designing a nursery, these would be adorable for any themed party. Can you imagine them in red and white for a circus theme? CU-UTE!
Anyway, I started by using two of the white paper lanterns we had left over from our wedding.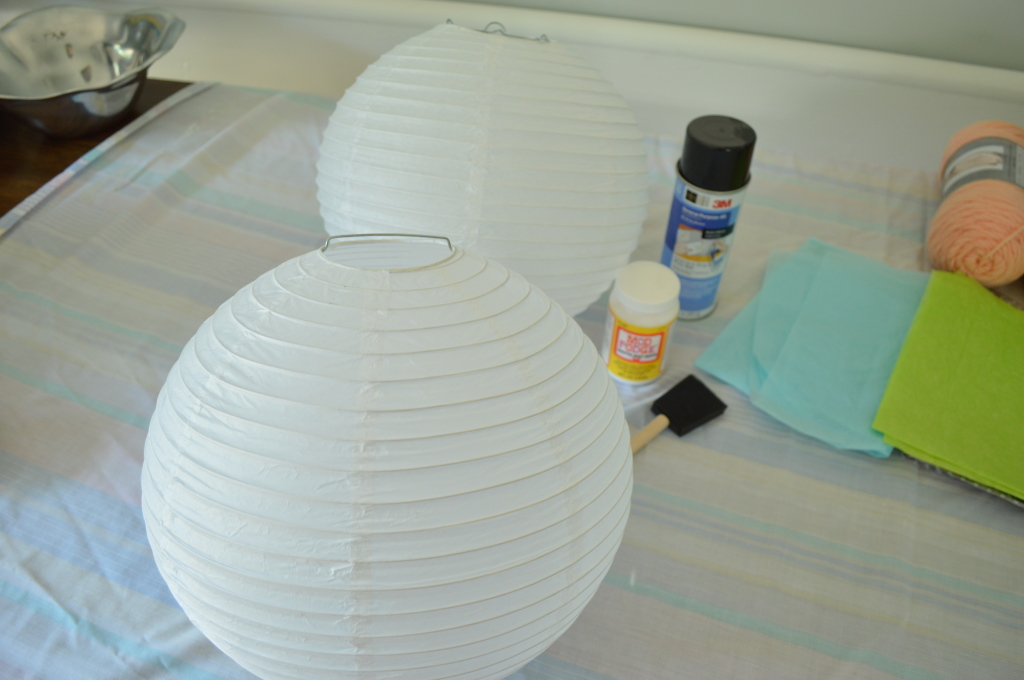 You can see we had plenty of them in storage from the photo below. That was a fun day…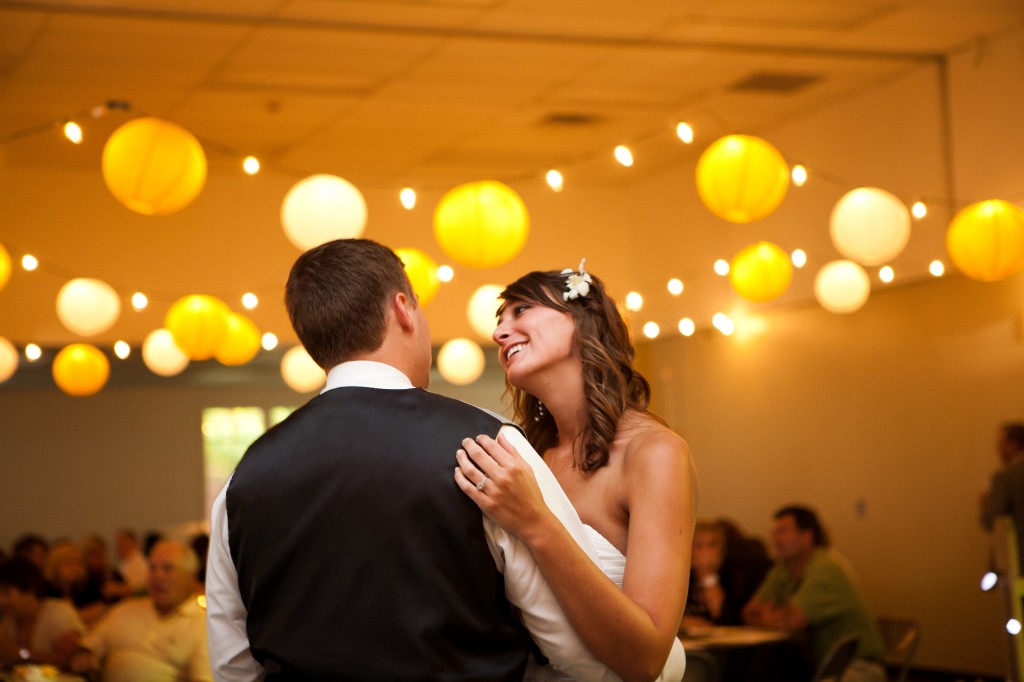 But, if you didn't have these on hand, you can find them at any party store. They come in all sizes and colors depending on what you're wanting for your finished balloons. You'll also need some tissue paper and spray adhesive for adding your color and designs to the lanterns, plus some yarn or string.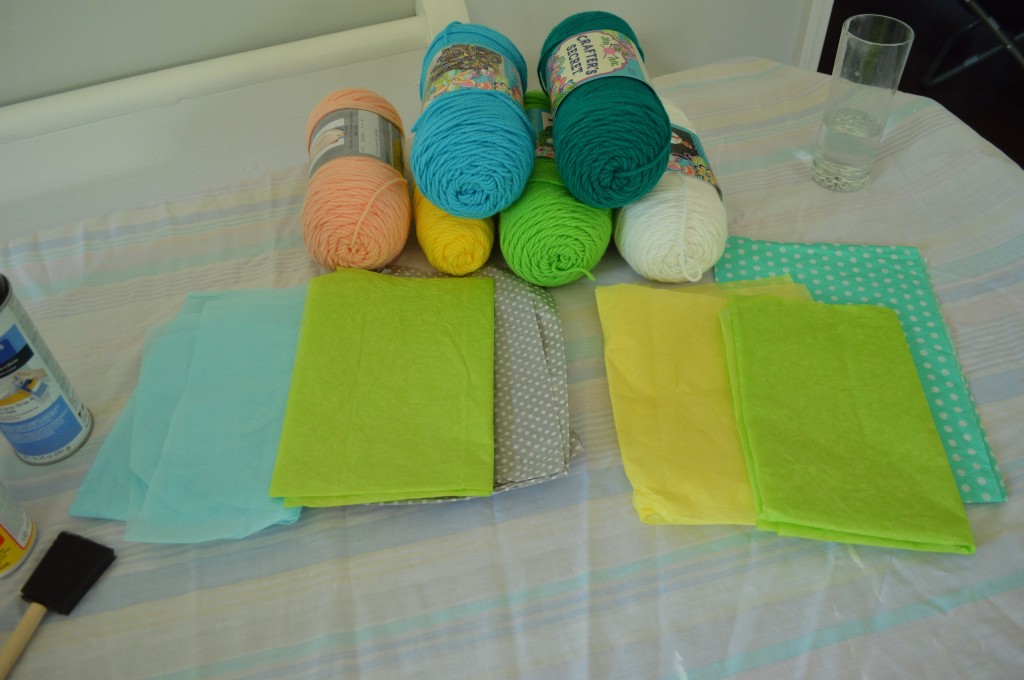 I reused some of the tissue paper we received with our baby shower presents and we already had the spray adhesive on hand from our DIY travel map pinboard project. Three cheers for free, right?
I also had some little paper baskets on hand from somewhere.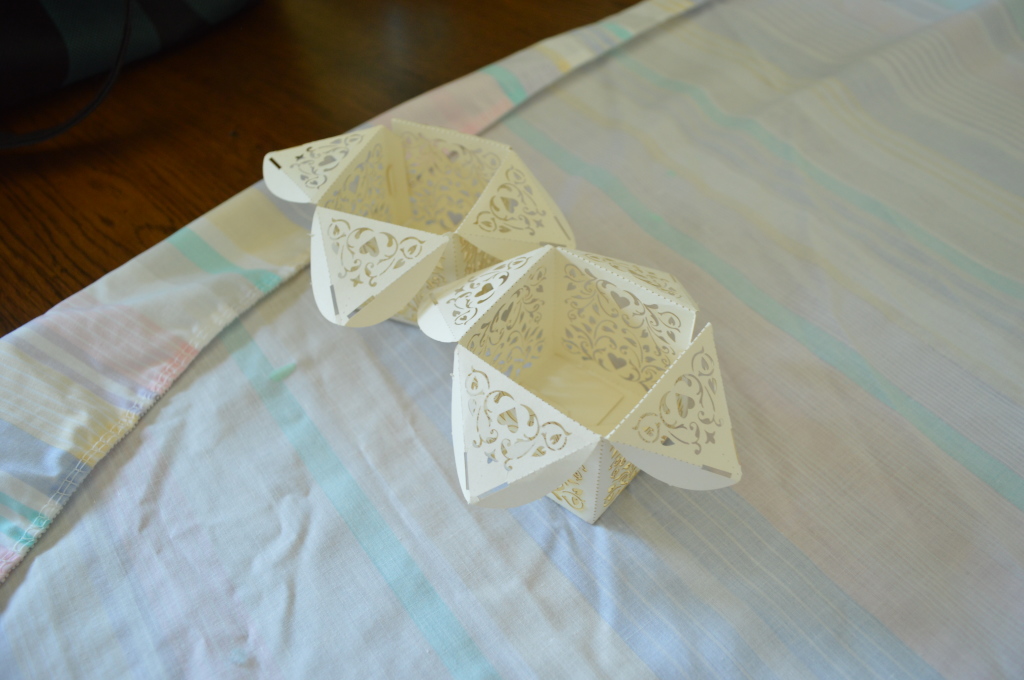 I'm sure I snagged them from some little store we were at and I've just been storing them for years thinking I someday might have a use for them. Also three cheers for finally using up some old supplies!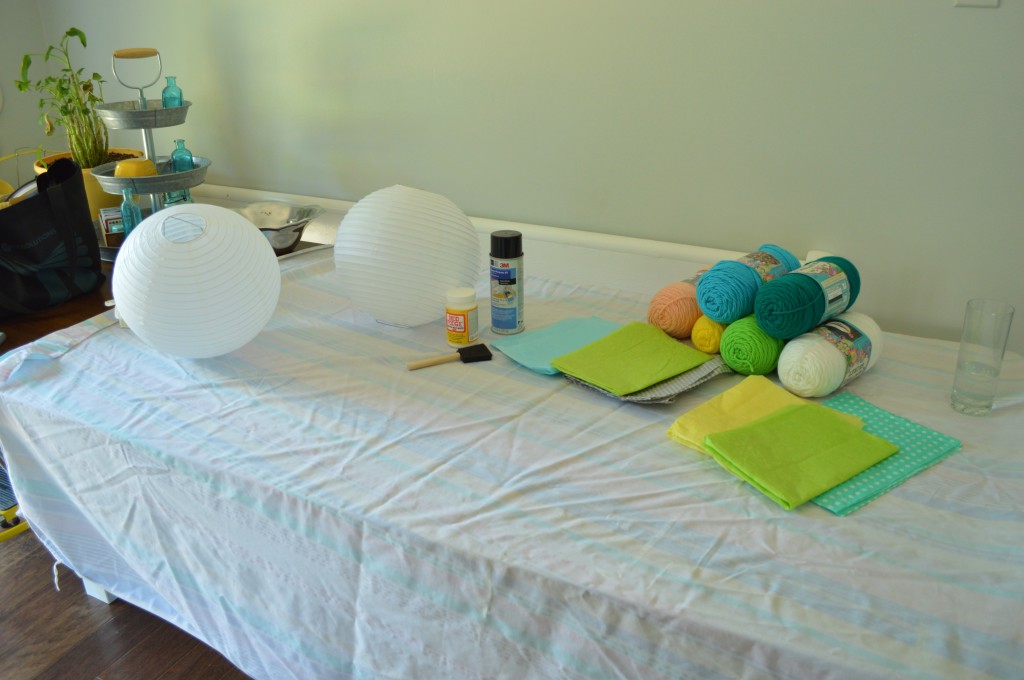 The basic steps for decorating your balloons/lanterns are pretty easy. Cut out whatever shapes or designs you want from tissue paper and glue them on. I bet you could also paint them if you wanted.
I wanted stripes, so I folded up the tissue paper accordion style and cut out long, tapered strips.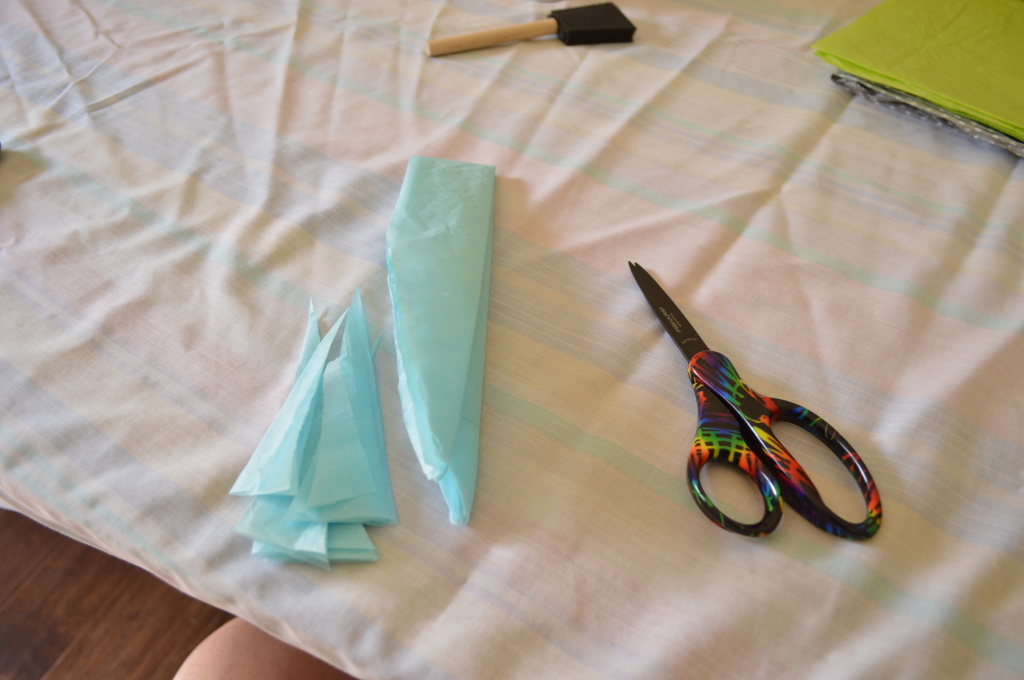 When I unfolded them, they looked like this: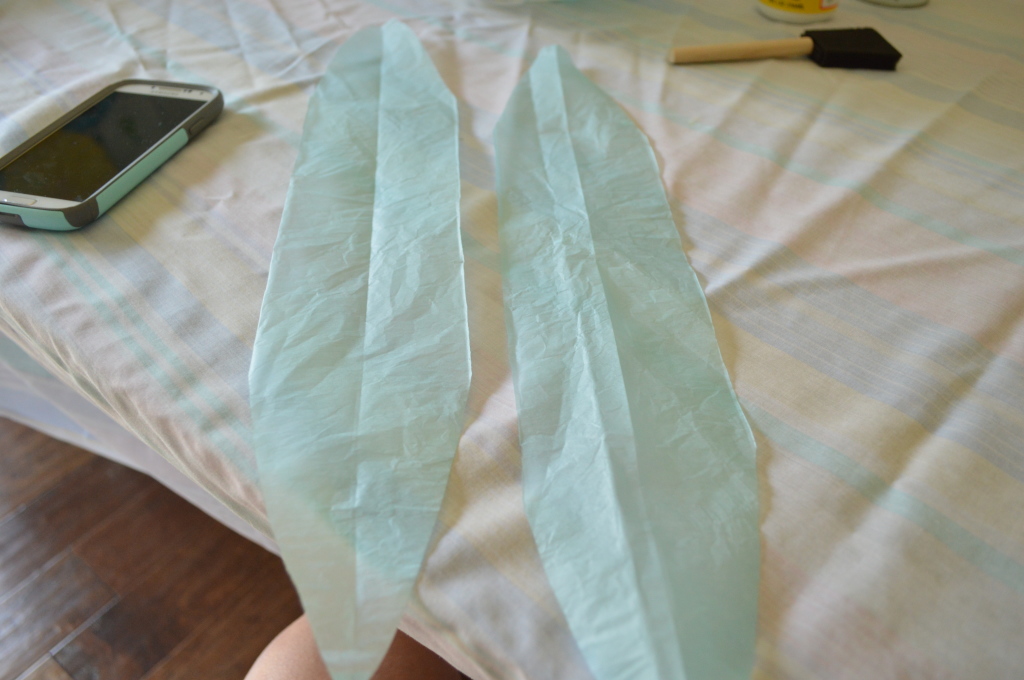 It's okay if they are wrinkled. They'll smooth out when you glue on. Then, I took all my pieces out to the garage and used the spray adhesive to lightly coat one side of each strip, being careful not to rip it when it got sticky.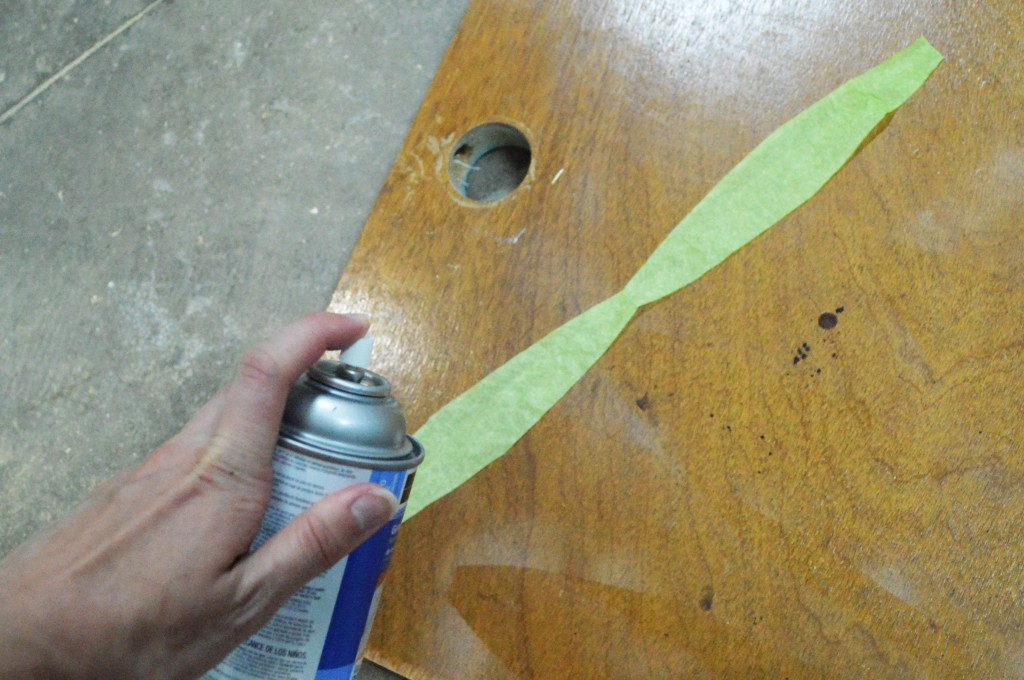 Then, I wrapped one end over the wire top of the balloon…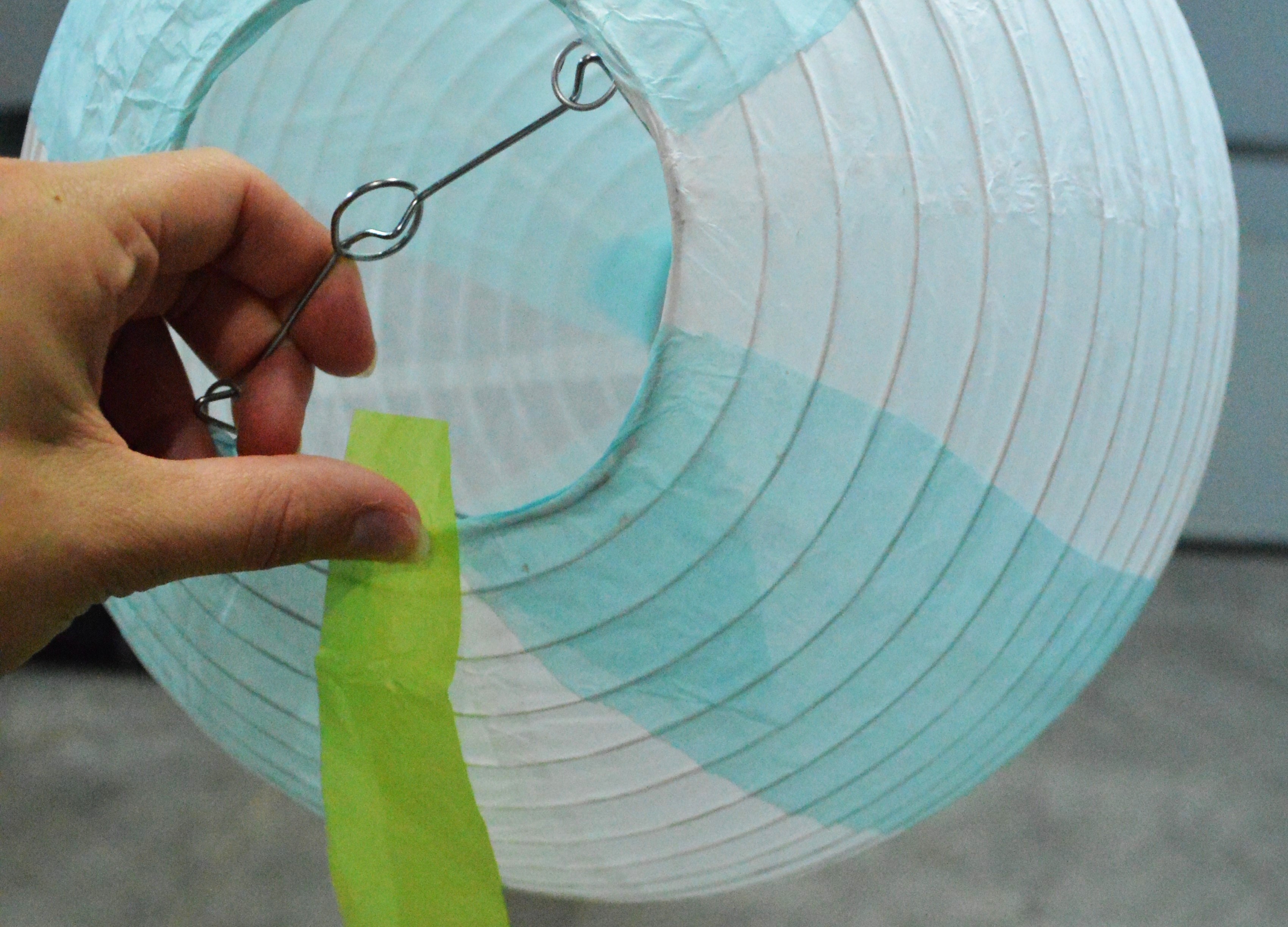 …and pulled it tightly but gently down and around, wrapping the other end around the bottom and smoothing out the strip as it curves over the balloon. If you happen to need to wrap where the wire lantern frame is, you can just carefully rip or snip it to go around the wire and tuck it back inside the lantern.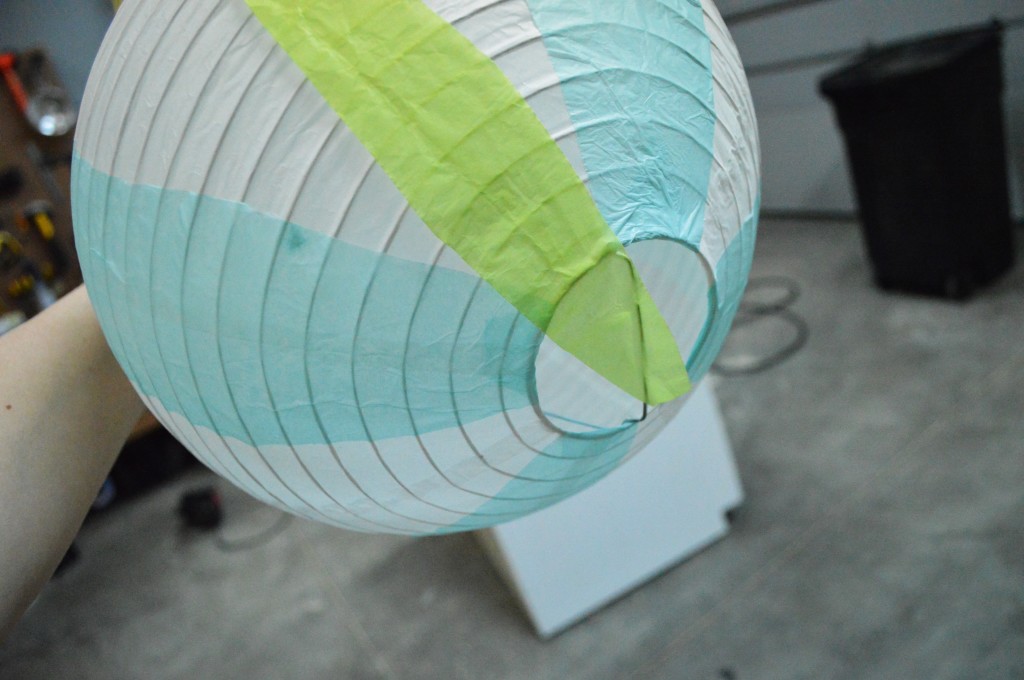 Once all your stripes, or whatever design you use, is attached, you'll just want to make sure all the edges are smooth. I had a couple loose pieces to tuck inside with a bit more glue. Otherwise, the tissue paper stays in place really well and smooths out nicely only the paper lantern. A word of caution, though, it doesn't remove easily, so I'd recommend taking your time and avoiding mistakes…or being okay with an imperfect look. 🙂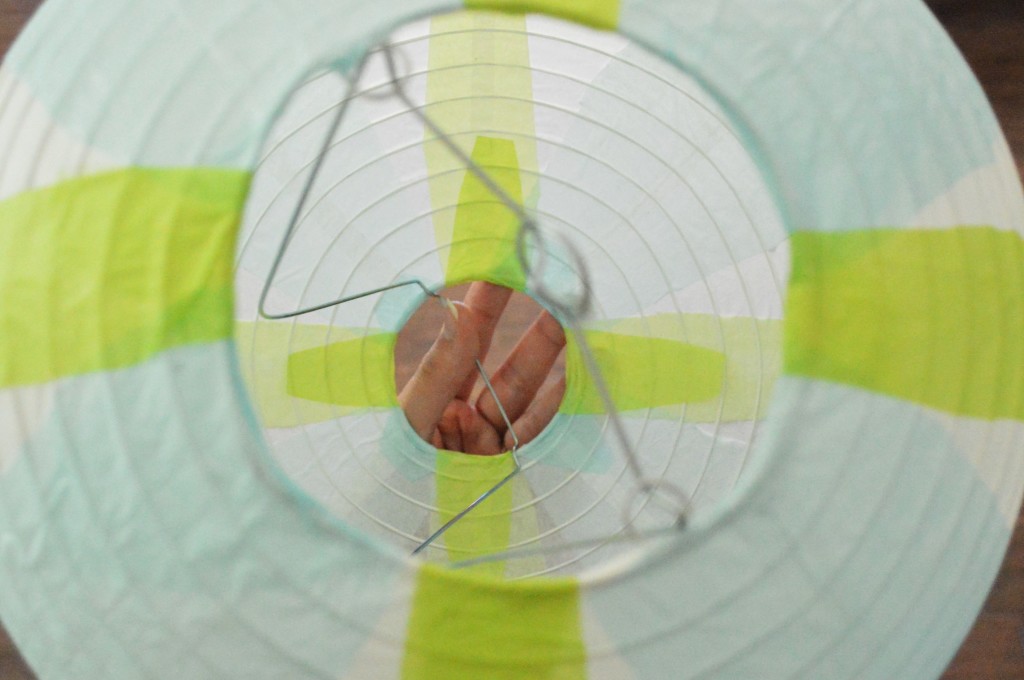 Then it was time to attach the little baskets. For this part, I used two colors of yarn. The knotting process looks complicated but it was actually pretty simple.
You start with four pieces of string, about 3 or 4 feet long, knotted together in the middle.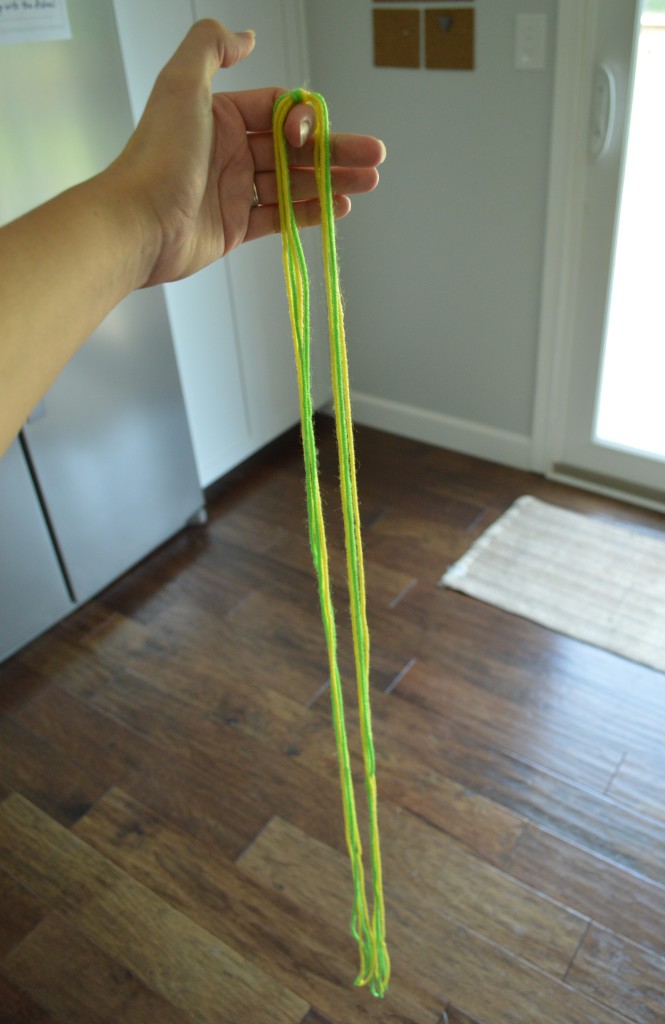 Tie that knot onto the middle of the wire frame, and then make four knots on each of the four "corners" coming out from the middle, right at the edge of the paper. Tape those knots in place, carefully because you'll want to remove the tape later, and then separate each string and knot it together with the one adjacent on the other side about four inches below your first knot.
You're making diamond shapes, with alternating colors of yarn on the left and right sides, as shown below.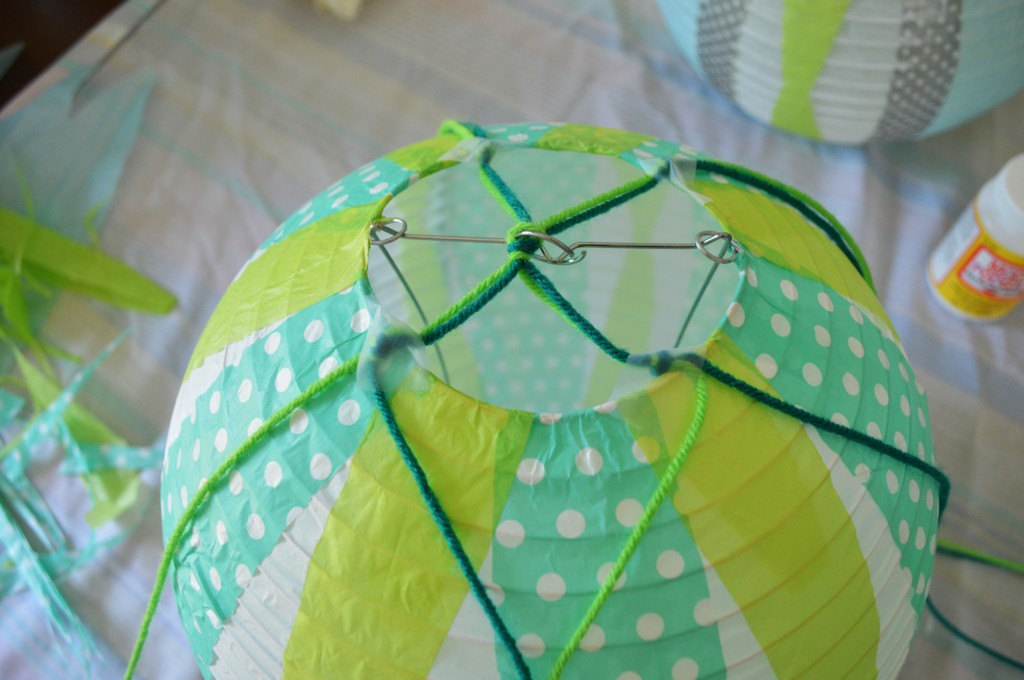 You'll just repeat this process until you're over halfway down the side of the lantern. For me, that was two sets of knots. Just make sure to let your strings hang naturally. Don't tie one side super tight or you'll end up with weirdly shaped diamonds when you try and knot the other side. This is what it looks like when you're done knotting. At this point, your balloon is upside down.
Then, you'll use the remaining string length to attach your baskets. I won't go into detail there because it will all depend on what sort of basket you use. I just knotted the strings into the pre-punched holes in the basket, making sure to tie each side evenly so the basket hung down straight. You can see I had a willing helper…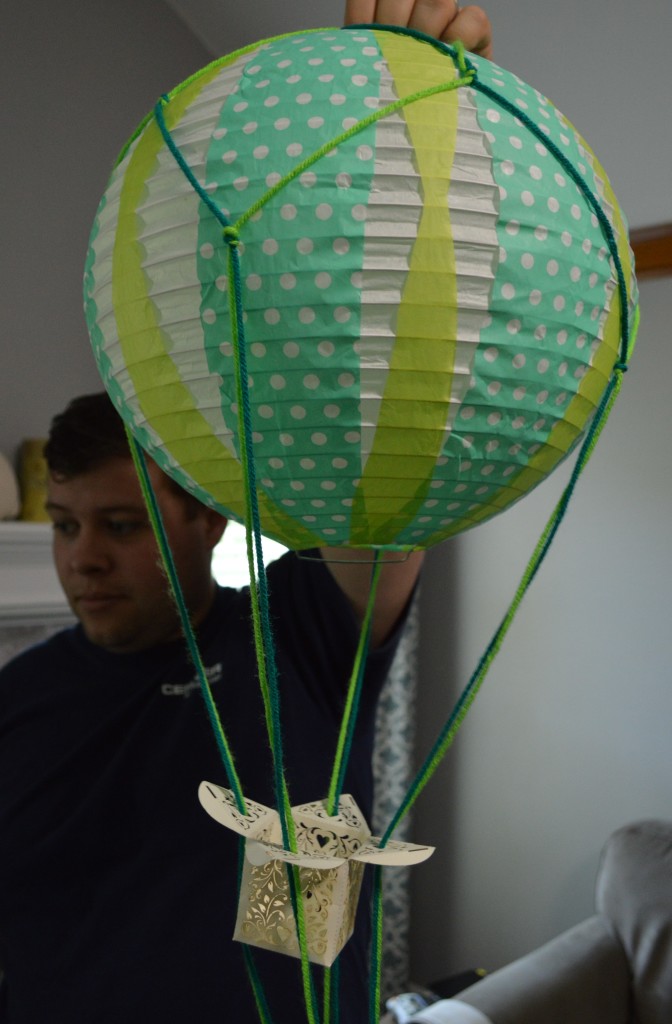 And then you're done with your balloon! Super cute, right?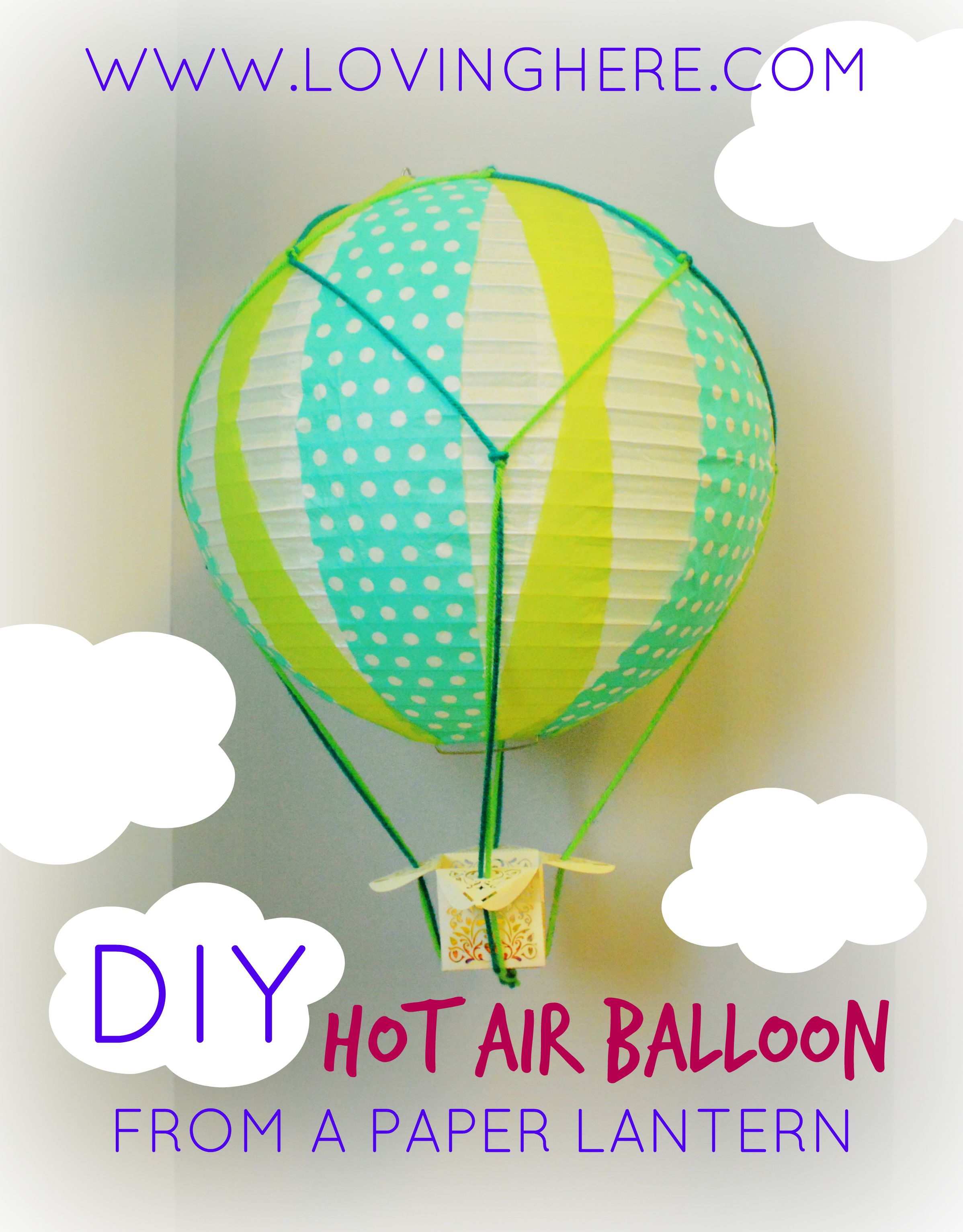 I'll be back to share the finishing touches and tips for how we put this all together and got it hanging up over the crib. Luckily, babies can't see very well for the first few months, so I had some time before Will could really enjoy it anyway.
In the meantime, tell me about some of your favorite mobiles you've seen! I think this Mario-themed one from our friends is pretty awesome. It's currently hanging over the changing area and I'm not sure who likes it more, Wyatt or Will!