~ This post contains affiliate links, which means we will receive a small commission if you make a purchase after clicking on our direct link. It doesn't cost you anything extra but it helps us! Please reach out if you have any questions about sponsorship or ads on our blog. We're happy to help explain how this works, and as always, thank you for reading and supporting LovingHere! ~
---
This is PART 1 of our ultimate baby registry guide. CLICK HERE for PART 2 of our ultimate baby registry guide.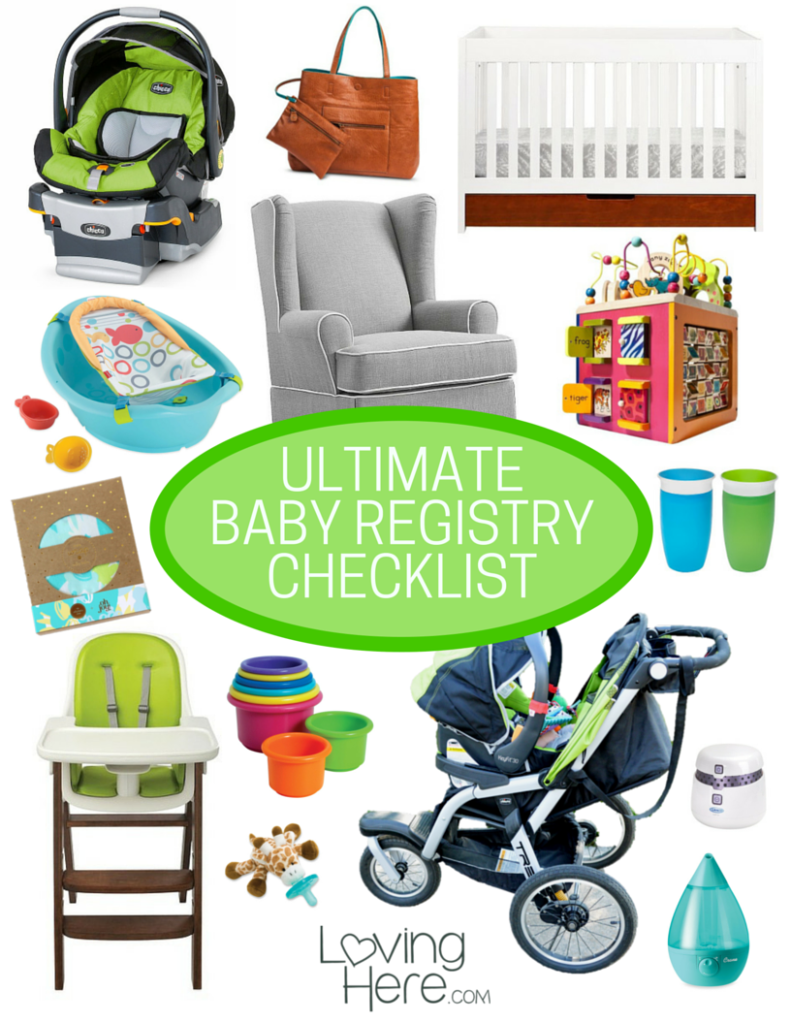 As Will's first birthday gets closer, I've been thinking a lot about how the last year has gone and how we've managed on our quest to control the baby-related clutter around the house. We did end up with more toys than we need (who doesn't) and we certainly have our fair share of baby gear, but overall, I've been really pleased with most of our purchases from our baby registry. Today, I'm sharing some thoughts on some of our very favorite baby items that have gotten us through the first year.
(Pause for a moment of sentiment at how tiny our sweet boy was.)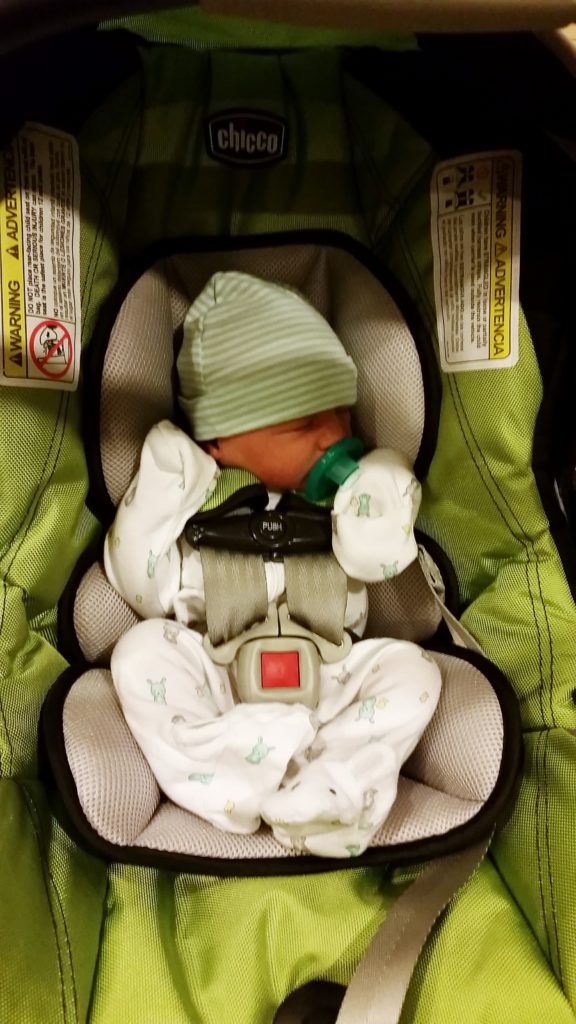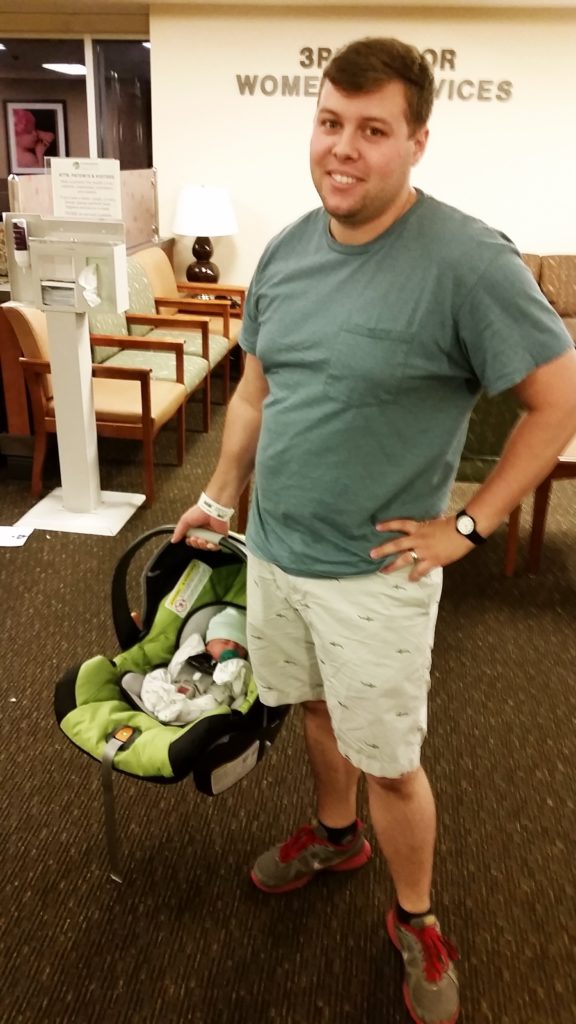 We did a bunch of research while making our baby registry and chose the Chicco Keyfit 30 for our infant car seat. We actually considered skipping the infant seat and going straight to a convertible seat to save money but I'm glad we didn't. Even though Will doesn't nap soundly in the car (and thus, we can't transfer him in and out of the car while he's sleeping, which is one argument in favor of the infant seat) it is really handy to get him all strapped in while facing him from the front instead of leaning awkwardly in from the side of the car. Plus, if we happen to go anywhere where he needs to be contained but we can't hold him, keeping him in the car seat is a great option.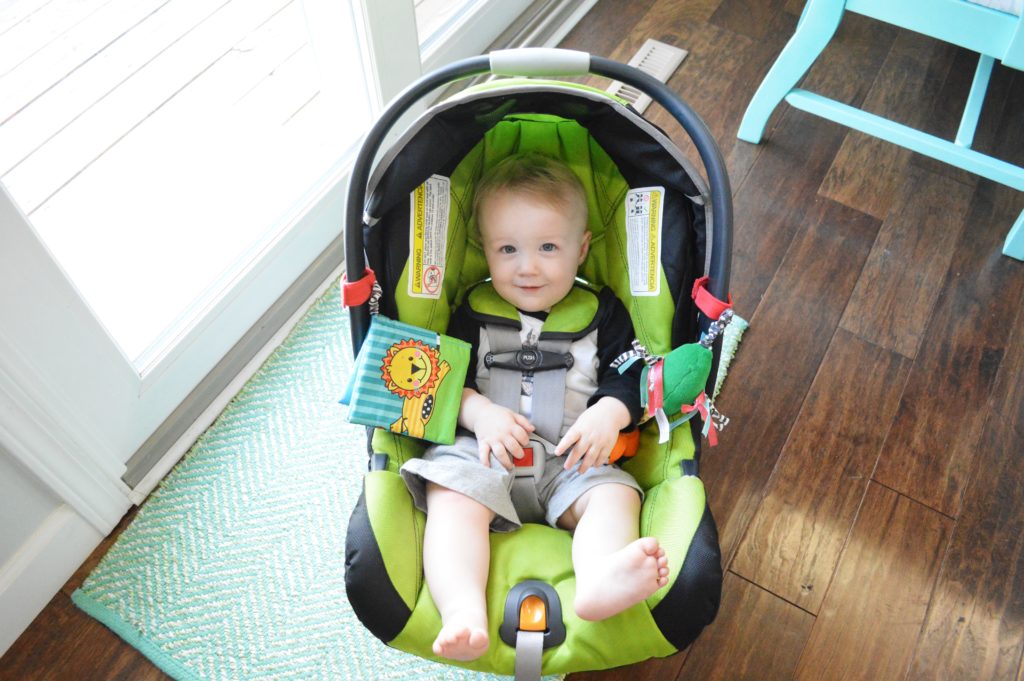 It came with an infant insert so we didn't need to buy that separately, and honestly, it just had great safety reviews from all the sources when compared to other seats in this price range (the upper middle of the road, I'd estimate.) That's pretty much the only reason we picked this one, although it had other good features like removable, washable fabric etc. I did read some bad reviews about it making babies sweaty, but it doesn't seem excessive to us, and I'd rather he be super secure anyway. It's easy to strap him in and get him out, and it clicks easily into the base every time. It also clicks into the stroller, which is great, but I'll talk more about that in a minute.
Wyatt liked that it came in green, and there were options for other colors or even a "winter" version with a boot/cover thing to keep baby warm without needing a coat, but we decided on this version since we had a summer baby.
Of course, when he was a tiny baby, we carried the carseat even more places, but now that he weighs 20 pounds, it's just too bulky most of the time. Still, we feel like he's very safe and it's convenient, so I'm pleased with this choice. It wasn't the cheapest option, but we were gifted the set (carseat plus a base) from my family as a shower gift and it has been great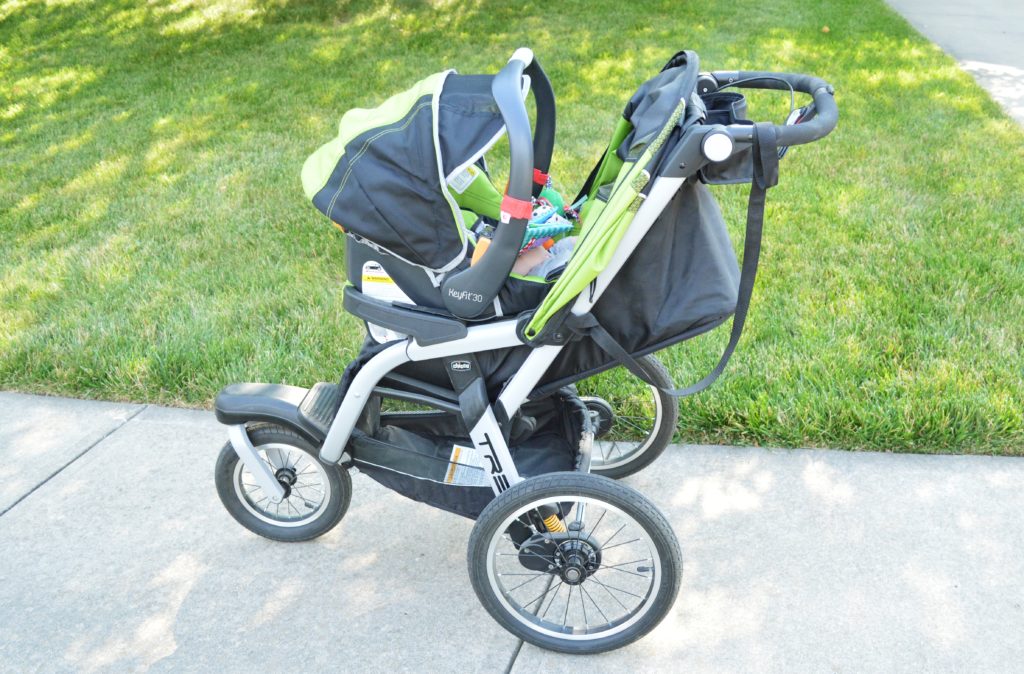 Going along with the car seat, we're also pleased with our stroller. The car seat snaps in which was great for letting me take Will on jogs even before he was old enough to ride in the stroller. He's big enough now to ride in the stroller itself, and we've done that a few times, but I usually still put him in the car seat first because it lets me look at him while we're out, and his neck is more supported since the sidewalks in our neighborhood are fairly old and really bumpy if I'm jogging. And, using the car seat gave me more canopy cover to keep him warm in the cool, wet weather we had this spring. Or shaded in the summer sun.
Of course, that makes it way heavier, so I'm probably going to switch over and let him ride in the stroller part by itself pretty soon. In terms of portability and storage, the stroller does fold up, but it's still pretty large and bulky, so it's not all that convenient to carry around. It is easy to fold and unfold though, and I like the functionality that lets me lock and unlock the front wheel to both swivel and lock. Makes it work well for both jogging and walking around the zoo so we only need one stroller. We might also add a cheap umbrella stroller or wagon down the road for lighter traveling.
The storage bin in the bottom is pretty large, and the cup holder tray is fine for a water bottle and my phone, and even a can of pepper spray, which Wyatt insists I carry. The hand brake is also nice to have, although I don't use that very much.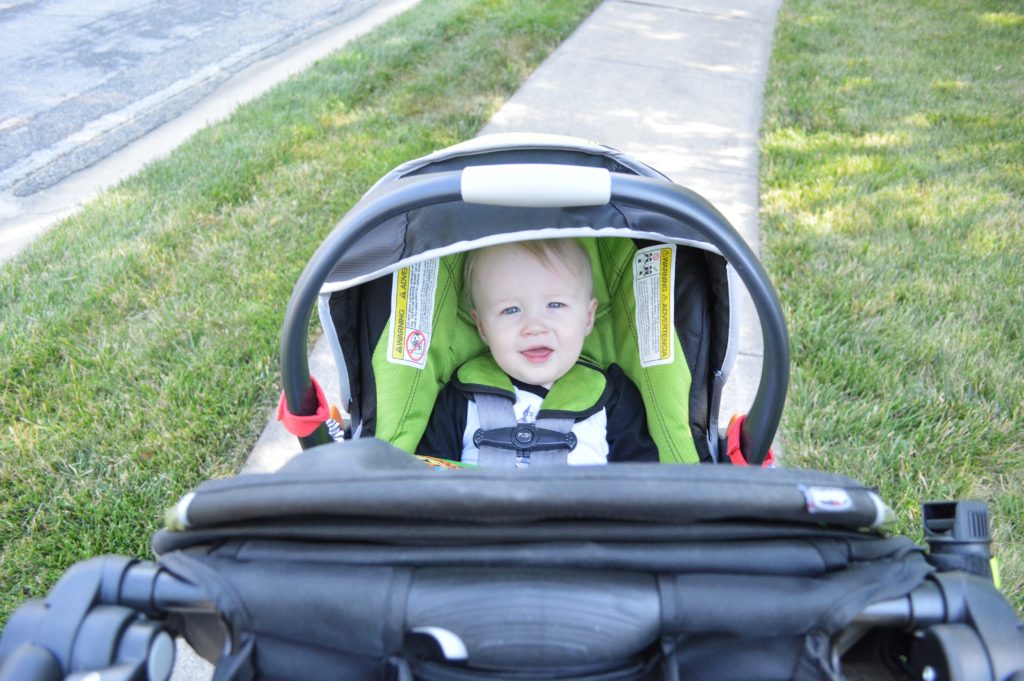 Again, this wasn't super cheap, but (cheaper than many jogging strollers I considered when making our baby registry) and I think it's a good middle ground option since I'm not really a serious runner at this point but still wanted something safe that would work well. If I was marathon training again (I'm not!), I might have sprung for the Bob jogging stroller, but this is working well for me and I've been really thankful to have it. I'm glad we went ahead and put it on our registry (and then purchased before Will was born!) so we could use the car seat attachment feature to go on walks really early on. That was so nice.
And, just FYI, we talked to our pediatrician, who said it was fine for me to jog with Will in the infant seat before he was 6 months old (like the manufacturer recommends), but be sure to check with your doctor before doing so!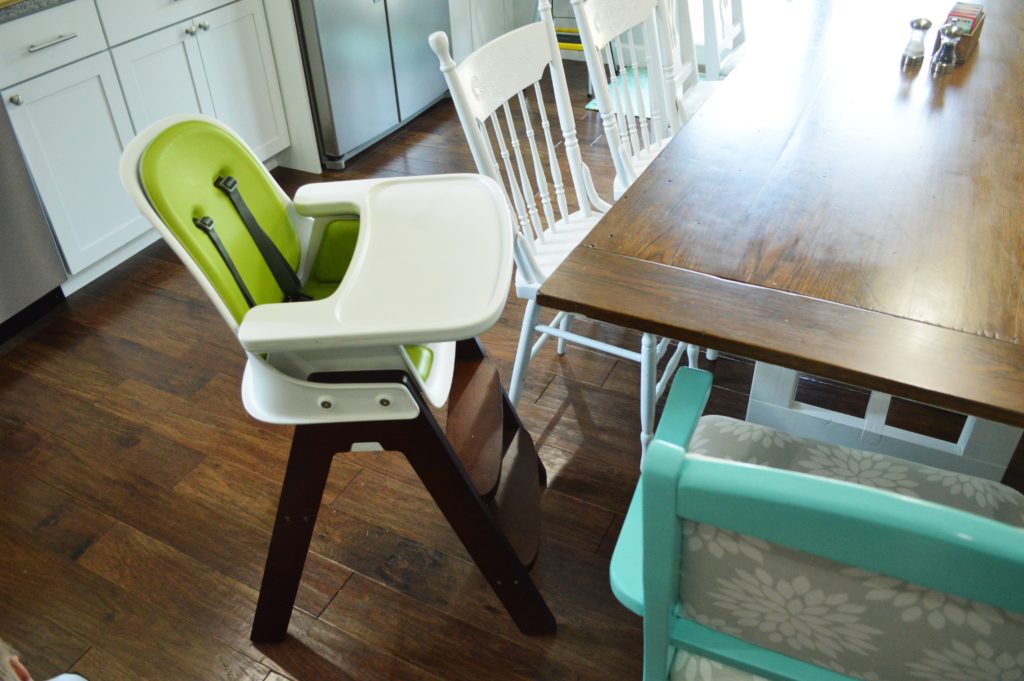 We are using the Oxo Tot Sprout High Chair. I actually won it in a contest like four or five years ago and we like it a lot. It is more expensive of a chair that I think we would have chosen otherwise, and it's bigger (we might have chosen the kind that straps onto another chair instead of a freestanding one) but we do really like the look of this one. It matches our kitchen well and fits Will really nicely. It's sturdy and easy to wipe down since the seat cushion is removable. Plus, we like that it has a wooden base instead of plastic.
It should work for him for a few years, which is great, and the cushions are removable for cleaning, which is nice. And they are green, which Wyatt likes, of course. (Plus, they happen to match our kitchen really well since the remodel.) I think the only thing I dislike about it is that it's hard to clean the seam between the top and bottom pieces of the tray. I have to use my fingernail to help scrape it out if Will gets it really messy and that's kind of icky. Also, it doesn't quite fit underneath our table. Bummer.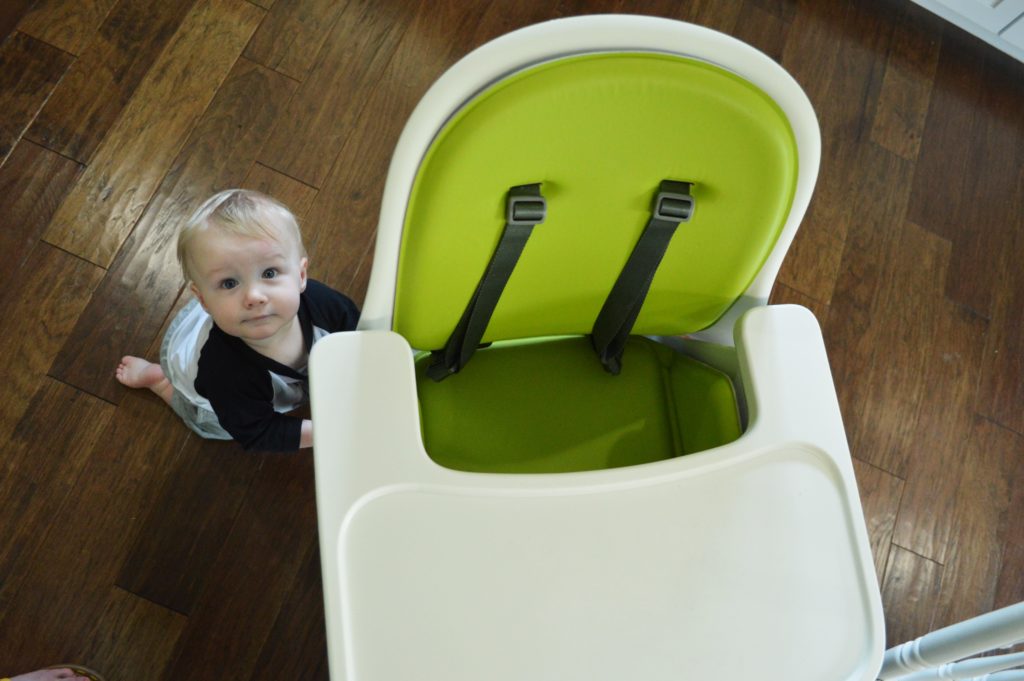 Other than that, we would totally buy this again if we had it to do over and were creating our baby registry again right now.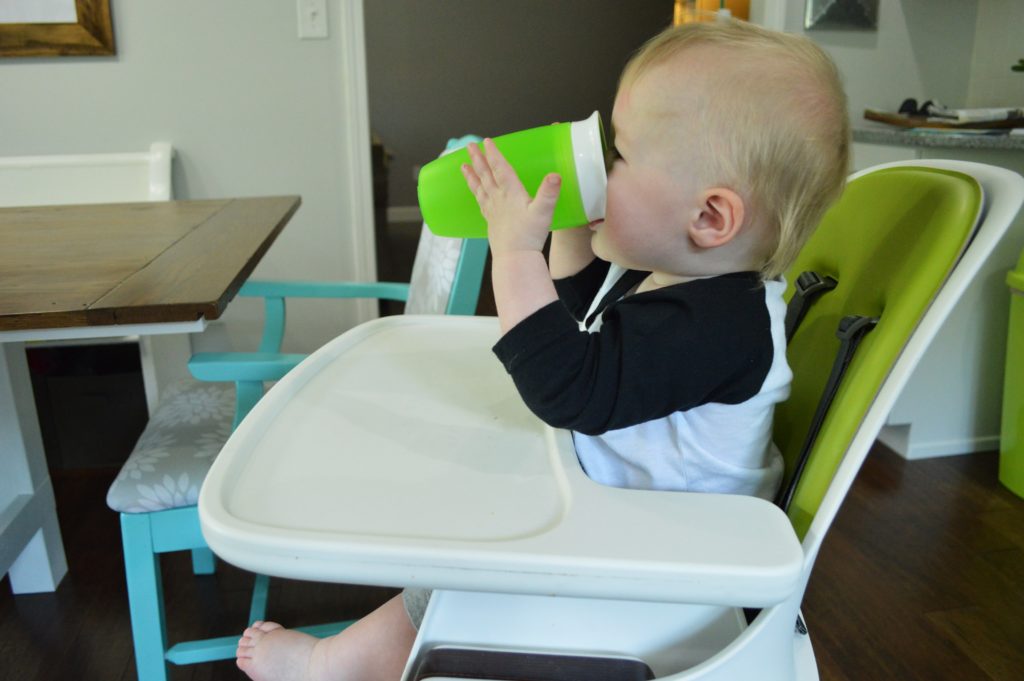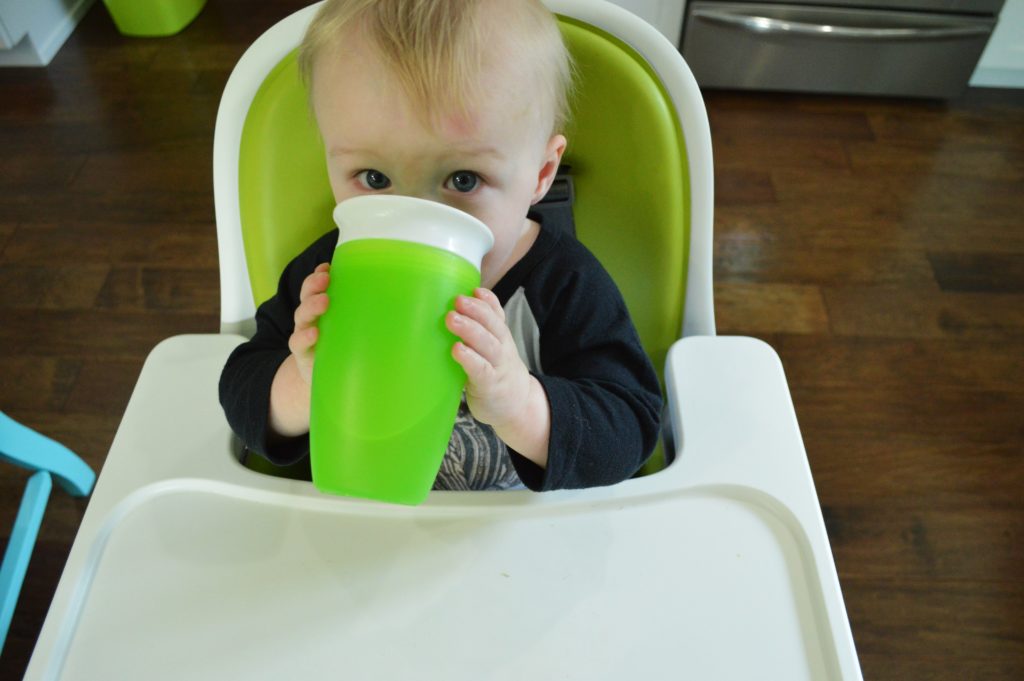 I have to admit, I wasn't sure Will would take to this, but since he liked drinking, or trying to drink, out of our regular glasses, we figured it was worth a try and he honestly did really well with it from the beginning. It isn't totally spill proof, but I feel fairly safe carrying it in my bag as long as it stays mostly upright, and it only really spills around the house if Will drops it on the group or is being really crazy with it. I think this is a great alternative to a regular sippy cup and I'm hoping we can transition him to a little cup even sooner than we otherwise might have been able to. Plus, it all comes apart, so there is no chance for mold or anything. (There's been a lot of talk about sippy cup mold recently, so that was a big perk in choosing this kind!)
Honestly, I keep meaning to buy more of these since we only have one right now. We wash it daily and take it almost everywhere with us now that Will is drinking water with meals.
5. Baby Mod Crib (with Drawer!)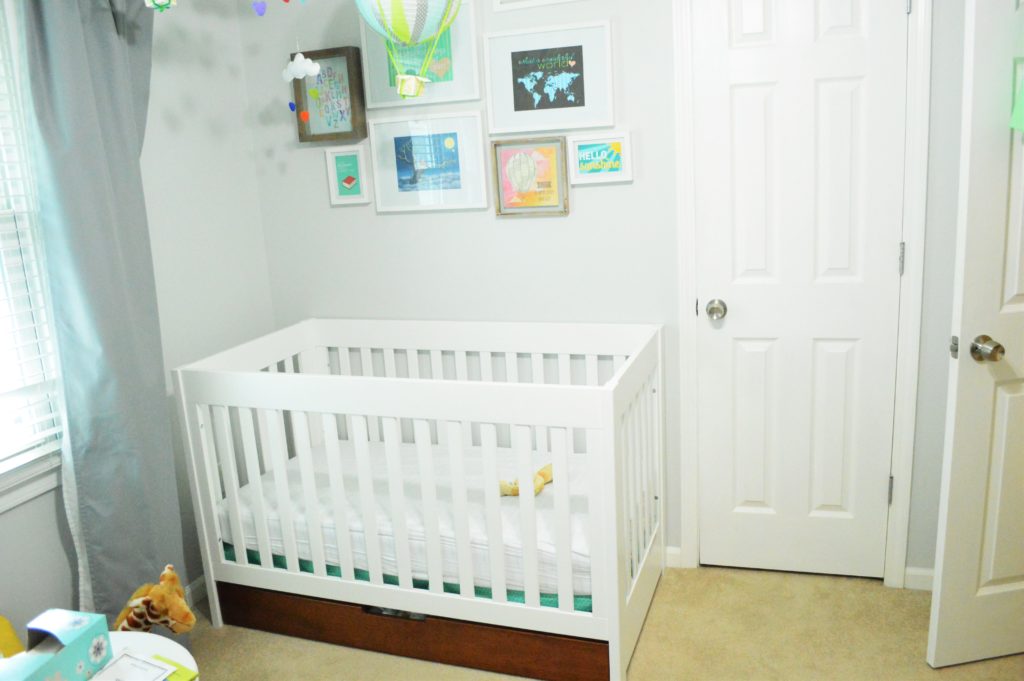 We already wrote a whole post about selecting our crib but I'm including it in this list simply because I think it's important to come back and update you all on how we're liking things we've promoted to you. You can CLICK HERE to go back and read all the details about our crib, and I'll give you a short update: Yes, we still like the crib a lot. Yes, we'd buy it again. Yes, it's holding up well, and yes, I'm excited we'll be able to use it for future kiddos…someday down the road.
Also, this crib is on super sale right now. I almost wish I had an excuse to buy another one…but alas, I don't. But friends and family, take note…buy this crib now.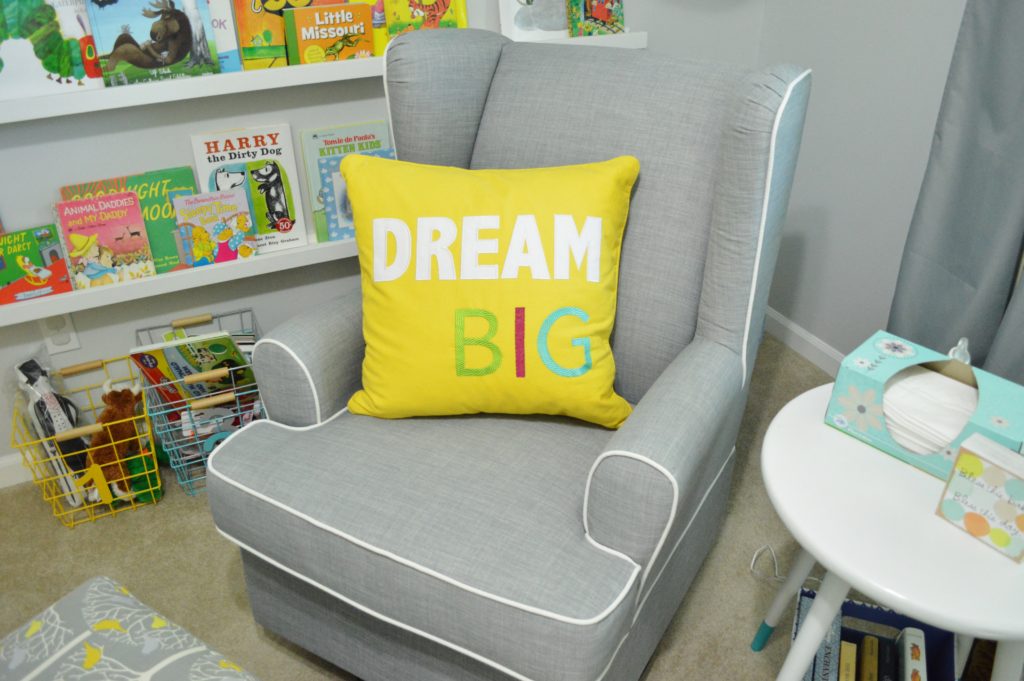 Again, I've already done a post talking about the glider we got to replace our rocking chair. CLICK HERE for all those details. The verdict on the glider is that we do like it a lot. The chair is slightly smaller than I might have expected, but since we have a small space, I like that. And, I find it comfortable. If you were a more plus-size momma, you might find it slightly cramped, but it's honestly not much smaller than any other gliders we found in that price range, so I think that's a little bit nit-picky to say.
Overall, it's really pretty, I like the fabric a lot, and it's comfortable with no squeaks or anything when it glides. I'd buy it again. 😉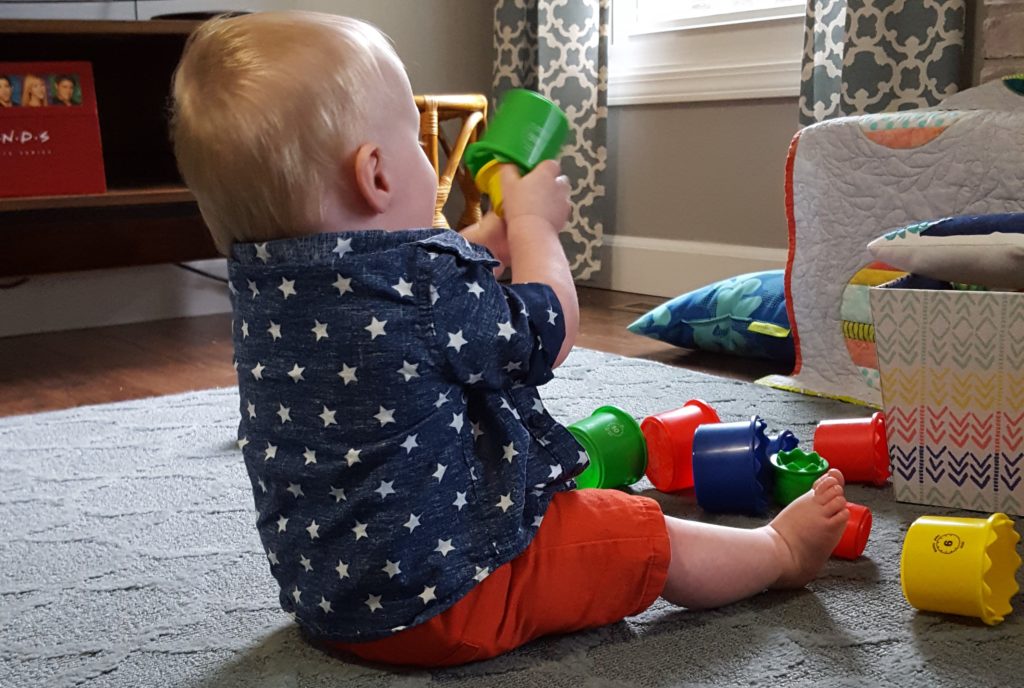 I know these are a super small item compared to the bigger stuff I included in this list, but honestly, they are Will's favorite toy. In fact, I think he'd be pretty content right now if they were his only toy. Sure, he has other stuff he plays with, but for right now, if I had to pick one toy to pack for a week long trip away, it would be these.
The ones linked above aren't exactly the ones he has, (which were a surprise gift not on our baby registry) but they are really similar, and really affordable, so I wanted to throw them on this list for anyone who might be looking for a fun, inexpensive baby gift idea. I might buy this set to keep in the diaper bag or the car as a spare for when we're out and about. Or maybe I'll put one on his birthday wish list and relegate them specifically to the pool or the bathtub. Seriously, the kid loves cups.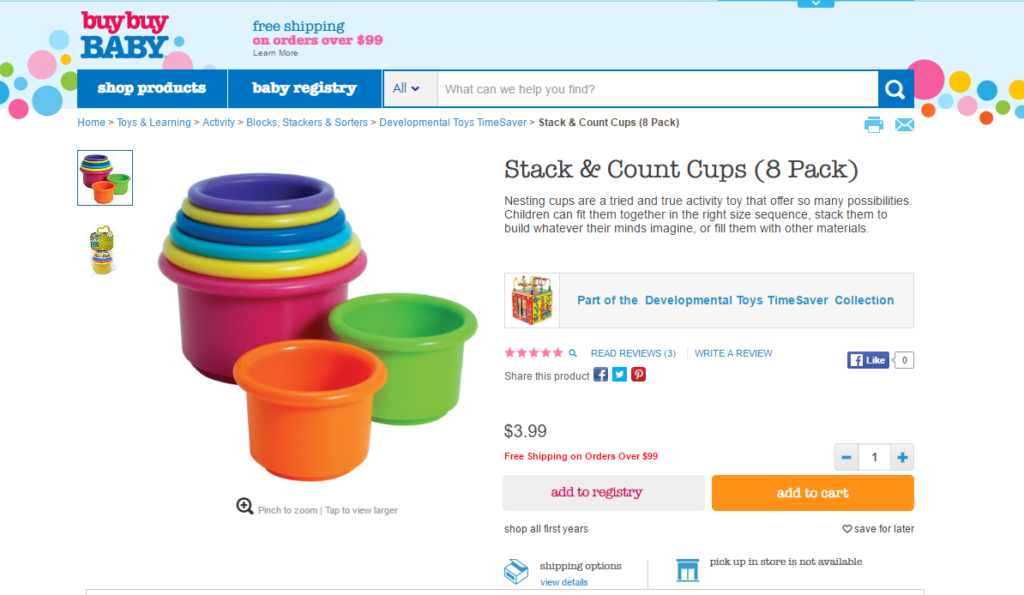 Although we have a lot of other products we use on a daily basis I'd love to talk to you guys about, I thought I'd start with this list of our very favorites right now, both big and small. I'm sure I'll be sharing more details in the coming weeks as we get closer to Will's first birthday and I find myself spending more and more time looking back on this crazy year.
That's enough for one post. CLICK HERE for PART 2 of our ultimate baby registry guide.
What are some of your favorite baby products? I'd love to know what I should add to this list. Or, do you have any specific questions or thoughts as we get closer to the one year mark? I'm happy to answer any questions—not that we have any idea what we're doing!  
Don't forget to create your Target Baby Registry and Register Your Baby Registry online at buybuyBABY and Receive FREE Goody Bag in Store!
 –even if you don't get all the items as gifts, you get a completion discount you can use to save money on big purchases.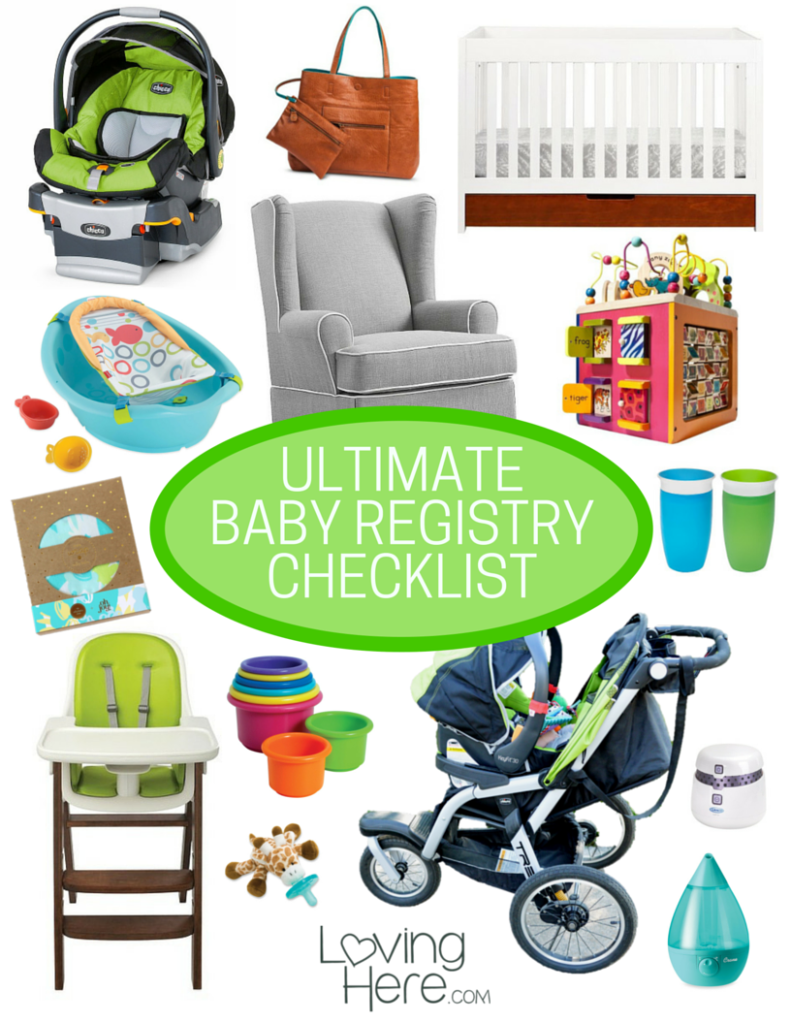 ---
~ This post contains affiliate links and we will receive a small commission if you make a purchase after clicking on our direct link. It doesn't cost you anything extra but it helps us! Please reach out if you have any questions. Thank you for supporting LovingHere! ~